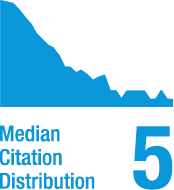 PeerJ
and
PeerJ Computer Science
have an impact factor, but we suggest you focus on our
median citation distribution
instead
The widespread misuse of the JIF impact factor contributes to the reproducibility crisis, higher and slower publishing costs and academic fraud.
Instead, the citation distribution is now being used by a growing number of journals as a far better indicator for the spread and variation of citations.
Using the generally recognised citation time-lag of two years, PeerJ's 2017 median citation distribution is 5.
In detail:
90th percentile: 18.6 citations.
75th percentile: 10 citations.
50th percentile: 5 (median)
25th percentile: 2 citations.
PeerJ's 2020 Journal Impact Factor is 3.06.
PeerJ Computer Science's 2020 Journal Impact Factor is 2.41.