Genetic variations analysis for complex brain disease diagnosis using machine learning techniques: opportunities and hurdles
Published

Accepted

Received
Academic Editor
Subject Areas

Keywords

Genetic analysis

,

Brain disease

,

Machine learning

,

Deep learning

,

Single nucleotide polymorphism (SNP)

,

Microarrays
Copyright

©

2021

Ahmed et al.

Licence

This is an open access article distributed under the terms of the Creative Commons Attribution License, which permits unrestricted use, distribution, reproduction and adaptation in any medium and for any purpose provided that it is properly attributed. For attribution, the original author(s), title, publication source (PeerJ Computer Science) and either DOI or URL of the article must be cited.
Cite this article

2021

.

Genetic variations analysis for complex brain disease diagnosis using machine learning techniques: opportunities and hurdles

.

PeerJ Computer Science

7

:

e697

https://doi.org/10.7717/peerj-cs.697
Abstract
Background and Objectives
This paper presents an in-depth review of the state-of-the-art genetic variations analysis to discover complex genes associated with the brain's genetic disorders. We first introduce the genetic analysis of complex brain diseases, genetic variation, and DNA microarrays. Then, the review focuses on available machine learning methods used for complex brain disease classification. Therein, we discuss the various datasets, preprocessing, feature selection and extraction, and classification strategies. In particular, we concentrate on studying single nucleotide polymorphisms (SNP) that support the highest resolution for genomic fingerprinting for tracking disease genes. Subsequently, the study provides an overview of the applications for some specific diseases, including autism spectrum disorder, brain cancer, and Alzheimer's disease (AD). The study argues that despite the significant recent developments in the analysis and treatment of genetic disorders, there are considerable challenges to elucidate causative mutations, especially from the viewpoint of implementing genetic analysis in clinical practice. The review finally provides a critical discussion on the applicability of genetic variations analysis for complex brain disease identification highlighting the future challenges.
Methods
We used a methodology for literature surveys to obtain data from academic databases. Criteria were defined for inclusion and exclusion. The selection of articles was followed by three stages. In addition, the principal methods for machine learning to classify the disease were presented in each stage in more detail.
Results
It was revealed that machine learning based on SNP was widely utilized to solve problems of genetic variation for complex diseases related to genes.
Conclusions
Despite significant developments in genetic diseases in the past two decades of the diagnosis and treatment, there is still a large percentage in which the causative mutation cannot be determined, and a final genetic diagnosis remains elusive. So, we need to detect the variations of the genes related to brain disorders in the early disease stages.
Introduction
The genetic mechanisms of complex diseases are challenging to discover. The power to identify the set of genes responsible for complex diseases using current methods is often lacking. In the last few years, large quantities of biological data have been generated for genomics and proteomics with rapid developments (Mezlini & Goldenberg, 2017). These data need a complex mathematical analysis to interpret biological data using the interdisciplinary science composed of computer science and information technology, which is known as bioinformatics or computational biology. This new research area is more important and will grow rapidly as we continue producing and integrating large amounts of protein, genomic and other data.
Bioinformatics research is an active area to solve biological problems. It utilizes data mining (DM) techniques and its applications to analyze biological data. In medicine, DM is emerging of high importance for diagnosing neurodegenerative diseases and supporting prognosis to provide deeper understanding (Joshi et al., 2010). The data analysis includes many examples, such as protein structure prediction, gene classification, gene classification based on microarray data, and clustering gene expression data. Therefore, DM and bioinformatics interaction should be increased to provide great potential (Association, 2019).
The association of the structural changes with brain diseases, which occurs as the disease progresses, is unknown (Sherif, Zayed & Fakhr, 2015; Kim et al., 2013; Bertram, Lill & Tanzi, 2010; Yokoyama et al., 2015; Hwang et al., 2014; Guerreiro & Hardy, 2012). So, we need to identify many genetic markers about their association with brain diseases. In the 1950s, artificial intelligence (AI) appeared as an independent field because of the potentials to make machines intelligent like a human. In streamlining complex analytical workflows, bioinformatics with AI techniques play an essential role in performing multistep analysis within one analytical framework. The problems with biological data, such as the complexity of data and the growing exponential rate, can be solved with workflows that enable processing and analysis. Machine learning (ML), knowledge discovery, and reasoning deployed by AI techniques are continuously improving. A formidable combination is presented between bioinformatics and AI, where the analysis of complex biological systems is enabled by bioinformatics and human-like reasoning. We can perform complex tasks based on reasoning by using AI-based tools (Sandraa et al., 2010; Bertram & Tanzi, 2012).
In the past few years, intensive computational efforts have been performed to study single nucleotide polymorphisms (SNPs) structural and functional consequences. In this context, ML and DM techniques have been widely performed for SNP data analysis. Biological systems are complex, so most studies on large scales concentrate only on one specific aspect of the biological system. For example, genome-wide association studies (GWAS) concentrates on genetic variants associated with phenotypes measurement. So, the feature should be chosen precisely from the provided dataset. The best possible subset of the feature sets is determined using search methods. Then, evaluation techniques are used to evaluate them.
Some examples of genetic diseases that affect the brain are Alzheimer's Disease (AD) and Parkinson's, as shown in Table 1. The progressive decline of cognition and memory is caused by AD, which is a degenerative disease. It causes the nerve cells' degeneration in the brain due to AD's side effects, which are related to language and memory (Ang et al., 2015). After 65 years, symptoms appear, and the spread of disease with age increases sharply. It is considered the most common form of dementia in the disease's onset genetic factors for specific genes. However, they are not the primary effect of the disease. Also, the suffering can be increased by other factors, such as age, smoking and alcohol (Ang et al., 2015; Zuk et al., 2012, 2014; Hormozdiari et al., 2015). AD has many common symptoms, such as complete memory loss, impairments of movements, misplacing things, verbal communication, and abnormal moods (Sherif, Zayed & Fakhr, 2015). If AD is not initially diagnosed, the disease's severity increases (Hemani, Knott & Haley, 2013; Pinto et al., 2014; Parikshak, Gandal & Geschwind, 2015; Nakka, Raphael & Ramachandran, 2016).
| Comparison between early symptom | Dementia of Lewy body | Parkinson's disease (PD) | Alzheimer's disease (AD) |
| --- | --- | --- | --- |
| Age of onset | >60 years old | >70 years old | >60 years old |
| Gender-specific | Men > Women | Conflicting | Men = women |
| Family history | No | Conflicting | Yes |
| Significant Loss of Memory | Possible | Possible Years After Diagnosis | Always |
| Problems of Language | Possible | Possible | Possible |
| Fluctuating Cognitive Abilities | Likely | Possible | Possible |
| Planning or Problem-solving Abilities | Likely | Possible | Possible |
| Decline in Thinking Abilities that Interfere with Everyday Life | Always | Possible Years After Diagnosis | Always |
| Difficulty with a Sense of Direction or Spatial Relationships between Objects | Likely | Possible | Possible |
One of the most demanding tasks in a post-genomic era is identifying disease genes from a vast amount of genetic data. Moreover, complex diseases present a very heterogeneous genotype that makes it difficult to identify biological markers. ML is widely used to identify these markers, but their performance relies heavily on the size and quality of the data available (Asif et al., 2018). Also, modern computational systems help researchers to analyze complex data like genetic information of humans and its underlying patterns. These patterns reveal the genes that cause diseases. Mathematical models are helpful to build robust ML models for analyzing gene expression. So, this paper introduces a comprehensive review of genetic variations analysis for discovering complex disease-related genes, especially genetic brain diseases. The SNPs data is commonly used as a marker-based association or association study in a population. We focus on identifying a disease's biomarkers based on SNPs that alter phenotypes by altering some molecular functions. There are many challenges to defining so-called functional variants. First, the marker variants themselves may be unbalanced (or linkage, depending on the study) with the causal variant. Second, the challenge is identifying candidate genes related to disease to narrow down an area for SNP prioritization. Finally, the molecular function is poorly understood, so we need to increase how SNPs disrupt their functionality (Hemani, Knott & Haley, 2013; Pinto et al., 2014; Parikshak, Gandal & Geschwind, 2015; Nakka, Raphael & Ramachandran, 2016; Guyon et al., 2002; Printy et al., 2014).
This paper is consisting of six sections. In "Methodology", we explain some basic concepts of gene sequence and types of genetic variations. In "A Genetic Analysis of Complex Brain Diseases", we present some classification, preprocessing, and dimensionality reduction techniques. "ML Methods" discusses essential research areas about various diseases depending on discovering genetic mechanisms as shown in tables in this section. "Literature Review on Complex Disease & Applications" introduces current research topics, future directions, and challenges. Finally, we discuss the conclusion of this work in "Critical Discussion and Future Challenges". Also, Fig. 1 represents the structure of these sections.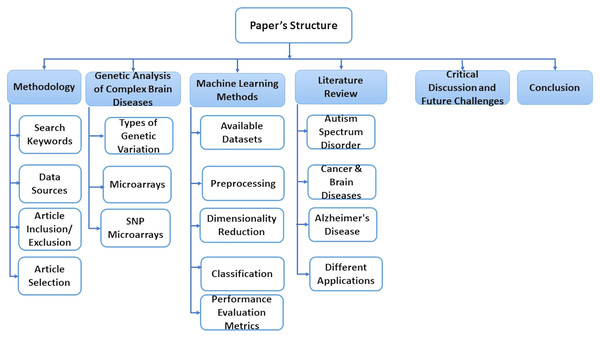 Methodology
This section introduces the protocol used to survey various genetic variations to diagnose complex brain diseases using machine learning. We list the search keywords, data sources, inclusion/exclusion criteria, and article selection in this section. Also, we illustrated in Fig. 2 the structure of the systematic review analysis and how to remove the overlap articles among different databases. We remove overlap with two ways by Endnote by choosing the following elements: (1) Title, author and year. (2) Title, author and journal.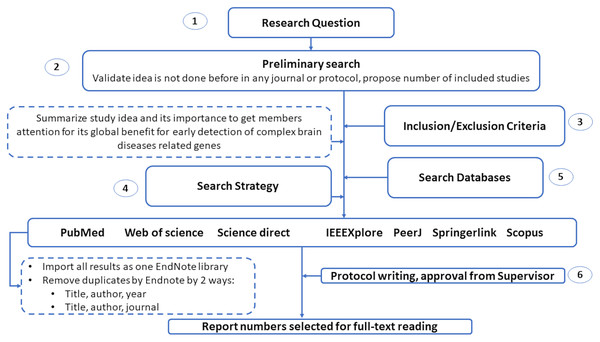 Search keywords
Keywords have been carefully chosen for the initial search. After the initial search, new words found in several relevant articles have formulated multiple keywords. The study's keywords included "genetic analysis for brain disease using machine learning", "genetic variations based on single nucleotide polymorphism (SNP)", "Gene analysis for complex brain disease based on machine learning".
Data sources
Our survey used different academic database sources to obtain articles, as shown in Table 2.
Article inclusion/exclusion criteria
Inclusion/exclusion criteria have been developed to determine which papers are eligible for the next review phase. Relevance for research has been considered for articles that meet inclusion criteria and excluded articles that do not fulfill inclusion criteria. The following criteria are defined for inclusion/exclusion.
Inclusion
Our paper only focuses on genetic variation for complex diseases related to genes.

Only articles that performed on genetic variation for complex diseases related to genes using machine learning.

For inclusion, only articles in English were taken into account.
Exclusion
Papers that do not focus on genetic variation for complex diseases related to genes were excluded.

Articles that do not concentrate on genetic variation for complex diseases related to genes using machine learning were excluded.

Articles that are not in English were excluded.
Article selection
Research has established criteria for inclusion and exclusion to choose which articles are eligible for the next review phase. Articles that satisfy the inclusion criteria were considered research-related, and items that did not meet the inclusion criteria were excluded. In the previous section, we present the list of inclusion/exclusion criteria. Three phases were followed to select an article for this research. The first step was to consider extracting only the titles and abstracts of the articles. The second stage was to analyze the abstract, introduction, and conclusion to refine the first stage's choice. At the end of the process, the articles were carefully read and the quality of the papers was then measured according to their relevance to the research.
A Genetic Analysis of Complex Brain Diseases
The core of modern medical genetics is to enhance our understanding of the genetic mutations and possible factors in genetic risk, which cause or contribute directly to human disease. Evolutionary theory can describe selective forces that affect causal alleles and susceptibility to human genetic disorders. In the general population, complex disorders are common and result from the interaction of many sites of sensitivity and environmental factors (Rahit & Tarailo-Graovac, 2020; Spataro et al., 2017). In contrast, Mendelian disorders are usually rare and have predictable genotypes as they are generally caused by a single causative mutation in the gene. However, the classic distinction between Mendelian diseases and complex diseases is not always absolute due to its heterogeneity and incomplete penetration. There is a continuum between pure Mendelian diseases and more complex diseases.
Diseases that follow Mendelian inheritance patterns are called Mendelian disorders. About 80% of all rare diseases are hereditary, and most of these diseases are monogenic/Mendelian. According to an estimate, there are 400 million people worldwide with around 7,000 various rare diseases (Rahit & Tarailo-Graovac, 2020; Spataro et al., 2017). So, studying gene function by biomedical researchers should consider the impact of the variations between these diseases. Genetic information about these diseases can supply valuable insight into the critical regions and operating ranges, proteins, or regulatory elements. Genetic variants may differ in nature concerning single nucleotide variants, tandem repeats or deletions, and small insertions to massive copy number variants (CNVs) (Siavelis et al., 2016). Until lately, genetic variation information is limited to some extent. However, many large-scale surveys of diversity have provided numerous data on covariance. A picture is started from the driving forces in human evolution and population diversity that is emerged (Siavelis et al., 2016; Mathur, 2018; Raza, 2012; Wodehouse, 2006; Mount & Pandey, 2005; Barnes, 2010).
SNPs work as a pointer in the association and linkage studies to identify the genome's part in a particular disease (Hasnain et al., 2020; Ng & Henikoff, 2003; Uppu, Krishna & Gopalan, 2016; Liang & Kelemen, 2008; Korani et al., 2019). Polymorphs are found in the same coding and organizing regions, which may be involved in diseases. A non-synonymous SNP is called the SNP that causes amino acid substitution. The amino acid variations that lead to genetic lesions that cause diseases have a strong concentration and interest. Studies aimed at determining polymorphisms and analysis of mutation complement each other to identify substitutions for amino acids in protein code regions where any variation can change protein function or structure (Clare & King, 2001). Substitution of one nucleotide by another is the most simple form of DNA variation between individuals. As shown in Fig. 3, this type of change is known as SNP. SNPs are estimated to occur at a rate of 1 in 1,000 bps across the genome (Shastry, 2007). These simple changes can be of transitional or transitional type. Approximately 50% of the polymorphisms are found in non-coding regions, whereas 25% of them result in missense mutations (encoding SNPs or cSNPs). The remaining 25% are silent mutations that do not alter the code of the amino acid. These silent SNPs are known as synonymous, and most likely, they are not subject to natural selection.

On the other side, non-synonymous SNPs may cause pathology and may be natural for selection (nSNPs and codified amino acids). SNPs (both synonymous and unknown) influence promoter activity and pre-mRNA morphology (or stability) (Shastry, 2007). They also change the protein's ability to bind to its substrates or inhibitors and alter subcellular proteins' localization (nSNPs). Therefore, they may be responsible for disease susceptibility, drug deposition, and genome evolution. However, many of them affect gene function. Besides, many of them are not harmful to living organisms and must have survived selection pressure (Halushka et al., 1999).
Due to the inheritance of certain diseases, a direct aim of the human genome project is to identify the genes which predispose individuals to different diseases. It also examines how sequential variation of a gene affects the functions of its product. SNPs often occur across the genome, as has already been mentioned. They can therefore be used as markers by studying correlation to discover disease-causing genes. Two closely related alleles (gene and marker) are supposed to be inherited together in such studies. So, a simple comparison of patterns of genetic differences between patients and normal individuals may facilitate a method for determining which sites are responsible for disease susceptibility.
Types of genetic variation
Candidate genes tend to decrease the number of SNPs in the study to some mutations where genes are intended to provide the genetic basis for the disease under study. Although overall candidate genes' data sets are considered to be, the various tests of hundreds or even thousands of polymorphisms in our situation make link detection troublesome. A conceivable method to overcome testing overpowering quantities of SNPs, mainly based on the studies of a candidate gene, is to order SNPs as per their priority of functional significance (Clare & King, 2001). Previous natural information can be used in current databases to reduce the number of SNPs by focusing on specific genomic regions, and computational methodologies and aptitude are used to separate the neutral polymorphisms from poly-morphisms of potential functional interest (Mikhail et al., 2020).
The critical biological determinant is a genetic variation that supports evolution and determines the phenotype's genetic basis. A researcher may wish to deal with the genetic data depending on the researcher's viewpoint (Barnes, 2010). Researchers of the biomedical view tend to focus on genetic or phenotypic directions. The function of a gene cannot be understood fully without realizing the possible variation within the gene. This means that the biomedical researchers, who study genetics, must know what variants present and what effect these variants are on the gene's function and thus the phenotype. The genetic variation comes in many forms, but every form arises from only two types of mutation events. The simplest type of different genetic variation results from a simple primary substitution that comes from mutation. This type of mutation event explains the most common form of variation (Barnes, 2010), SNP. However, it also represents rare mutations that may manifest Mendelian inheritance in families. Most other kinds of variation arise directly or indirectly from inserting or deleting a portion of DNA.
Microarrays
Microarray is a technique in which 1,000 nucleic acids are attached to a surface. They are used to measure DNA sequences' concentration in a mixture by hybridization and the subsequent detection of hybridization events (Bumgarner, 2013). Millions of sequences in one reaction are simultaneously analyzed using microarrays. Microarrays come in three basic types: (A) spotted arrays on glass, (B) self-assembled arrays and (C) insitu synthesized arrays. Many types of microarrays depend on the type of data (Berry et al., 2019; Mao, Young & Lu, 2007; Prince, 2017; Smith et al., 2007; Isik, 2010; Yin et al., 2017). These types are DNA microarray, SNP microarray, cDNA microarrays, SNP microarrays, protein microarrays, MM chips, peptide microarrays, etc.
All studies on genome association aim to determine the genetic basis for traits and disease sensitivities using SNP microarrays. They carry the genetic variants, which are the most common in the human. Variants were identified for families at risk for several diseases (Coelho et al., 2009; Chen et al., 2012). However, with only a few notable exceptions, such as the related age of macular degeneration, risk variants usually describe only a small portion of the genetic risks known for their existence. Many factors are found that favor is contributing to this observation. Common variants may have minor effects on the phenotype or have variable penetration due to cognitive or epigenetic effects. Two other factors are CNVs and rare variants (Barnes, 2010). Genomic variation types have an essential effect. However, examine these variants on disease phenotypes should perform.
SNP microarrays
SNP microarray is a type of DNA microarrays, which is used to identify polymorphisms within a population. SNP is a variation of a single site in DNA, and it is the most common kind of variation in the genome. About 335 million polymorphisms have been specified in the human genome (Berry et al., 2019; Mao, Young & Lu, 2007). Microarrays of SNP have grown as a robust tool for the large-scale detection of epigenetic changes in genomes of predictive and/or predictive value. For genotyping in 1998; SNP matrix technology was developed (Association, 2019). Since then, this technique has been extensively developed and has become one of the most robust genetic analyses (Latkowski & Osowski, 2015; González & Belanche, 2013; Xue, Zhang & Browne, 2012; Teng, Dong & Zhou, 2017; Kong, Mou & Yang, 2009; Saeys, Inza & Larranaga, 2007). In this study, the very long execution times result in an enormous volume of data. Some preliminary tests were performed to select the three following constraints for the primary sequence of experiments (Mao, Young & Lu, 2007). First, it depends on the used data, which we could not generalize all data analysis. The second issue is the selection of SNP. Finally, the third issue is the used ML method.
ML Methods
Microarray technology is a valuable tool for capturing information from biological, genetic data. An extensive set of genetic data and many computational techniques are needed to determine whether a human is normal or abnormal as we need to identify the biomarker in the gene responsible for the diseases. ML algorithms play an important role in distinguishing unhealthy and normal genes extracted from humans' genomes (Karthik & Sudha, 2018). ML methods contain steps to manage the classification process. ML methods contain some stages to manage the diagnosis process and determine candidate genes that cause diseases, as shown in Fig. 4. Each step is discussed in the following subsections.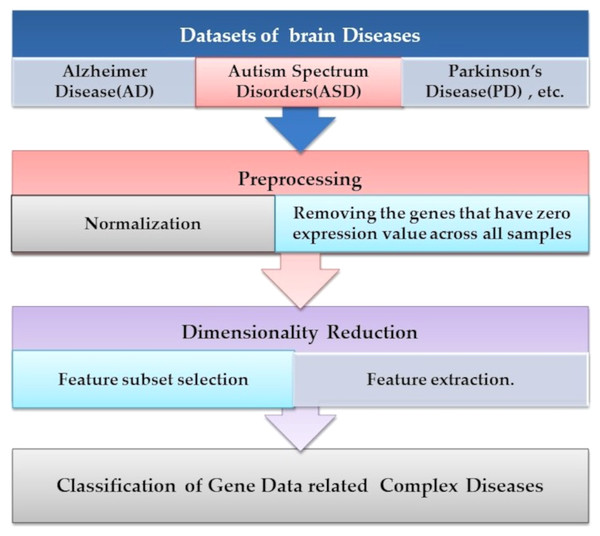 Literature Review on Complex Disease & Applications
Critical Discussion and Future Challenges
Microarray data's emergence poses many ML research challenges due to its large dimensional nature with small sample size. Aside from the notable disadvantage of having many features of a small number of samples, researchers also have to meet the unbalanced classes characterizing the data, testing datasets and extracting training in various cases, and the presence of outliers (dataset shift). For all these reasons, new technologies continue to emerge every year, aiming to improve the classification accuracy of previous approaches and help biologists discover and understand the underlying mechanism linking gene expression to diseases. So, we added Table 13, which displays the classification accuracy of previous approaches.
So, it is useful in biological research to determine individuals' phenotype and genotype characteristics. The phenotype connected with physical appearance, and the genotype is the genotype of the individual. SNPs make the individual different from others as well as help in determining genetic variation in the population. The main factor in identifying the relationship of an individual to a population is genomic variation. SNPs play an essential role in genome-based disease detection, drug design, drug and isolation reaction to an environmental factor, such as toxins and disease development risk in a population, so it is used for this purpose (Tahir & Sardaraz, 2020).
Biomarkers are urgently needed for the early detection of complex genetically related brain diseases. So, the main goal is to identify a set of genetic variants that happened together. Besides, it can determine individuals who must start screening at a young age (Chen et al., 2016). Determination of related genes to disease and disease mechanisms is a research goal and a necessary process. Some challenges are summarized in the following points, and also as shown in Fig. 10: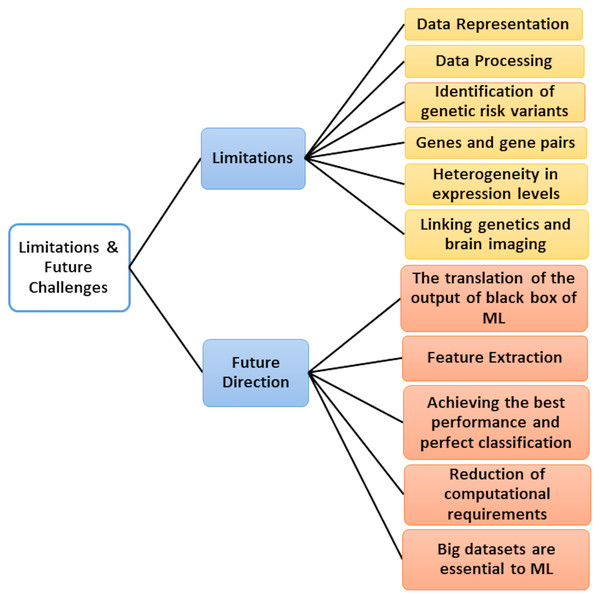 Data processing: The processing of large-scale DNA sequence data still presents efficiency challenges.
Data Representation: Certain problems exist with the quantification of DNA sequence aspects. No one knows which representation in these nucleotides is best for encoding numeric values. However, we cannot avoid using the numeric representations of those biological units when applying ML to biological studies.
Genes and gene pairs: A new method is required to discover associated genes and gene pairs or to study the relation between genes with subgroups of disorders. Recent discoveries about the new sub-classification of AD patients make this disease a suitable target for this method. To verify their significance, autism candidate genes identified in this study should be integrated into future data collection. These genes are contributed by understanding the mechanisms of genes to develop autism subtypes (Jain, Jain & Jain, 2018).
Identification of genetic risk variants: Identifying genetic risk variants in ASD and their effects on the brain and morphology remains largely elusive. More recently, the advent of a gene imaging approach integrates genetic discoveries with technological advances in brain imaging. Researchers were strongly encouraged to analyze ASD pathophysiology mechanisms and to characterize neurological systems which are directly affected by risk gene variants (Jain, Jain & Jain, 2018; Spencer et al., 2018).
Heterogeneity in expression levels across large samples: Due to heterogeneity, there may be an asymmetry in this effect on sample quality among patients with genetic brain disease and the degree of affected gene expression. Recently, an attempt was made to identify heterozygous genes in the study of gene expression data with genetic brain disease patients (Tejeswinee, Shomona & Athilakshmi, 2017, Escott-Price et al., 2014; Baker et al., 2019; Ruiz et al., 2014; Edwards, Stajich & Hansen, 2009; Staples et al., 2019; Pop & Salzberg, 2008; Yazdani et al., 2018).
Linking genetics and brain imaging: The genetic imaging techniques make it possible to improve our understanding of the etiology of genetic diseases by bridging the gap between genetic differences and their resulting biological effects on the brain (Chu & Wang, 2005; Hussain et al., 2019).
The capability of generalizing: The ability to generalize and adapt techniques to various data is considered the most challenging task. Also, the ability to reduce hardware power requirements is considered a critical task.
Genetic structure for rare diseases and common complex diseases: Rare and common diseases may be used for the study of Next Generation Sequencing (NGS). Causal variants can be found even in smaller sample sizes for single-gene rare diseases. It doesn't remain easy, however, above all to define causal alleles. Not all rare diseases have a simple genetic structure like single-gene diseases. Rare diseases are usually diagnosed or identified by symptoms, while different mechanisms can cause the same symptoms. In fact, some rare diseases are a group of diseases that exhibit similar symptoms (Gao & Tembine, 2016). Determination of causal variants of these diseases generally requires larger sample sizes than monogenic diseases. NGS technologies provide a huge quantity of biological data, presenting different problems, including high processing times and high memory requirements. Research is therefore aimed at detecting SNP in genome sequences which can solve these problems. Also, there are many problems with SNPs detection algorithms, e.g., overhead computing costs, accuracy, and memory requirements. These issues are considered as another challenge for SNP identification (Tahir & Sardaraz, 2020; Wang, Lu & Zhao, 2015).
In the future, researchers should focus on identifying variations of rare diseases. They have great potential in the last few years, and genotyping and sequencing technologies have advanced. The researchers should also concentrate on these discoveries, the technologies that supported their discovery of rare variant detection and working with big data as challenges. Another challenge is imaging genetics, which addresses this question by bridging the gap between imaging and the genetic fields. Finally, finding the relationship between genes also helps discover complex diseases that are affected by risk genes.
In the future, we need to learn how to use biomarkers together in an integrated manner and learn to map them to specific necessary treatment actions or symptoms. Biomarkers may also be very helpful in explaining the significant variability associated with genetic diseases. The underlying pathophysiology symptoms of genetic diseases may vary significantly from patient to patient. ML is the DM core and the most widely used method of data processing. The main advantage of ML algorithms is that it can be used to filter large quantities of data to check patterns which could be ignored otherwise. ML plays a crucial role in discovering predictable patterns in biological systems and big data biomedical research. The current implementation of ML in biomedical data mainly faces the following issues:
Big datasets are essential to ML. Currently, most biological datasets are still too small to meet the requirements of ML algorithms. Although the total amount of biological data is huge and increases daily, data collection is obtained from various platforms. Due to technology and biology differences themselves, it is challenging for different data sets to integrate.

Because of biological data differences itself, trained ML models on one dataset may not generalize well to other datasets. The results of the analysis of the ML model can be wrong if the new data is significantly different from the training data.

The black-box nature of ML models obtained a new challenge to biological applications. The translation of the output of a specific model from a biological viewpoint that limits the use of the model is usually difficult.

Reduction of computational requirements: ML models are often very complex and require a lot of training. It is often computer-intensive and memory-intensive to produce well-trained modeling and even to use the model productively. These requirements limit the deployment of ML seriously on computer-saving machines, especially in the bioinformatics and healthcare sectors, which are also data-intensive. Several methods were proposed for ML compression, which can at the very beginning reduce the computational requirements of these models, like parameter pruning, which reduces the redundant parameters that do not contribute to the performance of the model.

Achieving the best performance and perfect classification by implementing various optimization techniques.

Additional attempts could be made to extract other DNA features before feeding them to the models. Overall, this could lead to more accurate assessments.
Currently, many softwares can be helpful for ML, and knowledge discovery tools for different uses are available, such as the Waikato Environment for Knowledge Analysis (WEKA), RapidMiner, Clementine, Intelligent Miner, Rosetta, etc. These tools and software provide methods and algorithms that help users better use information and data, including data analysis methods and algorithms, cluster analysis, etc (Borges, Marques & Bernardino, 2013).
RapidMiner (RM): It is an ML and DM processing environment. It is an open-source, free Java project. It is a new way of designing all the complicated problems. For the input and output of data in various file formats, RM has flexible operators. It includes over 100 learning schemes for regression, classification, and clustering tasks (Borges, Marques & Bernardino, 2013).
WEKA: It is an open-source, non-commercial project. WEKA includes tools for data preprocessing, classification, regression, clustering, association rules, and visualization. It is also ideal for developing new systems of ML (Borges, Marques & Bernardino, 2013).
R: It is one of the key data science languages. It offers excellent visualization features that are essential to explore the data in an automated learning process before it is submitted and the results of the learning algorithm assessed. A lot of R packages are available for ML, and R implements numerous modern methods for statistical learning (Borges, Marques & Bernardino, 2013).
So, ML models will in the future offer many opportunities for discovering new insights from the research gaps discussed. In particular, analysis of genetic variations that lead to diseases, such as ASD, AD, cancer, and other fatal diseases will help find out a way to cure new medicines and therapies permanently. As shown in Fig. 9, we present limitations and future directions to handle it in the future.
Conclusion
This review comprehensively reviews genetic variations analysis of gene expression analysis to discover complex genes associated with diseases and related genetic diseases. This survey describes various diseases, such as AD, ASD, and cancer, to identify genetic variations that cause diseases. Here, we describe variation identified for putative rare genetic risk. We observe that variants' rare identification can decrease disease susceptibility than generally seen with common risk variation and protein-coding changes that can be modeled efficiently. Finally, we have highlighted some open issues and future research directions for the progress of this field. Also, genetic mapping supplies a powerful method for identifying the presence of SNPs in genes. These SNPs are found in DNA, which is very similar to mutation. But this SNP is damaged DNA in humans, causing serious disease in the future. So, our focus is to detect the SNPs that lead to diseases. New genome-wide multiple gene testing or high-throughput genetic testing has come with new hope in the field, offering a fast, cost-effective, and intensive analysis of genetic variation. This is particularly interesting with high genetic disorders heterogeneity. Therefore, the interaction between data mining, machine learning, and bioinformatics should be increased as a great potential for analyzing gene sequences in the future.