A multiplex centrality metric for complex social networks: sex, social status, and family structure predict multiplex centrality in rhesus macaques
Published

Accepted

Received
Academic Editor
Subject Areas

Keywords

Multilayer networks

,

Animal behavior

,

Complex societies

,

Network analysis

,

Social behavior

,

Nonhuman primates
Copyright

©

2020

Beisner et al.

Licence

This is an open access article distributed under the terms of the Creative Commons Attribution License, which permits unrestricted use, distribution, reproduction and adaptation in any medium and for any purpose provided that it is properly attributed. For attribution, the original author(s), title, publication source (PeerJ) and either DOI or URL of the article must be cited.
Cite this article

2020

.

A multiplex centrality metric for complex social networks: sex, social status, and family structure predict multiplex centrality in rhesus macaques

.

PeerJ

8

:

e8712

https://doi.org/10.7717/peerj.8712
Abstract
Members of a society interact using a variety of social behaviors, giving rise to a multi-faceted and complex social life. For the study of animal behavior, quantifying this complexity is critical for understanding the impact of social life on animals' health and fitness. Multilayer network approaches, where each interaction type represents a different layer of the social network, have the potential to better capture this complexity than single layer approaches. Calculating individuals' centrality within a multilayer social network can reveal keystone individuals and more fully characterize social roles. However, existing measures of multilayer centrality do not account for differences in the dynamics and functionality across interaction layers. Here we validate a new method for quantifying multiplex centrality called consensus ranking by applying this method to multiple social groups of a well-studied nonhuman primate, the rhesus macaque. Consensus ranking can suitably handle the complexities of animal social life, such as networks with different properties (sparse vs. dense) and biological meanings (competitive vs. affiliative interactions). We examined whether individuals' attributes or socio-demographic factors (sex, age, dominance rank and certainty, matriline size, rearing history) were associated with multiplex centrality. Social networks were constructed for five interaction layers (i.e., aggression, status signaling, conflict policing, grooming and huddling) for seven social groups. Consensus ranks were calculated across these five layers and analyzed with respect to individual attributes and socio-demographic factors. Generalized linear mixed models showed that consensus ranking detected known social patterns in rhesus macaques, showing that multiplex centrality was greater in high-ranking males with high certainty of rank and females from the largest families. In addition, consensus ranks also showed that females from very small families and mother-reared (compared to nursery-reared) individuals were more central, showing that consideration of multiple social domains revealed individuals whose social centrality and importance might otherwise have been missed.
Introduction
Social life is complex and multi-faceted. Members of a society interact with each other in a variety of different ways and these different behaviors are often interdependent. In animal societies, for example, individuals may spend time in proximity, groom one another, and direct aggression at or show submission to one another. Social relationships thus arise from the patterning of these different types of interactions, and similarly, social structure arises from the patterning of these relationships within a society (Hinde, 1976; Whitehead & Dufault, 1999a). Traditional analytical approaches cannot adequately represent or quantify such multilayer complexity. Yet, given the importance of social relationships for the fitness, health and well-being of social animals (e.g., Akinyi et al., 2013; Silk et al., 2009; Silk et al., 2010; Cameron, Setsaas & Linklater, 2009; Stanton & Mann, 2012), accurate quantification and representation of this type of social complexity is critical to advance our understanding of the selective forces acting on individuals, the impact individuals may exert on their conspecifics, and the overall social structure of animal societies. Here we present a new approach for quantifying multilayer network centrality, called 'consensus ranking' (Pósfai et al., 2019), and illustrate its utility for uncovering novel information about individuals' social roles and social structure using rhesus macaques (Macaca mulatta).
Discussion
Our analyses demonstrate that the consensus ranking approach (Pósfai et al., 2019) for quantifying centrality in a multiplex network yields valuable information about individuals' social connectivity that is both consistent with known patterns for the study species and uniquely different from centrality information from any single layer. The factors influencing rhesus macaques' multiplex centrality aligned well with predictions based upon the literature. High-ranking males with high certainty of their dominance were more central than other males, females from the largest families were more central than females from medium-sized families, and mother-reared individuals were more central than nursery-reared individuals. Importantly, an individual's multiplex centrality, as calculated by our consensus ranking method, could not be reduced to the information from a single layer, as no single behavioral network layer showed perfect concordance to the consensus ranking. Our results confirm the validity of the consensus ranking method for the purposes of assessing multiplex centrality and reveal novel information. We discuss these findings in detail below.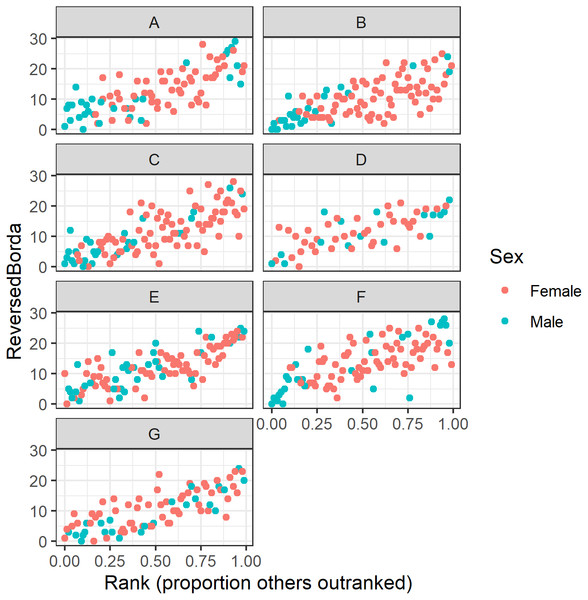 Analysis of the consensus ranking against socio-demographic factors confirms known patterns
In despotic societies (Vehrencamp, 1983), the dominance hierarchy is a central feature of social structure, and one's dominance rank is likely to influence overall social centrality. Consistent with this expectation, we found that high ranking individuals, especially high-ranking males with high dominance certainty, had higher consensus ranks. In other words, they were more central in the multiplex social network. The interactions among dominance rank, dominance certainty, and sex are also consistent with what is known about the study species. Among rhesus macaques, dominant males are considered keystone individuals because they police group conflict (Bernstein & Sharpe, 1966; McCowan et al., 2011; Beisner & McCowan, 2013), receive a disproportionate number of subordination signals (Beisner et al., 2016), and are often central in grooming networks (Sade et al., 1988; McCowan et al., 2011; Sueur et al., 2011). However, single layer analyses did not uniformly capture the greater centrality of high-ranking adult males with high dominance certainty. While the best model of aggression layer centrality showed the greater centrality of high-ranking males with high dominance certainty, the status signaling layer analysis showed that subadults with high dominance rank were more central than high-ranking adults. Subadults' greater centrality in the status signaling layer compared to the multiplex network was likely influenced by of a lack of centrality information derived from the policing and/or grooming networks. For instance, whereas high-ranking adult males police conflicts among group members (Bernstein & Sharpe, 1966; McCowan et al., 2011; Beisner et al., 2012; Beisner et al., 2016), high-ranking subadult males are often natal males from the alpha family (Koford, 1963; Tilford, 1982; Beisner et al., 2011b), and these males are less effective conflict policers (Beisner et al., 2012; Jackson et al., 2012).
| Consensus rank position | A | B | C | D | E | F | G |
| --- | --- | --- | --- | --- | --- | --- | --- |
| 1 | AMa | AF | AF | α-AMd | β-AM | AM | β-AM |
| 2 | AFb | β-AMe | AF | AF | α-AM | AM | α-AF |
| 3 | AM | AF | β-AM | α-AFf | β-AFg | AM | AF |
| 4 | AF | AF | β-AF | AF | AM | AM | AF |
| 5 | AM | AF | AF | AF | AF | α-AM | AF |
| 6 | SAMc | AF | AF | AF | α-AF | AF | α-AM |
Our results also showed that, among low-ranking males, having low dominance certainty (i.e., greater ambiguity regarding his fit within the dominance hierarchy) improved multiplex centrality, and this makes sense because such males likely stood to gain rank, making their calculated rank an inaccurate reflection of their current status and thus less useful for estimating multiplex centrality. Indeed, the relative certainty or stability of a male's dominance rank can affect the relationship between social status and health in some nonhuman primates (Sapolsky, 1992; Vandeleest et al., 2016) so its importance for understanding the relationship between social status and multiplex centrality is not unexpected. Finally, we note that although dominance rank was a consistent predictor of centrality in each of the individual network layers, the greater centrality of high-ranking males with high dominance certainty is not trivial because sex and dominance certainty had inconsistent effects across single network layers (e.g., males being central in aggression and status, females being central in grooming and huddling). These results highlight some of the additional insights to be gained by calculating an individual's social centrality across all interaction layers to fully understand their social role and influence.
Natal philopatry (remaining in the home range and/or social group in which you were born) gives kin the opportunity to cooperate or preferentially interact (Wrangham, 1980; Stacey & Koenig, 1990; Emlen, 1991). Female rhesus macaques are philopatric and show a clear preference for interacting with close relatives (Gouzoules & Gouzoules, 1987; Bernstein, Judge & Ruehlmann, 1993). In fact, female kin bias contributes to key features of macaque social structure, such as females' inheritance of dominance rank (due to agonistic support from mothers, grandmothers, and sisters (Sade, 1969)). Consistent with the importance of kinship, we found that females from large families (11+ members) had higher consensus ranks than females from medium-sized families (6–10 members). Females from larger families have more kin partners with whom to interact, making it easier for them to be well-connected in grooming or huddling networks. Indeed, the single-layer analyses suggest that the impact of matriline size on centrality is likely through its impact on affiliative interactions because matriline size was a predictor of grooming layer centrality, but not aggression or status layer centrality. However, it was surprising that females from the smallest families (1–5 members) were just as central as females from the largest families. We suspect this nonlinear relationship between family size and multiplex centrality occurs because forming social bonds with non-kin may be a second strategy for being well-connected for females from small families. Female macaques can also form critical social bonds with non-kin (Datta, 1986; Chapais, Girard & Primi, 1991), and perhaps females from small families form more social ties with non-family members because they have insufficient numbers of family to meet their social needs. Thus, a multiplex approach revealed new information regarding a non-linear relationship between centrality and family size.
Finally, we found that rearing history impacted multiplex centrality –nursery-reared (NR) animals had lower consensus ranks than mother-reared (MR) animals. This is significant because few studies have examined the impact of NR on social behavior of adults living in social groups and results have been mixed. Some studies have found that NR adults are lower ranked than their MR peers when housed together in groups (Bastian et al., 2003; Dettmer et al., 2017), and others report no rearing related difference in adults' social behavior (Bauer & Baker, 2016). NR is well known to cause a number of physiological and behavioral deficits, and these effects have been most consistently shown for young NR animals. NR animals up to 3 years of age exhibit more aggression, less reciprocal social interaction, and an inability to use a social partner to buffer their response to a stressor (Winslow et al., 2003) likely due to early alterations in neural and endocrine systems (Clarke, 1993; Sánchez et al., 1998; Capitanio et al., 2006). In this study, we were unable to detect evidence of altered social behavior in NR animals in the single layer analyses but did detect such differences in the multiplex network. These findings offer further evidence that NR can impact adult social behavior (Bastian et al., 2003; Dettmer et al., 2017), and suggest that the social consequences of nursery rearing are complex and may be difficult to detect by examining a single facet of social life.
Practical applications for multilayer consensus rank
Multilayer consensus rankings provide an effective and straightforward way to quantify an individual's social role or their impact on the other members of their community. In the study population, consensus ranks revealed that not all alpha and beta males were as socially central as one might expect and identified other individuals that were surprisingly central. Therefore, multilayer consensus ranks might be a useful tool for management of animal populations, such as those in captivity. For instance, identification of unexpectedly central individuals using a multilayer ranking can benefit the management of captive populations in zoos, research institutions, or sanctuaries, because colony managers must frequently make changes to group membership based on the ever-changing demands of the institution such as breeding, veterinary care, and research. Social instability, and concomitant outbreaks of severe aggression and social trauma, are a known hazard for socially housing rhesus macaques, for example, and removals of key individuals can trigger rank instabilities or a social overthrow (Ehardt & Bernstein, 1986; Oates-O'Brien et al., 2010; Beisner et al., 2011a; Wooddell et al., 2016). Identifying socially central, and perhaps influential, individuals can guide management decisions to prevent social instability. Consensus ranks may also prove useful for understanding whether population social structure and animals' typical social roles may differ under different environmental conditions such as rapid anthropogenic change or habitat loss because deforestation, urbanization and ecotourism can significantly impact animal behavior (Clarke, Collins & Zucker, 2002; Lusseau & Higham, 2004; Kaburu et al., 2019; Marty et al., 2019).
Conclusion
Multilayer network approaches, such as calculations of multiplex centrality, can offer greater insight into an individual's role in society compared to standard analytical approaches. Current state-of-the-art methods for quantifying centrality in a multiplex do not adequately handle the complexity found in social networks, such as layers whose links differ in density, function and directionality. Here we have shown that a new method that is designed to handle these complexities across layers, consensus ranking (Pósfai et al., 2019), appropriately identified which types of individuals tend to be central in a socially complex nonhuman primate (e.g., high-ranking males with high certainty of rank; females from large families) and further highlighted some patterns that might have otherwise gone undetected (i.e., females from the smallest families were as central as those from the largest; NR individuals were less central than MR individuals).