Density and population viability of coastal marten: a rare and geographically isolated small carnivore
Published

Accepted

Received
Academic Editor
Subject Areas

Keywords

Density

, Martes americana,

Marten

, Martes caurina,

Population viability analysis

,

Spatial mark-resight
Licence

This is an open access article, free of all copyright, made available under the Creative Commons Public Domain Dedication. This work may be freely reproduced, distributed, transmitted, modified, built upon, or otherwise used by anyone for any lawful purpose.
Cite this article

2018

.

Density and population viability of coastal marten: a rare and geographically isolated small carnivore

.

PeerJ

6

:

e4530

https://doi.org/10.7717/peerj.4530
Abstract
Pacific martens (Martes caurina humboldtensis) in coastal forests of Oregon and northern California in the United States are rare and geographically isolated, prompting a petition for listing under the Endangered Species Act. If listed, regulations have the potential to influence land-use decisions on public and private lands, but no estimates of population size, density, or viability of remnant marten populations are available for evaluating their conservation status. We used GPS and VHF telemetry and spatial mark-resight to estimate home ranges, density, and population size of Pacific martens in the Oregon Dunes National Recreation Area, central coast Oregon, USA. We then estimated population viability at differing levels of human-caused mortality (e.g., vehicle mortality). Marten home ranges were small on average (females = 0.8 km2, males 1.5 km2) and density (1.13 martens/1 km2) was the highest reported for North American populations (M. caurina, M. americana). We estimated 71 adult martens (95% CRI [41–87]) across two subpopulations separated by a large barrier (Umpqua River). Using population viability analysis, extinction risk for a subpopulation of 30 martens, approximately the size of the subpopulation south of the Umpqua River, ranged from 32% to 99% with two or three annual human-caused mortalities within 30 years. Absent population expansion, limiting human-caused mortalities will likely have the greatest conservation impact.
Introduction
Conserving wildlife while maintaining economic growth is one of the most pervasive conservation and policy challenges globally. This balance in the United States is enforced in part by the Endangered Species Act (ESA), which can regulate land-use on both public and private lands for the conservation of imperiled species. Forests of the Pacific Northwest of North America highlight challenges between land-use and endangered species conservation as demonstrated by the history with northern spotted owl (Strix occidentalis caurina, Simberloff, 1987). Now, decades after the conflict over listing the northern spotted owl, a distinct population segment of a forest-dependent small carnivore is a litigation target, petitioned for listing under the ESA (Anonymous, 2017).
Pacific martens (Martes caurina) are a small carnivore considered to be a habitat specialist closely associated with structurally complex montane forests with seasonal snow cover in the western United States (Buskirk & Ruggiero, 1994; Zielinski, 2013). Coastal populations of Pacific martens in Oregon and California, referred to as Humboldt marten (Martes caurina humboldtensis), are near the southern edge of their distribution and live in near-coast forests with limited or no snow cover. Recent extensive distributional surveys suggest two or three potential populations in coastal Oregon and northern California (Moriarty et al., 2016; Zielinski et al., 2001). These coastal populations of martens have contracted in the 20th century (Zielinski et al., 2001), prompting petitions to list a Distinct Population Segment as threatened or endangered (Center for Biological Diversity, 2010). The northernmost population is located in the central Oregon coast (Moriarty et al., 2016), and it is also the most isolated (i.e., >60 km from the nearest adjacent population).
The United States Fish and Wildlife Service determined that the coastal Distinct Population Segment of the Pacific martens in California and Oregon did not warrant listing as a threatened or endangered species under the Endangered Species Act in 2015 (US Fish Wildlife Service, 2015). The finding by the US Fish and Wildlife service, however, included two assumptions for which updated information now exists: (1) that coastal martens were abundant in central Oregon from the relatively high number of road-killed individuals there in the past three decades, and (2) extensive Late-Seral Reserves on federal lands provided habitat for these martens (Slauson, 2015). Recent distributional surveys indicated this population likely occupies a <500 m wide band of young (i.e., <70 years old) forests growing on sand dunes along the margin of the Pacific Ocean west of Highway 101, and that there is no evidence of martens >3 km inland (Fig. 1, Moriarty et al., 2016). With so little known about martens in the central Oregon coast, research needs including basic attributes of the population, such as population size, are urgently needed to inform conservation decisions.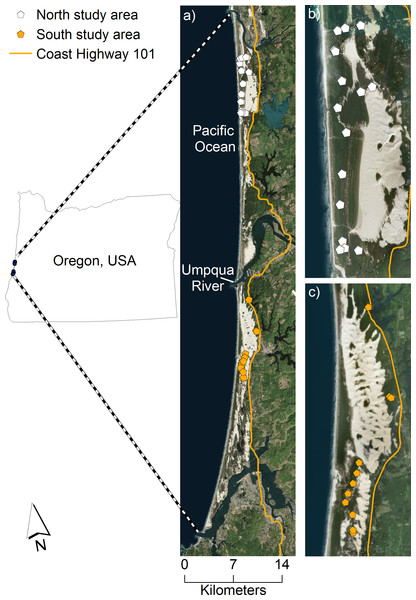 Our objectives were to describe marten density, population size, and population viability in the central Oregon coast. Specifically, we used spatial mark-resight (SMR) models to evaluate density in a portion of our study area and then we applied our density estimate to coastal forests west of Highway 101 where martens resided to estimate total population size. We assumed that, (1) forest characteristics were similar across our study area, and (2) because martens are highly territorial, density would be static across study areas if home range sizes were similar between individuals. We then used a population viability analysis to quantify the potential effects of human-caused mortality on marten numbers (e.g., legal trapping, vehicle strikes). Finally, because density and home range size are often correlated with foraging resources (Kittle et al., 2015; Mattisson et al., 2016), we compared density and home range sizes of martens in coastal Oregon to other North American populations (Martes caurina, Martes americana) to infer year-round food resource availability compared to other populations.
Results
We live-captured and radio-collared seven females (four VHF-only, three GPS/VHF) and four male (all GPS) martens. Our GPS collars collected 1,139 (, range: 173–2,960) locations over 15.7 (, range: 4–44) days on 8 individuals (4 males, 4 females), and we collected 35 (, range: 23–37) locations over 75 (, range: 42–90) days for three females with VHF-only collars (Table S1). Home range sizes in our study areas were similar (t = 0.5, p = 0.68) for males: 1.7, 2.2 (northern, n = 2) vs 1.0, 2.2 (southern, n = 2), and females 0.59–0.84 (, northern, n = 4) vs 0.71, 0.79 (southern, n = 2). Martens were primarily located in areas of high vegetation cover; vegetation cover within a 100 m moving window of telemetry locations averaged 75% (25–75% quantile range = 60–96%, n = 11 martens; Table S1, Fig. S1). Home range sizes were smaller and density was higher in coastal Oregon compared to other North American populations (Fig. 3, Table S2). Home range sizes were negatively correlated with density (Fig. 3).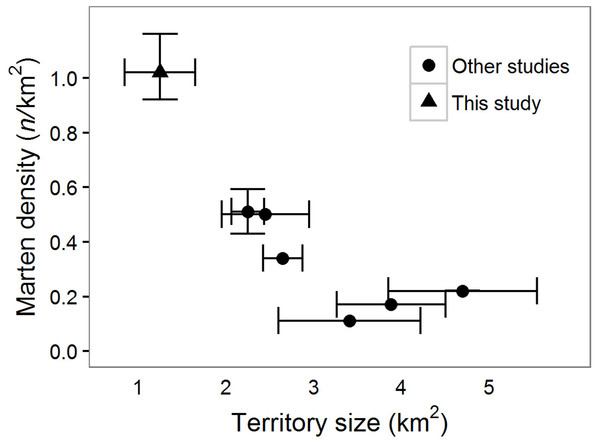 Density and population size
We incorporated 79.3 ± 59.2 telemetry locations per individual into our SMR models. No marked individuals of the same sex were observed visiting the same camera station, and 1.1 (, range: 0.7–1.9) km and 4.7, 2.1 (n = 2) km was the furthest distance between camera station detections for females and males, respectively (Fig. 4).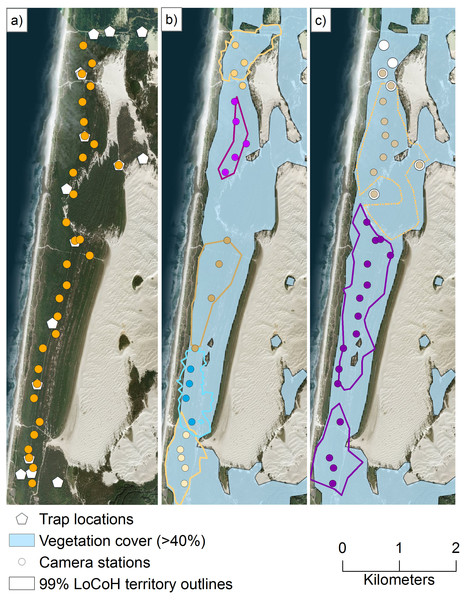 We estimated marten density as (mean ± 1 standard deviation) 1.13 ± 0.15 individuals/km2 (95% CRI [0.81–1.39]), or 9.75 ± 1.32 individuals within the SMR area. Assuming density was constant within vegetation in the 62.5 km2 Oregon Dunes, we estimated a median population size of 42 (CRI = 30–51) north of the Umpqua River and 29 (CRI = 21–36) south of it. Sex did not have a significant effect on the probability of live-capture (Table 3), but female martens had a higher resight probability than males (Table 3). Days since baiting had a significant effect on resight probability; martens were more likely to visit baited cameras closer to a baiting event (Table 3). Percent vegetation cover had a significant effect on the distribution of activity centers (Table 3).
Parameter
Mean (SD)
Credible Interval
2.5
50
97.5
Density (per km2)a
1.13 (0.15)
0.81
1.15
1.39
Abundance (# martens)a
9.75 (1.32)
7
10
12
α0—habitat intercept
−1.55 (0.76)
−3.29
−1.45
−0.38
α1—effect of forest cover
1.07 (0.53)
0.17
1.02
2.22
β0—capture probability intercept
−1.91 (0.53)
−2.98
−1.9
−0.94
β1—female effect on capture probability
0.79 (0.6)
−0.36
0.79
1.98
δ0—resight probability intercept
−1.26 (0.17)
−1.59
−1.26
−0.92
δ1—female effect on resight probability
0.75 (0.19)
0.38
0.76
1.11
δ2—days since baiting effect on resight probability
−0.06 (0.02)
−0.11
−0.06
−0.02
σmale (m)
1,141.22 (45.27)
1,058.39
1,139.46
1,233.75
σfemale (m)
277.81 (6.17)
266.46
277.63
290.1
a
Based on the habitat mask within our state-space.
Population viability
We estimated that two or more annual human-caused mortalities on martens (e.g., trapping and road-kills) would lead to a substantial risk of extirpation, particularly at smaller population sizes (Figs. 5 and 6) and for θ = 1 (Fig. 5) relative to θ = 2 (Fig. 6). The likelihood of extirpation when θ = 1 for a population of 30 individuals, which approximated the average of our estimates for each study area, was 32% and 99% with two and three annual mortalities, respectively. The probabilities decreased to 1% and 60% when θ = 2 with two and three annual mortalities, respectively. The probability of extirpation increased to 89–100% and 65–100% for a population of 20 individuals with two or three annual mortalities.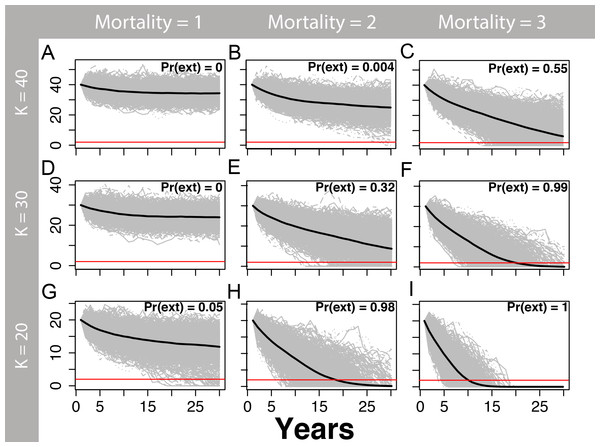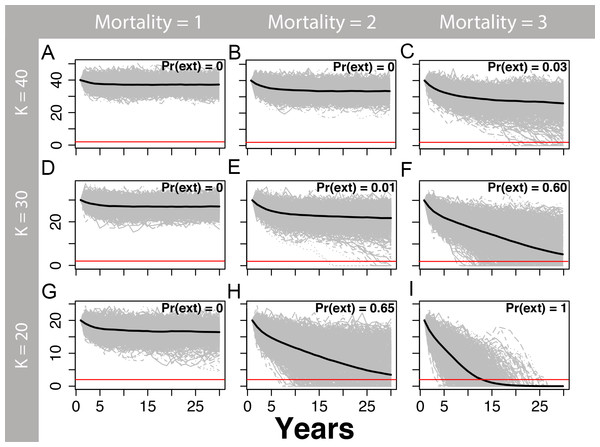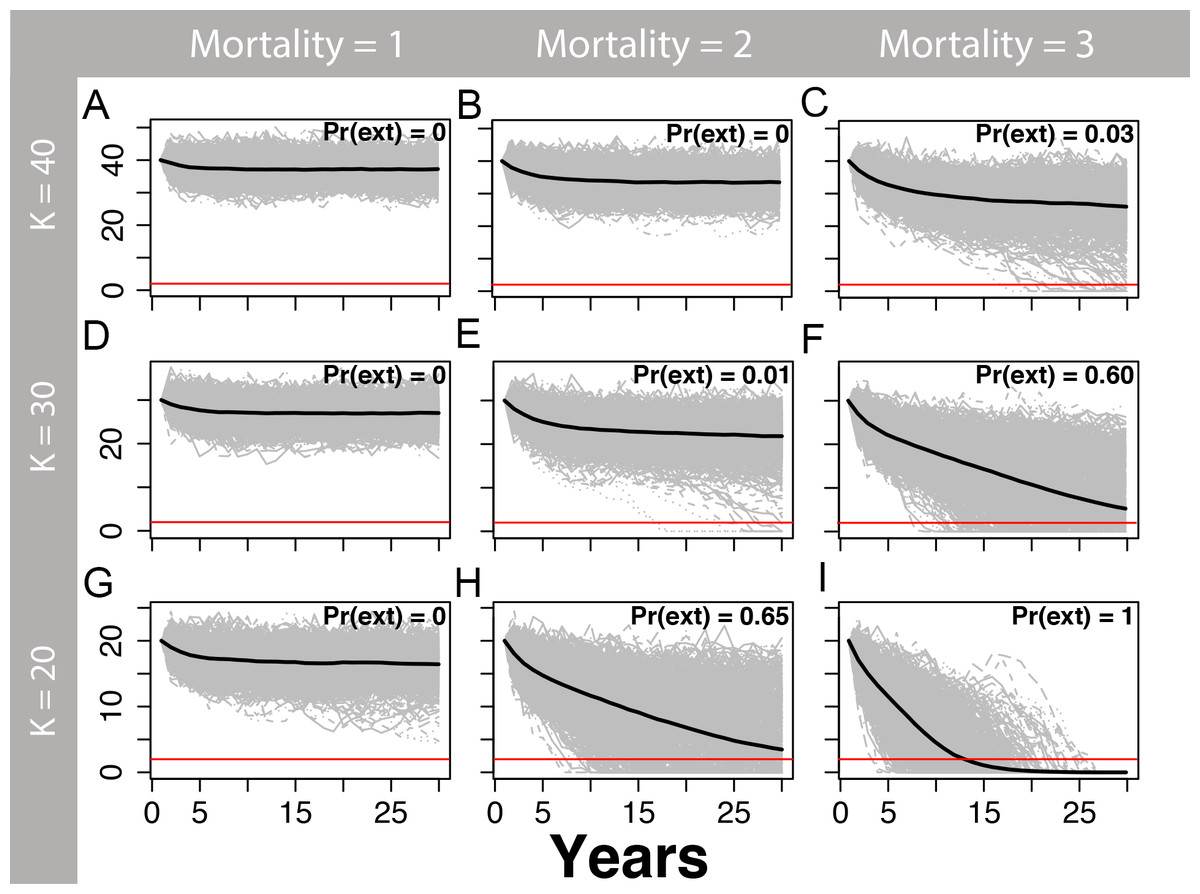 Discussion
Our population assessment revealed that the central Oregon population of coastal martens contains fewer than 87 adults divided into two subpopulations separated by a riverine barrier. Further, this population appears completely isolated with a lack of connectivity to the southern Oregon population. Based on the small number of individuals in these subpopulations, our projections suggest that even a small amount of human-caused mortalities will strongly increase the likelihood of extirpation over the next 30 years. Further, our analysis is likely an optimistic scenario for marten population viability because we assumed that marten populations would exhibit very high survival and fecundity at low population densities, which may not be the case. Despite these favorable assumptions, marten population viability was low given modest mortality estimates averaging 2–3 individuals annually, even when assuming higher than observed carrying capacities and assuming later onset of density dependence (θ = 2; Fig. 6). Moreover, we did not fully consider environmental stochasticity or catastrophes in our viability analysis. In particular, the extant central Oregon coast marten population is in a tsunami zone within the Cascadia subduction zone. The probability of a large earthquake and tsunami eliminating much of Oregon's near-coastal forests in the next 50 years is placed at 15 to 20% (Goldfinger et al., 2012). Such an event would be expected to eliminate much of the forests that the central coast marten population occupies.
Martens can be common in structurally complex high elevation montane forests with seasonal snow cover, but they are apparently rare and geographically isolated in coastal Oregon. Nonetheless, the Oregon Dunes supported the smallest home ranges and highest reported density of martens in North America (Fig. 3). North American martens inhabiting forests with seasonal snow-cover typically consume a narrow range of prey, especially during winter months (Martin, 1994), which can lead to substantial inter- and intra-annual variation in food availability (Poole & Graf, 1996), and presumably requires martens to defend large amounts of space within their home ranges to meet nutritional requirements. In contrast, low-latitude coastal populations have a broad diet including foods such as late-season berries and over-wintering passerine birds, unavailable to montane and high latitude martens, particularly during winter (Nagorsen, Morrison & Forsberg, 1989) potentially facilitating the small home ranges observed in our study.
Despite the adjacent high-density marten population, the mature forest east of the Oregon Dunes does not support a marten population. The reason for near complete marten absence to the east is unclear. We hypothesize that abundant berry-producing shrubs directly provide abundant food for martens, and indirectly support marten by increasing the abundance of frugivorous vertebrate prey. Moreover, dense understory vegetation likely mediates interactions with competitors and predators, and provided spaces to hunt and avoid predators similar to snow in winter (Andruskiw et al., 2008). As such, maintaining contiguous tree and shrub cover—and limiting fragmentation and habitat loss—would benefit martens in areas where they persist. Whether prey availability, habitat-mediated competition, or some combination of these factors limits martens from the extensive inland forests is largely unknown; these questions are key to address when considering the potential for population expansion.
In addition to vegetation structure and predation, harvest by humans can affect marten populations. It is currently legal to harvest marten throughout Oregon, including within this small, remnant, coastal population. Marten populations can be resilient to fur harvest when they are abundant, and if breeding females are harvested infrequently compared to males, particularly juvenile males (Robitaille, 2017; Banci & Proulx, 1999). Adult females in our study were observed more frequently than adult males at ratios of 1.5:1 (live-trapping) and 3:1 (SMR). Our results were atypical of ratios observed in other marten research studies and in harvested populations; these studies typically demonstrate higher male to female ratios of live-trapped and kill-trapped martens (e.g., McCann, Zollner & Gilbert, 2010; Payer & Harrison, 1999; Robitaille, 2017). Given the small population size and vulnerability to trapping, eliminating fur harvest in the central coast of Oregon would decrease immediate risk of marten extirpation.
We have provided a baseline estimate of population size that can be compared to future surveys, allowing the monitoring of population status and viability. Such additional monitoring efforts would inform whether these populations are declining or merely small (Caughley, 1994). Small population size, consistent annual human-caused mortality, and isolation indicate this coastal marten population is likely to remain vulnerable to extirpation.