Comprehensive comparison of large-scale tissue expression datasets
Published

Accepted

Received
Academic Editor
Subject Areas

Keywords

Immunohistochemistry

,

RNA sequencing

,

Tissue expression

,

Mass spectrometry

,

Microarrays

,

Databases

,

Tissue-specificity
Copyright

©

2015

Santos et al.

Licence

This is an open access article distributed under the terms of the Creative Commons Attribution License, which permits unrestricted use, distribution, reproduction and adaptation in any medium and for any purpose provided that it is properly attributed. For attribution, the original author(s), title, publication source (PeerJ) and either DOI or URL of the article must be cited.
Cite this article

2015

.

Comprehensive comparison of large-scale tissue expression datasets

.

PeerJ

3

:

e1054

https://doi.org/10.7717/peerj.1054
Abstract
For tissues to carry out their functions, they rely on the right proteins to be present. Several high-throughput technologies have been used to map out which proteins are expressed in which tissues; however, the data have not previously been systematically compared and integrated. We present a comprehensive evaluation of tissue expression data from a variety of experimental techniques and show that these agree surprisingly well with each other and with results from literature curation and text mining. We further found that most datasets support the assumed but not demonstrated distinction between tissue-specific and ubiquitous expression. By developing comparable confidence scores for all types of evidence, we show that it is possible to improve both quality and coverage by combining the datasets. To facilitate use and visualization of our work, we have developed the TISSUES resource (http://tissues.jensenlab.org), which makes all the scored and integrated data available through a single user-friendly web interface.
Introduction
Mapping out which proteins are present in each tissue is of major importance for understanding the functional differences between tissues as well as their development and differentiation (Pontén et al., 2009; Emig & Albrecht, 2011). Several high-throughput experimental technologies have been used for this, the most widely used of which are expressed sequence tags (ESTs) (Wheeler, 2003; Pontius, Wagner & Schuler, 2002), high-density oligonucleotide microarrays (also called DNA chips) (Su et al., 2004; Clark et al., 2007), and RNA sequencing (RNA-seq) (Krupp et al., 2012; Fagerberg et al., 2014; Uhlen et al., 2015).
ESTs are short sequence reads—typically around 400bp—derived from 5′ or 3′ ends of complementary DNA (cDNA) libraries from tissues or cell lines (Adams et al., 1991; Bailey, Searls & Overton, 1998; Nagaraj, Gasser & Ranganathan, 2007). Consequently, for a highly expressed gene, one would expect to see a correspondingly high abundance of ESTs derived from its transcripts. A more recent sequencing-based approach to quantifying transcript levels is RNA-seq. The major difference to EST sequencing is that random cDNA fragments are sequenced instead of only the 5′ and 3′ ends. The resulting reads are aligned to a reference genome, producing a quantitative expression profile for each gene (Wang, Gerstein & Snyder, 2009; Nagalakshmi, Waern & Snyder, 2010). Because reads are generated from all parts of a transcript instead of only the ends, the number of reads observed for a gene depends on both its length and its level of expression. A major advantage of RNA-seq is the ability to resolve individual splice variants if enough reads are obtained for a gene. Microarrays are another extensively used technology for transcriptome analysis. Gene expression is quantified by measuring the fluorescence intensity of labeled cDNA that hybridizes to oligonucleotide probes (Lipshutz et al., 1999; Harrington, Rosenow & Retief, 2000; Churchill, 2002). Because a microarray can contain millions of different probes, the transcript levels of all genes can be measured simultaneously.
The above mentioned techniques are all based on measuring mRNA levels. Fewer techniques exist for high-throughput measurement of protein levels. One of them is multiplexed immunohistochemical staining of tissue samples embedded in paraffin blocks (sometimes referred to as tissue microarrays). Histological analysis of the resulting images of tissues stained with an antibody can semiquantitatively tell where the target protein is present (Kampf et al., 2012). The main challenge to using this approach at the proteome scale is the need for specific antibodies against all proteins (Buchwalow et al., 2011). Mass spectrometry has also been used for measuring protein abundances in tissue samples, mainly in bodily fluids (Adkins, 2002; Schmidt & Aebersold, 2006; Aretz et al., 2013), muscle biopsies (Lundby et al., 2012), and tumor samples (Schwartz, 2004; Seeley & Caprioli, 2008; Paul et al., 2013). Two recent publications collected many of these experiments into a single repository (Wilhelm, Schlegl & Hahne, 2014) and for the first time used this technology for in-depth proteomic profiling of a broad selection of normal human tissues (Kim et al., 2014).
Large-scale tissue expression datasets have formed the basis for many analyses and discoveries related to correlations between data from different technologies, mainly between transcriptomics and proteomics experiments (Waters, Pounds & Thrall, 2006; Bitton et al., 2008), roles of housekeeping and tissue-specific genes in protein complexes (Bossi & Lehner, 2009; Emig & Albrecht, 2011), biological processes (Zhu et al., 2008b; Chang et al., 2011; Schaefer et al., 2013), and diseases (Shyamsundar et al., 2005; Vasmatzis et al., 2007; Lage et al., 2008; Magger et al., 2012; Börnigen et al., 2013). However, the majority of these studies (Shyamsundar et al., 2005; Lage et al., 2008; Bossi & Lehner, 2009; Chang et al., 2011; Magger et al., 2012; Schaefer et al., 2013; Börnigen et al., 2013) are based solely on microarray data from the GNF Expression Atlas (Su et al., 2004), which could bias the results. It is thus relevant to test to which extent the different technologies and datasets give congruent results.
We here present the first comparative evaluation of the quality of tissue associations from a variety of different datasets and experimental methods as well as from manual curation (The UniProt Consortium, 2014) and automatic text mining of the biomedical literature (Fig. 1). We show that these datasets—despite the technological differences—agree surprisingly well with each other and can be combined to improve quality and coverage. Finally, as a result of the integration process, we have developed the TISSUES resource (http://tissues.jensenlab.org), which makes the above mentioned heterogeneous data more easily accessible to researchers by collecting them in a single place and assigning confidence scores.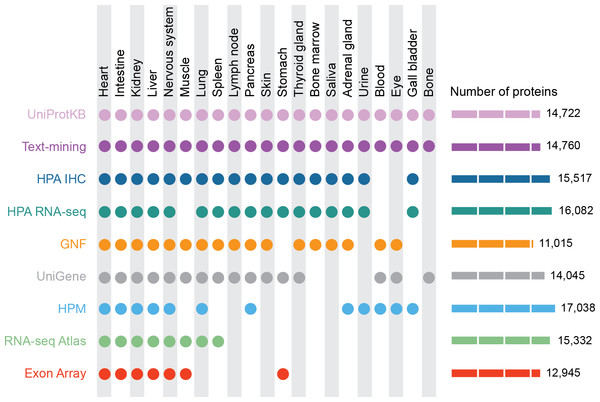 Methods
Evaluation and calibration of scores
To evaluate the quality of the gene–tissue associations from each dataset, we compared them to the UniProtKB gold standard. We quantified the agreement in terms of the fold enrichment, which we define as the fraction of pairs in a dataset that are also in the gold standard divided by the fraction expected by random chance. The latter is defined as the fraction of possible gene–tissue pairs that are found in the gold standard. For these fold-enrichment calculations we considered only the genes and tissues that are shared between the dataset and the gold standard.
We calculated the fold enrichment for score windows of 100 gene–tissue associations to capture the relationship between fold enrichment and the quality scores defined in the previous sections. To be able to convert the quality scores from individual datasets into confidence scores that are comparable between datasets, we first fit the relationships between quality scores and fold enrichments with mathematical functions with only a few parameters. For this purpose, we used the 'Non-linear curve fitting' functionality that xmgrace provides via its GUI. The large number of data points (20,000–50,000 gene–tissue pairs) used to estimate at most four parameters in each fitted function ensures the robustness to random variation in the data. We obviously cannot rule out effects of possible systematic biases in individual datasets. We used the obtained confidence scores to define the low-, medium-, and high-confidence cutoffs for the comparisons of the datasets (Table 1). Next, we performed a global transformation of the fold enrichments into the "star" confidence scores used in the COMPARTMENTS (Binder et al., 2014) and DISEASES resources (Pletscher-Frankild et al., 2014), based on the text-mining scores, which the three resources have in common. The combined, calibrated functions for translating quality scores into the final confidence scores are listed in Table 1 (Fig. S3).
| Dataset | Low cutoff | Medium cutoff | High cutoff | Score | Confidence score (stars)a |
| --- | --- | --- | --- | --- | --- |
| UniGene | 1 | 10 | 20 | No. of ESTs | 6/(1 + 0.229 ⋅ score−7.898) − 1 |
| GNF | 50 | 100 | 250 | Expression units | log10(score) + 0.7 |
| Exon array | 50 | 100 | 250 | Expression units | 2 ⋅ log10(score) − 3.56 |
| RNA-seq atlas | 0.5 | 1 | 5 | RPKMs | log10(score) + 0.523 |
| HPA RNA-seq | 1 | 10 | 20 | FPKMs | log10(score) − 0.176 |
| HPA IHC | 0 | 1.1 | 1.9 | IHC score | score/5.5 |
| HPM | 1 | 5 | 10 | No. of tryptic peptides | score/30 + 0.5 |
| Text mining | 0 | 2.5 | 3.5 | Z-score | max(score/2.4) |
a
These functions were calculated using the 'Non-linear curve fitting' functionality that xmgrace provides via its GUI.
Web resource
To make the protein–tissue associations available for query by a web resource, we store all data in a PostGreSQL database. The web interface is implemented through the same Python web framework used for the COMPARTMENTS database (Binder et al., 2014). The body map onto which the data is visualized was manually created in Adobe Illustrator and saved as a Scalable Vector Graphics (SVG). In the user's browser, JavaScript is then used to provide interactive coloring and labeling of tissues.
Results and Discussion
To systematically compare the different datasets, we standardized the varying names used for the same tissues to their respective terms in the Brenda Tissue Ontology (Schomburg et al., 2013) (Data S1). Because this ontology is structured as a directed acyclic graph, this also helps deal with the challenge of different datasets having different tissue resolution; for example, some datasets study the brain as a whole whereas others study different parts separately. We decided to base our analyses on the 21 major tissues shown in Fig. 1. These tissues were selected as a compromise between the varying selections of tissues analyzed in the experimental datasets that we integrate. We also made sure that the tissues were non-overlapping, i.e., that none of the 21 ontology terms were parents/children of each other.