A probabilistic model to recover individual genomes from metagenomes
1
Computational Biology of Infection Research, Helmholtz Centre for Infection Research

,

Braunschweig

,

Germany
2
Centrum Wiskunde & Informatica

,

Amsterdam

,

The Netherlands
Published

Accepted

Received
Academic Editor
Subject Areas

Keywords

Binning

,

Metagenomics
Copyright

©

2017

Dröge et al.

Licence

This is an open access article distributed under the terms of the Creative Commons Attribution License, which permits unrestricted use, distribution, reproduction and adaptation in any medium and for any purpose provided that it is properly attributed. For attribution, the original author(s), title, publication source (PeerJ Computer Science) and either DOI or URL of the article must be cited.
Cite this article

2017

.

A probabilistic model to recover individual genomes from metagenomes

.

PeerJ Computer Science

3

:

e117

https://doi.org/10.7717/peerj-cs.117
Abstract
Shotgun metagenomics of microbial communities reveal information about strains of relevance for applications in medicine, biotechnology and ecology. Recovering their genomes is a crucial but very challenging step due to the complexity of the underlying biological system and technical factors. Microbial communities are heterogeneous, with oftentimes hundreds of present genomes deriving from different species or strains, all at varying abundances and with different degrees of similarity to each other and reference data. We present a versatile probabilistic model for genome recovery and analysis, which aggregates three types of information that are commonly used for genome recovery from metagenomes. As potential applications we showcase metagenome contig classification, genome sample enrichment and genome bin comparisons. The open source implementation MGLEX is available via the Python Package Index and on GitHub and can be embedded into metagenome analysis workflows and programs.
Introduction
Shotgun sequencing of DNA extracted from a microbial community recovers genomic data from different community members while bypassing the need to obtain pure isolate cultures. It thus enables novel insights into ecosystems, especially for those genomes which are inaccessible by cultivation techniques and isolate sequencing. However, current metagenome assemblies are oftentimes highly fragmented, including unassembled reads, and require further processing to separate data according to the underlying genomes. Assembled sequences, called contigs, that originate from the same genome are placed together in this process, which is known as metagenome binning (Tyson et al., 2004; Dröge & McHardy, 2012) and for which many programs have been developed. Some are trained on reference sequences, using contig k-mer frequencies or sequence similarities as sources of information (McHardy et al., 2007; Dröge, Gregor & McHardy, 2014; Wood & Salzberg, 2014; Gregor et al., 2016), which can be adapted to specific ecosystems. Others cluster the contigs into genome bins, using contig k-mer frequencies and read coverage (Chatterji et al., 2008; Kislyuk et al., 2009; Wu et al., 2014; Nielsen et al., 2014; Imelfort et al., 2014; Alneberg et al., 2014; Kang et al., 2015; Lu et al., 2017).
Recently, oftentimes multiple biological or technical samples of the same environment are sequenced to produce distinct genome copy numbers across samples, sometimes using different sequencing protocols and technologies, such as Illumina and PacBio sequencing (Hagen et al., 2016). Genome copies are reflected by corresponding read coverage variation in the assemblies which allows to resolve samples with many genomes. The combination of experimental techniques helps to overcome platform-specific shortcomings such as short reads or high error rates in the data analysis. However, reconstructing high-quality bins of individual strains remains difficult without very high numbers of replicates. Often, genome reconstruction may improve by manual intervention and iterative analysis (Fig. 1) or additional sequencing experiments.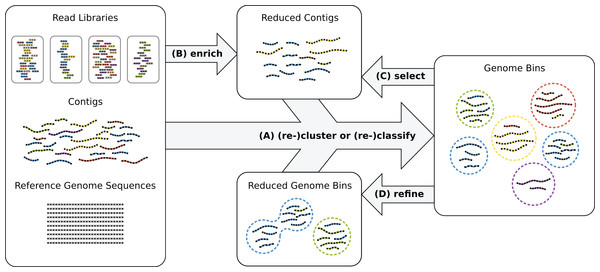 Genome bins can be constructed by consideration of genome-wide sequence properties. Currently, oftentimes the following types of information are considered:
Read contig coverage: sequencing read coverage of assembled contigs, which reflects the genome copy number (organismal abundance) in the community. Abundances can vary across biological or technical replicates, and co-vary for contigs from the same genome, supplying more information to resolve individual genomes (Baran & Halperin, 2012; Albertsen et al., 2013).

Nucleotide sequence composition: the frequencies of short nucleotide subsequences of length k called k-mers. The genomes of different species have a characteristic k-mer spectrum (Karlin, Mrazek & Campbell, 1997; McHardy et al., 2007).

Sequence similarity to reference sequences: a proxy for the phylogenetic relationship to species which have already been sequenced. The similarity is usually inferred by alignment to a reference collection and can be expressed using taxonomy (McHardy et al., 2007).
Probabilities represent a convenient and efficient way to represent and combine information that is uncertain by nature. Here, we:
Propose a probabilistic aggregate model for binning based on three commonly used information sources, which can easily be extended to include new features.

Outline the features and submodels for each information type. As the feature types listed above derive from distinct processes, we define for each of them independently a suitable probabilistic submodel.

Showcase several applications related to the binning problem.
A model with data-specific structure poses an advantage for genome recovery in metagenomes because it uses data more efficiently for fragmented assemblies with short contigs or a low number of samples for differential coverage binning. Being probabilistic, it generates probabilities instead of hard labels so that a contig can be assigned to several, related genome bins and the uncertainty can easily be assessed. The models can be applied in different ways, not just classification, which we show in our application examples. Most importantly, there is a rich repertoire of higher-level procedures based on probabilistic models, including expectation maximization (EM) and Markov chain Monte Carlo (MCMC) methods for clustering without or with few prior knowledge of the modeled genomes.
We focus on defining explicit probabilistic models for each feature type and their combination into an aggregate model. In contrast, binning methods often concatenate and transform features (Chatterji et al., 2008; Imelfort et al., 2014; Alneberg et al., 2014) before clustering. Specific models for the individual data types can be better tailored to the data generation process and will therefore generally enable a better use of information and a more robust fit of the aggregate model while requiring fewer data. We propose a flexible model with regard to both the included features and the feature extraction methods. There already exist parametric likelihood models in the context of clustering, for a limited set of features. For instance, Kislyuk et al. (2009) use a model for nucleotide composition and Wu et al. (2014) integrated distance-based probabilities for 4-mers and absolute contig coverage using a Poisson model. We extend and generalize this work so that the model can be used in different contexts such as classification, clustering, genome enrichment and binning analysis. Importantly, we are not providing an automatic solution to binning but present a flexible framework to target problems associated with binning. This functionality can be used in custom workflows or programs for the steps illustrated in Fig. 1. As input, the model incorporates genome abundance, nucleotide composition and additionally sequence similarity (via taxonomic annotation). The latter is common as taxonomic binning output (Dröge, Gregor & McHardy, 2014; Wood & Salzberg, 2014; Gregor et al., 2016) and for quality assessment but has rarely been systematically used as features in binning (Chatterji et al., 2008; Lu et al., 2017). We show that taxonomic annotation is valuable information that can improve binning considerably.
Discussion
We describe an aggregate likelihood model for the reconstruction of genome bins from metagenome data sets and show its value for several applications. The model can learn from and classify nucleotide sequences from metagenomes. It provides likelihoods and posterior bin probabilities for existing genome bins, as well as p-values, which can be used to enrich a metagenome dataset with a target genome. The model can also be used to quantify bin similarity. It builds on four different submodels that make use of different information sources in metagenomics; namely, absolute and relative contig coverage, nucleotide composition and previous taxonomic assignments. By its modular design, the model can easily be extended to include additional information sources. This modularity also helps in interpretation and computations. The former, because different features can be analyzed separately and the latter, because submodels can be trained independently and in parallel.
In comparison to previously described parametric binning methods, our model incorporates two new types of features. The first is relative differential coverage, for which, to our knowledge, this is the first attempt to use binomials to account for systematic bias in the read mapping for different genome regions. As such, the binomial submodel represents the parametric equivalent of covariance distance clustering. The second new type is taxonomic annotation, which substantially improved the classification results in our simulation. Taxonomic annotations, as used in the model and in our simulation, were not correct up to the species level and need not be, as seen in the classification results. We only require the same annotation method be applied to all sequences. In comparison to previous methods, our aggregate model has weight parameters to combine the different feature types and allows tuning the bin posterior distribution by selection of an optimal smoothing parameter β.
We showed that probabilistic models represent a good choice to handle metagenomes with short contigs or few sample replicates, because they make soft, not hard decisions, and because they can be applied in numerous ways. When the individual submodels are trained, genome bin properties are compressed into fewer model parameters, such as mean values, which are mostly robust to outliers and therefore tolerate a certain fraction of bin pollution. This property allows to reassign contigs to bins, which we demonstrated in the "Genome bin refinement" section. Measuring the performance of the individual submodels and their corresponding features on short simulated contigs (Table 2), we find that they discriminate genomes or species pan-genomes by varying degrees. Genome abundance represents, in our simulation with four samples, the weakest single feature type, which will likely become more powerful with increasing sample numbers. Notably, genomes of individual strains are more difficult to distinguish than species level pangenomes using any of the features. In practice, if not using idealized assemblies as in our current evaluation, strain resolution poses a problem to metagenome assembly, which is currently not resolved in a satisfactory manner (Sczyrba et al., 2017).
The current MGLEX model is somewhat crude because it makes many simplifying assumptions in the submodel definitions. For instance, the multi-layer model for taxonomic annotation assumes that the probabilities in different layers are independent, the series of binomials for relative abundance should be replaced by a multinomial to account for the parameter dependencies or the absolute abdundance Poisson model should incorporate overdispersion to model the data more appropriately. Exploiting this room for improvement can lead to further improvement in the performance while the overall framework and usage of MGLEX stay unchanged. When we devised our model, we had an embedding into more complex routines in mind. In the future, the model can be used in inference procedures such as EM or MCMC to infer or improve an existing genome binning. Thus, MGLEX provides a software package for use in other programs. However, it also represents a powerful stand-alone tool for the adept user in its current form.
Currently, MGLEX does not yet have support for multiple processors and only provides the basic functionality presented here. However, training and classification can easily be implemented in parallel because they are expressed as matrix multiplications. The model requires sufficient training data to robustly estimate the submodel weights α using the standard deviation of the empirical log-likelihood distributions and requires linked sequences to estimate β using error minimization. Therefore, in situations with a limited number of contigs per genome bin, we advise the generation of linked training sequences of a certain length, as in our simulation; for instance, by splitting assembled contigs. The optimal length for splitting may depend on the overall fragmentation of the metagenome.
Our open-source Python package MGLEX provides a flexible framework for metagenome analysis and binning which we intent to develop further together with the metagenomics research community. It can be used as a library to write new binning applications or to implement custom workflows, for example to supplement existing binning strategies. It can build upon a present metagenome binning by taking assignments to bins as input and deriving likelihoods and p-values that allow for critical inspection of the contig assignments. Based on the likelihood, MGLEX can calculate bin similarities to provide insight into the structure of data and community. Finally, genome enrichment of metagenomes can improve the recovery of particular genomes in large datasets.
Supplemental Information
Supplementary material.