Neither heat pulse, nor multigenerational exposure to a modest increase in water temperature, alters the susceptibility of Guadeloupean Biomphalaria glabrata to Schistosoma mansoni infection
1
School of Veterinary Medicine, Pathobiology, St. George's University

,

St. George's

,

Grenada
2
Integrative Biology, Oregon State University

,

Corvallis

,

OR

,

United States of America
Published

Accepted

Received
Academic Editor
Subject Areas

Keywords

Biomphalaria glabrata,

Climate change

,

Heat shock

,

Schistosomiasis

,

Heat pulse
Copyright

©

2020

Allan et al.

Licence

This is an open access article distributed under the terms of the Creative Commons Attribution License, which permits unrestricted use, distribution, reproduction and adaptation in any medium and for any purpose provided that it is properly attributed. For attribution, the original author(s), title, publication source (PeerJ) and either DOI or URL of the article must be cited.
Cite this article

2020

. Neither heat pulse, nor multigenerational exposure to a modest increase in water temperature, alters the susceptibility of Guadeloupean Biomphalaria glabrata to Schistosoma mansoni infection.

PeerJ

8

:

e9059

https://doi.org/10.7717/peerj.9059
Abstract
There are increasing concerns regarding the role global climate change will have on many vector-borne diseases. Both mathematical models and laboratory experiments suggest that schistosomiasis risk may change as a result of the effects of increasing temperatures on the planorbid snails that host schistosomes. Heat pulse/heat shock of the BS90 strain of Biomphalaria glabrata was shown to increase the rate of infection by Schistosoma mansoni, but the result was not replicable in a follow up experiment by a different lab. We characterised the susceptibility and cercarial shedding of Guadeloupean B. glabrata after infection with S. mansoni under two temperature regimes: multigenerational exposure to small increases in temperature, and extreme heat pulse events. Neither long-term, multigenerational rearing at elevated temperatures, nor transient heat pulse modified the susceptibility of Guadeloupean B. glabrata to infection (prevalence) or shedding of schistosome cercaria (intensity of infection). These findings suggest that heat pulse-induced susceptibility in snail hosts may be dependent on the strain of the snail and/or schistosome, or on some as-yet unidentified environmental co-factor.
Introduction
Parasitic trematodes can cause numerous mammalian diseases. The most notable and detrimental human disease, schistosomiasis, is caused by the blood fluke Schistosoma mansoni. Schistosomiasis is estimated to affect hundreds of millions of people a year, exert massive health and economic tolls on tropical countries, and contribute to hundreds of thousands of deaths (WHO/Department of Control of Neglected Tropical Diseases, 2012; WHO/Department of Control of Neglected Tropical Diseases, 2016). Freshwater snails of the genus Biomphalaria serve as obligate intermediate hosts for S. mansoni (Sm). Biomphalaria glabrata (Bg) is the most important host for S. mansoni in the new world. Schistosome eggs from infected human host feces release miracidia, which penetrate and infect snails. The parasites transform and develop in these snails over a few weeks to become cercariae, which are shed from the snail and go on to infect human hosts and cause disease.
It has been postulated that increasing average temperatures, as a result of global climate change, will affect the distribution, population sizes, fecundity, survival, and transmission dynamics of many species involved in vector-borne diseases, including Biomphalaria sp. (McCreesh et al., 2014; McCreesh & Booth, 2014; McCreesh, Nikulin & Booth, 2015). In the context of snail infection, both parasite and host are fully exposed to external abiotic factors. Miracidia are free swimming and actively infect ectothermic snails in aquatic ecosystems. As such, the physiology and immunity of Bg has been shown to be modified by transient changes in water temperature  (Ittiprasert & Knight, 2012; Knight et al., 2015; Knight et al., 2016; Nelson et al., 2016; Sullivan, 2018; Coelho & Bezerra, 2006; Augusto, Duval & Grunau, 2019). Models of long-term increases in water temperate in natural ecosystems suggest that Biomphalaria populations and infection dynamics may lead to increases in human and snail infection risk (McCreesh & Booth, 2014). Concurrently, heat wave exposure is postulated to increase as a result of global climate change as natural fluctuations in temperature are exacerbated (Peng et al., 2011). Heat waves can result in spikes in water temperature and heat shock of ectotherms.
Heat shock of the highly resistant BS90 strain of Bg was shown to increase the susceptibility of this strain to schistosome infection, and the effect appeared to be mediated by expression of heat shock proteins (Ittiprasert & Knight, 2012; Knight et al., 2015; Knight et al., 2016). On the other hand, a follow up study in a different lab failed to replicate the increase in susceptibility in BS90 after heat pulse, a result which suggests that there may be specific effects of the strain of BS90 or Sm used, or that some unidentified environmental co-factor is involved (Nelson et al., 2016; Sullivan, 2018).
Models of the effects of climate change on schistosomiasis risk could be improved by understanding any changes in transmission rate that result from temperature change per se. Therefore, it seems important to determine how generalizable the effect of heat pulse is in other populations of Bg and Sm. We set out to determine if a long-term subtle increase in temperature or a transient heat pulse (both ecologically relevant with global climate change), can alter the infection dynamics of another snail-schistosome pair: Guadeloupean Bg (BgGUA) challenged with Guadeloupean Sm (SmGUA).
To examine the effects of a modest but consistent increase in ambient temperature, we maintained BgGUA at 1 °C above their standard conditions for 7 months (>3 generations at 27 °C vs the standard 25–26 °C). Though there are huge variations in the estimate of increases to the average temperature in tropical freshwater aquatic ecosystems over the past few decades, we believe that 1 °C (27 °C) is a reasonable conservative estimate (McCreesh et al., 2014; Pekel et al., 2016; Engels et al., 2019). Additionally, mathematical models suggest that Biophalaria populations may begin to crash when in natural aquatic ecosystems above a consistent water temperature of 28 °C (McCreesh & Booth, 2014). In a separate experiment, we transiently heat pulsed (32 °C) BgGUA for 6 h before challenge to determine if their susceptibility to SmGUA was altered by heat pulse (and likely heat shock) responses. Given the heterogeneity of heat pulse infection phenotypes and adaptability of schistosomes to numerous geographical ecosystems, we hypothesised that infection of BgGUA with SmGUA would not be altered by changes in water temperature. We found that neither long-term multigenerational rearing at elevated temperatures nor transient heat pulse modified BgGUA's susceptibly to challenge by SmGUA. These findings suggest the effects of heat on susceptibility of Bg to Sm may be constrained to specific circumstances.
Results
BgGUA maintained at 1 °C above standard conditions for multiple generations, or transiently heat pulsed 6 °C above standard conditions, do not show altered susceptibility to SmGUA
Snail susceptibility to infection, as a proportion, was recorded as a measure of the ability of a given snail to resist infection, and has relevance for the number of disease transmitting snail hosts. Snail burden of infection, measured by cercarial count during first shedding (only shedding event quantified), was recorded as a measure of transmission risk by each snail. BgGUA, regardless of maintenance temperature (25 °C, 26 °C, or 27 °C), had equivalent susceptibility and cercarial shedding when exposed to SmGUA (Figs. 1A and 1B). Additionally, heat pulse (32 °C) did not alter the susceptibility or the number of cercaria shed by BgGUA (Figs. 2A and 2B). Most snails shed cercaria by week 6–7 regardless of treatment (Data S1). No snail mortality was observed, though infected snails were sacrificed after shedding and could have feasibly died from the infection if they were returned to the population rather than sacrificed.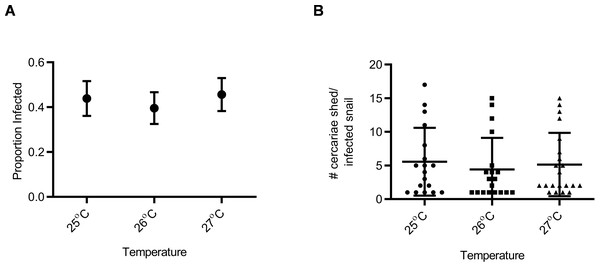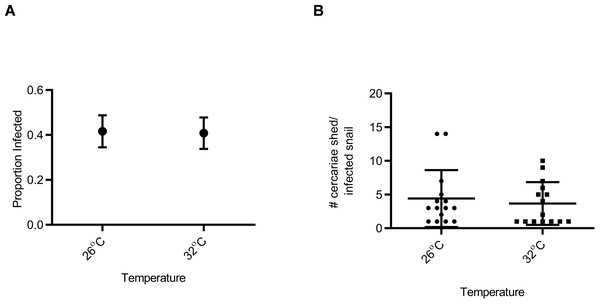 Discussion
As the potential impacts of global climate change on vector-borne diseases become more evident, and climate change worsens, the importance of understanding these ramifications are accentuated. Our findings support the hypothesis that neither permanent nor transient increases in temperature alter BgGUA susceptibility to infection by SmGUA. Though we are the first to examine prolonged temperature increases in BgGUA, it has been previously discussed that subtle changes in temperature do not generally alter infection dynamics in some other snail-schistosome combinations (Ittiprasert & Knight, 2012). Given the strain specific nature of schistosome infectivity, it was important to determine if these long-term temperature changes could modify this strain's susceptibility. Our findings confirm that long-term/subtle elevations in temperature, as a result of climate change, may not modify snail resistance to schistosome challenge. They also speak to the robustness of snail-schistosome infectivity dynamics. Additionally, the burden of SmGUA infection, measured by counting cercarial shedding, was equivalent under all temperature conditions, and therefore temperature fluctuations are not likely to alter schistosome transmission risk from individual BgGUA. These findings also support the notion that the effects of heat pulse/heat shock on schistosome resistance are not general, and are probably strain specific or dependent on particular environmental conditions (Nelson et al., 2016; Sullivan, 2018).
Specifically, it is important to note that BgGUA strain is less resistant to schistosomes than the strain used in other heat pulse experiments, the BS90 strain. Therefore, our study provides insights into the effects of heat treatments on more susceptible strains of snails, which we believe weakens the conclusion that heat waves could increase infectivity in nature. It is feasible that snails which are already susceptible to schistosome challenge would be even more vulnerable to abiotic effects increasing susceptibility, but we do not observe this. We also believe the conclusion that heat shock increases snail susceptibility could be further confounded by the possible effects of abiotic components like water quality, humidity, diet, and infection conditions. These subtle variations in the environment could disrupt the effects of temperature, thus weakening or masking the overall importance of heat pulse on schistosome infectivity.
Conclusions
Although it does not appear that an increase in susceptibility to Sm following heat pulse is a general result, it is important to remember that temperature and climate can affect many biotic factors (including fecundity, growth rates, mortality, and mobility) that influence the transmission of Sm. Controlled laboratory infections are not necessarily representative of what will occur in nature. For example, it is possible that a natural population of Bg could become more susceptible to Sm, but that they have reduced fecundity resulting in the transmission of fewer parasites (McCreesh et al., 2014). Permanent climatic changes could also shift the ranges of these species because they can only tolerate a finite increase in temperature (McCreesh & Booth, 2014; McCreesh, Nikulin & Booth, 2015). These interacting factors could create different, but not necessarily larger, regions of high schistosomiasis risk. As such, it is important to determine how geographically distinct Bg and Sm respond to changes in abiotic factors. Determining the direct effects of these changing environmental conditions on schistosome infection and risk, in a local context, will allow for more accurate schistosomiasis risk models.
Supplemental Information
Raw data