motoRneuron: an open-source R toolbox for time-domain motor unit analyses
1
Human Research and Engineering Directorate, United States Army Research Laboratory

,

Aberdeen Proving Ground

,

MD

,

United States of America
2
Defense Health Agency

,

Falls Church

,

VA

,

United States of America
Published

Accepted

Received
Academic Editor
Subject Areas

Keywords

Synchronization

,

Motor neuron

,

Motor unit

,

Open-source

,

R package

,

Common input

,

Cross-correlogram

,

Motor control

,

Recurrence intervals
Licence

This is an open access article, free of all copyright, made available under the Creative Commons Public Domain Dedication. This work may be freely reproduced, distributed, transmitted, modified, built upon, or otherwise used by anyone for any lawful purpose.
Cite this article

2019

.

motoRneuron: an open-source R toolbox for time-domain motor unit analyses

.

PeerJ

7

:

e7907

https://doi.org/10.7717/peerj.7907
Abstract
Motor unit synchronization is the tendency of motor neurons and their associated muscle fibers to discharge near-simultaneously. It has been theorized as a control mechanism for force generation by common excitatory inputs to these motor neurons. Magnitude of synchronization is calculated from peaks in cross-correlation histograms between motor unit discharge trains. However, there are many different methods for detecting these peaks and even more indices for calculating synchronization from them. Methodology is diverse, typically laboratory-specific and requires expensive software, like Matlab or LabView. This lack of standardization makes it difficult to draw definitive conclusions about motor unit synchronization. A free, open-source toolbox, "motoRneuron", for the R programming language, has been developed which contains functions for calculating time domain synchronization using different methods found in the literature. The objective of this paper is to detail the toolbox's functionality and present a case study showing how the same synchronization index can differ when different methods are used to compute it. A pair of motor unit action potential trains were collected from the forearm during a isometric finger flexion task using fine wire electromyography. The motoRneuron package was used to analyze the discharge time of the motor units for time-domain synchronization. The primary function "mu_synch" automatically performed the cross-correlation analysis using three different peak detection methods, the cumulative sum method, the z-score method, and a subjective visual method. As function parameters defined by the user, only first order recurrence intervals were calculated and a 1 ms bin width was used to create the cross correlation histogram. Output from the function were six common synchronization indices, the common input strength (CIS), k′, k′ − 1, E, S, and Synch Index. In general, there was a high degree of synchronization between the two motor units. However, there was a varying degree of synchronization between methods. For example, the widely used CIS index, which represents a rate of synchronized discharges, shows a 45% difference between the visual and z-score methods. This singular example demonstrates how a lack of consensus in motor unit synchronization methodologies may lead to substantially differing results between studies. The motoRneuron toolbox provides researchers with a standard interface and software to examine time-domain motor unit synchronization.
Introduction
Motor unit synchronization is the tendency of separate motor units (i.e., motor neurons and their associated muscle fibers) to discharge near-simultaneously (within 1–5 ms of each other) more often than would be expected by chance (Farmer et al., 1997; Semmler, 2002). Similar to a frequency-domain coherence analysis, these time-domain analyses are often interpreted as indicators of functional connectivity between motor neurons through common excitatory post-synaptic potentials (Sears & Stagg, 1976). Typically, cross-correlation analyses are employed, whereby the discharge times of one motor unit are correlated against those of another concurrently active motor unit (Fig. 1) and a histogram is created based on these recurrence intervals. Peaks in the histogram represent a higher probability of a discharge from the response motor unit around that latency of the reference motor unit discharge (seen in Fig. 2B). Various indices are calculated from these peaks and their magnitude indicates the level of synchronization (for review see Farmer et al., 1997; Semmler, 2002; Farina & Negro, 2015), which appear to be a critical factor in force modulation. For example, synchronous activation of muscle fibers produce longer and greater twitch forces than if they were activated asynchronously (Merton, 1954). In practice, this phenomenon is evidenced in strength-trained individuals, who display higher motor unit synchrony than untrained individuals do (Semmler & Nordstrom, 1998; Fling, Christie & Kamen, 2009). Although beneficial for producing high forces, synchronization has been shown to be detrimental to force steadiness (Yao, Fuglevand & Enoka, 2000). Thus, understanding motor unit synchronization seems to be important for modeling neuromuscular performance.
Over the last few decades, it has become much easier and cheaper to collect motor unit action potentials with either intramuscular or decomposed surface electromyography. Researchers have gone from examining synchronization in 2–3 motor units to 15+ in a single contraction (Schmied & Descarreaux, 2010; Defreitas et al., 2014). Unfortunately, while data collection technology has improved and multiplied, so have the options for synchronization analysis. Reconciling results from different types of analyses remains difficult. Concerning the cross-correlation analysis, there are numerous ways in which to determine the size and location of peaks present in histograms. Methodology is largely laboratory specific, with some groups using automated methods like the z-score method or the cumulative sum method. Before automated methods were developed, subjective, visual analysis was used. Within these methods, parameters such as the number of orders of recurrence intervals used and histogram bin size are likely to vary as well. Additionally, there are a number of indices available to characterize synchronization magnitude. Common input strength (CIS) and k′ ("k prime") are most often reported; however, the Synch Index (SI) and others are available. The lack of standardization with respect to motor unit synchronization hinders our ability to make definitive conclusions. Therefore, we have developed the open-source toolbox "motoRneuron" in the statistical programming language R (henceforth referred to as R) for the calculation of time-domain synchronization using various peak determination methods. This toolbox provides a list of functions to calculate recurrence intervals, create and plot cross-correlation histograms, and ultimately, calculate synchronization indices.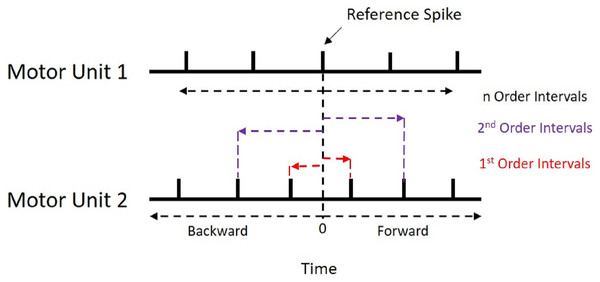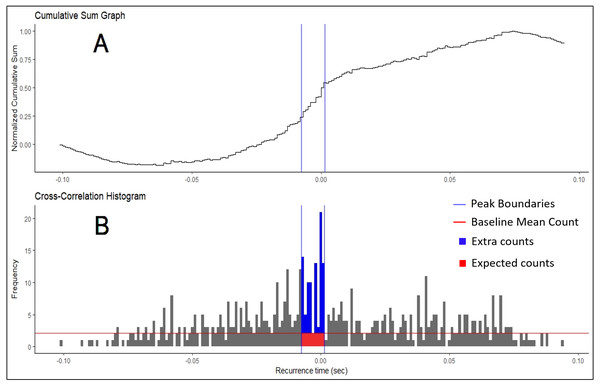 R has quickly risen in popularity recently because of its very active user/developer base that rapidly iterates to improve the functionality of the language. Typically, programs that perform synchronization analyses are handed down through laboratories using paid software like Matlab and LabView. Meanwhile, R and our toolbox are freely available. Source code for all R functions are available to the user. MotoRneuron was created as a free, open-source platform with which users can perform all necessary functions to calculate synchronization, or alter to suit their unique needs. With the numerous ways to calculate synchronization, it is unlikely all methods will yield the same results. This toolbox allows for better standardization of techniques and for more comprehensive data mining in the motor control community. The primary objective of this paper is to detail the functionality and demonstrate the use of the motoRneuron toolbox for investigating motor unit time-domain synchronization. The secondary objective is to present a case study showing how much the same synchronization index can differ when different methods are used to compute it.
Results
The pair of flexor digitorum superficialis motor units tested for synchronization were concurrently active for 29.9 of the 30-second isometric, trigger-finger flexion task. According to the results of the mu_synch function, the first motor unit discharged 443 times, with a mean ISI of 0.068 s. The second motor unit discharged 307 times, with a mean ISI of 0.098 s. Synchronization indices and peak characteristics are displayed in Table 1.
| Synchronization index | Visual | Cumsum | Z-score |
| --- | --- | --- | --- |
| CIS (impulses/s) | 2.70 | 2.16 | 1.71 |
| k′ | 4.64 | 3.80 | 4.29 |
| k′ − 1 | 3.64 | 2.80 | 3.29 |
| E | 0.26 | 0.21 | 0.17 |
| S | 0.11 | 0.09 | 0.07 |
| SI (%) | 0.26 | 0.21 | 0.17 |
| Peak Duration (s) | 0.010 | 0.010 | 0.011 |
| Peak Center (s) | −0.004 | 0 | 0 |
Discussion
The example motor unit pair in the current study analyzed by the new motoRneuron R package demonstrated a high level of synchronization overall. For comparison, Keen et al. (2012) used the cumsum method for motor unit pairs in the FDS as well, and found the mean CIS and k′ indices (mean ± sd) to be 0.4 ± 0.21 impulse per second and 1.55 ± 0.34, respectively. While differences in individual results from previous studies like this are useful, these comparisons are difficult with such disparate methodologies and indices. Indeed, results from the current study suggest different methods may produce different interpretations about synchronization. For example, for the commonly cited CIS, the Visual method indicated an increase of approximately 1 impulse per second compared to the Z-score method. This 1 impulse per second difference represents 45% difference between the visual and z-score methods of CIS in the FDS. This singular example demonstrates how a lack of consensus in MU synchronization methodologies may lead to substantially differing results between studies.
There are, however, limitations to using motoRneuron and to interpreting motor unit synchronization in general. The primary limitation is that the package is currently only developed to analyze single pairs of motor units. Some researchers argue that the notion that common input strength can be inferred from time-domain synchronization is overreaching and that synchronization is just a product of firing rate characteristics (Kline & De Luca, 2016). Still other researchers postulate that single motor unit analyses are too narrow of a view, as a muscle can consist of hundreds of motor units. They argue a population-based approach should be taken to look at the common drive within the motor neuron pool as the primary determinate of force output (Farina & Negro, 2015). In the future, the package can be expanded to address such questions about motor neuron pool common drive with coherence analyses or frequency-domain characterization. The next limitation is that the number of motor unit firing instances, and subsequently the number of recurrence intervals, greatly affects the shape of the cross-correlation histogram. If there are too few, an accurate picture of peak significant cannot be made. This can also been seen in the current experimental data (Fig. 2). The number of recurrence intervals used to generate histograms in previous studies has been reported in the range of approximately 300–3,000 (Schmied & Descarreaux, 2010; Defreitas et al., 2014; Schmied, Forget & Vedel, 2014). While no specific limit has been provided within the literature, it is recommended that visual inspections of the histograms be made to ensure adequate data quality. Finally, while the program and packages discussed in the paper are freely available, synchronization analyses still requires the use of expensive hardware and software to collect and decompose electromyography. As these technologies become cheaper, sources like R will likely play a bigger role in facilitating better analyses.
MotoRneuron is written in the R programming language, which provides an open-source platform to perform data and statistical analysis on motor unit data. The package also allows for the visualization of these analyses through R's powerful and flexible graphics capabilities. An advantage to R, as alluded to before, is its robust statistical computing. Using the R environment allows for direct access to many statistical packages. The "stats" package comes included in base R so many statistical tests are immediately available for testing synchronization metrics. This eliminates the need for transforming and importing data into 3rd party statistical software, such as SAS and SPSS. Simple tests such as t-tests and ANOVAS are common, while more complex, multi-level models are available. Bugs or errors in software are common in open-source software like R. As this is the first stable version of the motoRneuron package, it is possible that users will notice performance issues or errors stemming from R version fragmentation or other sources. Users are urged to email any errors or issues found in motoRneuron to the package maintainer (Andrew Tweedell andrew.j.tweedell.civ@mail.mil). Errors that can be fixed will be updated in new versions of the package as they are found. As such, it is important to update the package continually to guarantee efficient performance.
Conclusion
MotoRneuron is a free R package containing a list of functions capable of performing many different cross-correlation analyses for calculating time-domain synchronization metrics for use in the motor control field. The detailed steps from this paper enables researchers to easily examine the many options for calculating and reporting synchronization indices. The example real-world motor unit data provided suggests these different methods contribute to differences in measures of synchronization. With this package, new data can be quickly reconciled with results from previous studies for better physiologic interpretation.
Citation
Researchers using motoRneuron in a published paper should cite this article and indicate the used version of the package.