Validation of COI metabarcoding primers for terrestrial arthropods
1
Centre for Biodiversity Genomics, University of Guelph

,

Guelph

,

ON

,

Canada
2
Department of Integrative Biology, University of Guelph

,

Guelph

,

ON

,

Canada
Published

Accepted

Received
Academic Editor
Subject Areas

Keywords

DNA metabarcoding

,

Primer bias

,

Degeneracy

,

Insects

,

Biodiversity
Copyright

©

2019

Elbrecht et al.

Licence

This is an open access article distributed under the terms of the Creative Commons Attribution License, which permits unrestricted use, distribution, reproduction and adaptation in any medium and for any purpose provided that it is properly attributed. For attribution, the original author(s), title, publication source (PeerJ) and either DOI or URL of the article must be cited.
Cite this article

2019

.

Validation of COI metabarcoding primers for terrestrial arthropods

.

PeerJ

7

:

e7745

https://doi.org/10.7717/peerj.7745
Abstract
Metabarcoding can rapidly determine the species composition of bulk samples and thus aids biodiversity and ecosystem assessment. However, it is essential to use primer sets that minimize amplification bias among taxa to maximize species recovery. Despite this fact, the performance of primer sets employed for metabarcoding terrestrial arthropods has not been sufficiently evaluated. This study tests the performance of 36 primer sets on a mock community containing 374 insect species. Amplification success was assessed with gradient PCRs and the 21 most promising primer sets selected for metabarcoding. These 21 primer sets were also tested by metabarcoding a Malaise trap sample. We identified eight primer sets, mainly those including inosine and/or high degeneracy, that recovered more than 95% of the species in the mock community. Results from the Malaise trap sample were congruent with the mock community, but primer sets generating short amplicons produced potential false positives. Taxon recovery from both mock community and Malaise trap sample metabarcoding were used to select four primer sets for additional evaluation at different annealing temperatures (40–60 °C) using the mock community. The effect of temperature varied by primer pair but overall it only had a minor effect on taxon recovery. This study reveals the weak performance of some primer sets employed in past studies. It also demonstrates that certain primer sets can recover most taxa in a diverse species assemblage. Thus, based our experimental set up, there is no need to employ several primer sets targeting the same gene region. We identify several suitable primer sets for arthropod metabarcoding, and specifically recommend BF3 + BR2, as it is not affected by primer slippage and provides maximal taxonomic resolution. The fwhF2 + fwhR2n primer set amplifies a shorter fragment and is therefore ideal when targeting degraded DNA (e.g., from gut contents).
Introduction
Over the past decade, two methodological and technological advances have made it possible to address the urgent need for the capacity to undertake large-scale surveys of biodiversity (Vörösmarty et al., 2010; Dirzo et al., 2014; Steffen et al., 2015). First, the emergence of DNA barcoding which uses sequence variation in short, standardized gene regions (i.e., DNA barcodes) to discriminate species, has made it possible to quickly and reliably characterize species diversity (Hebert et al., 2003). Second, high-throughput sequencers (HTS) permit the inexpensive acquisition of millions of sequence records (Reuter, Spacek & Snyder, 2015). The coupling of HTS with DNA barcoding, commonly known as metabarcoding, allows for characterization of biodiversity at unprecedented scales (Creer et al., 2016) as shown by studies of terrestrial (Gibson et al., 2014; Beng et al., 2016), freshwater (Hajibabaei et al., 2011; Carew et al., 2013; Andújar et al., 2017), and marine (Leray & Knowlton, 2015) ecosystems.
Metabarcoding studies on bulk collections of animals usually target a subset of the 658 bp cytochrome c oxidase subunit I (COI) "Folmer" region (Folmer et al., 1994; Andújar et al., 2018). This gene region has gained broad adoption because of a rapidly expanding reference database (Ratnasingham & Hebert, 2007; Porter & Hajibabaei, 2018b) and its good taxonomic resolution (Meusnier et al., 2008). Ribosomal markers have been suggested as an alternative (Deagle et al., 2014; Marquina, Andersson & Ronquist, 2018) because their slower rate of evolution results in more conserved motifs/regions aiding the design of universal primer sets. However, arthropod reference databases for ribosomal markers are very limited for most taxonomic groups (Clarke et al., 2014) and ribosomal primer sets often show no substantial improvement in taxon recovery over well-designed COI primer sets (Elbrecht et al., 2016; Clarke et al., 2017; Elbrecht & Leese, 2017; Krehenwinkel et al., 2017).
An important consideration for metabarcoding studies is the primer combination used for amplification of the target fragment. It is critical that primer sets optimally match the template sequences of the target species. Mismatches between primer and template can skew read abundance and lead to a substantial bias in taxon detection (Piñol et al., 2014; Elbrecht & Leese, 2015). Failure to minimize amplification bias reduces the amount of taxa detected in a sample (Elbrecht & Leese, 2017). Furthermore, insufficient sequencing depth and/or low DNA concentration can introduce stochastic effects that additionally bias taxon recovery (Barnes & Turner, 2015; Leray & Knowlton, 2017).
The effectiveness of primer sets can be evaluated by in vitro tests with mock communities (Elbrecht & Leese, 2015; Brandon-Mong et al., 2015; Leray & Knowlton, 2017) or by in silico tests (Clarke et al., 2014; Elbrecht & Leese, 2016; Piñol, Senar & Symondson, 2018; Bylemans et al., 2018b; Marquina, Andersson & Ronquist, 2018). The failure to evaluate primers can seriously compromise data quality. For instance, a primer set (Zeale et al., 2011) often employed for analyzing gut contents of insect predators (see references in Jusino et al., 2018) lacks degeneracy, leading to poor taxon recovery (Brandon-Mong et al., 2015). The use of multiple primer sets or even multiple marker genes was proposed to improve taxon recovery (Alberdi et al., 2017; Zhang et al., 2018). This approach may be optimal for samples of very phylogenetically divergent groups such as protists (Pawlowski et al., 2017) or marine benthic communities (Cowart et al., 2015; Wangensteen et al., 2018; Drummond, 2018). However, given the increased cost and time associated with amplifying and sequencing additional markers (Bohmann et al., 2018; Zhang et al., 2018), the use of multiple primer sets is unnecessary for taxonomic groups with limited diversity. Additionally, relative read abundance comparisons between primer sets will become difficult, as each is subjected to different primer biases (Elbrecht & Leese, 2015). We hypothesize that in the case of terrestrial arthropods a single well-designed primer set can be sufficiently effective, and the use of multiple primer sets is not necessary.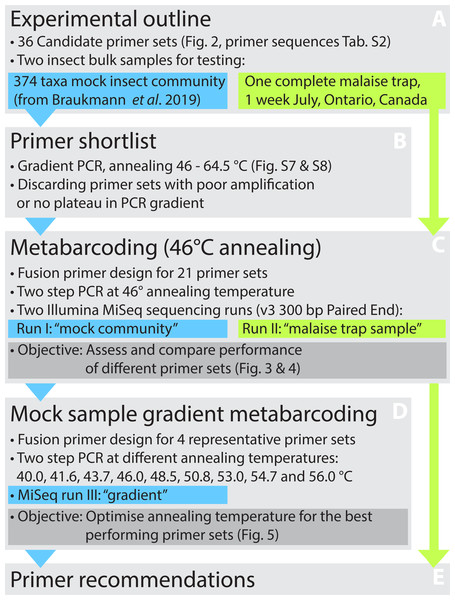 This study compares the performance of commonly used and newly developed primer sets on the recovery of species in a bulk DNA extract from 374 insect species (Braukmann et al., 2019) and from a Malaise trap sample. Based on a hierarchical testing scheme (Fig. 1) using gradient PCRs and assessing species recovery with metabarcoding, we selected four primer pairs whose metabarcoding performance was tested on a range of annealing temperatures.
Discussion
Using a mock community, we tested a total of 36 different primer combinations, 21 of which were selected for a more detailed metabarcoding analysis. While we did not run replicates for most primer sets, results at 46 °C for gradient metabarcoding and the mock community run were similar. This result is consistent with previous studies on bulk samples which indicated that replicates typically produce similar results (Elbrecht et al., 2017; Braukmann et al., 2019), particularly when the variation of low abundant OTUs (i.e., <0.001%) introduced by stochastic effects is ignored (Leray & Knowlton, 2017). Consequently, for metabarcoding of bulk samples, replication should be done at the sampling level (Hurlbert, 1984) rather than using DNA extracts or replicate PCRs. While technical replicates do increase confidence in experimental outcomes and make it easier to detect cross-contamination (Zepeda-Mendoza et al., 2016; Elbrecht & Steinke, 2018; Macher & Weigand, 2018), they deliver limited information given the substantial increase in cost and laboratory workload. If the detection of rare taxa is important for a project, an increase in sequencing depth (Smith & Peay, 2014; Braukmann et al., 2019) and use of a tagging system resistant to tag switching (e.g., fusion primers, Elbrecht et al., 2017) is a good alternative to replication. Even with the shallow sequencing depth (100,000 reads) used in this study, most primer sets recovered a majority of the taxa in the mock community. This was not necessarily the case for the Malaise trap sample (Fig. S19) which is more diverse than the mock community tested. However, the comparison of taxon recovery at different sequencing depths by the tested primer sets allowed for good benchmarking, without capturing the full community. We were also able to characterize the positive bias of the Illumina MiSeq towards shorter fragments (Fig. S9), which can be offset by adjusted amplicon concentrations when running fragments of different length in the same run (Fig. S9).
Conclusions
Our study demonstrates that the fwhF2 + fwhR2n, BF1, BF2, BF3 + BR2 and mlCOIintF based primer sets all perform well when metabarcoding terrestrial arthropod samples. We recommend fwhF2 + fwhR2n for amplification of degraded DNA samples such as gut contents, and BF3 + BR2 when high taxonomic resolution is required. The BF3 + BR2 primer set is also ideal for working with Exact Sequence Variants (ESVs), as it is not affected by primer slippage. For most of these primer sets, annealing temperatures of 46-50 °C are ideal. The present study also reinforces the importance of careful primer validation using mock and field samples, especially when primer performance has not yet been evaluated for the taxonomic group under study. Based on our results, the use of multiple primer sets seems rarely justified as it increases laboratory effort without substantially improving taxon recovery. Our study sets the stage for standardized approaches for large-scale biodiversity analysis. However, given the vast diversity of arthropods in different sampling approaches and geographical regions, primer tests on additional samples are required to fully confirm our findings for large-scale surveys of arthropod diversity.