Winter bird-window collisions: mitigation success, risk factors, and implementation challenges
1
Family & Consumer Studies, University of Utah

,

Salt Lake City

,

UT

,

United States of America
2
Natural History Museum of Utah, University of Utah

,

Salt Lake City

,

UT

,

United States of America
Published

Accepted

Received
Academic Editor
Subject Areas

Keywords

Bird

,

Window collisions/strikes

,

Prevention

,

Mitigation

,

Citizen science

,

Reflective windows

,

Fruiting trees

,

Bird-friendly window film

,

Cedar waxwings
Copyright

©

2019

Brown et al.

Licence

This is an open access article distributed under the terms of the Creative Commons Attribution License, which permits unrestricted use, distribution, reproduction and adaptation in any medium and for any purpose provided that it is properly attributed. For attribution, the original author(s), title, publication source (PeerJ) and either DOI or URL of the article must be cited.
Cite this article

2019

.

Winter bird-window collisions: mitigation success, risk factors, and implementation challenges

.

PeerJ

7

:

e7620

https://doi.org/10.7717/peerj.7620
Abstract
Millions of birds die in bird-window collisions in the United States each year. In specialized test settings, researchers have developed methods to alter window designs to mitigate collisions. However, few published studies provide pretest and posttest evaluations of mitigation treatment areas and untreated control areas on existing buildings. We initially monitored bird-window collisions at a single building on the University of Utah campus in Salt Lake City, Utah, USA, during winter 1 (November 9, 2017–January 2, 2018). We found 15 bird-window collisions, most under a portion of the building with a mirrored façade. To test a mitigation treatment, we installed Feather Friendly® bird deterrent film on part of the mirrored façade after winter 1. The unmitigated areas of the same building served as a control area. We continued monitoring during the following winter 2 (November 15, 2018–January 12, 2019). The treated area collisions declined from seven before mitigation to two after mitigation, a 71% reduction. The control area had eight collisions at both times. Results of a generalized estimating equation yielded a significant area by season interaction effect (p = 0.03) and fewer collisions in the mitigated area than the control area at winter 2 (p = 0.03), supporting efficacy of the mitigation. In winter 2 we also expanded monitoring to eight total buildings to evaluate the risks of mirrored windows and proximity to fruiting pear trees (Prunus calleryana) and the benefits of bird-friendly glass. Bird-friendly glass, found on two buildings, included windows with permanent fritted dots or embedded ultraviolet patterns. We counted 22 collisions across the eight buildings. Mirrored windows and proximity to fruiting pear trees related to higher odds of bird-window collisions, based on separate generalized estimating equations. The best fit model included mirrored windows and pear trees. The two buildings with bird-friendly glass had only one collision, suggesting that these designs deter collisions, although the difference was not statistically significant. To publicize the study and to receive reports of additional bird collisions or fatalities on campus, we created a citizen science project on iNaturalist and engaged in additional outreach efforts that yielded 22 ad hoc reports. Many previous studies have documented Cedar Waxwing (Bombycilla cedrorum) collisions, but at relatively low numbers. Cedar Waxwings accounted for 31 of 34 identifiable collisions from the monitoring study and 4 of 21 identifiable collisions or fatalities from ad hoc reports.
Introduction
Between 365 million and 988 million birds die in the U.S. each year due to bird collisions against buildings, especially buildings with reflective windows, based on estimates from a systematic review of 23 studies (Loss et al., 2014). Bird-window collision studies often identify collision risk factors, but rarely result in mitigation (Schneider et al., 2018). In November 2017, incidental observation of a non-fatal Cedar Waxwing window collision and documentation of subsequent collisions motivated the mitigation of one building at the University of Utah. We evaluated mitigation efficacy in conjunction with tests of collision risk factors across campus during winter, which is consistent with the call to study collisions outside of migratory seasons (Hager et al., 2017).
Most mitigation studies have established evidence of effective bird-deterrent window treatments by using one of two experimental protocols. First, in specially designed flight tunnels or cages, captured birds will fly less often toward effectively mitigated windows than toward untreated control windows (Klem, 2009; Klem & Saenger, 2013; Rössler, Nemeth & Bruckner, 2015). Second, for free-hanging windows suspended near a woodland edge, wild birds will also fly less often toward effectively mitigated than control windows (Klem, 1989; Klem, 1990; Klem, 2009). These experiments have shown that effective mitigation typically requires exterior window applications, such as stripes or dots, to be applied densely, at most 10 cm apart vertically by five cm horizontally (Klem, 2008; Klem, 2009). However, researchers need to test mitigation efficacy beyond flight tunnels and free-hanging windows. Buildings in the landscape each offer their own "mortality signatures," with substantial variability in bird fatalities from one building to the next (Hager et al., 2013). This variability requires more tests of mitigation and collision risk factors across diverse buildings, landscapes, species, and seasons.
The dearth of research on mitigation of existing buildings may reflect the difficulties of achieving strong quasi-experimental study designs (Cook & Campbell, 1979) or before-after control-impact designs (Underwood, 1992) in such settings. These designs require pretest baseline data collection in a treatment area and a control area, then mitigation of the treatment area, then posttest data collection from both areas in the same season as baseline measurement. Control areas with unmitigated windows are key to establishing that mitigation is the cause of any decreased collisions (Cook & Campbell, 1979), instead of other factors, such as yearly fluctuations in the presence of nomadic Cedar Waxwings (Kaufman, 2001). To date, several mitigation implementations have shown reduced collisions (Brisque, Campos-Silva & Piratelli, 2017; Durrance, 2015; Ocampo-Peñuela et al., 2016b; Winton, Ocampo-Peñuela & Cagle, 2018). However, these studies have not included all three stringent evaluation elements: control groups, similar seasons in pretest and posttest, and statistical tests that evaluate area (treatment vs. control) and season (pretest vs. posttest winters) and their interaction. Our study fills a gap by conducting a mitigation evaluation with all three key design and analysis components needed to strengthen our confidence in mitigation effects.
In the second part of our study, we evaluated three collision risk factors and included a campus outreach component to raise awareness and identify additional bird collision or fatality problems. Previous studies found that the number of bird-window collisions increased with greater areas of glass, higher percentages of glass in façades, or more continuous surfaces of glass (Borden et al., 2010; Hager et al., 2013; Kahle, Flannery & Dumbacher, 2016; Klem et al., 2009; Ocampo-Peñuela et al., 2016b). Some technical reports or articles indicated high risks for mirrored windows (Evans Ogden, 2002; O'Connell, 2001; Sheppard & Phillips, 2015), but without explicit comparisons between mirrored and other types of glass. We examine whether mirrored windows pose a risk factor. Past research has also demonstrated that nearby trees or tree reflections in windows relate to window collision risk (Borden et al., 2010; Gelb & Delacretaz, 2006; Klem et al., 2009; Kummer, Bayne & Machtans, 2016b). We focused more specifically on risks related to fruiting pear trees. Our initial observation of a window collision involved a Cedar Waxwing, a species that depends on winter fruit for food (Witmer, Mountjoy & Elliot, 2014), and waxwing flocks had been observed using the many local pear trees. Finally, we tested whether buildings with bird-friendly glass, defined as glass windows with permanent frits or UV patterns intended to deter collisions, experienced reduced collision risks.
In sum, we asked whether mitigation was effective at a high-collision site. We also tested whether mirrored windows and nearby fruiting pear trees were associated with greater collision risks while buildings with bird-friendly glass were associated with lower collision risks. Finally, we assessed whether campus outreach uncovered other dangerous places on campus for birds.
Results
Interrater reliability
The intraclass correlation coefficient (ICC) for different monitors counting collisions at the same building at close to the same time was 0.93 (95% CI [0.90–0.96]), which indicates good agreement (Koo & Li, 2016; Shrout & Fleiss, 1979).
Mitigation building collisions
During winter 1, prior to mitigation, the mitigation building had 15 bird-window collisions. One was a Mourning Dove (Zenaida macroura), two were American Robins (Turdus migratorius), and the rest were Cedar Waxwings (Bombycilla cedrorum). During winter 2, all 10 collisions were Cedar Waxwings. We observed two stunned birds that did not immediately die after a window collision.
Feather friendly® mitigation evaluation
Descriptively, the treatment area collisions declined from seven before mitigation to two after mitigation, a 71% reduction. The control area had eight collisions at both times. The generalized estimating equation demonstrated a significant area by season interaction, indicating different amounts of change for treatment and control area collisions (Wald χ2 = 9.14, d.f. = 3, p = 0.03, Fig. 3). The follow-up simple effects test showed that the treatment and control areas had similar numbers of collisions per week during winter 1, prior to mitigation (Wald χ2 = 0.08, p > 0.05). At winter 2, the mitigated area had significantly fewer collisions than the control area (Wald χ2 = 5.03, d.f. = 1, p = 0.03). The control area showed no significant change from winter 1 to 2 (Wald χ2 = 0.02, d.f. = 1, p > 0.05) and the treatment area showed a trend toward a decline (Wald χ2 = 3.45, d.f. = 1, p = .06). This pattern of results supports the effectiveness of mitigation.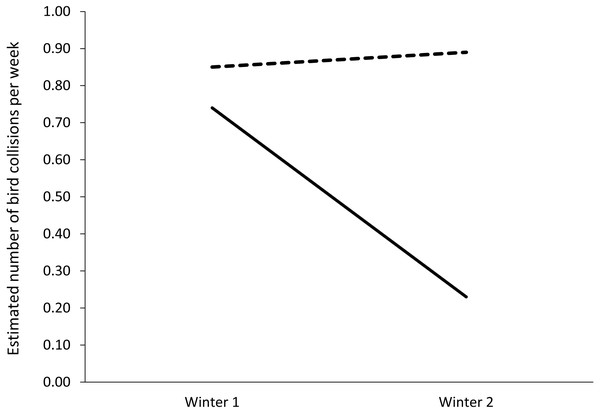 Risk factors, winter 2
In addition to the 10 Cedar Waxwing collisions at the mitigation building during winter 2, there were eight Cedar Waxwing collisions and one feather pile at the adjacent eastern building 4, one Cedar Waxwing and one feather pile at building 2, and one feather pile at building 8.
When all three predictors were in the model, pear tree proximity explained a significant amount of unique variance, (p = 0.04, QICC = 95.89, Table 2). In this small sample of eight buildings, risk factors were somewhat correlated (e.g., pear trees and mirrored windows, Phi = 0.46; pear trees and bird-friendly glass, Phi = − 0.50; both p <  0.01). Models 2 through 4 show how these predictors fare as direct predictors by including each one alone. Model 2 shows that a building near fruiting pear trees, with an exponentiated B (Exp(B)) or odds ratio of 8.54, increased the odds of collision by 8.54, compared to buildings far from fruiting pear trees (QICC = 94.96). Similarly, a building with mirrored windows had 5.04 greater odds of a collision than for buildings without mirrored windows (QICC = 100.79). The best-fit Model 5 included pear trees and mirrored windows (QICC = 93.97). Although the bird-friendly glass did not achieve statistical significance, only one collision occurred at the building with fritted windows and none at the building with ORNILUX glass (QICC = 107.00). The goodness of fit comparisons show that the best-fit model is similar to (within two QICC points of) the pear tree-only and full 3-predictor models.
95% Wald C.I.
B
S.E.
p
Exp(B)
Lower
Upper
Model 1: all three predictors
Intercept
−3.39
0.73
0.01
0.03
0.01
0.14
Pear trees
1.67
0.81
0.04
5.31
1.08
26.05
Mirrored windows
0.80
0.48
0.09
2.22
0.87
5.66
Bird-friendly glass
−0.35
1.27
0.78
0.70
0.06
8.48
Model 2: Pear tree only
Intercept
−3.52
0.61
0.01
0.03
0.01
0.10
Pear trees
2.14
0.65
0.01
8.54
2.38
30.68
Model 3: Mirrored windows only
Intercept
−2.55
0.33
0.01
0.08
0.04
0.15
Mirrored windows
1.62
0.49
0.01
5.04
1.93
13.21
Model 4: Bird-friendly glass
Intercept
−1.87
0.25
0.01
0.15
0.09
0.25
Bird-friendly glass
−1.89
1.19
0.11
0.15
0.02
1.56
Model 5: Pear + mirrored, best fit
Intercept
−3.52
0.60
0.01
0.03
0.01
0.10
Pear trees
1.80
0.69
0.01
6.06
1.57
23.49
Mirrored windows
0.80
0.48
0.09
2.22
0.87
5.65
B

B coefficient

S.E.

Standard error of B

Exp(B)

odds ratio

CI

confidence interval
Citizen outreach and ad-hoc reports of bird fatalities
Our encouragement of ad hoc reports, including all seasons and places on campus, led to 22 additional reports, including 19 collision fatalities and three non-collision fatalities. Collisions included multiple reports of Cedar Waxwings (n = 4), pigeons and doves (likely Columba livia and/or Zenaida macroura, n = 3), and hummingbirds (likely Broad-tailed (Selasphorus platycercus) or Rufous (Selasphorus rufus), n = 2). They also included single reports of House Finch (Haemorhous mexicanus), Lesser Goldfinch (Spinus psaltria), Mourning Dove, American Robin, unknown carcass, Blue-gray Gnatcatcher (Polioptila caerulea), Northern Flicker (Colaptes auratus), Hermit Thrush (Catharus guttatus ), and Ruffed Grouse (Bonasa umbellus). The latter two surprised us, given few eBird listings on campus for Hermit Thrushes and none for Ruffed Grouse; the thrush collided with another mirrored surface on campus. The non-collision fatalities included carcasses found away from windows for two Great Horned Owls (Bubo virginianus, confirmed by local eBird authority Frisch, personal communication, November 18, 2018). It appeared that a Black-billed Magpie (Pica hudsonia) had been trapped by bird-deterrent netting in a parking garage, a surprising new source of danger to birds. Sixteen of the 22 reports were from among the eight buildings we monitored, but outside of winter 1 and 2 or found beside solid walls rather than windows.
Conclusion
Our research demonstrated that mirrored surfaces and proximity to fruiting pear trees posed particular risks to Cedar Waxwings wintering at the University of Utah. We exploited a rare opportunity for a pretest-posttest study with a control group, which might serve as a strong research design others can consider. Feather Friendly® mitigation was effective and we encourage future evaluations to establish its efficacy across other circumstances and with larger samples. Our study of risk factors led us to appreciate that society has created a deadly convergence of factors that put birds at risk. As increasing amounts of glass are incorporated into new buildings and fruit trees near buildings proliferate, bird-window collisions are a call to action. We encourage researchers to share details of funding and techniques that facilitated their mitigation efforts. Our results support several policy actions: mitigating the worst sites, banning mirrored building construction, keeping fruiting trees away from dangerous windows, and adopting bird-friendly landscaping and design policies.
Supplemental Information
Raw data