virMine: automated detection of viral sequences from complex metagenomic samples
Published

Accepted

Received
Academic Editor
Subject Areas

Keywords

Virome

,

Metagenomics

,

Bacteriophage

,

Human microbiome

,

Freshwater virome
Copyright

©

2019

Garretto et al.

Licence

This is an open access article distributed under the terms of the Creative Commons Attribution License, which permits unrestricted use, distribution, reproduction and adaptation in any medium and for any purpose provided that it is properly attributed. For attribution, the original author(s), title, publication source (PeerJ) and either DOI or URL of the article must be cited.
Cite this article

2019

.

virMine: automated detection of viral sequences from complex metagenomic samples

.

PeerJ

7

:

e6695

https://doi.org/10.7717/peerj.6695
Abstract
Metagenomics has enabled sequencing of viral communities from a myriad of different environments. Viral metagenomic studies routinely uncover sequences with no recognizable homology to known coding regions or genomes. Nevertheless, complete viral genomes have been constructed directly from complex community metagenomes, often through tedious manual curation. To address this, we developed the software tool virMine to identify viral genomes from raw reads representative of viral or mixed (viral and bacterial) communities. virMine automates sequence read quality control, assembly, and annotation. Researchers can easily refine their search for a specific study system and/or feature(s) of interest. In contrast to other viral genome detection tools that often rely on the recognition of viral signature sequences, virMine is not restricted by the insufficient representation of viral diversity in public data repositories. Rather, viral genomes are identified through an iterative approach, first omitting non-viral sequences. Thus, both relatives of previously characterized viruses and novel species can be detected, including both eukaryotic viruses and bacteriophages. Here we present virMine and its analysis of synthetic communities as well as metagenomic data sets from three distinctly different environments: the gut microbiota, the urinary microbiota, and freshwater viromes. Several new viral genomes were identified and annotated, thus contributing to our understanding of viral genetic diversity in these three environments.
Introduction
In contrast to eukaryotic and prokaryotic organisms, only a small fraction of viral genomes has been sequenced and characterized. Viral metagenomic studies have been pivotal in increasing our understanding of viral diversity on Earth. Numerous habitats have been explored, such as: marine waters (Breitbart et al., 2002; Yooseph et al., 2007; Hurwitz & Sullivan, 2013; Brum et al., 2015; Coutinho et al., 2017; Zeigler Allen et al., 2017; see review Brum & Sullivan, 2015), soil (Fierer et al., 2007; Zablocki et al., 2014; Adriaenssens et al., 2017; see review Pratama & Van Elsas, 2018), freshwaters (López-Bueno et al., 2009; López-Bueno et al., 2015; Roux et al., 2012; see review Bruder et al., 2016), and the human microbiota (e.g., Reyes et al., 2010; Minot et al., 2011; Minot et al., 2013; Pride et al., 2012; Hannigan et al., 2015; Santiago-Rodriguez et al., 2015; Miller-Ensminger et al., 2018; see review Abeles & Pride, 2014). Recent evidence has uncovered that viral members of the human microbiota (see reviews Barr, 2017; Keen & Dantas, 2018) and marine environment (see reviews Breitbart et al., 2018) play a more pivotal role than once thought. Regardless of the environment explored, the overwhelming majority of viral sequences produced exhibit no sequence homology to characterized viral species. Even for the well-studied marine viral communities, over 60% of the coding regions predicted are completely novel (Coutinho et al., 2017).
While metagenomics has been fruitful in identifying gene markers (e.g., 16S rRNA gene) and genomes of uncultivated eukaryotic and prokaryotic species (Hug et al., 2016), surveys of viromes face unique challenges (Bruder et al., 2016; Rose et al., 2016). First, unlike cellular organisms, there is no universally conserved gene in viruses. Viruses span a high degree of genetic diversity and are inherently mosaic (Hatfull, 2008). Second, even when sequencing purified virions, sequencing data often includes non-viral (host) DNA. This is further complicated by the fact that viral genomic DNA is often orders of magnitude less abundant than host cells or other organisms in the sample. In addition to the development of experimental procedures for viral metagenomics (e.g., Conceição Neto et al., 2015; Hayes et al., 2017; Lewandowska et al., 2017), several bioinformatic solutions have been created to aid in detecting viral sequences within mixed communities (e.g., Roux et al., 2015; Hatzopoulos, Watkins & Putonti, 2016; Yamashita, Sekizuka & Kuroda, 2016; Ren et al., 2017; Amgarten et al., 2018; see reviews Hurwitz et al., 2018; Nooij et al., 2018). Third, extant viral data repositories do not include sufficient representation of viral species. Thus, tools reliant upon identifying sequence homology, such as those for bacterial metagenome analysis (see review Nayfach & Pollard, 2016), have limited application in virome studies.
The identification of viral genomes from samples containing a single or a few viral species is relatively straight-forward, even in the presence of a large background of non-viral sequences. An example of such an inquiry would be the search for potential viral pathogens from clinical samples. Software tools including VIP (Li et al., 2016b), VirAmp (Wan et al., 2015), and VirFind (Ho & Tzanetakis, 2014) were designed specifically for such cases. They are, however, limited to the isolation of known viral taxa; complex viral communities pose significantly greater challenges. Typically, one of two approaches is taken. The first approach identifies contigs from metagenomic data sets based upon sequence attributes, e.g., their nucleotide usage profiles (Ren et al., 2017), and/or contig coverage (see reviews Sharon & Banfield, 2013; Garza & Dutilh, 2015; Sangwan, Xia & Gilbert, 2016). The second, more frequently pursued method, relies largely on recognizable homologies to known viral sequences, e.g., Phage Eco-Locator (Aziz et al., 2011), VIROME (Wommack et al., 2012), MetaVir (Roux et al., 2014), VirSorter (Roux et al., 2015), MetaPhinder (Jurtz et al., 2016), VirusSeeker (Zhao et al., 2017), and FastViromeExplorer (Tithi et al., 2018). The tool MARVEL integrates the two approaches, predicting tailed phage sequences based upon genomic features (gene density and strand shifts) and sequence homologies (Amgarten et al., 2018). Regardless of the approach taken, manual curation and inspection is often a critical step in the process. Several complete viral genomes have been mined from metagenomic data through inspection of sequences based upon their size, coverage, circularity, or sequence homology to annotated viral genes or genes of interest (e.g., Inskeep et al., 2013; Labonté & Suttle, 2013; Dutilh et al., 2014; Smits et al., 2014; Smits et al., 2015; Bellas, Anesio & Barker, 2015; Rosario et al., 2015; Zhang et al., 2015; Paez-Espino et al., 2016; Voorhies et al., 2016; Coutinho et al., 2017; Ghai et al., 2017; Watkins, Sible & Putonti, 2018). These efforts have uncovered novel viral species, furthering our understanding of genetic diversity in nature.
Here we present virMine for the identification of viral genomes within metagenomic data sets. virMine automates the process of discovery; from raw sequence read quality control through assembly and annotation. virMine incorporates a variety of publicly available tools and user-defined criteria. In contrast to previous bioinformatic tools which search for viral "signatures" based on our limited knowledge of viral diversity on Earth, virMine takes advantage of the wealth of sequence data available for cellular organisms. Thus, viral (bacteriophage and eukaryotic virus) discovery is conducted through the process of excluding what we know not to be viral. Those sequences which are not "non-viral" (i.e., putative viral sequences) are then compared to a database of viral sequences. This comparison distinguishes putative viral sequences similar to known viral sequences and those which may represent novel viruses for downstream analyses. A beta version of this tool was used to isolate viral sequences from urinary metagenome data sets (Garretto et al., 2018). Here we illustrate the utility of this tool using four case-studies: synthetic data sets, gut microbiomes, urinary viromes, and freshwater viromes, resulting in the identification of new strains of known viruses as well as novel viral genomes.
Materials & Methods
Pipeline development
The pipeline integrates existing tools as well as new algorithms using Python and the BioPython library (Cock et al., 2009). Figure 1 depicts the process employed by virMine. A key aspect of the tool is its flexibility; it was designed to be modular, allowing users to access functionality individually or execute the full pipeline. While several methods have been incorporated in this release (Table 1), new tools can be added easily. Furthermore, to facilitate targeted analyses, filtration options and customization is available for users without any programming expertise.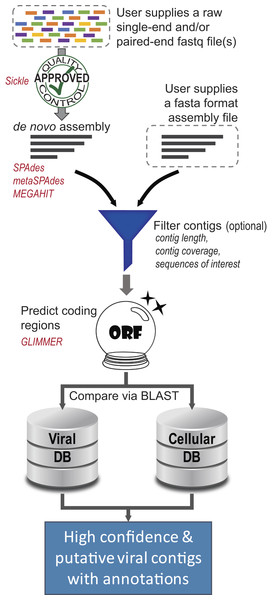 Users can supply either raw Illumina sequencing reads (single-end or paired-end) or assembled contigs/scaffolds. In the case in which reads are supplied, the raw sequencing data is evaluated using the quality control tool Sickle (https://github.com/najoshi/sickle). Reads are trimmed, generating high quality data for assembly. Presently, the pipeline performs assembly by one of three methods: SPAdes (Bankevich et al., 2012), metaSPAdes (Nurk et al., 2017), and MEGAHIT (Li et al., 2016a). These assemblers were selected as they include tools better equipped for assembly of low complexity samples (SPAdes) and those developed for complex metagenomes (metaSPAdes and MEGAHIT). In a prior study comparing tools for assembly of phage genomes from single or low complexity samples (Rihtman et al., 2016), the SPAdes assembler (Bankevich et al., 2012) outperformed other tools tested. virMine also includes the assembly option "all3". This option assembles the reads using SPAdes, metaSPAdes, and MEGAHIT and selects the assembly with the highest N50 score for downstream analysis. The virMine command line includes a flag for the user to specify the number of threads to be used during assembly to best utilize multi-core resources.
Next, virMine includes several options for the user to filter the assembled contigs. This can include minimum and/or maximum contig length, minimum contig coverage, and presence of genes or sequences (such as CRISPR spacer sequences) of interest. Coverage is calculated by remapping the original reads to the contigs, and the per contig coverage is calculated via BBMap (https://sourceforge.net/projects/bbmap/). Coverage is not reported if this option is not selected. Alternatively, when SPAdes (Bankevich et al., 2012) or metaSPAdes (Nurk et al., 2017) is used for assembly, users can select to use the SPAdes "cov" value as a filter. Users can also provide FASTA format sequences of interest (e.g., gene sequences encoding for a specific functionality); contigs are then queried against this data set using blastx. Results with a bitscore >50 are considered real hits and only contigs containing these hits will be considered further. Any or all of these filters can be selected by the user. Furthermore, the order in which they are specified by the user determines the order in which the filters are applied.
In Step 3, coding regions are predicted for each contig. Open reading frame (ORF) prediction is conducted using the tool GLIMMER (Delcher et al., 1999). Coding regions are predicted using a modified GLIMMER script (available through our GitHub repository), trained to accommodate characteristics of viral genes, e.g., overlapping genes (Chirico, Vianelli & Belshaw, 2010) and short coding regions.
In the final step, each predicted ORF is compared to two databases—a collection of non-viral sequences and a collection of known viral sequences. These two databases can be manually curated data collections or obtained from public repositories. While the GitHub repository for virMine includes a script to generate databases from NCBI's RefSeq collection, any multi-fasta file of amino acid sequences can be used to create these databases; the user need only supply the multi-fasta files. Comparisons against these two databases are facilitated via the BLAST+ application (Camacho et al., 2009). Users can select to use either a blastp (protein query) or blastx (translated nucleotide) query. While blastx is more exhaustive, blastp is more expedient. Again, the threads flag is used here to expedite these comparisons. All hits are reported from both databases; the bitscores for each ORF's hits to the two databases are compared, and the ORF is called "viral" or "non-viral" based upon the hit with the greater bitscore. Contigs with more "viral" calls are predicted as viral and are written to file ("viral_contigs.fasta"), as are their ORF predictions and BLAST (either blastx or blastp) results. Contigs containing ORFs with no recognizable sequence homology to the viral database or non-viral database are classified as "unknown". These putative viral contigs ("unkn_contigs.fasta") and their ORF predictions are also written to file, as these sequences may represent truly novel species.
Tool availability
virMine is available through a Docker image at https://github.com/thatzopoulos/virMine; Docker builds the necessary environment. This repository also includes scripts for generating curated viral and bacterial databases from GenBank. The user can save the contents of their run locally, as well as supply their own input files prior to the building of the environment, by following the steps listed in the GitHub repository. This pipeline can be run on any system supporting Docker (https://www.docker.com/). Development and testing were conducted on the Ubuntu and MacOSX operating systems.
Data sets
The pipeline includes two databases for distinguishing between non-viral and viral sequences. Two data sets were created for our proof-of-concept work. The viral database includes amino acid sequences from all RefSeq (O'Leary et al., 2016) viral genomes and can be retrieved directly online at ftp://ftp.ncbi.nlm.nih.gov/genomes/Viruses/all.faa.tar.gz. This data set includes both eukaryotic viruses and phages. The non-viral data set used for our proof-of-concept work was created using the bacterial COGs collection (Galperin et al., 2015), excluding coding sequences in the category X of phage-derived proteins, transposases, and other mobilome components. The GitHub repository for virMine includes a script to create these two databases.
For the proof-of-concept studies presented in the results, four data sets were used. The first is a synthetic data set for benchmarking purposes. Sequencing read sets for a single "non-viral" sequence (Pseudomonas aeruginosa UW4 (NC_019670.1)) and a single viral sequence (Pseudomonas phage PB1 (NC_011810.1)) were created at various "concentrations" using the tool MetaSim (Richter et al., 2008). These synthetic data sets were made both with and without mutations introduced. (Mutations were introduced using the evolve function in which the parameters "number of leaves (Yule-Harding Tree)" and "Jukes-Cantor Model Alpha" were set to the defaults 100 and 0.0010, respectively.) Raw sequencing reads were also obtained from five different studies including the gut microbiota (Qin et al., 2010; Reyes et al., 2010), the urinary microbiota (Santiago-Rodriguez et al., 2015), and freshwater viromes (Sible et al., 2015; Skvortsov et al., 2016). Table 2 summarizes these data sets; details regarding the URLs for these data sets can be found in File S1.
Sample
Study details
Sequencing technology
# samples
# reads (millions)
Synthetic
P. aeruginosa and Pseudomonas phage PB1 genomes
N/A
22
4.4
Gut Microbiomes
A subset of faecal microbiota of monozygot twins and their mothers (Reyes et al., 2010)
454 FLX
3
0.66
A subset of faecal samples from 124 European individuals (Qin et al., 2010)
Illumina Genome Analyzer
55
1141.33
Urinary Viromes
UTI positive urine samples (Santiago-Rodriguez et al., 2015)
Ion Torrent PGM
10
6.22
Freshwater Viromes
A subset of samples from Lake Michigan nearshore waters (Sible et al., 2015)
Illumina MiSeq
4
13.46
Viral community of Lough Neagh (Skvortsov et al., 2016)
Illumina MiSeq
1
4.60
Local BLAST searches of contigs were conducted using the complete nr/nt database (downloaded 6/24/2017). Remote BLAST queries were conducted through the NCBI website. Genome annotations were generated using RAST (Aziz et al., 2008), previously used for phage genome annotations (McNair et al., 2018). Contig mapping to complete genome sequences was performed using Bowtie2 (Langmead & Salzberg, 2012).
Results & Discussion
virMine is a single tool to perform raw read quality control, assembly, annotation, and analysis (Fig. 1). The virMine tool, as described in the Methods, identifies viral sequences and putative viral sequences in metagenomic data sets by harnessing the wealth of non-viral sequence data available; contigs are scored based upon their similarity to non-viral and viral sequences. Four case studies were derived to test the efficacy of the virMine software tool, including one synthetic data set and three different environmental samples from the gut, urine, and freshwaters.
Conclusions
As highlighted in the recent report of the International Committee on Taxonomy of Viruses (ICTV) Executive Committee, genomes identified from metagenomic data will vastly expand our catalog of viral diversity (Simmonds et al., 2017). Within just the past two years, there has been an explosive growth of the number of uncultivated viral genomes identified within metagenomic data (Roux et al., 2018). Our analysis of complex communities has uncovered numerous novel viral genomes. virMine is capable of identifying both prophages in contigs and viral sequences. In contrast to other tools that rely solely on viral sequence availability, virMine makes use of a far larger, more comprehensive data set—non-viral sequences. Furthermore, the entire process from raw sequence quality control through analysis is packaged into a single tool providing a "consensus" solution for viral genome discovery (Dutilh et al., 2017). Manual inspection of virMine results can thus lead to the identification of viral sequences resembling known viruses as well as novel viral strains. As exemplified here, virMine can be used to identify viruses in any niche and thus further our understanding of this vast reservoir of genetic diversity.
Supplemental Information
Metagenomic data sets examined
Table listing the number of reads and a link to the publicly available raw data for each sample examined in the four case studies.
virMine results for synthetic communities and three metagenomic data sets examined
Number of contigs classified as viral, unknown, and bacterial for each sample.
BLAST queries to the nr/nt database of the sequences uniquely identified by virMine and VirSorter
BLAST hit results for contigs identified by virMine and Virsorter for the Lake Michigan sample.