A new specimen of Palvennia hoybergeti: implications for cranial and pectoral girdle anatomy in ophthalmosaurid ichthyosaurs
Published

Accepted

Received
Academic Editor
Subject Areas

Keywords

Ophthalmosauridae

,

Ichthyosauria

,

Spitsbergen

,

Late Jurassic

,

Pectoral girdle

,

Skull

, Palvennia hoybergeti,

PCA
Copyright

©

2018

Delsett et al.

Licence

This is an open access article distributed under the terms of the Creative Commons Attribution License, which permits unrestricted use, distribution, reproduction and adaptation in any medium and for any purpose provided that it is properly attributed. For attribution, the original author(s), title, publication source (PeerJ) and either DOI or URL of the article must be cited.
Cite this article

2018

. A new specimen of Palvennia hoybergeti: implications for cranial and pectoral girdle anatomy in ophthalmosaurid ichthyosaurs.

PeerJ

6

:

e5776

https://doi.org/10.7717/peerj.5776
Abstract
The Late Jurassic Slottsmøya Member Lagerstätte on Spitsbergen preserves a diverse array of marine reptiles, including four named taxa of ophthalmosaurid ichthyosaurs. One of these, Palvennia hoybergeti, is based on the single holotype specimen (SVB 1451) with an incomplete skull. A newly discovered specimen (PMO 222.669) with a disarticulated but largely complete skull and anterior postcranium is described, which considerably expands our knowledge of this taxon. Two additional new ophthalmosaurid specimens with pectoral girdles from the same member are described. The taxonomic utility of the ophthalmosaurid pectoral girdle is contentious, and an assessment of seven pectoral girdles from the Slottsmøya Member provides a basis for addressing this question via a 2D landmark principal component analysis of baracromian coracoids. The analysis reveals a taxonomic signal in the coracoids but also highlights the degree of individual variation. Commonly used phylogenetic characters do not fully encapsulate the degree of variation seen in coracoids and in some cases combine analogous features.
Introduction
Ichthyopterygia was one of the major secondarily aquatic vertebrate clades that existed during the Mesozoic. Fossils are found from the Early Triassic (Olenekian) to the early Late Cretaceous (Cenomanian). The Late Jurassic was an interval with great species richness of thunnosaurian ichthyosaurs that evolved an elongated skull with an enormous eye and forefins larger than hindfins (Bardet, 1992; Motani, 2005; Fischer et al., 2016).
The Slottsmøya Member Lagerstätte (SML) on Spitsbergen, Norway (Figs. 1 and 2), is well known for its abundance of marine reptile remains (ichthyosaurs and plesiosaurians) from the latest Jurassic and the earliest Cretaceous (Hurum et al., 2012; Delsett et al., 2016). Four new monospecific ophthalmosaurid genera and three undetermined species of ophthalmosaurids have recently been described (Druckenmiller et al., 2012; Roberts et al., 2014; Delsett et al., 2017). Another 19 additional specimens have been collected, and three of those specimens are described in this paper. The most complete, PMO 222.669, consists of an anterior portion of an individual that we refer to the SML species Palvennia hoybergeti (Druckenmiller et al., 2012) based on its similarity to the holotype specimen (SVB 1451) in their overlapping material. The new specimen greatly increases our knowledge regarding the anatomy of this species, including new information from the skull as well as the first information regarding the morphology of the pectoral girdle and forefins. Additionally, two disarticulated and incomplete ophthalmosaurid specimens, PMO 222.658/PMO 230.097 (material from the same specimen, see Materials and Methods) and PMO 224.250, are described.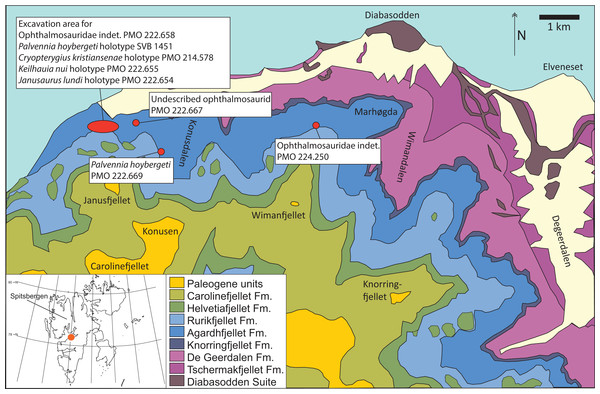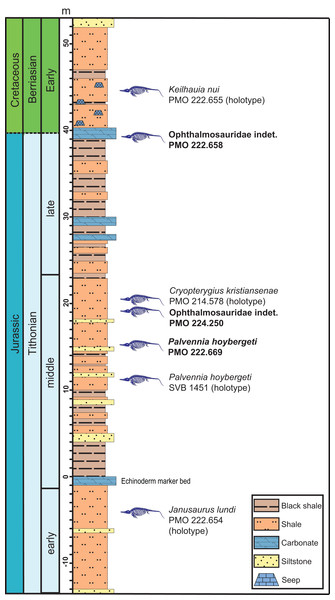 Combined with currently described material from the locality, the new specimens offer insight into pectoral girdle variation of ophthalmosaurid ichthyosaurs. The homology of certain features on the elements of the ichthyosaurian pectoral girdle as well as its architecture in life was the subject of heated early debates (Home, 1818; Seeley, 1874, 1893; Hulke, 1892), but is now known to be relatively similar to terrestrial reptiles (Johnson, 1979; Sander, 2000), consisting of a pair of coracoids and scapulae, a pair of clavicles and an interclavicle. As is common in aquatic tetrapods, the scapula is not fused to the coracoid (Sander, 2000). Historically, the iconic species Ophthalmosaurus icenicus was erected on the basis of characters in the pectoral girdle and forefin (Seeley, 1874; Moon & Kirton, 2016), but the actual taxonomic utility of pectoral girdle elements in post-Triassic ichthyosaurs has been questioned (McGowan, 1974; Johnson, 1979; Druckenmiller & Maxwell, 2010; Moon & Kirton, 2016). A challenge is the subjective assessment of individual variation, as many taxa are described from a single specimen. In this study, we use geometric morphometrics on coracoids to investigate the range of individual variation and phylogenetic signal.
Geological Setting
The Slottsmøya Member is one of four members of the Agardhfjellet Formation, in the Janusfjellet Subgroup of the Adventdalen Group (Fig. 2). The SML consists of Tithonian to Berriasian-aged sediments that crop out north of the town of Longyearbyen on Spitsbergen, the largest island in the Svalbard archipelago, located between 74° and 81° North and 10° and 35° East. Deposition of the unit occurred broadly in an offshore transition when Svalbard was located farther south, at a paleolatitude of 63°–66° North (Torsvik et al., 2012). The sedimentology and stratigraphy of the Agardhfjellet Formation is described in detail in other contributions (Collignon & Hammer, 2012; Dypvik & Zakharov, 2012; Hammer, Collignon & Nakrem, 2012; Koevoets et al., 2016, 2018; Koevoets, 2017), but the Slottsmøya Member is a 70–100 m thick, upward-coarsening unit made up primarily of dark-gray to black shales, paper shales and siltstones with higher invertebrate abundance than in the other members in the formation (Collignon & Hammer, 2012; Koevoets, 2017). The zero m level in the section is set at a remarkable echinoderm-rich bed laterally continuous throughout the study area and probably representing a storm deposit (Rousseau & Nakrem, 2012; Rousseau, Gale & Thuy, 2018).
The oxygenation fluctuated repeatedly during the deposition of the member, with periodic oxygenation of the bottom waters (Collignon & Hammer, 2012; Koevoets, 2017). Two of the three specimens described here, PMO 222.669 and PMO 224.250, were found in the part of the section with the highest abundance of vertebrate remains (10–20 m above the echinoderm bed), many of which are articulated or partly articulated (Delsett et al., 2016) (Fig. 2). PMO 222.669 was partly covered in bivalves and crinoids situated on the actual skeletal elements, similar to a previously described specimen (PMO 222.670; Ophthalmosauridae indet.) (Delsett et al., 2017), and as the specimens were found only one m apart stratigraphically, this could represent an event with more oxic bottom conditions. However, significant bivalve abundances are also found in parts of the section with relatively low oxygen levels (Koevoets, 2017), and total organic content seems to covary more closely with the degree of articulation of the vertebrates than does oxygenation (contra Delsett et al., 2016).
In the uppermost part of the member, a sudden change in the environment is recorded through significant changes in the invertebrate and teleost fauna (Koevoets, 2017). In this part of the section, just above one of the specimens described herein (PMO 222.658), 15 methane seeps were described (Hryniewicz et al., 2015). Overall, the preservation of the vertebrates in the entire member is more three dimensional than would normally be expected with the known compaction rate (Hammer, Collignon & Nakrem, 2012), likely as a consequence of early barite permineralization in many of the elements, which in turn is probably a result of dissolution of barite in the sea water due to methane seepage (Delsett et al., 2016).
Materials and Methods
PMO 222.658/PMO 230.097 is an ichthyosaur specimen from which elements were collected two different years: in 2009 and 2010, and the elements were originally catalogued separately. From here on out, the museum number given first (PMO 222.658) will be used in the text. The ichthyosaur specimen PMO 222.669 was collected in 2011 and PMO 224.250 in 2012. The stratigraphic position of the specimens was determined with a total station. The specimens were collected in protective plaster jackets and transported to NHM in Oslo for mechanical preparation. PMO 222.669 was largely covered in siderite, gypsum, and barite, and an air scribe and a sand blaster were used to remove the matrix. The taphonomy and stratigraphic position of the specimens has previously been discussed in Delsett et al. (2016). An additional unassigned ophthalmosaurid specimen that is under description, PMO 222.667, is included for comparative purposes, as it was in Roberts et al. (2014). The specimens are housed in the palaeontological collections of Natural History Museum, Oslo. The most commonly used chronostratigraphic names (e.g., Tithonian) will be used in this work instead of the regional names (e.g., Volgian). The following permits were given by the Governor of Svalbard for the excavations in 2009, 2010, 2011, and 2012: 2006/00528-13, RIS ID 3707; RIS ID: 4760 and 2006/00528-39.
The taxonomic utility of the post-Triassic ichthyosaurian pectoral girdle has been challenged (Maxwell & Druckenmiller, 2011; Lomax, 2017). Because seven SML specimens with relatively well-preserved pectoral girdles have now been recovered, it provides an opportunity to test the assertion that there is little taxonomic signal in the pectoral girdles. Here, we conduct a principal component analysis (PCA) on 2D landmarks of coracoids from a larger set of baracromian ichthyosaurs including six of the SML specimens. Geometric morphometrics is well suited for evaluating shape difference, and coracoids are frequently preserved in their entirety (Lomax, 2017) with a well-defined outline in dorsal and ventral view making them suited for a PCA on 2D landmarks. In contrast, ichthyosaurian scapulae have processes arranged in orthogonal planes, which reduces the efficiency of 2D methods to capture the fine variations of their morphology.
To understand the degree of individual variation, one aim of the analysis is to determine whether Ophthalmosaurus and Stenopterygius coracoids can be separated on the basis of this method. The two genera were chosen for this purpose as they are known from multiple specimens. Coracoid landmarks were digitized from photographs either taken by the authors in museum collections or provided by colleagues. Only adult specimens where all landmarks could be scored were included. Photographs were taken from directly above the element to reduce distortion. Both left and right coracoids were used and mirrored to ensure comparable values. Six landmarks were selected (Fig. 3) with an aim of maximizing the quantity of shape information based on points used in descriptions and/or phylogenetic characters. Landmarks 2–6 are homologous points based on contact between the coracoid and other skeletal elements, that is, anterior and posterior ends of facets for the other coracoid, the scapula and the humerus. Landmark 1 represents the anterolateral corner of the anteromedial process of the coracoid, an often used feature in descriptions and in phylogenetic analysis. Coordinates for each landmark were found using Adobe Photoshop (CS6 ver. 13). The analysis was run in PAST (Hammer, Harper & Ryan, 2001) and included a Procrustes fitting of the values before the PCA. To investigate the properties of each principal component, the Deformations function was used, which shows how the landmarks act as the PC values change. In addition, a discriminant analysis was run between two assigned groups: Ophthalmosaurus and Stenopterygius. A MANOVA test was run to test the groups, set to four constraints.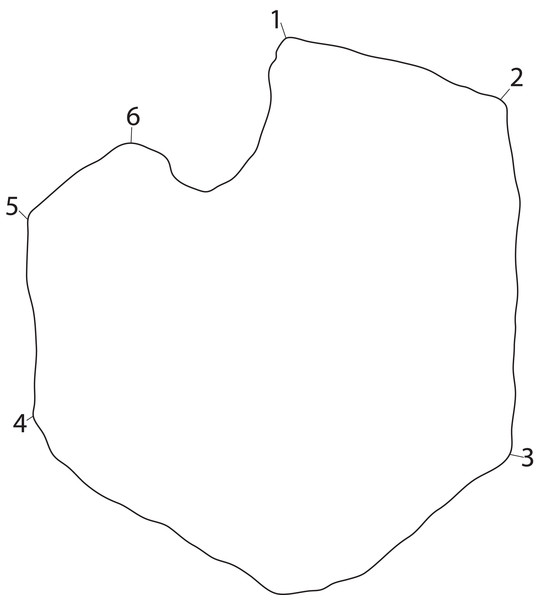 A total of 30 specimens were included in the analysis (Table 1), with the majority represented by two genera, Ophthalmosaurus and Stenopterygius. Additional specimens include ophthalmosaurid species for which only a single specimen is known and three undetermined ophthalmosaurids from the SML. Stenopterygius material was not separated on a sub-generic level in the analysis as no pectoral girdle characters are currently used to differentiate at a species level (Johnson, 1979; Maxwell, 2012). In addition, the inclusion of the non-ophthalmosaurid genus Stenopterygius was to investigate whether it can be clearly separated from ophthalmosaurids. Certain taxa with known preserved coracoids (Platypterygius australis, Nannopterygius enthekiodon, and Baptanodon natans) were not included in this study due to a lack of data or insufficient photo quality.
| Abbrev. | Museum number | Taxon | Photo |
| --- | --- | --- | --- |
| Ac | CMN 40608 | Arthropterygius chrisorum | E. Maxwell |
| Ad | SNHM 1284-R | Acamptonectes densus | V. Fischer |
| H | SMSS SGS | Platyperygius hercynicus | R. Vanis |
| Jl | PMO 222.654 | Janusaurus lundi | AJR |
| Oi1 | CAMSM J65583 | Ophthalmosaurus icenicus | LLD |
| Oi2 | NHMUK R3013 | Ophthalmosaurus icenicus | AJR |
| Oi3 | LEICT 100 1949 20 | Ophthalmosaurus icenicus | LLD |
| Oi4 | NHMUK R2137 | Ophthalmosaurus icenicus | AJR |
| Oi5 | OUMNH J48008 | Ophthalmosaurus icenicus | LLD |
| Oi6 | CAMSM J66275 | Ophthalmosaurus icenicus | LLD |
| Oi7 | LEICT 100 1949 18 | Ophthalmosaurus icenicus | LLD |
| Oi8 | CAMSM J29809 | Ophthalmosaurus icenicus | LLD |
| Oi9 | CAMSM J65813 | Ophthalmosaurus icenicus | LLD |
| Oi10 | LEICT 100 1949 2 | Ophthalmosaurus icenicus | LLD |
| Oi11 | CAMSM J29807 | Ophthalmosaurus icenicus | LLD |
| Oi12 | LEIUG 90986/913 | Ophthalmosaurus icenicus | LLD |
| P | UPM EP-II-8 (1076) | Paraophthalmosaurus kabanovi | M. Arkhangelsky |
| Ph | PMO 222.669 | Palvennia hoybergeti | LLD |
| S1 | SMNS 81961 | Stenopterygius quadriscissus | LLD |
| S2 | SMNS 55074 | Stenopterygius sp. | LLD |
| S3 | SMNS 51142 | Stenopterygius quadriscissus | LLD |
| S4 | BSPGHM S.q. | Stenopterygius quadriscissus | LLD |
| S5 | SMNS 57532 | Stenopterygius uniter | LLD |
| S6 | SMNS 50165 | Stenopterygius quadriscissus | LLD |
| Si | IRSNB R269 | Sveltonectes insolitus | V. Fischer |
| SML1 | PMO 224.250 | Ophthalmosauridae indet., SML | LLD |
| SML2 | PMO 222.667 | Ophthalmosauridae indet., SML | LLD |
| SML3 | PMO 222.658 | Ophthalmosauridae indet., SML | LLD |
| U1 | UPM EP-II-20 (572) | Undorosaurus gorodischensis | N. Zverkov |
| U2 | PMO 214.578 | Cryopterygius kristiansenae | LLD |
Discussion
Taxonomic referral of the new material
PMO 222.669 is referred to P. hoybergeti, an ophthalmosaurid previously described from the SML (Druckenmiller et al., 2012). The assignment is based on a large number of similarities, most notably the presence of a greatly enlarged parietal foramen (Fig. 7), the autapomorphy of this species. It also shares most other features, including a strongly bowed jugal (Fig. 8B), a gracile and constricted stapedial shaft (Fig. 9G), a facet for preaxial accessory element on humerus (Fig. 12) and a strikingly similar basioccipital (Figs. 9A–9D). Additionally, previously undescribed material from the holotype (Fig. 4) is similar to the new specimen. Lastly, both the holotype specimen and PMO 222.669 are nearly identical in size and were recovered within four m of one another stratigraphically (Fig. 2). While both specimens are referable to the same species, the exoccipital of PMO 222.669 differs from the holotype (SVB 1451) in two aspects. In PMO 222.669 the exoccipital has two foramina while foramina are lacking in the holotype. An elongated ventral facet on the exoccipital is present in PMO 222.669, but it was not observed in the holotype. Given that the preservation of this element is far better in PMO 222.669, these differences are ascribed to taphonomic artefacts or it could result from individual variation (Maisch, 1997) and the mention of these traits have been removed from the diagnosis. The angular of PMO 222.669 (Figs. 10G and 10H) seems to lack the long anterior extension found in most ophthalmosaurids, whereas it is present in the holotype of P. hoybergeti (SVB 1451) (Druckenmiller et al., 2012). The lateral head of the stapes is slightly relatively smaller in PMO 222.669 than in the holotype (Druckenmiller et al., 2012).
The two additional specimens described above, PMO 222.658 and PMO 224.250, are confidently referred to Ophthalmosauridae on the basis of possessing a humerus (Figs. 15 and 19) with a plate-like dorsal ridge (Moon, 2017) and lacking a tuberosity on the anterodistal extremity of the humerus as well as lacking notching on forefin elements (Moon & Kirton, 2016). PMO 222.658 represents a relatively small ophthalmosaurid that shares some humeral characters with the SML ophthalmosaurid K. nui (Delsett et al., 2017), including a relatively small deltopectoral crest, a preaxial facet for an accessory element, the absence of humerus-intermedium contact and a posteriorly deflected ulnar facet. In PMO 222.658 the proximodistal length of the humerus is similar (18 mm longer) to that of the holotype of K. nui and the two specimens were found only 5.7 m apart stratigraphically. However, the specimens also display differences: The radial facet is slightly larger than the ulnar facet in K. nui while the reverse is true in PMO 222.658, although this might vary intraspecifically (Moon & Kirton, 2016; Lomax, Massare & Mistry, 2017). The preaxial accessory element facet is relatively larger in K. nui, and the relative anteroposterior length of the distal compared to the proximal end of the humerus is different. The intercoracoid facet of the coracoid (Fig. 15E) reaches further anteriorly in PMO 222.658 than in K. nui, resulting in a markedly different outline and the anterior caudal vertebrae have a height: length relationship of 2.1–3.0, less than in K. nui (contra Delsett et al., 2017). Diagnostic features in the hindfin and pelvic girdle cannot be assessed. Given both the differences and similarities to K. nui, it is not possible to assign PMO 222.658 to this taxon, especially considering that several of these characters are shared with other ophthalmosaurid taxa (e.g., Acamptonectes densus, O. icenicus, Baptanodon natans, and Arthropterygius chrisorum) (Gilmore, 1905; Maxwell, 2010; Fischer et al., 2012; Moon & Kirton, 2016).
PMO 224.250 shares features with many ophthalmosaurids such as O. icenicus, Cryopterygius kristiansenae, and Acamptonectes densus (Druckenmiller et al., 2012; Fischer et al., 2012; Moon & Kirton, 2016) but is not sufficiently complete for a generic or species assignment. An interesting feature is its size, as it represents the remains of one of the largest ichthyosaur specimens from the SML (Druckenmiller et al., 2012; Roberts et al., 2014; Delsett et al., 2017). It is not possible to make a direct size comparison with PMO 222.670, a large Ophthalmosauridae indet. specimen having an approximate total length of six m (Delsett et al., 2017) due to a lack of overlapping material, but based on a comparison to the complete holotype specimen of Cryopterygius kristiansenae, which is 5.5 m (Druckenmiller et al., 2012), PMO 224.250 is either of a similar size to PMO 222.670 or slightly larger.
New data on the cranial morphology of P. hoybergeti
The new specimen of P. hoybergeti, PMO 222.669, is more complete than the holotype specimen and helps to clarify and expand the list of diagnostic characters of this taxon. The most conspicuous feature of P. hoybergeti is the large egg-shaped parietal ("pineal") foramen (Fig. 7), which is far larger in relative size than that known in any ophthalmosaurid. A specimen of Eurhinosaurus longirostris (based on exhibited specimen SNSB-BSPG; L.L. Delsett, personal observation) and a cf. Leptonectes specimen also possess enlarged parietal foramina that are egg-shaped and bilobed, respectively (Vincent et al., 2014). There is no clear trend through time for the development of this feature in ichthyosaurs as parietal foramina that are relatively large but still smaller than in P. hoybergeti are found in Triassic ichthyopterygians such as Utatsusaurus (Cuthbertson, Russell & Anderson, 2014) and ichthyosaurs such as Shonisaurus sikanniensis (Nicholls & Manabe, 2004), both from British Colombia in Canada. The parietal foramen is interpreted as the opening for the parietal/pineal eye, a photoreceptive organ variably present in amniotes. In lizards, the lack of a pineal eye is significantly more likely in lower latitudes, and its presence is hypothesized to be advantageous for poikilotherms in harsh climates for synchronization of reproduction and for thermoregulation (Gundy, Ralph & Wurst, 1975). A recent study on South African Permo-Triassic therapsids did not confirm the latitudinal trend for mammal ancestors, but suggests that loss of the parietal foramen was due to increased body temperature control or nocturnality (Benoit et al., 2016). There is at present insufficient material to investigate any latitude-dependent trend or a relationship to physiology for ichthyosaurs, and from the present knowledge, this feature is restricted to a single species from the SML ichthyosaur assemblage.
Among ophthalmosaurids, complete but disarticulated skulls are rare (see exceptions in Kear, 2005; Wahl, 2009; Moon & Kirton, 2016) and information has been gained from the new referred specimen because both mandibles with a majority of the elements are intact and preserved in partial articulation. The right surangular is complete anteriorly (Fig. 10A), a feature unknown in O. icenicus (Moon & Kirton, 2016). The left and right prearticulars are also preserved and the left side preserves most of the element so that the posterior margin and dorsal extent can be observed (Figs. 10E–10F). This is significant because this element is seldom identified (Moon & Kirton, 2016). PMO 222.669 also preserves the anterior portion of the pterygoid, which is rarely preserved (Kear, 2005; Fischer et al., 2011; Moon & Kirton, 2016). The preservation of a hyoid (Fig. 8F) is also significant because this element is seldom described in detail in ichthyosaurs (Wahl, 2011; Motani et al., 2013; Moon & Kirton, 2016).
P. hoybergeti is typically recovered in the ophthalmosaurid subclade Ophthalmosaurinae, along with other SML taxa (e.g., Cryopterygius kristiansenae) and O. icenicus (Fischer et al., 2011, 2012, 2013; Delsett et al., 2017). The other ophthalmosaurid subclade, Platypterygiinae, includes near-contemporaneous taxa such as Brachypterygius and Caypullisaurus (same refs). Based on the new material, P. hoybergeti possesses the ophthalmosaurine synapomorphy of a supratemporal-stapes contact (Fischer et al., 2013). However, a basioccipital with little or no exposure of extracondylar area in posterior view without a ventral notch is typical of platypterygiinae ophthalmosaurids (Fischer et al., 2012, 2014a), and both of these traits are present in P. hoybergeti. A peripheral groove on the basioccipital is often considered an ophthalmosaurine trait and is also present in this specimen, but extremely shallow.
Taxonomic utility of the pectoral girdle
PC1 and PC2 almost separate the groups of Ophthalmosaurus and Stenopterygius specimens (Fig. 21). The morphospace is thus adjacent, but only to a small degree overlapping, and the MANOVA test proved the two groups to be statistically different. Variation within Ophthalmosaurus is relatively large, but the specimens do form a cluster. Four of the SML specimens (Figs. 21–22) fall outside this cluster, while the Ophthalmosauridae indet. PMO 224.250 and the holotype of Cryopterygius kristiansenae holotype cluster inside, together with the Acamptonectes densus and U. gorodischensis holotypes. Except from this, the SML specimens are well separated from each other. The coracoid of Cryopterygius kristiansenae cannot be separated from the variation within Ophthalmosaurus, as suggested earlier (Druckenmiller et al., 2012). The holotype specimens of U. gorodischensis and Cryopterygius kristiansenae share many similarities on the coracoids, which is consistent with other features, and Cryopterygius might be a junior synonym of Undorosaurus (Druckenmiller et al., 2012; Arkhangelsky & Zverkov, 2014; Delsett et al., 2017).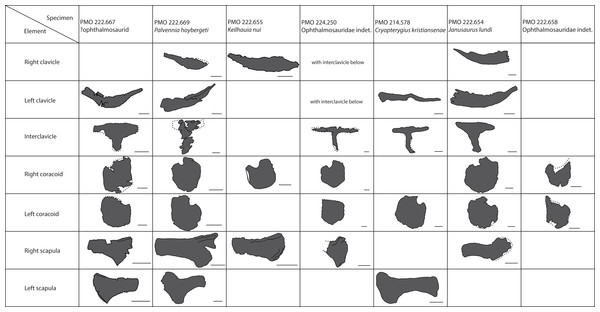 A diagnostic character for the genus Stenopterygius is the lack or reduction of a posterior notch of the coracoids (Maxwell, 2012). This feature is also found in ophthalmosaurids in contrast to, for example, Ichthyosaurus (Maxwell, 2012; Massare & Lomax, 2017) and might explain why Stenopterygius is not separated from ophthalmosaurids in this analysis. The specimens of Stenopterygius in this analysis have a squarer outline than the ophthalmosaurids and a more demarcated glenoid facet at its posterior margin.
The analysis confirms that there is a significant degree of variation in the outline of the coracoids, as shown by the plot and the relatively low values of the principal components (Johnson, 1979; Maxwell & Druckenmiller, 2011; Moon & Kirton, 2016). Individual or intrageneric variation is known from taxa with many specimens such as Stenopterygius and Ichthyosaurus, for instance in the shape and size of the anterior notch (Johnson, 1979; Lomax & Massare, 2017; Lomax, Massare & Mistry, 2017). However, the PCA, discriminant analysis and the MANOVA test show that there is a phylogenetic signal in the coracoid shape, as argued by Lomax (2017) and Lomax, Evans & Carpenter (2018). The phylogenetic character presently in use to cover the phylogenetic variation in coracoids is the relationship between length and width (Fischer et al., 2016). This catches little of the actual variation, but is well-suited as a phylogenetic character because the scoring is relatively objective. Caution should be taken as in the more circular or square coracoids the difference between length and width may be slight, and in Stenopterygius this is not a consistent relationship (Johnson, 1979; Maxwell, 2012).
In the scapulae, the acromion process is an important feature, phylogenetically and functionally. A "prominent" acromion process is a synapomorphy of Baracromia (Fischer et al., 2013; Moon, 2017), but evaluating the relative sizes in different specimens for scoring into data matrices is a source of uncertainty. Its prominence actually results from two different factors that vary independently; first, the degree of dorsal expansion of the anterior portion of the scapula relative to the dorsal margin of the shaft, and secondly, the anterior extent of the dorsolateral flange. Sveltonectes insolitus, PMO 222.667, PMO 222.669, and Cryopterygius kristiansenae represent all four possible combinations of strong/slight dorsal expansion and large/small extent of the dorsolateral flange (Figs. 11 and 22) (Fischer et al., 2011; Druckenmiller et al., 2012). The acromion process also varies intraspecifically in O. icenicus and Acamptonectes densus, in the latter probably due to ontogeny (Fischer et al., 2012; Moon & Kirton, 2016).
Clavicles and interclavicles are rarely preserved and studied because they are more fragile than the scapula and coracoid (Johnson, 1979; McGowan & Motani, 2003). The SML specimens (Fig. 22) show that there are variations also in these elements that might be phylogenetically valuable, such as the relative length of the medial stem of the interclavicle compared to the transverse bar. However, this relationship might also vary individually (Lomax, Massare & Mistry, 2017). The shape of the median stem of the interclavicle is variable, both in terms of outline in ventral view and the presence or absence of a trough dorsally, but the amount of phylogenetic signal is unknown (Johnson, 1979; Roberts et al., 2014; Moon & Kirton, 2016).
Conclusion
Three ichthyosaur specimens from the important Late Jurassic—Early Cretaceous SML on Spitsbergen provide new information about cranial and pectoral features in ophthalmosaurids and represent valuable data points in the understanding of the ichthyosaur distribution during this critical time. The species P. hoybergeti is now better understood based on an almost complete partly disarticulated skull and a complete pectoral girdle with two forefins and two distinctly different Ophthalmosauridae indet. specimens add to the knowledge about variation in pectoral girdle and forefin morphology.
Individual variation in ichthyosaur skeletal elements is currently not well understood. To gain a more quantitative understanding of coracoid outline variation, a PCA of 2D landmarks from six SML specimens and 24 other baracromian specimens was conducted for the first time and provided a valuable input to the debate on the amount of phylogenetic value in the coracoid in post-Triassic ichthyosaurs. Future studies should aim to include a large number of specimens and use quantitative approaches to reveal phylogenetic and evolutionary patterns.