Back to beaked: Zea mays subsp. mays Rostrata Group in northern Italy, refugia and revival of open-pollinated maize landraces in an intensive cropping system
Department of Earth and Environmental Sciences, University of Pavia

,

Pavia

,

Lombardia

,

Italy
Published

Accepted

Received
Academic Editor
Subject Areas

Agricultural Science, Biodiversity, Conservation Biology, Food Science and Technology, Natural Resource Management

Keywords

Ethnobotany

,

Agrobiodiversity

,

Plant genetic resources

,

Custodian farmers

,

Open pollinated varieties
Copyright

©

2018

Ardenghi et al.

Licence

This is an open access article distributed under the terms of the Creative Commons Attribution License, which permits unrestricted use, distribution, reproduction and adaptation in any medium and for any purpose provided that it is properly attributed. For attribution, the original author(s), title, publication source (PeerJ) and either DOI or URL of the article must be cited.
Cite this article

2018

. Back to beaked: Zea mays subsp. mays Rostrata Group in northern Italy, refugia and revival of open-pollinated maize landraces in an intensive cropping system.

PeerJ

6

:

e5123

https://doi.org/10.7717/peerj.5123
Abstract
Crop landraces are fundamental resources to increase the eroded genepool of modern crops in order to adapt agriculture to future challenges; plus, they are of immeasurable heritage and cultural value. Between the 1940s and the 1960s open-pollinated varieties (OPVs) of flint and semi-flint maize in Europe were almost completely replaced by high-yielding hybrid dent cultivars selected in North America. No comprehensive assessment was performed after the 1950s to understand which maize genetic resources survived genetic erosion in northern Italy, an area characterized by a high degree of landraces extinction and introgression, intensive hybrid dent monocultures, as well as being one of the hotspots of maize cultivation at a continental level. Among these landraces, beaked maize represents a peculiar case study for assessing the survival of OPVs in intensive cropping systems. By means of ethnobotanical and literature surveys, the history of Zea mays subsp. mays Rostrata Group and its current distribution were reconstructed. It emerged that beaked maize originated in the study area and it is one of the oldest genepools available not subjected to formal crop improvement. We identified 28 landraces of beaked maize currently cultivated, 18 here recorded for the first time. The cultivation of more than half of the 28 landraces has continued throughout the last 80 years in a few fragmented localities that can be regarded as "refugia". The survival of these landraces from substitution with high-yielding cultivars and unidirectional introgression has been mainly due to active on-farm conservation performed by custodian farmers and secondarily to cultivation in isolated areas (e.g., mountain valleys). After decades of genetic erosion, beaked maize has since the late 1990s experienced a revival, in terms of an increasing number of cultivation localities and the level of product commercialization. This process is mostly spontaneous and only occasionally mediated by governmental institutions; it is linked to the rediscovery of local food products, in this case mainly polenta, a dish made of corn flour, which used to be the staple food across northern Italy. The ex situ conservation of beaked maize and on-farm measures put in place by the farmers to prevent introgression are also assessed. Further research and collecting missions are needed to provide an inventory of open-pollinated landraces of other landrace groups that have survived genetic erosion in Europe. To meet this aim, extensive ethnobotanical surveys, such as the one performed here, are very powerful tools in detecting these genetic resources.
Introduction
Crop genetic diversity is an indispensable resource for farmers and breeders to select new crop cultivars (McCouch et al., 2013; Dyer et al., 2014). The bulk of genetic diversity in crops is found in landraces (Camacho Villa et al., 2006; Zhou et al., 2015), defined as: "plant materials consisting of cultivated varieties that have evolved and may continue evolving, using conventional or modern breeding techniques, in traditional or new agricultural environments within a defined ecogeographical area and under the influence of local human culture" (Casañas et al., 2017). Additionally, crop landraces often show interesting adaptations towards marginal environments and pest resistance (Camacho Villa et al., 2006; Mikami, Carpentieri-Pípolo & Ventura, 2012; Mabhaudhi et al., 2016; Guzzon et al., 2017). For these reasons, landraces are of key importance in increasing the eroded genepool of modern cultivars with the aim of adapting agriculture to climatic changes and achieving a more resilient and sustainable agricultural system (Veteläinen, Negri & Maxted, 2009; Warschefsky et al., 2014). Not only do landraces possess useful traits for crop breeding, but they are of immense heritage value, linked to local and traditional products, and should be preserved for their importance in enhancing food sovereignty and safeguarding cultural diversity (Pieroni, Pawera & Shah, 2016; Casañas et al., 2017; De Luca et al., 2018).
The genetic and cultural wealth of landraces is threatened by their replacement, but also by introgression with modern cultivars (Bitocchi et al., 2009; Scholten et al., 2012). Over the last few decades, in several areas of the world severe genetic erosion of crops has taken place leading to a loss of more than 70%, in terms of crop genotypes and accessions (Hammer et al., 1996; Veteläinen, Negri & Maxted, 2009; Van de Wouw et al., 2010). In order to avoid landrace extinction, conservation strategies, including complementary in situ and ex situ conservation measures, must be put in place (Altieri & Merrick, 1987; Negri & Tiranti, 2010). The prerequisite of on-farm conservation programmes is on the availability of inventories of landraces. These inventories are fundamental to designing national and regional conservation strategies and for monitoring the efficiency of conservation actions (Negri, Maxted & Veteläinen, 2009; Casañas et al., 2017). Moreover, landrace inventories are needed to understand the geographical pattern of landrace distribution which helps to guide the collecting missions of plant genetic resources (Perales & Golicher, 2014; Orozco-Ramírez, Perales & Hijmans, 2017). According to some sources, over the last few years, in several European countries a process of reviving landraces has been instigated by farmers and consumers, associated with traditional food production and the cultivation of marginal areas (Koutsika-Sotiriou et al., 2010; Barthel, Crumley & Svedin, 2013; Casañas et al., 2017). Nonetheless, this process is not homogenous and it is likely to occurr only for some crops and/or in some areas, while in other situations abandonment of traditional genetic resources and the substitution of landraces with high-yielding modern cultivars are still major threats for agrobiodiversity conservation (Teklu & Hammer, 2006; Dyer et al., 2014; Quave & Saitta, 2016; Ardenghi et al., 2017).
Maize (Zea mays L. subsp. mays) cultivation in Europe appears to be as a very suitable model for the study of all the aforementioned phenomena of agrobiodiversity loss, conservation and revival. Europe is the third largest maize producer and consumer worldwide (Bitocchi et al., 2009). Maize firstly arrived in Europe from the Americas with the voyages of Christopher Columbus. After the first introduction of Caribbean samples, subsequent introductions of maize germplasm from higher altitudes and latitudes in the Americas better adapted to European conditions, especially to longer photoperiods, boosted maize cultivation in Europe. Since then, a multitude of landraces linked to local food production and traditional farming systems have been developed, through crosses of different ecotypes, by human selection and through adaptations to different environmental conditions (Brandolini & Brandolini, 2009). Northern Italy is one of the cores of European maize cultivation and production, with a harvested production of grain maize and corn-cob mix of more than 6 million tons per year. Two administrative regions, Lombardia and Veneto, exceeded 1.7 million tons per year (Eurostat, 2018). In most of northern Italy, until the 20th century, flint corn was the staple crop, connected with the cooking of polenta, a porridge-like traditional dish made using boiled maize flour. Similar to other European areas, after the Second World War, open-pollinated varieties (OPVs) of flint and semi-flint corn were almost completely replaced, by the end of the 1960s, by high-yielding hybrid dent cultivars selected in North America (Brandolini & Brandolini, 2006; Brandolini & Brandolini, 2009; Bitocchi et al., 2009). Genetic erosion in northern Italy is reported by Hammer et al. (1996) to have reached more than 90% in the last few decades. Researchers recognized the genetic erosion that was occurring in the maize genepool and organized collecting missions in 1949 and 1954, followed by classification studies of the germplasm collected. The accessions collected from those missions, which are still conserved by the Unità di Ricerca per la Maiscoltura (CREA-MAC) of Bergamo (Lombardia, Italy), give a snapshot of the maize landrace occurrence in Italy just before the complete switch of maize cultivation from mixed subsistence farming units to intensive monocultures of hybrid dent cultivars.
Among the most characteristic accessions collected was the beaked maize, vernacularly known as "Rostrato" (i.e., "beaked"). This assemblage of landraces, whose history has never been unambiguously clarified, was thought to have originated in northern Italy and for a period was preferred by farmers to other flint landraces for the production of polenta. It belongs to an early generation of local open-pollinated landraces that preceded the introduction of the improved Italian cultivars in the 1920s–1930s and the United States' dent hybrids in the late 1940s (Lanza, 1961; Brandolini & Brandolini, 2001; Brandolini & Brandolini, 2006; Brandolini & Brandolini, 2009).
Even though no comprehensive surveys were performed in northern Italy to assess maize landraces that might have survived genetic erosion after the 1950s, some authors suggest that a few flint maize landraces still survive in remote valleys in the Alps and Apennines, cultivated by amateur farmers (Bitocchi et al., 2009; Brandolini & Brandolini, 2009). The conservation of flint maize landraces in Europe is considered of pivotal importance since OPVs may possess allelic variations not yet used in the selection of elite corn cultivars (Reif et al., 2005). The on-farm conservation of OPVs, in areas characterized by monocultures of hybrid dent corn, is particularly threatened by unidirectional gene flow from modern cultivars to landraces which could result in the genetic extinction of the latter (Bitocchi et al., 2009; Brandolini, 1970). On the other hand, it is interesting to note that some OPVs in southern Europe are going through a process of rediscovery by farmers and consumers thanks to their peculiar organoleptic characteristics and richness in anthocyanins, such as 'Millo Corvo' in Spain and 'Nero Spinoso' and 'Scagliolo di Carenno' in northern Italy (Lago et al., 2014; Lago et al., 2015; Cassani et al., 2017).
In this paper, through ethnobotanical surveys across all northern Italian provinces and an extensive literature review, besides an in-depth historical account and a clear-cut description of Zea mays subsp. mays Rostrata Group and allied crosses, we provide the first inventory of all beaked maize landraces that can currently be found in the study area, along with the assessment of their ex situ conservation status and the measures put in place on-farm by the farmers to prevent or limit introgression events with hybrid dent corn. Moreover, for each landrace we take into consideration elements associated with its history, cultivation practices and geographical location, with the aim of understanding if its current localities of cultivation can be recognized as "refugia", i.e., restricted areas provided with a combination of environmental and human characteristics that allowed the survival of these landraces in the course of the last century. Furthermore, we have evaluated whether a "revival" process, in terms of increasing agronomic and economic interests, is occurring for the Rostrata Group consistent with what has been found for other OPVs in Europe (see e.g., Lucchin, Barcaccia & Parrini, 2003; Lago et al., 2014; Cassani et al., 2017).
Survey Methodology
The study area
The study area comprises all the administrative provinces of northern Italy where the cultivation of beaked maize has been reported in the past (pre-1990s) and present (post-1990s) times. These, together with the municipalities where the cultivation of beaked maize persists today, are highlighted in Fig. 1 and listed in Table S1. For each municipality, we specified in Table 1 the associated altitudinal range ("plain": <300 m a.s.l.; "hill": 300–600 m a.s.l.; "mountain": >600 m a.s.l.), based on Istat (2018).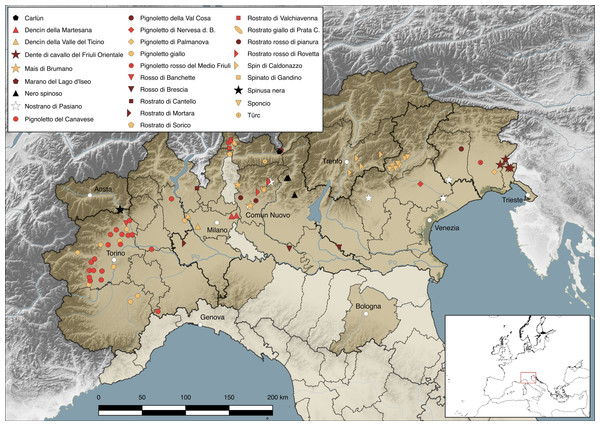 Code
Landrace name
Synonym(s)
Distribution (region: province)
Altitudinal range %
Historical notes
P
H
M
R1
Dencìn [della Martesana]
–
Lombardia: Milano
100
0
0
Cultivated by the Rolla family in Cernusco sul Naviglio and in the Martesana (Milano) and Bassa Brianza (Monza e Brianza) areas until 1960–1965. Its cultivation was recovered in 2005 from two ears discovered by A. Rolla in a barbershop in Bellinzago Lombardo (Milano).
R2
Dencìn or Scagliolo [della Valle del Ticino]
–
Lombardia: Milano
100
0
0
Obtained by the Passerini brothers (Cascina Cirenaica, Robecchetto con Induno) in 2001 from an old farmer at a local fair; it was subsequently donated to another farmer (Azienda Aia, Cassinetta di Lugagnano) in 2013. Their father cultivated another beaked maize in the Nerviano-Rho (Milano) area.
R3
Dente di cavallo [del Friuli Orientale]
–
Friuli-Venezia Giulia: Gorizia, Udine
100
0
0
A landrace belonging to the Rostrato × Dentato Group, it is traditionally cultivated in the Italian portion of the Friuli Orientale area and, at least in the past, also beyond the present border with Slovenia. Both white and red kernels are sown, yet only white are used to produce the maize flour (which is white).
R4
[Mais di Brumano]
–
Lombardia: Bergamo
50
0
50
Cultivated since the 1980s in Brumano by G. Pirola (who later donated the seeds to a farmer in Zanica); it originated in Pirola's fields from the spontaneous crossing of a yellow flint landrace from Trentino and a red-beaked semi-flint landrace from Valtellina.
R5
Nero spinoso
Mèlga negra spinúsa, Rostrato di Esine, Spinato di Esine, Spinùs
Lombardia: Brescia
0
0
100
Cultivated by the Saloni family in Annunciata (Piancogno) since the early 20th century; its cultivation was locally revived in 2015. Introduced in Pertica Alta around 2010, where a line (named "Spinùs") provided with red kernles is being selected.
R6
Nostrano di Pasiano
Blave dente di cavallo
Friuli-Venezia Giulia: Pordenone; Lombardia: Bergamo; Veneto: Venezia, Vicenza
75
0
25
A member of the Rostrato × Dentato Group, it has been cultivated since 2017 by D. Pizzolato in Marano Vicentino; seeds were acquired in 2016 from Luigi Piccinin of Pasiano di Pordenone, who sows both red and white kernels. It is still cultivated in other parts of Friuli-Venezia Giulia and by a miller in Noventa di Piave. Its cultivation was also started by a farmer in Songavazzo (thanks to seeds distributed by D. Pizzolato), to provide restaurants in the Lake Iseo area with white maize flour.
R7
Pignoletto del Canavese
Pignòlet, Pignoletto rosso, Rostrato dente di cane
Piemonte: Alessandria, Novara, Torino, Vercelli
47.4
52.6
0
Cultivated mainly in the subalpine Canavese area (Torino) from circa 1920s–1930s until the mid 1960s, then largely abandoned. Its cultivation was revived in 2002 by the Province of Torino's Centro di Riferimento per l'Agricoltura Biologica (CRAB) with germplasm acquired from Valperga (Torino).
R8
Pignoletto della Val Cosa
–
Friuli-Venezia Giulia: Pordenone
0
100
0
Cultivated by G. Lenarduzzi in Sequals since circa 2007; seeds were acquired from a local farmer.
R9
Pignoletto [di Nervesa della Battaglia]
–
Veneto: Treviso
100
0
0
Cultivated since 2015 by M. Celotto in Nervesa della Battaglia; seeds were acquired from a farmer in the area of the River Cellina (province of Pordenone, Friuli-Venezia Giulia).
R10
Pignoletto [di Palmanova]
Pignoletto giallo
Friuli-Venezia Giulia: Udine
100
0
0
Seeds handed down from generation to generation.
R11
Pignoletto giallo
Pignòlet, Pignoletto del torinese
Piemonte: Cuneo, Novara, Torino
56.3
37.5
6.3
Cultivated mainly in the subalpine Canavese area (Torino) from circa 1920s–1930s until the mid 1960s, then largely abandoned. Its cultivation was revived in 2002 by the Province of Torino's Centro di Riferimento per l'Agricoltura Biologica (CRAB) with germplasm acquired from Alpignano (Torino).
R12
Pignoletto rosso [del Medio Friuli]
–
Friuli-Venezia Giulia: Udine
100
0
0
Traditionally cultivated in the Medio Friuli area, its cultivation has been revived in recent times.
R13
Rosso di Banchette
Pignoletto rosso di Banchette
Piemonte: Torino
0
100
0
Its cultivation was revived in 2005 by a group of farmers from Banchette (association "Biocolture Banchette").
R14
Rosso di Brescia
–
Lombardia: Cremona, Mantova
100
0
0
Cultivated across the provinces of Brescia (plain area), Cremona, and Mantova from the late 19th century until circa 1960s. Its cultivation started in 2010 by Emanuela Dilda in Pessina Cremonese, from seeds acquired around 2008 in Val Camonica and donated by E. Amadio, teacher at the Istituto Agrario Stanga of Cremona.
R15
Rostrato di Cantello
–
Lombardia: Varese
0
100
0
Originally collected from Cantello by the Stazione di Maiscoltura of Bergamo (now CREA-MAC) in 1963; seeds obtained from this institution were used to recover its cultivation in Cantello in 2015 by Federica Baj (Bio Baj).
R16
[Rostrato di Mortara]
–
Lombardia: Pavia
100
0
0
Recovered by G. Manzini from ears discovered in his family's farm in Mortara; it is cultivated since 2010. A strain provided with black and beaked kernles is being selected.
R17
Rostrato di Valchiavenna
–
Lombardia: Sondrio
0
0
100
Cultivated in Valchiavenna area since the early 20th century, its cultivation is locally being revived by Comunità Montana della Valchiavenna in collaboration with the University of Pavia.
R18
Rostrato rosso di pianura
Rostrato rosso dell'Isola
Lombardia: Bergamo
0
100
0
Cultivated in Ambivere and Albano Sant'Alessandro since 2010 and 2015 respectively; seeds were acquired from the nearby municipalities of Ciserano and Arcene.
R19
Rostrato rosso di Rovetta
Melgù, Melgòtt, Rampì, Rostrato Marinoni
Lombardia: Bergamo
0
0
100
Cultivated in Rovetta by the family of Giovanni Marinoni since the early 20th century; its cultivation was revived when some ears were detected in 2004 by agronomist Aureliano Brandolini in an ornamental basket at the festival of the Rovetta potato.
R20
Spin di Caldonazzo
Florian Red Flint, Nostrano della Valsugana
Trentino-Alto Adige: Trento; United States of America
0
0
100
Probably introduced from Veneto or southern Trentino (Ala, Arco, Riva del Garda) around the 1920s–1930s, it was cultivated in eastern Trentino on a large scale until the 1960s. Almost disappeared in subsequent years, its cultivation was locally revived in 2002.
R21
Spinato di Gandino
Melgotto
Lombardia: Bergamo
0
0
100
Its cultivation was recovered in the early 2010s from two ears discovered in 2008 in the Savoldelli family's farm at Ca' Parecia (Gandino).
R22
Spinusa nera
–
Valle d'Aosta
0
0
100
Cultivated by the Chappoz family in Donnas, it is an informal cross between 'Isola' (probably 'Nostrano dell'Isola' or a local derivative), cultivated in the first half of the 20th century in Donnas, and beaked landraces from near Viverone (Biella) and Borgofranco d'Ivrea (Torino) (locally known as 'Spinusa' and 'Pignoletto'), introduced in Donnas around 1988. Three strains are obtained, respectively characterized by: muticous black kernels (unnamed, preferred by the farmers); beaked black kernels ('Spinusa nera'); beaked pale kernels ('Spinusa chiara').
R23
Sponcio
Pignol, Pignol fiorentin, Rostrato
Veneto: Belluno
0
0
100
Known in Val Belluna since the late 19th century, its cultivation was revived in the late 1990s.
R24
Türc
–
Lombardia: Sondrio
0
0
100
Cultivated in Piateda by Mr. Mascarini since 2015; seeds were acquired locally.
R25
Carlùn
–
Lombardia: Sondrio
0
0
100
Cultivated by P. Moltoni in Villa di Tirano since 2003. Seeds were obtained from Cermenate (Como). "Carlùn" is a variant of "Carlón", the vernacular name applied to maize in general in the Prealpine area of Lombardia and in Canton Ticino (Switzerland), traditionally but erroneously associated with the figure of Carlo Borromeo, archibishop of Milano from 1564 to 1584 (see Mariani, 2012).
R26
Marano [del Lago d'Iseo]
–
Lombardia: Sondrio
0
0
100
Despite its name, this landrace is not related with 'Marano'. Cultivated by P. Moltoni in Villa di Tirano since circa 1998, it was obtained from a farmer of Costa Volpino (Bergamo), whose seeds were handed down from generation to generation.
R27
[Rostrato di Sorico]
–
Lombardia: Como
0
0
100
Local landrace, still cultivated in the municipality of Sorico.
R28
[Rostrato giallo di Prata Camportaccio]
–
Lombardia: Sondrio
0
0
100
Cultivated by M. Bonassoli and his mother from at least 2008. It originated from the spontaneous crossing of two landraces from Sorico: an unnamed flint maize with muticous yellow kernels (locally cultivated at least since 1970) and 'Rostrato di Sorico' (locally introduced around 2008).
Northern Italy consists of eight administrative regions (Emilia-Romagna, Friuli-Venezia Giulia, Liguria, Lombardia, Piemonte, Valle d'Aosta, Veneto, Trentino-Alto Adige) and 46 provinces covering an area of more than 120,000 square kilometres. This geographic area is characterized by wide alluvial plains, the Po and the Venetian Plains, enclosed by two main mountain ranges, the European Alps in the north and in the west and the Apennines in the south. The plain areas, thanks to the abundance of water, are particularly suited to large, industrial monocultures of maize and rice. Northern Italy is indeed a leading producer of the latter two cereals at a European level (USDA, 2012; FAO, 2017), with the area under maize totalling 894,452 ha (I.Stat, 2018).
Despite well-known genetic erosion, introgression events and substitution of landraces with "improved cultivars" recorded in the study area in a multitude of crop genepools, such as apple (see Breviglieri, 1949), maize (see Brandolini & Brandolini, 2009) and rice (see Giacosa, Rondanelli & Tinarelli, 2006), some genetic resources, in terms of landraces and neglected crops, previously unknown to the scientific community, were recently identified (see Ardenghi et al., 2017; Buffoli, 2015).
Ethnobotanical and literature surveys
The present study is based on ethnobotanical surveys conducted by the authors across northern Italy (Fig. 1, Table S1). We located all the farmers involved in the cultivation of beaked maize landraces across the study area, thanks to personal acquaintance, by directly asking maize farmers if they were acquainted with landrace growers, by contacting researchers who deal with landrace conservation and cultivation in the study area, or simply by consulting newspapers, websites and social media network platforms. From these sources, we obtained a list of 35 beaked maize growers that were subjected to ethnobotanical interviews (mentioned in 'Acknowledgements') conducted between 2016 and 2018 face-to-face, by telephone, e-mail or through social networks. In order to obtain a uniform and comparable dataset, a unique semi-structured questionnaire was used in each interview. Questions concerned: (1) germplasm origin; (2) landrace history, distributional range, number of current growers and vernacular name; (3) cultivation, issues associated with true-to-type maintenance of the OPVs and products derived from them (Data S1). Verbal informed consent was received from each interviewed subject. Ears or shelled kernels donated from interviewed farmers were stored at the University of Pavia Germplasm Bank.
Information from interviews was integrated with data acquired from the investigation of all the available historical and contemporary agronomic, botanical and culinary literature sources (mentioned, for each landrace, in Table S1).
The combination of interviews and literature survey allowed the authors to trace, based on the best available knowledge, all landraces of beaked maize from the study area and to obtain data regarding the whole cultivation range of each investigated landrace.
Terminology and nomenclature
This research is focused on the assemblage of landraces defined as Rostrata Group; in order to sample all of the genepool of this Group, crosses with other landraces have also been taken into account as well as members of the Rostrato × Dentato Group (see the "Identity" subheading).
The names of taxa (from family to variety ranks) and the names of culta (landraces, cultivars and Groups) are treated according to the rules of the International Code of Nomenclature for algae, fungi, and plants (ICN, McNeill et al., 2012) and the International Code of Nomenclature for Cultivated Plants (ICNCP, Brickell et al., 2016), respectively. In line with Zeven (1998), we distinguished on terminological grounds "landraces" from "cultivars": although the term "landrace" is not treated by the ICNCP, its conception (as introduced by Zeven, 1998, and then updated by Casañas et al., 2017; see also 'Introduction'), referring to entities "that have evolved or may continue evolving […] in traditional or new agricultural environments" (Casañas et al., 2017), is antithetic to that of "cultivar" that applies only to "uniform and stable" first-generation products of modern breeding (Hetterscheid & Brandenburg, 1995; Zeven, 1998). Regarding the several accessions found as a result of the ethnobotanical survey, we considered belonging to the same landrace a set of accessions with common geographical and historical origin, and locally known with the same vernacular names (in the few cases when the vernacular name was lacking, it was coined by the authors by combining a name recalling morphological traits of the landrace and its locality of provenance, see Table 1). More specifically, two or more accessions were considered as sharing a common origin when: (1) they derive from a single germplasm source in the time-interval of two generations of farmers; and/or (2) there is evidence of a constant gene flow between them in terms of seed swap among farmers cultivating the different accessions. Throughout the text, each landrace and cross has been cited by means of the associated alphanumeric code (see Table 1).
Morphological characteristics were designated by means of botanical terminology in the description of the Rostrata Group, whereas the related agronomical terms (such as "ears", see Iltis, 2003; Kellogg, 2015; Spjut, 2015), reported between brackets in the description, are employed in other parts of this work.
Conservation and revival
Insights into on-farm conservation were obtained through ethnobotanical interviews and literature searches, by considering whether and which actions are put in place by farmers to limit genetic introgression with dent hybrids. Ex situ conservation was assessed by checking the occurrence of seed samples of each investigated landrace in the databases of the major Italian and international genebanks devoted to maize germplasm preservation, e.g., Unità di Ricerca per la Maiscoltura (CREA-MAC) of Bergamo, Istituto Strampelli of Lonigo germplasm bank, University of Pavia Germplasm Bank, Svalbard Global Seed Vault and Trentino Seed Bank of MUSE—Museo delle Scienze di Trento, Trento (NordGen, 2010; PlantA-Res, 2013; Museo Tridentino di Scienze Naturali, 2018).
Based on information collected through ethnological and literature surveys we assessed the "revival" of the landraces. A landrace was considered revived when at least one of the following criteria was met: (1) its cultivation was resumed or increased in terms of the number of localities of cultivation in the last 20 years; (2) products derived from the landrace that have started to be commercialized to the public in the last 20 years; (3) occurrence of the following protection and promoting measures applied to the landrace itself or its products (see also Porfiri, Costanza & Negri, 2009): (a) National Register of Conservation Varieties: inventory of the Italian conservation "varieties" (i.e., cultivars and landraces) established by the Italian Ministry of Agricultural, Food and Forestry Policies (Law 6 April 2007, n. 46) in order to adopt European Union Directives (see e.g., Commission Directive 2003/90/CE of 6 October 2003); (b) Slow Food Presidia: promotional brand assigned to traditional products, processing methods and landscapes at risk of extinction by Slow Food, international organization for the preservation of local food cultures and traditions (https://www.fondazioneslowfood.com/en/); (c) Ark of Taste: Slow Food online catalogue of the quality food products at risk of extinction (https://www.fondazioneslowfood.com/en/); (d) De.Co.: acronym for "Denominazioni Comunali" (i.e., "municipality designations", known also as "De.C.O.", acronym for "Denominazioni Comunali d'Origine", i.e., "municipality designations of origin"), is a guarantee label assigned by Italian municipalities to food and agricultural products from their own territory, in compliance with Law 8 June 1990, n. 142.
Distribution, Cultivation and Classification History
Identity of Zea Mays Subsp. Mays Rostrata Group
Classification and description
Zapparoli (1926), Brandolini (1955c), Brandolini (1970), Brandolini & Mariani (1968) and Brandolini & Brandolini (2006) assumed that the current assemblage of beaked maize landraces with yellow and flint/semi-flint endosperm probably originated in Italy as a result of natural and/or informal (i.e., unconscious or directed by individual farmers and growers; see Cleveland, Soleri & Smith, 2000; Camacho Villa et al., 2006) crossing among three types of maize introduced from the Americas, based on a peculiar combination of morphological traits: (1) the presence of beaked kernels and prominent rows can be referred to a descendant of pointed/beaked popcorn from Central and South America (e.g., 'Canguil', 'Confite Puntiagudo', 'Imbricado', 'Pisankalla' and 'Pisingallo' or 'Pisincho'; see Roberts et al., 1957; Brieger et al., 1958; Ramírez et al., 1960; Grobman, Salhuana & Sevilla, 1961; Timothy, Peña & Ramírez, 1961; Solari & Gómez, 1997; Santacruz-Varela et al., 2004); (2) additional kernel (dominant flint endosperm and large size), ears (exceptional length) and vegetative (abundant foliage and tall stature) characteristics were likely inherited from local flint landraces, like 'Pignoletto' (or 'Pignolo') and 'Agostano' (see Brandolini & Brandolini, 2006); (3) the not infrequent occurrence of indentation and a small percentage of soft endosperm indicates the involvement of ancestral dent landraces, most likely descendants of 'Shoepeg' from the southern United States (see Brown & Anderson, 1948).
Taking into consideration the historical account of beaked maize in Europe given in the previous paragraph, three of these morphological characteristics constantly appear in all the available descriptions published since Bonafous (in Soulange Bodin, 1840; Bonafous, 1842a; Bonafous, 1842b) and characterize every landrace with yellow endosperm to emerge during our ethnobotanical surveys: (1) kernels with a distinct apical beak; (2) flint endosperm (employed to produce flour for polenta); (3) ears of exceptional length. Since the second half of the 19th century, as a consequence of the afore-documented continual introgression, beaked maize cultivated in Italy started to acquire some traits not reported or divergent from those originally described by Bonafous: (1) maturing cycle longer; (2) stature taller (exceeding 2 m); (3) well-developed foliage; (4) reduction of the number of ears per plant (from multiple to one). The complex of these seven "ancestral" and "recent" phenological and morphological traits is shared by all the landraces of beaked maize with yellow endosperm cultivated in Italy since the second half of the 19th century. Based on this similarity, these landraces can be designated as a Group, in compliance with Arts. 3.1 and 3.2 of the ICNCP. Particularly, according to Arts. 3.3 and 22 of the ICNCP, the correct name to be adopted is Rostrata Group, being based on Zea mays (unranked) rostrata Bonaf., the earliest available name under the ICN (see also the previous paragraph).
On the basis of literature (Arduin & Sanson, 2015; Bertolini, 2002; Bertolini, Franchi & Frisanco, 2005; Brandolini, 1955a; Brandolini & Brandolini, 2001; Brandolini & Brandolini, 2006; Buffoli, 2015; CRAB, 2004; Gruppo di lavoro cerealicolo, 2014; Veneto Agricoltura, 2014; Regione Lombardia, 2017; Venino, 1916; Zapparoli, 1926; http://www.antichimaispiemontesi.it/) and original measurements of the accessions stored at the University of Pavia Germplasm Bank (see Table 2), a description of the Rostrata Group is here reported with the aim of summarizing its variability and updating previous descriptive accounts (such as Brandolini & Brandolini, 2006) not taking into consideration the landraces uncovered in the last few decades: maturing cycle variable, but mostly medium-late to late. Plants robust and tall, reaching up to 2.5 m or more in height; tillers absent; leaves abundant, leaf blades wide, usually deep green, occasionally purplish-brown. Staminate inflorescences ("tassels") more than 40 cm long, highly branched. Pistillate inflorescences ("ears") usually one (rarely two) per plant, located at about the middle of the culm; prophyll and leaf sheaths ("husks") deep green, sometimes purplish-brown. Catoclesia ("ears") 12–25 cm long, 3.5–5.5 cm wide, cylindro-conical to cylindrical, base slightly enlarged or not, apex rounded to acute; rows 12–18, usually regularly arranged and straight, from widely spaced to packed, resulting in a star-shaped to round ear cross-section respectively; rachis ("cob") with white or pinkish to dark brownish-purple ("red") glumes. Caryopses ("kernels") 8–13 mm long, 7–10 mm wide, 2–5 mm thick, broadly elliptical to broadly obovate, apex from roundish to pointed arch-shaped, usually tapering, in correspondence of the style insertion, into a prominent and prickly beak curved distalwards, sometimes reduced only to the enlarged stylar base; crown smooth or with a shallow to deep indentation; pericarp from bright yellow to deep orange or from red to chocolate- or vinous-brown ("black"), concolor or with a paler (usually yellow to orange-yellow) spot of variable extension on the crown due to the presence of floury ("soft") endosperm; endosperm entirely horny ("flint") or with a small proportion of floury endosperm ("semi-flint"), yellow (Figs. 2, 3A–3H, 3J–3K and 3Q–3S).
As observed by Zapparoli (1926), the Rostrata Group possesses an intrinsic morphological and phenological variability that is associated with its heterogeneous origin. Being open-pollinated, its variability can be further emphasized as a result of spontaneous crossings with other types of maize cultivated nearby: thus, as evidenced by experimental crossings by Brandolini (1955c), under the influence of modern dent hybrids, cob turns red, floury endosperm and kernel indentation increases, pericarp color becomes yellower and/or beak disappears (see also Figs. 3O–3P); on the other hand, flint cultivars (like 'Nostrano dell'Isola' and 'San Pancrazio') and landraces can promote a reduction of row prominence, and kernel and beak length.
Similar groups
The Rostrata Group should not be confused with other assemblages of landraces occurring in the study area, similarly provided with beaked kernels but distinguished for other traits such as the endosperm type and their presumed different origin.
It is the case of the Rostrato bianco Group, distributed mainly in north-eastern Italy: classified by Brandolini & Brandolini (2001), Brandolini & Brandolini (2006) and Brandolini & Brandolini (2009) as an agroecotype within the racial complex "White Dents", it encompasses landraces similar in most phenological and morphological characteristics to the Rostrata Group (i.e., very late maturing cycle, well-developed foliage, beaked and long kernels), except that kernels are constantly indented, slightly wider, with ivory-white pericarp and white and floury endosperm. Its origin is different, being a likely derivative of Mexican 'Pepitilla' (Wellhausen, Fuentes & Hernandéz Corzo, 1957; Brandolini & Mariani, 1968; Brandolini, 1970).
On the other hand, the Rostrato × Dentato Group, which includes crosses between the Rostrata Group landraces with white dents (probably descendants of 'Shoepeg') introduced before modern dent hybrids (Brandolini, 1955b; Brandolini, 1970; Brandolini & Brandolini, 2006), is characterized by taller stature (>3 m) and wider, broadly elliptical to almost isodiametric and deeply indented kernels, provided with white endosperm (Figs. 3M–3N). It was obtained in the 1930s by the Centro provinciale di maiscoltura of Udine mainly for forage purposes but was also appreciated for the grain quality (Zapparoli, 1938; Zapparoli & Parenti, 1943; Consorzio Agrario provinciale Udine, 1950; Brandolini & Brandolini, 2006).
Back to Beaked: Present State of Conservation and Revival
Conclusions
Taking into consideration maize cultivation history in Italy from the 19th century up to the present day, marked by three generations of cultivars and landraces (Lanza, 1961), we can safely state that this country is now experiencing the rise of a fourth maize generation. It is made up of landraces that have been recovered thanks to the presence of refugia and a revival phenomenon after seven decades of genetic erosion. Coexisting and not competing with the current assemblage of modern cultivars dominated by hybrid dent corn (beaked maize cultivation accounts for only circa 0.02% of the total maize cultivation area in northern Italy), it occupies a different and well-defined cultural and economic niche, built around the rediscovery of traditional foods and agriculture promoted by a growing synergy between farmers and consumers (Bertolini, Franchi & Frisanco, 2005; Riscoperto il Pignoletto d'oro, mais del '700: pasticceri pronti alle ricette, 2015; Lago et al., 2015; Femia, 2017; http://www.antichimaispiemontesi.it/). The Rostrata Group represents one of the most ancient and neglected genepools among this new crop generation, its origin chronologically preceding the improved cultivars of the 1920s and 1930s. The process of revival is contributing to its preservation and, to some extent, is providing an additional income to farmers.
In this context, the activities of local farmers, in the role of "custodians" of plant genetic resources need to be encouraged and supported, especially by government (in the framework of Italian Law 1 December 2015, n. 194) and research institutions. In relation to OPVs, custodian farmers appear in fact to be key figures in the accomplishment of on-farm conservation, whose role is eminent in promoting a dynamic adaptation of landraces to environmental and agricultural changes that, for instance, are being experienced in recent years by maize cultivation across Europe (Assosementi, 2016; Lesk, Rowhani & Ramankutty, 2016; Osservatorio Agroalimentare, 2017; Aoi, 2017; Iotti, 2017).
The first record in this paper of 18 beaked maize landraces previously unknown to the scientific community, also highlights the potential of ethnobotanical surveys in discovering neglected genetic resources (see, e.g., Gao, 2003; Shewayrga & Sopade, 2011) in areas characterized by industrial agriculture and a high degree of genetic erosion, as already evidenced by Ardenghi et al. (2017). These landraces, having not been preserved in any institutional genebank until this research, owe their survival only to the initiative of private farmers. In the light of this, further field research is urgently needed across Europe countries into similar groups of "first generation" maize landraces (such as white flints and dents or popcorns, see Brandolini & Brandolini, 2006), whose abandonment may lead to their extinction and therefore to the loss of untapped genetic resources.
Supplemental Information
Ethnobotanical interview form
Ethnobotanical interview form used in surveys.
Municipalities where each cultivar is cultivated and associated investigated sources