Impact of Front Range sources on reactive nitrogen concentrations and deposition in Rocky Mountain National Park
Published

Accepted

Received
Academic Editor
Subject Areas

Keywords

Nitrogen deposition

,

Ammonia

,

Rocky Mountain National Park

,

PAN

,

Alkyl nitrates
Licence

This is an open access article, free of all copyright, made available under the Creative Commons Public Domain Dedication. This work may be freely reproduced, distributed, transmitted, modified, built upon, or otherwise used by anyone for any lawful purpose.
Cite this article

2018

.

Impact of Front Range sources on reactive nitrogen concentrations and deposition in Rocky Mountain National Park

.

PeerJ

6

:

e4759

https://doi.org/10.7717/peerj.4759
Abstract
Human influenced atmospheric reactive nitrogen (RN) is impacting ecosystems in Rocky Mountain National Park (ROMO). Due to ROMO's protected status as a Class 1 area, these changes are concerning, and improving our understanding of the contributions of different types of RN and their sources is important for reducing impacts in ROMO. In July–August 2014 the most comprehensive measurements (to date) of RN were made in ROMO during the Front Range Air Pollution and Photochemistry Éxperiment (FRAPPÉ). Measurements included peroxyacetyl nitrate (PAN), C1–C5 alkyl nitrates, and high-time resolution NOx, NOy, and ammonia. A limited set of measurements was extended through October. Co-located measurements of a suite of volatile organic compounds provide information on source types impacting ROMO. Specifically, we use ethane as a tracer of oil and gas operations and tetrachloroethylene (C2Cl4) as an urban tracer to investigate their relationship with RN species and transport patterns. Results of this analysis suggest elevated RN concentrations are associated with emissions from oil and gas operations, which are frequently co-located with agricultural production and livestock feeding areas in the region, and from urban areas. There also are periods where RN at ROMO is impacted by long-range transport. We present an atmospheric RN budget and a nitrogen deposition budget with dry and wet components. Total deposition for the period (7/1–9/30) was estimated at 1.58 kg N/ha, with 87% from wet deposition during this period of above average precipitation. Ammonium wet deposition was the dominant contributor to total nitrogen deposition followed by nitrate wet deposition and total dry deposition. Ammonia was estimated to be the largest contributor to dry deposition followed by nitric acid and PAN (other species included alkyl nitrates, ammonium and nitrate). All three species are challenging to measure routinely, especially at high time resolution.
Introduction
The nitrogen cycle has been altered by increasing production of reactive nitrogen (RN) for food production and energy (Galloway et al., 2008). Much of the RN produced ultimately ends up in air and water, potentially contributing to environmental problems (Fenn et al., 1998; Howarth, 2004). Direct leaching from fertilized soils contributes to eutrophication of fresh water. Emissions to the atmosphere can increase ozone and particle formation as well as contribute to elevated nitrogen deposition to land surfaces and water bodies. Elevated nitrogen deposition can alter ecosystems and the services they provide in many regions (Goulding et al., 1998; Fenn et al., 2003; Burns, 2004; Bell et al., 2017) as many ecosystems are nitrogen limited (LeBauer & Treseder, 2008). Across the globe there has been intense focus on understanding levels of nitrogen deposition and its impacts in particularly sensitive and protected ecosystems. Over the past several decades, researchers in Europe, the United States, and China have focused on better understanding the interactions and changes in ecosystems that occur as a result of excess RN deposition using long-term networks. An extensive network was established throughout Europe in 2006–2011 to measure ambient RN concentrations, estimate dry deposition and provide a comprehensive data set for regional models (Owen et al., 2011; Flechard et al., 2011). In contrast, work in the United States has focused primarily on wet nitrogen deposition measurements made by the National Atmospheric Deposition Program (NADP) (Lehmann, Bowersox & Larson, 2005). In China there has not been a long-term national deposition monitoring program; however there has been an effort to implement long-term standardized nitrogen deposition measurements (Liu et al., 2011).
In the United States, one area of focus has been aimed at Rocky Mountain National Park (ROMO), a high elevation site which includes alpine tundra and lakes, exposed bedrock, and subalpine forests (Baron et al., 1994). The Rocky Mountains are more susceptible to RN deposition than many other areas because nitrogen is not well retained in the local soil and plants. Reduced plant nitrogen demand results from a short growing season, which decreases nitrogen retention. Additionally, the soil types in the area (exposed bedrock, talus, coarse soils) reduce contact time between drainage water and soil (Fenn et al., 1998).
Research aimed at improved understanding of nitrogen deposition in ROMO has been ongoing for many years (Bowman & Steltzer, 1998; Burns, 2003; Burns, 2004; Baron et al., 2004; Baron, 2006; Beem et al., 2010; Benedict et al., 2013c; Benedict et al., 2013a). Several studies have demonstrated that increased nitrogen deposition has been associated with changes in biological species and ecological processes (Bowman & Steltzer, 1998; Burns, 2004; Baron, 2006), and a high spatial variability of nitrogen deposition in the region has been observed from national monitoring network data (Burns, 2003; Beem et al., 2010). Measurements characterizing many RN species are routinely collected in the park as part of NADP, the Interagency Monitoring of Protected Visual Environments (IMPROVE) program, the Clean Air Status and Trends Network (CASTNET), and the Ammonia Monitoring Network (AMoN). These networks provide the data needed for tracking progress toward reduction of nitrogen deposition in ROMO, a goal mutually set by the State of Colorado, the US EPA, and the National Park Service (CDPHE, 2017). Special studies like the Rocky Mountain Atmospheric Nitrogen and Sulfur (RoMANS) Studies (Malm et al., 2009) have increased the understanding of the type and frequency of atmospheric transport that plays a role in atmospheric nitrogen inputs into the ecosystems at ROMO, as well as the importance of wet organic nitrogen deposition and dry deposition of ammonia (NH3) (Beem et al., 2010; Benedict et al., 2013c; Benedict et al., 2013a).
The Front Range Air Pollution and Photochemistry Experiment (FRAPPÉ) was conducted July 15 through August 18, 2014. Although the primary goal of FRAPPÉ was to better characterize summertime air quality in the Northern Front Range Metropolitan Area (NFRMA), the extensive suite of measurements collected during FRAPPÉ allowed for determination of the degree to which pollution from NFRMA sources and long-range transport contribute to air quality impacts at ROMO. FRAPPÉ was conducted in parallel with the 2014 DISCOVER-AQ (Deriving Information on Surface Conditions from Column and Vertically Resolved Observations Relevant to Air Quality) project in Colorado. Research flights, surface mobile measurements, and stationary ground sites were coordinated to provide a comprehensive picture of the atmospheric processes impacting air quality in the northern Front Range. The majority of operations took place along the Front Range, near the main pollutant sources in the region, although research flights and several ground sites characterized more remote areas to better understand the transport and impact from the source regions.
In this manuscript, we describe measurements made during FRAPPÉ from a ground site collocated with routine monitoring measurements at the Rocky Mountain National Park Longs Peak (ROMO-LP) field site. Measurements began July 7, prior to the FRAPPÉ study period, and continued through October 15, well after the campaign ended. These measurements included high time resolution (1 min–1 h) NH3, nitric oxide (NO), and NOy (∑oxidized nitrogen) concentrations, as well as more comprehensive 24-h gas (NH3, nitric acid—HNO3, sulfur dioxide—SO2) and particle chemistry (ammonium—, nitrate—, sulfate—, sodium—Na+, potassium—K+, magnesium—Mg2+, calcium—Ca2+, and chloride—Cl−) measurements. Two gas chromatographs were used to measure select organic nitrogen species including peroxyacetyl nitrate (PAN), methyl nitrate (MeONO2), ethyl nitrate (EtONO2), i-propyl nitrate (iPrONO2), 2-butyl nitrate (2BuONO2), 2-pentyl nitrate (2PenONO2), and 3-pentyl nitrate (3PenONO2); as well as volatile organic compound (VOC) tracers for a variety of sources. These measurements were aimed at better understanding the sources that contribute to pollutant concentrations in ROMO, specifically for RN species. We provide a comprehensive budget for RN in ROMO during FRAPPÉ, calculate a nitrogen deposition budget, and assess important sources for the primary components of the RN budget.
Methods
The measurement site at ROMO (Fig. 1) was located south of Estes Park, CO, near the base of Longs Peak. The site (40.2783°, −105.5457°; 2,784 m ASL) is co-located with IMPROVE (ROMO1) and CASTNet (ROM206/406) national network monitoring sites, and the National Park Service Gaseous Pollutant Monitoring Network (GPMP). Measurements were conducted both in the GPMP shelter and in the National Park Service/Colorado State University Mobile Air Quality Laboratory stationed at the site.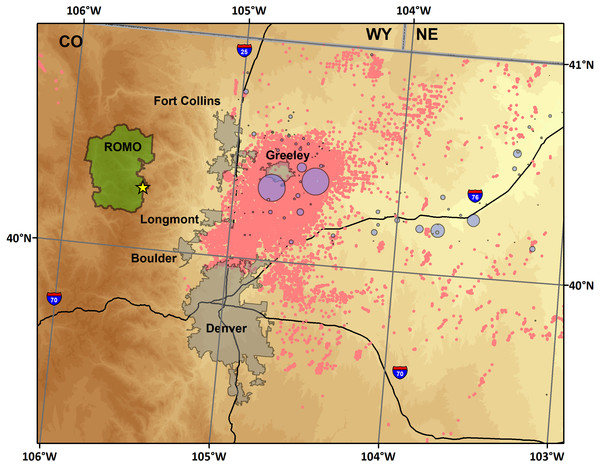 Conclusions
Measurements made at ROMO during the FRAPPÉ study in 2014 provided an opportunity to add measurements of RN that had not been previously made at the site (PAN, alkyl nitrates) and to try to connect observed species and their abundances with specific tracer species to better understand the source regions. In the atmospheric RN budget the relative importance of urban/combustion and rural/agricultural influence is often viewed as the oxidized/reduced nitrogen ratio; however, the rural eastern plains of Colorado are strongly influenced by both agriculture and oil and gas operations, the latter offering significant NOx emissions (Duncan et al., 2016). So while RN is dominated by oxidized nitrogen in the gas phase, it is not clear that urban air is the dominant contributor of RN deposition to ROMO. In deposition, reduced nitrogen is the major component. The differing importance of reduced (more in precipitation) and oxidized (more in the atmosphere) nitrogen species in the gas and the aqueous phase is a reflection of the different solubilities and abilities to be scavenged based on the properties of the individual species. It also suggests that emissions from many types of sources are important for the observed air mass composition and deposition at ROMO.
In this study we observed evidence that emissions from oil and gas operations, urban sources, and long range transport impact ROMO and affect atmospheric RN. The use of VOC tracers confirmed previous measurement (Benedict et al., 2013c) and modeling (Gebhart et al., 2011; Thompson et al., 2015) studies that identified these sources as important in the region. The spatial overlap of agricultural and oil and gas operation sources in eastern Colorado indicate agriculture is also an important source of RN even though we did not use a specific tracer for the source. Other measurements of ammonia and the other RN species, beyond this study, were made during FRAPPÉ. Specifically, there are mobile and aircraft measurements that should be analyzed to determine if more information about specific sources in NE Colorado can be identified. Further analysis of the extensive FRAPPÉ dataset is beyond the scope of the current study. However, it would be beneficial to do a more comprehensive analysis of the FRAPPÉ aircraft data using the ROMO site as a point of reference to better understand the spatial variability of these species.
Previous nitrogen deposition budgets constructed for ROMO lacked NOy and gas phase organic nitrogen compounds as part of the dry deposition budget (Beem et al., 2010; Benedict et al., 2013a). As seen in previous work, the nitrogen deposition budget at ROMO is dominated by wet deposition, specifically followed by . Our estimates of dry deposition suggest that reduced nitrogen (specifically NH3) is the largest contributor to the dry deposition budget. This is the first study in ROMO that includes deposition estimates of PAN (1.9% of total N deposition) and alkyl nitrates (0.06% of total N deposition). Although their contributions were relatively small, it is important to examine all components of the nitrogen deposition budget to better understand the role of various sources to nitrogen deposition and better constrain the deposition budget. Providing tighter constraints would require measurements of dry deposition, rather than the inferential estimates as done here. We also lack information on bi-directional fluxes, of NH3 in particular, needed to better understand the deposition budget at ROMO.
Supplemental Information
2014 real time data
This files includes the hourly average data collected at Rocky Mountain National Park during FRAPPE in 2014. Meteorological data and concentrations of NH3, NOy, NO, PAN, alkyl nitrates, and VOCs used in the manuscript are included.
RMNP 24 h denuder data
RMNP wet deposition data