Modulation of transcriptional activity in brain lower grade glioma by alternative splicing
College of Automation, Harbin Engineering University

,

Harbin

,

Heilongjiang

,

China
Published

Accepted

Received
Academic Editor
Subject Areas

Keywords

Alternative splicing

,

Amyloid precursor protein

,

EST domain-containing proteinElk-1

,

Serine/threonine kinase 16

,

Modulator

,

Lower grade glioma
Copyright

©

2018

Li et al.

Licence

This is an open access article distributed under the terms of the Creative Commons Attribution License, which permits unrestricted use, distribution, reproduction and adaptation in any medium and for any purpose provided that it is properly attributed. For attribution, the original author(s), title, publication source (PeerJ) and either DOI or URL of the article must be cited.
Cite this article

2018

.

Modulation of transcriptional activity in brain lower grade glioma by alternative splicing

.

PeerJ

6

:

e4686

https://doi.org/10.7717/peerj.4686
Abstract
Proteins that modify the activity of transcription factors (TFs) are often called modulators and play a vital role in gene transcriptional regulation. Alternative splicing is a critical step of gene processing, and differentially spliced isoforms may have different functions. Alternative splicing can modulate gene function by adding or removing certain protein domains and thereby influence the activity of a protein. The objective of this study is to investigate the role of alternative splicing in modulating the transcriptional regulation in brain lower grade glioma (LGG), especially transcription factor ELK1, which is closely related to various disorders, including Alzheimer's disease and Down syndrome. The results showed that changes in the exon inclusion ratio of proteins APP and STK16 are associated with changes in the expression correlation between ELK1 and its targets. In addition, the structural features of the two modulators are strongly associated with the pathological impact of exon inclusion. The results of our analysis suggest that alternatively spliced proteins have different functions in modifying transcription factors and can thereby induce the dysregulation of multiple genes.
Introduction
Alternative splicing (AS) is a key regulator of gene expression as it generates numerous transcripts from a single protein-coding gene. In humans, more than 95% of multi-exonic protein-coding genes undergo AS (Wang et al., 2008), and AS plays an important role in cellular differentiation and organism development (Castle et al., 2008; Wang et al., 2008). As AS affects numerous genes and is highly important for regulating the normal expression and tissue specificity of a given gene, it is not surprising that changes in AS are frequently associated with human disease, such as cancers (Kozlovski et al., 2017) and neurodegenerative diseases (Scotti & Swanson, 2016). Recent genome-wide analyses of cancer transcriptomes have demonstrated that splicing changes are often global rather than gene specific (Jung et al., 2015). Undoubtedly, widespread splicing changes, such as altered cassette exon inclusion ratios of proteins, influence the expression of numerous genes and consequently cause aberrant gene regulation.
Lower grade glioma (LGG) is a type of cancer that develops in the glial cells of the brain. Tumors are classified into grades I, II, III or IV based on standards set by the World Health Organization (Ostrom et al., 2013). Regardless of tumor grade, tumors compress normal brain tissue as they grow, frequently causing disabling or fatal effects. The Cancer Genome Atlas (TCGA) consortium has produced a comprehensive somatic landscape of glioblastoma by combining molecular and clinical data that have become a valuable resource for studying gene deregulation in LGG.
Modulators are proteins that modify the activity of transcription factors (TFs) and influence the expression of their target genes. Our current knowledge of TF modulation mainly comes from experimental studies that measure the expression levels of a few target genes (Lachmann et al., 2010). The objective of this study is to explore the role of AS in modulating the transcriptional activities of TFs in LGG. The modulated relationships among TF-modulator-targets are inferred using a known probabilistic model named GEM (Babur et al., 2010). EST domain-containing protein Elk-1 (ELK1) is one TF whose regulation activity is most influenced by 162 splicing events corresponding to 123 AS modulator proteins. Finally, amyloid precursor protein (APP) and serine/threonine kinase 16 (STK16), modulators whose exon inclusion ratios are associated with the activity of ELK1, are analyzed in detail.
Materials and Methods
Construction of triplets
We implemented the GEM algorithm (Babur et al., 2010) to predict (splicing modulator-TF-target) triplets. There are four input types: gene expression profiles, gene splicing profiles, modulator list and TF-target relations. The modulator hypothesis predicts that the correlation between the expression levels of the TF and the target must change as the splicing level of the modulator changes. The percentage of exon inclusion ratio (PSI) is used to estimate the splicing level of a candidate modulator in LGG. We established a 5% false discovery rate as the threshold to call the triplets.
Data processing and selection
RNA-Seq data were downloaded from the TCGA-LGG data portal as bam files. STAR aligner (version 2.3.0) was used to align each file uniquely to the hg19 human genome. We retained uniquely aligned reads with a minimum splice junction overhang of five nucleotides using default parameters. The gene expression level was estimated using the NGSUtils tool (version 0.5.9) (Breese & Liu, 2013) with default parameters for calling gene expression. The splicing level (PSI) was estimated using a probabilistic model called Mixture of Isoforms (MISO) (Katz et al., 2010). The TF-target relations were derived from the ENCODE (The Encyclopedia of DNA Elements) project. The workflow of data processing and selection is described in Fig. 1.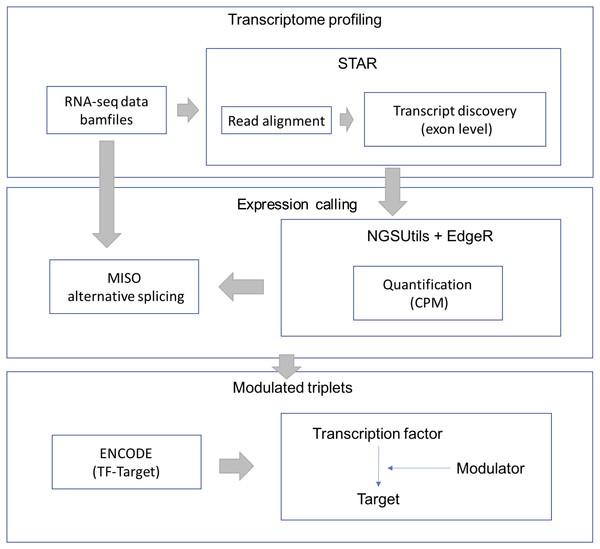 For the candidate modulators, we keep the splicing events where over 95% samples have confidence interval (CI) less than 0.25 and only analyze predicted cassette exons that have at least 10 reads supporting exon inclusion or exclusion in at least one sample. We fill the missing PSI value of a sample with the median PSI value of that splicing event. Finally, AS events were selected based on candidate modulators whose PSI IQR (interquartile range) were larger than 0.1 As the input data require sufficient variability, we filtered out genes whose gene expression coefficient variation (CV) was less than 50% and kept genes in which over 95% of samples had expression values.
Discussion
In this work, a known probabilistic method, GEM, was used to infer alternative splicing-modulated triplet relationships (Babur et al., 2010). The type of input data was gene expression, and the method was built for discovering modulated regulation relationships based on gene expression levels. Our preliminary work (Li et al., 2017a) built a regression model to infer similar triplet relationships, but we focused on gene expression and the splicing level. We changed the input data of GEM to gene expression and alternative splicing values and compared the results of the two methods for discovering modulated triplets. The results showed that numerous overlapping triplets could be detected. While our previous method has higher sensitivity, the GEM method is much more robust. Another reason we used modified GEM is that the method classifies the modulator regulation mode into six categories, which is helpful for understanding the modulation mechanisms.
Several alternative splicing isoform outcome-modulated triplets were detected in this study. The most important TF we discovered was ELK1, whose activity was impacted by many alternative splicing isoform outcomes, such as STK16 and APP. Previous studies have shown that ELK1 phosphorylation can be modulated in various central nervous system diseases (CNS diseases), such as Alzheimer's' disease, Huntington's disease, Down syndrome and depression (Besnard et al., 2011; Demir et al., 2011). The inferred modulator STK16 is a Ser/Thr kinase, and STK16 exhibited protein kinase activity in both in vitro and in vivo kinase assays. Some kinases, such as casein kinase II, have been reported to interact with TFs (Yamaguchi et al., 1998), but how those kinases regulate the transcription machinery remains unclear. In this study, we identified the fourth alternative spliced exon as important for STK16. The fourth exon is located in a region that encodes a kinase domain named Pkinase. Hence, the STK16 splice isoform with the kinase domain may play a vital role in regulating transcription activity.
A preliminary study showed that STK16 exhibits an autophosphorylation pattern. STK16 also phosphorylates MBP and histone H1, both of which are often used as substrates for Ser/Thr kinases, as well as the recombinant His-tagged ELK1 activation domain (Ohta et al., 2000). The N-terminal third and central portions of STK16, which contain residues essential for Ser/Thr kinase activity, are required for its transcriptional regulatory function and therefore for DNA-binding ability (Besnard et al., 2011). Hence, different splicing outcomes are associated with the phosphorylating activity of STK16 and may influence the interaction with TFs. Other preliminary studies have reported that STK16 strongly enhances the ELK1 signal, suggesting that STK16 is involved in the phosphorylation of some nuclear TFs. STK16 could activate the MAP kinase pathway, leading to ELK1 activation, similar to the TGF-β signaling pathway. As the MAP kinase pathway has been reported to be involved in one of the TGF-β signaling pathways (Hartsough & Mulder, 1995; Reimann et al., 1997), STK16 may be a candidate linking the MAP kinase pathway to TGF-β signaling. This may explain why STK16 could regulate the transcriptional activity of ELK1.
Another modulator, APP, encodes a cell surface receptor and transmembrane precursor protein that is cleaved by secretases to form a number of peptides. Some of these peptides are secreted and can bind to the acetyltransferase complex APBB1/TIP60 to promote transcriptional activation, while others form the protein basis of the amyloid plaques found in the brains of patients with Alzheimer's disease. Mutations in this gene have been implicated in autosomal dominant Alzheimer's disease and cerebroarterial amyloidosis. Multiple transcript variants encoding several differential isoforms have been identified for this gene. By searching the Integrated Interactions Database (IID) and restricting the interaction partners to only those supported by experimental evidence, we obtained protein-protein interaction evidence for APP and ELK1.
One splicing event of APP detected as a modulator was "chr21:27354657:27354790:- @ chr21:27372330:27372497:-@chr21:27394156:27394358:-". The alternatively spliced exon was the seventh exon, which contains a vital domain named BPT/Kunitz inhibitor (BPTI). The splice isoforms that contain the BPTI domain possess protease inhibitor activity that induces an AGER-dependent pathway involving activation of p38 MAPK, resulting in internalization of amyloid-beta peptide and leading to mitochondrial dysfunction in cultured cortical neurons. ELK1 phosphorylation has been shown to be modulated in various CNS diseases (Besnard et al., 2011). Hence, we conclude that the detected splice isoform of APP with the BPT1 domain could influence the transcriptional activity of ELK1.
A previous study reported that Abeta, ELK1, PS1 and APP are associated. Tong et al. (2004) showed that sublethal concentrations of Abeta interfere with BDNF-induced activation of ELK1 in cultured cortical neurons and result in altered SRE-driven gene regulation, which is likely to account for increased neuronal vulnerability. Pastorcic and Das (Pastorcic & Das, 2003) defined ELK1 as a potent repressor of transcription of the presenilin 1 gene (PS1), which encodes a protein required for the final protein (APP) that produces highly amyloidogenic variants of Abeta. PSI is genetically linked to the majority of cases of early-onset familial Alzheimer's disease (FAD). Collectively, these data highlight the intriguing link connecting Abeta, ELK1, PSI and APP and also show that APP is associated with the activity of ELK1.
Conclusions
We globally dissected the role of AS in regulating the transcriptional activity of TFs in LGG using TCGA-LGG data. ELK1, a member of the Ets oncogene family of TFs that functions in neurons, was one of the key TFs discussed in detail in this study. Two significant modulators, APP and STK16, were identified. The results showed that different alternatively spliced isoforms of APP/STK16 are associated with the transcriptional activity of ELK1 and play dual roles in CNS diseases. The presented results provide important insights on the modulating role of AS in transcription regulation in LGG as well as the role of signaling modules in neuronal survival in neurodegenerative processes.