Whole genome sequencing of Rhodotorula mucilaginosa isolated from the chewing stick (Distemonanthus benthamianus): insights into Rhodotorula phylogeny, mitogenome dynamics and carotenoid biosynthesis
Published

Accepted

Received
Academic Editor
Subject Areas

Keywords

Rhodotorula mucilaginosa,

Carotenoid

,

Phylogenomics

,

Endophyte

,

Next-generation sequencing

,

Chew sticks mitogenome

, Distemonanthus benthamianus
Copyright

©

2017

Gan et al.

Licence

This is an open access article distributed under the terms of the Creative Commons Attribution License, which permits unrestricted use, distribution, reproduction and adaptation in any medium and for any purpose provided that it is properly attributed. For attribution, the original author(s), title, publication source (PeerJ) and either DOI or URL of the article must be cited.
Cite this article

2017

. Whole genome sequencing of Rhodotorula mucilaginosa isolated from the chewing stick (Distemonanthus benthamianus): insights into Rhodotorula phylogeny, mitogenome dynamics and carotenoid biosynthesis.

PeerJ

5

:

e4030

https://doi.org/10.7717/peerj.4030
Abstract
In industry, the yeast Rhodotorula mucilaginosa is commonly used for the production of carotenoids. The production of carotenoids is important because they are used as natural colorants in food and some carotenoids are precursors of retinol (vitamin A). However, the identification and molecular characterization of the carotenoid pathway/s in species belonging to the genus Rhodotorula is scarce due to the lack of genomic information thus potentially impeding effective metabolic engineering of these yeast strains for improved carotenoid production. In this study, we report the isolation, identification, characterization and the whole nuclear genome and mitogenome sequence of the endophyte R. mucilaginosa RIT389 isolated from Distemonanthus benthamianus, a plant known for its anti-fungal and antibacterial properties and commonly used as chewing sticks. The assembled genome of R. mucilaginosa RIT389 is 19 Mbp in length with an estimated genomic heterozygosity of 9.29%. Whole genome phylogeny supports the species designation of strain RIT389 within the genus in addition to supporting the monophyly of the currently sequenced Rhodotorula species. Further, we report for the first time, the recovery of the complete mitochondrial genome of R. mucilaginosa using the genome skimming approach. The assembled mitogenome is at least 7,000 bases larger than that of Rhodotorula taiwanensis which is largely attributed to the presence of large intronic regions containing open reading frames coding for homing endonuclease from the LAGLIDADG and GIY-YIG families. Furthermore, genomic regions containing the key genes for carotenoid production were identified in R. mucilaginosa RIT389, revealing differences in gene synteny that may play a role in the regulation of the biotechnologically important carotenoid synthesis pathways in yeasts.
Introduction
Rhodotorula mucilaginosa is a common saprophytic fungus that is a part of the Basidiomycota phylum. The organism is typically found in soils, lakes, ocean water, milk and fruit juice (Wirth & Goldani, 2012). Of the numerous species in the genus Rhodotorula, only Rhodotorula mucilaginosa, Rhodotorula glutinis, and Rhodotorula minuta have been known to be pathogenic to humans (Wirth & Goldani, 2012; Zaas et al., 2003). Despite being categorized as an opportunistic and emerging pathogen, R. mucilaginosa from natural environments appear to possess interesting biological traits ranging from indole acetic acid production (plant growth-promoting), bacterial quorum sensing signal degradation (quorum quenching) to carotenoid production (Ghani et al., 2014; Ignatova et al., 2015; Libkind, Brizzio & Broock, 2004). Despite its genomic potential, resources for R. mucilaginosa are surprisingly scarce in public database. To date, the only genomic resource publicly available for this species is from R. mucilaginosa strain C2.5t1 that was isolated from the seeds of the cacao plant in Cameroon (Deligios et al., 2015). Beyond the NCBI database, another genome of R. mulaginosa (strain ATCC58901) can be found in the JGI portal (https://genome.jgi.doe.gov/Rhomuc1/Rhomuc1.home.html) but a user account is required to access the genome.
Carotenoid production in fungi has been suggested as a natural mechanism to protect against photo-oxidative damage in light-intensive environments, given the known antioxidant property of these lipid-soluble pigments as attributed to their chemical structure (Avalos & Carmen Limon, 2015; Cerdá-Olmedo, 1989; Echavarri-Erasun & Johnson, 2002). The biosynthetic pathway of beta-carotene from phytoene has been elucidated in fungal species based on cDNA cloning and enzymatic characterization and was shown to require two major proteins namely, a dehydrogenase and a bifunctional enzyme, encoding both cyclase and phytoene synthase activities (Sanz et al., 2011; Verdoes et al., 2003). Leveraging on the ease of mutant screening based on visual inspection, the carotenoid pathway in the genus Rhodotorula has been conveniently selected for the development of genetic manipulation tool in Rhodotorula (Abbott et al., 2013; Koh et al., 2014; Sun et al., 2017) despite the biotechnological significance of this pathway in Rhodotorula (Cutzu et al., 2013; Davoli, Mierau & Weber, 2004; Libkind, Brizzio & Broock, 2004; Marova et al., 2012; Taccari et al., 2012). The heterologous expression of a 3-hydroxy-3-methylglutaryl coenzyme A reductase from Saccharomyces cerevisiae substantially increased carotenoid production in R. mucilaginosa strain KC8 (Wang et al., 2017), indicating the potential of metabolic engineering as alternative and/or complementary approach to growth condition optimization (Cutzu et al., 2013; Davoli, Mierau & Weber, 2004; Marova et al., 2012) for improving carotenoid production in Rhodotorula species.
The plant Distemonanthus benthamianus is a semi-deciduous perennial tree commonly found in second-growth forests in Nigeria, Cameroon and Ghana (Adeniyi, Obasi & Lawal, 2011). D. benthamianus is of interest given that the plant is used as chewing sticks for dental and oral hygiene by members of Yoruba community in Nigeria. A relatively recent study showed that extracts from the bark of the stems exhibit bactericidal activity against Staphylococcus aureus and Streptococcus mutans, two bacteria that are often associated with skin and dental infections, respectively (Adeniyi & Odumosu, 2012).
In this study, an initial screen for endophytic bacteria that are resistant to the extracts of D. benthamianus led to the isolation of a pink-pigmented strain subsequently identified as a fungal strain belonging to the species Rhodotorula mucilaginosa. Given the intriguing property of this fungal species and its lack of genomic resources, we sequenced its whole genome on the Illumina platform and performed comparative genomic analysis to gain insight into the carotenoid biosynthetic pathway of this species and more generally the genus Rhodotorula. Notably, we also recovered the complete mitochondrial genome of R. mucilaginosa, the first for its species and the second for its genus, using genome skimming approach.
Materials and Methods
Strain isolation
Two grams of internal tissue obtained from surfaced sterilized stem of Distemonanthus benthamianus plant was used to inoculate 25 mL of half strength tryptic soy broth (TSB) medium and grown overnight at 30 °C. Microorganisms were isolated by plating 100 µL of 10 fold serial dilutions from 10−5–10−10 of the overnight culture on half strength tryptic soy agar.
Scanning electron microscopy (SEM)
To fix the organism, 100 µL of cells from 10−7 dilution from an overnight grown culture was suspended in 3% glutaraldehyde in 0.1 M phosphate buffer pH 7.2 for 30 min. Following fixing, the cells were washed three times and pelleted in sterile water followed by a secondary fixation in 2% osmium tetroxide (in H20) for 30 min. The cells were washed three more times in sterile water followed by dehydration of the cells in 25%, 50%, 75%, 95% and 100% ethanol for 5 min in each ethanol concentration. The cells were filtered through a 0.22 µm polyethersulfone membrane and incubated at room temperature for 1 h followed by SEM stub mounting and sputter-coating using 10 nm gold/palladium.
Whole genome sequencing
Total DNA was extracted from a 3-day-old half strength tryptic soy agar culture of R. mucilaginosa RIT389 using the MolBio DNA extraction kit according to the manufacturer's instructions. The gDNA was sheared to 500 bp fragment using the Covaris ultrasonicator and subsequently prepared for whole genome sequencing using NEBNext Ultra™ DNA Library Prep kit for Illumina (New England BioLabs, Ipswich, MA, USA). The generated library was subsequently quantified using Qubit and sequenced on the MiSeq (Illumina, San Diego, CA, USA) located at the Monash University Malaysia Genomics Facility using the run configuration of 2  × 250 bp.
Genome assembly and annotation
Genome size, heterozygosity rate and repeat content were initially estimated using GenomeScope (Vurture et al., 2017). Based on the observed high genome heterozygosity of strain RIT389, dipSPAdes version 3.10.1 was used to assemble the whole genome with the additional option of "-expect-rearrangements" activated (Bankevich et al., 2012). Genome completeness was calculated using BUSCO3 based on the Basidiomycota odb9 ortholog dataset (Simao et al., 2015). Then, gene prediction was performed using GeneMark-ES fungal version (Borodovsky & Lomsadze, 2011) with the enhanced intron submodel that can better accommodate sequences with and without branch point sites in the fungal genomes.
Complete mitogenome was recovered by randomly sub-sampling 1/10 of the pair-end reads and assembling them using SPAdes version 3.10.1 (Bankevich et al., 2012). The contig corresponding to the whole mitogenome was re-circularized manually, as previously described (Gan, Schultz & Austin, 2014) and annotated automatically using MFannot (http://megasun.bch.umontreal.ca/cgi-bin/mfannot/mfannotInterface.pl). Additional genes coding for homing endonucleases commonly found in fungal mitogenomes were identified based on the presence of protein domains corresponding to the GIY-YIG catalytic domain (PF01541.23) and LAGLIDADG endonuclease (PF00961.18, PF03161.12 and PF14528.5) using hmmsearch3 with an E-value cutoff of 1e−5 (Eddy, 2011).
Phylogenomics and comparative genomics
Pair-wise average nucleotide identity (ANIm) was calculated using JSpecies (Richter et al., 2016) and subsequently visualized with the library package pheatmap in Rstudio. Single-copy genes present in all selected fungal genomes were identified using BUSCO3 (Simao et al., 2015). The protein sequences for each ortholog were aligned and trimmed using Muscle and trimAl (-automated1), respectively (Capella-Gutierrez, Silla-Martinez & Gabaldon, 2009; Edgar, 2004). The final trimmed alignments were concatenated and used to construct a maximum likelihood tree using FastTreeMP (Price, Dehal & Arkin, 2010). The reconstructed tree was visualized and annotated using TreeGraph2 (Stöver & Müller, 2010).
Identification of proteins involved in the carotenoid biosynthesis pathway was done by scanning the whole predicted proteome for protein domain hits (NC cutoff for TIGRfam and 1e−5 cutoff for Pfam) to lycopene cyclase (TIGR03462, CrtY), phytoene desaturase/dehydrogenase (TIGR02734, CrtI), squalene/phytoene synthase (PF0494, CrtB) and isopentenyl-diphosphate delta-isomerase (TIGR02150). Visualization and comparison of gene neighborhoods were performed using EasyFig with the default BlastN setting (Sullivan, Petty & Beatson, 2011). Proteins coded in each genomic sub-region were functionally annotated using Interproscan5 (Jones et al., 2014).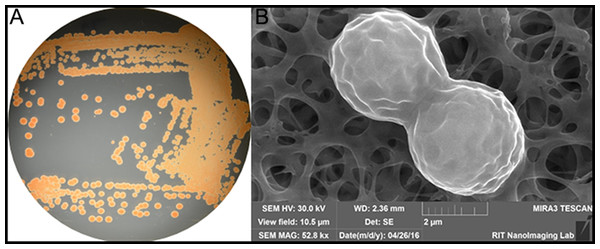 Results and Discussion
We noticed an organism that was pink/red in color from the screen on tryptic soy agar (Fig. 1A). Based on our previous studies of isolating endophytic organisms, we initially thought the organism belonged to genus Serratia or a related genus based on the color of the colonies. However, based on SEM analysis, it was initially determined that the organism was eukaryotic and not a bacterium based on the size and the morphology depicting cell division (Fig. 1B). The identification of the organism was subsequently confirmed using whole genome nucleotide sequencing.
GenomeScope estimated a genome size of 18.6 mega base pairs (Mbp) with an estimated heterozygosity of 9.29% for strain RIT389 (Fig. 2). The predicted genome size is fairly close to the de novo assembled genome length of 19.6 Mbp contained in 250 contigs. The assembled genome has a GC content of 60.28% with an estimated completeness of 89.70%. De novo assembly using sub-sampled reads enabled the recovery of the complete mitogenome of strain RIT389 which is the first mitogenome reported for this genus. Approximately 4.55% of the total pair-end reads mapped to the complete mitogenome with an estimated coverage of 400× (Table 1). The complete mitogenome length is 47,023 bp with a GC content of 40.43% which is substantially lower than that of the nuclear genome.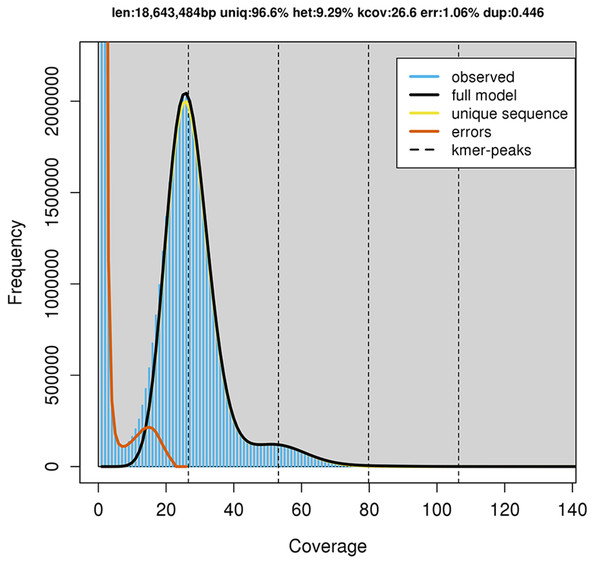 Organism
Rhodotorula mucilaginosa
Strain name
RIT389
SRA
SRR5860569
Bioproject
PRJNA390458
Biosample
SAMN07235707
Whole genome:
Accession number
NIUW01000000
Assembled genome length
19,664,434 bp
N50 length
194,287 bp
Number of contigs
250
GC%
60.28%
Predicted protein-coding gene
7,065
BUSCO Completeness (Basidiomycota odb9)
Complete BUSCOs
89.70%
Complete and single-copy BUSCOs
86.70%
Complete and duplicated BUSCO
3.00%
Fragmented BUSCO
1.60%
Missing BUSCO
8.70%
Total BUSCO groups searched
1,335
Mitochondrial Genome
Accession number
MF694646
Genome size
47,023 bp
GC%
40.43%
Coverage
400×
Alignment rate
4.55%
Conclusion
We demonstrate the feasibility of reconstructing the whole genome and complete mitogenome of Rhodotorula mucilaginosa using only Illumina short reads. The whole genome of R. mucilaginosa is the second to be reported to date for its species. Despite the availability of various whole genome sequences of Rhodotorula in public databases, the complete and annotated mitogenome of Rhodotorula mucilaginosa strain RIT389 is the first to be successfully reconstructed via in-silico genome skimming and annotated for its species. We also highlight the considerable dissimilarity in the syntheny of carotenoid synthesis gene cluster among Rhodotorula strains with potential implications in the regulation of carotenoid production.
Supplemental Information
Blast output comparing RIT389 and R. mucilaginosa ATCC 201848
Identification of proteins associated with the biosynthesis of carotenoid in Rhodotorula and Spriobolus