Novel mesostructured inclusions in the epidermal lining of Artemia franciscana ovisacs show optical activity
Published

Accepted

Received
Academic Editor
Subject Areas

Keywords

Artemia franciscana,

Brine shrimps

,

Confocal reflection microscopy

,

Rapid freeze substitution

,

Ovisac

,

Reproduction

,

Cellular inclusions

,

Mesocrystals

,

Transmission electron microscopy
Copyright

©

2017

Hollergschwandtner et al.

Licence

This is an open access article distributed under the terms of the Creative Commons Attribution License, which permits unrestricted use, distribution, reproduction and adaptation in any medium and for any purpose provided that it is properly attributed. For attribution, the original author(s), title, publication source (PeerJ) and either DOI or URL of the article must be cited.
Cite this article

2017

. Novel mesostructured inclusions in the epidermal lining of Artemia franciscana ovisacs show optical activity.

PeerJ

5

:

e3923

https://doi.org/10.7717/peerj.3923
Abstract
Background
Biomineralization, e.g., in sea urchins or mollusks, includes the assembly of mesoscopic superstructures from inorganic crystalline components and biopolymers. The resulting mesocrystals inspire biophysicists and material scientists alike, because of their extraordinary physical properties. Current efforts to replicate mesocrystal synthesis in vitro require understanding the principles of their self-assembly in vivo. One question, not addressed so far, is whether intracellular crystals of proteins can assemble with biopolymers into functional mesocrystal-like structures. During our electron microscopy studies into Artemia franciscana (Crustacea: Branchiopoda), we found initial evidence of such proteinaceous mesostructures.
Results
EM preparations with high-pressure freezing and accelerated freeze substitution revealed an extraordinary intracellular source of mesostructured inclusions in both the cyto-and nucleoplasm of the epidermal lining of ovisacs of A. franciscana. Confocal reflection microscopy not only confirmed our finding; it also revealed reflective, light dispersing activity of these flake-like structures, their positioning and orientation with respect to the ovisac inside. Both the striation of alternating electron dense and electron-lucent components and the sharp edges of the flakes indicate self-assembly of material of yet unknown origin under supposed participation of crystallization. However, selected area electron diffraction could not verify the status of crystallization. Energy dispersive X-ray analysis measured a marked increase in nitrogen within the flake-like inclusion, and the almost complete absence of elements that are typically involved in inorganic crystallization. This rise in nitrogen could possibility be related to higher package density of proteins, achieved by mesostructure assembly.
Conclusions
The ovisac lining of A. franciscana is endowed with numerous mesostructured inclusions that have not been previously reported. We hypothesize that their self-assembly was from proteinaceous polycrystalline units and carbohydrates. These mesostructured flakes displayed active optical properties, as an umbrella-like, reflective cover of the ovisac, which suggests a functional role in the reproduction of A. franciscana. In turn, studies into ovisac mesostructured inclusions could help to optimizing rearing Artemia as feed for fish farming. We propose Artemia ovisacs as an in vivo model system for studying mesostructure formation.
Introduction
In recent years, brine shrimps Artemia franciscana (Crustacea: Branchiopoda) have attracted much interest of both research and fishery. The former explores the molecular basis for their exceptional stress tolerance, the reproduction pathways, and the role of nutrients and pathogens for their life cycle (McRae, 2003; Gajardo & Beardmore, 2012). The latter uses unique possibilities for industrial breeding of these crustaceans as a valuable fish food supply.
Dependent upon environmental and seasonal factors, the reproduction of A. franciscana, illustrated in Fig. 1, may follow either of two different paths: Under less favorable conditions, reproduction is realized by oviparous release of eggs (cysts) at a stage of diapause. Alternatively, under more favorable conditions, reproduction is by ovoviviparous development of eggs inside the ovisac (uterus) and instant hatching of nauplii (Criel & MacRae, 2002). The ovisac of female Artemia facilitates major processes of the reproduction process: Once the ovaries have released oocytes into two lateral pouches (oviducts) they undergo vitellogenesis. During mating the males deposit sperm inside ovisacs, where it matures and initiates embryogenesis by fertilization of the eggs. Notably, some strains of A. franciscana undergo embryogenesis without fertilization (known as reproduction by parthenogenesis).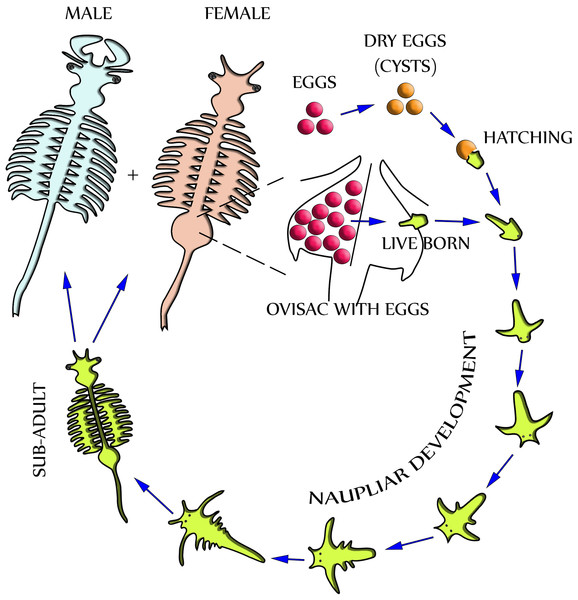 Different microscopy methods have been used to study Artemia life cycle. Stereomicroscopy is routinely applied to evaluate the reproduction process in the ovisac of A. franciscana, and to distinguish between stages of oogenesis, egg- and cyst maturation, and activity of the shell glands (Liang & MacRae, 1999; Dai et al., 2011). Detailed characterization of the reproductive processes requires the use of transmission electron microscopy (TEM). Previous comprehensive TEM studies of chemically fixed and embedded samples were focused at developmental processes inside the ovisac (Criel, 1980a; Criel, 1980b). However, they did not report specific observations concerning the cuticle and subjacent epithelial cell layer of the ovisac itself. Studies of the formation of epidermis were performed at the larval stage of A. franciscana, but this local and time-dependent process was not followed up to maturation of the animal (Wolf et al., 1989; Freeman, 1986; Freeman & Chronister, 1989). TEM studies of adult epidermis aimed specifically to understand molting of the cuticle, but the ovisac was never chosen for these investigations (Criel & Walgraeve, 1989). Our report, therefore, complements previous studies, which excluded the ovisac lining from TEM investigation. Moreover, we note that previous TEM studies of A. franciscana relied on conventional chemical sample preparation at room temperature. This opens ample opportunities for further improvement of sample preparation by cryotechniques that are based on instant freezing. Our EM facility included A. franciscana as model organisms in tests of an agitation module for accelerated freeze substitution (FS) (Goldammer et al., 2016). The findings of cellular inclusions within high-pressure frozen epidermal cells of the ovisac, described subsequently, underline the importance of this low-temperature dehydration- and fixation technique for proper preservation of cellular structures for TEM.
Our initial observation of cellular inclusions in cryopreserved epidermal cells inspired expanding our studies to a more comprehensive characterization of the ovisac lining by different methods including Confocal Reflection Microscopy (CRM) (for review: Paddock, 2002), electron tomography, and selected area electron diffraction (SAED). Taken together, these studies revealed aspects of the mesostructured nature of these ovisac inclusions. In addition, they revealed the organization of these entities as reflective, light-dispersing 'umbrella' of the ovisac. We discuss our findings in the framework of A. franciscana reproduction, and we highlight both common ground and differences with respect to mesocrystalline superstructures known from biomineralization (Cölfen & Antonietti, 2005; Bergström et al., 2015).
Materials & Methods
Culturing Artemia Franciscana
Dried cysts of A. franciscana strains, from Vinh Chau (Vietnam), Great Salt Lake, San Francisco Bay and TUZ (Turkey) were provided by Prof. van Stappen, Laboratory of Aquaculture & Artemia Reference Center, University of Gent. The larvae were reared under laboratory conditions to the adult stage as follows: 350 g of sea salt for aqua culturing 'Reef crystals' (Aquarium Systems, Grab, Switzerland) were dissolved in 10 l double-distilled water and applied for cultivation. The salinity, between 35 to 40 ppt, was controlled with a refractometer (Aqua Medic GmbH, Bissendorf, Germany). Hatching of nauplii from the cysts occurred in Duran® vessels, 6 cm high and 10 cm in diameter, filled with 200 ml artificial seawater. After two days, nauplii were selected into culture medium bottles with a capacity of 500 ml seawater. The number of individuals was limited to 15 to 20 nauplii per bottle. LED arrays (AuraLum No. S3030-18 W, 2,800–3,200 K, white light; 2 × 40 cm × 40 cm) were placed at a distance of 30 cm from the culture bottles for illumination (16 h/day). The water temperature varied between 22 to 28 °C depending on the seasons. For feeding, algae of the two strains, Rhodomonas sp. and Tisochrysis lutea, strain 927/14 (Collection of Algae and Protozoa) (courtesy of Dr. Daniel Abed-Navandi, Haus des Meeres Vienna) were added to the culture.
Stereomicroscopy
Freshly dissected ovisacs of A. franciscana were analyzed and documented with a Nikon SMZ25 stereomicroscope (Nikon, Tokyo, Japan) equipped with a Nikon DS-Ri1 U3 microscope camera. Specimens were obliquely illuminated with LED spots. Images of z-stacks were recorded and merged with the Nikon NIS-Elements BR software. The position of the LED spots was adjusted to find out the optimal reflective conditions for the mesostructured inclusions covering the ovisac. Movies of A. francisana were recorded with a Nikon J1 system camera mounted on a Nikon SMZ25 stereomicroscope using incident-oblique or transmitted light.
Polarisation microscopy
Dissected linings of the ovisac were mounted in 0.1 M phosphate buffered saline (PBS), pH 7.4, and analyzed under cross-polarized light in a Nikon Eclipse E800 (Nikon, Tokyo, Japan) light microscope equipped with a Nikon DsFi2-U3 microscope camera.
Confocal laser scanning microscopy (CLSM)
For analyzing cuticular autofluorescence, ovisacs of A. franciscana were cut off and mounted on microscopic slides in ≥99,5% glycerol Rotipuran® (Roth GmbH, Karlsruhe, Germany). Autofluorescence of the specimens was recorded using Leica SP5 II confocal laser scanning microscope with LAS-AF software (Leica Microsystems, Wetzlar, Germany). Scans were either taken with a 20× or a 63× objective and confocal z-stacks were recorded at step sizes of 1 and 0.4 µm, respectively. The pinhole was set to one airy unit (AU) for low magnification and to 0.5 AU for high magnification. Autofluorescence resulting from excitation with wavelengths of 633 nm, 561 nm, 488 nm and 405 nm was recorded as previously described for other arthropods (Michels, 2007). The emitted fluorescence light was recorded with a photomultiplier tube or a Leica HyD detector at longer wavelength, above the respective excitation.
For visualization of the reflection of cellular inclusions in the epidermal lining, ovisacs were transferred directly to 0.1 M PBS, pH 7.4, since mounting in glycerol was unfavorable for reflection. Reflection images were recorded for three laser wave lines, at 633 nm, 561 nm and 488 nm. Windows for detection of the reflection signals were set within the narrow boundaries of the respective excitation spectra (Michels, 2007). Reflection images were displayed as single z-slices and as maximum intensity projections of parts or the whole image stack using the LAS-AF software or FIJI (Schindelin et al., 2012).
Conventional chemical preparation of TEM samples at room temperature
Adult females, with their eggs assembled in a single mass inside of the uterus, were transferred into embryo dishes on ice. Once their movement was reduced they were decapitated with a microscissor and the ovisac was dissected. This procedure took less than 2 min for each animal. Dissected ovisacs, were immersed in 3 ml fixative consisting of 4% paraformaldehyde or 2.5% glutaraldehyde dissolved in PHEM buffer (90 mM PIPES, 37.5 mM HEPES, 15 mM EGTA and 3 mM MgCl2; pH 7.4 with 5% sucrose added), as described recently by Montanaro, Gruber & Leisch (2016) for improvement in preservation of marine invertebrates. The chemical fixation of the samples in glass vials (V-vials; EMS, Hatfield, PA, USA) was supported by microwave (MW) exposure for 30 min at 200 W in a temperature-controlled laboratory MW oven, PELCO BioWave® Pro (Ted Pella, Inc, Redding, CA, USA) equipped with a 'steady state' tray for more even distribution of the MWs. To avoid overheating of samples, the temperature was limited to 36 °C. After postfixation at 4 °C overnight, samples were washed in PHEM buffer, and subsequently immersed in 1% osmium tetroxide (OsO4) in double-distilled water for 1 h. Dehydration by ethanol series (30%, 50%, 70% and 95% ethanol for 10 min each and two times 100% ethanol for 10 min each) was followed by immersion in propylene oxide. The infiltration with low-viscosity epoxy resin (Agar Scientific, Stansted, UK) was performed step-wise in solvent/ resin mixtures. Polymerization in freshly prepared, pure resin was accomplished over at least two days in an oven at 60 °C.
High-pressure freezing and freeze substitution (FS) accelerated by agitation
Ovisacs, dissected as described above, were transferred into carriers type A (6 mm diameter; 200 µm depth) and covered with the flat surface of carriers type B (LEICA Microsystems, Wien, Austria). Notably, the carriers were coated with 1-hexadecene prior to use, and the inside volume of carrier A was filled up with 10% bovine serum albumin (BSA). The carrier sandwich was inserted into the middle plate of a sample cartridge and high-pressure frozen (HP-frozen) with the freezer HPM100 (LEICA Microsystems, Austria). FS was performed in an automatic freeze substitution unit AFS2 (Leica Microsystems, Austria) equipped with a self-made agitation module described elsewhere (Goldammer et al., 2016). Carriers containing the HP-frozen samples were placed onto the frozen substitution medium (1% OsO4 in acetone) in Sarstedt tubes. For Selected area electron diffraction (SAED), ovisacs of the TUZ strain from Turkey were also freeze-substituted in acetone in absence of OsO4. FS took place under agitation at −85 °C, initially for 3 h, but mostly for 10 h overnight. It was followed by warming up to room temperature and embedding in low viscosity epoxy resin (Agar Scientific, Stansted, UK). The temperature/time course was measured and recorded with a K- type thermocouple and USB data logger EL- USB-TC- LCD (Lascar Electronics, Erie, PA, USA) inside a dummy tube filled with acetone.
EDX
Energy-dispersive X-ray microanalysis (EDX) was performed with an AMETEK EDAX Octane Plus detector attached to a JEOL IT300 scanning electron microscope equipped with a LaB6-cathode. Semithin sections of HP- frozen, rapidly freeze-substituted embedding of ovisacs, 2.5 µm in thickness, were placed on silicon wafers, mounted with carbon tabs onto aluminum stubs and coated with carbon by using a Leica EM MED020 vacuum coating system. Areas containing cellular inclusions were identified with SE-and BSE detectors and selected for measurement. Spectra and dot-mappings were recorded at 20 kV, at a working distance of 11 mm and under 35° -positioning of the EDAX detector. The dead-time of the detector was set between 22 and 25 s, and its lifetime at 30 s. Data collection, automated background subtraction and analysis were performed using the EDAX TEAM Software Version (V4.20) AMETEK GmbH, EDAX Division.
Selected area electron diffraction
Selected area electron diffraction (SAED) and high-resolution TEM imaging at 200 kV was applied to 60 nm epoxy resin sections of ovisacs that were processed by HP freezing and rapid FS. For SAED at 200 kV a 10 µm-sized aperture is placed into the first image of the objective lens and the focal plane is projected to the camera system of a TECNAI F20 transmission electron microscope (FEI, Eindhoven, The Netherlands). Due to elastic scattering, some electron trajectories are deflected off the optical axes, thus forming the diffraction patterns. In the case of amorphous structures, diffuse rings show the medium atomic distance.
Electron tomography
Electron tomography of epoxy resin sections of HP frozen, rapidly freeze-substituted ovisacs of A. franciscana was performed using a Tecnai-20 electron microscope at 200 kV equipped with an eucentric goniometer and a single high-tilt holder (FEI, Eindhoven, The Netherlands) Tilt series of digital images within an angular range of 65° to +65° and a tilt increment of 1° were recorded with the help of the Xplore 3D software (FEI company) using a Eagles 4K-CCD camera (FEI Company; chip size: 4.096 × 4.096 pixels). In order to reconstruct the volume of the 200–300 nm thick sections into virtual slices (thickness 0.39–0.46 nm corresponding to a microscope magnification of 29.000× or 25.000× respectively), we used the IMOD software (Boulder Laboratory for 3D Electron Microscopy of Cells, University of Colorado, USA). For 3D-modeling, the structures of interest in each slice were traced with colored contours that were merged in the Z-axis with the help of the Amira 5.3 software (Mercury Computer Systems, Merignac, Cedex, France).
Conclusions
The results of this study may have implications for optimization of light-dark cycles in rearing Artemia culture as feed for fish farming. In addition, we suggest that the Artemia ovisac studies could be extended and developed in future as a new model system for investigations into the physics and biochemistry of mesostructural formation.