Lid opening and conformational stability of T1 Lipase is mediated by increasing chain length polar solvents
Published

Accepted

Received
Academic Editor
Subject Areas

Keywords

Molecular dynamics

,

Organic solvent mixtures

,

Structure conformation

,

Interactions

,

Residue fluctuations

,

Cross correlations
Copyright

©

2017

Maiangwa et al.

Licence

This is an open access article distributed under the terms of the Creative Commons Attribution License, which permits unrestricted use, distribution, reproduction and adaptation in any medium and for any purpose provided that it is properly attributed. For attribution, the original author(s), title, publication source (PeerJ) and either DOI or URL of the article must be cited.
Cite this article

2017

.

Lid opening and conformational stability of T1 Lipase is mediated by increasing chain length polar solvents

.

PeerJ

5

:

e3341

https://doi.org/10.7717/peerj.3341
Abstract
The dynamics and conformational landscape of proteins in organic solvents are events of potential interest in nonaqueous process catalysis. Conformational changes, folding transitions, and stability often correspond to structural rearrangements that alter contacts between solvent molecules and amino acid residues. However, in nonaqueous enzymology, organic solvents limit stability and further application of proteins. In the present study, molecular dynamics (MD) of a thermostable Geobacillus zalihae T1 lipase was performed in different chain length polar organic solvents (methanol, ethanol, propanol, butanol, and pentanol) and water mixture systems to a concentration of 50%. On the basis of the MD results, the structural deviations of the backbone atoms elucidated the dynamic effects of water/organic solvent mixtures on the equilibrium state of the protein simulations in decreasing solvent polarity. The results show that the solvent mixture gives rise to deviations in enzyme structure from the native one simulated in water. The drop in the flexibility in H2O, MtOH, EtOH and PrOH simulation mixtures shows that greater motions of residues were influenced in BtOH and PtOH simulation mixtures. Comparing the root mean square fluctuations value with the accessible solvent area (SASA) for every residue showed an almost correspondingly high SASA value of residues to high flexibility and low SASA value to low flexibility. The study further revealed that the organic solvents influenced the formation of more hydrogen bonds in MtOH, EtOH and PrOH and thus, it is assumed that increased intraprotein hydrogen bonding is ultimately correlated to the stability of the protein. However, the solvent accessibility analysis showed that in all solvent systems, hydrophobic residues were exposed and polar residues tended to be buried away from the solvent. Distance variation of the tetrahedral intermediate packing of the active pocket was not conserved in organic solvent systems, which could lead to weaknesses in the catalytic H-bond network and most likely a drop in catalytic activity. The conformational variation of the lid domain caused by the solvent molecules influenced its gradual opening. Formation of additional hydrogen bonds and hydrophobic interactions indicates that the contribution of the cooperative network of interactions could retain the stability of the protein in some solvent systems. Time-correlated atomic motions were used to characterize the correlations between the motions of the atoms from atomic coordinates. The resulting cross-correlation map revealed that the organic solvent mixtures performed functional, concerted, correlated motions in regions of residues of the lid domain to other residues. These observations suggest that varying lengths of polar organic solvents play a significant role in introducing dynamic conformational diversity in proteins in a decreasing order of polarity.
Introduction
The most useful property of natively folded proteins is their evolved functions in both aqueous and nonaqueous media. The functional relevance of proteins is well established in aqueous media with water promoting folding, conformational mobility, and stability (Mattos & Ringe, 2001). Protein stability in nonaqueous organic solvents arises from a combination of factors, which are often difficult to experimentally probe. The intrinsic conformational properties and factors promoting the denaturation of proteins provide useful knowledge of the molecular events that occur when performing catalysis under non- and/or physiologic conditions (Papaleo et al., 2011; Trodler, Schmid & Pleiss, 2009; Wedberg, Abildskov & Peters, 2012; Kony, HuNenberger & Van Gunsteren, 2007; Soares, Teixeira & Baptista, 2003). Although most enzymes are denatured in organic solvent media, some enzymes retain stability in some organic solvents with seemingly improved versatility, catalysis, substrate selectivity and biotechnological applications (Carrea & Riva, 2000; Klibanov, 2001).
In principle, the molecular phenomena of protein stability in organic solvents have been investigated by recent advances in molecular dynamics (MD) to complement and guide experimental studies. As a result, the earliest studies provided useful information on dynamics and conformational landscapes of proteins in a wide variety of solvent types at the femtosecond to microsecond time scale. This makes it possible to extract detailed information on functionally important conformational behaviour that can influence biological functions of proteins (Burney & Pfaendtner, 2013; Oelmeier, Dismer & Hubbuch, 2012; Li et al., 2010; Soares, Teixeira & Baptista, 2003).
Due to the prime role played by proteins in biotechnological processes, the impact of organic solvents in substrate selectivity, enzyme solubility, and stability is crucial (Juhl et al., 2010; Kawata & Ogino, 2010). In this context, hydrolytic enzymes such as lipases have been considered to have both a sufficient conformational flexibility and stabilityto catalyse hydrolysis in organic media. Their broad range of properties and substrate specificities makes them prominent in most enzymatic reactions in nonaqueous reaction systems (Kapoor & Gupta, 2012). However, the stability of lipase particularly in hydrophilic organic solvents is reduced by the organic solvent penetration effect and greater tendency to strip tightly bound water from the enzyme molecules (Gorman & Dordick, 1992; Yang, Dordick & Garde, 2004). Also, since most lipases are considered to be medium-dependent, far too often organic solvents are involved in disrupting their structural interactions through a weakening of the hydrophobic effects and hydrogen-bonding interactions (Ji et al., 2010; Kony, HuNenberger & Van Gunsteren, 2007). Similarly, distortion of protein flexibility, displacement of the lid domain helices and unmasking the active site in organic solvents could be infrequently associated with the polarity of the solvent (Graber et al., 2003).
Different hydration studies and solvent dependent properties of enzymes in various solvents have been investigated by MD simulations (Micaelo et al., 2005; Micaelo & Soares, 2007). Candida antartica lipase B has been described in various solvents to show similar enzyme hydration with profound effects on the structural properties. Wedberg and co-workers (2012) suggest the overall flexibility increased with increasing solvent polarity and the organic solvents modulated the protein-bound water molecules. Lousa, Baptista & Soares (2012) carried out simulations on homologous proteases in water/ethanol solvent mixtures in which large conformational changes and penetration of organic solvent into the protein core destroyed the structure. Disruption of salt bridges as a result of the organic solvent effect is also a critical molecular determinant of stability. The potential use of nonaqueous structure-perturbing solvents like DMSO can also result in a cooperative transition of the protein to a new partially folded state (Bhattacharjya & Balaram, 1997).
Geobacillus zalihae T1 lipase (a thermoalkaliphic lipase) is a 43 kDa protein that has been shown to catalyse the hydrolysis of long-chain triglycerides into fatty acids at a high temperature of ∼70°C (Leow et al., 2007). Industrially, this property makes it a potentially efficient biocatalyst for high temperature organic solvent media reactions. Structural resolution of T1 lipase has been determined at 1.5 Å in a closed conformation (Matsumura et al., 2008). The lipase shares the common canonical alpha/beta hydrolase fold (Ollis et al., 1992; Nardini & Dijkstra, 1999; Arpigny & Jaeger, 1999). The catalytic triad of Ser113, His358 and Asp317 are conserved in an active site shielded by a lid domain helix α6 and α7  (Fig. 1).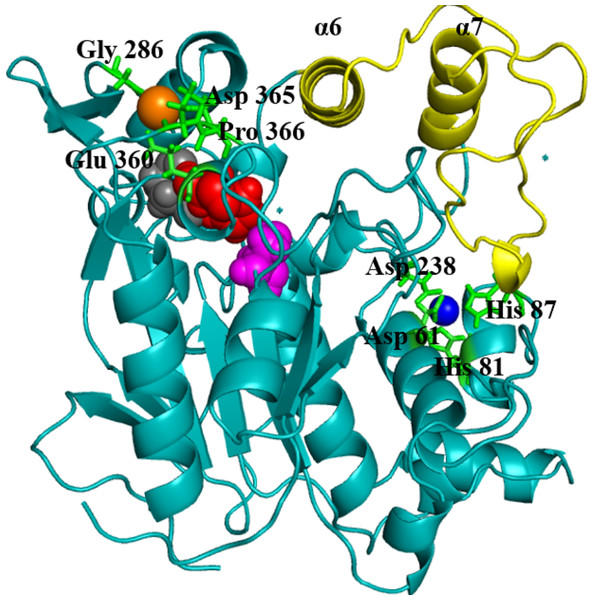 The metal ions (Ca2+ and Zn2+) present in T1 lipase are important local structural stabilizing elements of most native lipase structural folds (Gupta, Gupta & Rathi, 2004; Noble et al., 1993). These and other metal ions present in over 30% of known proteins function in catalysis and electron transfer and may play a key role in modulating protein folding and electrostatic stability (Andreini et al., 2008). The localization and coordination of the Ca2+ and Zn2+ share structural similarity with that of Bacillus stearothermophilus L1 lipase (Jeong et al., 2002). In this respect, the loop containing the active-site histidine (His358) is stabilized by an octahedral coordinated Ca2+, held by tight interactions with Asp365, Glu360, Pro366, and Gly286. The Zn2+ centre is held through Zn2+-coordinated tight interactions with Asp61, Asp238, His81, and His87. Temperature-induced MDsimulations of T1 lipase and activity regulation is Zn2+ dependent (Abdul Rahman et al., 2012). The mechanism of this Zn2+ effect has long been proposed to create structural modifications in lipase rather than affecting the catalytic active centre (Van Oort et al., 1989).
The phenomenal interfacial activation of T1 lipase in aqueous environments involves the movement of the helix α6 of the lid (Wang, Wei & Wang, 2010). Concurring with this similar characteristic, the helix α6 of Bacillus stearothermophilus L1 lipase, which is structurally similar to T1 lipase, was postulated to function as the lid in a closed conformation. However, in the open conformation, enzyme activation involves both dramatic conformational rearrangements of two lids (helix α6 and α7) covering the active site (Carrasco-López et al., 2009). The insights into T1 lipase activation events have not provided sufficient detail to suggest the overall structural property/dynamics that T1 lipase may adopt in a nonaqueous organic solvent environment.
This current study describes MD simulations of T1 lipase in water and five hydrophilic organic solvents/water mixtures. The solvents were investigated in their corresponding carbon chain lengths. Methanol and ethanol are quoted as the preferred solvents in the synthesis of carboxylic esters with lipase as biocatalysts. By also considering the thermostability of T1 lipase and the emerging use of these solvents in various bioconversion processes, we hope the scope of the current study will capture the physical features corresponding to experimental conditions. Details of insights into the general structural properties/structure dynamics, hydrophobicity, non-covalent interactions, solvent properties and lid activation are also investigated.
Conclusions
Molecular dynamic simulations of proteins in organic solvents have provided insights into the molecular events a protein undergoes in both aqueous and nonaqueous microenvironments and how they will dynamically interact with flexible protein targets. In this study, molecular dynamic simulations were used to study the conformational changes and stability of T1 lipase in increasing carbon length polar solvents. The simulations revealed conformational displacement of the secondary structure elements. The interactions of the solvent molecules with the protein revealed that polarity of organic solvents play a major role in exposing buried hydrophobic residues with concomitant disruptions of their interactions. The stability of the protein could be maintained in methanol and ethanol solvents in contrast to other solvents. It can be inferred then that MtOH-H2O, EtOH-H2O mixtures will likely not affect substantial parts of the enzyme microenvironment for substrate binding and activity, provided the active site loop dynamics or position of solvent affecting residues are conformationally undisrupted. It is apparent that organic solvents could affect the transition state in the lipase reaction when the interactions of the active pocket residues are restricted. The displacement of the lid region showed a double lid movement for T1 lipase induced by the solvent molecules. This displacement was triggered by the conformational rearrangements of the Asp175-Arg230 induced by solvent molecules. DCCM and the B-factor reveal strong motions of the residues and higher flexibility in BtOH-H2O and PtOH-H2O correlated to surrounding residues. Upon further observation we found that penetration of solvent molecules was a response to the solvent decreasing polarity. Such penetration contributed to the strain effect and global conformational changes of the protein. The large hydrophobic surface area of some residues exposed them to the solvents and caused stronger interactions, making the protein surface permeable to the solvent molecules. Our simulation studies suggest that these could render loss of cooperative interactions and ultimately make the protein structurally more floppy. The resultant enhanced fluctuations in some solvents results in the orientation changes of the backbone atoms of the residues, which could lead to difficulties in obtaining functional and biochemical differences in experimental feedback about the dynamics of protein in nonaqueous media. This study provides an opportunity to understand the structural effects of length variations in polar organic solvents on the conformation and stability of T1 lipase.