A multi-reference poly-conformational method for in silico design, optimization, and repositioning of pharmaceutical compounds illustrated for selected SARS-CoV-2 ligands
1
Liquid Algo LLC

,

Hopewell Junction

,

NY

,

United States of America
2
Department of Population Health Sciences, School of Public Health, Georgia State University

,

Atlanta

,

GA

,

United States of America
3
Quantori

,

Cambridge

,

MA

,

United States of America
Published

Accepted

Received
Academic Editor
Subject Areas

Keywords

Conformers

,

Multi-reference

,

Poly-conformational

,

SARSCOV- 2

, In silico,

Ligand-based

,

Structure-based

,

Virtual library

,

Computational framework

,

Validation
Copyright

©

2022

Alexandrov et al.

Licence

This is an open access article distributed under the terms of the Creative Commons Attribution License, which permits unrestricted use, distribution, reproduction and adaptation in any medium and for any purpose provided that it is properly attributed. For attribution, the original author(s), title, publication source (PeerJ) and either DOI or URL of the article must be cited.
Cite this article

2022

. A multi-reference poly-conformational method for in silico design, optimization, and repositioning of pharmaceutical compounds illustrated for selected SARS-CoV-2 ligands.

PeerJ

10

:

e14252

https://doi.org/10.7717/peerj.14252
Abstract
Background
This work presents a novel computational multi-reference poly-conformational algorithm for design, optimization, and repositioning of pharmaceutical compounds.
Methods
The algorithm searches for candidates by comparing similarities between conformers of the same compound and identifies target compounds, whose conformers are collectively close to the conformers of each compound in the reference set. Reference compounds may possess highly variable MoAs, which directly, and simultaneously, shape the properties of target candidate compounds.
Results
The algorithm functionality has been case study validated in silico, by scoring ChEMBL drugs against FDA-approved reference compounds that either have the highest predicted binding affinity to our chosen SARS-CoV-2 targets or are confirmed to be inhibiting such targets in-vivo. All our top scoring ChEMBL compounds also turned out to be either high-affinity ligands to the chosen targets (as confirmed in separate studies) or show significant efficacy, in-vivo, against those selected targets. In addition to method case study validation, in silico search for new compounds within two virtual libraries from the Enamine database is presented. The library's virtual compounds have been compared to the same set of reference drugs that we used for case study validation: Olaparib, Tadalafil, Ergotamine and Remdesivir. The large reference set of four potential SARS-CoV-2 compounds has been selected, since no drug has been identified to be 100% effective against the virus so far, possibly because each candidate drug was targeting only one, particular MoA. The goal here was to introduce a new methodology for identifying potential candidate(s) that cover multiple MoA-s presented within a set of reference compounds.
Introduction
Most of the small molecules exist in multiple conformations (shapes) based on their surrounding environmental conditions. Each 3D shape of a molecule enables it to fit into the binding pockets of proteins and dictates its biological activity. Often, distinctly different chemical compounds that have similar shapes and similar charge distributions along the molecular surface can bind the same target. Therefore, it is beneficial to compare shapes and surface distribution charges for target query and reference compounds on a conformer-by-conformer basis. If one of the conformers of the query molecule matches one of the conformers (especially bound-to-target) of the reference molecule, there is a chance that the reference compound will also exhibit similar binding properties to the same target.
OpenEye Scientific Software Inc. pioneered an algorithm and the corresponding tool, Rapid Overlay of Chemical Structures (ROCS) (Grant, Gallardo & Pickup, 1996; OpenEye Scientific Software, Inc., 2008) for comparing shapes of molecules by overlaying and measuring their molecular structures in silico and comparing differences between a query and reference molecule. ROCS performs a shape-based overlay of a query conformer to a potential hit molecule by utilizing Gaussian atom-centered functions. The overlap is then expressed as a normalized value ranging between "0" and "1", where "0" means no overlay and "1" means the maximum possible overlay. Atomic charges on the surface of the molecule are accounted for by using a separate score called "color", so ROCS algorithm attempts to maximize both shape and "color" overlay. The "color" score also ranges from "0" to "1", where "0" means no "color" similarity and "1" means a perfect color overlay. The final score thus ranges from 0 to 2. Thus, ROCS identifies potentially active compounds by comparing their shapes via explicit alignment; it is competitive and often superior to structure-based approaches in virtual screening (Hawkins, Skillman & Nicholls, 2007; Venhorst et al., 2008) both in terms of overall performance and consistency (Sheridan, McGaughey & Cornell, 2008). As a result, novel molecular scaffolds have been identified by using ROCS against various targets which have been considered very difficult to address computationally (Kumar et al., 2014; Kumar et al., 2016; Chen et al., 2018; Khan et al., 2019; Rush 3rd et al., 2005).
Being a computationally-intensive process, the overlapping of molecular shapes represents a bottleneck in the search for similar molecules. This remains despite the recent so-called PAPER implementation of ROCS on GPU (Haque & Pande, 2010) and the development of FastROCS (OpenEye Scientific Software, Inc, 2011) for large (>1B) compound libraries. Alternative methods perform overlaying by comparing shape-based descriptors without performing explicit shape alignment, specifically conformer-level 3D fingerprints. An example of such an approach is ElectroShape, implemented in the the Open Drug Discovery Toolkit (ODDT) package (Wójcikowski et al., 2019) which uses an algorithm incorporating shape, chirality, and electrostatics (Ballester & Richards, 2007b; Armstrong et al., 2010) and represents each conformer via a fixed-length vector of real-valued numbers. Similarly, the Extended 3-Dimensional FingerPrint (E3FP) package (Axen et al., 2017) also utilizes an alignment-invariant 3D representation of molecular conformers as a fixed-length binary vector for each conformer. These fingerprint-based approaches allow for the similarity calculation between two molecular shapes either as a Tanimoto distance (for binary fingerprints) or Euclidean distance (for real-valued fingerprints) computations. Such computations are orders of magnitude faster in comparison to alternative methods that require the actual alignment of the two compared conformers. The Ultrafast Shape Recognition (USR) method can speed up such virtual screening even more (Ballester & Richards, 2007a). Although the calculation of a shape-based fingerprint for each conformer can be a rather computationally involved procedure, as soon as all conformers for the virtual library are fingerprinted and stored in a database, the similarity search for the query molecule in such a database is computationally quick. Comparative performance of the two approaches (explicit shapes alignment vs shapes' fingerprints comparison) in terms of accuracy (hit enrichment) was exhaustively studied for many virtual screening setups (Hawkins, Skillman & Nicholls, 2007; Kirchmair et al., 2009; Schreyer & Blundell, 2012) and was found to be comparable.
Here, we present MultiRef3D, a novel computational multi-reference poly-conformational algorithm for the design, optimization, and repositioning of pharmaceutical compounds. The algorithm searches for small molecules by comparing similarities between conformers of the same compound and identifies hits, whose conformers are collectively close to the conformers of each compound in a reference set. Reference compounds may represent well-characterized ligands and possess a highly variable mode of action (MoA). The principal and computationally efficient feasibility of this task is illustrated here by using pharmaceuticals that have been shown in silico to bind three different proteins of the SARS-CoV-2 as reference compounds. Although the SARS-CoV-2-induced COVID-19 pandemic is one of the biggest challenges worldwide, the highly effective drug for SARS-CoV-2 treatment has not been developed yet. Thus, the potential identification of the small molecule simultaneously targeting several viral proteins may represent an efficient antiviral drug discovery strategy. Moreover, for such a multi-reference search viruses which are the biological systems strongly dependent on the activity of different proteins may represent more illustrative examples than complex age-associated diseases such as cancer, neurodegeneration, psychiatric disorders, etc.
For method case study validation, we used the public ChEMBL (version 28) database (Gaulton et al., 2011) to screen compounds against the most important viral targets, namely 3C-like protease (3CLpro; Mpro), papain-like protease (PLpro) and RNA-dependent RNA polymerase (RdRp). These targets play a major role in virus replication/transcription and host cell recognition and are, therefore, vital for the viral reproduction and spread of infection. Since the method doesn't directly use target information but rather analyzes 3D shapes for a compound that was already predicted, or has been experimentally found to be effective against a particular target (a reference compound), one has to choose one (or more) such compounds as a reference for each target. The focus for each of the above SARS-CoV-2 targets (3CLpro, PLpro and RdRp) was on the reference compounds with the highest binding affinities from the recent in silico multi-target repurposing study (Murugan et al., 2020). For the new compound search (virtual library screening) we used the same set of reference compounds as we used for the method case study validation.
Results
Method case study validation for SARS-CoV-2 Compounds
The highest affinity binder Olaparib (−9.2 kcal/mol) has been selected as a reference compound for 3CLpro, Tadalafil (−9.2 kcal/mol) for PLpro and Lumacaftor (−9.9 kcal/mol) for RdRp. However, when multi-target scoring against these three references has been performed, the top ten scoring compounds from ChEMBL had no conformers similar in 3D shape (Euclidean distance < 0.5) to Lumacaftor conformers. Therefore, the Lumacaftor reference has been replaced with the next best in silico RdRp binder Ergotamine (Murugan et al., 2020) (−9.4 kcal/mol). The resulting scores produced by the proposed method are summarized in Table 2.
| Compound ID | Compound Name | TotalScore | Olaparib | Tadalafil | Ergotamine |
| --- | --- | --- | --- | --- | --- |
| CHEMBL779 | Tadalafil | 228.46 | 70.70 | 100.00 | 57.76 |
| CHEMBL1737 | Sildenafil citrate | 225.15 | 81.30 | 58.34 | 85.50 |
| CHEMBL521686 | Olaparib | 223.08 | 100.00 | 57.61 | 65.48 |
| CHEMBL105442 | Ci-1040 | 220.40 | 80.68 | 79.16 | 60.56 |
| CHEMBL129857 | As-602868 | 220.16 | 78.27 | 74.50 | 67.39 |
| CHEMBL2037511 | Epelsiban | 219.86 | 81.58 | 70.28 | 68.01 |
| CHEMBL565612 | Sotrastaurin | 219.13 | 79.93 | 69.36 | 69.83 |
| CHEMBL1516474 | Tegaserod maleate | 217.83 | 80.22 | 76.56 | 61.05 |
| CHEMBL1236682 | Refametinib | 217.78 | 76.01 | 81.57 | 60.20 |
| CHEMBL1923502 | Ulimorelin hydrochloride | 217.56 | 76.29 | 74.79 | 66.47 |
Both Olaparib and Tadalafil had the highest scores which confirmed the previous finding (Murugan et al., 2020) that these compounds are simultaneously good binders for both 3CLpro and PLpro. Our method has also picked up Sildenafil (brand name Viagra) which just like Tadalafil (Cialis) is also known as a classical PDE5A inhibitor. Although those compounds are predominantly used in the treatment of male erectile dysfunction and pulmonary hypertension, it was shown (Shirvaliloo, 2021) that in the presence of SARS-CoV-2 infection, PDE5 inhibitors prevent thromboembolism caused by inflammatory processes in COVID-19 patients via NO/cGMP pathway and are potent inhibitors of 3CLpro (Jin et al., 2020)
Ci-1040 and Refametinib are the other two hits from Table 2 and are potent MEK inhibitors with high 3D shape similarity to both Olaparib and Tadalafil. MEK inhibitors, including Olaparib (Vena et al., 2018) were recently demonstrated to reduce cellular expression of ACE2 while stimulating NK-mediated cytotoxicity and attenuating inflammatory cytokines during the severe stage of SARS-CoV-2 infection (Zhou et al., 2020). Ci-1040 was also previously shown to display a broad anti-influenza virus activity in vitro and to provide a prolonged treatment window compared to the standard of care in vivo, specifically in lung cells (Haasbach et al., 2017).
The other hit from Table 2 is Sotrastaurin, a PKC inhibitor that has been experimentally shown to inhibit SARS-CoV-2 replication in vivo (Liu et al., 2021) and found to be among the best 3CLpro binders during in silico ZINC database screening study (Olubiyi et al., 2020). The other top hit, Epelsiban, was originally developed as an oxytocin receptor agonist. However, it has been recently shown (Kim et al., 2015) that oxytocin plays a major role in the activation of NF-kB-mediated pathways. Interestingly, recent research has revealed (Hariharan et al., 2021) that Remdesivir, in addition to being a potent RdRp inhibitor (Gordon et al., 2020), is also reducing viral replication via NF-kB pathway. Therefore, this hit serves as an example of non-obvious 3D-shape-based drug repurposing idea generation linked to the relevant yet non-primary SARS-CoV-2 inhibiting mechanisms of reference compounds.
In our second case study validation experiment, we explored what happens if the RdRp reference compound Ergotamine is replaced with Remdesivir which, as was already mentioned, is not only a well-established RdRp inhibitor and computationally found to be a tight RdRp binder but also a cytokine storm attenuator that works via NF-kB pathway. We were interested if the algorithm would pick up NF-kB hits and other potential "chain terminators". The resulting scores produced in the second scoring setup are summarized in Table 3.
| Compound ID | Compound Name | TotalScore | Olaparib | Tadalafil | Remdesivir |
| --- | --- | --- | --- | --- | --- |
| CHEMBL1694 | Benazepril hydrochloride | 180.82 | 66.67 | 64.26 | 49.89 |
| CHEMBL515606 | Cilazapril | 180.61 | 64.56 | 61.56 | 54.50 |
| CHEMBL495727 | At-9283 | 179.03 | 68.17 | 56.15 | 54.71 |
| CHEMBL2107495 | Temafloxacin hydrochloride | 178.94 | 67.15 | 55.78 | 56.01 |
| CHEMBL1200779 | Trovafloxacin mesylate | 178.60 | 66.24 | 54.02 | 58.35 |
| CHEMBL340978 | Benoxaprofen | 178.27 | 68.56 | 56.54 | 53.16 |
| CHEMBL8 | Ciprofloxacin | 177.05 | 63.21 | 57.19 | 56.65 |
| CHEMBL1200831 | Spirapril hydrochloride | 177.00 | 65.28 | 60.24 | 51.47 |
| CHEMBL1201011 | Quinapril hydrochloride | 176.84 | 66.32 | 60.40 | 50.13 |
| CHEMBL1168 | Ramipril | 176.54 | 65.32 | 63.26 | 47.96 |
For Olaparib, Tadalafil, and Remdesivir reference compounds, half of the top ten hits (Benoxaprofen, Ciprofloxacin, Spirapril hydrochloride, Quinapril hydrochloride and Ramipril) turned out to be ACE inhibitors and coagulation modifiers acting via NF-kB related pathways (Hernández-Presa et al., 1997; Burzynski et al., 2019)! In addition, all of them turned out to be also good binders of 3CLpro (Biembengut & Brasil de Souza, 2020). One can also notice that the individual scores for Remdesivir-only hits are significantly (>10%) lower than the corresponding scores for the other reference compounds, which can be readily explained by the fact that none of the CHEMBL hits was a nucleoside and thus cannot be incorporated into the replicated RNA similar to the way Remdesivir does (although we still pick up the NF-kB component from Remdesivir's MoA).
The other hits were Temafloxacin and Trovafloxacin, predicted to be potent 3CLpro ligands (Gimeno et al., 2020) and experimentally shown to inhibit virus replication (Krieg et al., 2006; Mirmotalebioshi et al., 2021) and anti-inflammatory drugs Benoxaprofen and Ciproflaxin predicted to target 3CLpro (Marciniec et al., 2020; Zeyrek et al., 2021) as well.
An interesting multi-target Aurora/JAK inhibitor, compound At-9283, closes the list (Table 3). JAK inhibitors have promising therapeutic potential for SARS-CoV-2 treatment with their dual anti-inflammatory and anti-viral effects (Mehta et al., 2020). At-9283 has also been recently identified to reverse SARS-CoV-2 transcriptomic signature (O'Donovan et al., 2020) and due to its similarity to tipiracil 3D pharmacophore scaffold, also inhibits SARS-CoV-2 Nsp15 endoribonuclease (Kandwal & Fayne, 2020; Guedes et al., 2021) and targets 3CLpro (Mengist, Dilnessa & Jin, 2021; Baby et al., 2021).
In summary, the results of these case study validation experiments show that MultiRef3D can efficiently identify compounds whose conformers simultaneously mimic the conformers of three different small molecules. All identified high-score compounds represent drugs that have direct or indirect evidence to be effective in anti-COVID-19 treatment.
Virtual library screening for multi-target SARS-CoV-2 compounds
The results from the focused ("antiviral-like") and diverse ("Discovery Diversity Set") sets are summarized in Tables 1 and 2 respectively. These are given here for illustrative purposes only, to demonstrate that the hits are indeed simultaneously aligned with the references. The algorithm visual summary is displayed in Fig. 1 for the WAll objective function. Tables S1 and S2 summarize the direct application results of the Enamine (Enamine, 2020) focused "antiviral-like" and "Diverse Discovery Set" virtual library screening. The first two columns of the Tables contain query compound IDs and their computed overlap scores. The rows are sorted according to the total sum overlap score displayed in the second column.
For the visual illustration of the algorithm results, the two compounds with the highest scores from Tables S1 and S2 have been presented in Fig. 2. It is worth noting that these compounds are quite flexible molecules due to their amide bridge around which the ring substructures can rotate, which ensures the ability of those molecules to accommodate different targets. One can also notice that the Remdesivir component scores are significantly lower in comparison to other references (while Ergotamine component remains high), reflective of the facts that, just as in CHEMBL case, none of the hits was a nucleoside in nature (see also Fig. 3D).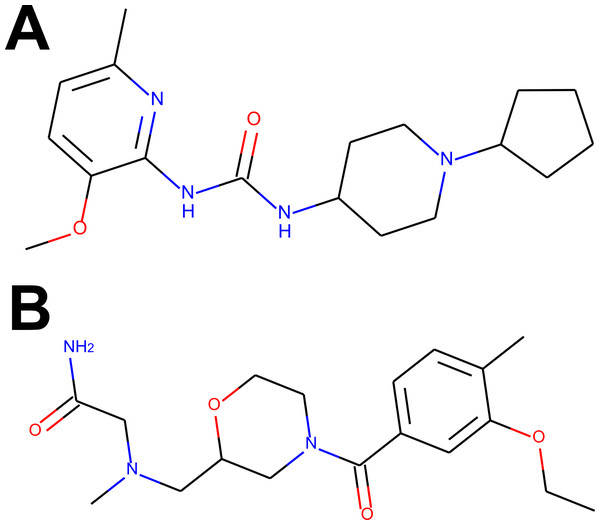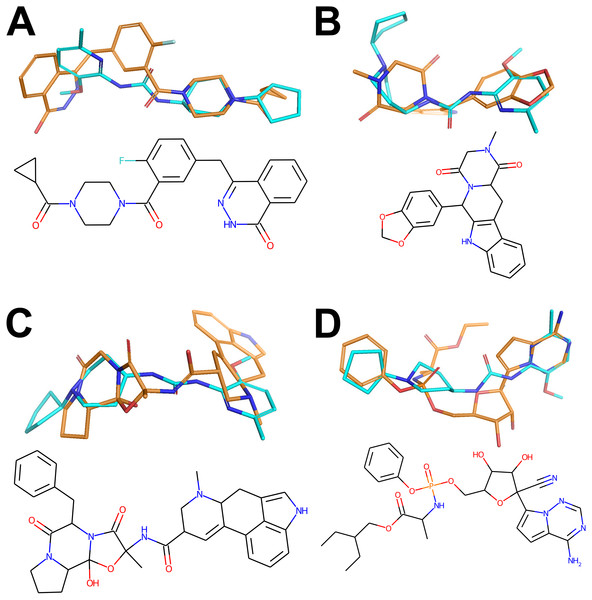 The best-matching conformers of the top hit Z1693453146 spatially align with the active conformation for each reference drug (Fig. 3). One can observe that most of hydrogen donors and acceptors from the top hit conformer and reference conformers are aligned very well, mimicking the interaction patterns with each target. At least partial spatial alignment of atom types is expected from the top hit conformers since atom types as well as their relative 3D positions is the essence of the USRCAT fingerprints (Schreyer & Blundell, 2012).
Discussion
Computation efficiency and availability of the method
The proposed method does not rely on laborious docking and molecular dynamics setup, especially in the multi-target case, where target preparation and choice of method i.e. direct docking to a fixed-coordinate target or Molecular Dynamics-based ensemble energy minimization are of utmost importance and require deep expertise. Fingerprint comparison is orders of magnitude faster and simpler; it only requires simple structural information in the form of either isomeric SMILES or InChI. The entire setup, which is presented in the Supplementary Information, can be universally used for any multi-target screening and optimization, whenever reference compounds for each of the targets are available. Naturally, further hit refinement (ADMETox, PK/PD, etc) is necessary if the screened universe is not limited to drugs with well-known safety profiles.
Depending on what is known about the indication or marketed drug of interest (targets, MoAs, other existing drugs for the same indication), the proposed methods (or a combination thereof) can be used to find other non-obvious molecules whose shape and surface electrostatic charge is similar to that of the marketed drug. The methods can also be used to search for the cumulative similarity to conformers of the multiple drugs used to treat this disease indication.
In the proposed approach multiple conformers of the query ligand have been compared with conformers from multiple reference compounds whose therapeutic effect of interest is achieved via different mechanisms of bindings to different targets, e.g. by inhibiting major proteases 3CLpro and PLpro (Ullrich & Nitsche, 2020) and RNA-dependent RNA polymerase (RdRp) (Elfiky, 2020; Li et al., 2003; Vincent et al., 2005). An "ideal drug" would contain conformers that resemble (as many as possible) conformers of all the reference drugs, thus increasing chances that the drug inhibits SARS-CoV-2 via multi-MoA routes and is more effective than each individual reference drug.
When the crystal structure of the target protein is known and the reference ligand is co-crystallized in its active conformation (structure-based design), we can use this information about the reference compound and evaluate the query molecules against only one, the active (co-crystallized), reference ligand conformation (r = ractive) in formulas Eqs. (1) and (2). Confirmation by direct docking for the fingerprint-matched queries can be used to confirm the match.
Our methodology emphasizes the pursuit of candidate compounds that achieve the therapeutic effect (e.g. stops SARS-CoV-2 proliferation) by multiple MoA routes. A successful candidate compound would contain conformers targeting the three SARS-CoV-2 factors (3CLpro, PLpro, RdRpall) at the same time by increasing the chances that the compound would protect against SARS-CoV-2 much more effectively. Naturally, all successful candidates would need to be further screened and filtered for proper ADME-Tox and other drug-likeness properties. Binding to anti-targets, e.g. hERG, can be explicitly incorporated into this methodology by adding the corresponding terms (similarities to known hERG-binding ligands) to the overlap sum with a negative sign. Even though many computational methods exist to evaluate hERG in particular as well as other common tox liabilities, when an anti-target is very specific and less commonly known as "pure tox target" (e.g. undesired binding to D2 receptor for many modern CNS drugs), the explicit inclusion of similarity score to such anti-target with a negative sign can greatly streamline the overall drug optimization process.
Conclusions
We have demonstrated and case study validated the usefulness of the multi-reference computationally efficient optimization approach in drug discovery screening and repurposing scenarios. The method represents each molecule as an ensemble of flexible conformers that would choose the best possible conformation for each presented target-binding opportunity. The application of this approach to SARS-CoV-2 produced several antiviral drug candidates that are designed to protect against SARS-CoV-2 by multiple mechanisms simultaneously.
Supplemental Information
Supplementary Tables