Total evidence time-scaled phylogenetic and biogeographic models for the evolution of sea cows (Sirenia, Afrotheria)
1
Duke Lemur Center Museum of Natural History, Duke University

,

Durham, NC

,

USA
2
Department of Integrative Anatomical Sciences, Keck School of Medicine of USC, University of Southern California

,

Los Angeles, CA

,

USA
3
Department of Mammalogy, Natural History Museum of Los Angeles County

,

Los Angeles, CA

,

USA
Published

Accepted

Received
Academic Editor
Subject Areas

Keywords

Sirenia

,

Sea Cows

,

Manatees

,

Dugongs

,

Phylogenetics

,

Bayesian Tip-Dating

,

Historical Biogeography

,

Afrotheria

,

Marine Mammals

,

Paleontology
Copyright

©

2022

Heritage and Seiffert

Licence

This is an open access article distributed under the terms of the Creative Commons Attribution License, which permits unrestricted use, distribution, reproduction and adaptation in any medium and for any purpose provided that it is properly attributed. For attribution, the original author(s), title, publication source (PeerJ) and either DOI or URL of the article must be cited.
Cite this article

2022

.

Total evidence time-scaled phylogenetic and biogeographic models for the evolution of sea cows (Sirenia, Afrotheria)

PeerJ

10

:

e13886

https://doi.org/10.7717/peerj.13886
Abstract
Molecular phylogenetic studies that have included sirenians from the genera Trichechus, Dugong, and Hydrodamalis have resolved their interrelationships but have yielded divergence age estimates that are problematically discordant. The ages of these lineage splits have profound implications for how to interpret the sirenian fossil record—including clade membership, biogeographic patterns, and correlations with Earth history events. In an effort to address these issues, here we present a total evidence phylogenetic analysis of Sirenia that includes living and fossil species and applies Bayesian tip-dating methods to estimate their interrelationships and divergence times. In addition to extant sirenians, our dataset includes 56 fossil species from 106 dated localities and numerous afrotherian outgroup taxa. Genetic, morphological, temporal, and biogeographic data are assessed simultaneously to bring all available evidence to bear on sirenian phylogeny. The resulting time-tree is then used for Bayesian geocoordinates reconstruction analysis, which models ancestral geographic areas at splits throughout the phylogeny, thereby allowing us to infer the direction and timing of dispersals. Our results suggest that Pan-Sirenia arose in North Africa during the latest Paleocene and that the Eocene evolution of stem sirenians was primarily situated in the Tethyan realm. In the late Eocene, some lineages moved into more northern European latitudes, an area that became the source region for a key trans-Atlantic dispersal towards the Caribbean and northern-adjacent west Atlantic. This event led to the phylogenetic and biogeographic founding of crown Sirenia with the Dugongidae-Trichechidae split occurring at the Eocene-Oligocene boundary (~33.9 Ma), temporally coincident with the onset of dropping global sea levels and temperatures. This region became the nexus of sirenian diversification and supported taxonomically-rich dugongid communities until the earliest Pliocene. The Dugonginae-Hydrodamalinae split occurred near Florida during the early Miocene (~21.2 Ma) and was followed by a west-bound dispersal that gave rise to the Pacific hydrodamalines. The late middle Miocene (~12.2 Ma) split of Dugong from all other dugongines also occurred near Florida and our analyses suggest that the Indo-Pacific distribution of modern dugongs is the result of a trans-Pacific dispersal. From at least the early Miocene, trichechid evolution was based entirely in South America, presumably within the Pebas Wetlands System. We infer that the eventual establishment of Amazon drainage into the South Atlantic allowed the dispersal of Trichechus out of South America no earlier than the mid-Pliocene. Our analyses provide a new temporal and biogeographic framework for understanding major events in sirenian evolution and their possible relationships to oceanographic and climatic changes. These hypotheses can be further tested with the recovery and integration of new fossil evidence.
Introduction
The mammalian order Sirenia, commonly called the sea cows, includes only four living species—the dugong (genus Dugong, family Dugongidae) and three manatees (genus Trichechus, family Trichechidae). Sirenians are unique in being the only fully aquatic mammals that are also obligate herbivores, and their habitats are predominantly warm, near-shore, and relatively shallow waters that accommodate the vegetative growth that comprises their diets (Marsh, 2014; O'Shea, 2014). The fossil record of sea cows begins near the onset of the middle Eocene, about 48 million years ago, and since that time their evolving diversity and biogeography has ensued to leave fossil occurrences on every continent except Antarctica (Marsh, O'Shea & Reynolds, 2012). While the extant species of sea cows lack hindlimbs and are equipped with several anatomical adaptations that suit them to wholly aquatic lifeways, some of the earliest fossil sirenians were, by contrast, quadrupedal and amphibious (Domning, 2001a; Domning, 2009).
The geographic distributions of the living sirenian species are mapped in Fig. 1. The West Indian manatee (Trichechus manatus) occurs throughout the Caribbean, in parts of the Gulf of Mexico, and along the Atlantic coasts of North and South America—while the Amazonian manatee (Trichechus inunguis) inhabits the river systems of the Amazon Basin. The West African manatee (Trichechus senegalensis) occurs along the Atlantic coasts of West and Central Africa and in several lake and river systems of that region which ultimately drain into the east Atlantic and Gulf of Guinea (O'Shea, 2014). Compared to the other living sea cow species, the dugong (Dugong dugon) has the broadest distribution—inhabiting tropical and subtropical waters of the Eastern Hemisphere from the coasts of East Africa and Madagascar to the Red Sea and Persian Gulf, along the western coast of India, and throughout the near-shore waters of Southeast Asia and Australasia all the way to New Caledonia (Marsh, 2014; Plön et al., 2019). The Recent species Steller's sea cow (Hydrodamalis gigas, family Dugongidae; Fig. 1) was last reported alive in the middle of the 18th century but has since been hunted to extinction (Turvey & Risley, 2006). Steller's sea cow was much larger than the living sirenian species, was apparently adapted to colder waters, and is documented by Pacific Rim occurrences from Japan, to the Aleutian Islands, to Northern California (Domning, 1978; Furusawa, 2004). Substantial genomic data derived from relatively young specimens (<300 years old) have enabled robust phylogenetic placement of Steller's sea cow among the extant sirenian genera (Springer et al., 2015). These five species, living and Recent, are only a narrow temporal sample from the order's long history. Therefore, the evolutionary events that have led to this small group's relatively widespread geographic range might be better understood through a deep-time lens and in a richer taxonomic context (see below).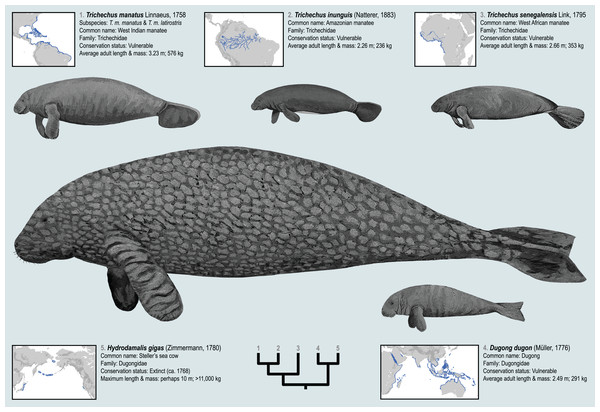 Concerning their systematic position, sirenians unequivocally belong to the endemic Afro-Arabian clades Afrotheria and Paenungulata (Murphy et al., 2001; Springer et al., 2003; Meredith et al., 2011), and based on recent large-scale genetic datasets, Sirenia is probably the extant sister taxon of the order Proboscidea (elephants) to the exclusion of Hyracoidea (hyraxes or dassies) (e.g., Heritage, Seiffert & Borths, 2021; Poulakakis & Stamatakis, 2010; Schull et al., 2022; Springer et al., 2015). Given that the oldest paenungulate fossils are from the Paleocene of Afro-Arabia (e.g., Gheerbrant, Bouya & Amaghzaz, 2012), it seems likely that the sirenian stem lineage arose on the same landmass during the very early Cenozoic. However, a temporal comparison of the earliest known sirenian fossils to the supposed age of the Sirenia-Proboscidea lineage split (e.g., ~59.2 Ma; Heritage, Seiffert & Borths, 2021) suggests that the first 10 million years (or so) of the order's evolutionary history has not yet been documented by fossils. Conversely, the middle Eocene to Recent fossil record of sea cows is quite good, and provides evidence of times with much higher taxonomic and morphological diversity compared to the extant group—and notably so during the Oligo-Miocene interval (Domning, 2009). Sirenian fossils of Eocene age have evidenced several transitions in their highly derived anatomy including the loss of hindlimbs, modification of the forelimbs into "flippers", alterations of the vertebral column and dental formula, and the development of pachyosteosclerotic ribs (Domning, 2001a; Springer et al., 2015; Vélez-Juarbe & Wood, 2018).
Most well-documented extinct sea cow species have already been scored for morphological characters, and these data have been employed several times to estimate relationships among living and fossil taxa using parsimony methods (e.g., Domning, 1994; Springer et al., 2015; Vélez-Juarbe & Wood, 2018). Abundant DNA evidence is also now available for all extant sirenian species (plus Steller's sea cow), but molecular and morphological data have never been assessed simultaneously using statistical phylogenetic methods. Perhaps this is partly attributable to the two data types independently and strongly informing a Dugong-Hydrodamalis clade that is sister to Trichechus (Fig. 1).
Although the pattern of descent among living manatees and dugongs (plus Steller's sea cow) can now be considered well-resolved, molecular-based models that have estimated the timing of lineage divergences have yielded wildly different ages for the Dugongidae-Trichechidae split (i.e., crown Sirenia) and the Dugong-Hydrodamalis split (i.e., crown Dugongidae sensu this study; see Results). Estimates for the age of crown Sirenia range from middle Eocene (~46.8 Ma, de Souza et al., 2021; ~41.5 Ma, Springer et al., 2015; ~41 Ma, Plön et al., 2019), to Oligocene (~31.4 Ma, Meredith et al., 2011; ~30.9 Ma, Heritage, Seiffert & Borths, 2021), to Miocene (~16.6 Ma, Poulakakis & Stamatakis, 2010; ~13 Ma, Upham, Esselstyn & Jetz, 2019; ~5.74 Ma, Phillips, 2016), while estimates for the Dugong-Hydrodamalis split range from Oligocene (~29 Ma, Plön et al., 2019; ~28.6 Ma, Springer et al., 2015) to Miocene (~15.1 Ma, Heritage, Seiffert & Borths, 2021). These disparate evolutionary timescales have dramatically different implications for interpretations of the sirenian fossil record, including clade membership and biogeography. Severe discrepancies in age estimates among these molecular studies are presumably due, in large part, to different fossil calibration strategies (e.g., which fossil taxa are selected, variable assumptions about the nested phylogenetic positions of fossil taxa, the number of fossil calibrations included in the analysis, etc.). For instance, Upham, Esselstyn & Jetz (2019) used only one fossil calibration within Afrotheria, whereas Heritage, Seiffert & Borths (2021) applied 15.
Rigorous, quantitative investigations of macroevolutionary phenomena, such as long-term anatomical transformations or shifts in geographic distribution, and the potential relationship of such phenomena to external drivers (e.g., geologic, oceanographic, climatic, and biotic events) can only be undertaken within the context of time-scaled phylogenetic hypotheses. Relatively recent advances in Bayesian phylogenetics (i.e., the development of total evidence Bayesian tip-dating methods) allow phylogeny and divergence times of living and fossil taxa to be estimated simultaneously from mixed data types (Ronquist et al., 2012a). These analyses use statistical models for both topological placements and relaxed clock branch lengths, thereby obviating the need for "expert" identification of appropriate fossil calibrations (Pozzi & Penna, 2022). In other words, the likelihood-evaluated phylogenetic placement of a dated fossil taxon within a tree automatically constrains a minimum age for its preceding tree node. Such analyses yield phylogenies with objective divergence age estimates which, in turn, are the critical frameworks against which to assess the pattern and rates of evolving character states and lineage diversity through time—among many other potential inferences.
In this contribution we combine existing morphological, molecular, temporal, and geographic data, and apply Bayesian tip-dating (BTD) phylogenetic methods, to bring all available evidence to bear on the evolutionary relationships of living and fossil sea cows. We then use this novel time-scaled tree—along with a large geospatial dataset containing geographic coordinates of fossil occurrences and extant species ranges—to estimate the ancestral geographic areas that correspond to tree nodes throughout sirenian phylogeny (i.e., Bayesian continuous-variable geographic reconstruction analysis) (Meade & Pagel, 2022). Our aim is to provide data-driven and algorithm-driven hypotheses for the relationships, divergence times, and ancestral biogeography of Sirenia that are explicitly testable, and which can be refined with the addition of new evidence. While previously published estimates of sirenian phylogeny have been derived from independent analyses of morphology or molecules, by incorporating multiple lines of evidence in a simultaneous assessment, our approach improves the phylogenetic explanatory power of the component data types (Nylander et al., 2004; Wortley & Scotland, 2006).
Discussion
The total evidence phylogenetic assessment presented in this study is novel by integrating much of the morphological, molecular, temporal, and geographic data that inform the evolutionary relationships of sea cows. The accompanying model of ancestral biogeography is also new and uniquely combines continuous-trait geospatial data, a phylogenetic framework, and a broad temporal and taxonomic sample into an algorithm-derived hypothesis. These results have yielded a compelling new context for understanding the Earth history factors (e.g., oceanographic, climatic, geologic) that might have been associated with, or might have driven, adaptations and dispersal events that occurred in Sirenia's evolutionary past.
Before discussing the inferences that can be drawn from our analyses, we raise two important caveats. First, the geographic breadth of the individual extant sirenian species (Fig. 1) cannot be represented by a single geospatial point—we acknowledge that the same surely holds for extinct sirenians. To the extent possible, we have included multiple occurrence localities for individual fossil species as a strategy to incorporate spatial variation, but we also recognize that the incomplete nature of the fossil record limits our ability to know, and sample from, their full geographic ranges. Analogously, our geographic reconstructions for lineage splits throughout sirenian phylogeny, include geocentroid points and associated geospatial density ellipses (OSF Data Supplement) as estimates for ancestral areas of occurrence. Therefore, the discussion that follows effectively treats these reconstructions as possible centers of larger geographic distributions. Second, many fossils that document sirenian evolution are simply too fragmentary to be of phylogenetic utility, and therefore were not included in our analyses. For example, Zalmout & Gingerich (2012) list several intriguing fossil occurrences from poorly sampled areas (see their Table 1). So, like most studies that incorporate paleontological evidence, our dataset is inexhaustive. Notwithstanding these qualifications, we consider the taxonomic, character, geospatial, and temporal sample included in the present study to be comprehensive enough to yield phylogenetic and biogeographic models that demonstrate broad evolutionary patterns and that will be robust despite additional sampling.
Conclusion
The phylogenetic and biogeographic models presented here suggest a new narrative for sea cow evolution throughout the Cenozoic. These results imply that the origin of Pan-Sirenia was in the Tethys during the latest Paleocene and that the evolution of the order's earliest lineages was centered in the same region until the end of the Eocene, with only one surviving into the Oligocene. A late Ypresian or early Lutetian trans-Atlantic dispersal from the Tethys towards the Caribbean led to the Jamaican prorastomids, though it appears that Prorastomidae evolved in the Tethys prior to this event. The age of this dispersal implies that sirenians were the first marine mammals of the Western Hemisphere. We speculate that a second dispersal from the Tethys during the Bartonian led to at least some fossil occurrences of middle-to-late Eocene sea cows from eastern North America, though our dataset did not sample the material necessary to model this biogeographic transition. There is no indication that either of these dispersals left descendant lineages in the Western Hemisphere that survived beyond the Eocene.
During the late Eocene and from a Tethys origin, some sea cows moved into more northern latitudes of Europe. Our analyses suggest that this region became the point of departure for a terminal Eocene trans-Atlantic dispersal towards the Caribbean and northern-adjacent west Atlantic that led directly to the origin of crown Sirenia. The EOB age of this event correlates with the onset of severe climatic and eustatic events, and is coincident with widespread extinctions of both marine and terrestrial faunas. Some of the aforesaid European lineages survived the EOB, but with only one exception stem sirenians of the Eastern Hemisphere were extirpated before the close of the Oligocene.
The EOB founding of crown Sirenia in the Western Hemisphere gave rise to the Trichechidae and Dugongidae lineages. The earliest known fossil trichechid is from the early Miocene of Peru which indicates a ghost lineage spanning the entire Oligocene and the earliest portion of the Miocene. Our results suggest that undetected trichechids were probably present in the Caribbean Basin during the Oligocene, perhaps along the northern coast of South America. By the early Miocene, trichechids had moved into western Amazonia, presumably by way of a drainage connection between the Pebas mega-wetlands and the Caribbean (i.e., through Colombia and Venezuela). Our analyses suggest that from at least the early Miocene through the Pliocene trichechid evolution occurred entirely within South America's mega-wetland systems. We infer that the Pliocene establishment of Amazon drainage into the South Atlantic was the event that permitted crown (or near-crown) trichechids to move out of the continent. Given our time-tree results, the trans-Atlantic dispersal of the Trichechus senegalensis lineage from South America to western Africa occurred sometime after the mid-Pliocene. The earliest spread of the Trichechus manatus lineage into the Caribbean and northern-adjacent west Atlantic probably occurred in the Pleistocene which highlights manatees as relatively recent additions to the aquatic communities of these regions. Further, our analyses indicate that by the time T. manatus came to inhabit the Caribbean, there were no remaining dugongids in the west Atlantic.
Soon after the crown Sirenia split, in situ dugongid diversity increased rapidly and reached a peak within the first five million years of the Oligocene. From the early Oligocene to the earliest Pliocene, several dugongid lineages simultaneously inhabited this region (i.e., the Caribbean and northern-adjacent west Atlantic). While not all of these taxa were necessarily sympatric, variable ecomorphological traits suggest that co-occurrences might be explained by differential foraging preferences. From this source region, our analyses detected two dugongid trans-Atlantic dispersals to the Eastern Hemisphere (mid-Oligocene and probably earliest Miocene), the earlier of which arrived in the Tethys and eventually led to a subsequent dispersal into the Indian Ocean—establishing the South Asian rytiodontine group. From the same west Atlantic source region, our results suggested two early Miocene dugongid dispersals into the Pacific, one of which gave rise to Hydrodamalinae. The diversity of hydrodamalines would peak near the end of the early Miocene and this clade would persist in the Pacific until the extinction of Steller's sea cow in the mid-1700s. Our model suggests that the Indo-Pacific distribution of modern dugongs is the result of a trans-Pacific dispersal that originated near Florida and occurred sometime after the end of the middle Miocene. All available evidence indicates that west Atlantic dugongids disappeared before the end of the Pliocene.
While overall sirenian diversity seems to have peaked during the late Oligocene and early Miocene, the underlying geographic pattern provides a more informative characterization. These assessments found: (1) a diversity surge of dugongids in the Caribbean and northern-adjacent west Atlantic during the early Oligocene that led to a regional persistence of multispecies assemblages that lasted until the earliest Pliocene; (2) a rapid increase in hydrodamaline diversity after the group became established in the Pacific during the early Miocene; and (3) diminishing numbers of Afro-Arabian and European lineages from the EOB onward. Notably, sirenian diversity has declined by a minimum of 63% over the past nine million years.
From a methodological perspective, this study has demonstrated that analyses in which divergence times are estimated solely from molecular sequences and fossil-calibrated nodes can yield skewed results. Combining data types integrates morphological distances into the temporal model, thereby providing rate information about apomorphy acquisition, which improves upon the minimum-node-age approach. Fundamental to calculating morphological distances is the assignment of geologic ages (or age ranges) for all included taxa. Further, our results have illustrated that assessments of morphological data to the exclusion of DNA can yield topological and temporal estimates that are incompatible with rates of molecular evolution. At present, the only available phylogenetic method that accommodates all of the above is total evidence Bayesian tip-dating.
Supplemental Information
Consensus tree (allcompat) from the time-scaled Bayesian tip-dating analysis of the morphology [+ biogeographic character] supermatrix.
Fossil calibrators for the time-scaled Bayesian phylogenetic analysis of the DNA supermatrix.
Temporal and geospatial data, longitudinal zone codes, and posterior age ranges.