Reassessment of Faxinalipterus minimus, a purported Triassic pterosaur from southern Brazil with the description of a new taxon
Published

Accepted

Received
Academic Editor
Subject Areas

Keywords

Archosauria

,

Pterosauromorpha

,

Triassic

,

Santa Maria Supersequence

,

Rio Grande do Sul

,

Brazil
Copyright

©

2022

Kellner et al.

Licence

This is an open access article distributed under the terms of the Creative Commons Attribution License, which permits unrestricted use, distribution, reproduction and adaptation in any medium and for any purpose provided that it is properly attributed. For attribution, the original author(s), title, publication source (PeerJ) and either DOI or URL of the article must be cited.
Cite this article

2022

. Reassessment of Faxinalipterus minimus, a purported Triassic pterosaur from southern Brazil with the description of a new taxon.

PeerJ

10

:

e13276

https://doi.org/10.7717/peerj.13276
Abstract
Faxinalipterus minimus was originally described as a purported pterosaur from the Late Triassic (early Norian) Caturrita Formation of southern Brazil. Its holotype comprises fragmentary postcranial elements, whereas a partial maxilla was referred to the species. The assignment of Faxinalipterus minimus to Pterosauria has been questioned by some studies, but the specimen has never been accessed in detail after its original description. Here we provide a reassessment of Faxinalipterus minimus after additional mechanical preparation of the holotype. Our interpretations on the identity of several bones differ from those of the original description, and we found no support favoring pterosaur affinities for the taxon. The maxilla previously referred to Faxinalipterus minimus is disassociated from this taxon and referred to a new putative pterosauromorph described here from a partial skull and fragmentary postcranial elements. Maehary bonapartei gen. et sp. nov. comes from the same fossiliferous site that yielded Faxinalipterus minimus, but the lack of overlapping bones hampers comparisons between the two taxa. Our phylogenetic analysis places Faxinalipterus minimus within Lagerpetidae and Maehary bonapartei gen. et sp. nov. as the earliest-diverging member of Pterosauromorpha. Furthermore, the peculiar morphology of the new taxon reveals a new dental morphotype for archosaurs, characterized by conical, unserrated crowns, with a pair of apicobasally oriented grooves. These two enigmatic archosaurs expand our knowledge on the Caturrita Formation fauna and reinforce the importance of its beds on the understanding of Late Triassic ecosystems.
Introduction
In the last two decades, there has been a wealth of new information on Triassic vertebrates from Southern Brazil, mainly due to the systematic collecting efforts carried out by several Brazilian institutions. The top of the Candelária Sequence (Horn et al., 2014) of the Santa Maria Supersequence (Zerfass et al., 2003), corresponding to the Caturrita Formation (sensu Andreis, Bossi & Montardo, 1980), early Norian in age (Soares, Schultz & Horn, 2011; Langer, Ramezani & Da-Rosa, 2018), is amongst the units that have demonstrated the richest yielding of fossil vertebrates. These fossils are assigned to the Riograndia Assemblage Zone (AZ) (Soares, Schultz & Horn, 2011). Most Caturrita Fm. specimens belong to small-sized vertebrates with fragile skeletal elements, including procolophonids, non-rhynchocephalian lepidosauromorphs, sphenodontians and specialized non-mammaliaform probainognathian cynodonts (e.g., Bonaparte, Ferigolo & Ribeiro, 2001; Bonaparte et al., 2003; Bonaparte et al., 2010; Cisneros & Schultz, 2003; Martinelli et al., 2005; Bonaparte & Sues, 2006; Soares, Martinelli & Oliveira, 2014; Romo de Vivar et al., 2020; Chambi-Trowell et al., 2021). Specimens of larger body sizes comprise a much smaller sample, and include mainly dinosaurs (e.g., Bonaparte, Ferigolo & Ribeiro, 1999; Pretto et al., 2016; Müller, Langer & Dias-da Silva, 2018a) and dicynodonts (Araújo & Gonzaga, 1980). A purported pterosaur taxon, Faxinalipterus minimus Bonaparte, Schultz & Soares (2010), was named based on postcranial material (UFRGS-PV-0927-T), with a referred maxilla (UFRGS-PV-0769-T). All bones come from a single fossil site, known as Linha São Luiz (Faxinal do Soturno municipality, Rio Grande do Sul state), but were collected in two different field seasons (2002 and 2005) and come from two distinct sandstone blocks (Bonaparte, Schultz & Soares, 2010). Some authors have already argued against the referral of Faxinalipterus minimus to Pterosauria (e.g., Soares et al., 2013; Dalla Vecchia, 2013), but none of them attempted an alternative attribution based on thorough comparisons with a broad sample of archosaurs. In addition, the attribution of the isolated maxilla to the taxon remained putative, and no further comments on this issue were made available in published literature. After further preparation efforts, the analysis of Faxinalipterus minimus holotype confirms that some elements have been misidentified. All bones referred to Faxinalipterus minimus are here redescribed, and the assignment of the maxilla (UFRGS-PV-0769-T) to the species is questioned. Finally, a new putative pterosauromorph is described based on a new specimen (CAPPA/UFSM 0300) from the Faxinalipterus minimus type locality.
Geological Setting
The sandy sedimentary package of the Paraná Basin in Rio Grande do Sul State, Southern Brazil, identified by Andreis, Bossi & Montardo (1980) as the Caturrita Formation, is nowadays interpreted as the top of a third-order continental sequence named Candelária Sequence (Horn et al., 2014) belonging to the Middle-Upper Triassic Santa Maria Supersequence (Zerfass et al., 2003). In this package is inserted the outcrop called Linha São Luiz (29°33′45″S; 53°26′48″W), located in the Faxinal do Soturno Municipality (Fig. 1). The Linha São Luiz site is about 20 m thick, being composed on its base of fine-grained and well-selected medium-grained sandstones with cross-bedded, low angle, stratification, followed by mostly fine-grained, well-sorted, massive sandstones with dispersed mud intraclasts. The middle portion of the exposition is composed of mudstones, and the upper portion is characterized by rhythmic sandstones and mudstones (Horn, Goldberg & Schultz, 2018). The specimens UFRGS-PV-0927-T (Fig. 1C), UFRGS-PV-0769-T, and CAPPA/UFSM 0300 (Fig. 1D), as well as most of the aforementioned recovered tetrapods, come from the massive sandstone facies (channel fill deposits). According to Horn, Goldberg & Schultz (2018), this facies is the product of an ephemeral fluvial system generated by severe seasonal precipitation and catastrophic floods with high sediment load related to deconfinement or avulsion of hyperconcentrated flows. Recent dating by Langer, Ramezani & Da-Rosa (2018) based on zircon U-Pb analyses from massive sandstones pointed out an early Norian age (225.42 ± 0.37 Ma) for the Linha São Luiz site.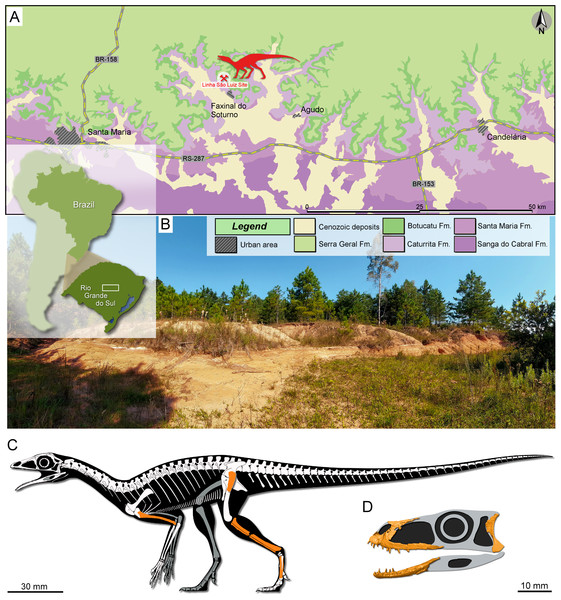 Discussion
Faxinalipterus minimus
The assignment of Faxinalipterus minimus to Pterosauria by Bonaparte, Schultz & Soares (2010) was primarily based on the purported saddle-shaped morphology of the head of the 'humerus' (which is apomorphic for pterosaurs; Bennett, 1996; Kellner, 1996; Andres, 2010; Soares et al., 2013), the general morphology of the 'coracoid', and the hollow long bones with thin cortex. However, those bones are quite unlike the humeri and coracoids of Triassic pterosaurs. Further preparation revealed that the element originally referred as 'proximal humerus' is probably the distal portion of a humerus. The element identified by Bonaparte, Schultz & Soares (2010) as a femur is highly similar to the humeri of certain distinct archosaurs, as early-diverging crocodylomorphs and lagerpetids. Also, as discussed above, the element previously referred to as a 'coracoid' is most probably the proximal portion of the correlative left humerus.
Hollow long bones with a cortical thickness comparable or even thinner than that of UFRGS-PV-0927-T occur in: theropod dinosaurs (Colbert, 1989; Padian, Horner & de Ricqlès, 2004; Nesbitt, 2011); early crocodylomorphs (Colbert, 1952; Crush, 1984); the shuvosaurids Effigia okeeffeae and Shuvosaurus inexpectatus (see Nesbitt, 2011); the lagerpetids Dromomeron romeri and D. gregori (see Nesbitt, 2011); the silesaurids Asilisaurus kongwe, Eucoelophysis baldwini and Silesaurus opolensis (see Nesbitt, 2011), the tanystropheid Langobardisaurus pandolfi (see Saller, Renesto & Vecchia, 2013; Holgado et al., 2015); drepanosaurids (Renesto, 1994; Renesto et al., 2010); the sharovipterygids Sharovipteryx mirabilis (see Gans, Darevski & Tatarinov, 1987) and Ozimek volans (see Dzik & Sulej, 2016), and possibly also the kuehneosaurids (Colbert, 1966; Evans, 2009). Therefore, hollow and thin-walled bones only indicate that Faxinalipterus minimus was a lightly built sauropsid, and most probably belongs to one of the taxa listed above.
Soares et al. (2013) were the first to question the pterosaurian nature of Faxinalipterus minimus and pointed out some misidentification of the postcranial elements. They also indicated that the maxilla (UFRGS-PV-0769-T) was not directly associated with the holotype. Dalla Vecchia (2014: p. 274) argued against the assignment of Faxinalipterus minimus to Pterosauria by Bonaparte, Schultz & Soares (2010: 64), which does not report any apomorphic features but only a purportedly diagnostic combination of character states. "Fibula not fused to the tibia", for instance, could be a consequence of early ontogeny if Faxinalipterus minimus was a pterosaur (e.g., Kellner, 2015; Jiang et al., 2021). "Fibula... the same length as the tibia" is the plesiomorphic condition in tetrapods and occurs in some pterosaurs like Campylognathoides sp. (Wellnhofer, 1974) and Austriadraco dallavecchiai (see Wellnhofer, 2003; Kellner, 2015). "Fibula with a distal expansion" is a mistake because the fibula of UFRGS-PV-0927-T does not preserve their distal ends. Furthermore, it is unclear what Bonaparte, Schultz & Soares (2010) mean for "major tuberosity" of the humerus, because there is no distinct process in the presumed humerus other than its purported saddle-like articular head. Finally, there is nothing like an "acrocoracoid process" (= biceps tubercle) in the purported 'coracoid'. Therefore, according to the new interpretations presented here, Faxinalipterus minimus (UFRGS-PV-0927-T) fails to show any feature exclusively shared with pterosaurs (e.g., Fernandes, Nunes & Costa, 2021). The exclusion of Faxinalipterus minimus from Pterosauria makes this taxon part of an extensive list of Late Triassic species mistakenly referred to Pterosauria in their original descriptions (Peyer, 1931; Olsen, 1979; Olsen, 1980; Carroll, 1988, Fraser, 1988; Wellnhofer, 1991; Renesto & Fraser, 2003; Dzik et al., 2008; Renesto et al., 2010, Dalla Vecchia, 1994; Dalla Vecchia, 2013; Dalla Vecchia, 2014; Dalla Vecchia & Cau, 2015; Holgado et al., 2015).
Conversely, the affinities of this taxon remain somewhat obscure. Whereas the humeral morphology resembles that of early crocodylomorphs (e.g., Terrestrisuchus gracilis) and lagerpetids (e.g., Lagerpeton chanarensis), it lacks the caudal hook (= humeral hooked process), typical of crocodylomorphs (Colbert, 1952; Bonaparte, 1972; Crush, 1984; Nesbitt, 2011; Leardi, Yáñez & Pol, 2020). The possible femur bears a set of tubers that matches with the condition of lagerpetids; however, the femoral head is not hook-like, differing from the specimens referred to this clade. The non-hook-like morphology does not seem related to diagenetic biases. The tibia and fibula bear peculiar traits (see above) that are shared with both, pseudosuchians and ornithodirans. The holotype of Faxinalipterus minimus carries a unique combination of traits (see "Amended diagnosis") that sustain its taxonomic validity. On the other hand, this challenging taxon displays several features shared by distinct Late Triassic archosaurs, hindering efforts to place it in a concrete lineage within Archosauria. So, a less inclusive classification demands the discovery of further specimens. For instance, some anatomical traits may suggest crocodylomorph affinities, such as the thin-walled bones (not restricted to crocodylomorphs) and the presence of a caudolateral depression on the proximal portion of the humerus. A similar caudolateral depression occurs in Dibothrosuchus elaphros (Simmons, 1965; Wu & Chatterjee, 1993). Basal crocodylomorphs have not been reported yet from the Caturrita Formation, but they were found in the late Carnian Ischigualasto Formation (Trialestes romeri) and the late Norian Los Colorados Formation (Pseudhesperosuchus jachaleri) of NW Argentina (Bonaparte, 1972; Irmis, Nesbitt & Sues, 2015; Lecuona, Ezcurra & Irmis, 2016). Mattar (1987) referred Barbarenasuchus brasiliensis from the Middle to Late Triassic Santa Maria Formation of Brazil to the Crocodylomorpha, but this referral is considered dubious (França, Bittencourt & Langer, 2013; Leardi, Yáñez & Pol, 2020). Therefore, on the assumption that Faxinalipterus minimus represents an early-diverging crocodylomorph, it would be the first record of the group from the Upper Triassic sediments of Brazil, expanding the fossil diversity from the Caturrita Formation. Similarly, whereas lagerpetids are recorded from the Santa Maria Formation strata (Cabreira et al., 2016; Garcia et al., 2019), the group was not recorded for the Caturrita Formation. Both hypotheses (early-diverging crocodylomorph or lagerpetid affinities) imply the increase of the Caturrita Formation diversity. It is important to note that these anatomical traits are not necessarily indicative of affinities with these aforementioned clades. Archosauromorphs experienced diverse episodes of convergence during their evolutionary history and produced a wide range of enigmatic taxa during the Triassic Period (Stocker et al., 2016; Sengupta, Ezcurra & Bandyopadhyay, 2017; Ezcurra et al., 2020; Nesbitt et al., 2021; Yáñez et al., 2021). Based on the phylogenetic analysis performed here, Faxinalipterus is nested within the Lagerpetidae.
Maehary bonapartei
Whereas CAPPA/UFSM 0300 bears a unique suit of traits, the maxillary and dental morphology resemble that of UFRGS-PV-0927-T. As exposed above (see also "Taphonomic Remarks" in the Supplemental Information), the assignment of UFRGS-PV-0927-T to Faxinalipterus minimus is unsupported (e.g., UFRGS-PV-0927-T and the holotype where not excavated together and there are no overlapping bones between the specimens). As a consequence, UFRGS-PV-0927-T is taxonomically disassociated from Faxinalipterus minimus. Similarly, CAPPA/UFSM 0300 and the holotype of Faxinalipterus minimus lack overlapping bones. Therefore, the assignment of CAPPA/UFSM 0300 to Faxinalipterus minimus is impracticable. Although plausible, it demands additional specimens with overlapping bones in order to confirm its unique anatomy. At this point, the anatomy of CAPPA/UFSM 0300 is not shared with any valid taxon, providing support to the new taxonomic proposal. Whereas UFRGS-PV-0927-T cannot be referred to Faxinalipterus minimus, its morphology resembles CAPPA/UFSM 0300. Both specimens share a gracile maxilla with a rostrocaudally narrow dorsal process and an antorbital fossa restricted to the dorsal process and a wide antorbital fenestra. In addition, the teeth of UFRGS-PV-0927-T are cylindrical, pointed and without serrations, as in CAPPA/UFSM 0300. The presence of the apicobasal sulci running on the mesial and distal margins of the labial surface of the teeth of UFRGS-PV-0927-T is uncertain given its poor preservation. One slight difference between the specimens relies on the robustness of the dorsal process, which is larger in CAPPA/UFSM 0300. It is known that proportions of distinct portions of the maxilla are variable through ontogenetic development in archosaurs (e.g., Bhullar et al., 2012; Fabbri et al., 2021). So, the difference between the specimens may represent intraspecific variation, being more plausible to recognize UFRGS-PV-0927-T as an additional specimen of Maehary bonapartei instead of a different taxon with a close peculiar morphology and from the same fossiliferous locality.
Maehary bonapartei represents a peculiar archosaur with putative pterosauromorph affinities. However, the new taxon bears several traits that are unusual for pterosauromorphs (i.e., pterosaurs and lagerpetids), such as an expanded antorbital fossa, an elongated rostroventral process of the nasal, and a rounded rostral end of the dentary. Its unique morphology expands the disparity of archosaurs during the Late Triassic and sheds light on the early branches of the pterosauromorph radiation. The dental anatomy (e.g., conical teeth lacking serrations) and body size of Maehary bonapartei provides evidence on additional niche occupation by small archosaurs. Despite the shared absence of serrations, the new species lacks heterodonty and multi-cusped teeth (Fig. 7K), differing from the typical condition of early pterosaurs (Dalla Vecchia, 2013). Likewise, the new species lacks the small accessory cusps present in lagerpetids (Ezcurra et al., 2020). According to the phylogenetic position of Maehary bonapartei (Fig. 9), the absence of serrations was the ancestral condition of lagerpetids and pterosaurs, whereas the cusps evolved during a second step within the evolutionary history of pterosauromorphs. Alternatively, the presence of dental cusps could have evolved earlier, being lost in Maehary bonapartei.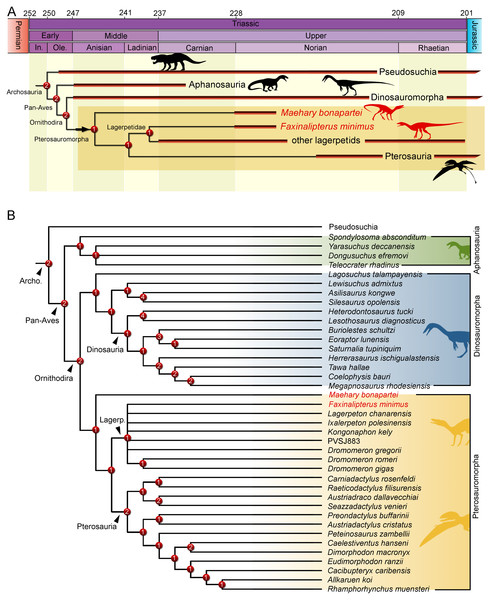 Conclusions
Additional mechanical preparation provided new anatomical information on the holotype of Faxinalipterus minimus. Several bones were reinterpreted and reexamined, differing from the identifications provided by Bonaparte, Schultz & Soares (2010). We concluded that the holotype of Faxinalipterus minimus fails to show any pterosaur traits. The specimen carries a unique combination of traits among archosaurs, maintaining its status as a valid genus and species. The phylogenetic analysis performed here recovered Faxinalipterus minimus in a polytomy within Lagerpetidae. The partial maxilla originally ascribed to the taxon is disassociated from Faxinalipterus minimus and referred to Maehary bonapartei, a new taxon described here from a partial skull with lower jaw and a handful of postcranial elements. Maehary bonapartei bears a peculiar anatomy and is here regarded as an early-diverging pterosauromorph.
Supplemental Information
Taphonomic Remarks
Data Matrix of the phylogenetic analysis