Heart rate variability, mood and performance: a pilot study on the interrelation of these variables in amateur road cyclists
1
Laboratory of Sport Psychology, Department of Basic Psychology, Universitat Autónoma de Barcelona

,

Barcelona

,

Spain
2
Sport Research Institute, Universitat Autònoma de Barcelona

,

Barcelona

,

Spain
Published

Accepted

Received
Academic Editor
Subject Areas

Keywords

Heart rate variability

,

Mood

,

Performance

,

Training load

,

Athletes

,

HRV
Copyright

©

2022

Alfonso and Capdevila

Licence

This is an open access article distributed under the terms of the Creative Commons Attribution License, which permits unrestricted use, distribution, reproduction and adaptation in any medium and for any purpose provided that it is properly attributed. For attribution, the original author(s), title, publication source (PeerJ) and either DOI or URL of the article must be cited.
Cite this article

2022

.

Heart rate variability, mood and performance: a pilot study on the interrelation of these variables in amateur road cyclists

.

PeerJ

10

:

e13094

https://doi.org/10.7717/peerj.13094
Abstract
Objective
The present study seeks to explore the relationship between measures of cycling training on a given day and the heart rate variability (HRV) and mood states obtained the following morning. The association between HRV and mood state is also studied, as is the relationship between internal and external measures of training.
Methods
During a 6-week period, five recreational road cyclists collected 123 recordings of morning HRV and morning mood, and 66 recordings of training power and rate of perceived exertion (RPE). Training power was used as an external measure of performance and RPE as an internal measure of performance. The HRV parameters used in the study were the mean of RR intervals (mean RR) and the standard deviation of all RR intervals (SDNN) as time domain analysis, and the normalized high frequency band (HFnu), normalized low frequency band (LFnu) and the ratio between low and high frequency bands, as frequency domain analysis. Mood was measured using a 10-point cognitive scale.
Results
It was found that the higher the training power on a given day, the lower the HFnu and the higher LF/HF were on the following morning. At the same time, results showed an inverse relationship between training and mood, so the tougher a training session, the lower the mood the following day. A relationship between morning HRV and mood was also found, so that the higher mean RR and HFnu, the more positive the mood (r = 0.497 and r = 0.420 respectively; p < 0.001). Finally, RPE correlated positively with external power load variables (IF: r = 0.545; p < 0.001).
Conclusion
Altogether, the results indicate a relationship between training of cyclists on a given day and their morning HRV and mood state on the following day. Mood and HRV also seem positively related. It is argued that developing a monitoring system that considers external and internal training loads, together with morning mood, could help understand the state of the individual, enabling feedback to athletes to facilitate the adaptation to training and to prevent problems associated with overtraining. However, more research is needed to further understand the association between the different variables considered.
Introduction
To build fitness, an individual needs to apply a stress to the body, and then through recovery, the body adapts and is able to accommodate greater stress in the next round of training. Strategies to control the adequate amount of stress and recovery are essential to facilitate the adaptation of athletes to training and to ameliorate performance (Morales et al., 2014; Wallace, Slattery & Coutts, 2014), as well as to prevent problems associated with overtraining, including injuries (Owen et al., 2015; Rodas et al., 2008).
Physical stress, or training load, is the dose of training completed by an athlete during an exercise bout and is in part responsible for fitness gains. Too much of it can result in overtraining and loss of fitness, whereas too little can result in no improvement. Training load can be quantified by a variety of methods, divided into external or internal. External methods include measures about the training itself, such as distance, speed or power and their recording is facilitated by the emergency of gadgets such as GPS devices (Buchheit et al., 2010; Wallace, Slattery & Coutts, 2014). In cycling, Normalized Power (NP) is the most used reading. NP is measured in watts and it is the estimate of the force that the individual can maintain for a given physiological cost if this force was constant during a given period of time (Wallace, Slattery & Coutts, 2014). Other external metrics are the intensity factor (IF) and training stress score (TSS), which estimate the overall physiological stress created by a training session, and which have been reported appropriate for monitoring and quantifying training load in cycling (Wallace, Slattery & Coutts, 2014).
Internal methods record the athlete's response to training and include biomarkers such as heart rate (HR), as well as subjective questionnaires including the rating-of-perceived-exertion (RPE) (Lambert & Borresen, 2006). RPE is a well-known and accepted scale for monitoring training, as it incorporates the relative psychophysiological stress imposed on the athlete (Foster et al., 2001; Viru & Viru, 2000). Apart from HR, another internal biomarker which has been gaining attention in the last decade is heart rate variability (HRV) (Plews et al., 2013). HRV is the variation in heartbeats (RR interval) within a specific timeframe and within the analysis of consecutive circadian periods, and can be measured by time or frequency domain methods. The statistical analyses of the length dispersion of RR intervals around a mean is the basis of time-domain indices. Differently, the spectral analysis of different components of the RR curve is the basis of frequency-domain parameters (Xhyheri et al., 2012). In medical research, HRV is being used as an objective and non-invasive tool to assess cardiac autonomic activity (TFESC, 1996) and in the athletic context, HRV is thought to serve as a marker for the adaptation of athletes to training (Kiviniemi et al., 2007; Rodas et al., 2008). HRV monitors the autonomic control on the cardiac system, describing the capacity of the organism, and specifically of its cardiovascular system, to alter the HR beat to beat to adapt to external and internal demands such as those imposed by training (Morales et al., 2014; Ortega & Wang, 2018). Previous studies show that when training load increases, HRV, measured in the morning, once a day, decreases. A reduction in resting HRV, has been related to fatigue, overtraining and the inability of the cardiovascular system to adjust to increasing levels of training, resulting in reduced performance (Dishman et al., 2000; Garet et al., 2004). Conversely, increase in performance, for example during competition, corresponds to positive changes in sympathetic and vagal activity (Buchheit et al., 2010; Cervantes, Rodas & Capdevila, 2009; Ortigosa-Márquez et al., 2017).
At the same time HRV has also been related to emotional responding. Changes in the Autonomic Nervous System (ANS) are reflected in HRV and are thought to indicate the ANS's ability to adjust arousal of an individual to the demands of the environment. Wheat & Larkin (2010) showed that high HRV responds to activation of the ANS to suit the demands of the stressful situation, whereas low HRV shows poor responsiveness of the ANS. In the general population, high HRV is related to more context-appropriate motivational responses, better executive attention and better working memory performance (Gillie, Vasey & Thayer, 2014) than low HRV, and it has also been related to reported feelings of relaxation amongst healthy participants (Lin, Tai & Fan, 2014). In the area of sports, low levels of HRV are associated with psychoemotional states including anxiety and a difficulty to face competition (Kindermann, 1986; Kleiger, Stein & Bigger, 2005; Lee, Wood & Welsch, 2003). When using the profile of mood states (POMS) questionnaire, Vigor and Fatigue subscales strongly correlated to changes in HRV, in particular to changes in the LF/HF balance (Moreno, Parrado & Capdevila, 2013). Moreover, altered Fatigue scores on the POMS also correlated to symptoms of overtraining or staleness, suggesting that emotional state could in turn be an indicative of athletic performance (Moreno, Parrado & Capdevila, 2013).
In summary, there are two main approaches to assess the amount of stress and recovery that athletes undergo: external methods give an insight into the characteristics of the training sessions, whereas internal methods inform about the physical and psychological responses of the individual to that session. Multiple studies suggest that measures of both internal and external methods relate to one another, as well as with emotional states. Understanding these associations is relevant to monitor training and to determine the balance of stress-recovery that each athlete needs to improve performance and prevent injuries. Following this line of research, the present study seeks to investigate the relationship between the psychophysiological state of cyclists in the morning and their training from the previous day. It also investigates the relationship between HRV and mood from the same day, and between internal and external training data. In particular, the study will look into the relationship between morning HRV, as indicator of the physiological condition of the athletes, morning mood, as indicators of their psychological state, and the previous day's training power output and RPE, as external and internal indicators of performance, respectively.
Results
Description of anthropometric data and training indices
The cycling group consisted of five male recreational road cyclists. Anthropometric characteristics and training indices are shown in Table 1.
| | P1 | P2 | P3 | P5 | Mean | SD |
| --- | --- | --- | --- | --- | --- | --- |
| Age | 35 | 34 | 29 | 27 | 31.25 | 3.3 |
| Height | 180 | 172.5 | 179 | 186 | 179.38 | 4.8 |
| Weight | 74 | 62 | 64 | 68 | 67 | 4.6 |
| BMI | 22.8 | 21 | 20 | 19 | 20.7 | 1.4 |
| FTP | 330 | 242 | 340 | 325 | 309.25 | 39.2 |
| Watts/kg | 4.46 | 3.90 | 5.31 | 4.78 | 4.61 | 0.5 |
Summary of participant's anthropometric data and training indices. P1, P2, P3, P4, P5 stands for participants 1, 2, 3, 4 and 5 respectively. Height is expressed in centimetres; weight is expressed in kilograms; Body Mass Index (BMI) is expressed in kilogram by heigh in meters squared (kg/m2); Functional Threshold Power (FTP) is expressed in watts; resting HR is expressed in beats per minute. Average data is expressed as mean (SD).
Description of the main parameters analysed in the study
Table 2 shows means and standard deviations for the parameters analysed in the two situations under study, Training and Morning.
| Morning data (n = 123) | RRmean | SDRR | LF/HF | LFnu | HFnu | Mood |
| --- | --- | --- | --- | --- | --- | --- |
| Mean (SD) | 1,262.46 (179.3) | 118.16 (36.3) | 1.40 (1.3) | 51.61 (16.6) | 48.39 (16.6) | 5.80 (2.5) |
| Training data (n = 66) | NP | TSS | IF | RPE | | |
| Mean (SD) | 189.35 (40.1) | 120.48 (83.86) | 0.65 (0.2) | 5.50 (2.2) | | |
Correlation coefficients and regression analyses
The following tables show the correlation between variables registered in the morning and those during training completed on the previous day.
Mood and HRV as a function of yesterday's training
Table 3 illustrates the correlation between external training load and the following morning's general emotional state and HRV variables. The training variable IF negatively correlated with Mood (r = −0.416; p < 0.01) and HFnu (r = −0.421; p < 0.01), and positively with LH/HF (r = 0.256; p = 0.034) and Lfnu (r = 0.421; p < 0.01). A multiple regression analysis was performed, but there was no significant equation that explained resting HRV or mood from a lineal combination of training parameters from the previous day. All significant relationships between variables can be explained by simple correlations illustrated in Table 3.
| | NP | TSS | IF | RPE |
| --- | --- | --- | --- | --- |
| Mood | −0.259 | −0.091 | −0.416** | −0.062 |
| RRmean | −0.171 | −0.201 | 0.041 | 0.276* |
| SDRR | 0.153 | 0.086 | 0.270* | 0.357** |
| LF/HF | 0.264* | 0.302* | 0.256* | 0.156 |
| LFnu | 0.385** | 0.299* | 0.421** | 0.212 |
| HFnu | −0.385** | −0.299* | −0.421** | −0.212 |
Figure 1 illustrates a case example of the relationship between external training load (IF) and cardiac variability the next morning (HFnu). IF and HFnu are chosen as the external load and HRV parameters, respectively, because they showed the highest correlation between sets of variables (Table 3). In Fig. 1, data points are represented in relation to the overall average values obtained from the participant in question.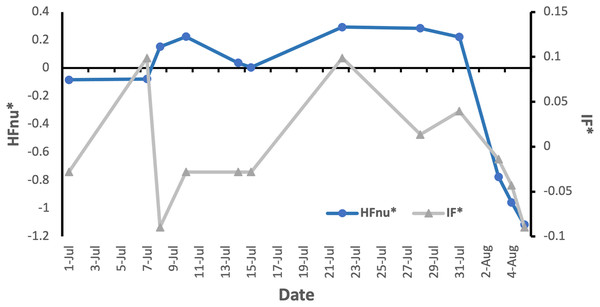 Morning mood and HRV
Table 4 shows that general emotional state, as recorded by Mood, significantly correlates with all HRV parameters registered in the same morning session (p < 0.001, in all cases). Moreover, Mood was studied as a function of HRV indices, and the resulting model shows that morning mood can significantly be explained by a lineal combination of RRmean, SDNN and Hfnu (Table 5). This combination of HRV parameters explains 49.2% of the mood variability. The effect size (f2 = 0.968) is large for a R2 = 0.492, n = 123, and three predictors (f2 > 0.35). In the same way, the statistical power (π = 1.00) is also large (π > 0.80; Faul et al., 2009).
*
Significant correlation at 0.001 (bilateral).
Dependent variable
Independent variable
Non-standardised equation
Standardized coefficients (β)
R2
Sig.
Mood
RRmean
SDRR
Hfnu
Mood = –1.842 + (0.007 * Rrmean) – (0.026 * SDRR) + (0.034 * Hfnu)
0.515 (Rrmean)
−0.381 (SDRR)
0.229 (Hfnu)
0.492*
<0.001
*
Effect size: f2 = 0.968 (large > 0.35); Statistical power: π = 1.00 (for n = 123), three predictors and R2 = 0.492.
Training RPE and Power data
Table 6 shows a significant correlation between the internal and the external load variables measured in the study, and in particular between the subjective RPE and the power data (NP, TSS and IF; p < 0.001 in all cases). In this way, a higher training power, meaning a higher training load, is reflected in a higher perfection of effort.
*
Significant correlation at 0.001 (bilateral).
Discussion
This study analysed the relationship between morning mood and HRV with regards to training load variables from the previous day. The association between morning mood and HRV on a given day, and between external and internal load variables was also studied. Correlation analyses were used to find association between variables and regression analyses was performed to try to explain mood and HRV as a function of training parameters from the previous day, and for explaining mood as a function of resting HRV parameters in the same morning session the day after training.
Conclusions
An array of studies has recently shown an association between HRV and other internal and external measures of performance, performance and emotional states, and HRV and emotional states. In the current article, the aim was to explore the relationship between training of one day and general mood and HRV parameters of the following morning. The relationship between HRV and mood, and between internal and external approached to measure training, was also explored.
After recording morning HRV, morning mood, and training data of five amateur road cyclists during a 6 weeks period, the main results indicated a relationship between morning HRV at rest and training, so that training of one day correlated with HFnu of the following morning, with tougher training sessions (higher IF) leading to lower morning HFnu and higher Lfnu and LF/HF, suggesting reduced PNS in favour of SNS activity. Higher IF sessions also resulted in lower moods on the following morning, indicating a relationship between training and mood on consecutive days. The study also found that mood can be explained as a function of HRV at rest, such that the higher HFnu on a given day, the more positive the mood. Finally, the study found a significant correlation between external variables of training, including TSS and IF, and the internal RPE, supporting the role of subjective measures as viable indicators of training load.
Overall, the study explored the relationship between indicators of morning psychophysiological state of cyclists and training. Despite the need for further studies, it is advocated the potential of combining HRV, mood markers and internal and external load training data to provide insights into the pychophysiological state of the individual, their ability to improve performance, and the ability to detect and prevent overtraining.
Supplemental Information
Raw data.