Animal trait variation at the within-individual level: erythrocyte size variation and malaria infection in a tropical lizard
Published

Accepted

Received
Academic Editor
Subject Areas

Keywords

Reptile malaria

,

Plasmodium

,

Reptile hematology

, Anolis gundlachi,

Natural-enemy interactions
Copyright

©

2022

Cruz et al.

Licence

This is an open access article distributed under the terms of the Creative Commons Attribution License, which permits unrestricted use, distribution, reproduction and adaptation in any medium and for any purpose provided that it is properly attributed. For attribution, the original author(s), title, publication source (PeerJ) and either DOI or URL of the article must be cited.
Cite this article

2022

.

Animal trait variation at the within-individual level: erythrocyte size variation and malaria infection in a tropical lizard

.

PeerJ

10

:

e12761

https://doi.org/10.7717/peerj.12761
Abstract
High levels of within-individual variation (WIV) in reiterative components in plants such as leaves, flowers, and fruits have been shown to increase individual fitness by multiple mechanisms including mediating interactions with natural enemies. This relationship between WIV and fitness has been studied almost exclusively in plant systems. While animals do not exhibit conspicuous reiterative components, they have traits that can vary at the individual level such as erythrocyte size. It is currently unknown if WIV in animals can influence individual fitness by mediating the outcome of interactions with natural enemies as it has been shown in plants. To address this issue, we tested for a relationship between WIV in erythrocyte size, hemoparasite infection status, and body condition (a proxy for fitness) in a Caribbean anole lizard. We quantified the coefficient of variation of adult erythrocytes size in $n = 95$ infected and $n = 107$ non-infected lizards. We found higher degrees of erythrocyte size variation in infected lizards than in non-infected individuals. However, we found no significant relationship between infection status or erythrocyte size variation, and lizard body condition. These results suggest that higher WIV in erythrocyte size in infected lizards is not necessarily adaptive but likely a consequence of the host response to infection. Many hemoparasites destroy their host cells as part of their life cycle. To compensate, the host lizard may respond by increasing production of erythrocytes resulting in higher WIV. Our results emphasize the need to better understand the role of within-animal variation as a neglected driver or consequence of ecological and evolutionary interactions.
Introduction
Phenotypic traits vary among individuals of the same species. For example, the amount of nectar production (Real & Rathcke, 1991), the density of mycorrhizal fungi on plant roots (Stahl, Christensen & Williams, 1990), and the lethality of venom in animals (Castro et al., 2013) vary among individuals. For centuries, this among-individual variation has been recognized as the building block of natural selection. In contrast, we know little about the eco-evolutionary consequences of within-individual variation (WIV). Until recently, WIV was deemed as a mere statistical nuisance that could be rectified with appropriate experimental design practices and statistical techniques (Herrera, 2009). However, recent studies emphasize the role of WIV in phenotypic traits of plants as a mediator of individual fitness (Austen, Forrest & Weis, 2015; Shimada et al., 2015; Herrera, Medrano & Bazaga, 2015).
Plant fitness has been shown to improve with increasing WIV by mediating ecological interactions with co-evolved symbionts or natural enemies. For example, in the presence of higher degrees of within-plant variation in nectar volume pollinators may limit the number of flowers they visit to avoid the risk of not encountering nectar in the next visited flower (Shafir, 2000). This risk aversion might improve plant fitness by reducing geitonogamy, a type of self-pollination (Biernaskie, Cartar & Hurly, 2002). Similarly, WIV is hypothesized to grant plants a mosaic of protection against natural enemies such as insect herbivores (Whitham, 1983). While insects often have short generations that promote fast adaptation, WIV limits their ability to adapt simultaneously to the spatially complex mosaic of reiterative components (Whitham & Slobodchikoff, 1981). For example, when cotton plants are exposed to leaf damage by the moth Spodoptera littoralis, young top leaves produce more secondary metabolites than older leaves or young side shoots. This variation in response to herbivory by young and old leaves results in a spatial mosaic of secondary metabolites that increase plant fitness by disincentivizing leaf consumption (Anderson & Agrell, 2005). Similarly, mountain birch, Betula pubescens ssp. tortuosa, produces a damage-induced mosaic of resistance by varying the number of secondary metabolites in leaves. When Oporinia autumnata moths were reared using leaves that were adjacent to the mechanically damaged leaves, the larvae showed retarded growth (Haukioja & Niemelä, 1979). With increasing supporting evidence from empirical studies, WIV has been proposed as a key mediator of natural enemies interactions resulting in improved fitness in many plant systems.
This hypothesized relationship between WIV, natural enemies, and individual fitness remains unexplored in animal systems. Animals are not necessarily characterized for having external conspicuous reiterative traits like leaves, flowers, or fruits in plants. Still, vertebrates can exhibit within-individual temporal variation in behavioral traits such as movement activity, sexual displays, or vocalizations (Nakayama et al., 2016; Tanner & Bee, 2019; Bee, 2004). Animals could also exhibit WIV in internal components such as cells size. For instance, Price-Jones (1929), in one of the first and few studies on WIV in non-plant systems, found that humans that suffered from pernicious anemia had higher rates of WIV in the diameter of their erythrocytes compared to healthy individuals. Erythrocyte size variability returned to pre-disease levels after individuals were treated for anemia suggesting that WIV resulted from the disease. In this example, the disease mediated WIV in erythrocyte size. Alternatively, variation in erythrocyte traits can mediate the likelihood of disease infection. For instance, the sickle cell gene is responsible for erythrocyte structural and functional changes. Humans that are heterozygous for the sickle cell gene can still become infected with malaria but have a selective advantage (Allison, 1954). The improved fitness of these heterozygous individuals is explained by variation in sickling rates of Plasmodium falciparum infected and non-infected erythrocytes. The sickling rate of non-infected cells is two to eight times lower (Roth et al., 1978). These results emphasize the role of erythrocytes as reiterative components and hypothesize how a mosaic of erythrocyte sizes can mediate the probability of infection or, alternatively, be the result of disease.
Confirmation of an adaptive role of increased WIV protection against parasite infection would require three types of evidence. First, parasite infection should result in a decrease in host fitness. This could be quantified as a decrease in reproductive output, survival, or sub-lethal effects such as a decrease in body condition (Acevedo et al., 2019). Second, there should be evidence of a difference in the level of WIV between infected and non-infected individuals. Third, individuals with higher degrees of WIV will have higher fitness in comparison with those with lower WIV. Alternatively, if there is evidence of a relationship between infection and WIV without evidence of a relationship with host fitness, it could mean that changes in WIV are a proximate consequence of infection with no adaptive consequence.
To address this issue, we tested for a relationship between WIV in erythrocyte size and Plasmodium azurophilum infection in Anolis gundlachi—a lizard host in Puerto Rico. Specifically, we ask: (1) Do Plasmodium infected lizards have lower body condition? (2) Is infection status related to WIV in erythrocyte size? (3) Is body condition better on individuals with higher WIV in erythrocyte size? This host-parasite system is appropriate to test for this relationship for multiple reasons. First, while P. azurophilum is a common parasite of anoles in the Caribbean, in Puerto Rico ∼90% of infections occur on A. gundlachi. This level of specialization and other empirical evidence suggests that this host-parasite system has co-evolved for many years (Schall, 1990; Schall, Pearson & Perkins, 2000). Second, the host lives in high abundances (2,000 ind/ha; Reagan & Waide, 1996) allowing for the large sample sizes required to properly quantify WIV. Third, the population that we studied is protected from human intervention, which helps control for anthropogenetic pressures.
Results
In the power analysis to determine appropriate sample size, infected individuals' erythrocyte size was more variable (CV = 12.59 ± 1.74 SD) than non-infected individual erythrocyte size (CV of 12.02 ± 1.27 SD). With an estimated effect size of d = 0.38, the power analysis suggested an optimal sample size of N = 112 individuals in each category (infected and non-infected). This sample size was a conservative estimate that falls under the small-medium effect size category (0.20 standard deviation difference is considered small, and 0.50 standard deviation difference is considered medium) (Cohen, 1992). Our final data set allowed us to analyze a total Ninfected = 95 and Nnoninfected = 107 individuals after discarding individuals with co-infections or poorly stained slides. Therefore, our overall sample size was appropriate to attain appropriate power.
A linear model predicted no significant relationship between infection status and BCI (βinfected = 0.015 ± 0.01SE, P = 0.14; Fig. 2). Similarly, this model predicted no significant effect of season on BCI (βwinter =  − 0.02  ±  0.01SE,  P = 0.05). Still, the model predicted that males would have higher body condition than females (βmales = 0.03 ± 0.01,  P = 0.01).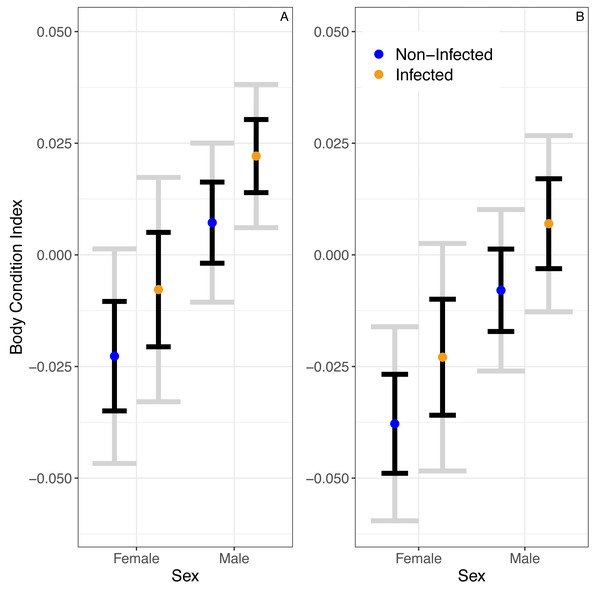 We found that the CV of erythrocyte size is a strong predictor of infection status (z = 2.92,  P = 0.003, Fig. 3). The binomial model predicted that the probability of being infected increases 1.43 (1.13–1.83 95% CI) times with a unit increase in CV. The model also predicted that the probability of being infected is 0.63 (0.34–1.16 95% CI) times in the winter compared to the summer, but this relationship is uncertain (z =  − 1.48,  P = 0.14). Similarly, the model predicted that the probability of being infected is 0.79 (0.33–1.9 95%CI) times in males when compared to females, but this relationship was also uncertain (z =  − 0.52,  P = 0.60). The probability of infection is predicted to increase 1.08 (1.03–1.12 95% CI) times with a mm increase in SVL (z = 3.3,  P < 0.001; Fig. 3).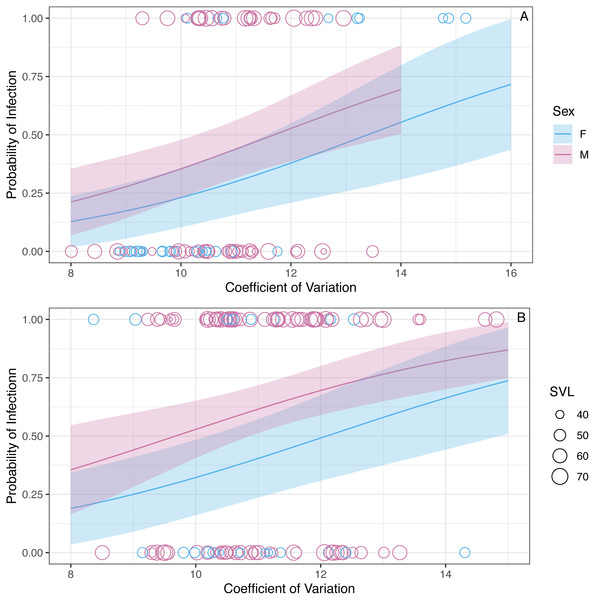 While we found CV of erythrocyte size to be a key predictor for the probability of infection, CV was not a significant predictor of BCI (β =  − 0.001 ± 0.004SE,  P = 0.86; Fig. 4). Similar to the analysis presented above on BCI predicted by infection status, season was not a significant predictor of BCI (βwinter =  − 0.02 ± 0.01SE,  P = 0.08), but males had better body condition than females (βmales = 0.03 ± 0.01SE,  P = 0.006).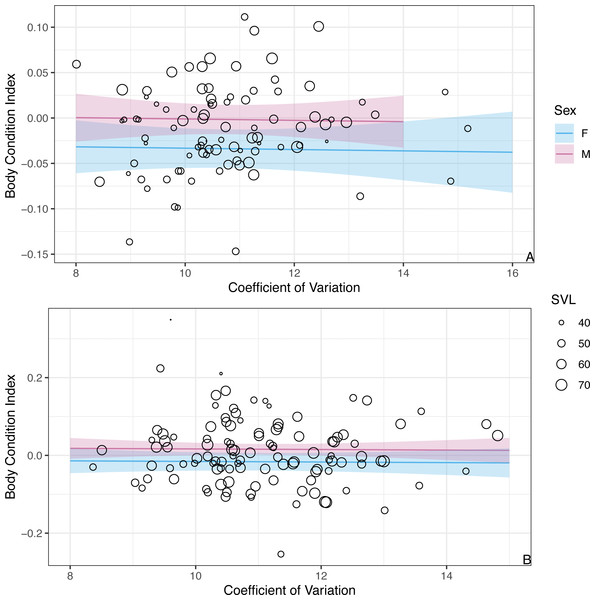 Discussion
Studies in plant systems show that WIV increases individual fitness through multiple mechanisms including mediating the outcome of interactions with natural enemies. Testing this hypothesis in animal systems requires studying reiterative structures that can be exposed to selective processes. Here we studied the relationship between WIV in erythrocyte size, hemoparasite infection, and body condition in the Caribbean lizard Anolis gundlachi. Our results show that infected individuals had a higher WIV in erythrocyte size than non-infected individuals, but WIV was not related to the host body condition. This result suggests that the higher WIV in infected may not necessarily be adaptive but likely a consequence of infection.
There are three potential explanations for the lack of variation in BCI due to infection status or WIV in erythrocyte size. First, virulence—the negative consequences of infection for host fitness—may be low or undetectable in this system. Virulence varies widely in lizard malaria systems. For example, P. mexicanum infection on Sceloporus occidentalis in California, USA and P. agamae infection on Agama agama in Sierra Leone, West Africa results in lower hemoglobin levels and a decreased in physiological characteristics such as oxygen consumption and stamina (Schall, 1990). In contrast, there are few indications of virulence to Caribbean hosts. For instance, Anolis sabanus infected by P. azurophilum had no difference in body temperature, broken tails, habitat use, or intraspecific interactions with non-infected individuals (Schall & Staats, 2002). Similarly, other studies have found little evidence of decreases in body condition due to infection in Caribbean lizards (Pearson, 2000; Otero et al., 2019). This variation in virulence is also present in Plasmodium infection to avian hosts. For example, Plasmodium infection is linked to a dramatic decrease in Hawaiian honeycreeper population size (Atkinson et al., 1995). Still, chronic infections show no important negative consequences for American songbirds (Matthews et al., 2016). Second, our results show that infected individuals have, on average, better body condition, but the uncertainty is too large to make this pattern statistically significant. This result could also mean that A. gundlachi is slightly tolerant of P. azurophilum infection, but the effect size is too small to be easily detected. Tolerance to parasite infection is the result of individuals investing in physiological mechanisms that limit fitness costs of infection without limiting parasite reproduction which has been proposed for other lizard malaria systems (Rausher, 2001; Bonneaud et al., 2017). Third, BCI—our proxy for fitness—may be weakly related to fitness in A. gundlachi. A recent meta-analysis shows large variability in how body condition indices relate to fitness in many host-parasite systems (Sánchez et al., 2018). Still, the lack of evidence for Plasmodium virulence to other Caribbean lizards is consistent. The study of Plasmodium spp. virulence to Anolis sabanus in Saba, an island geographically close to Puerto Rico, found no evidence of virulence looking at a wide array of variables which supports our results (Schall & Staats, 2002).
Overall, higher degrees of WIV in infected individuals might be explained by multiple types of interactions between A. gundlachi and Plasmodium. In humans, Plasmodium infection induces structural and functional changes in erythrocyte traits such as loss of discoid shape, increased membrane rigidity, elevated permeability, reduced deformability, and increased adhesiveness (Cooke, Mohandas & Coppel, 2001). The higher WIV erythrocyte size variation in infected A.gundlachi may also be explained by induced erythropoiesis—erythrocyte production. Plasmodium infection results in the global destruction of erythrocytes and consequently the lizard may respond increasing the production of immature erythrocytes in the hemopoietic bone marrow (Zapata, Leceta & Villena, 1981; Zivot et al., 2018). This process may lead to higher size variability in erythrocyte size in infected lizards compared to their non-infected counterparts. Higher numbers of immature erythrocytes have been found at weak and moderate degrees of parasitemia in a variety of Plasmodium lizard hosts including Sceloporus occidentalis, Agama agama and Anolis gingivinus (Schall, 1990; Schall, 1992). Still, we restricted our analysis to adult erythrocytes. Therefore, any observed effect of increased erythropoiesis in our system is not due to an increase in immature cells, but the residual effect on adult cells. While increased erythropoiesis is a parsimonious explanation for the increased WIV in infected lizards, WIV in animals could be the result of other complex interacting processes such as organ-level developmental plasticity, diet, reproductive state, metabolic rate, or genetic relatedness.
The study of the drivers and consequences of WIV is an emerging sub field in ecology and evolution (Herrera, Medrano & Bazaga, 2015). Most of the evidence supporting the role of WIV comes from plant systems (Herrera, 2009). The apparent lack of obvious reiterative structures in animal systems limits our ability to generalize this theoretical framework. This study aims to contribute to the expansion of the study of WIV in animal systems by testing the role of erythrocytes as a reiterative internal structure. While we found a clear relationship between WIV in erythrocyte size and parasite infection status, our results showed no clear evidence that this WIV has an adaptive role. Likely the increase in WIV is a consequence of the host's response to infection. Still, the potential adaptive role of WIV in animal systems remains a wide and unexplored area of research. The mere presence of WIV on any system can have profound implications on sampling techniques and experimental designs used to study it. We hope our study encourages additional studies in other systems.
Conclusions
This is one of the few studies aimed to understand the drivers and consequences of within-individual variation in animal systems. We tested for the role of variation in erythrocyte size as an internal reiterative component potentially mediating interactions with natural enemies in a Caribbean lizard-malaria system. While we found a clear relationship between WIV and infection status, the lack of evidence of changes in body condition suggests that erythrocyte size variation is likely a consequence of infection and not necessarily adaptive.
Supplemental Information
WIV in a Tropical Lizard: Code and Results