Extending density surface models to include multiple and double-observer survey data
Published

Accepted

Received
Academic Editor
Subject Areas

Keywords

Density surface model

,

Distance sampling

,

Generalized additive model

,

Spatial modelling

,

Variance propagation

,

Abundance estimation
Licence

This is an open access article, free of all copyright, made available under the Creative Commons Public Domain Dedication. This work may be freely reproduced, distributed, transmitted, modified, built upon, or otherwise used by anyone for any lawful purpose.
Cite this article

2021

.

Extending density surface models to include multiple and double-observer survey data

.

PeerJ

9

:

e12113

https://doi.org/10.7717/peerj.12113
Abstract
Spatial models of density and abundance are widely used in both ecological research (e.g., to study habitat use) and wildlife management (e.g., for population monitoring and environmental impact assessment). Increasingly, modellers are tasked with integrating data from multiple sources, collected via different observation processes. Distance sampling is an efficient and widely used survey and analysis technique. Within this framework, observation processes are modelled via detection functions. We seek to take multiple data sources and fit them in a single spatial model. Density surface models (DSMs) are a two-stage approach: first accounting for detectability via distance sampling methods, then modelling distribution via a generalized additive model. However, current software and theory does not address the issue of multiple data sources. We extend the DSM approach to accommodate data from multiple surveys, collected via conventional distance sampling, double-observer distance sampling (used to account for incomplete detection at zero distance) and strip transects. Variance propagation ensures that uncertainty is correctly accounted for in final estimates of abundance. Methods described here are implemented in the dsm R package. We briefly analyse two datasets to illustrate these new developments. Our new methodology enables data from multiple distance sampling surveys of different types to be treated in a single spatial model, enabling more robust abundance estimation, potentially over wider geographical or temporal domains.
Introduction
As ecological data are amassed over time, the job of the modeller becomes increasingly difficult. Faced with a large number of potentially useful datasets from multiple surveys with different field protocols, the question becomes "how can I include all this information?" Methods to address this kind of question should be clear in their asssumptions and implications as well as having easy-to-use software implementations using methodological frameworks that researchers are familiar with. In this paper we attempt to address this problem for the case of spatially-explicit abundance estimation from distance sampling data.
Spatially-explicit estimates of abundance are used for a variety of purposes in conservation and ecological settings. Distance sampling-based techniques (Buckland et al., 2001) are extremely popular ways of estimating abundance or density of biological populations. As techniques have advanced, methods have been developed to incorporate spatial information (e.g., environmental covariates) (Hedley & Buckland, 2004; Johnson, Laake & Ver Hoef, 2010; Yuan et al., 2017), moving towards model-based, spatially-explicit abundance estimates. One approach is density surface modelling (DSMs; Hedley & Buckland, 2004; Miller et al., 2013), which combine detectability information using standard distance sampling methods with a spatial model using the generalized additive modelling framework (Wood, 2017). DSMs have been used to obtain abundance estimates for populations where the individuals are not uniformly distributed over the study area (Harihar, Pandav & MacMillan, 2014), to inform spatial planning in impact assessments (Winiarski et al., 2014, 2013) and to mitigate negative impacts of military operations (Roberts et al., 2016).
Currently DSMs are most often applied to data from a single survey with a single detection function, sometimes using one or more covariates to model variation in detectability (multiple covariate distance sampling, MCDS; Marques & Buckland (2004)). Here we extend these models to the case where we have detection functions that account for missing observations at zero distance (mark-recapture distance sampling, MRDS; Burt et al. (2014)) and where it is necessary or desirable to integrate data from multiple surveys (hereafter, platforms) into one model. This could simply be because each available dataset is limited in its spatial or temporal extent. Modellers may also find it preferable to include data in a single spatial model rather than attempting model averaging over several smaller models.
Essentially we wish to combine different observation processes, modelled in different ways via one spatial model. Integrating these different observation processes is currently possible via related fully Bayesian approaches (e.g., Sigourney et al., 2020), though these may require considerable time investment in terms of both understanding and fitting the model.
We envisage several possible situations where this kind of approach will be useful (though we note this list is non-exhaustive):
Combining data from multiple distance sampling surveys. These may have used different platforms, different observers or other factors which change the form of the detection process. For example, Roberts et al. (2016) combined 23 years of cetacean observations, some surveys were aerial and others ship-based; altitudes, observer positions and weather/sea conditions differed between surveys, leading to a number of detection models.

A single survey where different field methods are used for different behaviours of the animal. For example seabirds-at-sea (SAS) protocols (e.g., Tasker et al., 1984; Camphuysen et al., 2004), where distances are recorded to birds detected on the water, whereas birds detected in flight are recorded using a strip transect methodology (assuming detection is certain out to some distance). Another example is the case where distances were usually recorded, but when observers were overwhelmed in high density areas, they switched into a strip transect mode to ensure all animals were recorded (Clarke et al., 2020).

When both point and line transect surveys have been used to survey a species and these need to be combined into one spatial analysis. For example combining camera trap distance sampling (Howe et al., 2017) with conventional line transect surveys.

Combining mark-recapture distance sampling and conventional distance sampling survey data.
In this article, we show how data can be integrated from the above situations by combining multiple observation models (detection functions) to build one spatially-explicit abundance model that accounts for varying detectability conditions.
Results
Multiple surveys with uncertain detection on the trackline: fin whales
Checks of fit indicated reasonable conformity to model assumptions (see Supplementary Material B) and effective degrees of freedom for each term in the fitted model were well below the specified maximum of five. We obtained an abundance of 3,935 fin whales. Combining the uncertainty from the posterior sample (spatial model, aerial detection function, shipboard detection function, and shipboard g(0)) with aerial estimates of g(0) and availability gave a total CV of 0.42. Middle and right panels of Fig. 1 shows maps of predictions and coefficient of variation (without the fixed parameter additions just discussed) over the prediction grid cells, patterns there match those in the original analysis.
Multiple platforms on one survey: fulmars
Residual model checking showed slightly better conformity to assumptions for the factor-smooth model (see Supplementary Material B). This model performed best, followed by the factor model ( AIC = 11.5) and then the model that assumes no differences in density ( AIC = 32). Table 1 shows that the model using one additional factor covariate for platform performs best, with predicted values closest to those observed. Figure 3 shows the differences between platforms for the two models; in this case there are differences between the predictions. These differences are larger (less white in the plot) for the factor-smooth model but the factor model also shows differences between the two platforms.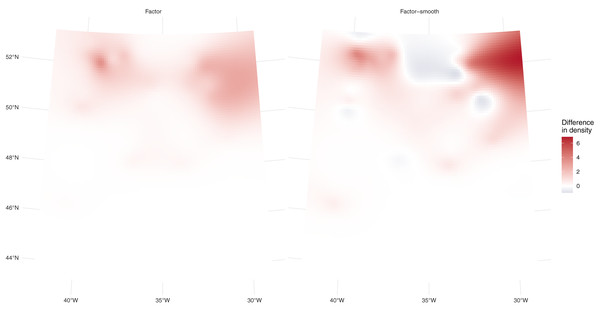 | | Observed | No factor | Factor | Factor-smooth |
| --- | --- | --- | --- | --- |
| Swimming | 501 | 405 | 501 | 490 |
| Flying | 533 | 632 | 516 | 517 |
| χ2 statistic | | 38.26 | 0.457 | 0.704 |
Observed vs. expected numbers of fulmars aggregated by behaviour (swimming/flying) for each model. χ2 statistics are given in the final row as a summary comparison. From these results, it appears that the factor model gives the best match to the data at this aggregation.
Differences between the models' predictions are not reflected very well in the spatial predictions for each model shown in Fig. 4, top row, as the per-platform effect has been averaged out. Differences are better seen with Fig. 3 and Table 1, which show evidence there are differences in density between the two platforms. Figure 3 shows a key difference between the two models which account for differences in platform: the factor-smooth interaction is more flexible and can fit better to the observed data, meaning that differences between the two platforms' predictions can be greater, whereas the factor only model must make a compromise in fit between the two platforms (up to the change in level allowed by the factor platform covariate).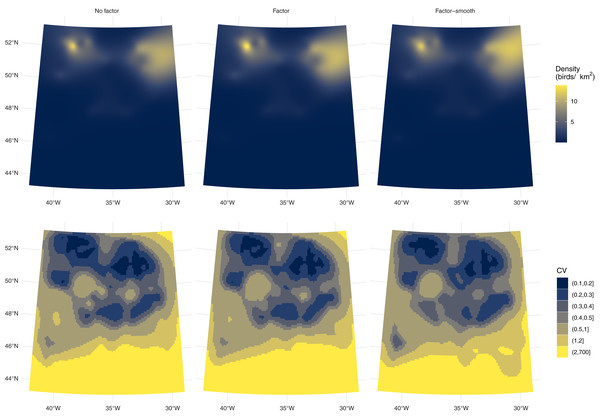 Uncertainty estimates are lower with the factor-smooth model: the lower uncertainty areas (CV ≤ 0.4) remain roughly the same, but the higher uncertainty area has decreased. Figure S3 shows the per-platform plots and highlights where the uncertainty originates: the platform for flying birds has much higher uncertainty than that for swimming birds, despite there being more observations of flying birds (383 swimming vs. 460 flying) and the spatial patterns of observations being very similar (Fig. 2). Biologically, the additional uncertainty in the data from birds in flight may be down to transient weather conditions not fully captured in the spatial smooth (whereas variation in the birds on the water may be better described by the spatial smooth). Supplementary Material A and Fig. S2 shows a map of sighting conditions.
Discussion
Many articles conclude with the phrase "further data are needed" and while this may be true, exactly how to utilise these new data while integrating previous information can be tricky. The issue becomes serious when estimating the abundance of endangered populations, when we must ensure that data are used wisely to inform management policy. If we are able to combine data from multiple sources we can potentially make better inferences about populations and make better decisions about how to ensure their conservation.
In this article we have addressed the common issue of combining distance sampling data from multiple platforms with different observation processes, into one spatial model. Our approach shares information between the platforms at the spatial modelling stage while also ensuring that variance is propagated correctly between the observation and spatial models. Compared to fitting multiple spatial models and averaging the results, our approach allows for information to be shared via the spatial model (using the variance propagation approch of Bravington, Miller & Hedley, 2021), not via post hoc averaging (it also avoids the thorny issue of deciding how to weight such an average). The extension using factor-smooth interactions allows the spatial model to vary between platforms if necessary, while reducing to a combined model where appropriate. From a practical perspective, model construction is more efficient for the modeller: we only need to fit one model and the factor-smooth construction allows for the sharing of information between data sources, so if there are not sufficient observations for a given platform, the model can "borrow strength" from the others. Having fitted the model, we are still able to make predictions at the platform level to disentangle the full model and explore our results.
Though we have used two marine examples here, we wish to stress that these methods are applicable in any distance sampling (or combination of distance and plot/strip transect sampling) situation. For example combining point and line transect methods may be particularly useful for terrestrial surveys of birds where both methods can be used, or (as mentioned above) when combining camera trap distance sampling with line transects.
A perennial problem with advocating new methodology is in demarcating where it is appropriate to use that new method. From our experience we recommend the use of the factor-smooth approach (given in (4)) as a starting point and simplifying if there is no evidence that the additional complexity is warranted (this can be investigated by plotting predictions at the segment-level against each other). The process we outlined for model selection gives a starting point, but of course usual model checking for both detection functions and generalized additive models should be followed.
Sigourney et al. (2020) fitted a hierarchical Bayesian model to the fin whale data which included informative priors on availability process, aerial g(0) and group size (their model was fitted to number of observed groups rather than number of individuals), making an exact comparison with our method difficult. Their model gave = 4,012 with CV = 0.32 (our estimate was 3,935, CV = 0.42). Presumably the inclusion of informative priors helps the hierarchical model lower its uncertainty. Numerical results and plots show that our new method is comparable to a more complex hierarchical Bayesian analysis, though clearly there are some areas for improvement.
Our fulmar example takes data which have been collected using the de facto standard methodology for surveying seabirds at sea: simultaneously recording birds in flight via plot sampling and birds on the water via distance sampling. Previous techniques for deriving abundance and distribution estimates from such data implicitly ignored potential differences in the distributions of birds in these two behavioural states. The example above suggests that although the distribution of fulmars in flight and on the water was broadly correlated, the ratio of birds in these two states also varied in space. Our framework allows for the modelling these effects giving more accurate abundance estimates as well as potentially provide biological insights and allow the generation of hypotheses regarding the behaviour of the animals in different conditions.
There are two main limitations to the models presented here. The first, is that there is a restriction on the kinds of covariates we can model in the detection function: we can only fit the "count model" as defined in Miller et al. (2013) (count per segment as response, detectability entering the offset) and so detection function covariates may only vary at the segment level, not at the level of the individual observation. To circumvent this limitation, we can use factor-smooth interactions where the factor levels are binned versions of the covariates and duplicate the segments for each of these levels. For example, binning group sizes to be small/medium/large, then fitting a smooth to each of these levels. Further details of this approach are given in Bravington, Miller & Hedley (2021). The second deficiency is that we cannot share detection parameters between platforms, as each detection function is fitted separately. So, for example if multiple surveys are carried out from the same vessel at different times, we cannot use a single "vessel" covariate which is jointly estimated between the models. It is possible to do this, but it would require a more complex fitting framework than we use here. Such situations can be handled relatively easily in software such as JAGS (Plummer, 2003) or Nimble (de Valpine et al., 2017), in which case mgcv::jagam (Wood, 2016) can be used with a dsm model to setup smoothers in a fully Bayesian framework. For given common situations, further work could make this process semi-automatic (in the sense that JAGS/Nimble code could be automatically generated to link parameters), making the construction of these more complex models easier.
Extension to further detection functions is a clear next step, including those for g(0) which incorporate other observer configurations and accounting for point independence (Buckland, Laake & Borchers, 2010). An additional extension is the use of other observation processes beyond detection functions. For example models to account for animals that are not always available to be observed, such as diving seabirds or cetaceans (e.g., Borchers et al., 2013). Provided that such an availability bias correction enters the model via the offset, the Bravington, Miller & Hedley (2021) procedure can be used; this could include models built using GAMs themselves. We hope this article prompts further exploration of these possibilities.
Supplemental Information
Fulmar study area in context.
Position of the fulmar study area (thick grey box) within the North Atlantic, with bathymetry (coloured lines) and land (grey polygons) for reference. Transects are shown as the thicker black lines, note that only data from those within the study area were used in our analysis.
Spatial distribution of weather covariates used in the detection function for the fulmar analysis.
Lines indicate transect positions, thick grey box the study area as previously.
Comparison of platforms for the fulmar models.
Predictions (top row) and coefficients of variation (bottom row) by platform and model (columns). The factor model (model (3) is used in the left two columns and factor-smooth model (model (4)) in the right two columns. The black lines show the survey segments. Compared to Fig. 4 we see differences in the predictions and the uncertainty. As the model formulation dictates, platform differences in the factor model dictate the overall level of the plot, whereas the factor-smooth models vary in their pattern too. This is particularly notable for the uncertainty plots.