Lower cretaceous avian-dominated, theropod, thyreophoran, pterosaur and turtle track assemblages from the Tugulu Group, Xinjiang, China: ichnotaxonomy and palaeoecology
Published

Accepted

Received
Academic Editor
Subject Areas

Keywords

Tetrapod ichnofaunas

,

Shorebird tracks

,

Junggar Basin

,

Tugulu Group

,

Theropod

,

Thyreophoran

,

Pterosaur

,

Turtle
Copyright

©

2021

Xing et al.

Licence

This is an open access article distributed under the terms of the Creative Commons Attribution License, which permits unrestricted use, distribution, reproduction and adaptation in any medium and for any purpose provided that it is properly attributed. For attribution, the original author(s), title, publication source (PeerJ) and either DOI or URL of the article must be cited.
Cite this article

2021

.

Lower cretaceous avian-dominated, theropod, thyreophoran, pterosaur and turtle track assemblages from the Tugulu Group, Xinjiang, China: ichnotaxonomy and palaeoecology

.

PeerJ

9

:

e11476

https://doi.org/10.7717/peerj.11476
Abstract
Rich tetrapod ichnofaunas, known for more than a decade, from the Huangyangquan Reservoir (Wuerhe District, Karamay City, Xinjiang) have been an abundant source of some of the largest Lower Cretaceous track collections from China. They originate from inland lacustrine clastic exposures of the 581–877 m thick Tugulu Group, variously divided into four formations and subgroups in the northwestern margin of the Junggar Basin. The large Huangyangquan track assemblages occur in the Lower layer/Subgroup II. Similarly-composed track assemblages also occur at the smaller Asphaltite site in the Upper Layer/Subgroup III. The Huangyangquan assemblages have yielded more than 1,500 identified tracks including abundant tracks of avian and non-avian theropods, pterosaurs and turtles and less abundant tracks of stegosaurs. Previous avian track identifications have been reassessed to conclude that Moguiornipes robustus is a taphotaxon and Koreanaornis dodsoni might be better accommodated in the ichnogenus Aquatilavipes which appears to be the dominant avian ichnotaxon. The avian track Ignotornis is also recognized and represents the first occurrence of this ichnogenus in China. Although the Huangyangquan assemblages lack some of the larger components (e.g., sauropodan and ornithopodan tracks) known from other Lower Cretaceous localities, the association of abundant tracks of smaller tetrapods (avian and non-avian theropods, pterosaurs and turtles) appears to be representative of lacustrine basin faunas of this region, and are an excellent example of the shorebird ichnocoenosis/ichnofacies concept. This is the first comprehensive review and re-analysis of an important Lower Cretaceous ecosystem.
Introduction
Multiple important dinosaur faunas are known from the Early Cretaceous of China. Skeletal faunas include the Jehol Biota in northeastern China, which contains abundant psittacosaurids and feathered dinosaurs (Zhou, Barrett & Hilton, 2003), and the titanosauriform dinosaur fauna from Henan Province (Xu et al., 2012). Track faunas include assemblages from the Chabu area, Inner Mongolia (Lockley et al., 2018), the Yishu fault zone area, Shandong Province (e.g. Xing et al., 2013c, 2018c), other large, theropod-dominated, track site complexes from Shandong (Li et al., 2015; Lockley et al., 2015), the ornithopod-dominated Lotus site from Chongqing (Xing et al., 2015c) and the Sichuan Basin, all of which record faunal compositions different from that of the skeletal records (Xing et al., 2014c, 2015b; Xing & Lockley, 2016). More consistent dinosaur faunal compositions are known from skeletons and track records in the Lanzhou-Minhe Basin, Gansu Province, which both contain abundant ornithopods and sauropods (You et al., 2006; Zhang et al., 2006; Xing et al., 2013a, 2015a).
The Lower Cretaceous Tugulu Group is widely distributed in the Junggar Basin. It is in unconformable or disconformable contact with Jurassic and Paleozoic strata, and represents a series of lacustrine deposits dominated by mudstone (Lin, 1997). The well-known Early Cretaceous Dsungaripterus-Psittacosaurus fauna (Dong, 1973a, 1973b; Dong, Paik & Kim, 2001) has been found in this region, but is represented by only sparse material. Xing et al. (2011) described the first bird-dominated and dinosaur track assemblages from the Huangyangquan site, in the Wuerhe area in the northwestern margin of the Junggar Basin (Fig. 1). He et al. (2013) reported large pterosaur pes tracks and bird tracks from the same site. The stegosaur tracks Deltapodus curriei (Xing et al., 2013d) and turtle tracks Emydhipus isp. (Xing et al., 2014a) are also known. Dinosaur, bird and pterosaur footprints have also been found at the Lower Cretaceous Asphaltite (=Liqingshan) site (Xing et al., 2013b).

In 2010–2012, a new expedition series, led by the main author (LX) and funded by the Key Laboratory of Vertebrate Evolution and Human Origins of Chinese Academy of Sciences, Institute of Vertebrate Paleontology and Paleoanthropology, explored the Wuerhe area. Abundant dinosaur tracks were discovered. The main authors of this paper (LX and ML) also found dense pterosaur track assemblages in 2015. In 2019, the Dinosaur Lab, from China University of Geosciences (Beijing) (LX, CC, DW), discovered a new assortment of vertebrate tracks. This manuscript will describe the new track records of the Huangyangquan and Asphaltite sites, as well as review and discuss the vertebrate ichnotaxonomy of these sites.
Geological setting
Tugulu group—depositional environment, stratigraphy and age
The subsidence center affecting Cretaceous strata in the Junggar Basin is located centrally within the basin, such that sedimentary thickness presents a uniform change of gradient leading to the basin edges (Cai, Chen & Jia, 2000). The Tugulu Group is a set of inland lacustrine clastic rocks and is exposed around the Wuerhe area, in the northwestern margin of the Junggar Basin, with a thickness of 581–877 m. In different regions, the group is in unconformable contact with Cretaceous and Jurassic strata, respectively. It is overlain by 1–10 m of upper Pleistocene–Holocene, alluvial and eolian sediments and poorly sorted alluvium (Academy of Prospecting & Developing, Xinjiang Bureau of Petroleum, 1977; Cai, Chen & Jia, 2000).
The subunits of the Tugulu Group are inconsistent across the Junggar Basin. The Tugulu Group is most complete at the southern margin, and can be divided into four formations in ascending order (from base to top), the Qingshuihe, Hutubihe, Shengjinkou, and Lianmuqin formations (the latter has been miss-spelled as Lianmugin in some publications). The Tugulu Group, in the northwestern margin of the Junggar Basin, can be divided into three or four subunits/ subgroups (Yang, Wang & Lu, 2008). These consist of Upper, Grey-green, and Lower layers, none of which are readily correlated with the four formations from the southern and eastern margins of the basin (Academy of Prospecting & Developing, Xinjiang Bureau of Petroleum, 1977, 1996, 1997; Dong, 1973a) (Fig. 2). Generally, the Upper layer can be compared to the Lianmuqin Formation (e.g. Maisch, Matzke & Sun, 2004). The Grey-green layer can be compared to the Shengjinkou Formation (Yang, Wang & Lu, 2008). The Lower Layer of the Tugulu Group, which has been further subdivided into eight layers (Qi, Cheng & Yang, 1995), may correlate with the better-defined, stratigraphically Qingshuihe and/or Hutubihe formations (Xing et al., 2011).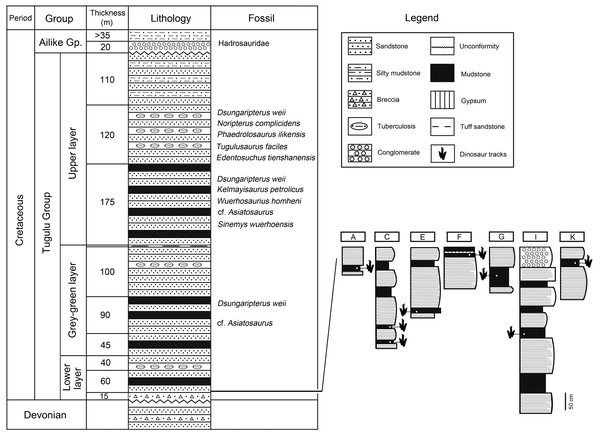 Jiang et al. (2008) divided the Tugulu Group of the Wuerhe area into four subgroups. Subgroup I is exposed on both sides of the Baiyang River, west to the Wuerhe area, and dominated by medium–thick bedded sandstone with mudstone. Subgroup II is a set of gray-green and yellow-green thick-bedded sandstone with red and brown-gray clastic rocks, exposed in the surroundings of the Wuerhe area. Subgroup III is a large set of gray-green sandstone and mudstone, interbedded with red, brown-red and reddish-brown banded mudstone, mainly exposed in the asphaltite area. Subgroup IV is a set of lacustrine gray-green sandstone and mudstone, interbedded with red, reddish brown and brown-red mudstone, exposed around the asphaltite area, east to the Wuerhe area.
Tracks from the Wuerhe area are concentrated in two regions: the Huangyangquan site and the Asphaltite site. The Huangyangquan site belongs to the Lower layer/Subgroup II of Tugulu Group (Fig. 2). The lower part of Subgroup II is characterized by gray-green, gray-yellow mega-thick and thick-bedded sandstone, with light yellow, light green or red thin-bedded mudstone. Conglomerate beds of unequal thickness are always developed in the bottom of the trough cross-bedded sandstones, which contain iron and caliche nodules. The mudstone contains secondary gypsum. The upper part of Subgroup II is light gray-green medium-thick bedded sandstone, interbedded with light gray-green sandstone with cross stratification and brown-red mudstone (Jiang et al., 2008). As shown in Fig. 2 there are 11 sites (A–K of Fig. 1) known to have yielded tracks in an area defined by the Huangyangquan reservoir of little more than 2 km2. As also shown in Fig. 2, multiple track bearing layers, are associated with the finer grained mudstone facies in the thin stratigraphic sequences exposed around the reservoir shore.
The asphaltite site belongs to the Upper Layer of the Tugulu Group/Subgroup III of the Tugulu Group. Trough cross beddings are always developed in the sandstone. The sedimentary environment is characterized by delta plain facies, which are superposed by delta lobes, consisting of several distributary channels, crevasse splay sand bodies, and interdistributary bay fine-grained sediments (Jiang et al., 2008).
After Jiang et al. (2008) the Tugulu Group of the Wuerhe area was mainly deposited in a shallow delta sedimentary system. Based on the particle size, the four subgroups in this region can be divided into two sedimentary cycles and show a rhythmic succession, from bottom to top, of coarse–fine–coarse–fine. This reflects a shallowing–deepening–shallowing–deepening of water levels in a lake system. The strata are mainly gray-green, and show a transition from gray-green to gray-green and red deposits, and finally to gray-green interbedded with red deposits, indicating that the depositional climate was becoming progressively drier.
The Tugulu Group is considered Lower Cretaceous, however, the definitive age of each layer is not known with certainty. Wu & Liu (1988) considered the Lower Cretaceous Tugulu Group to be roughly equivalent to the Qingshan Group of Shandong Province, the Guyang Group of Inner Mongolia, and the Jehol Group of northern Hebei and western Liaoning. Eberth et al. (2001) considered the Hutubihe Formation of to be of Hauterivian–Barremian age and the Lianmuqin Formation to be of Aptian–Albian age. Brusatte, Benson & Xu (2012) considered the Lianmuqin Formation within the Valanginian to Albian (i.e., ca. 140–99.6 Ma). Based on the Rotellaria Zones, Yang, Wang & Lu (2008) considered the Qingshuihe–Lianmuqin formations to be Early Cretaceous Berriasian–Barremian in age. Specifically, the Qingshuihe Formation is considered Berriasian, the Hutubihe Formation Berriasian–Valanginian, the Shengjinkou Formation Hauterivian, and the Lianmuqin Formation Barremian. Xi et al. (2019) considered the Qingshuihe Formation to be middle Berriasian–lower Valanginian, the Hutubihe Formation to be lower Valanginian–lower Barremian, the Shengjinkou Formation to be lower Barremian–lower Aptian, and the Lianmuqin Formation to be lower Aptian–middle-upper Albian.
Sedimentary features and track preservation
Tracks from Site A are located on a siltstone surface, with visible parallel bedding. There are two layers of tracks at Site C, located on the argillaceous siltstone surface. Tracks at Site E are located on nodules, and mud cracks are present on the track-bearing bedding surface. Tracks at Site F are located on siltstone, some are on nodules, and there are obvious oblique beds and interbeds of siltstone and gypsum. The track-bearing bedding surface at Site G preserves asymmetrical ripple marks, that indicate relatively weak hydrodynamic energy. There are abundant argillo-arenaceous nodules within the track-bearing siltstone of Site I, however, no tracks are preserved on the nodules. Tracks at Site K are located on the siltstone bedding surfaces, and obvious oblique bedding is present in the overlying sandstone beds. Tracks from at least three sites are preserved on nodules, and footprints may help to form the nodules by compacting the basal sediments. In addition, one pterosaur skull was discovered from a nodule at Site J, and has been interpreted as Dsungaripterus.
On some surfaces footprints are associated with mudcracks. HYQ-E-8 preserves at least four tracks directly associated with mud cracks, of which HYQ-E-8-1 and 2 are relatively well-preserved, and three claw marks of the latter are fused with mud cracks in the same direction. This is an instance of footprints helping to generate mud cracks as reported by Allen (1987). The presence of mud cracks suggests that the sediments were exposed above the water surface, and indicates cyclic wet-dry environments. HYQ-E-10 preserves four tracks with mud cracks, but without obvious evidence of the mud cracks having been directly generated by the tracks. The external morphological changes of HYQ-E-10 are stronger than HYQ-E-8, indicating wet sediments in this region. YLSNHM00978, YLSNHM00979 and YLSNHM00980 are all preserved with large-scale mud cracks. The mud crack surrounding YLSNHM00978 is 1.5 cm wide, 2 cm high, and there are relatively badly preserved Arenicolites or Skolithos in the heel, indicating the Scoyenia ichnofacies. There are obvious external morphological changes in YLSNHM00979. The intervals between the three toes are strongly compressed. Digit IV and the heel of YLSNHM00980 are fused with mud cracks in the same direction. There are also mud cracks fairly developed in YLSNHM01241. The cracks evidently formed earlier than the bird tracks, as in many instances the presence of the bird tracks destroyed or generated mud cracks. The most representative is YLSNHM01241-24, one ~15 cm long trackway, consisting of approximately three successive tracks. The Digit III and heels of these tracks are connected by mud cracks, but without distinct external morphological changes. Assuming a surface that dried out, to create desiccation tracks, it is possible to infer that the clearer, deeper tracks, with wider digit traces, were made first on a wetter substrate, and the shallower, tracks with thinner digit traces, were registered later on a firmer, drier substrate. This specimen (YLSNHM01241) also reveals five radial traces which are up to ~10 cm in diameter. These have a general resemblance to the deep water trace "Glockeria" which Książkiewicz (1977) described under the generic category of rosetted structures which includes several morphologically similar rosetted or stellate ichnogenera, including forms that may have originated in shallow or shoreline environments. Possible trace maker include worms, and arthropods.
Invertebrate traces
Invertebrate traces are abundant in the Huangyangquan area and can be divided into the several types listed below:
Scoyenia gracilis (Figs. 3A, 3B): Straight gently curved, unbranched burrows with meniscate spreiten. Burrows are vertical to horizontal. Commonly crossing each other, with secondary successive branching. Burrows are preserved as epichnia. Longitudinally strait lineations were observed in the wall. Taenidium and Beaconites are back-filled burrows similar to Scoyenia, but differ in lacking the striated lineations of Scoyenia (Häntzschel, 1975). Scoyenia is an indicator of continental ichnofacies.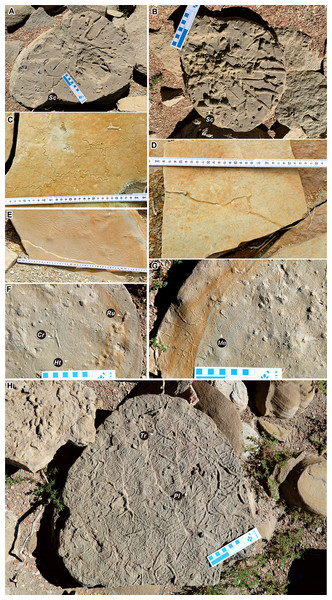 Cochlichnus anguineus (Fig. 3C): Regularly meandering trails about 0.4 mm in diameter. Traces show a sine curve and are preserved as epichnial forms. Cochlichnus has been interpreted as a locomotion or grazing trace (Buatois, Mángano & Maples, 1997), probably attributable to nematodes. In a continental context, Cochlichnus were made near a sediment-water-air interface, and are common in lake shoreline deposits.
Helminthoidichnites tenuis (Figs. 3D, 3E, 3F): These are irregularly winding horizontal, mostly smooth ribbons or grooves in the upper bedding surface.
Mermia carickensis (Fig. 3G): Very thin, 0.1 mm wide, consists of densely looped grooves. Some segments show a winding course. In fresh water, Mermia is interpreted as locomotion trials produced by worms.
Cruziana problematica (Fig. 3F): Straight to winding, hypichnial, double ridges, divided by a distinct median furrow, and probably produced by arthropods.
Rusophycus isp. (Fig. 3F): Small bilobate mounds with parallel lobes, preserved in convex hyporelief. Also reported in fluvial and shallow lacustrine soft-ground media, and probably produced by arthropods.
Treptichnus isp. (Fig. 3H). Subhorizontal burrow consisting of one series of J-shaped segments. Segments connected in a zigzag irregular pattern near their ends.
Planolites montanus (Fig. 3H): Small, unlined, curved to contorted, horizontal burrows, preserved as semireliefs. Burrow diameter ranges between 1 and 2 mm. It is interpreted as an infaunal grazing trace produced by an annelid or other type of worm (Pemberton & Frey, 1982).
Lockeia siliquaria (Figs. 4A, 4C): Almond-shaped traces preserved as convex hyporelief tarping at both ends. Surface commonly smooth. Lockeia is attributed to the burrowing activity of bivalves (Osgood, 1970).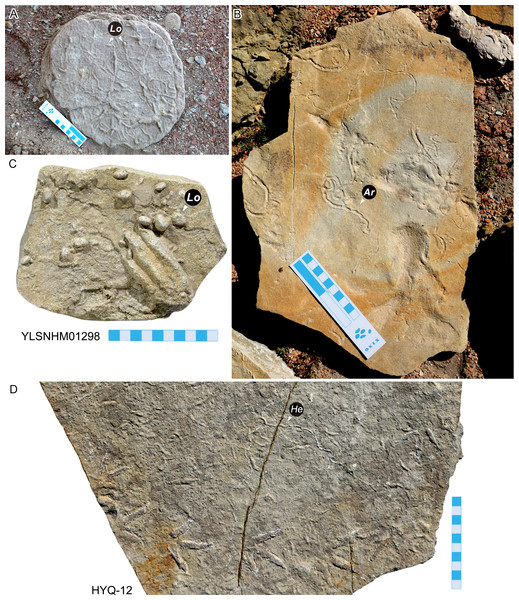 Archaeonassa fossulata (Fig. 4B): Occurring as positive epireliefs, with two convex parallel lateral levees.
Helminthopsis abeli (Fig. 4D): Irregularly winding, unbranched, horizontal burrows, with massive filling. No crosscutting. Preserved as epichnial forms. Helminthopsis has no loops (Hofmann & Patel, 1989), whereas Helminthoidichnites displays only occasional loops and, in Gordia, loops are the most characteristics feature.
Radiating traces in YLSNHM01227 and YLSNHM01241: Circle-shaped, radiating burrows with numerous arms (radii) preserved in convex hyporelief.
This trace fossil assemblage is assigned to the Scoyenia ichnofacies, which may be distributed in floodplains, ponds, lake margins, ephemeral lakes and humid interdunes. Considering sedimentary characteristics, the track-bearing bedding is interpreted as a shallow lacustrine and nearshore lacustrine deposit (Gu et al., 2003; He et al., 2013) based on (1) common interbeds of sandstone and mudstone, (2) abundant silty components, (3) common parallel beddings or oblique beddings (indicating higher energy hydrodynamic environments), (4) rare ripple marks, (5) developed mud cracks, (6) nodules (arenopelitic) with abundant bioturbation structures (including invertebrate traces and vertebrate tracks), (7) uncomplicated lithology with only sandstone, mudstone, and very few conglomerate interbeds, and (8) nearly parallel or horizontal bedding.
Materials & methods
Huangyangquan area
The Huangyangquan Reservoir is located 15 km northwest of Wuerhe District, Karamay City, and was completed in 1991. This rectangular reservoir is ~2.74 km long from northwest to southeast, and ~1.74 km from northeast to southwest, with a circumference of 9.67 km. There are at least 11 track sites in this region, designated Site A–K, with a total of 608 reported tracks, including non-avian and avian theropod, stegosaur, pterosaur and turtle tracks. Sites A and C are dominated by turtle tracks, Site B is dominated by stegosaur tracks, Sites D–I, and K are dominated by non-avian theropod tracks, Site J is dominated by pterosaur tracks.
Collection
The collection of dinosaur tracks in the Wuerhe area has been accomplished in two stages. In the first stage, which occurred before 2011, isolated specimens were collected by the local Moguicheng Dinosaur and Bizarre Stone Museum (MGCM), most of these were discovered around Huangyangquan, although specific locality information was not recorded. They have been described by Xing et al. (2011). In the second stage our team has focused on stratigraphic information, furthermore type specimens of Deltapodus curriei, which are original natural molds from in situ horizons, were discovered (Xing et al., 2013d). In 2019, due to space and funding constraints, most MGCM specimens (including tracks and skeletons) were moved to the Yingliang Stone Natural History Museum, Shuitou, Fujiang Province, China. New specimen numbers were issued (prefixed with YLSNHM, see Supplement Information 1 for the list). Beginning in 2015, investigations were conducted along the margin of the Huangyangquan Reservoir, and all specimens collected on the original horizons were prefixed with HYQ. These HYQ specimens were reposited in YLSNHM, as well as the new tracks discovered during 2015–2019 investigations that are described herein.
Methods
According to the standard methods of Leonardi (1987) and Lockley & Hunt (1995), the maximum length, maximum width, pace length, stride length, pace angulation and rotation of the dinosaur tracks were measured. The track length, width, pace length, pace angulation stride length, outer trackway width, and inner trackway width were measured for pterosaur trackways based on the method of Xing et al. (2013e). The methods of Olsen (1980), Weems (1992), and Lockley (2009) were used to measure the mesaxony of tridactyl tracks. Mesaxony refers to the degree to which the central digit (III) protrudes anteriorly beyond the medial (II) and lateral (IV) digits.
The HYQ-7 trackway and HYQ-E-11 track were photographed using a Canon EOS (5D Mark III) digital camera from different viewpoints in a series of overlapping images under artificial lighting conditions. A scale-corrected, digital surface model (resolution = 0.141 mm/pix) was created from methods adapted from Falkingham et al. (2018) by adding images to Agisoft Metashape Professional Edition (version 1.5). Another ex situ fossil specimen YLSNHM00974 was photographed using an iPhone 6 digital camera (4.15 mm lens) from different viewpoints under artificial lighting conditions. A scale-corrected, digital surface model (resolution = 0.149 mm/pix; 44.8 points/mm2) was also created by Agisoft. Both 3D digital models were then positioned to the center of the cartesian coordinate system using Meshlab (64bit_fp v2016.12; Cignoni et al., 2008), and visualized using the ambient occlusion filter in CloudCompare (v2.6.1 64 bit; www.cloudcompare.org). False-colour elevation and contour maps utilized filters in Paraview (version 5.0.0 64 bit; Ahrens, Geveci & Law, 2005) following the procedure adapted from Xing et al. (2018c).
Interpretive outline tracings were made using transparency film covering the tracks and then digitalized with a vector-based drawing software.
Conclusions
The tetrapod ichnofaunas of the Tugulu group, from the Huangyangquan Reservoir (Wuerhe District, Karamay City, Xinjiang) and the nearby Asphaltite sites have been studied intermittently during the last decade and have yielded large ichnogical collections representative of life in inland lacustrine settings in the northwestern margin of the Junggar Basin during the Early Cretaceous. To date the Huangyangquan assemblages are represented by more 1,500 identified tracks, mainly preserved on small slabs, which are not conducive to preservation of long trackway segments. These however reveal the high density of tracks preserved in lakeshore settings, including abundant tracks of birds (Aquatilavipes and Ignotonis), non-avian theropods (grallatorids including Jialingpus- and Asianopodus-like morphotypes), pterosaurs (Pteraichnus) and turtles (Emydipus). Tracks of stegosaurians (Deltapodus) also occur, but are less common and represent the only ichnogical evidence of large quadrupedal dinosaurs currently known.
The Huangyangquan and Asphaltite ichnofaunal associations with smaller tetrapods (avian and non-avian theropods, pterosaurs and turtles) resembles that of lacustrine basin faunas from China, with a minimum ichnogeneric tetrapod diversity of six, and a similar diversity of invertebrate ichnogenera. This diversity is somewhat less than the highest diversity ichnofaunas from the Lower Cretaceous of Korea, which have recently been recognized as iconic examples of lacustrine basin tetrapod ichnofaunas. The features of the Chinese and Korean lacustrine tetrapod ichnocoenoses are consistent with what has variously been called the shorebird ichnofacies, or the shorebird ichnocoenosis within the Grallator ichnofacies. These shorebird ichnofaunas have many dominant elements in common with others known from East Asia and globally and offer opportunities for comparative analyses of lake basin ichnofaunas, ichnocoenoses and ichnofacies. The Tugulu Group assemblage is one of the best studied Lower Cretaceous ichnofaunas in the world. The comprehensive review and re-analysis of faunal composition and ecology extends our knowledge and understanding of other terrestrial ecosystems from this epoch.
Supplemental Information
Comparison table of previous MGCM specimen numbers and current YLSNHM specimens numbers.
Measurements (in centimeters and degrees) of Tetrapoda tracks from from the Wuerhe area in Xinjiang, China.