Integrated network pharmacology and molecular docking approaches to reveal the synergistic mechanism of multiple components in Venenum Bufonis for ameliorating heart failure
Published

Accepted

Received
Academic Editor
Subject Areas

Keywords

Venenum Bufonis,

Heart failure

,

Network pharmacology

,

Molecular docking
Copyright

©

2020

Ren et al.

Licence

This is an open access article distributed under the terms of the Creative Commons Attribution License, which permits unrestricted use, distribution, reproduction and adaptation in any medium and for any purpose provided that it is properly attributed. For attribution, the original author(s), title, publication source (PeerJ) and either DOI or URL of the article must be cited.
Cite this article

2020

. Integrated network pharmacology and molecular docking approaches to reveal the synergistic mechanism of multiple components in Venenum Bufonis for ameliorating heart failure.

PeerJ

8

:

e10107

https://doi.org/10.7717/peerj.10107
Abstract
Venenum Bufonis (VB), also called Chan Su in China, has been extensively used as a traditional Chinese medicine (TCM) for treating heart failure (HF) since ancient time. However, the active components and the potential anti-HF mechanism of VB remain unclear. In the current study, the major absorbed components and metabolites of VB after oral administration in rats were first collected from literatures. A total of 17 prototypes and 25 metabolites were gathered. Next, a feasible network-based pharmacological approach was developed and employed to explore the therapeutic mechanism of VB on HF based on the collected constituents. In total, 158 main targets were screened out and considered as effective players in ameliorating HF. Then, the VB components–main HF putative targets–main pathways network was established, clarifying the underlying biological process of VB on HF. More importantly, the main hubs were found to be highly enriched in adrenergic signalling in cardio-myocytes. After verified by molecular docking studies, four key targets (ATP1A1, GNAS, MAPK1 and PRKCA) and three potential active leading compounds (bufotalin, cinobufaginol and 19-oxo-bufalin) were identified, which may play critical roles in cardiac muscle contraction. This study demonstrated that the integrated strategy based on network pharmacology and molecular docking was helpful to uncover the synergistic mechanism of multiple constituents in TCM.
Introduction
Heart failure (HF), a multifactorial degenerative disease, occurs when the heart is not able to pump blood efficiently to satisfy the oxygen and nutritional needs of the body (Asano et al., 2019). HF affects over 26 million people worldwide and continues to represent a major burden for public health due to its high mortality, morbidity and healthcare expenses (Di Palo & Barone, 2020; Lother & Hein, 2016). The incidence rate of HF rises in magnitude with age and the major etiologies were coronary heart disease, abnormal heart valves and hypertension (Akkineni et al., 2019). Western medicines, such as angiotensin converting enzyme (ACE) inhibitors, diuretics, β-adrenergic blockers, angiotensin receptor I antagonists and positive inotropic agents, are currently the main treatment programs for HF (Xu et al., 2020; Yang et al., 2020a; Yang et al., 2020b). However, long-term use of these chemical drugs will lead to a series of adverse reactions like electrolyte depletion, fluid depletion, and hypotension (Jia et al., 2020). Therefore, novel alternative or synergetic anti-HF therapies are greatly needed.
Venenum Bufonis (VB) is the dried white secretion of the auricular and skin glands of Bufo bufo gargarizans Cantor or Bufo melanostictus Schneider (He et al., 2019; Yun et al., 2009). As a precious traditional Chinese medicine (TCM), VB has long been used for treating heart failure, arrhythmia, swells, sore throat, pains, cancers and many other diseases (Liang et al., 2008; Pan et al., 2020). Extensive natural product studies have indicated that VB contains a high level of bufadienolides and many other constituents like alkaloids, cyclic amides, sterols, polypeptides, proteins, polysaccharides, and organic acids (Wei et al., 2019). Modern pharmacological studies have confirmed that VB exhibited a variety of pharmacological effects, including cardiotonic, antinociceptive, anti-tumor, anesthetic, anti-inflammatory as well as antimicrobial properties (Wei et al., 2020). Importantly, it is evident that VB exerts a strong cardiac excitatory effect like that of digitalis, and the drug possesses many advantages such as no accumulation, quick-acting and diuretic action (Wei et al., 2019). According to the Chinese Pharmacopoeia (2015 edition), VB is contained in many TCM prescriptions for the treatment of HD, such as Jiuxin Pill and Shexiang Baoxin Pill (Chinese Pharmacopoeia Commission, 2015). Although well-practiced in clinical medicine, the holistic pharmacological mechanisms of VB on HF are largely unknown.
As an emerging field of pharmacology, network pharmacology delivers a systematic and holistic understanding of drug action and disease complexity, which shares key ideas with the integrality and systematicness of TCM theory (Luo et al., 2020; Zhang et al., 2020). An increasing body of evidence suggests that network pharmacology is a powerful tool to illuminate the integration synergistic mechanism of action of TCM from the multi-dimensional perspective (Chen et al., 2019; Miao et al., 2019). For example, the bioactive candidates and underlying mechanisms of Cichorium glandulosum for ameliorating type 2 diabetes mellitus was successfully elucidated using "compound–target" network analysis (Qin et al., 2019). The action mechanism of Carthamus tinctorius L. on cardiovascular disease was also elaborated based on the "compound-protein/gene-disease" network (Yu et al., 2019). However, due to the limitation of this method, many previous researches usually collected TCM components from related TCM databases to establish the compound–target map. The candidate compounds might not be in line with the components actually delivered into the blood circulatory system, which unavoidably produced unreal results (Ding et al., 2019; Zhang et al., 2018).
In this study, first the in vivo ingredients of VB after oral administration in rats were taken from the literature. Second, the VB- and HF-associated targets were predicted. Third, network construction and pathway enrichment analysis were used to explore the active components and the potential targets relevant to the treatment of HF with VB. Finally, molecular docking was performed to confirm the specific interactions between VB and the candidate targets. The above study not only provides a comprehensive understanding about the molecular mechanism of VB acting on HF, but also offers a rapid and effective strategy for screening desired compounds from TCM. The flowchart was illustrated in Fig. 1.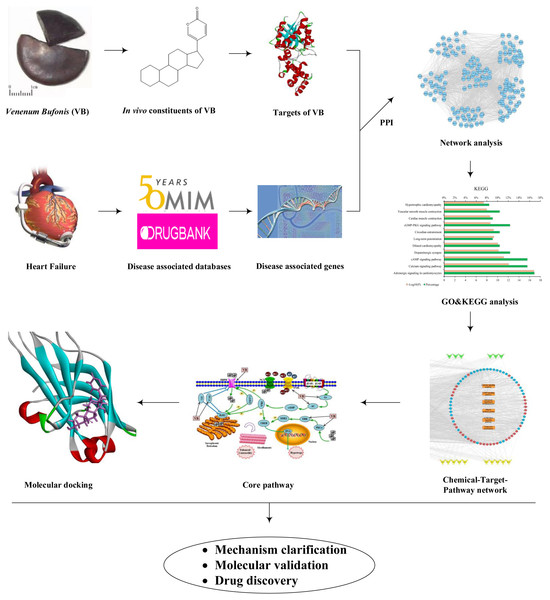 Discussion
Many pathways are involved in adrenergic signalling for the regulation of cardiac contractile function. Among them, the best described is the mechanism mediated by β-adrenergic receptor (β-AR)–Gs–adenylate cyclase (AC) pathway (Baker, 2014). Activation of β-AR–Gs–AC plays an important role in increasing heart rate and force of myocardial contraction (Chen et al., 2020; Santulli & Iaccarino, 2016). According to our predicted results, VB could regulate β-AR–Gs–AC pathway by targeting Gs (GNAS) and AC (ADCY2 and ADCY5). The regulation of Ca2+ homeostasis is also important for the cardio-myocyte excitation and cardiac electrical activity (Arakelyan et al., 2007). According to our predicted results, VB could regulate by targeting PP1 (PPP1CC), PP2A (PPP2CA, PPP2CB), and LTCC (CACNA1C, CACNA1D). Na+/K+-ATPase, a ubiquitous membrane protein composed of two subunits denoted as α and β, is also a critical regulator in maintaining the balance of Ca2+ in cardio-myocytes (Orlov et al., 2020; Šeflová et al., 2017). An increasing body of evidence suggests that bufadienolides in VB possess inhibition effects on Na+/K+-ATPase (Orlov et al., 2020; Sousa et al., 2017), such as bufalin (Lan et al., 2018; Laursen et al., 2015), cinobufagin (Wang, Sun & Heinbockel, 2014), marinobufagenin (Strauss et al., 2019), arenobufagin (Cruz Jdos & Matsuda, 1993), and hellebrigenin (Moreno et al., 2013). Therefore, the cardiotonic effect of VB may be mainly through the suppression of Na+/K+-ATPase. Inhibition of the Ca2+/PKC α/ERK1/2 signal pathway plays a significant role in attenuating the progression of heart failure (Braz et al., 2004; Molkentin & Robbins, 2009). Several components from VB have been reported to inhibit the activity PKCα and ERK, such as bufalin (Wu et al., 2015), marinobufagin (Bagrov et al., 2000; Fedorova et al., 2003) and cinobufagin (Baek et al., 2015).
Based on the data analysis above, the bufadienolides may be the main active components in VB, which exert anti-HF effects via synergistically acting on multiple targets in multiple pathways. Among them, the positive inotropic effect of VB produced through the inhibition of Na+/K +-ATPase has been demonstrated in many basic researches and clinical practices. The molecular docking results indicated that the representative compounds could connect with the active-site residues via various noncovalent interactions, including the hydrogen bonding, pi-alkyl, pi-anion and pi-cation, etc, which was valuable for understanding of the action mechanisms of VB. In addition, according to -CIE values, bufotalin, cinobufaginol and 19-oxo-bufalin showed the best performance and thus were considered as the potential active leading compounds of the corresponding targets. Further researches on other potential targets or pathways are required to validate the predicted results.
Conclusion
In summary, the active components of VB and their synergistic mechanisms for alleviating HF were successfully unveiled by network pharmacology coupled with molecular docking approach. The adrenergic signaling involved in cardiac muscle contraction process was found to be mainly responsible for the anti-HF effect of VB in silico. Four core targets and their corresponding leading compounds were identified, which may provide valuable information for further experimental validations and drug discovery.