Cybersecurity maturity assessment framework for higher education institutions in Saudi Arabia
1
Security Engineering Lab, Prince Sultan University

,

Riyadh

,

Saudi Arabia
2
Computer Science Department, The University of Jordan

,

Amman

,

Jordan
3
School of Computer Science and Informatics, De Montfort University Leicester

,

Leicester

,

United Kingdom
Published

Accepted

Received
Academic Editor
Subject Areas

Keywords

Saudi Arabia

,

Cybersecurity

,

Maturity assessment

,

Audit tool

,

ISO27001

,

CITC

,

NCA

,

ECC

,

CRF

,

GDPR

,

COVID-19

,

Higher education
Copyright

©

2021

Almomani et al.

Licence

This is an open access article distributed under the terms of the Creative Commons Attribution License, which permits unrestricted use, distribution, reproduction and adaptation in any medium and for any purpose provided that it is properly attributed. For attribution, the original author(s), title, publication source (PeerJ Computer Science) and either DOI or URL of the article must be cited.
Cite this article

2021

.

Cybersecurity maturity assessment framework for higher education institutions in Saudi Arabia

.

PeerJ Computer Science

7

:

e703

https://doi.org/10.7717/peerj-cs.703
Abstract
The Saudi Arabia government has proposed different frameworks such as the CITC's Cybersecurity Regulatory Framework (CRF) and the NCA's Essential Cybersecurity Controls (ECC) to ensure data and infrastructure security in all IT-based systems. However, these frameworks lack a practical, published mechanism that continuously assesses the organizations' security level, especially in HEI (Higher Education Institutions) systems. This paper proposes a Cybersecurity Maturity Assessment Framework (SCMAF) for HEIs in Saudi Arabia. SCMAF is a comprehensive, customized security maturity assessment framework for Saudi organizations aligned with local and international security standards. The framework can be used as a self-assessment method to establish the security level and highlight the weaknesses and mitigation plans that need to be implemented. SCMAF is a mapping and codification model for all regulations that the Saudi organizations must comply with. The framework uses different levels of maturity against which the security performance of each organization can be measured. SCMAF is implemented as a lightweight assessment tool that could be provided online through a web-based service or offline by downloading the tool to ensure the organizations' data privacy. Organizations that apply this framework can assess the security level of their systems, conduct a gap analysis and create a mitigation plan. The assessment results are communicated to the organization using visual score charts per security requirement per level attached with an evaluation report.
Introduction
Many organizations worldwide aim to enable digital transformation successfully. Digital Infrastructure Development is one of the main targets of Saudi Arabia Vision 2030 (https://www.vision2030.gov.sa/en). Any digital transformation success depends heavily on achieving the security of both data and infrastructure, whether in the public or private sectors. Securing IT systems in all Saudi organizations needs special attention to ensure smooth and secure digital transformation (Iwendi et al., 2020; Sagar, Jhaveri & Borrego, 2020).
Such transformation is more stressed after the COVID-19 pandemic where almost all life activities were forced to become digital. Almost all sectors were influenced by this sudden change, including the education sector (Alshehri et al., 2020; Iivari, Sharma & Ventä-Olkkonen, 2020; Mhlanga & Moloi, 2020). Moreover, Ali (2020) stated that online and remote learning is now essential because of lockdown due to the Coronavirus pandemic. However, many challenges appeared when trying to digitize the learning process, as many Higher Education Institutions (HEIs) were not ready to use E-learning systems (Kaur, 2020). Therefore, through this pandemic, we learned that having a remote learning infrastructure is crucial (Alshehri et al., 2020). However, in HEIs, there is a lack of technical skills needed in their systems (Ali, 2020; Kaur, 2020), including cybersecurity skills. Therefore, it is crucial to start improving the education applications and how people are using them (Alshehri et al., 2020; Ali, 2020). In Saudi Arabia, E-learning is active in prominent higher education institutions such as King Saud University and King Abdul-Aziz University before the pandemic. However, after the pandemic transforming to mobile/eLearning education was not an option. All educational Institutions switched to online teaching, as directed by the ministry of education (MoE). Yet, there were many challenges to apply tutoring and assessments digitally (Hassounah, Raheel & Alhefzi, 2020; Henriette, Feki & Boughzala, 2016; Atawneh et al., 2020) and to secure the e-leaning services.
There are existing frameworks and standards defined at the local and international levels that provide cybersecurity regulatory guidelines for organizations. However, there is still a lack in (a) studying the current Saudi Arabia cybersecurity frameworks in general and in the context of higher education in specific, (b) proposing a cybersecurity maturity model that is comprehensive enough to cover the approved frameworks by the Saudi government including the Essential Cybersecurity Controls (ECC) introduced by the National Cybersecurity Authority (NCA) and the Cybersecurity Regulatory Framework (CRF) developed by the Communications and Information Technology Commission (CITC) (c) providing tools to assess the cybersecurity maturity of the organizations.
The importance of offering the services of the cybersecurity maturity models in terms of well-developed tools is that the organizations can apply them to perform self-assessment in order to (a) check their cybersecurity maturity status (b) discover their weaknesses and set a clear plan for improving their security level and protecting their systems and services from different security attacks (c) prepare the organization to become certified by well-known security agencies like ISO; such self-assessment could be a preliminary step toward achieving that.
Therefore, this research proposes a comprehensive, customized cybersecurity maturity assessment framework (SCMAF) for HEIs in Saudi Arabia. SCMAF has considered both the Saudi local security standards in addition to the international standards. SCMAF is offered to organizations in the form of an online web-based tool or offline standalone tool to assess their systems' security maturity levels in a convenient way that ensures their data secrecy and integrity. The results of the assessment will be communicated in terms of scores per security requirement attached with a full report. Overall, the methodology followed to build SCMAF is shown in Fig. 1 and summarized as follows: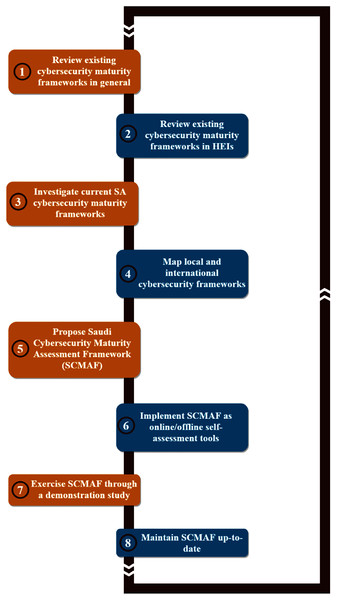 Review existing cybersecurity maturity frameworks in general.

Review existing cybersecurity maturity frameworks in HEIs.

Investigate current SA cybersecurity maturity frameworks.

Map local and international cybersecurity frameworks.

Propose Saudi Cybersecurity Maturity Assessment Framework (SCMAF).

Implement SCMAF as online/offline self-assessment tools.

Exercise SCMAF through a demonstration study.

Maintain SCMAF up-to-date.
The rest of the paper is organized as follows. 'Related Work' presents recent related works and current cybersecurity standards. 'Proposed Cybersecurity Maturity Assessment Framework' introduces the proposed Saudi Cybersecurity Maturity Assessment Framework (SCMAF). 'Conclusions' shows the implementation of SCMAF and discusses its contributions. 'LImitations And Future Works' draws conclusions and suggests possible future work.
Proposed cybersecurity maturity assessment framework
Special attention is given to achieving security in all IT-based systems, especially after the digital transformation. In Saudi Arabia, different local cybersecurity regularly models are provided inspired by intentional security standards. However, there is no straightforward, automated process that can support organizations, especially in the HEI, to check their security maturity toward these standards, identify their weaknesses, and start preparing their improvement plans.
The automated process needs to be implemented through an easy, user-friendly software that allows the stakeholders to quickly answer the questions related to the achievements of specific security requirements and controls and provide them with a maturity score and a compliance report.
The primary motivation of this research is to develop a comprehensive cybersecurity maturity assessment model that considers the critical approved Saudi standards and international standards. Then allow the organization to self-assess its IT-based systems using an online or offline tool to measure their cybersecurity maturity level and act accordingly.
Therefore, this section presents the proposed Saudi cybersecurity maturity assessment framework (SCMAF). This framework aims to be comprehensive and includes both the international and the local Saudi cybersecurity standards. Therefore, the existing Saudi security-related standards are deeply studied, including ECC and the CRF as will be explained in the following subsections. Moreover, recent international maturity assessment framework related to HEIs is also considered and investigated. Afterwards, all these standards are mapped and enriched to introduce a comprehensive, customized cybersecurity maturity assessment model for Saudi HEIs. This model is offered as a self-assessment tool that can be applied by the institution itself to measure its cybersecurity maturity level and then acts accordingly.
Conclusions
This research has proposed SCMAF, a comprehensive customized cybersecurity maturity assessment framework for HEI in Saudi Arabia (SA). The framework has considered international cybersecurity standards in addition to SA cybersecurity regulatory frameworks. This framework is offered to the institutions to apply self-assessment of their IT-based systems to measure their security levels. Consequently, addressing their weaknesses and preparing mitigation plans and continuous improvement.
To build a specialized framework for SA HEIs, we studied the current cybersecurity standards approved and followed in SA. Additionally, we investigated and utilized recent international cybersecurity maturity models. Therefore, SA CITC's CRF and NCA's ECC are deeply analyzed and mapped in addition to the international maturity model, HCYMAF. All the defined SCMAF requirements are mapped to these models' requirements and security controls to introduce a comprehensive cybersecurity maturity framework dedicated to SA HEIs. SCMAF has defined 16 main requirements in addition to the sub-requirements. The achievement of these requirements by the institution is ranged among six different maturity models: INCOMPLETE, INITIAL, MANAGED, DEFINED, QUANTITATIVELY MANAGED, and OPTIMIZED. Each maturity level in each requirement has a clear, well-designed description displayed to the institutions where they need to confirm if they apply it or not.
After assessing all requirements, a total score representing the cybersecurity maturity of the institution's systems will be calculated. This score is communicated to the institution in terms of a visual chart and a detailed report. The assessment framework proposed by SCMAF is shared with the HEIs as an online web-based tool or as an offline tool that needs to be downloaded on the institution's premises. The institution can choose the version that suits their interest and confidentiality. Applying regular assessments for the IT-based systems in any institution and specific in HEI is essential to maintain the functionality of their services and protect them from being threatened by security attacks. Moreover, the framework should always be up-to-date to adapt with the new security requirements, attacks, and mechanisms. The main SCMAF contribution is to offer a comprehensive, user-friendly, up-to-date, and continuous cybersecurity assessment process to HEIs in Saudi Arabia.
Limitations and future works
Even though the proposed SCMAF framework covers many aspects that help assess the organizations' cybersecurity maturity, it can be improved by allowing the organizations to upload evidence to prove that they have met the security requirement(s). Also, the tool can be customized to meet different organization's needs.
For future work, the framework can be enhanced to be accurately mapped with critical international standards like ISO2700 as a preliminary step for institutions to becoming cybersecurity-certified. Moreover, the compliance report can be customized based on the institution's needs.
Finally, SCMAF can also be adapted to be applied to different sectors other than education, such as healthcare and industrial organizations.