Forensic analysis of video steganography tools
School of Computing, University of Kent

,

Canterbury, Kent

,

United Kingdom
Published

Accepted

Received
Academic Editor
Subject Areas

Keywords

Steganography

,

Steganalysis

,

Video

,

Signature

,

EOF injection
Copyright

©

2015

Sloan and Hernandez-Castro

Licence

This is an open access article distributed under the terms of the Creative Commons Attribution License, which permits unrestricted use, distribution, reproduction and adaptation in any medium and for any purpose provided that it is properly attributed. For attribution, the original author(s), title, publication source (PeerJ Computer Science) and either DOI or URL of the article must be cited.
Cite this article

2015

.

Forensic analysis of video steganography tools

.

PeerJ Computer Science

1

:

e7

https://doi.org/10.7717/peerj-cs.7
Abstract
Steganography is the art and science of concealing information in such a way that only the sender and intended recipient of a message should be aware of its presence. Digital steganography has been used in the past on a variety of media including executable files, audio, text, games and, notably, images. Additionally, there is increasing research interest towards the use of video as a media for steganography, due to its pervasive nature and diverse embedding capabilities. In this work, we examine the embedding algorithms and other security characteristics of several video steganography tools. We show how all feature basic and severe security weaknesses. This is potentially a very serious threat to the security, privacy and anonymity of their users. It is important to highlight that most steganography users have perfectly legal and ethical reasons to employ it. Some common scenarios would include citizens in oppressive regimes whose freedom of speech is compromised, people trying to avoid massive surveillance or censorship, political activists, whistle blowers, journalists, etc. As a result of our findings, we strongly recommend ceasing any use of these tools, and to remove any contents that may have been hidden, and any carriers stored, exchanged and/or uploaded online. For many of these tools, carrier files will be trivial to detect, potentially compromising any hidden data and the parties involved in the communication. We finish this work by presenting our steganalytic results, that highlight a very poor current state of the art in practical video steganography tools. There is unfortunately a complete lack of secure and publicly available tools, and even commercial tools offer very poor security. We therefore encourage the steganography community to work towards the development of more secure and accessible video steganography tools, and make them available for the general public. The results presented in this work can also be seen as a useful resource for forensic examiners to determine the existence of any video steganography materials over the course of a computer forensic investigation.
Introduction
Steganography is the art and science of hiding information in plain sight. By ensuring that data is hidden from casual observers, a stego-system aims to reduce any suspicion that a third party may have over occurring communication. This can be a valuable resource where free speech is not guaranteed. In this and many other related contexts, steganography provides an ideal solution which makes it possible to avoid censorship (Krenn, 2004). An ideal stego-system should typically allow for highly sensitive information to be securely exchanged without the knowledge of others.
Recent research interest towards steganography focuses primarily on applications in the digital domain (Judge, 2001). Those provide a way for users to embed messages within files on a computer or a digital device. This process is typically carried out by identifying and manipulating redundant data in a file, so that any changes made are indiscernible through inspection. Modern digital stego-systems embed data through a variety of data hiding techniques such as image, audio and video steganography (Balgurgi & Jagtap, 2012). A rising interest in video steganography can be linked to the significant benefits it offers over alternative media formats. The pervasive nature of video, along with an increased embedding capacity, make it an ideal candidate. As a result, video steganography has benefited from rapid progress in the academic domain (Balaji & Naveen, 2011). Unfortunately, publicly available tools do not reflect these academic advances, as we will show in the following. Most new and secure algorithms are only developed as a proof of concept tool in academic environments and do not lead to more secure tools that are accessible for the greater public.
The main contributions of this paper are:
We examine a number of video steganography applications, both commercial and free. The list of analysed tools is comprehensive, as far as we know, with the exception of OpenPuff and MSU StegoVideo. For the tools discussed, we investigate and expose security-relevant characteristics.

We show that all the tools discussed can be attacked, and in all cases it is possible to detect the presence of hidden contents. But even more powerful attacks are possible for certain applications: For example, in one particularly worrying case, it is feasible to extract the full hidden contents, without the need of the secret key.

We show how simple scripts can be used to detect vulnerable embedding algorithms, and briefly discuss the impact of these weaknesses within the forensic domain.

Furthermore, we provide recommendations on how these issues can be resolved.
There is currently a total lack of awareness on the insecurity of these tools, so it is therefore intended for our work to provide enough technical insights to justify our very strong recommendation against using these tools.
Steganography
The purpose of steganography is to conceal the existence of communication. Modern steganography is typically carried out by manipulating data within carrier files. This concept can apply to a wide variety of file formats, as steganography is generally applicable to all data objects that contain some form of redundancy (Provos & Honeyman, 2003). However, media files are frequently ideal candidates as their pervasive nature will keep their true intent unnoticed by observers. Making use of the internet for file sharing, for instance, allows these carrier files to be sent and received with ease and without raising suspicions.
There are numerous embedding techniques that allow a user to hide data in a given object (Channalli & Jadhav, 2009). However, the general process of embedding data can be summarised in a few simple steps (as shown in Fig. 1). Firstly, the communicating parties must agree on a stego-system and a shared secret key that will be used to determine the embedding algorithm. Once this has been achieved, the embedding algorithm will identify data within the file that is to be modified (these can be redundant bits). These bits are then replaced with the contents from the secret message that is to be embedded within the carrier file. As a result, analysis of a stego-file without knowledge of the key should not reveal the presence of steganography, therefore avoiding suspicion and keeping the hidden contents secure. In most cases, the hidden message will be encrypted prior to embedding.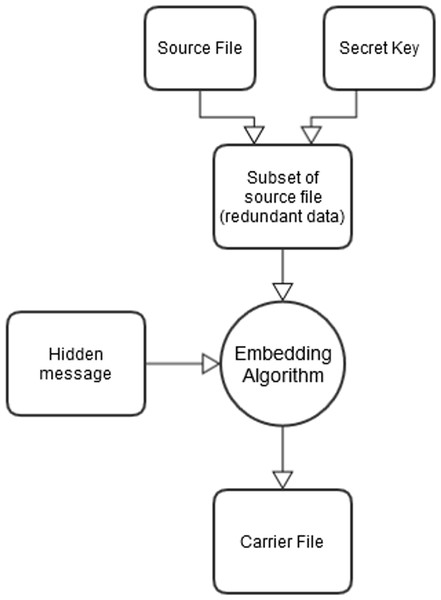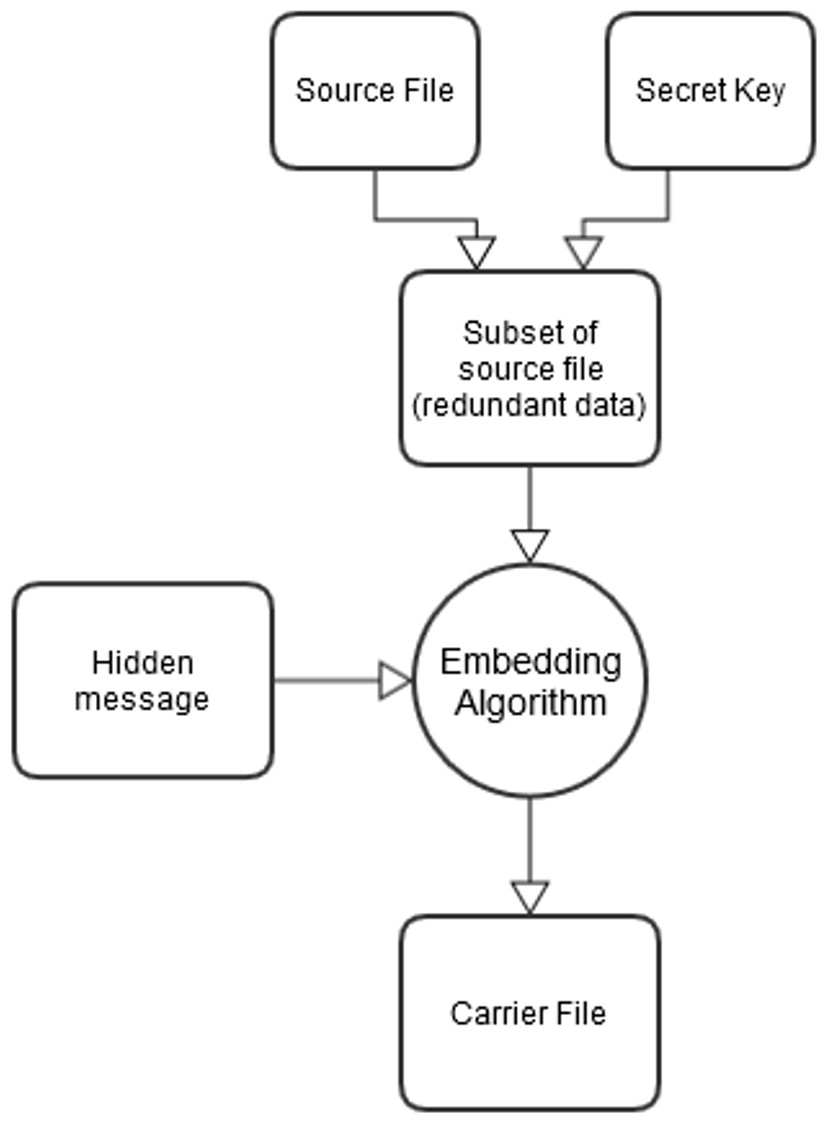 Video steganography & steganalysis
Although still a relatively new research area, the field of video steganography has shown promising progress in recent years. A growing interest in the topic can be related to the many advantages that follow the use of a video file for hiding contents. Video steganographic techniques can provide the user with increased potential for capacity, transferability and most importantly imperceptibility (Dasgupta, Mondal & Dutta, 2013). Due to the ubiquity of video media throughout the internet, video steganography can prove to be a valuable resource to those who need to ensure their data is kept private. At present, only a small number of tools exist for public use in the form of both commercial and free software.
On the other hand, a very large number of steganography tools for other carriers are available. For example, the BackBone Steganography database lists fingerprints for over 1,000 applications (BackBoneSecurity, 2014).
With so few video steganography tools available, the security that these applications offer must be thoroughly examined. With them potentially providing for a large number of users, it is critical to ensure they are protecting data appropriately. If serious security vulnerabilities are found, as we argue in the rest of this paper, then awareness needs to be raised and their use discouraged to limit damage to its rightful users.
Video steganography can be a valuable resource for those who need to ensure that their communications remain private and secure. Most of the times, steganography will be employed for perfectly legitimate reasons. A good example are whistle-blowers, journalists, political activists, and basically anyone living in an oppressive regime where freedom of speech and individual rights are at stake. However, it is unfortunate that the advantages of steganography have been also of use to criminals and terrorists. In 2011, the German newspaper 'Die Zeit' (Gallagher, 2012) reported that an Al Qaeda agent had been intercepted with a memory card containing steganographic material documenting future plans within a video file. Research by certain criminal groups is leading to the development of new steganographic technology (Hosmer, 2012).
Current academic research in the field of video steganography explores techniques and embedding algorithms for securely hiding data within video files. The invasive nature of steganography typically leaves traces in a carrier file that can be detectable through careful analysis (Provos & Honeyman, 2003). Steganalysis follows this theme, to try and identify the presence of hidden content. State of the art techniques explore the temporal correlation between frames (Meghanathan & Nayak, 2010); however, this approach relies on tools that specifically embed data within the image frame. For a more in-depth presentation of the last advances in the matter, please check the Literature Review section.
Statistical analysis provides a way to examine the statistical properties of a carrier file for deviations that apply to a wide variety of embedding algorithms. Signature steganalysis is performed by identifying consistent, repetitive patterns embedded by a steganography tool (Mandal, 2012). Together, this approach provides an ideal method of attack against these tools, as it is typically applicable to a variety of embedding algorithms.
The steganalytic techniques used in this paper are typically in the remit of forensic steganalysis. This approach aims to discern the embedding algorithm of a stego-system, and to develop methods to distinguish between original and stego-content (Fridrich, 2009). Our method for examining stego-systems can also be defined as system steganalysis, as it exploits vulnerabilities within the tool implementation to detect the presence of steganography. The importance of these techniques is that they can drastically simplify the steganalytic process, and reveal crucial information surrounding a particular embedding algorithm.
Literature Review
A steganographic technique that we consider promising and has attracted quite a lot of academic interest over recent years is motion vector steganography. A motion vector is a key component of the motion estimation process. This embedding technique exploits the internal dynamics of video compression to hide messages (Cao, Zhao & Feng, 2012). It benefits from high capacity for data hiding whilst maintaining excellent video quality (Pan et al., 2010). This steganographic approach has been subjected to quite heavy academic scrutiny, which has consequently lead to a number of interesting steganalysis results. Research carried out by Zhang, Su & Zhang (2008) analysed statistical properties introduced by motion vector embedding to effectively detect motion vector based algorithms. Despite the current attacks, we still believe this approach offers promise, and will become a major embedding strategy in the future.
One of the many advantages of video steganography is that well-known embedding techniques for image and audio are also typically applicable to video. Research has been carried to bring the popular DCT steganographic technique to video. A system was proposed by Bodhak & Gunjal (2012) that embeds data through the manipulation of DCT coefficients. This method offers both imperceptibility against the original source and security of the embedded contents through encryption.
Although these proposed techniques highlight advancements in the field, they remain mainly theoretical and rarely make it to an implementation stage, particularly outside platforms such as MatLab, Maple, Mathematica, etc. This results in many of the tools available for the general public not being reflective of the latest academic developments in the area.
There was, however an interesting exception to this, though not a very successful one: An academic video steganography tool was released by researchers at Moscow State University called MSU StegoVideo (Dmitriy Vatolin, 2007). This was one of the first video steganography tools subjected to academic steganalysis and has received significant interest. MSU StegoVideo is one of the first video steganography tools to embed data directly in the video stream, for which it is recognised as offering true video steganography. However, the tool is not open source (not good security-wise) and no details were provided by the author concerning the embedding algorithm (this is a terrible security practice, and a clear example of security-by-obscurity). Therefore, researchers interested in attacking the tool had to carry out some reverse engineering and frame-based analysis to properly understand the embedding mechanisms (Wu et al., 2010). After that, DCT-based steganalytic attacks have been used to successfully detect MSU StegoVideo (Kancherla & Mukkamala, 2009).
Dismantling Tools
Security vulnerabilities within any type of software are always a concern, and addressing them should be a matter of priority. This is even more evidently the case when dealing with vulnerabilities in security software.
Steganalysts attempt to detect, estimate and, if possible, extract hidden content within carrier files (Das et al., 2011). However, in certain cases where a tool shows weaknesses on a more fundamental level, direct attacks against the software can provide even more compromising results. This method of forensic and system steganalysis is our primary approach towards the analysis of the tools discussed throughout this paper.
We will focus on six video steganography tools (StegoStick, OurSecret, Masker, OmniHide Pro, BDV DataHider and Max File Encryption) that we prove offer a dangerously outdated and insecure embedding mechanism known as EOF data injection.
Summary of Findings
Throughout this paper, a total of six video steganography tools have been examined and evaluated. Multiple weaknesses have been identified across them, capable of seriously compromising users' data. In this section, we provide a brief summary of our findings in Table 4, highlighting the vulnerabilities discovered.
| Toolkit | Embedding algorithm | Vulnerabilities identified |
| --- | --- | --- |
| OurSecret | Data injection—EOF | 40-byte signature, full retrievable contents with null password |
| OmniHide Pro | Data injection—EOF | Recover hidden filename and size, found pseudo-signature |
| Masker | Data injection—EOF | 73-byte signature, hidden file size can be determined |
| StegoStick | Data injection—EOF | Hidden file type recoverable |
| Max File Encryption | Data injection—EOF | Multiple signatures |
| BDV Data Hider | Data injection—EOF | Auto detection within the tool |
We discovered that in all cases it is possible to isolate the embedding algorithm and develop detection methods against these tools. In this paper, we demonstrate how a warden can detect the presence of steganography within a video file. Following the identification of consistent signatures throughout several of the tools, scripts can be developed for the detection of hidden contents. The generalised attack against EOF injection was able to successfully identify the presence of video steganography across each of the tools discussed in this paper. Usage of any of these tools must stop immediately.
Conclusions and Future Work
The findings in this paper emphasise the poor state of existing video steganography tools, highlighting how the use of simple signature-recognition scripts is enough to break a number of these applications. We have identified severe security vulnerabilities within each of the video steganography tools examined. We believe the described findings, together with the scripts accompanying this paper, will be useful for forensic practitioners searching for video steganography in their investigation. With only a handful of video steganography tools currently available, our findings are likely to affect a large number of video steganography users. We believe it is crucial to raise awareness into the inadequate security of these tools.
To further evaluate the merits of this approach, but also to investigate the prevalence of video steganography usage on the internet, we are currently working on a general framework, the Steganalytic wEbrEsearch frameworK (SEEK).3 We also plan to address other forms of video steganography, and to add DCT and motion vector detection to the framework. We also hope that showing the current poor state of affairs in publicly available video steganography will contribute to the future development of new and more secure tools. The case of MSU StegoVideo is a good example of academic progression for usable tools. Future tools should also pay more attention to include academic developments, and implement tried and tested techniques instead of ad-hoc algorithms.
Many of the tools listed in Table 1 do not show the number of downloads on their host site or any other centralised form, so we gathered these figures from a number of downloading sites and added them up. We can safely assume that the actual number of downloads is significantly higher that the figures shown here.
This vulnerability is an improvement to the JPEG exploit as referenced on CVE-2007-0163, where this weakness was not mentioned.