Enhancing discovery in spatial data infrastructures using a search engine
1
Center for Geographic Analysis, Harvard University

,

Cambridge, MA

,

USA
2
Open Source Geospatial Foundation

,

Beaverton, OR

,

USA
Published

Accepted

Received
Academic Editor
Subject Areas

Keywords

Data discovery

,

Catalogue Service for the Web

,

Metadata

,

WorldMap

,

Geoportal

,

Search engine

,

Spatial Data Infrastructure

,

pycsw

,

Solr

,

GeoNode
Copyright

©

2018

Corti et al.

Licence

This is an open access article distributed under the terms of the Creative Commons Attribution License, which permits unrestricted use, distribution, reproduction and adaptation in any medium and for any purpose provided that it is properly attributed. For attribution, the original author(s), title, publication source (PeerJ Computer Science) and either DOI or URL of the article must be cited.
Cite this article

2018

.

Enhancing discovery in spatial data infrastructures using a search engine

.

PeerJ Computer Science

4

:

e152

https://doi.org/10.7717/peerj-cs.152
Abstract
A spatial data infrastructure (SDI) is a framework of geospatial data, metadata, users and tools intended to provide an efficient and flexible way to use spatial information. One of the key software components of an SDI is the catalogue service which is needed to discover, query and manage the metadata. Catalogue services in an SDI are typically based on the Open Geospatial Consortium (OGC) Catalogue Service for the Web (CSW) standard which defines common interfaces for accessing the metadata information. A search engine is a software system capable of supporting fast and reliable search, which may use 'any means necessary' to get users to the resources they need quickly and efficiently. These techniques may include full text search, natural language processing, weighted results, fuzzy tolerance results, faceting, hit highlighting, recommendations and many others. In this paper we present an example of a search engine being added to an SDI to improve search against large collections of geospatial datasets. The Centre for Geographic Analysis (CGA) at Harvard University re-engineered the search component of its public domain SDI (Harvard WorldMap) which is based on the GeoNode platform. A search engine was added to the SDI stack to enhance the CSW catalogue discovery abilities. It is now possible to discover spatial datasets from metadata by using the standard search operations of the catalogue and to take advantage of the new abilities of the search engine, to return relevant and reliable content to SDI users.
Introduction
A spatial data infrastructure (SDI) typically stores a large collection of metadata. While the Open Geospatial Consortium (OGC) recommends the use of the catalogue service for the web (CSW) standard to query these metadata, several important benefits can be obtained by pairing the CSW with a search engine platform within the SDI software stack.
Background
Harvard WorldMap (http://worldmap.harvard.edu/) is an open source SDI and Geospatial Content Management System (GeoCMS) platform developed by the Centre for Geographic Analysis (CGA) to lower the barrier for scholars who wish to explore, visualize, edit and publish geospatial information (Guan et al., 2012). Registered users are able to upload geospatial content, in the form of vector or raster datasets (layers), and combine them with existing layers to create maps. Existing layers can be layers uploaded by other users and layers provided by external map services.
WorldMap is a web application built on top of the GeoNode open source mapping platform (http://geonode.org/), and since 2010 has been used by more than 20,000 registered users to upload about 30,000 layers and to create some 5,000 web maps. Users can also access about 90,000 layers from remote map services based on OGC standards and Esri REST protocols.
WorldMap is based on the following components, all open source and designed around OGC standards (Fig. 1):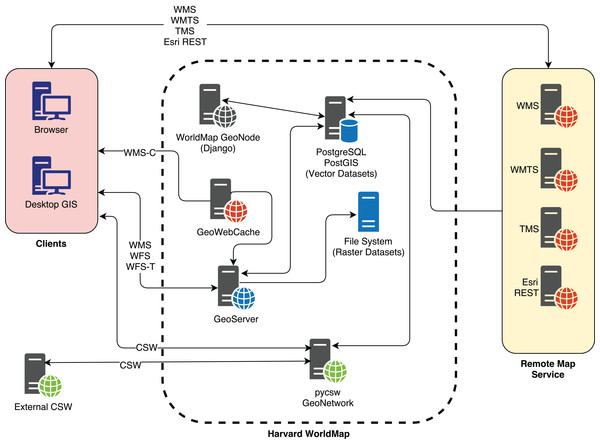 WorldMap allows users to build maps using its internal catalogue of layers (local layers) combined with layers from external map services (remote layers), for a total of about 120,000 layers. WorldMap users can have trouble finding useful and reliable layers given the large number of them; a system was needed to enable fast, scalable search capable of returning the most reliable and useful layers within a large and heterogeneous collection.
Results and Discussion
In 2015 CGA started the design and development of Hypermap Registry (Hypermap) (https://github.com/cga-harvard/Hypermap-Registry) to improve search for WorldMap users. Hypermap is an application that manages OGC web services (such as WMS, WMTS, CSW Capabilities service metadata) as well as Esri REST endpoints. In addition it supports map service discovery (Chen et al., 2011), crawling (Bone et al., 2016; Li, Yang & Yang, 2010), harvesting and uptime statistics gathering for services and layers.
One of the main purposes of Hypermap is to bring enhanced search engine capabilities into an SDI architecture. As it can be seen from the following Fig. 2, search engine documents, based on a provided schema, must be kept in synchrony with layer metadata stored in the GeoNode RDBMS. Hypermap is responsible for ensuring that the WorldMap search engine, based on Apache Solr, and the WorldMap catalogue RDBMS, based on PostgreSQL, are kept in sync. For example, when a WorldMap user updates the metadata information for one layer from the WorldMap metadata editing interface, that information is updated in the WorldMap pycsw backend, which is based on the RDBMS. As soon as this happens, a synchronization task is sent from Hypermap to the task queue. The task will be processed by the task queue, and all of the metadata information for the layer will be synced to the corresponding search engine document.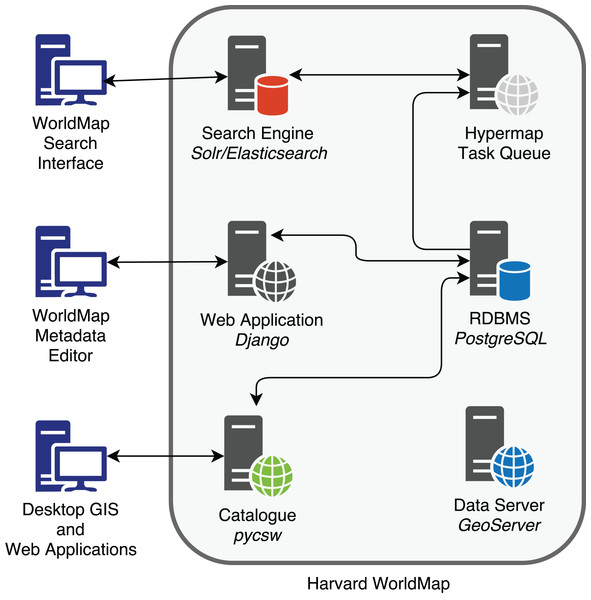 Thanks to this synchronization mechanism, WorldMap users can search the existing layers metadata using a search engine rather than the OGC catalogue, enabling more flexible searches which filter on keywords, source, layer type, map extent and date range (Corti & Lewis, 2017). The results are returned by the search engine which returns a JSON response, and tabular in addition to spatial views (based on spatial facets) are returned to the browser (Fig. 2).
WorldMap improvements with the search engine
By pairing the CSW catalogue with a search engine, the metadata search in the WorldMap SDI yields several major benefits.
Fast results
By having the metadata content indexed in a search engine, metadata are returned very rapidly to the client. Because of its indexed documents nature, a search engine is much faster to return results when compared it with a relational database. Therefore, using a search engine in WorldMap search client makes things much faster than using a CSW catalogue based on a RDBMS.
Scalability
From a software engineering perspective, search engines are highly scalable and replicable, thanks to their shardable architecture. Such systems are capable of providing interactive query access to collections of spatio-temporal objects containing billions of features (Kakkar & Lewis, 2017; Kakkar et al., 2017).
Clean API
Query to the search engine API tends to be much simpler than XML queries to the CSW catalogue, specially when crafting advanced search requests (spatial, non-spatial, temporal, etc.). Same for output: JSON output from search engine API provides a more compact representation of search results enabling better performance and making the output more readable (Figs. 3 and 4).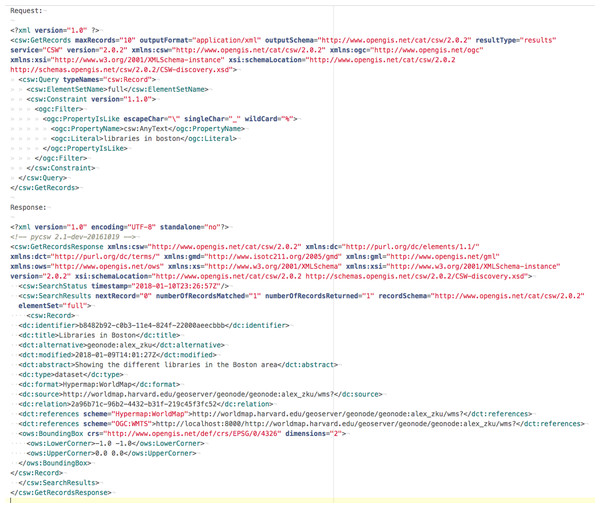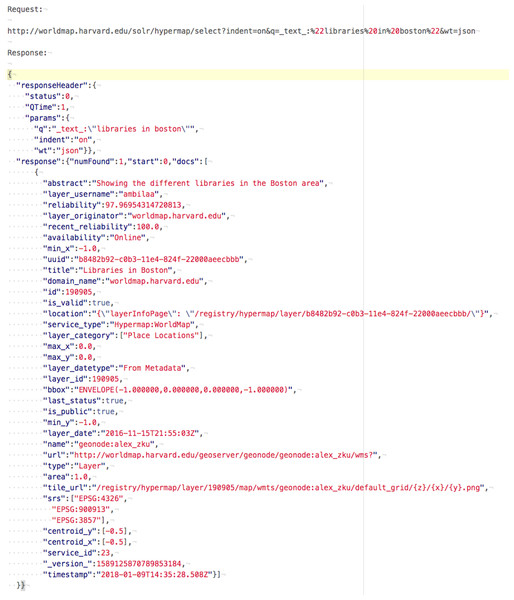 Synonyms, text stemming
Crucially, search engines are good at handling the ambiguities of natural languages, thanks to stop words (words filtered out during the processing of text), stemming (ability to detect words derived from a common root), synonyms detection and controlled vocabularies such as thesauri and taxonomies. It is possible to do phrase searches and proximity searches (search for a phrase containing two different words separated by a specified number of words). Because of features like these, keyword queries using the Hypermap search engine endpoint typically returns more results than an equivalent query using the Hypermap CSW. For example doing a full text search for the keyword 'library' returns more results from the search engine because it includes variations and synonyms of the original term like 'libraries,' 'bibliotheca,' 'repository,' 'repositories' in the returned results.
Relevancy
Results can be ranked, providing a way to return results to users with the more relevant ones closer to the top. This is very useful to detect the most significative metadata for a given query. Weights can be assigned by specifying boosts (weighted factors) for each field.
Facets
Another important search engine feature useful for searching the WorldMap metadata catalogue is faceted search. Faceting is the arrangement of search results in categories based on indexed terms. This capability makes it possible, for example to provide an immediate indication of the number of times that common keywords are contained in different metadata documents. A typical use case is with metadata categories, keywords and regions. Thanks to facets, the user interface of an SDI catalogue can display counts for documents by category, keyword or region (Fig. 5).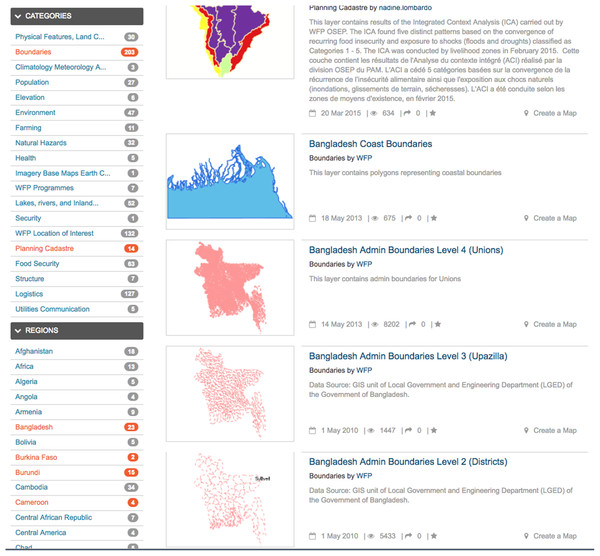 Search engines can also support temporal and spatial faceting, two features that are extremely useful for browsing large collections of geospatial metadata. Temporal faceting can display the number of metadata documents by date range as a kind of histogram. Spatial faceting can provide a spatial surface representing the distribution of layers or features across an area of interest. In Fig. 6, a heatmap is generated by spatial faceting which shows the distribution of layers in the WorldMap SDI for a given geographic region (Fig. 6).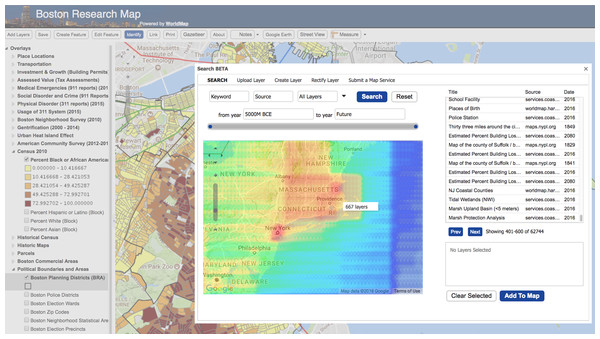 Other features
In addition, it is possible to use regular expressions, wildcard search and fuzzy search to provide results for a given term and its common variations. It is also possible to support boolean queries: a user is able to search results using terms and boolean operators such as AND, OR, NOT and hit highlighting can provide immediate search term suggestions to the user searching a text string in metadata.
Conclusion
While the CSW 3.0.0 standard provides improvements to address mass market search/discovery, the benefits of search engine implementations combined with broad interoperability of the CSW standard presents a great opportunity to enhance the CSW standard. The authors hope that such an approach eventually becomes formalized as a CSW Application Profile or Best Practice in order to achieve maximum benefit and adoption in SDI activities. This will allow CSW implementations to make better use of search engine methodologies for improving the user search experience in SDI workflows.
In addition, pycsw is planning for dedicated Elasticsearch/Solr support as part of a future release to enable the use of search engines as backend stores to the CSW standard. This is a different approach from using an Application Profile or Best Practice, as it directly interacts with data in the search engine rather than in the RDBMS (Fig. 7).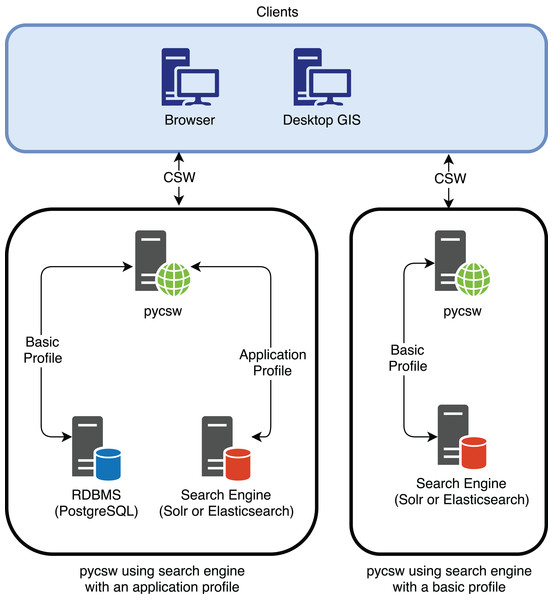 The authors would like to share this work with the OGC CSW community in support of the evolution of the CSW specification. Given recent developments on the OGC WFS 3.0 standard (RESTful design patterns, JSON, etc.), there is an opportunity for CSW to evolve in alignment with WFS 3.0 in support of the principles of the W3C Spatial Data on the Web Best Practices (Group, 2017) in a manner similar to the work presented in this paper.