Mobile phone enabled mental health monitoring to enhance diagnosis for severity assessment of behaviours: a review
1
Department of Networking and Communications, School of Computing, SRM Institute of Science and Technology, Kattankulathur

,

Chennai

,

India
2
School of Business, University of Southern Queensland

,

Toowoomba

,

Australia
Published

Accepted

Received
Academic Editor
Subject Areas

Keywords

Mobile phone

,

Sensor

,

Smartphone

,

Passive sensing

,

Mental health

,

Ambient sensors

,

Mental health monitoring
Copyright

©

2022

Gopalakrishnan et al.

Licence

This is an open access article distributed under the terms of the Creative Commons Attribution License, which permits unrestricted use, distribution, reproduction and adaptation in any medium and for any purpose provided that it is properly attributed. For attribution, the original author(s), title, publication source (PeerJ Computer Science) and either DOI or URL of the article must be cited.
Cite this article

2022

.

Mobile phone enabled mental health monitoring to enhance diagnosis for severity assessment of behaviours: a review

.

PeerJ Computer Science

8

:

e1042

https://doi.org/10.7717/peerj-cs.1042
Abstract
Mental health issues are a serious consequence of the COVID-19 pandemic, influencing about 700 million people worldwide. These physiological issues need to be consistently observed on the people through non-invasive devices such as smartphones, and fitness bands in order to remove the burden of having the conciseness of continuously being monitored. On the other hand, technological improvements have enhanced the abilities and roles of conventional mobile phones from simple communication to observations and improved accessibility in terms of size and price may reflect growing familiarity with the smartphone among a vast number of consumers. As a result of continuous monitoring, together with various embedded sensors in mobile phones, raw data can be converted into useful information about the actions and behaviors of the consumers. Thus, the aim of this comprehensive work concentrates on the literature work done so far in the prediction of mental health issues via passive monitoring data from smartphones. This study also explores the way users interact with such self-monitoring technologies and what challenges they might face. We searched several electronic databases (PubMed, IEEE Xplore, ACM Digital Libraries, Soups, APA PsycInfo, and Mendeley Data) for published studies that are relevant to focus on the topic and English language proficiency from January 2015 to December 2020. We identified 943 articles, of which 115 articles were eligible for this scoping review based on the predetermined inclusion and exclusion criteria carried out manually. These studies provided various works regarding smartphones for health monitoring such as Physical activity (26.0 percent; 30/115), Mental health analysis (27.8 percent; 32/115), Student specific monitoring (15.6 percent; 18/115) are the three analyses carried out predominantly.
Introduction
There are widespread concerns about the impact of the COVID-19 pandemic on mental health, which has led to a natural urgency for mental health research. There are many contributing factors towards poor mental health, but the COVID-19 pandemic has exaggerated many psychological obstacles, and the hypothesis is that this has subsequently led to a greater incidence of mental health issues in those who may have otherwise never come to the attention of health services (Zhang & Ma, 2020). Moreover, the government's order to "stay at home" and the quarantine have led to the longest period of enforced isolation in human history, with the accompanying psychological toll of bereavement and unexpected fatalities. Similarly, the consequences of such widespread isolation have led to a number of intangible effects, such as increased substance use and financial stresses. While the COVID-19 pandemic continues, efforts have turned to early detection of warning markers of psychiatric illness in order to implement time-sensitive therapies (Adogwa et al., 2016). Traditional psychiatric evaluation approaches, such as clinical assessments and self-survey reports have limitations in terms of achieving this goal. Firstly, clinical assessments frequently rely on a person's hindsight subjective evaluation of their activities over weeks, months, or years (Garcia-Ceja, Osmani & Mayora Ibarra, 2015). As a result, individuals may not be willing to engage appropriately, or may introduce an element of recall bias during the assessment. Secondly, the types of consumers chosen for inclusion in such studies are often sourced from clinical environments and rely on those who are sufficiently disordered to require contact with mental health services. Subsequently, such assessments may have minimal consistency and may be subject to types of reactions associated with a person's drive to undergo therapy e.g., minimising symptoms, hyper-endorsing issues or avoidance of treatment. Furthermore, examinations are frequently conducted after psychological problems or cognitive disability which have progressed to the point where therapy is required for them, as they are much more resistant to treatment. Improved precise diagnosis of behavioural indications linked to imminent difficulties could lead to early remedies, potentially improving long-term outcomes. In the last decade, mobile phones have exceeded their original use as communication devices. A smartphone can now function as a digital camera, accelerometer, activity tracker, or chatbot, amongst other functions. The different embedded sensors, together with the usage of smartphones coupled with widespread availability, have made them a significant research tool in a variety of fields. One such aspect was passively monitoring or self-monitoring for forecasting or categorizing smartphone customers' health-related actions (Cheffena, 2015; Huang et al., 2015). Manipulation of mobile data such as application usage, communications and performed activities can be converted into latent information for predicting users' well-being. Furthermore, contextual data of users includes weather and Wifi access used to determine location (Moher, 2009). The embedded sensors act as effective self-monitoring tools which enable the passive collection through the customized platforms containing microphone, zoom lens, magnetometer, speedometer, bluetooth, light and sound sensors (Higgins et al., 2011; Wang & Zhang, 2015). This evolution has sparked a lot of curiosity and research possibilities in the context of mental health and wearable technologies. It also emphasises the need for greater research into its mental health implications, based on past material.
The overarching goal of this scoping review is to establish a uniform framework for defining the behaviours collected through various sensing techniques. The specific objectives of this study are:
To concentrate on the prospect of employing current mobile or wearable devices to detect and treat mental health issues early.

To provide an outline of clinical competencies used to compare the novel findings and data from smartphones that are utilized to track the health of the users.

To identify prospective areas for future research in behavioural sciences studies.
This review focuses on evaluating human behaviour during this pandemic using the best companion smartphones and highlights recent advances in the field of mobile phone usability to answer the following primary research questions:
Could wearable or mobile tech be used to offer remote psychological assistance during the COVID-19 pandemic recovery process?

What are the recent improvements in measuring instruments such as hardware and software?

What are the limitations or concerns with passive monitoring that have been detected into the articles integrated in the study are of interest to us?
The rest of the paper is organized as follows. 'Survey Methodology' presents methods for narrowing publications by including the recent works in estimating the mental health issues in this COVID scenario. 'Results and Analysis' deals with the systematic search methods for deducing the nature of mental well-being observing frameworks. 'Discussion' presents different related work for mental health monitoring systems. 'Current Challenges in Passive Sensing for Mental Health Research' describes the significant drawbacks of change in expectation. Finally, conclusions and advanced work are given in 'Conclusions'.
Survey Methodology
This survey methodology proceeds with a description of the searching strategy, scientific databases retrieved, the inclusion and exclusion criteria, and the number of research articles selected from the various databases to find the research work.
Search strategy and information Source
The strategic purpose of digitised assessments for psychological health issues has been immediately required during the COVID-19 pandemic. Wearable gadgets can be used to enhance assessments of mental health issues and can be used for tracking at-risk and quarantined populations. Furthermore, while passive monitoring does not operate as frequently as active monitoring, it can collect and generate vast amounts of data, which may be used in supporting clinical assessment. As a result, the search focused on identifying the most appropriate keywords for collecting recent papers on the subject such as mobile technologies, ambient sensing, sensors and wearable and clinical competencies. Searches were conducted in electronic bibliographic databases such as PubMed (Health Science), IEEE Xplore, ACM Digital Libraries (computing methods), Soups (information article), APA PsycInfo, and Mendeley Data (Physio informatics), addressing this via query-based searches.
Scopus (ScienceDirect)((ALL (Monitoring deceives)) OR (ALL (Passive monitoring)) OR (ALL (hardware)) OR (ALL (Software)) OR (ALL (smartphone deceives)) OR (ALL ('monitoring AND deceives' OR 'Passive AND monitoring' OR 'hardware AND software' OR 'smartphone AND deceives'))) AND (ALL (well-being * OR physical * OR mental * AND health))

IEEE Xplore digital library("Full Text Only": mental health monitoring) AND ("Full Text Only": hardware) OR ("Full Text Only": software) AND ("Full Text Only": passive monitoring) AND ("All Metadata": mental behaviours) AND ("All Metadata": well being)

APA PsycInfo Any Field: mental health monitoring using hardware OR Any Field: software with passive sensing

Mendeley ALL(mental AND health AND well AND being AND using AND passive AND monitoring AND sortBy = publicationYear)

PubMed(("mental health"[MeSH Terms] OR ("mental"[All Fields] AND "health"[All Fields]) OR "mental health"[All Fields]) AND ("health"[MeSH Terms] OR "health"[All Fields] OR "well"[All Fields] OR "well being"[All Fields]) AND ("passive"[All Fields] OR "passively"[All Fields] OR "passives"[All Fields]) AND ("monitor s"[All Fields] OR "monitorable"[All Fields] OR "monitored"[All Fields] OR "monitoring"[All Fields] OR "monitoring s"[All Fields] OR "monitoring, physiologic"[MeSH Terms] OR ("monitoring"[All Fields] AND "physiologic"[All Fields]) OR "physiologic monitoring"[All Fields] OR "monitor"[All Fields] OR "monitorings"[All Fields] OR "monitorization"[All Fields] OR "monitorize"[All Fields] OR "monitorized"[All Fields] OR "monitors"[All Fields])) AND (2003:2022[pdat])

ACM [All: mental health behaviors prediction using passive monitoring] AND [All: mental health well being using passive monitoring]
Various reputable databases are excluded so the risk of duplication of research is minimized, for example, the Web of Science database.
Criteria for inclusion and exclusion
This study mainly focuses on the passive monitoring system for analysing the behaviours to predict the mental health which does not need user interaction, moreover, it is not necessary for monitoring users to communicate with the sensors voluntarily for sensing purposes, it should be embedded as they use in their routines. Thus, articles that were published between January 2015 and December 2020, written in English and meet the above purpose, are included.
In contrast, records excluded are based on the following reasons removal of duplication-429 (sample article indexed in various databases), based on: the title of studies; 192 (active monitoring methods, self-questionnaire methods); irrelevant review objectives, 79; and finally based on the articles that lack availability of results and discussion, 128 (EEG, ECG monitoring). Books, book chapters, conference abstracts, short surveys, editorials and letters were excluded as well. Finally, omitted studies which do not contain proper ethical clearance to carry out the research work.
Study selection
Studies were extracted based on the query formed above and refined based on their titles, followed by their abstracts. The rest of the refined articles were further scrutinised by reviewing the content and determining relevance to the research question. The search list was ordered chronologically and then analysed by a group of researchers in unison so as to minimise selection bias.
Figure 1 shows the data flow diagram explaining how the publications for the review were chosen based on elimination carried out manually with inclusion and exclusion criteria. The systematic search described above yielded a sample of 943 manuscripts.After removing the duplicates, we were left with 514 studies. 349 of the 514 titles examined were deemed eligible for abstract evaluation. An estimated 199 abstracts were considered as potential review candidates, which led to 182 full-text retrievals and evaluations. Finally, 115 manuscripts were included in the study. Table 1 shows the number of returned and selected papers from retrieved databases.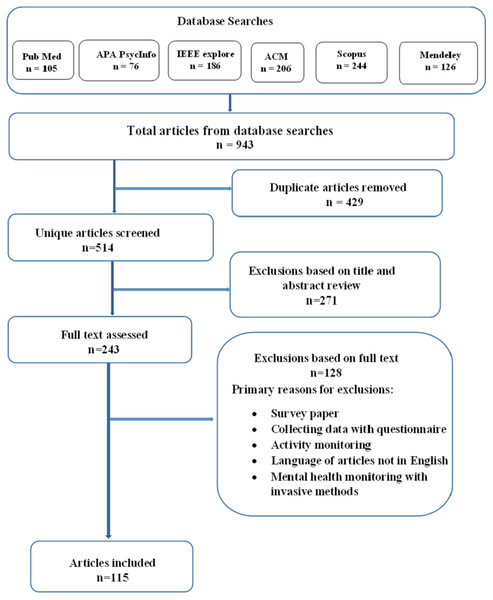 Based on the exclusion criteria Table 2 shows the count of papers that were excluded from the final stage of the review. Table 3 shows the number of articles published per year in the last six years.
Discussion
People may be hesitant to use smartphones for health monitoring because of the previously mentioned disadvantages. Users currently make rapid judgments about whether or not to use an app; as a result, their needs must be met completely. Consumers frequently judge apps based on their design initially. Generally, users require a user-friendly app and they were not willing to spend much time learning to use it. Battery usage and privacy are common concerns. In actuality, because these programs are often run in the background, consumers do not expect their battery level to decline significantly. Users may also delete apps if they have privacy concerns. Data acquired on a mobile is personal and should not be shared or accessed without permission. Commonly, people are not ready to share their health-related data on social media sites. But, at the same time, they may share it openly with physicians if they went for diagnosing health-related issues. Furthermore, consumers are comfortable utilising password-protected apps but are wary about putting in too much effort to create accounts. Moreover, an app's deactivation may be due to unreliable or inadequate outcomes or advice. Memory space used for application storage and working in the background is also an issue during normal smartphone operations (Torous, Friedman & Keshavan, 2014; Carbonell, Michalski & Mitchell, 1983).
Yet another critical factor to be considered is based on their present situation, people may receive a few numbers of calls, texts, emails and notifications with the majority of them being favourable recommendations. They find the ability to customize the frequency and timing of notifications to be appealing (Torous, Friedman & Keshavan, 2014). Users, on the other hand, are equally interested in defining and accomplishing personal goals. (Dogan et al., 2017; Nguyen & Silva, 2016).
In light of the aforementioned obstacles and potential issues, the created systems discussed in this comprehensive study still have some constraints that must be addressed in order to meet users' expectations and demands. It is critical for the validation of such monitoring systems to include a population sample that is representative of the target population for an extended period of time, in order to collect sufficient data and produce reliable results. From the above findings, about 83.4 percent (96/115) of the chosen papers tested their system with up to 250 participants, and their entire working observed for study purposes ranged up from one to four weeks in 16.5 percent (19/115) of the chosen papers, thus it looks like very short duration to guarantee realistic performance and ensure the customers' confidence in operating with the systems.
Additionally, the discussed models were suited for a limited population, which could lead to erroneous results when the system is used with a different population. Although 44.3 percent (51/115) of the selected papers proved that sensing can be passively done without disturbing the regular activities, it had to be retained in exclusive locations for effective measurement such as pockets, purses, handbags and hands. According to the above study, smartphones can collect health-related data and offer users relevant feedback on health problems. Despite the increased interest and evolution, monitoring systems will require improvement in order to attract a wider range of users and achieve their expectations. In addition to the aforementioned demands and problems, the use of Mobile phones in health monitoring may generate further questions. Smartphones are currently utilised all around the world. The health monitoring systems may be beneficial to the elderly, smartphones may not be a simple or flexible tool for them but the younger generation is more familiar with them.
Furthermore, these systems may appeal to those with diagnosed ailments who have specific goals in mind, like observing lifestyles, regulating heartbeat rate, working of hormones, and reducing obesity, rather than people who have no clear goals in mind. Finally, once users are either comfortable with such systems or reached their individual goals, they may stop using the monitoring devices. The research presented shows how individuals can improve their health and well-being by monitoring many health dimensions exclusively using data collected from their smartphones. Most of the papers address unique disorders related to mental health, including depression, fear, anxiety, bipolar disorder, mood cornered problems, schizophrenia (Faurholt-Jepsen, Bauer & Kessing, 2018; Rajagopalan et al., 2017; Dogan et al., 2017; Areán, Ly & Andersson, 2016; Þórarinsdóttir, Kessing & Faurholt-Jepsen, 2017; Nguyen & Silva, 2016), heart related diseases (Ko et al., 2015), tension (Nguyen & Silva, 2016), sleep (Ko et al., 2015), and other physiologically health issues including obesity due to lack of physical exercises (Thomas & Bond, 2014), long-lasting diseases in older adults (Cornet & Holden, 2018), overall health (predicting disturbance in sleep (Harari et al., 2016), and mobility patterns (Leigh & Flatt, 2015). Figure 3 represents the selected publications in research fields. From the above figure, it is evident that due to the increase in the number of cases related to various issues in mental health and in general people are much more consciences about physical health. The smartphone was the most widely utilized technology and device in the evaluations (Faurholt-Jepsen, Bauer & Kessing, 2018; Rajagopalan et al., 2017; Batra et al., 2017; Dennison et al., 2013), although only some works perform it by gathering the sensors data (Faurholt-Jepsen, Bauer & Kessing, 2018; Batra et al., 2017; Nguyen & Silva, 2016; Ko et al., 2015; Thomas & Bond, 2014). Rarely in some circumstances, phones are utilized to persuade users to conduct ecological temporary assessments (Batra et al., 2017; Areán, Ly & Andersson, 2016; Nguyen & Silva, 2016), to deliver notifications apps of the smartphone are used (Rajagopalan et al., 2017; Batra et al., 2017; Dogan et al., 2017; Areán, Ly & Andersson, 2016; Þórarinsdóttir, Kessing & Faurholt-Jepsen, 2017; Ko et al., 2015), or to send brief messaging service suggestions to users (Rajagopalan et al., 2017; Thomas & Bond, 2014). Wearable gadgets, (Batra et al., 2017; Þórarinsdóttir, Kessing & Faurholt-Jepsen, 2017; Ko et al., 2015; Cornet & Holden, 2018) are also considered in peer-reviewed articles, as replacement of smart phones and due to the reputation of the embedding sensors in any daily usage components to monitor passively are tablets, accessories, health trackers and smartphone-linked devices (Batra et al., 2017; Ko et al., 2015; Thomas & Bond, 2014; Kim & Lee, 2017; Cornet & Holden, 2018). Unlike the other publications in this review, this one does not focus on a particular situation or sensor. The aim of this study is to find various and possible physical condition-related variables which can be tracked using a phone, further determining how majority of sensing systems replace or supplement conventional diagnostic procedures.
Current challenges in passive sensing for mental health research
Frequent users anticipate monitoring systems to give them relevant data and recommendations regarding their actions (Torous, Friedman & Keshavan, 2014). Users are provided with well-being feedback (Harari et al., 2017b; Anderson, Burford & Emmerton, 2016) related to mental stress, well being and overall physical activities in order to alter their standard of living.
The use of smartphones in health monitoring appears to be a promising research subject. The current solutions have significant drawbacks that must be overcome in order for users to feel comfortable and confident utilising such systems. In reality, monitoring systems may be deemed unsettling, unpleasant, and intrusive, such as the use of smartphones for diagnostic evaluations, which have social, economic, and cultural limitations. Sick or socially vulnerable people have different behaviours in different scenarios. The current challenges in passive monitoring are broadly classified as shown in Fig. 5 such as issues in the monitoring system, end-users issues, and behavioural marker issues.
Challenges in monitoring systems
The created systems discussed in this scoping review still have several flaws that must be addressed in order to meet the expectations and demands of users.
validation of monitoring systems

These systems should be tested with a population sample that is highly representative of the target population for a sufficient period of time in order to collect enough data and produce as accurate results as possible. From the survey, 71.1 percent (84/115) of the selected papers tested their system with up to 50 participants, and 17.7 percent (21/115) of the selected papers tested their system for one to three weeks, which appears to be a short period to ensure reasonable results and ensure users' confidence in using available solutions.

Majority of the system designed so far are assessed on younger generations additionally outputs may not be much reliable (Cheffena, 2015; Del Rosario et al., 2014). Single population alone was targeted in the vast number of research works that may be overly customized, resulting in erroneous findings when the systems are utilised by other groups (Chen et al., 2014; Beck, 1979). Personalized models outperformed general models, according to other studies (Huang et al., 2015; Juen, Cheng & Schatz, 2015; Saeb et al., 2017a; DeMasi et al., 2017).

Furthermore, 43.2 percent (51/115) of the papers chosen demand users to keep their smartphones close to them or to use them in a specified bodily position, such as their hand, chest, or trouser pocket. Other research required users to have their handsets near them (Bowling, 1991; Huang et al., 2015; Ellis et al., 2012) or to keep them turned on all the time to ensure that the system worked properly (Boonstra et al., 2017; Staples et al., 2017). Because smartphones become an invasive technology for users under certain situations, they may be rendered obsolete.
End users issues
In terms of privacy, 26.08 percent (30/115) of respondents indicated that privacy concerns could cause consumers to abandon their commitment. All those data are related to their personal these have to be kept secure were concentrated in (Kelly, Curran & Caulfield, 2017; Wang et al., 2014). In some studies users are not willing to save their personal data on cloud environment (Ben-Zeev et al., 2017; Aslam et al., 2016) or in their internal mobile devices by hashing techniques (Huang et al., 2015; Boonstra et al., 2017; Aslam et al., 2016; Wang et al., 2014), and there are sensor which contains certain concerns about privacy (Juen, Cheng & Schatz, 2015).

Still on the subject of technological considerations, consumers anticipate that the software will not take up too much space or memory and that it will be able to run in the background without interfering with other smartphone functions.
Behavioral marker issues
Seasonality and the environment are two other essential factors to consider. In the winter, for example, GPS and accelerometer data in Minneapolis will differ from that in Miami.
Variability in sensing data is due to the decentralized sources, including data types, people's characteristics, and diverse situations. Sensors in cellphones differ from one manufacturer to the next, from one model to the next, and from one version to the next, impacting the data collected. The link between constructs or how people use measurement equipment may be influenced by their properties. For example, age may be linked to the number of social contacts, with older people having fewer contacts and desiring less contact, but it could also be linked to how social engagement is monitored using a phone (e.g., older people are more likely to call and less likely to send text messages than younger people).
Finding a scientifically valid balance between identifying uniform variables, to making data pooling simple (e.g., using the same questions) statistical methods is used to manage heterogeneity by providing similarity. It is challenging to pool data points if they are not identical. Since the field of personal sensing in mental health is not mature, some agreement may be possible on a core set of clinical assessment methods (EMA or self-report), which will allow for uniform anchoring of a wide range of sensor data as it evolves and changes over time and between research projects. A fully integrated assessment is complicated by the wide range of devices, sensors, and data permissions available.
Motion artefacts (MA) are common in EDA data gathered with wrist wearables. Variations in the pressure put on the EDA electrodes as a result of the wearable tightness, hand movements, or wrist rotation may cause severe data distortion. Many researchers have used approaches such as exponential smoothing, filtering, and adaptive denoising based on the wavelet transform to suppress artefacts in the past. MA suppression approaches, on the other hand, have the issue of indiscriminately filtering the entire time series data, resulting in distortions even in artifact-free areas. As a result, a new approach called MA detection was developed, which tries to efficiently encode expert knowledge on artefact recognition into a machine learning classifier model.
The technical novelty over generalisability research works appear to address the same behavioural marker often use different sensors, different sets of features, different methods of measuring behavioural markers, and different research designs (e.g., giving people phones versus having them use their own, studying them for varying periods of time, or having varying numbers of participants excluded). The machine learning methods utilised differ, and the results or weightings, especially for group models, are not always comparable between research. As a result, studies looking at the use of machine-learning approaches to estimate behavioural markers show that it is possible under certain conditions; nevertheless, the dependability required for clinical use has yet to be established.
Future work
Existing solutions on the other hand, have various flaws that must be solved in order to meet user expectations, such as privacy and battery issues. First, just a conceptual analysis was provided rather than a numerical analysis of the extent and type of the research. Second, a fully integrated assessment is complicated by the wide range of devices, sensors, and data permissions available. Thus, the sensor data from the monitoring system will be more accurate if a two-stage technique is used with an initial artefact detection phase followed by localised categorization depending on the target population. Finally, due to the limited sample size, different methodology, and varying research duration, we were unable to use a systematic quality grading system or draw conclusions using quantitative meta-analysis.
Conclusions
The number of people affected by mental illness has increased dramatically during the last decade richter. Importantly, many of these patients received inter care during COVID-19 as a result of an overburdened health service whose efforts were primarily committed to COVID-19. The global epidemic emphasises the need for contemporary digital tools in providing care when it is needed. In recent years, smartphone capabilities have enabled users to detect and track mental health issues, since it is available to individuals throughout the day. Technological advancements have made smartphones more accessible to users than traditional monitoring methods. A continuous stream of data is collected by the embedded sensors, resulting in minimal disruption to daily routines due to the collection of health data. This methodical review shows that sensing using a mobile phone and similar devices may create an authentic dataset, as seen by increased interest and awareness. Although there are a few significant areas where smartphone passive sensing contribute to users' well-being, there are many more that have yet to be discovered. While the accelerometer and GPS are predominately used, sensors alone are often used individually or combined. Only a few studies predict well-being based on the usage patterns and interactions made using smartphones. The smartphone evolved as an effective surveillance weapon because of its specific nature such as disconnected, and ubiquitous it allows continuous data accumulation from the users. Those data gathered by the smartphone can be made accessible by the medical experts, or caretakers in order to assist in the diagnosis and treatment of a variety of mental illnesses and even one step ahead may notify family members if they are far about apart.