The reuse of public datasets in the life sciences: potential risks and rewards
Published

Accepted

Received
Academic Editor
Subject Areas

Keywords

Reuse

,

Data science

,

Sequencing data

,

Genomics

,

Bioinformatics

,

Databases

,

Computational biology

,

Open science
Copyright

©

2020

Sielemann et al.

Licence

This is an open access article distributed under the terms of the Creative Commons Attribution License, which permits unrestricted use, distribution, reproduction and adaptation in any medium and for any purpose provided that it is properly attributed. For attribution, the original author(s), title, publication source (PeerJ) and either DOI or URL of the article must be cited.
Cite this article

2020

.

The reuse of public datasets in the life sciences: potential risks and rewards

.

PeerJ

8

:

e9954

https://doi.org/10.7717/peerj.9954
Abstract
The 'big data' revolution has enabled novel types of analyses in the life sciences, facilitated by public sharing and reuse of datasets. Here, we review the prodigious potential of reusing publicly available datasets and the associated challenges, limitations and risks. Possible solutions to issues and research integrity considerations are also discussed. Due to the prominence, abundance and wide distribution of sequencing data, we focus on the reuse of publicly available sequence datasets. We define 'successful reuse' as the use of previously published data to enable novel scientific findings. By using selected examples of successful reuse from different disciplines, we illustrate the enormous potential of the practice, while acknowledging the respective limitations and risks. A checklist to determine the reuse value and potential of a particular dataset is also provided. The open discussion of data reuse and the establishment of this practice as a norm has the potential to benefit all stakeholders in the life sciences.
Introduction
Data reuse as a part of the 'big data' revolution
Data reuse is an essential component of open science and has been facilitated by the 'big data' revolution. The transition from (hand) written notes to datasets stored on hard drives can be viewed as the first step on the road to effective data reuse in the life sciences (Fig. 1), allowing the generation of multiple copies at almost no additional cost. The second step was improved connectivity, which was enabled by the internet. Together, these technological advances in data storage and transfer enabled a worldwide exchange of 'big data', which is common in biology (e.g. sequence data). This technological basis made data sharing possible (Fig. 1). Next, it needs to become convenient for researchers to share data through increased accessibility. Obligations and benefits lead to established sharing behavior, which results in more datasets becoming available, which can then be reused in turn. Finally, it becomes common practice and a habit to share all data, resulting in a positive feedback loop. Data sharing is already common in several disciplines, including genomics, neuroscience, geoscience and astronomy, and an increasing number of studies reuse shared data (Pierce et al., 2019; Tenopir et al., 2020).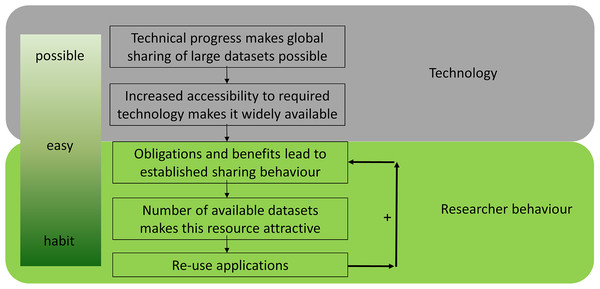 For clarity purposes, we distinguish here between fair reuse (for novel purposes, e.g. meta-analysis), reproduction of previous studies with available data (a vital component of open science), and unjust reuse (dual publication and plagiarism). Alongside the reproduction of studies to test findings, only fair reuse should be considered a valid component of open science and is the type of reuse our discussion focuses on.
To establish data sharing as a norm it had to be introduced through obligations and promoted through benefits for researchers (McKiernan et al., 2016). Numerous funding agencies, publishers (e.g. Nature: (Announcement, 2016), NSF: ('Biological Sciences Guidance on Data Management Plans', https://www.nsf.gov/bio/biodmp.jsp), PLOS: ('PLOS ONE—Data Availability', https://journals.plos.org/plosone/s/data-availability)) and private foundations require all data be made publicly available within a certain time frame, with an indication that this leads to increased transparency in the field (Parker, Nakagawa & Gurevtich, 2016; Tenopir et al., 2020). Many international data sharing guidelines like Findable Accessible Interoperable Reusable (FAIR) (Wilkinson et al., 2016), TOP (The Transparency and Openness Promotion) (Nosek et al., 2015), Open Data in a Big Data World (Open Data in a Big Data World, 2016) and the Beijing Declaration (CODATA, 2019) have emerged by the necessity of the 'big data' revolution. The sharing of datasets leads to statistical robustness and allows re-analysis of existing datasets underlying authors' claims (Open Data in a Big Data World, 2016), while enabling the discovery of novel patterns through meta-analysis (Duvallet et al., 2017). Such data reuse leads to cost reduction, reproducibility and accountability of research, scientific discovery and detection of novel biological information, and can also be helpful in other areas like education, business and government (Safran, 2017; Pasquetto, Randles & Borgman, 2017; Porto, Pires & Franco, 2017; Leonelli et al., 2017).
Despite these measures and benefits, data reuse is still not ubiquitous, for which there may be different explanations. In 2017, an analysis of 318 biomedical journals revealed that only 11.9% of them explicitly stated that data sharing was required as a condition of publication (Vasilevsky et al., 2017). Additionally, a survey of 100 datasets associated with ecological and evolutionary research showed that 56% of the databases were incomplete, and 64% were archived in a way that partially or entirely prevented reuse (Roche et al., 2015). Thus, if the publicly available datasets are not widely re-examined (either checked for quality and/or re-analysed), enforcement of open science through policy may not be sufficient to harness the full power of global sharing (Pasquetto, Randles & Borgman, 2017). The main causes of researchers refraining from reusing publicly available datasets are (1) concern about the quality and reliability of data (often warranted), (2) a lack of awareness about the potential in big data or (3) insufficient bioinformatics knowledge to mine the data (Denk, 2017). Regardless of the cause, the resulting 'backlog' of under-utilised reliable datasets leads to unnecessary experiments (e.g. extensive repetitive sequencing increasing costs) and likely hides useful undiscovered patterns.
Types of reusable data
There are numerous different types of datasets which harbour reuse potential (Fig. 2). These include but are not limited to (1) publications which are accessible to text mining; (2) sequences of genomes, single genes or plasmids or whole sets of sequence reads, (3) annotations of sequences (e.g. sequence motifs collected in JASPAR (Sandelin, 2004)), (4) chromatography results and mass spectra, (5) information about the structure of proteins, (6) biochemical parameters of enzymes (e.g. affinity or reaction speed), (7) geodata (e.g. coordinates of observations), (8) images of biological material or geographical regions as well as plots and diagrams, (9) algorithms and software (e.g. code), measurements of automatic sensors and global-scaled observatory networks (Soranno et al., 2015), and (11) phenotypic data (Arend et al., 2016).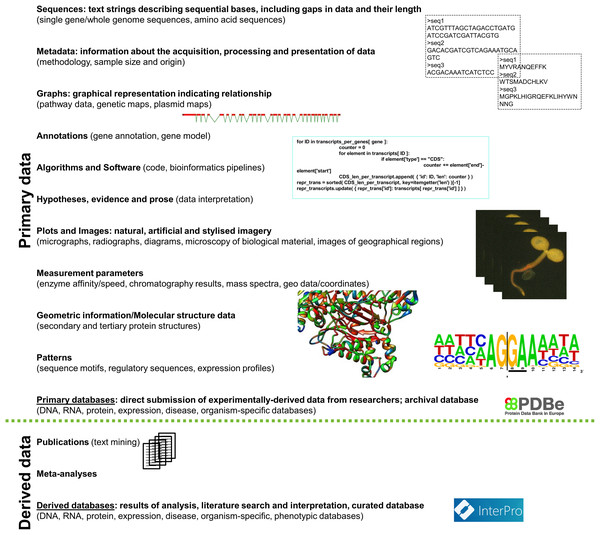 Generally, datasets can be classified as primary and derived. Primary can be defined as including direct, experimentally obtained data' and derived as including meta-analyses and processed results. Statistical data is an example for the fact that data cannot always be classified into 'primary' and 'derived'. Results of a specific experiment can be directly statistically evaluated (primary), whereas results of multiple studies can be assessed and compared in a statistical manner too (derived). Further, it has to be considered that specific fields require the integration of data of various types, formats and abundance (Leonelli et al., 2017), which is hard to achieve by a single database, and therefore requires cooperation to encourage data reuse.
Purpose of the review
Education about the opportunities, challenges, limitations and techniques of data reuse is an important topic that has not been sufficiently addressed in the literature. This review aims to provide an entry point to the discussion of data reuse as part of open science, accessible to a wider audience of life scientists, not only bioinformaticians. The benefits of data sharing (and reasons for refraining from it) have been extensively reviewed in fields other than bioinformatics, for example ecology (Hampton et al., 2013; LaDeau et al., 2017), medicine (Wade, 2014; Krumholz, 2014; Safran, 2017; Hulsen et al., 2019) and cell biology (Dolinski & Troyanskaya, 2015). However, the existing reviews do not summarise the common benefits and challenges that arise from data reuse in the life sciences.
Here, we highlight the potential of data reuse as well as hurdles which need to be overcome. The presented benefits, challenges, risks and potential solutions range across different fields and aim to illustrate the inherent characteristics of data reuse. We define 'successful reuse' as the use of previously published data to enable novel scientific findings, usually resulting in a peer-reviewed publication. As showing case studies could reduce the initial barrier to reuse by demonstrating its value in a more practical manner (Curty et al., 2017), we use examples of successful reuse of different data types (genome, transcriptome, proteome, metabolome, phenotype and ecosystem) to illustrate its enormous potential. In addition, we provide a checklist of questions for biologists without extensive experience in handling public datasets to consider when determining whether a particular dataset is fit for reuse. We focus on the reuse of primary data, especially different sequences (as the data type characteristic of the life sciences and continuously producing vast amounts of information). The benefits for individuals and the scientific community as a whole make a strong case for reuse of data but only when the risks and limitation have been taken into account.
Survey Methodology
We performed a literature review to draw an informed picture of the benefits and challenges associated with data reuse in the life sciences. The publication survey was performed on 14th June 2020, using the PubMed databases to search for relevant peer-reviewed journal articles. The publication year and type of journal were unrestricted. We entered the following search term: 'data reuse' (Title/Abstract) OR 'dataset reuse' (Title/Abstract). PubMed produced 188 results (Table S1). Articles from health science, clinical research and medicine were not considered, unless they were reviews. Databases were also excluded, leaving 25 papers (Table S1). From the sources we located in our non-systematic survey, recurring benefits, potential, limitations, challenges and risks of data reuse were identified and categorised, in order to make them more reader friendly. Where we found the issue not sufficiently explained in the article resulting from the initial search, additional resources were sought on that particular topic (on PubMed using the relevant keywords or directly from articles cited in that particular paper). All resulting references are cited in 'Potential of reusing public datasets', 'Challenges, limitations and risks of data reuse and possible solutions', 'Research integrity considerations', and 'Recognizing the value of data reuse' sections.
Next, we explored published examples from different fields in the life sciences where data reuse was performed. In order to find examples from a range of biological disciplines, we first identified different types of data that can be reused in the life sciences (genome, transcriptome, proteome, metabolome, phenotype, ecosystem). The relevant literature was selected through the authors' experience in bioinformatics, genetics and genomics of plants, and plant molecular biology. We combined some more specific terms with the keywords mentioned above, namely 'genomics', 'bioinformatics', 'sequencing reads' and 'transcriptomics' as well as search term keywords specific for each row in the table including the examples for performed data reuse, for example, 'coexpression', 'pangenomics', 'network analysis' and 'metagenomics'. We acknowledge this is primarily a selection of successful instances of data reuse that focuses on sequences, with only selected examples from other life sciences, however, we deem it illustrative of the potential of data reuse, which was our aim.
To construct the checklist for the selection of datasets appropriate for reuse, we chose criteria based on the challenges and limitations identified through the literature review. The questions to consider, possible controls and suggestions were identified through our personal experience and backgrounds in bioinformatics.
Potential of Reusing Public Datasets
Reuse of publicly available data is strongly connected to numerous advantages, not only affecting the scientific community and society but also authors themselves and is generally viewed positively among researchers (Tenopir et al., 2020). Data sharing is the prerequisite for easy availability of reusable data, leading to positive reuse behaviour and can be key to improved integrity, transparency and reproducibility (Curty et al., 2017; Tenopir et al., 2020). Below is a collation of common benefits of reuse, though we acknowledge there are other advantages specific to particular fields and/or data types not listed here. By and large, information loss can be prevented, scientific knowledge can be expanded, authors can profit through higher reputation, and even databases can benefit from data reuse.
Challenges, Limitations and Risks of Data Reuse and Possible Solutions
As discussed above, open access to datasets and studies would accelerate science while being cost-efficient (Spertus, 2012). However, it is important that the limitations of particular datasets are identified and the associated risks assessed. This is of particular concern in clinical trials as the results could have a direct impact on the patients involved, for example in the case of invalid secondary analyses which might harm public health (Sharing Clinical Trial Data, 2015). Here, we discuss selected common disadvantages and acknowledge that the reuse of specific data types possesses some field-specific issues not addressed here (e.g. adding to the burden of paperwork in clinical medicine (Safran, 2017)).
Research Integrity Considerations
Examples of Successful Data Reuse
There are already numerous examples of successful studies from various areas of life science which involve intensive reuse of public datasets. Genomic data can, for example, be harnessed for pangenomic analyses (Montenegro et al., 2017) while transcriptomic and ChIP-seq data might be useful for the investigation or construction of regulatory networks (Chow et al., 2019). Phylogenetic analysis of groups from individual gene families (Du et al., 2016) to whole taxonomic groups (Bowles, Bechtold & Paps, 2020) benefits from reuse of genome, transcriptome and proteome data. Further, several tools and techniques have been developed for example mining antimicrobial peptides from public databases (Porto, Pires & Franco, 2017). The taxonomic classification of sequences identified in metagenomic studies is another application which heavily relies on available data as the quality of a study scales with the quality and size of the available data (Breitwieser, Lu & Salzberg, 2019). It can also be expected that machine learning will become even more ubiquitous in combination with other methods due to its ability to tackle large datasets and reveal novel patterns. Finally, in fields like modelling, the access to reusable data for the generation of models is even required (Curty et al., 2017).
In the life sciences, data reuse spans many data types and fields with substantial overlap in both categories. Table 1 shows selected reuse cases in the life sciences that cover many areas and concepts of data reuse sorted by the type of the analysed data. With every individual case of reuse, one must also consider the specific disadvantages associated with each approach. As highlighted above, there are risks to reuse. In addition to listing successful examples, Table 1 includes the limitations and risks associated with that particular method of reuse based on our assessment as data consumers and researchers. They illustrate the types of considerations that must be taken into account when reusing a specific type of dataset.
Examples
Limitations/risks
Genome
Assembly of new genome sequences, for example organellar genome sequences, based on public datasets (Dierckxsens, Mardulyn & Smits, 2016)
Potential contaminations, for example of non-target organisms, are unknown. Only the submitter of the original reads can submit the assembly. There are several cases of contamination in published datasets as well as methods for the identification of such contaminations (Longo, O'Neill & O'Neill, 2011; Merchant, Wood & Salzberg, 2014; Strong et al., 2014; Delmont & Eren, 2016; Kryukov & Imanishi, 2016). One study found possible human DNA contamination in 72% of the analysed (n = 202) previously published metagenomes (Schmieder & Edwards, 2011).
Motif identification, for example deep learning methods for identifying Poly(A) signals (Yu & Dai, 2020)
A large and suitable training set is required. A prediction accuracy of more than 90% can be achieved, but this highly depends on the context of the respective analysis.
Pangenomic analysis, for example for bread wheat (Montenegro et al., 2017)
Assembly quality might differ between different studies due to factors like for example coverage. Samples with 10× coverage have an assembly efficiency of 81% using the IDBA-UD assembler (Peng et al., 2012; Montenegro et al., 2017), while high continuity long-read assemblies require at least 20–50× coverage (Lu, Giordano & Ning, 2016; Koren et al., 2017; Schmidt et al., 2017; Solares et al., 2018).
GWAS to associate variants (QTLs,
SNPs) with traits, for example single-plant GWAS for identification of plant height candidate SNPs (Gyawali et al., 2019)
A large number of false positives requires large datasets, their sharing and compulsory replication (Marigorta et al., 2018). One possibility to check for sufficient sample size in for example genetic association studies is the random division of the study population by two and the requirement that any results have to be detected in both subsets (Hirschhorn et al., 2002).
Transcriptome
Co-expression analysis to find connected genes, for example identification of long non-coding RNAs associated with atherosclerosis progression (Wang et al., 2019); Co-expression networks, for example related to bamboo development using public RNA-Seq data (Ma et al., 2018) or related to cellulose synthesis using public microarray data (Persson et al., 2005);
Construction of regulatory networks using co-expression data, for example co-expression network analysis to reveal genes in growth-defence trade-offs under JA signalling (Zhang et al., 2020)
Batch effects might be possible if large sample groups come from the same source. Ideally, networks for different samples should be incorporated as there is high variation between co-expression networks with different samples (Ma et al., 2018).
Gene expression analysis to find/identify best gene candidate for cloning (and select the right tissue), for example integration with GWAS to identify causal genes in maize (Schaefer et al., 2018)
Batch effects if large sample groups come from the same source. The success depends on the gene expression data context.
Identification of qRT-PCR reference genes (Kwon et al., 2009; Cheng et al., 2011; Hruz et al., 2011)
Batch effects if large sample groups come from the same source. For example for formalin-fixed paraffin-embedded tissues, accurate normalisation requires two to four endogenous reference genes (Kwon et al., 2009). Further, for the normalisation of RT-qPCR data condition-specific reference genes should be used (Hruz et al., 2011).
Gene prediction via analysis of RNASeq data (Pucker, Feng & Brockington, 2019) and for example GeMoMa is using this heavily (Keilwagen, Hartung & Grau, 2019)
Batch effects if large sample groups come from the same source. In regions without RNA-Seq data, ab initio prediction is required (Testa et al., 2015).
Gene expression web sites, for example the eGFP browser (Winter et al., 2007)
Only genes in the annotation included. Only based on the available structural annotation thus alternative transcripts would be missed.
Analysis of non-canonical splice sites based on genome sequences, annotations, and RNA-Seq datasets (Pucker & Brockington, 2018; Frey & Pucker, 2020)
Batch effects if large sample groups come from the same source and annotation errors will impact analysis results. One example is the high number of annotated CT-AC splice site combinations in fungal genome sequences which are probably caused by a systematic error in the assignment of RNA-Seq reads to DNA strands (Frey & Pucker, 2020).
Extraction of new sequences for phylogenetic analysis (Schilbert et al., 2018)
Reliability of source is crucial; transcriptome assemblies are inherently incomplete as not all genes are expressed at the same time.
Reuse of microarray data for meta-analyses including the investigation of non-coding RNAs (Raju, Tsinoremas & Capobianco, 2016)
Microarray technology is not comprehensive for example in comparison to RNA-Seq; the study is limited to known non-coding RNAs and is not suitable for the detection of new non-coding RNAs (Raju, Tsinoremas & Capobianco, 2016).
Gene expression analysis based on microarray data (Wan & Pavlidis, 2007)
Submitters might fail to indicate technical replicates. Sequences of probes are sometimes unknown.
Investigation of the underlying mechanisms of homeostatic eosinophil gene expression (Grace et al., 2018)
Variation in the methods for RNA-Seq library construction likely contributes to part of the detected differential expression (Grace et al., 2018).
Proteome
Identification of antimicrobial peptides (Porto, Pires & Franco, 2017)
Prediction, correct modelling and structural analysis are not completely accurate due to for example the presence of precursors. Validation is required.
Phospho-proteomics, for example compartmentalisation of
phosphorylation motifs (Van Wijk et al., 2014)
Meta-analysis allows extrapolation only for highly specific conditions due to numerous different experimental conditions in the used studies. For example in seedling/rosette samples, plastid proteins might be (50%) overrepresented/mitochondrial and secretory proteins might be (10%) underrepresented in comparison to cell cultures/root/pollen/seed samples (Van Wijk et al., 2014).
Metabolome
Metabolic modelling (Brinkrolf et al., 2018)
Precise conditions of experiments are different between labs and measurement biases are possible.
Combining network analysis and machine learning to predict
metabolic pathways (Toubiana et al., 2019)
Cannot be used to predict catalytic activity, but only to predict pathways. Stabilized correlation and reduced error rate can be achieved using a large sample size. Large sample sizes can be used for the exploitation of the natural variability of mapping populations or collections of different varieties or cultivars (Toubiana et al., 2019).
Phenotype
Deep learning methods for image-based phenotyping, for example leaf counting (Ubbens et al., 2018) or root and shoot feature identification (Pound et al., 2017)
Large datasets are required. For vision-based deep learning analyses, tens of thousands to tens of millions of images might be required (Ubbens et al., 2018).
Ecology
Modelling and prediction of the variability of biodiversity to explain ecological and evolutionary mechanisms (Jetz, Fine & Mace, 2012)
Choice and accuracy of predictor variables are crucial for the model: Challenges regarding the definition of exact region boundaries, climate reconstruction and comparability across clades remain; (Jetz, Fine & Mace, 2012).
Ecosystem modelling, for example reuse of model code/reuse of eutrophication models for studying climate change (Mooij et al., 2010)
Partly overly simplified models: the validity of outcomes must be tested. Observations of species are sometimes placed at institutes of districts/regions.
Database of lake water quality (Soranno et al., 2015)
Underlying datasets can be incomplete (e.g. missing lake coordinates)
Assessment of Reuse Suitability for the Selection of Datasets
We have seen that in the selection of appropriate datasets for reuse, limitations and potential errors must be considered, in order to tap into the full potential of the practice, while avoiding invalid analyses. It has previously been demonstrated that a posteori analysis of dataset quality is possible with the quality control metrics for proteomics datasets to assess their suitability for a particular reuse purpose (Foster et al., 2011). Here, we provide a checklist (Table 2) to aid in the selection of datasets suitable for reuse, including suggestions, suitable controls and questions to consider prior to the re-analysis of public data. The questions are inquiries that a life scientist might consider when assessing a dataset of unknown quality and were determined by the authors.
Criteria
Question(s) to consider
Suggestions/Suitable controls
Integrity of the source
Is the source/submitter associated with data fabrication/plagiarism?
Check potential conflicts of interests/funding (useful resources: NSF conflict of interest guidelines (https://www.nsf.gov/pubs/policydocs/pappguide/nsf16001/aag_4.jsp), examples and strategies of dealing with conflicts of interest (Resnik, 2007)
Biases
How was the data generated? Are there batch effects?
Comparison of random samples from the dataset with replacement (bootstrapping) to reveal any bias/errors; Principal component analyses
Missing metainformation (sparsity)
Do you have all relevant information (e.g. information about the biological material)?
Possibility to contact the authors; infer metadata from datasets for example identify RNA-Seq tissue based on gene expression patterns of marker genes
Integration of datasets from different sources
Is the data comparable?
Check relevant parameters:
For sequencing reads: same (NGS)
technology/platform and same sequencing chemistry (differences between versions of sequencing chemistry are possible)
Are the methods used for data
collection/generation comparable?
For assemblies: same type/version of bioinformatic tools and a full list of parameters
Quality issues
Is the quality high enough to reach your goals (e.g. looking at gene expression differences between strains or making evolutionary trees)?
Check relevant parameters:
For sequencing reads: Phred scores, length, paired-end status
Are there any scores/hints available to check the quality of the dataset?
For assemblies:
continuity, contig/scaffold N50, auN (Li, 2020)
Copyright/Legal issues
Are there any restrictions for reuse and publication of the data, especially due to the Nagoya protocol?
Check copyright information/licenses when selecting data prior to the actual reuse
Conclusions
Data reuse is quickly becoming a ubiquitous part of research in the life sciences and scientists increasingly recognise the benefits of open reusable data (Tenopir et al., 2020). There are different steps to achieve and develop actual data-sharing behaviour which complies with 'open data' principles. As stated above (Fig. 1), technological progress together with changing research behaviour make 'open data' and its reuse (1) possible, (2) easy and (3) desirable. Considering the increasing quantity of available public data, in silico analyses are starting to supersede classic 'wet lab' experiments in some areas. However, it is still difficult to determine on a case-by-case basis whether the cost-benefit analysis favours data reuse with the associated risks or the increasingly cheaper/faster sequencing.
One of the factors promoting reuse behaviour would be the demonstration of its value (Curty et al., 2017). The provided list of successful examples in Table 1, which is only a narrow selection of studies conducted reusing publicly available datasets, illustrates the high potential value of data reuse. General limitations of these example studies include batch effects, quality issues and incomplete accuracy of predictions due to missing parameters (Fig. 4). Ultimately, the data itself, necessary to gain new scientific knowledge, is already available and only 'awaits' to be extensively investigated to answer open scientific questions.

The reuse of publicly available scientific datasets leads to a reduction of costs and saves time, encourages reproducible research, enables the detection of novel information and has benefits for authors themselves (Fig. 4). Across the life sciences, there still remain some outstanding questions and challenges (Fig. 5). Considering all the advantages and taking into account the limitations we highly recommend and encourage data reuse when one is confident in that the reuse can be categorised as fair. We believe that the discussion of responsible data reuse must become more common in the life sciences so everyone can benefit from the largely untapped data resource.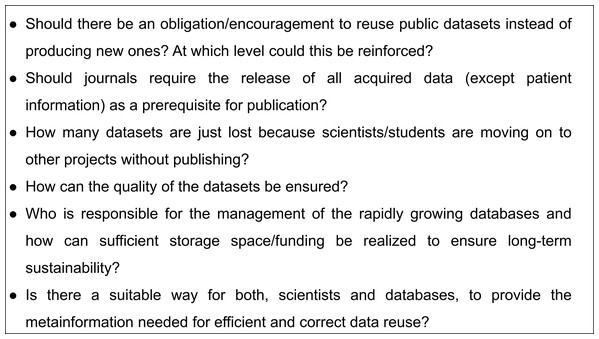 Supplemental Information
Results of the literature review.