Transcriptome analysis revealed key prognostic genes and microRNAs in hepatocellular carcinoma
Published

Accepted

Received
Academic Editor
Subject Areas

Keywords

Transcriptome

,

Differentially expressed genes

,

microRNAs

,

Hepatocellular carcinoma
Copyright

©

2020

Ma et al.

Licence

This is an open access article distributed under the terms of the Creative Commons Attribution License, which permits unrestricted use, distribution, reproduction and adaptation in any medium and for any purpose provided that it is properly attributed. For attribution, the original author(s), title, publication source (PeerJ) and either DOI or URL of the article must be cited.
Cite this article

2020

.

Transcriptome analysis revealed key prognostic genes and microRNAs in hepatocellular carcinoma

.

PeerJ

8

:

e8930

https://doi.org/10.7717/peerj.8930
Abstract
Background
Hepatocellular carcinoma (HCC) is one of the most common cancers worldwide. However, the molecular mechanisms involved in HCC remain unclear and are in urgent need of elucidation. Therefore, we sought to identify biomarkers in the prognosis of HCC through an integrated bioinformatics analysis.
Methods
Messenger RNA (mRNA) expression profiles were obtained from the Gene Expression Omnibus database and The Cancer Genome Atlas-Liver Hepatocellular Carcinoma (TCGA-LIHC) for the screening of common differentially expressed genes (DEGs). Function and pathway enrichment analysis, protein-protein interaction network construction and key gene identification were performed. The significance of key genes in HCC was validated by overall survival analysis and immunohistochemistry. Meanwhile, based on TCGA data, prognostic microRNAs (miRNAs) were decoded using univariable and multivariable Cox regression analysis, and their target genes were predicted by miRWalk.
Results
Eleven hub genes (upregulated ASPM, AURKA, CCNB2, CDC20, PRC1 and TOP2A and downregulated AOX1, CAT, CYP2E1, CYP3A4 and HP) with the most interactions were considered as potential biomarkers in HCC and confirmed by overall survival analysis. Moreover, AURKA, PRC1, TOP2A, AOX1, CYP2E1, and CYP3A4 were considered candidate liver-biopsy markers for high risk of developing HCC and poor prognosis in HCC. Upregulation of hsa-mir-1269b, hsa-mir-518d, hsa-mir-548aq, hsa-mir-548f-1, and hsa-mir-6728, and downregulation of hsa-mir-139 and hsa-mir-4800 were determined to be risk factors of poor prognosis, and most of these miRNAs have strong potential to help regulate the expression of key genes.
Conclusions
This study undertook the first large-scale integrated bioinformatics analysis of the data from Illumina BeadArray platforms and the TCGA database. With a comprehensive analysis of transcriptional alterations, including mRNAs and miRNAs, in HCC, our study presented candidate biomarkers for the surveillance and prognosis of the disease, and also identified novel therapeutic targets at the molecular and pathway levels.
Introduction
Liver cancers rank fourth in terms of cancer-related mortality and are the sixth leading cause of new incident cases worldwide (Villanueva, 2019). The 5-year survival rate of liver cancers is 18.1% (Jemal et al., 2017) in the United States, while a worse outcome is reported in China, with a 5-year survival of 12.1% observed (Zheng et al., 2018). In China, approximately 466,100 new cases of liver cancers and approximately 422,100 liver cancer deaths occurred in 2015 (Chen et al., 2016b). Hepatocellular carcinoma (HCC), accounting for the 70–85% of liver cancer cases (Sia et al., 2017), mostly develops in the patients with chronic liver diseases, such as hepatitis B virus or hepatitis C virus (HBV or HCV) infection (Idilman et al., 1998), alcohol abuse (Morgan, Mandayam & Jamal, 2004) or non-alcoholic fatty liver disease (Dyson et al., 2014; Kanwal et al., 2016). Although resection, local ablation, transplantation, transarterial chemoembolization (TACE) and systemic therapies have been applied in the treatment of HCC (Forner, Reig & Bruix, 2018), the survival rate of HCC patients is still low, partly due to the high heterogeneity of HCC (Imamura et al., 2003). Thus, a comprehensive understanding of the transcriptional alterations may contribute to the development of preventive, diagnostic and therapeutic strategies for HCC.
With the advent of next-generation sequencing and microarray technologies at genome level, a large amount of RNA data has been generated and deposited in public databases, such as the Gene Expression Omnibus (GEO) and The Cancer Genome Atlas (TCGA), which enables investigators worldwide to identify differentially expressed genes (DEGs) and associated pathways involved in the onset and development of HCC and other diseases (Clough & Barrett, 2016; Lee, Tan & Chung, 2014). However, because of the heterogeneity of samples and microarray platforms, the results from different single cohort investigations may be inconsistent (Zhao et al., 2018). Therefore, an integrated bioinformatics analysis of multiple independent studies provides more reliable and robust results. Additionally, most analyses are based on the Affymetrix microarray profiles (Li et al., 2017), but considerably less is known about the datasets from Illumina microarray platforms.
Moreover, microRNAs (miRNAs) are short noncoding RNAs and regulate gene expression at the post-transcriptional level. They are involved in the regulation of key biological processes such as cell proliferation, metabolism, differentiation and apoptosis (Sticht et al., 2018). It has been reported that miRNAs contribute to the development of tumors (Iorio & Croce, 2017). However, associations of miRNAs with the dysregulation of gene expression in HCC and the prognosis of HCC patients require further investigation.
In this study, four transcriptome profiles from Illumina microarray platforms and one from TCGA database were collected to systematically identify a set of DEGs. Further analyses on gene ontology (GO), signaling pathways and protein-protein interactions (PPIs) were performed followed by key gene identification, overall survival (OS) analysis and immunohistochemistry validation. Meanwhile, miRNAs functioning as prognostic biomarkers were identified and the potential correlations of miRNA species with that of key genes were investigated.
Discussion
In the present study, 262 aberrantly expressed genes in HCC samples were disclosed by integrated bioinformatics analyses. The functional and signaling pathway enrichment analysis indicated the underlying mechanisms in HCC development. Among these genes, 11 key genes were identified through PPI analysis and their prognostic value in HCC patients was validated by OS analysis and immunohistochemistry. Meanwhile, univariate and multivariate Cox regression analysis revealed the prognostic application of seven miRNAs. Interestingly, according to miRWalk, most key genes were potentially regulated by these miRNAs.
Genomic, epigenetic and transcriptional alterations, as well as subsequent multistep processes, play crucial roles in the occurrence, development, metastasis and prognosis of HCC (Dhanasekaran et al., 2019; Llovet et al., 2018). Combined with public biological databases (e.g., GO and KEGG), the development of high-throughput detection technology provides us with an opportunity to systematically explore "interesting" gene lists on a genome-wide scale and sort out correlative biological processes (Shan, Chen & Jia, 2019; Shen et al., 2019). To identify reproducible and robust genetic alterations, integrated analyses based on multiple datasets gradually replace single cohort analyses. Thus, in the present study, we recruited four datasets from GEO and one dataset from TCGA, including 789 HCC samples and 384 nontumor samples in total, to perform a meta-analysis and identify consensus alterations. Notably, all data from GEO in our study were generated by Illumina expression beadchip platforms, and our study was the first large-scale integrated bioinformatics analysis of the data from Illumina BeadArray platforms and TCGA database.
According to the functional, signaling pathway and protein-protein interaction analyses, DEGs had noticeable impacts on multiple cellular activities, including DNA structure, cell division, metabolism, and microtubule cytoskeleton organization. Three clusters identified in PPI network mainly functioned in cell division and metabolic processes. These findings were consistent with our knowledge (Jiang et al., 2015; Kastan & Bartek, 2004; Liu et al., 2016; Loong & Yeo, 2014; Shoieb et al., 2019). Among 30 hub genes, upregulated ASPM, AURKA, CCNB2, CDC20, PRC1 and TOP2A and downregulated AOX1, CAT, CYP2E1, CYP3A4 and HP, were considered key biomarkers in HCC. Overall survival analysis indicated that the aberrant expression of these genes correlated with a poor prognosis. With the aid of immunohistochemistry, AURKA, PRC1, TOP2A, AOX1, CYP2E1, and CYP3A4 were considered candidate liver-biopsy markers for HCC. According to the instruction on HPA database, all images were manually annotated by a specialist followed by verification by a second specialist using fixed guidelines. Basic annotation parameters include an evaluation of staining intensity (negative, weak, moderate or strong), fraction of stained cells (<25%, 25–75% or >75%) and subcellular localization (nuclear and/or cytoplasmic/membranous). Thus, they were deemed reliable because of the homogeneous processes and fixing guidelines, although all immunohistochemistry images were manually annotated. However, the significance of these proteins in HCC requires further validation due to the limited number of samples in HPA, unpaired comparison and lack of statistical analysis.
The overexpression of ASPM, which contributes to neurogenesis and cell proliferation, is an independent risk factor for early tumor recurrence regardless of p53 mutation status and poor prognosis of HCC (Lin et al., 2008). TOP2A, which is a mitotic gene and highly expressed at the G2/M phase, correlates with early age onset, shorter patient survival and chemoresistance (Wong et al., 2009). TRRAP/KAT5, which activates TOP2A, has been reported to inhibit HCC cell growth through induction of p53-independent and p21-independent senescence (Kwan et al., 2020). CCNB2, CDC20 and PRC1 are the three most commonly reported upregulated genes in HCC through bioinformatics analyses (Chen et al., 2016a; Gao et al., 2018; Li et al., 2014; Liu et al., 2018; Wang et al., 2019b). CCNB2, as a component of the cell cycle regulatory machinery, is associated with the Golgi region (Draviam et al., 2001; Jackman, Firth & Pines, 1995) and plays an important role in regulating the G2/M transition (Gui & Homer, 2013; Li et al., 2018a). CDC20 is essential to chromosome segregation and mitotic exit and regulates the cell cycle at multiple time points (Kapanidou, Curtis & Bolanos-Garcia, 2017). PRC1 exerts an impact on the formation of microtubule architectures and subsequent cell shape formation and cytokinesis regulation and promotes early recurrence of HCC associated with the Wnt/ β-catenin signaling pathway (Chen et al., 2016a). AURKA promotes cancer metastasis in HCC by inducing epithelial-mesenchymal transition and cancer stem cell behaviors through the PI3K/AKT pathway (Chen et al., 2017). Alisertib, an AURKA inhibitor, has been demonstrated to potently inhibit cell viability and induce apoptosis in HCC cells (Li et al., 2018b). The elevated expression levels of PRC1, TOP2A, and AURKA in HCC tissue were also confirmed by immunohistochemistry and appear to be candidate biopsy markers for high risk of developing HCC and poor prognosis in HCC patients.
It has been reported that AOX1 interacts with ABCA1 to regulate ABCA1-related cellular functions such as lipid efflux and phagocytosis in hepatocytes and is highly expressed in normal human liver tissue (Sigruener et al., 2007). In contrast, reduced expression of AOX1 is detected in HCC cells and is highly correlated with higher tumor stage, distant metastases or positive lymph node status (Sigruener et al., 2007). Haptoglobin (HP) is an acidic glycoprotein tetramer that is mainly secreted in the liver. Its expression is low during the active proliferation of progenitor cells but increases when the cells reach confluency (Guillouzo et al., 2007). CAT, a well-described oxidative stress biomarker, plays an important role in inflammation and the prevention of apoptosis and serves as a growth promoting factor in a wide spectrum of tissues (Goyal & Basak, 2010; Miyamoto et al., 1996). Hence, it is reasonable for CAT to be a key biomarker in hepatocarcinogenesis and development. Both CYP2E1 and CYP3A4, as members of the cytochrome P450 family which contributes to drug metabolism, lipid synthesis and homeostasis (Manikandan & Nagini, 2018), have been reported to be less expressed in HCC (Chen et al., 2014; Hu et al., 2019).
MicroRNA
Alteration
Univariate
Multivariate
Predicted target genes
HR
P-value
HR
P-value
hsa-mir-1269b
Up
1.0550
0.0747
1.0012
0.0000
ASPM AURKA CAT CCNB2 CDC20 CYP2E1 PRC1 TOP2A
hsa-mir-139
Down
0.9251
0.0669
0.9976
0.0028
AURKA CAT CDC20 CCNB2 CYP2E1 HP PRC1 TOP2A
hsa-mir-4800
Down
0.7442
0.0525
0.7343
0.0038
ASPM AURKA CAT CCNB2 CDC20 CYP2E1 CYP3A4 HP PRC1 TOP2A
hsa-mir-518d
Up
1.2729
0.0401
1.1077
0.0026
ASPM AURKA CDC20 CCNB2 CYP2E1 CYP3A4 HP PRC1 TOP2A
hsa-mir-548aq
Up
1.7916
0.0020
1.3604
0.0150
ASPM
hsa-mir-548f-1
Up
1.2938
0.0307
1.1711
0.0111
hsa-mir-6728
Up
1.4644
0.0010
1.1565
0.0381
ASPM AURKA CAT CDC20 CYP2E1 CYP3A4 HP PRC1 TOP2A
Abbreviations

HCC

hepatocellular carcinoma

GO

gene ontology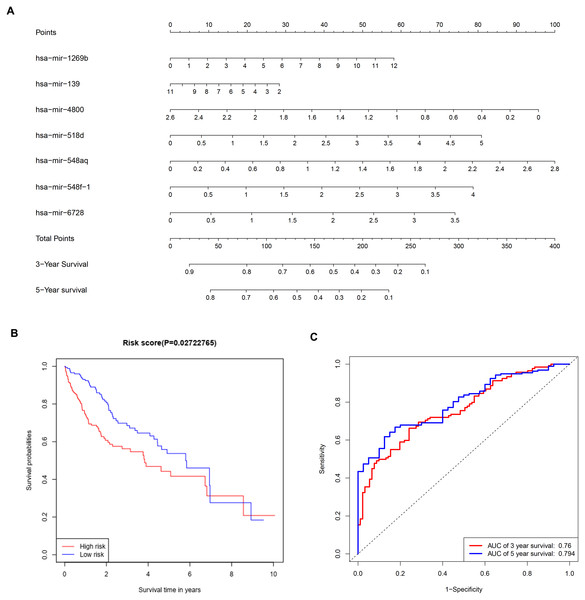 Multivariate Cox regression analysis offered a prognostic model involving seven miRNAs. By reviewing the published literature, we found that hsa-miR-1269b and hsa-miR-139 had been reported to be dysregulated in HCC. Hsa-miR-1269b promotes malignancy in HCC by upregulating cell division cycle 40 homolog (Kong et al., 2016). Downregulation of hsa-miR-139 is associated with poor outcome (Wang et al., 2019a) and the long noncoding RNA SNHG3/miR-139-5p/BMI1 axis may be one of the potential signaling pathways (Wu et al., 2019). However, the correlative mechanisms and pathways of hsa-miR-4800, hsa-miR-518d, hsa-mir-548aq, hsa-mir-548f-1 and hsa-mir-6728 in HCC have not been determined. By executing the TarPmiR algorithm for target site prediction in miRWalk, most key genes were considered candidate target genes of the indicated miRNAs and the same mRNA was likely to be controlled by various miRNAs, which is a common phenomenon. Currently, the interactions between these molecules lack solid supports, and experimental evidence is required to elucidate the underlying mechanisms.
The emergence and advances in the bioinformatics field accelerate the development of biology. Bioinformatics tools provide opportunities for handling big data that are impossible to manage manually. However, the heterogeneity of how data are generated, assembled, annotated and displayed will substantially affect the results. It is a common limitation of bioinformatics analyses. Meanwhile, the clinical features of the patients such as HBV/HCV infection, age, alcohol consumption and cancer stages were not analysed in our study. These factors may have important impacts on gene and miRNA expression. The correlation between biomarkers and cancer stages also requires further research to provide useful references and insights into research and the clinic. Moreover, in-depth research should be conducted with the combination of traditional biology technologies to validate the findings from bioinformatics analyses, particularly the interactions between miRNAs and potential target mRNAs.
Conclusions
The present study systematically analyzed multiple transcriptome profiles and summarized a list of differentially expressed genes and miRNAs in HCC. To the best of our knowledge, no such large-scale investigation on Illumina BeadArray platforms was performed previously. Eleven key genes and a 7-miRNA model provide biomarkers for the surveillance and prognosis of HCC. This study decoded the alterations in HCC at the molecular and functional levels and offered potential targets for therapy.