Whole genome sequencing of a novel, dichloromethane-fermenting Peptococcaceae from an enrichment culture
Published

Accepted

Received
Academic Editor
Subject Areas

Keywords

Peptococcaceae

,

Dichloromethane

,

Whole genome sequencing

,

Phylogeny
Copyright

©

2019

Holland et al.

Licence

This is an open access article distributed under the terms of the Creative Commons Attribution License, which permits unrestricted use, distribution, reproduction and adaptation in any medium and for any purpose provided that it is properly attributed. For attribution, the original author(s), title, publication source (PeerJ) and either DOI or URL of the article must be cited.
Cite this article

2019

. Whole genome sequencing of a novel, dichloromethane-fermenting Peptococcaceae from an enrichment culture.

PeerJ

7

:

e7775

https://doi.org/10.7717/peerj.7775
Abstract
Bacteria capable of dechlorinating the toxic environmental contaminant dichloromethane (DCM, CH2Cl2) are of great interest for potential bioremediation applications. A novel, strictly anaerobic, DCM-fermenting bacterium, "DCMF", was enriched from organochlorine-contaminated groundwater near Botany Bay, Australia. The enrichment culture was maintained in minimal, mineral salt medium amended with dichloromethane as the sole energy source. PacBio whole genome SMRTTM sequencing of DCMF allowed de novo, gap-free assembly despite the presence of cohabiting organisms in the culture. Illumina sequencing reads were utilised to correct minor indels. The single, circularised 6.44 Mb chromosome was annotated with the IMG pipeline and contains 5,773 predicted protein-coding genes. Based on 16S rRNA gene and predicted proteome phylogeny, the organism appears to be a novel member of the Peptococcaceae family. The DCMF genome is large in comparison to known DCM-fermenting bacteria. It includes an abundance of methyltransferases, which may provide clues to the basis of its DCM metabolism, as well as potential to metabolise additional methylated substrates such as quaternary amines. Full annotation has been provided in a custom genome browser and search tool, in addition to multiple sequence alignments and phylogenetic trees for every predicted protein, http://www.slimsuite.unsw.edu.au/research/dcmf/.
Introduction
Dichloromethane (DCM, CH2Cl2) is a toxic environmental contaminant. Approximately 70% of all DCM worldwide is of anthropogenic origin, due to its extensive use in industry as a solvent and aerosol propellant (Gribble, 2009; Marshall & Pottenger, 2016). It is currently present at 30% of Superfund National Priority List sites within the United States and its territories (US National Library of Medicine, 2019), and global capacity for DCM continues to steadily increase (Marshall & Pottenger, 2016). As well as being harmful to human health (Agency for Toxic Substances and Disease Registry, 2000), DCM has recently been recognised as a potent greenhouse gas (Hossaini et al., 2017).
DCM in groundwater can be transformed by both aerobic and anaerobic bacteria, although the former has been more comprehensively characterized (Leisinger & Braus-Stromeyer, 1995). Aerobic DCM metabolism is found in facultative methylotrophs, which use a DCM dehydrogenase from the glutathione S-transferase family to catalyse dehalogenation (Leisinger & Braus-Stromeyer, 1995). Anaerobically, DCM can be transformed under denitrifying conditions (Melendez, Roman & Smith, 1993; Freedman, Smith & Noguera, 1997), or co-metabolically under methanogenic conditions (Freedman & Gossett, 1991; Stromeyer et al., 1991). To date, however, only two DCM-fermenting bacteria have been described and sequenced: Dehalobacterium formicoaceticum (Mägli, Wendt & Leisinger, 1996; Chen et al., 2017) and 'Candidatus Dichloromethanomonas elyunquensis' (Kleindienst et al., 2016; Kleindienst et al., 2017). Of these, only the former has been isolated (Mägli, Wendt & Leisinger, 1996).
Both species are acetogenic and are thought to metabolise DCM via incorporation of the methyl group into the Wood-Ljungdahl pathway (reviewed in Ragsdale & Pierce, 2008), although the precise mechanism of dechlorination has thus far eluded description (Mägli, Wendt & Leisinger, 1996; Kleindienst et al., 2017). The Wood-Ljungdahl pathway is an ancient metabolism that is present in acetogenic bacteria and methanogenic archaea, and links carbon fixation with ATP generation (Fuchs, 2011; Poehlein et al., 2012). It is thought that an as-yet unidentified methyltransferase (D. formicoaceticum) possibly in concert with a reductive dehalogenase ('Ca. Dichloromethanomonas elyunquensis') is responsible for mediating the transformation of DCM into methyl- or methylene-tetrahydrofolate (Kleindienst et al., 2019).
In order to investigate possible pathways for DCM transformation within the novel organism described in this paper, we determined that a detailed and accurate genome annotation was necessary. As it can be difficult to assemble a high quality genome from a mixed culture, we sought to overcome these challenges with a thorough genome sequencing and assembly strategy. We report the whole genome sequencing and assembly of a novel, DCM-fermenting bacterium, herein referred to as DCMF. The organism exists in an enrichment culture, "DFE" (DCM-fermenting enrichment), derived from a previously reported methanogenic, DCM-dechlorinating consortium, DCMD (Lee et al., 2012). DCMD was dominated by a Dehalobacter species whose growth was linked to DCM metabolism. The enrichment process reported here led to a shift from this Dehalobacter species to DCMF as the dominant member of the community. From a bioremediation perspective, DCMF is an important addition to the limited group of organisms able to utilize the common environmental pollutant DCM.
Materials & Methods
Inoculum origin
The original inoculum was obtained from sediment drilled from five m beneath the surface of an organochlorine-contaminated coastal sand bed aquifer (Botany Sands aquifer), latitude −33°57′27.6″S, longitude 151°12′60.0″E. The initial, methanogenic enrichment culture using DCM as the sole energy source was reported previously (Lee et al., 2012).
Culture media
Cultures were grown in anaerobic minimal mineral salts medium that comprised (g l−1): CaCl2.2H2O (0.1), KCl (0.1), MgCl2.6H2O (0.1), NaHCO3 (2.5), NH4Cl (1.5), NaH2PO4 (0.6), 1 ml of trace element solution A (1,000×), 1 ml of trace element solution B (1,000×), 1 ml of vitamin solution (1,000×), 10 ml of 5 g l−1 fermented yeast extract (FYE; 100×), and resazurin 0.25 mg l−1. Trace element solutions A and B were prepared as described previously (Wolin, Wolin & Wolfe, 1963), as was the vitamin solution (Adrian et al., 1998). Medium was sparged with N2 during preparation and the pH was adjusted to 6.8–7.0 by a final purge with N2/CO2 (4:1). Aliquots were dispensed into glass serum bottles that were crimp sealed with Teflon faced rubber septa (13 mm diameter, Wheaton, Millville, NJ, USA) before the medium was chemically reduced with sodium sulphide (0.2 mM). DCM (1 mM) was supplied as the sole electron source via a glass syringe. Methanogenic Archaea present in the early enrichment culture were inhibited with 2-bromoethanosulfonate (BES, 0.2 mM) for two generations. All cultures were incubated statically at 30 °C in the dark.
Preparation of spent media as a co-factor solution
A stock FYE solution was prepared by inoculating anoxic yeast extract (5 g l−1) in defined minimal mineral salts medium (described above, excluding DCM) with the DFE culture. The culture was incubated for one week at 30 °C before being filter-sterilised. The filtered, spent media was re-inoculated with DFE and incubated for a further week, to ensure that growth was no longer possible on FYE (i.e., that it had been energetically exhausted). The spent media was then filter-sterilised again before use.
Analytical methods
DCM and methane were quantified on a GS-Q column (30 m  ×0.32 mm; Agilent Technologies) using a Shimadzu GC-2010 gas chromatograph with flame ionisation detector (GC-FID). Headspace samples (100 µl) were withdrawn directly from culture flasks using a lockable, gas-tight syringe and injected manually. The oven was initially 150 °C, then raised by 30 °C min−1 to 250 °C. The inlet temperature was 250 °C, split ratio 1:10, FID temperature 250 °C. A minimum three-point calibration curve was used. DCM concentrations are reported as the nominal concentration in each serum bottle, calculated from the headspace concentration using the Henry's Law dimensionless solubility constant (Hcc = 0.107 at 30 °C), as per the OSWER method (US EPA, 2001).
Genomic DNA extraction
Genomic DNA was extracted as previously described (Urakawa, Martens-Habbena & Stahl, 2010). Briefly, cells were lysed with lysis buffer and bead-beating, before DNA was extracted with phenol-chloroform-isoamyl, precipitated using isopropanol, and resuspended in molecular grade water. The nucleic acid concentration was quantified using a Qubit instrument and assay as per the manufacturer's instructions (Life Technologies, Carlsbad, CA, USA).
Community analysis
Throughout the initial transfers and serial dilutions of the enrichment culture, the community was monitored via denaturing gradient gel electrophoresis (DGGE). DNA was amplified with primers GC338F and 530R (Table S1). DGGE was performed with a DCode mutation detection system (Bio-Rad, Hercules, CA, USA) and a Cipher Electrophoresis system (CBS Scientific Company Inc, San Diego, CA, USA) in a 1 × TAE buffer at pH 7.5. PCR products were loaded onto a 10% (v/v) acrylamide gel with a 30–60% gradient of urea and deionised formamide before electrophoresis at 60 °C, 75V for 16.5 h. Gels were stained with SYBR Gold (Invitrogen™, Life Technologies, Carlsbad, CA, USA) in 1 × TAE buffer for 10 min, prior to visualisation on a Gel Doc XR (Bio-Rad). Bands of interest were excised, DNA eluted from them in molecular grade water and re-amplified using the 338F primer (Table S1). PCR products were cleaned with a Clean and Concentrate-25 kit (Zymo Research, Irvine, CA, USA).
To confirm the absence of an archaeal population following amendment of the enrichment culture with BES, archaeal specific primers Arc340F and Arc1000R (Table S1) were used for PCR on a T100™ thermal cycler (Bio-Rad).
Quantitative PCR of the Dehalobacter spp. 16S rRNA gene was carried out on a CFX96 thermal cycler (Bio-Rad, Table S1). Standards ranged from 103–109 copies ml−1 and were created using serial 10-fold dilutions of a plasmid carrying the cloned gene, constructed with TOPO TA Cloning Kit (Life Technologies).
Illumina genome sequencing
DNA was prepared with the Nextera XT library prep kit (Illumina, San Diego, CA, USA). Sequencing was carried out on an Illumina MiSeq with a v2 500-cycle kit (2 × 250 bp run) at the Ramaciotti Centre for Genomics (UNSW Sydney, Australia). Three MS110-2 libraries were used for the run. Library size ranged from 200–3,000 bp, with an average of 955 bp. Raw reads were trimmed and filtered with SolexaQA (DynamicTrim.pl and LengthSort.pl) (Cox, Peterson & Biggs, 2010). Raw reads were submitted to the NCBI Sequence Read Archive with the identifier SRR5179547.
Pacific Biosciences SMRT sequencing
A MagAttract HMW DNA kit (Qiagen, Hilden, Germany) was used to extract high-molecular weight genomic DNA, followed by purification using AMPure PB beads (Beckman Coulter, Brea, CA, USA). DNA concentration and purity were checked by Qubit and NanoDrop instruments, respectively. A 0.75% Pippin Pulse gel (Sage Science, Beverly, MA, USA) was performed by the Ramaciotti Centre for Genomics (UNSW Sydney, Australia) to further verify integrity. A SMRTbell library was prepared with the PacBio 20 kb template protocol excluding shearing (Pacific BioSciences, Menlo Park, CA, USA). Additional damage repair was carried out following minimum 4 kb size selection using Sage Science BluePippin.
Whole genome sequencing was performed on the PacBio RS II (Pacific Biosciences), employing P6 C4 chemistry with 240 min movie lengths. DNA was initially sequenced using two Single Molecule Real Time™(SMRT) cells. A third SMRT™ cell was added to compensate for low quality data from the first two, due to degraded DNA yield from the sample. The SMRTbell library for this cell was prepared with the PacBio 10 kb template protocol, without size selection, and a lower input (3,624 ng) of DNA was used. In total, the three SMRT cells yielded 463,878 subreads from 169,180 ZMW, with a combined length of 1,712,588,985 bp. Reads were submitted to the NCBI Sequence Read Archive with the identifier SRR5179548.
Genome assembly and annotation
PacBio subreads were assembled using HGAP3 (Chin et al., 2013) as implemented in SMRT Portal. In-house software, SMRTSCAPE (SMRT Subread Coverage & Assembly Parameter Estimator; http://rest.slimsuite.unsw.edu.au/smrtscape) was used to predict optimal HGAP settings for several different assemblies with different predicted genome size and minimum correction depths (Table S2). The assembly with the greatest depth of coverage used for seed read error correction that still yielded a full-length (6.44 Mb) intact chromosome was selected for the draft genome. This corresponded to: min read length 4,010 bp; min seed read length 8,003 bp; min read quality 0.86; min 10 × correction coverage. The genome was corrected with Quiver (Chin et al., 2013) using all subreads and circularised by identifying and trimming overlapping ends, then annotated in-house using Prokka (Seemann, 2014).
Based on draft annotation, the genome was re-circularised to have its break-point in the intergenic region between the 3′of two hypothetical genes, and then subjected to a second round of Quiver correction to make sure the manually joined region was of high quality. Filtered Illumina reads were mapped onto the Quiver-corrected genome using BWA-MEM v0.7.9a (Li, 2013) and possible errors were identified with Pilon (Walker et al., 2014). Manual curation was then performed to check any discrepancies between the PacBio and Illumina data and correct small indels. Raw PacBio reads were mapped onto the completed genome with BLASR (Chaisson & Tesler, 2012). The corrected genome was re-annotated with Prokka and uploaded to the Integrated Microbial Genomes and Microbiomes (IMG/M) system of the Joint Genome Institute (JGI) for independent annotation (Chen et al., 2019).
Twenty-eight fragmented pairs of genes were subject to additional manual curation and correction where a pyrrolysine or selenocysteine residue had been erroneously translated as a stop codon (Table S3). The JGI annotation was publically updated to reflect these manual annotations, and this annotation was used for all genomic analyses. The genome has subsequently been re-annotated by NCBI. An overview of the genome assembly and annotation pipeline is provided in Fig. 1.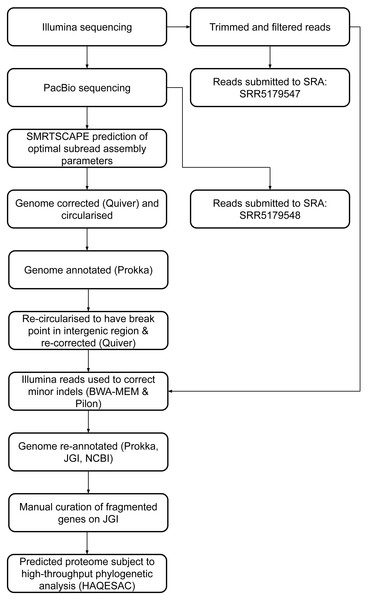 16S rRNA gene identification and phylogeny
The DCMF 16S rRNA gene consensus sequence was searched against the NCBI prokaryotic 16S rRNA BLAST database as well as the 16S rRNA gene sequences of the two other known DCM-fermenting bacteria (absent from that database), D. formicoaceticum strain DMC (NCBI locus tags CEQ75_RS05455, CEQ75_RS05490, CEQ75_RS13675, CEQ75_RS13970, CEQ75_RS17045) and 'Ca. Dichloromethanomonas elyunquensis' strain RM (KU341776.1). The closest phylogenetic relatives and an outgroup, Moorella perchloratireducens strain An10 (NR_125518.1), were aligned with MAFFT program v.7 (Kuraku et al., 2013) and a neighbour-joining tree constructed with 1000 bootstraps resampling a 200 PAM/k = 2 scoring matrix using 1,365 nucleotides. This was performed using Archaeopteryx (Han & Zmasek, 2009), as well as manual curation. In addition, DCMF 16S rRNA gene sequences were mapped to taxa using the SILVA Alignment, Classification and Tree (ACT) Service (Pruesse, Peplies & Glöckner, 2012) with default values.
In order to identify any non-DCMF 16S rRNA genes from the PacBio sequencing data, all contigs from all of the attempted assemblies were combined into a single file. DCMF contigs were identified and removed and the remaining contigs reduced to a set that were non-redundant at the level of 99% global sequence identity for the shorter contig, using GABLAM (Davey, Shields & Edwards, 2006). Where redundancy was identified, the longer contig was retained. In total, 20,201 contigs were reduced to 1,538 non-redundant non-DCMF contigs, hereon referred to as "NR contaminants". Cohabitant bacteria 16S rRNA gene sequences were identified from NR contaminants using barrnap v0.9 (implementing HMMer v3.2.1 and bedtools v2.27.1). Sequences were mapped to taxa using the SILVA Alignment, Classification and Tree (ACT) Service (Pruesse, Peplies & Glöckner, 2012) with default values.
High throughput phylogenetic analysis of predicted proteome
JGI-annotated DCMF proteins were further annotated via high-throughput homology searching, multiple sequence alignment and molecular phylogenetics using HAQESAC v1.10.2 (Edwards et al., 2007). BLAST+ v2.6.0 blastp (Camacho et al., 2009) was used to search each protein against three protein datasets: (1) all bacterial proteins in the UniProt Knowledgebase (The UniProt Consortium, 2017) (downloaded 2017-02-06); (2) the predicted DCMF proteome; (3) the nine NCBI proteomes available for closely related bacteria identified from 16S rRNA gene analysis: D. formicoaceticum (GCF_002224645.1), Desulfosporosinus acididurans (GCF_001029285.1), Desulfosporosinus acidiphilus (GCF_000255115.2), Desulfosporosinus orientis (GCF_000235605.1), Desulfosporosinus hippei (GCF_900100785.1), Desulfosporosinus lacus (GCF_900129935.1), Desulfitobacterium metallireducens (GCF_000231405.2), Desulfitobacterium hafniense (GCF_000021925.1), Dehalobacter restrictus (GCF_000512895.1). The top 50 blastp results for each dataset were combined and up to 60 homologues meeting the HAQESAC default filtering criteria were aligned with Clustal Omega v1.2.2 (Sievers & Higgins, 2017). Neighbour-joining phylogenetic trees (1,000 bootstraps) were inferred using ClustalW v2.1 and midpoint-rooted using HAQESAC. Paralogous subfamilies arising from gene duplications were identified as nodes where the two ancestral clades each had at least two different species and shared at least one of those species. Multiple sequences from the same species within one of these paralogous subfamilies were identified as "in-paralogues" (lineage-specific duplications) or possible sequence variants. DCMF in-paralogues were kept. Possible in-paralogues or sequence variants from other species were restricted to the single closest homologue to the DCMF query. NCBI annotated proteins were subsequently subjected to the same pipeline with the addition of the JGI predicted proteome to the search database.
Putative taxonomic assignments for each JGI protein were made using an in-house tool, TaxaMap (http://rest.slimsuite.unsw.edu.au/taxamap). TaxaMap identifies the smallest clade to which the query DCMF protein can be confidently assigned by stepping ancestrally through the tree until it reaches a branch with a bootstrap support of at least 50% and at least one non-DCMF protein. If the root is reached without meeting these requirements, the full HAQESAC tree was used. Once the clade has been identified, all Uniprot species codes for that clade are extracted as putative taxonomic assignments. These are mapped onto parent species, genus, family, order, class and phylum classifications using UniProt Knowledgebase taxonomy. At each taxonomic level, the taxa list is reduced to be non-redundant and each taxon contributes equally, to reduce sampling biases. Where a species code could only be mapped to a higher taxonomic level, it was designated as an unknown taxon associated with that higher level, e.g., "Firmicutes fam." would indicate an unknown family within the phylum Firmicutes. Where no non-DCMF homologues were found, a protein was assigned "None". TaxaMap Assignments were made for each protein individually and then combined using two strategies: (1) Unweighted; (2) Bootstrap weighted. The unweighted assignment simply adds up the number of proteins assigned to a particular taxon. Where a protein is assigned to multiple taxa, each is given an equal proportion of that protein, e.g., if a protein mapped ambiguously to five taxa, each would receive 0.2 for that protein. Any taxa with a combined score below 1.0 across all proteins was excluded, and scores recalculated iteratively. For the weighted score, counts were multiplied by the percentage bootstrap support for the clade, e.g., if a protein was assigned to two taxa and the bootstrap support for the clade was 80%, each taxon would receive a score of 0.4 (= 0.5 × 0.8).
A subset of eight core house-keeping genes and 47 ribosomal proteins (Table S4) was subject to re-analysis using Maximum Likelihood trees (1,000 bootstraps) inferred by IQTree v1.6.1 using ModelFinder (Nguyen et al., 2015; Kalyaanamoorthy et al., 2017).
Genomic analysis
CheckM (Parks et al., 2015) was used to assess the completeness and contamination in the DCMF genome. SPADE (Mori et al., 2019) was used to analyse repeat regions in the genomes, using default parameters.
The 81 full-length predicted trimethylamine (TMA) methyltransferase protein sequences were aligned with MAFFT v7.310 (Katoh et al., 2002) and a Maximum-Likelihood tree (1,000 bootstraps) inferred by IQTree v1.6.1 using ModelFinder (Nguyen et al., 2015; Kalyaanamoorthy et al., 2017). Global pairwise percentage identities were calculated using GABLAM v2.28.2 (Davey, Shields & Edwards, 2006) from an all-by-all BLAST 2.5.0+ blastp search (Camacho et al., 2009) .
Putative selenocystine-containing proteins were verified via multiple lines of evidence. The presence of a selenocysteine insertion sequence (SECIS) was confirmed in either the JGI annotation, or via bSECISearch (Zhang & Gladyshev, 2005). Glycine/betaine/sarcosine reductase genes were checked for the presence of the conserved cysteine(s) present either before (CxxU in grdA) (Kreimer & Andreesen, 1995) or after (UxxCxxC in grdBFH) the selenocysteine residue (Wagner et al., 1999). In order to determine the substrate specificity of these reductases, the predicted proteins encoding the two subunits of B component (GrdB/F/H and GrdE/G/I) were aligned with known glycine, glycine betaine, and sarcosine reductase B components from Clostridium sticklandii, Peptoclostridium acidaminophilum, Peptoclostridium litorale, Sporomusa ovata An4, and Sporomusa ovata H1 with MUSCLE in UGENE v.1.32 (Okonechnikov et al., 2012) and an unrooted Maximum Likelihood tree (1,000 bootstraps) was inferred by IQ-Tree v1.6.1 using ModelFinder (Nguyen et al., 2015; Kalyaanamoorthy et al., 2017).
Conclusions
DCMF is an organism that demonstrates a relatively rare metabolism and harbours a large genome. Both long and short read genome sequencing technology were used to compliment each other and assemble a singular, circular chromosome for the organism, despite the low-level presence of other bacteria in the enrichment culture. DCMF is the dominant organism in the enrichment and likely sits within the Peptococcaceae family, although not within any known genus. Its DCM-fermenting capabilities make it of interest to the bioremediation sector and the genome contains clues to the as-yet undiscovered DCM dechlorinating enzyme, the identification of which will be the subject of future work. The genome also suggests that DCMF can metabolise a number of amine compounds, such as methylated amines, glycine betaine, dimethylglycine, and sarcosine, though these capabilities remain to be tested. Extensive supplementary data for the DCMF genome and annotation is available at http://www.slimsuite.unsw.edu.au/research/dcmf/ and the Open Science Foundation (Edwards et al., 2019).
Supplemental Information
Supplemental Information