Larval assemblages over the abyssal plain in the Pacific are highly diverse and spatially patchy
1
Hawaii Pacific University

,

Kaneohe

,

HI

,

United States of America
2
Centre for Ecological and Evolutionary Synthesis (CEES), Department of Biosciences, University of Oslo

,

Oslo

,

Norway
3
Department of Oceanography, University of Hawaii at Manoa

,

Honolulu

,

HI

,

United States of America
Published

Accepted

Received
Academic Editor
Subject Areas

Keywords

Larval dispersal

,

Deep sea

,

Polymetallic nodule mining

,

Metabarcoding

,

Benthic Boundary Layer (BBL)

,

Clarion Clipperton Fracture Zone (CCZ)
Copyright

©

2019

Kersten et al.

Licence

This is an open access article distributed under the terms of the Creative Commons Attribution License, which permits unrestricted use, distribution, reproduction and adaptation in any medium and for any purpose provided that it is properly attributed. For attribution, the original author(s), title, publication source (PeerJ) and either DOI or URL of the article must be cited.
Cite this article

2019

.

Larval assemblages over the abyssal plain in the Pacific are highly diverse and spatially patchy

.

PeerJ

7

:

e7691

https://doi.org/10.7717/peerj.7691
Abstract
Abyssal plains are among the most biodiverse yet least explored marine ecosystems on our planet, and they are increasingly threatened by human impacts, including future deep seafloor mining. Recovery of abyssal populations from the impacts of polymetallic nodule mining will be partially determined by the availability and dispersal of pelagic larvae leading to benthic recolonization of disturbed areas of the seafloor. Here we use a tree-of-life (TOL) metabarcoding approach to investigate the species richness, diversity, and spatial variability of the larval assemblage at mesoscales across the abyssal seafloor in two mining-claim areas in the eastern Clarion Clipperton Fracture Zone (CCZ; abyssal Pacific). Our approach revealed a previously unknown taxonomic richness within the meroplankton assemblage, detecting larvae from 12 phyla, 23 Classes, 46 Orders, and 65 Families, including a number of taxa not previously reported at abyssal depths or within the Pacific Ocean. A novel suite of parasitic copepods and worms were sampled, from families that are known to associate with other benthic invertebrates or demersal fishes as hosts. Larval assemblages were patchily distributed at the mesoscale, with little similarity in OTUs detected among deployments even within the same 30 × 30 km study area. Our results provide baseline observations on larval diversity prior to polymetallic nodule mining in this region, and emphasize our overwhelming lack of knowledge regarding larvae of the benthic boundary layer in abyssal plain ecosystems.
Introduction
More than 75% of the deep seafloor consists of abyssal plains that extend for thousands of kilometers between 3,000–6,000 m depths (e.g., Glover & Smith, 2003; Smith et al., 2008b; Vinogradova, 1997). Although punctuated by abyssal hills and seamounts (Harris et al., 2014; Durden et al., 2015), abyssal habitats are predominantly rolling plains covered by fine sediments, with some hard substrate in the form of polymetallic nodules and crusts (e.g., Glover & Smith, 2003; Hannides & Smith, 2003; Smith et al., 2008a). These ecosystems are characterized by low temperatures, very weak bottom currents, and low sediment accumulation rates, making them quiescent and physically relatively homogenous environments (e.g., Glover & Smith, 2003; Ramirez-Llodra et al., 2010; Hannides & Smith, 2003; Leitner et al., 2017). The vastness and remoteness of the abyssal plains makes them one of the largest and yet most poorly sampled ecosystems on our planet (Glover & Smith, 2003; Ramirez-Llodra et al., 2010).
Within the last few decades, there has been a substantial increase in the potential for anthropogenic impacts in the deep-sea (Smith et al., 2008b). Polymetallic nodules represent an extensive, although not yet exploited, mineral resource that has spurred interest in deep-sea mining, principally in the Clarion-Clipperton Fracture Zone (CCZ), a region in the equatorial North Pacific Ocean that contains high abundances of nodules rich in copper, nickel, cobalt, and rare earth elements (ISA, 2010; Hein et al., 2013). Sixteen exploration contracts, each covering up to 75,000 km2, have been granted by the International Seabed Authority (ISA) for polymetallic nodule mining within the CCZ (e.g., Wedding et al., 2013; Wedding et al., 2015). The CCZ is roughly 80% of the size of the contiguous United States (ca. 6,000,000 km2), and contains a variety of habitats, including abyssal plains, hills, seamounts, and fracture zones (e.g., Wedding et al., 2013; Wedding et al., 2015; Kaiser, Smith & Arbizu, 2017). Polymetallic nodules increase habitat heterogeneity in soft sediment regions, as they present hard substrate for microbial to megafaunal species (e.g.,  Amon et al., 2016; Shulse et al., 2017; Kaiser, Smith & Arbizu, 2017). Within the CCZ, variations in benthic community structure and function are primarily driven by north-south and east-west gradients in overlying productivity (Glover et al., 2002; Smith et al., 2008a; Wedding et al., 2013; Sweetman et al., 2018), and the diversity of meio—to macrofaunal invertebrates is high. Under-sampling and incomplete taxonomic information limit our understanding of abyssal biodiversity and biogeography (Smith et al., 2008a; McClain & Hardy, 2010), with many recent descriptions of new species and/or new distributional records for mega-, macro-, and meiofauna greatly increasing our knowledge of the CCZ fauna (e.g., Glover et al., 2016; Dahlgren et al., 2016; Wiklund et al., 2017; Goineau & Gooday, 2017; Taboada et al., 2018).
Many of the invertebrate macro- and megafaunal animals inhabiting the abyssal seafloor have a pelagic larval phase, enabling them to disperse on ocean currents, an essential component to the colonization of new habitats and resilience of deep-sea communities (e.g., McClain & Hardy, 2010; Mullineaux et al., 2010; Young et al., 2012). Following mining disturbance, pelagic larvae would serve as a primary vector for the re-establishment of seafloor communities (Wedding et al., 2013; Baco et al., 2016), and information about the abundance and spatio-temporal community structure of meroplankton in regions targeted for mining is therefore critical. Unfortunately, larval studies in the deep-sea remain challenging due to the remoteness of the habitat, low animal abundances, and difficulties in taxonomic identification due to the lack of taxonomic keys and a largely undescribed fauna (Adams, Arellano & Govenar, 2012; Kersten, Smith & Vetter, 2017). Several deep-sea studies address larval abundance and dispersal in bathyal hydrothermal vent systems and on mid-ocean ridges (e.g., Beaulieu et al., 2009; Mullineaux et al., 2005; Metaxas, 2011). However, there are almost no data on the flux or abundance of invertebrate larvae over abyssal plain habitats (Christiansen et al., 1999; Kersten, Smith & Vetter, 2017). Our prior work on these same samples using a traditional microscopy-based taxonomic approach describing the composition, abundance, and temporal variability of abyssal meroplankton provide the only prior larval data from the CCZ (Kersten, Smith & Vetter, 2017). Both larval abundances and fluxes in the CCZ were ∼1–2 orders of magnitude lower than those observed in mid-ocean ridge and hydrothermal-vent habitats (Kersten, Smith & Vetter, 2017), and meroplankton occurred almost exclusively within the Benthic Boundary Layer (BBL; sampled at 11 m above bottom (mab); Kersten, Smith & Vetter, 2017), which could have significant implications for the influence of near-bottom sediment plumes created by mining on the dispersal and recruitment of benthic populations.
For the first time, we use metabarcoding to investigate the diversity of a larval assemblage in the deep sea. Metabarcoding has routinely been used to characterize the diversity and structure of microbial communities (e.g., Sogin et al., 2006; Huber et al., 2007), with more recent applications to communities of benthic meiofauna and macrofauna (e.g., Fonseca et al., 2010; Leray & Knowlton, 2015), upper ocean zooplankton assemblages (e.g., Lindeque et al., 2013; Sommer et al., 2017; Hirai et al., 2017; Djurhuus et al., 2018), as well as gut contents and sediment communities (e.g., Leray et al., 2013; Deagle et al., 2013; Sinniger et al., 2016). Molecular methods circumvent some of the particular challenges of microscopy-based investigations of deep-sea meroplankton, including the common occurrence of damaged specimens and near ubiquitous lack of identification guides. The metabarcoding approach relies on reference databases that link morphological and molecular information for a wide diversity of taxa, and building and maintaining such resources for the deep sea is important to increasing the classification power of metabarcoding methods (e.g., Glover et al., 2015; Sinniger et al., 2016; Glover et al., 2018). Yet even in the absence of complete reference databases, metabarcoding methods capture sequences found in the CCZ, providing valuable baseline data on organismal occurrence and community diversity, as well as facilitating the inference of biogeographic distributions for species that have not yet been formally described.
This study focuses on the meroplanktonic larval stages of benthic animals sampled over the near-bottom abyssal plain within two mining exploration contract areas in the Eastern CCZ (Fig. 1). Our goals are to assess species richness, diversity, and spatial variability of the larval assemblage at the mesoscale, and to evaluate the suitability of the metabarcoding approach to describe a deep-sea, near-bottom meroplankton assemblage through comparison to conventional taxonomic analyses of quantitative splits of the same samples (Kersten, Smith & Vetter, 2017). Demersal plankton samples were collected with autonomous plankton pumps above the seafloor, and the fauna characterized using three markers in the nuclear 18S rRNA and mitochondrial cytochrome c oxidase subunit I (mtCOI) genes. Our results provide important baseline records of larval diversity over the severely under-sampled abyssal plain ecosystem of the CCZ.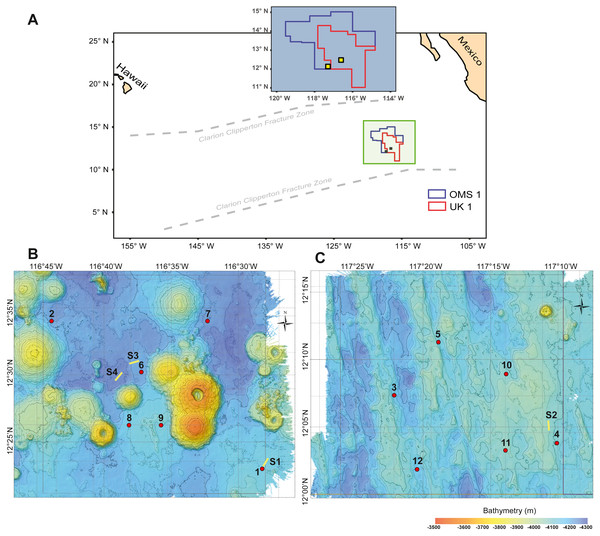 Discussion
Although abyssal plains are among the least explored marine ecosystems on our planet, significant regions of the deep seafloor in the Pacific are potentially at risk due to polymetallic nodule mining. Larval dispersal must play a key role in the resilience of abysso-benthic populations, for example by facilitating recolonization following mining disturbance, yet this is the first study to investigate larval diversity over the abyssal plains in the Pacific (with Kersten, Smith & Vetter, 2017), and the first to use metabarcoding methods to study larvae in any deep ocean habitat. Our results suggest that larval assemblages in the benthic boundary layer can be highly diverse at the phylum level (Tables 1, 2), and are spatially patchy at the oceanographic mesoscale (10s of km). An assemblage of parasitic and commensal copepods and worms, that were in some cases spatially quite widespread in our samples, have not been previously reported in the deep ocean (Table 3). We also sampled larvae of several residents of deep chemosynthetic/organic-rich habitats, including whale-fall, wood-fall and hydrothermal vent taxa, such as Osedax, Xylophaga and Ventsia, respectively (Table 2).
The meroplankton richness captured by metabarcoding, with representatives from 12 phyla, 23 classes, 46 orders, and 65 families, included many organisms that have been previously reported from the CCZ or other deep-sea regions in the Pacific. Taxa such as Porcellanaster ceruleus, Oneirophanta setigera, Ophryotrocha, or Yoldiella have previously been observed as adults in related studies of megafauna/macrofauna from the same CCZ claim areas, while others (Parameiropsis, Laonice, Macrostylis) were recorded in other areas of the eastern and central CCZ (Cho, Wi & Suh, 2016; Amon et al., 2017b; Amon et al., 2017c; De Smet et al., 2017; Wiklund et al., 2017; Table 2). Sampled taxa that are known to occur in other areas of the deep Pacific include numerous polychaetes and several gastropods, as well as groups that are more infrequently reported as part of the meroplankton, such as scaphopods, entoprocts (parasitic/commensal), or myzostomids (parasitic) (Table 1, Fig. 3). Finally, we also provide the first reports of an abyssal distribution in the Pacific for several shallow water taxa, as well as taxa previously only recorded from other ocean basins, including for example the polychaete genus Austropolaria or the echinoderm family Arbaciidae, which are likely represented by undescribed members of those taxa (Table 2). Nevertheless, species accumulation curves and species richness estimators (Jackknife1, Chao1, Bootstrap) indicated under-sampling of the larval diversity at each site, suggesting that additional plankton pump deployments or increased filtration volumes would be required to fully capture the meroplankton diversity (Figs. 2, S1).
Polychaetes and copepods are dominant components of the macrofauna and meiofauna in the abyssal benthos (e.g., Ahnert & Schriever, 2001; De Smet et al., 2017; Wilson, 2017), and were the richest taxonomic groups detected across all three metabarcoding markers in this study. The polychaete larval assemblage included several typical abyssal benthic polychaetes, such as the families Capitellidae, Acrocirridae, Travisiidae, Spionidae, Scalibregmatidae, Polynoidae, Terebellidae or Serpulidae, all of which have been previously sampled in the CCZ (Table 2, Fig. 4). Most of these polychaete families are known epifauna and/or infauna of the soft sediment community; however, members of the family Serpulidae are commonly found on nodules (Amon et al., 2017c) and other hard substrates (Amon et al., 2016; Vanreusel et al., 2016). Most of the polychaete families detected also are deposit-feeders (Jumars, Dorgan & Lindsay, 2015), with the exception of polynoids, siboglinids (Osedax) and dorvilleids, which may be carnivores, omnivores, and/or bone feeders (Jumars, Dorgan & Lindsay, 2015). Polychaetes serve important roles in recycling and bioturbation of sediments, as well as in the burial of organic matter (Hutchings, 1998); these ecosystem functions make them an important faunal component to document in baseline surveys of the CCZ. Apart from the typical abyssal families, we also sampled polychaetes that are known from chemosynthetic/organic-rich habitats, e.g., hydrothermal vents and whale falls, including the species Osedax frankpressi and Capitella capitata, and the genera Ophryotrocha, Phyllochaetopterus, Protis and Laonice (Table 2). The presence of meroplankton of these taxa over the abyssal plain may indicate the presence of whale falls or other reducing/organic-rich habitats within dispersal distance of the sampling sites (whale falls have been observed within the CCZ; Smith et al., 2015; Amon et al., 2017a), consistent with these taxa dispersing across the abyssal plain via habitat 'stepping stones' (Vrijenhoek, 2010; Smith et al., 2015).
Our metabarcoding approach also captured twenty families of copepods, including both parasitic/commensal and meiofaunal groups (Fig. 4, Table 3). Copepods are common parasitic or commensal associates of many host taxa with deep sea representatives (Boxshall & Halsey, 2004; Boxshall, 1998). In particular, the families Anchimolgidae, Asterocheridae, Clausidiidae, Eudactylinidae, Lichomolgidae, Myicolidae, Nicothoidae, Rynchomolgidae, and Synapticolidae sampled here have been observed on a variety of hosts, including corals, sponges, cnidarians, echinoderms, polychaetes, molluscs, crustaceans, and fishes. Yet apart from Clausidiidae, Rhynchomolgidae and Lichomolgidae, members of these families display host specificity and are associated with only one of these groups (Table 3). Nevertheless, very little is known about the distribution, host specificity or life history of parasitic copepods in the deep-sea (De Buron & Morand, 2004; Boxshall & Halsey, 2004). Presumably, we lack information about parasitic copepods at great depths due to their inconspicuousness, as well as the fact that the deep-sea remains highly under-sampled (De Buron & Morand, 2004). The parasitic copepods reported here were almost certainly collected as pelagic nauplii, the life history phase that disperses and locates new hosts. Approximately 50% of the specimens collected by our plankton pumps were nauplii (Kersten, 2015); however, nauplii are extremely challenging to identify morphologically (Jungbluth, Goetze & Lenz, 2013), and no prior deep-sea plankton studies have attempted taxonomic assignment of nauplii (e.g., Christiansen et al., 1999; Wishner, 1980; Kersten, Smith & Vetter, 2017). We combined a 63 µm mesh size for collections with metabarcoding analyses, enabling us to detect this highly diverse and almost entirely unknown component of the meroplanktonic fauna. Copepods are also a central component of the deep-sea meiobenthos in the CCZ and abyssal Pacific (Ahnert & Schriever, 2001; Radziejewska, 2002), and we also sampled several representatives from this assemblage, including the genera Pontostratiotes and Parameiropsis, and the families Schminkepinellidae, Smirnovipinidae and Ectinosomatidae (Table 2).
Several mechanisms may generate spatial patchiness in the larval assemblage, as was observed in site-to-site variability of larval diversity and community structure. Our results indicated low spatial structuring over distances of 100 km (between UK1 and OMS1 mining claim areas), but substantial variability in the larval assemblage within distances of 5–50 km, likely in part due to under-sampling (Figs. 5, 6, S1). The diversity and structure of the BBL larval assemblage is dependent on the community structure and reproductive output of the parental populations, larval type (lecithotrophic, planktotrophic), vertical positioning of larvae above the seafloor, larval mortality, and pelagic larval duration (PLD) (e.g., Cowen & Sponaugle, 2009; Mullineaux et al., 2012; Mullineaux et al., 2013; Mills et al., 2013). Adults of most of the meroplankton classes detected in this study have been previously reported in the CCZ (Wilson, 2017; De Smet et al., 2017), and similar spatial patterns may occur for both adult populations and larval assemblages. In the CCZ, adult macrofaunal communities have been shown to be distinct on a scale of 1,000 km (Janssen et al., 2015; Glover et al., 2002), most likely driven by large-scale gradients in POM flux at the seafloor (Smith et al., 2008a). However, it remains unclear to what degree the CCZ fauna is variable at regional or smaller spatial scales, as under-sampling remains an issue. For mega- to meiofanual communities, differences in seafloor POC flux, nodule cover and sediment characteristics among sites may contribute to spatial differences in abundance and diversity (Amon et al., 2016; De Smet et al., 2017; Simon-Lledó et al., 2019). Polymetallic nodules provide (micro-)habitat heterogeneity and create additional niches for a specialized nodule fauna (e.g., Amon et al., 2016; Vanreusel et al., 2016; Veillette et al., 2007), with abundance, community composition, and distribution of CCZ mega-, macro- and meiofauna partially structured by the presence of nodules (e.g., Simon-Lledó et al., 2019; Smith et al., 2008a; Vanreusel et al., 2016; Veillette et al., 2007). Nodule cover and megafaunal community structure have been observed to differ significantly within distances of 5–50 km (between sampling sites) (Amon et al., 2016; Simon-Lledó et al., 2019), and it is possible that larval patchiness is caused by differential contributions to the meroplankton from localized and distinctively structured benthic communities. Finally, the mesoscale patchiness of the larval assemblage could be driven in part by short pelagic larval durations (PDL) and short dispersal distances for some members of the assemblage. Although dispersal distances of deep-sea taxa are largely unknown, especially for abyssal regions, prior studies report deep-sea invertebrates having a pelagic larval duration (PLD) of ∼10–300 days (Hilário et al., 2015; Baco et al., 2016), yielding an estimated dispersal distance of several kilometers to several hundred kilometers in the abyssal CCZ (current meter data in Table S1; Baco et al., 2016). The mesoscale patchiness we observed on a scale of ∼20 days and across 5–50 km, as well as the high diversity of taxa sampled within the benthic boundary layer, suggest that many CCZ taxa may be dispersing close to the bottom, with PLD and dispersal distances at the low end of this estimated dispersal range. If high larval patchiness and limited dispersal ranges are the rule in the abyssal CCZ (excluding a few taxa that might disperse higher in the water column), nodule mining could increase spatial fragmentation of adult benthic populations by removing larval source populations over substantial areas (hundreds to thousands of square kilometers; Smith et al., 2008b; Simon-Lledó et al., 2019). Temporal variation of the larval assemblage in the CCZ on the scale of days is likely negligible due to little seasonality of POC flux at the seafloor in the mesotrophic abyss (Hannides & Smith, 2003) and stable abiotic factors throughout the study area (Table S1).
Integrated morphological and molecular approaches yield far more information about larval diversity, abundance, and temporal and spatial variability than either approach alone; thus, we recommend such an integrated approach for future research on larval assemblages in the deep ocean. Notably, even though all visible pre-adult stages were removed from the samples, metabarcoding captured much higher meroplankton diversity than microscopy-based methods. As a large fraction of the crustacean larvae in the form of nauplii were not removed from the metabarcoding fraction due to the inability to assign taxonomy to these life stages, inclusion of these larval specimens likely explains the majority of detected DNA not contained in individually barcoded larvae (as opposed to environmental DNA). For the remaining taxa, we speculate that DNA may have been present in small, damaged, or unidentifiable specimens of soft-bodied, more fragile groups (e.g., partial specimens, particulate material in the BBL). Given highly diverse deep-sea communities, it is also important to use multiple markers in metabarcoding studies in order to capture the entirety of the larval assemblage. In this study, only ca. 3% of meroplankton taxa classified to the family level were identified by all three markers and the great majority were detected by only one (Tables 2, 3). Success in taxonomic assignment also varies across markers; for example, the mtCOI amplicon enabled greater resolution than 18S, with classification of more than 19% of the captured meroplanktonic taxa (Tables 2, 3). Taxonomic assignment of metabarcoding OTUs requires a comprehensive reference sequence database that links the original taxonomic descriptions of species with sequence data (Deagle et al., 2014; Bucklin et al., 2016; Sinniger et al., 2016). Yet publicly available reference sequences do not exist for the majority of deep-sea species (Sinniger et al., 2016), in part because many species remain undescribed. For example, there are currently no records in NCBI for the cyclopoid genus Barathricola or the harpacticoid family Cerviniidae, both of which were common in our samples, as identified by microscopy. In order to increase the taxonomic resolution and power of metabarcoding methods for deep sea studies, it is imperative to continue to acquire reference sequences by combining traditional morphological taxonomy with molecular approaches, thereby continuing to build reference databases (e.g., Janssen et al., 2015; Glover et al., 2015; Glover et al., 2018).
Conclusions
Knowledge of the diversity, composition and spatial distribution of abyssal near-bottom meroplankton assemblages is fundamental to understanding the ecology of benthic invertebrate populations of the abyssal plain, including the processes of dispersal, recruitment and recovery of abyssal populations potentially impacted by polymetallic nodule mining (Smith et al., 2008a; Wedding et al., 2015; Baco et al., 2016). The metabarcoding approach used here provided new insights into the near-bottom meroplankton assemblage in the eastern CCZ, a region of particular interest for deep-sea polymetallic nodule mining. Primary observations from this study are that (1) the meroplankton of the CCZ benthic boundary layer is a diverse assemblage with representatives from 12 Phyla, 23 Classes, 46 Orders and 65 Families; (2) the assemblage includes a group of parasitic and commensal organisms that were previously unknown or highly under-sampled in the deep ocean, in addition to commonly reported larval groups (e.g., bivalves, polychaetes, gastropods) and several representatives of chemosynthetic deep ocean habitats; (3) larvae are spatially patchy at the mesoscale (5–50 km) across the abyssal plain, though larger volume samples are required to fully sample the larval diversity within each claim area; and (4) metabarcoding and larval DNA barcoding of individual larvae combined detected a 2.7–4.3 times higher diversity than morphology-based analyses of these same quantitative samples. Our results therefore significantly advance our knowledge of the poorly studied larval assemblages over the abyssal plains in the Pacific Ocean, and provide key baseline data on larval pools and potential connectivity of benthic populations likely to be impacted by polymetallic nodule mining in the CCZ.