Noninvasive and safe cell viability assay for Euglena gracilis using natural food pigment
1
Department of Physics, Faculty of Science, Tokyo University of Science

,

Tokyo

,

Japan
2
euglena Co., Ltd.

,

Tsurumi-ku, Yokohama-shi, Kanagawa

,

Japan
Published

Accepted

Received
Academic Editor
Subject Areas

Keywords

Anthocyanin

,

Dye exclusion test

,

Absorbance spectral imaging microscopy

, Euglena, Monascus,

Noninvasive cell viability assay

,

Natural food pigment

,

Trypan blue

,

Methylene blue

,

Unicellular photosynthetic green microalgae
Copyright

©

2019

Yamashita et al.

Licence

This is an open access article distributed under the terms of the Creative Commons Attribution License, which permits unrestricted use, distribution, reproduction and adaptation in any medium and for any purpose provided that it is properly attributed. For attribution, the original author(s), title, publication source (PeerJ) and either DOI or URL of the article must be cited.
Cite this article

2019

. Noninvasive and safe cell viability assay for Euglena gracilis using natural food pigment.

PeerJ

7

:

e6636

https://doi.org/10.7717/peerj.6636
Abstract
Noninvasive and safe cell viability assay is required in many fields such as regenerative medicine, genetic engineering, single-cell analysis, and microbial food culture. In this case, a safe and inexpensive method which is a small load on cells and the environment is preferable without requiring expensive and space-consuming equipment and a technician to operate. We examined eight typical natural food pigments to find Monascus pigment (MP) or anthocyanin pigment (AP) works as a good viability indicator of dye exclusion test (DET) for Euglena gracilis which is an edible photosynthetic green microalga. This is the first report using natural food pigments as cell viability assay. Euglena gracilis stained by MP or AP can be visually judged with a bright field microscope. This was spectrally confirmed by scan-free, non-invasive absorbance spectral imaging A(x, y, λ) microscopy of single live cells and principal component analysis (PCA). To confirm the ability of staining dead cells and examine the load on the cells, these two natural pigments were compared with trypan blue (TB) and methylene blue (MP), which are synthetic dyes conventionally used for DET. As a result, MP and AP had as good ability of staining dead cells treated with microwave as TB and MB and showed faster and more uniform staining for dead cells in benzalkonium chloride than them. The growth curve and the ratio of dead cells in the culture showed that the synthetic dyes inhibit the growth of E. gracilis, but the natural pigments do not. As the cell density increased, however, AP increased the ratio of stained cells, which was prevented by the addition of glucose. MP can stain dead cells in a shorter time than AP, while AP is more stable in color against long-term irradiation of intense light than MP. Due to the low toxicity of these pigments, viability of cells in culture can be monitored with them over a long period.
Introduction
Unicellular microalgae E. gracilis has been drawing attention to realize a sustainable society of recycling resource and energy. E. gracilis is a photosynthetic flagellate green microalga with a length of approximately 50 µm and a diameter of 8 to 12 µm inhabiting freshwater (Wolken, 1967). Depending on nutritional and environmental conditions, E. gracilis synthesizes paramylon, a β-1,3-glucan, which is used as an ingredient of functional food (Sugiyama et al., 2009; Nakashima et al., 2018) or produces wax ester suited for its conversion to biofuel (Inui et al., 1982). By photosynthesis, E. gracilis can grow in both autotrophic culture (Cramer-Myers medium (Cramer & Myers, 1952)) and heterotrophic culture (Koren-Hutner medium (Kitaoka, 1989)). In recent years, the success of mass-cultivation of E. gracilis has enabled the commercial supply of E. gracilis as an ingredient of functional foods, cosmetics, and biofuel (Suzuki, 2017). Therefore, the technology using E. gracilis, which enables clean, sustainable cost-effective production of food and fuel, is being developed in industrial and academic fields (Yamada et al., 2016b). For the development of these technologies, noninvasive and safe cell viability assay plays an important role as a basic technology.
For example, the production of nuclear mutants of E. gracilis requires a physically and chemically significant load on cells due to the robustness of their genome, so it is necessary to confirm whether the cells are viable or dead at screening (Yamada et al., 2016a). Moreover, when the alga is mass cultured for edible use, it is necessary to confirm the state of growth.
As conventional methods to distinguish between live and dead cells in culture, the followings are known.
However, these methods have drawbacks such as requiring specialized techniques and equipment, damaging cells, and inability to perform in-situ measurement in the cultivation process (Smith & March 1 P, inShare, 2013; Wu & Terada, 2005). Therefore, in order to solve these problems, in this paper, we propose a cell viability assay using natural edible pigments as the dye exclusion test (DET) in the above-mentioned method (2).
Trypan blue (TB) and methylene blue (MB), vital dyes, have been conventionally used for the DET. TB is a widely used diazo dye for selectively coloring dead tissues or cells. The mechanism for TB to stain cells is based on its negative charge which prevent the incorporation of it into the living cells with the membrane negatively charged. Therefore, the living cells are not stained, but the dead cells with the compromised cell membrane are stained by TB (ScienceDirect, 2018; Tran et al., 2011) environmental and cell health problems due to its potential teratogenic effects (Tsaousis et al., 2012; Beck & Lloyd, 1964). It is also pointed out that pore formation is possibly induced in cell membranes to increase membrane permeability (Tran et al., 2011). Methylene blue is frequently used to distinguish dead yeast cells from living cells (Tampion & Tampion, 1987). However, the DET method with methylene blue have suffered from false positive results at longer exposure times (Feizi et al., 2016). As other dyes for the DET, eosin (Schrek, 1936), nile blue (Scharff & Maupin, 1960), and amethyst violet (Novelli, 1962) have been used but it is known that the selective permeability of the plasma membrane is destroyed or severely impaired (Bonora & Mares, 1982), indicating that these dyes are toxic for cells.
In order to avoid these problems, a technique using erythrosin B (EB, aka Red No. 3) used as a food additive was developed (Kim et al., 2016). This synthetic colorant is a food dye that does not pass through biological membranes and is compatible with automatic cell counters. However, since EB has a property of fading in an acidic solution (Umezawa et al., 1990), it is not suitable for the culture of E. gracilis, which is ordinary culture at pH 3.5. In addition, since EB is suspected of being carcinogenic, once the FAD (Food and Drug Administration) banned their use (1990) (Associated Press, 1990; Jennings et al., 1990). Although the ban on EB was removed afterwards, most of the EB in the US has been replaced with Allura Red (aka Red 40) (Bell, 2017). Furthermore, in recent years, consumers are more conscious of ingredients in foods, and foods are required to be as "(facing the wrong way) natural" as possible (Downham & Collins, 0000; Giusti & Wrolstad, 2003), thus research on edible pigment extraction methods and food applications of them have been conducted (Akogou et al., 2018). Presently, E. gracilis is provided as a raw material for functional food (Nakashima et al., 2017). Therefore, if substitution with natural food pigments for DET is realized, the pigment is expected not only to reduce the load on the cells in viability assay in basic researches but also has potential to be used industrially as additive to the cultivation medium. Specifically, when natural food pigments are used for the viability assay in E. gracilis culture, there is no problem in using the harvested cells for food material even if they remain in the cell. Rather, residual pigments may enhance the value of product by adding antioxidant function possessed by natural pigments and increasing color variation as food material. These are advantages not found in synthetic food dyes.
Eight natural food pigments are tested in this study, among which Monascus pigment (MP) and anthocyanin pigment (AP) are of particular interest. MP is derived from Monascus sp. which is a kind of filamentous fungus and AP is derived from purple sweet potato. The colors (red or red purple) of these natural pigments correspond to the complementary color of vivid green of E. gracilis, so there is an advantage that the contrast becomes higher compared with other colors when observed by bright field microscopy.
MP exhibits a red color due to a molecule of the pigment whose main component is monascorubramine (Chen et al., 2017). It does not have a significant pH dependence of the color (although it tends to precipitate in acidic solution), is relatively stable to heat, and has excellent stainability to proteins (Shimizu, Nakamura & Fuji, 2001), while it is unstable against light irradiation, especially in an acidic condition. MP has been used for more than 1,000 years as a food pigment and a folk medicine in China because an efficient production method is established by fermentation of rice. MP is an inexpensive and reproducible substrate, has variation in colors, is highly safe, and shows good solubility in water and ethanol (Wang & Lin, 2007; Chen et al., 2017). Moreover, it possesses biological activities such as anti-mutagenic, anti-cancer properties, antibacterial activity, potential anti-obesity activity (Feng, Shao & Chen, 2012).
AP is a water-soluble pigment, dissolved as a glycoside in the vacuolar liquid of plants, and has a number of chemical structures depending on the type of sugar as well as the organic acid bound thereto (Shimizu, Nakamura & Fuji, 2001). AP turns red in acidic conditions and turns blue when pH increases. Many APs have high stability under acidic conditions compared to basic conditions (Khoo et al., 2017). In particular, the AP contained in purple sweet potatoes is superior in stability in heat and light resistance as compared with AP contained in other plants (Shimizu, Nakamura & Fuji, 2001). Also, AP interacts with both cellulose and pectin (Padayachee et al., 2012). AP has traditionally been used as natural food pigment. Furthermore, AP has a high antioxidant effect, and has preventive effects such as anti-diabetes drugs, anticancer drugs, anti-inflammatory drugs, anti-bacterial drugs, anti-obesity drugs, and anti-cardiovascular diseases (CVD) drugs (Khoo et al., 2017).
In this research, we use E. gracilis for the screen of food pigments which can be used for DET.
Materials and Methods
Sample preparation
Sample preparation for each experiment was conducted as follows.
The wild type E. gracilis (Z strain) was cultured in CM medium (Cramer-Myers medium (Cramer & Myers, 1952), pH 3.5), stationary and aerobically under continuous illumination with a cool white fluorescent light at 40 µmol/m2/sec and at constant temperature 21 °C before pigment was mixed. The cells were provided by euglena Co., Ltd. This suspension was injected into a micro test tube containing pigment and thoroughly mixed by pipetting. These samples were kept stationary in the micro test tubes with the cap opened under continuous illumination with a cool white fluorescent light at 100 µmol/m2/sec and at constant temperature 21 °C.
Observation of cells by bright field microscope
The bright field microscopes and objective lenses used for the observation of cells in this manuscript are as follows.
Measurement of absorbance of single live or dead cells (Figs. 1–5). Inverted microscope (IX71, OLYMPUS) with the 100 × objective lens (NA 0.85, LCPlanFLN, OLYMPUS)

Experiments other than the above. Digital biological microscope (GR-D8T2, Shodensha, Inc.) with the 40 × objective lens (NA 0.65, Shodensha, Inc.), or the 10 × objective lens (NA 0.25, Shodensha, Inc.)
Confirmation of stained cells
Confirmation of stained cells for each experiment was conducted as follows.


Cells were observed by a bacteria counter (A-161, Sunlead Glass Co., Ltd., Saitama, Japan) and a bright field microscope (GR-D8T2) with the 10 × and 40 × objective lenses once a day for 2 days.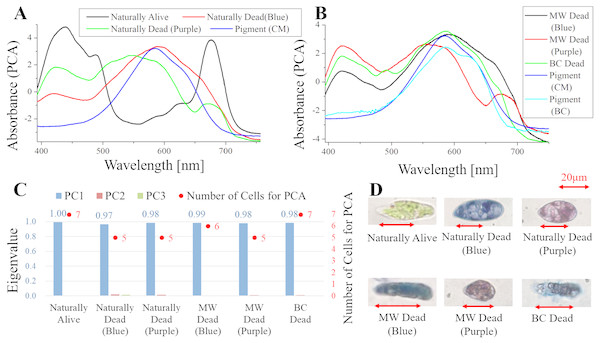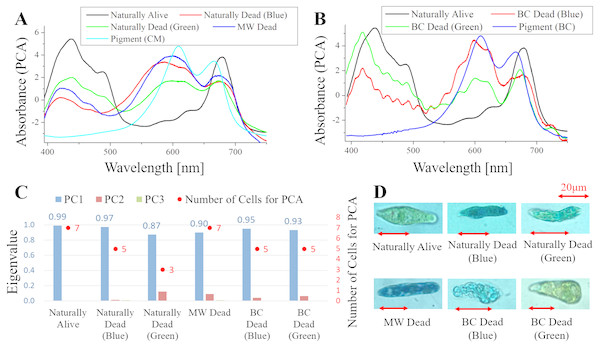 Conclusion
We examined the feasibility of eight types of edible natural pigments to the DET for green algae and found that MP and AP have high ability to determine viability of E. gracilis. Blue, green, and yellow natural pigments did not stain a deep green cell E. gracilis so strongly as to be visually discriminated.
As well as the conventional synthetic viability assay reagents TB and MB, the natural pigments MP and AP stained visually with dead cells of E. gracilis. Further, the natural pigments showed more clear staining of dead cells than the synthetic dyes in the solution containing BC.
From the absorption spectra by PCA, it was found that the natural pigments stained dead cells in one color, whereas the synthetic dyes stained dead cells into two colors depending on Chl-a content. Especially in MB, it is impossible to distinguish these cells (Fig. 5D, "Naturally Alive", "Naturally Dead (Green)", "BC Dead (Green)") by only the color of the images with microscopic observation. On the other hand, comparing the absorption spectra of these cells by absorbance spectral imaging, MB spectrum can be confirmed only in dead cells. In natural pigments, it was confirmed that such cells did not exist (Figs. 2 and 3C).
Also, since the natural pigments did not positively destroy Chl-a, a variation of the obtained spectra were small, whereas the synthetic dyes destroyed Chl-a, resulting in a larger variation of the spectra obtained. In addition, it was confirmed that the natural pigments do not show marked growth inhibition or toxicity to living cells as compared with the synthetic dyes. In fact, samples with the natural pigment showed a higher cell density than the control sample in CM medium. For this performance (higher growth rate than the control), however, AP requires addition of glucose. It was confirmed that the pigments bound to the dead cells can be monitored for the cell viability for 6 days. In addition, their cost is one tenth of that of TB currently used widely as a reagent for DET, and they are environmentally friendly.
MP can stain dead cells in a short time, but because it is unstable to light, it is not suitable for long-term monitoring of the cell viability. On the other hand, AP is suitable for long-term monitoring of the cell viability because it is stable to light, although AP needs addition of glucose for survival of cells. Therefore, it is important to grasp the characteristics and the influence of each pigment on the target cell, and it is a future task to search for the optimum use condition depending on each purpose. In food, hygiene, and life science field, they can play an important role from special facilities like laboratories and factories in everyday environments where more safety is required such as cafeterias and families.
The following patent on this manuscript is pending.
Title: Method and kit for cell viability assay
Patent Application Number: 2018-241789
Date: Dec. 25, 2018
Supplemental Information
Raw data