Shifts in stability and control effectiveness during evolution of Paraves support aerial maneuvering hypotheses for flight origins
Published

Accepted

Received
Academic Editor
Subject Areas

Keywords

Stability

,

Control effectiveness

,

Maneuvering

,

Flight

,

Evolution

,

Paraves

,

Biomechanics

,

Directed aerial descent
Copyright

©

2014

Evangelista et al.

Licence

This is an open access article distributed under the terms of the Creative Commons Attribution License, which permits unrestricted use, distribution, reproduction and adaptation in any medium and for any purpose provided that it is properly attributed. For attribution, the original author(s), title, publication source (PeerJ) and either DOI or URL of the article must be cited.
Cite this article

2014

.

Shifts in stability and control effectiveness during evolution of Paraves support aerial maneuvering hypotheses for flight origins

.

PeerJ

2

:

e632

https://doi.org/10.7717/peerj.632
Abstract
The capacity for aerial maneuvering was likely a major influence on the evolution of flying animals. Here we evaluate consequences of paravian morphology for aerial performance by quantifying static stability and control effectiveness of physical models for numerous taxa sampled from within the lineage leading to birds (Paraves). Results of aerodynamic testing are mapped phylogenetically to examine how maneuvering characteristics correspond to tail shortening, forewing elaboration, and other morphological features. In the evolution of Paraves we observe shifts from static stability to inherently unstable aerial planforms; control effectiveness also migrated from tails to the forewings. These shifts suggest that a some degree of aerodynamic control and capacity for maneuvering preceded the evolution of a strong power stroke. The timing of shifts also suggests features normally considered in light of development of a power stroke may play important roles in control.
Introduction
Regardless of how aerial behavior originates, once airborne an organism must control (Smith, 1952) its orientation and position in order to safely navigate the vertical environment (e.g., directed aerial descent, Dudley & Yanoviak, 2011). Such abilities are present even in taxa with no obvious morphological adaptation for flight (such as Cephalotes ants, Munk, 2011; geckoes, Jusufi et al., 2008; Jusufi et al., 2011; stick insects, Zeng, 2013; and human skydivers, Cardona et al., 2011; Evangelista et al., 2012). At low speeds, such as at the start of a fall or jump, inertial mechanisms (Jusufi et al., 2008; Jusufi et al., 2011) allow for rolling, pitching, and yawing. As speeds increase (or as appendages grow in area), aerodynamic mechanisms of control can be employed. Body and appendage configuration and position affect both stability, the tendency to resist perturbations, as well as production of torques and forces for maneuvering (control effectiveness). In the four-winged Early Cretaceous Microraptor gui, changes in planform, such as alternative reconstruction postures or removal of leg and tail feathers, alter stability and the control effectiveness of appendages (Evangelista et al., 2014b). Furthermore, appendage function can shift entirely according to the aerial environment (e.g., asymmetric wing pronation producing yaw at high glide angle versus roll at low glide angle) or even completely reverse function (Evangelista et al., 2014b). Such aerodynamic results are exciting but are based on a single specimen (Xu et al., 2003). Stronger conclusions can be drawn from comparative study of several forms within a phylogenetic context.
One obvious trend in avian evolution is the transition from long tails and feathered legs in early forms (Xu et al., 2003; Hu et al., 2009; Longrich, 2006; Christiansen & Bonde, 2004; Zheng et al., 2013; O'Connor et al., 2013; Pittman et al., 2013) to later (including extant) forms for which the skeletal tail has fused into a short pygostyle and both asymmetric and symmetric flight feathers are absent from the legs. Functional consequences of this shift for aerial maneuvering remain speculative (Smith, 1953; Beebe, 1915; Thomas, 1997). Similarly, changes in the pectoral girdle have been assumed to enhance a powered downstroke (Gauthier & Padian, 1985; Benton, 2005), but may also have influenced maneuvering by shifting the center of body mass (Allen et al., 2013) or in enabling the production of wing asymmetries. With the exception of Huynh et al. (2011), previous aerodynamic studies tend to focus on lift and drag coefficients and glide angles and specific postures (Chatterjee & Templin, 2007; Alexander et al., 2010; Koehl, Evangelista & Yang, 2011; Dyke et al., 2013), with maneuvering only considered rarely and in single taxa (Longrich, 2006; Hall et al., 2012; Evangelista et al., 2014b).
To examine these patterns and to test adaptive hypotheses (Padian, 2001), we can use model tests to quantify the effect of shape on static stability and control effectiveness (Evangelista et al., 2014b; Koehl, Evangelista & Yang, 2011; McCay, 2001), using specimens sampled from paravian (Xu et al., 2011) and early avialan (Gauthier & Padian, 1985) evolution. We focus specifically on static stability and control effectiveness; while lift and drag are expected to be important in flight evolution, they have been addressed adequately in previous literature (Evangelista et al., 2014b; Dyke et al., 2013; Koehl, Evangelista & Yang, 2011; Alexander et al., 2010). While the capacity to generate aerodynamic forces for weight support (Dial, 2003; Dial, Jackson & Segre, 2008; Heers, Dial & Tobalske, 2014) was almost certainly evolving, we consider here the ability to control aerial behavior (Dudley & Yanoviak, 2011). The presence or absence of stability in the various axes and the control effectiveness of the appendages should correspond to changes in major morphological features (shortening of the tail, enlargement of the forewings) to enhance aerodynamic performance, however, previous work has not yet identified the patterns. We hypothesize that stability and control are present early in the evolution of flight (Dudley, 2002; Dudley & Yanoviak, 2011); this can be tested by examining the patterns of stability and control. Morphologically, we would predict organisms would have some amount of surface area (Xu et al., 2003; Hone et al., 2010; Xu et al., 2011; Zheng et al., 2013; Zhang & Zhou, 2004); though it may not be large, it should provide some amount of stability. At an early stage, organisms may possess only a weak power stroke. With some appendages (particularly, forelimb wings), they may initially have limited ability to generate aerodynamic forces due to reduced speed or feather porosity and flexibility (Nudds & Dyke, 2009; Nudds & Dyke, 2010; Heers, Tobalske & Dial, 2011). We would also predict additional appendages (tails or legs) with sufficient flexibility (Kambic, Roberts & Gatesy, 2014) and inertia (Jusufi et al., 2008; Jusufi et al., 2011), in combination with aerodynamic forces, to generate moments and effect maneuvers (Dudley, 2002; Dudley & Yanoviak, 2011). These are all present at the base of the tree of the taxa tested. Furthermore, as the clade evolves, the absence of stability, coupled with the presence of large control effectiveness, could be used to infer the presence of strong closed-loop neuromuscular control. The absence of control effectiveness would suggest a lack of control, as even with feedback an ineffective surface cannot generate the necessary forces and torques.
Alternatively, both stability and control may have been absent early in the evolution of flight, only appearing after a strong and bilaterally symmetric power stroke evolved; or very stable platforms with a lack of effective control mechanisms may be observed. For these alternatives, morphologically we might expect skeletal features with large surfaces and strong muscle attachments including an early carinate sternum to provide the power stroke, and wrist joints and shoulders with highly restricted ranges of motion oriented to provide a fundamental flight stroke oriented to gravity with limited degrees of freedom. For the case of stability without control, we may also expect rigidly fused/fixed stabilizers located posteriorly, and without mobility at the base. Other then a semilunate carpal assumed to enable a flight stroke as an exaptation of a raptorial strike mechanism (Padian, 2001), the morphological features we predict under a power-stroke first/stability and control later hypothesis are not observed in the taxa tested here (Benton, 2005; Gatesy & Baier, 2005; Zhou & Li, 2010; Turner, Mackovicky & Norell, 2012; O'Connor et al., 2012; O'Connor et al., 2013). Our hypothesis could still be falsified via aerodynamic testing that shows either a lack of stability and control or a lack of control; it is possible for some appendage motions or positions to ineffective or unstable, as in the case of certain sprawled postures and leg movements in Microraptor (Evangelista et al., 2014b, although these were also anatomically infeasible).
Smith (1952), in outlining the potential importance of static stability and control effectiveness, called for measurements to test his assertions: "if the conclusions of this paper are accepted the study of the remains of primitive flying animals, and even experimental studies on full-scale models of them, will acquire a special importance as throwing new light on the functional evolution of nervous systems (Smith, 1952)". Subsequent studies of stability have been limited to computational studies with regard to aerodynamic function, etc. (Gatesy & Dial, 1996; Taylor & Thomas, 2002; Thomas & Taylor, 2001). Computational estimates are useful, but when checked against models (Evans, 2003) or live animals (Clark, 2010) there are occasionally unexpected deviations from aerodynamic theory developed for small angles of attack and airplane-like morphologies. Therefore, we measured static stability and control by measuring the aerodynamic moments exerted on physical models of different specimens in a wind tunnel, including at large angles of attack.
Results
Representative aerodynamic measurements for pitching stability and control effectiveness are given in Fig. 5 for six paravians and two pterosaurs. As discussed below, Fig. 5 illustrates similarity in pitching moments, stability, and control effectiveness for long- (monotonically decreasing lines in Fig. 5A) versus short-tailed (humped curves in Fig. 5B) forms. In Fig. 5, pitching moment coefficient is plotted as a function of angle of attack for three conditions: tail at 0° (middle blue), tail up 15° (light blue), and tail down 15° (dark blue). Spread between these lines (yellow shaded box in Fig. 5A) indicates the presence of control effectiveness. The slope of the lines indicates stability, here marked at equilibrium Cm = 0. Yellow negative slope is stable, red positive slope is unstable; a zero slope would be marginal stability. Control effectiveness and stability determined in this manner were recorded for all test conditions and taxa; tables of all aerodynamic measurements are provided in Supplemental Information 1. All aerodynamic measurements were coded into both discretized and continuous character matrices (bitbucket.org/devangel77b/comparative-peerj-supplemental), which were then mapped onto a phylogeny (assembled from Zhou & Li, 2010; Li et al., 2010; O'Connor, Chiappe & Bell, 2011; Cracraft et al., 2004) to examine the evolution of static stability and control effectiveness.
The discretized character states for pitch, roll, and yaw are shown in Figs. 6–8. All trees show the most parsimonious reconstruction. Trees for each individual character are given, followed by a summary tree with all characters. For all trees, the alpha transparency (how faded or solid the line appears) indicates character state, while for the summary tree, color indicates characters. The trees are shown to explicitly illustrate the patterns of aerial maneuvering for several different character states within a phylogeny (Padian, 2001). As discussed below, the results are most consistent with presence of maneuverability early in evolution; stability and control effectiveness also reflect changes in morphology or glide angles at which control is possible. Alternate phylogenies (Xu et al., 2011; Godefroit et al., 2013; Turner, Mackovicky & Norell, 2012; O'Connor et al., 2013) are in the .nex file at bitbucket.org/devangel77b/comparative-peerj-supplemental, but do not alter the patterns seen. Each trait is subject to uncertainties of measurement (Supplemental Information 1), equipment failure, the limitations of ancestral state reconstructions with unordered parsimony, and uncertainty in the phylogenies, however, in the aggregate the results show consilience (later taxa lines are solid) among pitch and yaw traits as discussed further below.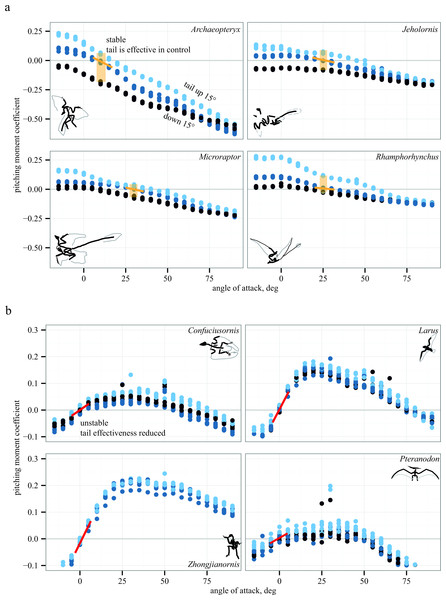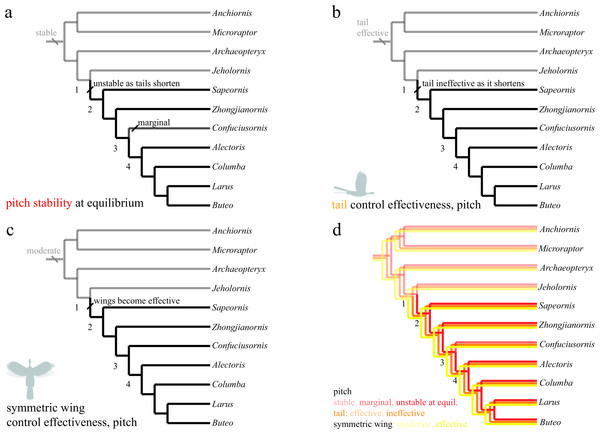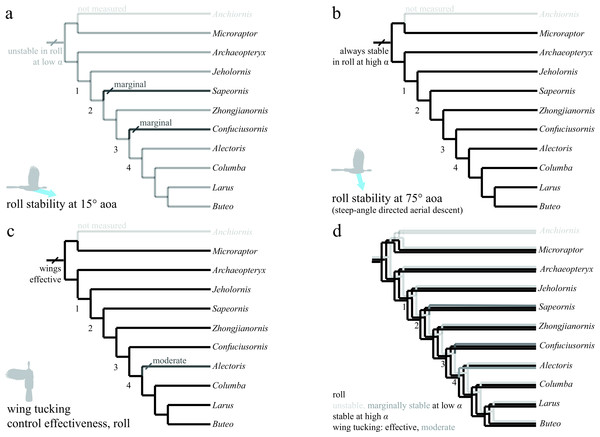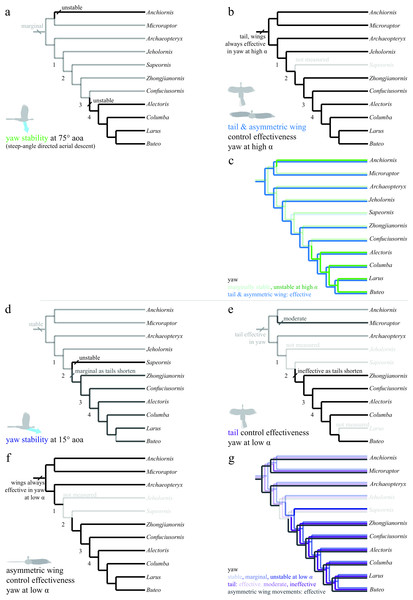 Conclusions
Past hypotheses driven by cursorial scenarios and WAIR focus on symmetric forewing flapping as a means to produce forces for traction or weight support, with maneuvering and the ability to redirect such forces only occurring later. These were not supported by the patterns we observe here, which suggest a range of maneuvering ability was present from the beginning, with changes that reflect increasing aerial ability. In studies of extant animals, it is clear that, despite preconceptions some associate with terms like parachuting, gliding, and "true powered" flight, all flight includes highly dynamic situations which require means to accomplish maneuvers, whether or not force generation exceeds weight. All flight is maneuvering flight, and the patterns here are consistent with maneuvering and control playing a major role in flight evolution.