Artificial liver research output and citations from 2004 to 2017: a bibliometric analysis
Published

Accepted

Received
Academic Editor
Subject Areas

Keywords

Artificial livers

,

Bibliometric analysis

,

Citations

,

Keyword
Copyright

©

2019

Li et al.

Licence

This is an open access article distributed under the terms of the Creative Commons Attribution License, which permits unrestricted use, distribution, reproduction and adaptation in any medium and for any purpose provided that it is properly attributed. For attribution, the original author(s), title, publication source (PeerJ) and either DOI or URL of the article must be cited.
Cite this article

2019

.

Artificial liver research output and citations from 2004 to 2017: a bibliometric analysis

.

PeerJ

6

:

e6178

https://doi.org/10.7717/peerj.6178
Abstract
Background
Researches on artificial livers greatly contribute to the clinical treatments for liver failure. This study aimed to evaluate the research output of artificial livers and citations from 2004 to 2017 through a bibliometric analysis.
Methods
A list of included articles on artificial livers were generated after a comprehensive search of the Web of Science Core Collection (from 2004 to 2017) with the following basic information: number of publications, citations, publication year, country of origin, authors and authorship, funding source, journals, institutions, keywords, and research area.
Results
A total of 968 included articles ranged from 47 citations to 394 citations with a fluctuation. The publications were distributed in 12 countries, led by China (n = 212) and the US (n = 207). There were strong correlations of the number of citations with authors (r2 = 0.133, p < 0.001), and countries (r2 = 0.275, p < 0.001), while no correlations of the number of citations with the years since publication (r2 = 0.016, p = 0.216), and funding (r2 < 0.001, p = 0.770) were identified. Keyword analysis demonstrated that with the specific change of "acute liver failure," decrease in "bioartificial livers" and "hepatocyte," and increase in "tissue engineering" were identified. The top 53 cited keyword and keyword plus (including some duplicates counts) were identified, led by bioartificial liver (405 citations) and hepatocyte (248 citations). The top 50 cited keywords bursts were mainly "Blood" (2004–2008), "hepatocyte like cell" (2008–2015), and "tissue engineering" (2014–2017). All keywords could be classified into four categories: bioartificial livers (57.40%), blood purification (25.00%), clinical (14.81%), and other artificial organs (2.78%).
Discussion
This study shows the process and tendency of artificial liver research with a comprehensive analysis on artificial livers. However, although it seems that the future of artificial livers seems brighter for hepatocyte transplantation, the systems of artificial livers now are inclined on focusing on blood purification, plasma exchange, etc.
Introduction
Owing to the high mortality of liver failure, numerous studies had investigated its treatment. Artificial livers were a promising kind of treatment for liver failure. In clinical practice, different kinds of bioartificial systems, blood purification and hepatocyte transplantation had already been applied in liver failure (Naruse, Tang & Makuuch, 2007; Wallin, 2005). However, a great number of obstacles and setbacks were experienced in investigating artificial livers (Carpentier, Gautier & Legallais, 2009).
In 1992 and 1994, Ash et al. (1992) and Ash (1994) set a precedent in performing the first liver dialysis which was previously named as Biologic-DT. Subsequently, Stange and Mitzner (Stange et al., 2000) initially developed the Molecular Adsorbent Recirculating System (MARS). Furthermore, various bioartificial liver systems had been reported in nine clinical studies since 1990 (Park & Lee, 2005). Although the artificial liver was considered as one of the most effective treatment for liver failure, the definition of an artificial liver still remains obscure.
Additionally, in 2006, Onodera et al. (2006) classified artificial livers into three categories: bioartificial liver, blood purification, and hepatocyte transplantation. In the early works, liver support devices were considered as the treatments of liver failure, and these devices have developed into two different strategies: blood purification and bioartificial liver. The purpose of the former was the removal of toxins in the blood related to coma and cerebral edema, while the latter's intention was to provide metabolic, detoxic, and synthetic function of hepatocytes. However, both of these devices were restricted to the lack of both suitable animal models of liver failure and complete understanding of the pathophysiology of liver failure. Thus, hepatocyte transplantation had developed.
Bibliometric sciences provide a statistical and quantitative analysis of publications and offer a convenient way to visibly measure researchers' efforts in the investigation of a specific field (Ashok et al., 2016; Yao et al., 2018). Though bibliometric methods aim to make comments on qualitative features, the major purpose of their analysis is to transform something intangible (scientific quality) into a manageable entity (Wallin, 2005). Citations analysis is a bibliometric process that determine the influence of an article and make further explanations according to the original information about authors and journals (Schmidt et al., 2014). The more cited an article is, the greater influence it makes in a specific area (Eyre-walker & Stoletzki, 2013). Despite the inevitable limitations (Wallin, 2005) of bibliometric analysis in assessing research quality, bibliometric analysis is widely known as one of the best measurements of research trend (Zhou et al., 2018).
This study is the first multicenter retrospective study on artificial livers with bibliometric analysis, based on Onodera et al.'s (2006) definition of artificial livers. It aimed at evaluating artificial livers output and citations from 2004 to 2017 with a bibliometric analysis, which helps researchers understand the development process of artificial livers and provide guidance for the future direction of further researches.
Materials and Methods
Search strategy
With strict inclusion criteria, Web of Science (WoS) provides adequate researches for literature analysis, including keywords, authors, institutions, countries, and publication years, which were vital for bibliometric analysis. Therefore, we conducted a citation search of the WoS Core Collection from 2004 to 2017. The keywords and free words were "Bioartificial Liver" or "Bioartificial Livers" or "Liver, Bioartificial" or "Livers, Bioartificial" or "Artificial Liver" or "Artificial Livers" or "Livers, Artificial" on topic field. All retrieval was conducted on 25th May 2018 to avoid possible changes in citation rate. After all data were extracted, articles were ranked by citation number.
Inclusion and exclusion
Two independent investigators (M.Z. He and X.H. Bian), respectively, screened all the titles and abstracts to select eligible articles according to the inclusion criteria (Fig. 1). Any questions were resolved by discussion and the help of the third independent investigator (Y. Li). Data were retrieved from literature if meeting the following criteria: (1) the main content should be related to the study; (2) literature could be any type of researches (such as article, review, editorial material, and meeting abstract); (3) literature involving other topics related to the study. The exclusion criteria were: (1) duplicates; (2) the titles and abstract of papers were not related to the study; (3) the abstract of paper was not accessible.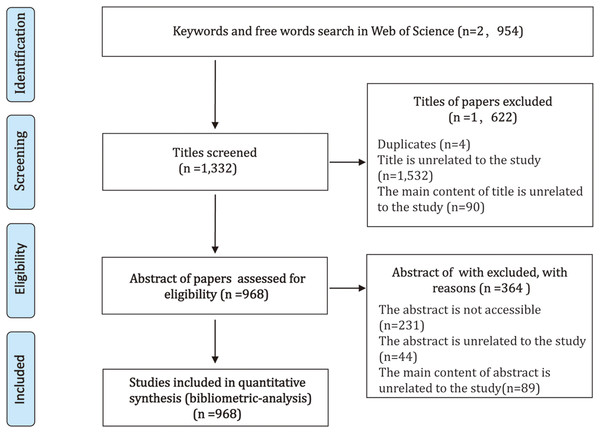 Evaluation of included articles
The following data were extracted from the 968 included articles by one investigator (M.Z. He) as followed: (1) the number of publications; (2) citations; (3) publication year; (4) country of origin; (5) authors and authorship; (6) funding source, (7) journals; (8) institutions; (9) keywords and research fields. Articles that were collaborative work of authors from multiple countries were also identified. In addition, the top 18 cited (T18) journals of the top 100 cited (T100) articles were evaluated with impact factors (Ifs) which were in accordance with the 2017 edition of journal citation reports: science edition (2017–2018).
Statistical analysis
With GraphPad Prism version 6.0, the Spearman test was used to evaluate the strength and direction of the linear relationship between the number of T100 citations and the number of authors, year since publication, funding, and countries in each publication. Furthermore, the Spearman test with GraphPad Prism was also applied to evaluate the correlation of citation index between different databases (WoS Core Collection and Scopus) and the correlations of the number of impact factor with the number of T100 articles per journals and the number of average citations. The citation index was measured as the true impact of an article independent of short-lived trends (Liu et al., 2016) and the impact factor usually serves as indicator for reflecting the average number of yearly citations for recent papers published in the journal (Garfield, 2006). Both of them were used to assess the equality of research output in most bibliometric analyses. All probability values were two-tailed, meanwhile, the threshold of the number of T100 citations, countries, and authors for significance was set at p < 0.001, while others were not.
Bibliometric analysis
Using the online analysis platform of literature metrology (http://bibliometric.com/), the trend of the number of publications, the trend of country of origin, the cooperation between countries, and the trend of keywords were shown. All the data were standardized by the frequency of occurrence.
With CiteSpace, the network map of authors, co-authors and institutions were shown by publication year, and the number of citations via citation-tree rings, while the network map of keywords and keyword plus were shown only according to number of citations (Chen, 2004).
Conclusions
The number of publications on artificial livers fluctuated from 2004 to 2017, most of which are Chinese publications. After excluding several confounding factors (database, number of authors, countries, years since publication, and funding), the citations roughly estimated the quality of the included articles. The analysis of authorship and institutions also contributed to evaluating the quality of the included articles. In addition, through a detailed analysis which roughly assessed the research tendency, hotspots and frontiers of keywords, this study showed the progress and research trend of artificial livers. However, although it seems that the future of artificial livers seems brighter for hepatocyte transplantation, the systems of artificial livers now are more focusing on blood purification, plasma exchange, etc.