Genetic analysis reveals candidate genes for activity QTL in the blind Mexican tetra, Astyanax mexicanus
1
Department of Biology, The College of Wooster

,

Wooster

,

OH

,

United States of America
2
Department of Biological Sciences, University of Cincinnati

,

Cincinnati

,

OH

,

United States of America
Published

Accepted

Received
Academic Editor
Subject Areas

Keywords

Locomotion

,

Troglomorphic

,

Subterranean
Copyright

©

2018

Carlson et al.

Licence

This is an open access article distributed under the terms of the Creative Commons Attribution License, which permits unrestricted use, distribution, reproduction and adaptation in any medium and for any purpose provided that it is properly attributed. For attribution, the original author(s), title, publication source (PeerJ) and either DOI or URL of the article must be cited.
Cite this article

2018

. Genetic analysis reveals candidate genes for activity QTL in the blind Mexican tetra, Astyanax mexicanus.

PeerJ

6

:

e5189

https://doi.org/10.7717/peerj.5189
Abstract
Animal models provide useful tools for exploring the genetic basis of morphological, physiological and behavioral phenotypes. Cave-adapted species are particularly powerful models for a broad array of phenotypic changes with evolutionary, developmental and clinical relevance. Here, we explored the genetic underpinnings of previously characterized differences in locomotor activity patterns between the surface-dwelling and Pachón cave-dwelling populations of Astyanax mexicanus. We identified multiple novel QTL underlying patterns in overall levels of activity (velocity), as well as spatial tank use (time spent near the top or bottom of the tank). Further, we demonstrated that different regions of the genome mediate distinct patterns in velocity and tank usage. We interrogated eight genomic intervals underlying these activity QTL distributed across six linkage groups. In addition, we employed transcriptomic data and draft genomic resources to generate and evaluate a list of 36 potential candidate genes. Interestingly, our data support the candidacy of a number of genes, but do not suggest that differences in the patterns of behavior observed here are the result of alterations to certain candidate genes described in other species (e.g., teleost multiple tissue opsins, melanopsins or members of the core circadian clockwork). This study expands our knowledge of the genetic architecture underlying activity differences in surface and cavefish. Future studies will help define the role of specific genes in shaping complex behavioral phenotypes in Astyanax and other vertebrate taxa.
Introduction
Since its discovery (Hubbs & Innes, 1936), the blind Mexican tetra, Astyanax mexicanus, has proven to be an excellent system for studying the genetic basis of both simple and complex traits (Gross, Meyer & Perkins, 2015). The presence of 29 different cave-adapted populations, that can be interbred with extant surface populations to generate viable hybrid offspring, has rendered Astyanax a valuable model in which to investigate evolutionary and developmental phenomena. Included among these features are poorly understood regressive and constructive changes evolving in these and other cave organisms (Jeffery, 2001; Jeffery, 2009). Recently, Astyanax and similar species have emerged as natural "evolutionary models" for the study of phenotypes with human medical implications (Albertson et al., 2009), such as craniofacial defects (Gross, Krutzler & Carlson, 2014; Gross et al., 2016b), diseases affecting the eye and retina (O'Quin et al., 2013), biological rhythmicity (Menna-Barreto & Trajano, 2015), sleep (Duboué, Keene & Borowsky, 2011; Duboué & Borowsky, 2012) and behavior (Elipot et al., 2013; Yoshizawa et al., 2015).
"Simpler" organisms have been valuable in exploring the genetics underlying human behavior (Kendler & Greenspan, 2006) and fish species provide an important vertebrate model for understanding neural development, function and disease (Guo, 2004). As a first step toward understanding the genetic basis of traits in any species, it is critical to first identify regions of the genome harboring genes or regulatory sequences that impact phenotypes of interest. This foundation is crucial for narrowing the search to one or more genetic intervals that may be more closely examined. One way to accomplish this is through the use of quantitative trait locus (QTL) analysis (Flint, 2003).
Over the past decade, QTL studies have successfully identified genomic regions associated with a number of behavioral traits. For example, QTL studies have revealed loci associated with boldness in zebrafish (Wright, Butlin & Carlborg, 2006; Wright et al., 2006); feeding, exploration, risk taking, and schooling in species of stickleback (Greenwood et al., 2013; Laine et al., 2014; Greenwood et al., 2015); startle response in medaka (Tsuboko et al., 2014); and anti-predator behavior, response to crowding stress, and spawning/migration behaviors in rainbow trout (Colihueque et al., 2010; Hecht et al., 2012; Rexroad et al., 2013; Christensen et al., 2014). Recent studies carried out in Astyanax have identified QTL for feeding angle (shallower feeding angles seen in cavefish are hypothesized to improve foraging success in dark environments; Kowalko et al., 2013a), schooling behavior (loss of schooling behavior in cavefish has been hypothesized to be the result of relaxed selection on schooling in the cave environment; Kowalko et al., 2013b), vibration attraction (increased vibration attraction behavior is a constructive trait that aids cavefish in feeding in the dark; Yoshizawa et al., 2012; Yoshizawa et al., 2015) and locomotor activity (cavefish show a variety of differences in sleep and locomotor activity, relative to surface fish; Yoshizawa et al., 2015).
In this study, we investigated the genetic basis for differences in activity patterns between the surface and cave morphotype of Astyanax mexicanus. Analysis of data from 24 hr assays of locomotor activity in an F2 surface x cavefish hybrid pedigree revealed multiple QTL associated with metrics for overall activity level, as well as spatial components of locomotor activity patterns. We leveraged available genomic and transcriptomic data to screen genes in the genomic intervals underlying these QTL, and generated a set of potential candidates for further study. Our results reveal several genes that may play a heritable role in mediating changes in locomotor activity and related behaviors.
Results
Behavioral analysis
Previously, we demonstrated that the surface and cave (Pachón) morphotypes of Astyanax mexicanus exhibit differences in patterns of overall activity, as well as the spatial component of locomotor behavior (Carlson & Gross, 2018). Given that these differences were observed at the population level, we hypothesized that observed activity profiles had a heritable genetic basis. To test this, we assayed a small number of surface, cave and F1 hybrid fish for 24 hr under 12:12hr light/dark conditions. Our results for surface and cavefish varied slightly from those previously reported (Carlson & Gross, 2018). We attribute these differences to the fact that the fish used in this study were generally older, larger and had substantially more room to swim within the trial tank than those used in previous studies. Generally speaking, F1 individuals displayed overall patterns similar to surface fish, but with "cave-like" influences, such as higher mean velocity and a less extreme bias in usage of the bottom zone (Fig. 1). This mirrors the fact that, morphologically, F1 hybrids look like surface fish, but with subtle differences that make them slightly more cave-like (e.g., smaller eyes and reduced pigmentation; Sadoglu, 1956).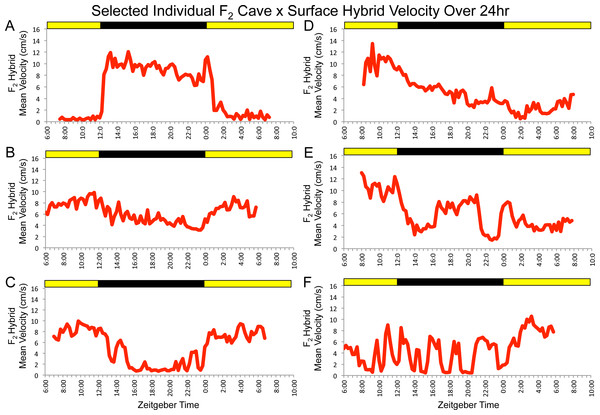 We then assayed a large F2 hybrid population under the same conditions. F2 surface x cavefish hybrid pedigrees typically include individuals that appear similar to surface fish (i.e., pigmented individuals with two eyes), some that look like cavefish (i.e., albino individuals lacking eyes), and several individuals with intermediate phenotypes resulting from various combinations of cave- and surface-like traits (e.g., albino fish with two eyes, pigmented fish with no eyes, and fish that show various levels of reduction, asymmetry or disorganization in eyes and pigmentation; Sadoglu, 1956). In the same way, we observed a wide range of locomotor activity patterns in our F2 pedigree. Some fish displayed activity profiles similar to one of the parental populations, others showed a clear combination of elements of the behavior of both surface and cavefish and many showed patterns that were not recognizable as belonging to either morphotype (Fig. 2). These results are indicative of the complex nature of locomotor activity and suggest that the patterns of activity (or lack thereof) displayed by individual specimens are influenced by a number of different genetic loci.
QTL analysis
In order to determine if a genetic basis for our activity measures could be identified, we conducted QTL analyses using data from members of our F2 surface x cave (Pachón) hybrid pedigree, each assayed for 24 h under a 12:12 light/dark cycle (Table S1 ; genotypic data provided in Carlson, Onusko & Gross, 2015). Our analysis revealed a number of putative associations between regions of our linkage map and metrics for both mean velocity and tank usage (Table 1). At least one QTL was found for each of three different velocity metrics and five different tank usage metrics, with QTL distributed over six linkage groups from our GBS-based linkage map (Carlson, Onusko & Gross, 2015). In several instances, our efforts to determine the interval covered by a given QTL revealed that there were two or more distinct LOD "peaks" on a given linkage group. In these cases, secondary peaks were investigated independently, as if identified on different linkage groups. We investigated overlap between our behavioral QTL and regions of the genome associated with presence/absence of eyes, eye size and pupil size on either side of the head, as well as albinism and sex (Fig. 3; Table S2). As suggested by previous studies (Duboué, Keene & Borowsky, 2011; Yoshizawa et al., 2015), we found no correspondence between our behavioral results and QTL for the size of the eye or pupil on either the right or left side; we found no significant associations with eye size and QTL for pupil size were confined to linkage group 20. However, when scored as a binary trait, QTL for presence/absence of an eye on either side of the head were found on linkage group 3 near a QTL for mean velocity during subjective day. Statistical analysis shows that there is a significant difference between the mean "day" velocity of F2 hybrids that have a right (z = 2.677, p = 0.0074) or left (z = 3.227, p = 0.0013) eye and those who do not. Similarly, the QTL for albinism previously described on linkage group 13 of this map (Carlson, Onusko & Gross, 2015) has its peak LOD score at a marker very close to another QTL peak for mean "day" velocity; scores for this activity metric differ significantly between albino and non-albino members of our F2 pedigree (z = 3.417, p = 0.0006).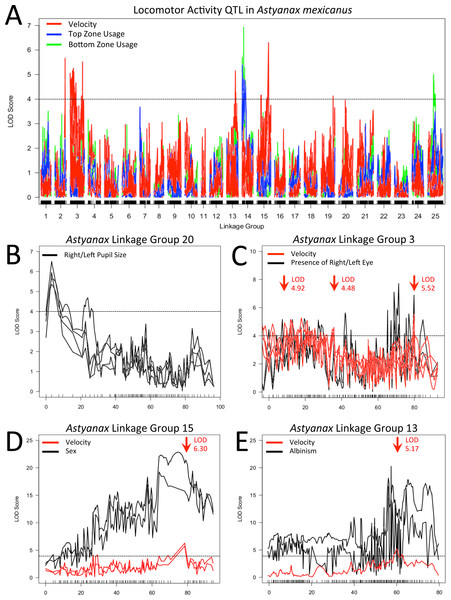 In addition to potential links with cave-associated traits, the LOD peak of a robust QTL for sex on linkage group 15 is situated one marker away from the peak values of QTL for both mean velocity throughout entirety of the trial and mean velocity during subjective night. Statistical analyses indicate a significant difference between male and female members of our F2 pedigree for both mean trial velocity (z =  − 2.751, p = 0.0059) and mean "night" velocity (z =  − 3.362, p = 0.0008).
Identification of candidate genes
Having identified a number of genomic regions putatively associated with various elements of the activity profiles observed in our 24 hr assays, we sought to explore candidate genes located in these intervals. We focused on genes underlying QTL peaks with phenotypic effect plots that showed a clear genetic effect; those QTL that were not investigated typically had effect plots that revealed a high degree of variability among specimens possessing two "surface" alleles. As a result, we examined a total of eight intervals in our map, all but one of which contained a primary QTL peak for at least one locomotor activity trait. These intervals ranged from 1.587 to 10.001 cM in length (mean = 4.286 cM) and contained between three and seven GBS markers (mean = 4.5 markers). The sequences for the markers in each interval were used to anchor between two and six genomic scaffolds (mean = 3.375 scaffolds), thereby associating 3.256–20.761 Mb (mean = 9.086 Mb) of genomic sequence and 75–413 genes (mean = 192.75 genes) with each interval examined. We therefore began our analysis with an initial list of 1542 genes distributed over 72.685 Mb of the Astyanax genome.
To reduce this list to a more manageable size, we screened for genes with relevant gene ontology (GO) terms. We were particularly interested in genes associated with GO terms relating to locomotion, swimming, detection of (or response to) light stimulus, and circadian rhythms. Additionally, given the likelihood that ability to perceive and respond to lighting cues is affected by the presence/absence of eyes, we also included genes annotated with GO terms related to the development and maintenance of the eye and associated structures. This initial screen condensed the list of potential candidates to 36 genes (Table 2). These genes were then examined for both sequence variation and differences in expression between morphs. RNA-seq data revealed statistically significant differential expression in 27 of these genes, with the majority of expression differences occurring only during development (Table 3). Only three genes showed significant differential expression in both juvenile samples and the developmental series and a single gene showed differential expression only in juveniles, however this disparity is likely influenced by a difference in the number of technical replicates between developmental and juvenile samples. Analysis of sequence variation based on alignment of RNA-seq reads to the Astyanax draft genome (McGaugh et al., 2014) identified 16 genes that include exonic SNPs with alleles segregating between surface and Pachón cave samples. Thirteen genes possessed one or more variants in the coding sequence and six genes showed variation in the 5′- or 3′-untranslated regions (UTR; Table 4). There were no obvious indels or splice variations observed in any of these genes. Of the 13 genes showing variation in the coding sequence, only five genes possessed non-synonymous changes. Interestingly, five genes showed variation in regions annotated as introns, three of which are genes unique to this category. This may be due to either incorrect alignment or retained introns in uncharacterized splice variants. Taken together, these analyses provide some level of additional support for 29 of the 36 genes identified by screening GO terms. A summary of these results is provided in Table 5.
Ensembl ID
Gene
Astyanax scaffold
Relevant GO terms?
Differential Expression
Sequence Variation
Development
Juvenile
5′ or 3′ UTR
Synonymous
Non- synonymous
ENSAMXG00000000759
col15a1b
KB871754.1
Yes
Yes
Yes
No
Yes
No
ENSAMXG00000000885
xcr1a.1 (1 of 2)
KB871754.1
Yes
No
No
No
No
Yes
ENSAMXG00000000886
xcr1a.1 (2 of 2)
KB871754.1
Yes
No
No
No
No
No
ENSAMXG00000000888
cc2d2a
KB871754.1
Yes
Yes
No
No
Yes
No
ENSAMXG00000005193
cxcl32b.1
KB871766.1
Yes
Yes
No
No
No
No
ENSAMXG00000001564
znf503 (1 of 2)
KB872296.1
Yes
Yes
No
Yes
No
Yes
ENSAMXG00000002007
pitx3
KB872296.1
Yes
Yes
No
No
Yes
No
ENSAMXG00000002296
sfrp5
KB872296.1
Yes
Yes
No
Yes
No
No
ENSAMXG00000012711
dmbx1b
KB882082.1
Yes
Yes
No
No
Yes
No
ENSAMXG00000013049
vapb
KB882082.1
Yes
Yes
No
No
No
No
ENSAMXG00000013417
novel gene
KB882082.1
Yes
No
No
No
No
No
ENSAMXG00000014705
prickle1a
KB882082.1
Yes
No
No
No
No
No
ENSAMXG00000014945
cerkl
KB882082.1
Yes
No
No
No
No
No
ENSAMXG00000009797
mcm3
KB882090.1
Yes
Yes
No
Yes
No
No
ENSAMXG00000010179
opn5
KB882090.1
Yes
Yes
No
No
No
No
ENSAMXG00000021415
igf1rb
KB882097.1
Yes
Yes
No
No
Yes
Yes
ENSAMXG00000021574
lim2.2
KB882097.1
Yes
No
Yes
No
No
No
ENSAMXG00000021593
uhrf1
KB882097.1
Yes
Yes
No
No
No
No
ENSAMXG00000019838
crb2a
KB882104.1
Yes
Yes
Yes
Yes
Yes
Yes
ENSAMXG00000020264
htr2cl2
KB882104.1
Yes
Yes
No
No
No
No
ENSAMXG00000005992
novel gene
KB882105.1
Yes
No
No
No
No
No
ENSAMXG00000010609
lepr
KB882115.1
Yes
Yes
No
Yes
Yes
No
ENSAMXG00000012018
fgf8
KB882125.1
Yes
Yes
No
No
No
No
ENSAMXG00000012130
chata
KB882125.1
Yes
Yes
No
No
No
No
ENSAMXG00000012172
rgra
KB882125.1
Yes
Yes
No
Yes
No
No
ENSAMXG00000012545
novel gene
KB882125.1
Yes
Yes
No
No
No
No
ENSAMXG00000002537
b9d2
KB882129.1
Yes
Yes
No
No
Yes
No
ENSAMXG00000005363
rb1
KB882129.1
Yes
No
No
No
Yes
No
ENSAMXG00000005527
dlat
KB882129.1
Yes
Yes
No
No
Yes
No
ENSAMXG00000025967
atoh7
KB882154.1
Yes
Yes
Yes
No
No
Yes
ENSAMXG00000008135
tmtopsb
KB882155.1
Yes
No
No
No
No
No
ENSAMXG00000016819
scinla
KB882172.1
Yes
Yes
No
No
No
No
ENSAMXG00000002437
opn7a
KB882228.1
Yes
No
No
No
No
No
ENSAMXG00000011539
rgs4
KB882253.1
Yes
Yes
No
No
No
No
ENSAMXG00000014314
marcksa
KB882283.1
Yes
Yes
No
No
No
No
ENSAMXG00000005947
tfap2a
KB882287.1
Yes
Yes
No
No
No
No
Conclusions
In this study, we identified several novel QTL underlying patterns of locomotor activity in Astyanax mexicanus. Further, our results suggest that spatial components of locomotor activity, such as patterns in usage of the top and bottom of the trial tank, have a genetic basis that is distinct from loci underlying patterns in the overall level of activity captured by velocity measurements. Finally, examination of the relevant genetic intervals using a combination of genomic and transcriptomic data enabled us to build a list of potential candidate genes for further study in this species and highlight several genes with particularly strong support. The results presented here serve to further our understanding of the genetic underpinnings of locomotor activity patterns in this species and lay the groundwork for additional studies elucidating how particular genes contribute to the development, maintenance or modulation of complex behaviors in vertebrate taxa.
Supplemental Information
Activity data for Asty66 F2 surface x Pachón hybrid pedigree assayed for 24 hr under 12:12 hr light/dark conditions
Here n = 127; two specimens were deceased before assays could be conducted.
Sex, albinism and eye data for Asty66 F2 surface x Pachón hybrid pedigree
All members of the pedigree (n = 129) were scored for sex (1 = female, 0 = male), presence of albinism and presence of right and left eye (1 = present, 0 = absent) in a binary fashion. Eye and pupil size measurements (in pixels) were made from images where possible; in some cases an eye was technically present, but was too disorganized to measure the eye and/or pupil accurately.
Numbers indicate the number of genomic scaffolds anchored to both indicated linkage groups.