Phylogeny and divergence times of suckers (Cypriniformes: Catostomidae) inferred from Bayesian total-evidence analyses of molecules, morphology, and fossils
Published

Accepted

Received
Academic Editor
Subject Areas

Keywords

Molecular phylogenetics

,

Catostomidae

,

Fossilized birth-death process

,

Divergence time estimation

,

Relaxed molecular clock

,

Phylogenetic informativeness profiles
Copyright

©

2018

Bagley et al.

Licence

This is an open access article distributed under the terms of the Creative Commons Attribution License, which permits unrestricted use, distribution, reproduction and adaptation in any medium and for any purpose provided that it is properly attributed. For attribution, the original author(s), title, publication source (PeerJ) and either DOI or URL of the article must be cited.
Cite this article

2018

.

Phylogeny and divergence times of suckers (Cypriniformes: Catostomidae) inferred from Bayesian total-evidence analyses of molecules, morphology, and fossils

.

PeerJ

6

:

e5168

https://doi.org/10.7717/peerj.5168
Abstract
Catostomidae ("suckers") is a diverse (76 species) and broadly distributed family of Holarctic freshwater fishes with a rich fossil record and a considerable number (∼35%) of threatened and imperiled species. We integrate DNA sequences (three mitochondrial genes, three nuclear genes), morphological data, and fossil information to infer sucker phylogenetic relationships and divergence times using Bayesian "total-evidence" methods, and then test hypotheses about the temporal diversification of the group. Our analyses resolved many nodes within subfamilies and clarified Catostominae relationships to be of the form ((Thoburniini, Moxostomatini), (Erimyzonini, Catostomini)). Patterns of subfamily relationships were incongruent, but mainly supported two placements of the Myxocyprininae; distinguishing these using Bayes factors lent strongest support to a model with Myxocyprininae sister to all remaining sucker lineages. We improved our Bayesian total-evidence dating analysis by excluding problematic characters, using a clock-partitioning scheme identified by Bayesian model selection, and employing a fossilized birth-death tree prior accommodating morphological data and fossils. The resulting chronogram showed that suckers evolved since the Late Cretaceous–Eocene, and that the Catostomini and Moxostomatini clades have accumulated species diversity since the early to mid-Miocene. These results agree with the fossil record and confirm previous hypotheses about dates for the origins of Catostomide and catostomine diversification, but reject previous molecular hypotheses about the timing of divergence of ictiobines, and between Asian–North American lineages. Overall, our findings from a synthesis of multiple data types enhance understanding of the phylogenetic relationships, taxonomic classification, and temporal diversification of suckers, while also highlighting practical methods for improving Bayesian divergence dating models by coupling phylogenetic informativeness profiling with relaxed-clock partitioning.
Introduction
"Suckers" in the family Catostomidae (Cypriniformes) form a large family of Holarctic freshwater fishes with 76 extant species in 14 genera native to North America and Asia (Harris, Hubbard & Sandel, 2014). Seventy-five species from 13 genera occur in North America (Harris, Hubbard & Sandel, 2014; Nelson et al., 2004; Unmack et al., 2014), where they constitute the third largest freshwater fish clade, after darters (Etheostomatinae) and minnows (Cyprinidae), and ∼8% of the continental ichthyofauna (Warren et al., 2000). Myxocyprinus asiaticus is endemic to eastern China and Catostomus catostomus is the only extant trans-Pacific species (Harris, Hubbard & Sandel, 2014). Suckers are an ancient group whose fossil record spans the Cenozoic, from the early Eocene onwards (Cavender, 1986; Smith, 1992; Smith et al., 2002; Appendix S1). Around 35% of the taxa (26 to >35 species or genetic lineages) are endangered, threatened, or of special conservation concern (Harris, Hubbard & Sandel, 2014; Nelson et al., 2004; Warren et al., 2000).
Geographical distributions of suckers and their taxonomy and relationships have attracted the interest of systematists and biogeographers for over 150 years (Agassiz, 1854). Pre-1900 systematics and taxonomy studies dealt with species descriptions and higher-level classifications of the group (reviewed by Harris, Hubbard & Sandel, 2014; Smith, 1992). Subsequently, key papers on sucker classification designated genera, subgenera, and tribes (Hubbs, 1930; Robins & Raney, 1956) and contributed a pre-cladistics phylogeny (Miller, 1959), as well as the first phylogeny for species in the tribe Moxostomatini (Jenkins, 1970). The findings of post-systematics studies of sucker interrelationships (last 40 years), which were based on a variety of different data types, are summarized in Table 1 and Fig. 1. These studies supported the recognition of four subfamilies (Myxocyprininae, Cycleptinae, Ictiobinae, and Catostominae) and tribes (Catostomini, Erimyzonini, Moxostomatini, Thoburniini) plus the modern allocation of genera to these groups (Harris & Mayden, 2001; Harris et al., 2002). Most phylogenetic analyses of suckers to date have analyzed DNA sequence data from increasing numbers of mitochondrial DNA (mtDNA) or nuclear DNA (nDNA) genes. Recent advances include Clements, Bart & Hurley's (2012) study of phylogenetic relationships of Moxostomatini using the first dataset based on two loci—mtDNA cytb and nuclear growth hormone intron (GHI) sequences. Also, Unmack et al. (2014) studied the phylogeny and biogeography of Pantosteus, a former subgenus of Catostomus (Harris & Mayden, 2001; Harris et al., 2002; Smith, 1966) using independent morphological and mtDNA genetic analyses. Overall, while the inclusion of additional taxa and sequence data in recent analyses has yielded novel insights on sucker relationships, a consensus among hypotheses regarding relationships of higher-level species groups, i.e., subfamilies, has yet to emerge (Table 1; Fig. 1). Moreover, although time-calibrated phylogenies based on comprehensive tip sampling are necessary to understand the tempo and mode of diversification of groups of freshwater fishes (Near et al., 2011, 2012), such a tool has yet to be inferred for suckers. This leaves workers at a distinct disadvantage in considering the macroevolutionary, ecological, or conservation trends of suckers in a phylogenetic context.
| Study | n | Data type | Analysis | Supported clades/relationships |
| --- | --- | --- | --- | --- |
| Ferris & Whitt (1978) | 30 | 20 Isozyme loci (loss of duplicate gene expression) | Wagner | Ictiobinae + (Cycleptinae + Catostominae), three catostomin tribes |
| Smith (1992) | 64 | 157 Morphological, biochemical and early life-history transformation series | MP | Ictiobinae + (Cycleptinae + Catostominae), Moxostoma in paraphyletic grade with "Scartomyzon" within Moxostomatini; also trichotomy of M. ariommum + Thoburnia + Hypentelium |
| Harris & Mayden (2001) | 16 | mtDNA SSU and LSU rDNA sequences | MP | Four monophyletic subfamilies, Thoburniini resurrected and includes Hypentelium; Catostomini + Erimyzonini and Moxostomatini + Thoburniini |
| Harris et al. (2002) | 50 | mtDNA cytochrome b (cytb) gene | MP and ML | Four monophyletic subfamilies, provisional Thoburniini; "Scartomyzon" as a junior synonym of Moxostoma |
| Sun et al. (2007) | 17 | mtDNA cytb gene | UPGMA | Monophyletic Ictiobinae and Catostominae; Moxostomatini + Catostomini |
| Doosey et al. (2010) | 60 | mtDNA NADH subunit 4 and 5 (ND4/5) sequences | ML | ((Cycleptinae, (Myxocyprininae, Ictiobinae)), Catostominae); also among catostomins: Erimyzonini + (Moxostomatini + Thoburniini) |
| Chen & Mayden (2012) | 67 | Interphotoreceptor retinoid-binding protein (IRBP) sequences | ML | Supported previous relationships including monophyly of subfamilies and tribes except Thoburniini |
| Clements, Bart & Hurley (2012) | 45 | Growth hormone intron (GHI) | ML | Para-/polyphyletic Moxostoma and Scartomyzon |
| Unmack et al. (2014) | 24 | Morphology, plus cytb and other mtDNA gene sequences | MP, ML, and Bayesian | Monophyletic Pantosteus within Catostomini, except for Catostomus (P.) columbianus (potential hybrid origin) |
ML, maximum likelihood; MP, maximum parsimony; n, sample size, including ingroup and outgroup taxa or lineages; UPGMA, unweighted pair-group method with arithmetic mean; Wagner, Wagner method for inferring "most parsimonious" tree.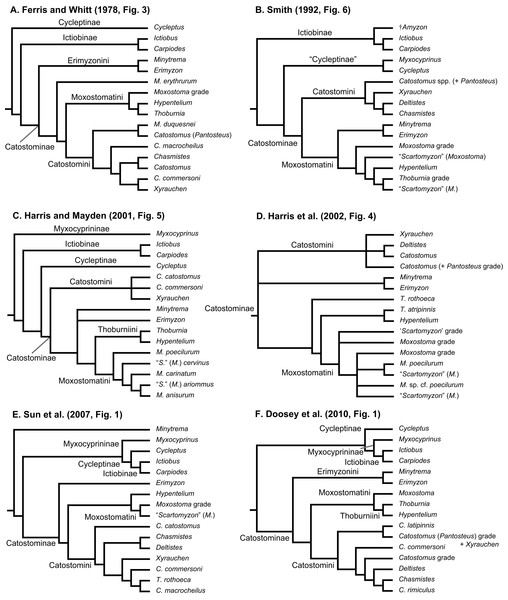 In this study, we use "total-evidence" analyses of multilocus sequence data from three mtDNA genes and three nuclear genes representing the most comprehensive sampling of suckers to date, combined with available morphological and fossil data, to infer the phylogenetic relationships and divergence times of suckers in a Bayesian framework. We discuss the phylogenetic and taxonomic implications of our results in light of previous phylogenetic studies of suckers. We apply Bayesian divergence time methods to the data (Drummond et al., 2012) and take advantage of rich information on the age and distributions of sucker fossils (Cavender, 1986; Smith et al., 2002; Appendix S1) to improve divergence time estimation by incorporating extant and fossil sampling in a "fossilized birth-death process" tree prior (Stadler, 2010; Gavryushkina et al., 2014; Heath, Huelsenbeck & Stadler, 2014). Moreover, by coupling assessments of the phylogenetic signal of different data subsets with evaluation of clock-partitioning strategies, we were able to avoid potentially confounding effects of problematic characters on our divergence time inferences. The resulting time-calibrated phylogeny is then used to test several hypotheses about the temporal diversification of suckers. Namely, we test the hypotheses (H1) that Asian Myxocyprininae and North American suckers (Cycleptinae) diverged since ∼14 million years ago (Ma) in the mid-Miocene, and (H2) that the initial divergence of Ictiobinae lineages occurred since ∼10 Ma in the late Miocene, as indicated by mtDNA cytb gene divergences (Sun et al., 2007). We also tested the hypotheses (H3) that the diversification of lineages within Catostominae followed ∼20 Ma in the Miocene (Smith, 1992; Sun et al., 2007), and (H4) that Catostomidae species have diversified from a tetraploid ancestor since ∼50 Ma in the early Eocene (Uyeno & Smith, 1972). Overall, by yielding a new phylogeny of suckers and divergence dates for their most recent common ancestors (MRCAs), our study sheds light on the interrelationships, taxonomic classification, and tempo of speciation in a diverse and threatened clade of Holarctic freshwater fishes.
Conclusions
We have presented the results of a phylogenetic analysis of Holarctic sucker fishes (family Catostomidae) drawing on the most comprehensive dataset to date and inferring, separately and jointly, the phylogeny and divergence times of suckers while including fossil taxa as tips. Our molecular and total-evidence results corroborated relationships hypothesized in previous molecular studies and yielded evidence in favor of some new hypotheses of relationships within and among subfamilies, for example, with Bayes factor support for Myxocyprininae sister to all other sucker lineages. Our study also highlights how using PI profiling to identify problematic character sets can subsequently improve or provide additional evidence for clock-partitioning scheme choice during Bayesian relaxed-clock divergence dating. Our divergence-dating results strongly supported the hypotheses that Catostomidae lineages have diversified since ∼50 Ma in the Early Eocene (Uyeno & Smith, 1972), and that tribes within the most speciose subfamily, Catostominae, have diversified since ∼20 Ma in the Eocene–Miocene (Smith, 1992; Sun et al., 2007). Moreover, we hypothesized that incongruent subfamily relationships were driven in part by problematic mtDNA 1st and 3rd codon sites, and by "rogue taxon" movements of Cycleptinae and fossil taxa, for example in our FBD process time tree. Our analysis could be extended to test this latter hypothesis using additional statistical analyses of rogue taxa (Aberer, Krompass & Stamatakis, 2012) and internode uncertainty (Zhou et al., 2017), and by additional resolution analyses employing Monte Carlo simulations and tests of their assumptions (Townsend, Su & Tekle, 2012), which were beyond the scope of the present study. Nevertheless, our results suggest that future studies of suckers will benefit from using PI profiles as a predictive tool to select loci for subsequent phylogenetic analyses (Dornburg et al., 2014).