A guideline for reporting experimental protocols in life sciences
1
Ontology Engineering Group, Campus de Montegancedo, Boadilla del Monte, Universidad Politécnica de Madrid

,

Madrid

,

Spain
2
Technische Universität Graz

,

Graz

,

Austria
Published

Accepted

Received
Academic Editor
Subject Areas

Keywords

Checklist

,

Experimental protocols

,

Guidelines

,

Recommendations

,

Good practices for reporting protocols

,

Open science

,

Reproducibility
Copyright

©

2018

Giraldo et al.

Licence

This is an open access article distributed under the terms of the Creative Commons Attribution License, which permits unrestricted use, distribution, reproduction and adaptation in any medium and for any purpose provided that it is properly attributed. For attribution, the original author(s), title, publication source (PeerJ) and either DOI or URL of the article must be cited.
Cite this article

2018

.

A guideline for reporting experimental protocols in life sciences

.

PeerJ

6

:

e4795

https://doi.org/10.7717/peerj.4795
Abstract
Experimental protocols are key when planning, performing and publishing research in many disciplines, especially in relation to the reporting of materials and methods. However, they vary in their content, structure and associated data elements. This article presents a guideline for describing key content for reporting experimental protocols in the domain of life sciences, together with the methodology followed in order to develop such guideline. As part of our work, we propose a checklist that contains 17 data elements that we consider fundamental to facilitate the execution of the protocol. These data elements are formally described in the SMART Protocols ontology. By providing guidance for the key content to be reported, we aim (1) to make it easier for authors to report experimental protocols with necessary and sufficient information that allow others to reproduce an experiment, (2) to promote consistency across laboratories by delivering an adaptable set of data elements, and (3) to make it easier for reviewers and editors to measure the quality of submitted manuscripts against an established criteria. Our checklist focuses on the content, what should be included. Rather than advocating a specific format for protocols in life sciences, the checklist includes a full description of the key data elements that facilitate the execution of the protocol.
Introduction
Experimental protocols are fundamental information structures that support the description of the processes by means of which results are generated in experimental research (Giraldo et al., 2017; Freedman, Venugopalan & Wisman, 2017). Experimental protocols, often as part of "Materials and Methods" in scientific publications, are central for reproducibility; they should include all the necessary information for obtaining consistent results (Casadevall & Fang, 2010; Festing & Altman, 2002). Although protocols are an important component when reporting experimental activities, their descriptions are often incomplete and vary across publishers and laboratories. For instance, when reporting reagents and equipment, researchers sometimes include catalog numbers and experimental parameters; they may also refer to these items in a generic manner, e.g., "Dextran sulfate, Sigma-Aldrich" (Karlgren et al., 2009). Having this information is important because reagents usually vary in terms of purity, yield, pH, hydration state, grade, and possibly additional biochemical or biophysical features. Similarly, experimental protocols often include ambiguities such as "Store the samples at room temperature until sample digestion" (Brandenburg et al., 2002); but, how many Celsius degrees? What is the estimated time for digesting the sample? Having this information available not only saves time and effort, it also makes it easier for researchers to reproduce experimental results; adequate and comprehensive reporting facilitates reproducibility (Freedman, Venugopalan & Wisman, 2017; Baker, 2016).
Several efforts focus on building data storage infrastructures, e.g., 3TU. Datacentrum (4TU, 2017), CSIRO Data Access Portal (CSIRO, 2017), Dryad (Dryad, 2017), figshare (Figshare, 2017), Dataverse (King, 2007) and Zenodo (Zenodo, 2017). These data repositories make it possible to review the data and evaluate whether the analysis and conclusions drawn are accurate. However, they do little to validate the quality and accuracy of the data itself. Evaluating research implies being able to obtain similar, if not identical results. Journals and funders are now asking for datasets to be publicly available for reuse and validation. Fully meeting this goal requires datasets to be endowed with auxiliary data providing contextual information e.g., methods used to derive such data (Assante et al., 2016; Simmhan, Plale & Gannon, 2005). If data must be public and available, shouldn't methods be equally public and available?
Illustrating the problem of adequate reporting, Moher et al. (2015) have pointed out that fewer than 20% of highly-cited publications have adequate descriptions of study design and analytic methods. In a similar vein, Vasilevsky et al. (2013) showed that 54% of biomedical research resources such as model organisms, antibodies, knockdown reagents (morpholinos or RNAi), constructs, and cell lines are not uniquely identifiable in the biomedical literature, regardless of journal Impact Factor. Accurate and comprehensive documentation for experimental activities is critical for patenting, as well as in cases of scientific misconduct. Having data available is important; knowing how the data were produced is just as important. Part of the problem lies in the heterogeneity of reporting structures; these may vary across laboratories in the same domain. Despite this variability, we want to know which data elements are common and uncommon across protocols; we use these elements as the basis for suggesting our guideline for reporting protocols. We have analyzed over 500 published and non-published experimental protocols, as well as guidelines for authors from journals publishing protocols. From this analysis we have derived a practical adaptable checklist for reporting experimental protocols.
Efforts such as the Structured, Transparent, Accessible Reporting (STAR) initiative (Marcus, 2016; Cell Press, 2017) address the problem of structure and standardization when reporting methods. In a similar manner, The Minimum Information about a Cellular Assay (MIACA) (MIACA, 2017), The Minimum Information about a Flow Cytometry Experiment (MIFlowCyt) (Lee et al., 2008) and many other "minimal information" efforts deliver minimal data elements describing specific types of experiments. Soldatova et al. (2008) and Soldatova et al. (2014) proposes the EXACT ontology for representing experimental actions in experimental protocols; similarly, Giraldo et al. (2017) proposes the SeMAntic RepresenTation of Protocols ontology (henceforth SMART Protocols Ontology) an ontology for reporting experimental protocols and the corresponding workflows. These approaches are not minimal; they aim to be comprehensive in the description of the workflow, parameters, sample, instruments, reagents, hints, troubleshooting, and all the data elements that help to reproduce an experiment and describe experimental actions.
There are also complementary efforts addressing the problem of identifiers for reagents and equipment; for instance, the Resource Identification Initiative (RII) (Force11, 2017), aims to help researchers sufficiently cite the key resources used to produce the scientific findings. In a similar vein, the Global Unique Device Identification Database (GUDID) (NIH, 2018) has key device identification information for medical devices that have Unique Device Identifiers (UDI); the Antibody Registry (Antibody Registry, 2018), gives researchers a way to universally identify antibodies used in their research, and also the Addgene web-application (Addgene, 2018) makes it easy for researchers to identify plasmids. Having identifiers make it possible for researchers to be more accurate in their reporting by unequivocally pointing to the resource used or produced. The Resource Identification Portal (RIP, 2018), makes it easier to navigate through available identifiers, researchers can search across all the sources from a single location.
In this paper, we present a guideline for reporting experimental protocols; we complement our guideline with a machine-processable checklist that helps researchers, reviewers and editors to measure the completeness of a protocol. Each data element in our guideline is represented in the SMART Protocols Ontology. This paper is organized as follows: we start by describing the materials and methods used to derive the resulting guidelines. In the "Results" section, we present examples indicating how to report each data element; a machine readable checklist in the JavaScript Object Notation (JSON) format is also presented in this section. We then discuss our work and present the conclusions.
Materials and Methods
Materials
We have analyzed: (i) guidelines for authors from journals publishing protocols (Giraldo, Garcia & Corcho, 2018b), (ii) our corpus of protocols (Giraldo, Garcia & Corcho, 2018a), (iii) a set of reporting structures proposed by minimal information projects available in the FairSharing catalog (McQuilton et al., 2016), and (iv) relevant biomedical ontologies available in BioPortal (Whetzel et al., 2011) and Ontobee (Xiang et al., 2011). Our analysis was carried out by a domain expert, Olga Giraldo; she is an expert in text mining and biomedical ontologies with over ten years of experience in laboratory techniques. All the documents were read, and then data elements, subject areas, materials (e.g., sample, kits, solutions, reagents, etc.), and workflow information were identified. Resulting from this activity we established a baseline terminology, common and non common data elements, as well as patterns in the description of the workflows (e.g., information describing the steps and the order for the execution of the workflow).
Instructions for authors from analyzed journals
Publishers usually have instructions for prospective authors; these indications tell authors what to include, the information that should be provided, and how it should be reported in the manuscript. In Table 1 we present the list of guidelines that were analyzed.
Corpus of protocols
Our corpus includes 530 published and unpublished protocols. Unpublished protocols (75 in total) were collected from four laboratories located at the International Center for Tropical Agriculture (CIAT) (CIAT, 2017). The published protocols (455 in total) were gathered from the repository "Nature Protocol Exchange" (NPE, 2017) and from 11 journals, namely: BioTechniques, Cold Spring Harbor Protocols, Current Protocols, Genetics and Molecular Research (GMR, 2017), JoVE, Plant Methods (BioMed Central, 2017), Plos One (PLOS ONE, 2017), Springer Protocols, MethodsX, Bio-Protocol and the Journal of Biological Methods. The analyzed protocols comprise areas such as cell biology, molecular biology, immunology, and virology. The number of protocols from each journal is presented in Table 2.
| Source | Number of protocols |
| --- | --- |
| BioTechniques (BioTech) | 16 |
| CSH protocols (CSH) | 267 |
| Current Protocols (CP) | 31 |
| Genetics and Molecular Research (GMR) | 5 |
| Journal of Visualized Experiments (JoVE) | 21 |
| Nature Protocols Exchange (NPE) | 39 |
| Plant Methods (PM) | 12 |
| Plos One (PO) | 5 |
| Springer Protocols (SP) | 5 |
| MethodsX | 7 |
| Bio-protocols (BP) | 40 |
| Journal of Biological Methods (JBM) | 7 |
| Non-published protocols from CIAT | 75 |
Minimum information standards and ontologies
We analyzed minimum information standards from the FairSharing catalog, e.g., MIAPPE (MIAPPE, 2017), MIARE (MIARE, 2017) and MIQE (Bustin et al., 2009). See Table 3 for the complete list of minimum information models that we analyzed.
| Standards | Description |
| --- | --- |
| Minimum Information about Plant Phenotyping Experiment (MIAPPE) | A reporting guideline for plant phenotyping experiments. |
| CIMR: Plant Biology Context (Nikolau et al., 2006) | A standard for reporting metabolomics experiments. |
| The Gel Electrophoresis Markup Language (GelML) | A standard for representing gel electrophoresis experiments performed in proteomics investigations. |
| Minimum Information about a Cellular Assay (MIACA) | A standardized description of cell-based functional assay projects. |
| Minimum Information About an RNAi Experiment (MIARE) | A checklist describing the information that should be reported for an RNA interference experiment. |
| The Minimum Information about a Flow Cytometry Experiment (MIFlowCyt) | This guideline describes the minimum information required to report flow cytometry (FCM) experiments. |
| Minimum Information for Publication of Quantitative Real-Time PCR Experiments (MIQE) | This guideline describes the minimum information necessary for evaluating qPCR experiments. |
| ARRIVE (Animal Research: Reporting of In Vivo Experiments) (Kilkenny et al., 2010) | Initiative to improve the standard of reporting of research using animals. |
We paid special attention to the recommendations indicating how to describe specimens, reagents, instruments, software and other entities participating in different types of experiments. Ontologies available at Bioportal and Ontobee were also considered; we focused on ontologies modeling domains, e.g., bioassays (BAO), protocols (EXACT), experiments and investigations (OBI). We also focused on those modeling specific entities, e.g., organisms (NCBI Taxon), anatomical parts (UBERON), reagents or chemical compounds (ERO, ChEBI), instruments (OBI, BAO, EFO). The list of analyzed ontologies is presented in Table 4.
| Ontology | Description |
| --- | --- |
| The Ontology for Biomedical Investigations (OBI) (Bandrowski et al., 2016) | An ontology for the description of life-science and clinical investigations. |
| The Information Artifact Ontology (IAO) (IAO, 2017) | An ontology of information entities. |
| The ontology of experiments (EXPO) (Soldatova & King, 2006) | An ontology about scientific experiments. |
| The ontology of experimental actions (EXACT) | An ontology representing experimental actions. |
| The BioAssay Ontology (BAO) (Abeyruwan et al., 2014) | An ontology describing biological assays. |
| The Experimental Factor Ontology (EFO) (Malone et al., 2010) | The ontology includes aspects of disease, anatomy, cell type, cell lines, chemical compounds and assay information. |
| eagle-i resource ontology (ERO) | An ontology of research resources such as instruments, protocols, reagents, animal models and biospecimens. |
| NCBI taxonomy (NCBITaxon) (Federhen, 2015) | An ontology representation of the NCBI organismal taxonomy. |
| Chemical Entities of Biological Interest (ChEBI) (Hastings et al., 2013) | Classification of molecular entities of biological interest focusing on 'small' chemical compounds. |
| Uberon multi-species anatomy ontology (UBERON) (Mungall et al., 2012) | A cross-species anatomy ontology covering animals and bridging multiple species-specific ontologies. |
| Cell Line Ontology (CLO) (Sarntivijai et al., 2014; Sarntivijai et al., 2011) | The ontology was developed to standardize and integrate cell line information. |
Methods for developing this guideline
Developing the guideline entailed a series of activities; these were organized in the following stages: (i) analysis of guidelines for authors, (ii) analysis of protocols, (iii) analysis of Minimum Information (MI) standards and ontologies, and (iv) evaluation of the data elements from our guideline. For a detailed representation of our workflow, see Fig. 1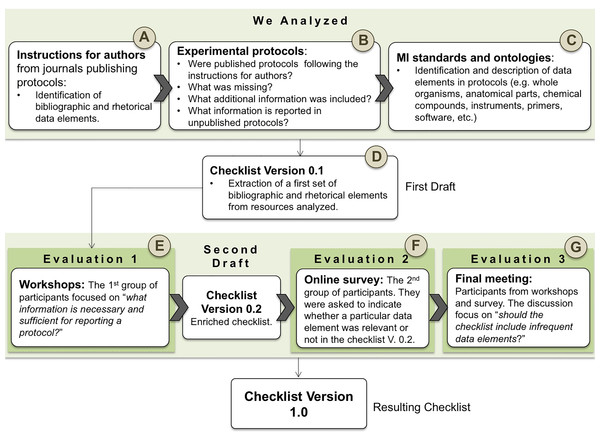 Results
Our results are summarized in Table 7; it includes all the data elements resulting from the process illustrated in Fig. 1. We have also implemented our checklist as an online tool that generates data in the JSON format and presents an indicator of completeness based on the checked data elements; the tool is available at https://smartprotocols.github.io/checklist1.0 (Gómez, alexander & Giraldo, 2018). Below, we present a complete description of the data elements in our checklist. We have organized the data elements in four categories, namely: (i) bibliographic data elements, (ii) discourse data elements, (iii) data elements for materials, and iv) data elements for the procedure. Ours is a comprehensive checklist, the data elements must be reported whenever applicable.
| Data element | Property |
| --- | --- |
| Title of the protocol | |
| Author | Name |
| | Identifier |
| Version number | |
| License of the protocol | |
| Provenance of the protocol | |
| Overall objective or purpose | |
| Application of the protocol | |
| Advantage(s) of the protocol | |
| Limitation(s) of the protocol | |
| Organism | Whole organism / Organism part |
| | Sample/organism identifier |
| | Strain, genotype or line |
| | Amount of Bio-Source |
| | Developmental stage |
| | Bio-source supplier |
| | Growth substrates |
| | Growth environment |
| | Growth time |
| | Sample pre-treatment or sample preparation |
| Laboratory equipment | Name |
| | Manufacturer or vendor (including homepage) |
| | Identifier (catalog number or model) |
| | Equipment configuration |
| Laboratory consumable | Name |
| | Manufacturer or vendor (including homepage) |
| | Identifier (catalog number) |
| Reagent | Name |
| | Manufacturer or vendor (including homepage) |
| | Identifier (catalog number) |
| Kit | Name |
| | Manufacturer or vendor (including homepage) |
| | Identifier (catalog number) |
| Recipe for solution | Name |
| | Reagent or chemical compound name |
| | Initial concentration of a chemical compound |
| | Final concentration of chemical compound |
| | Storage conditions |
| | Cautions |
| | Hints |
| Software | Name |
| | Version number |
| | Homepage |
| Procedure | List of steps in numerical order |
| | Alternative/Optional/Parallel steps |
| | Critical steps |
| | Pause point |
| | Timing |
| | Hints |
| | Troubleshooting |
Data Elements Represented in the SMART Protocols Ontology
The data elements proposed in our guideline are represented in the SMART Protocols Ontology. This ontology was developed to facilitate the semantic representation of experimental protocols. Our ontology reuses the Basic Formal Ontology (BFO) (IFOMIS, 2018) and the Relation Ontology (RO) (Smith et al., 2005) to characterize concepts. In addition, each term in the SMART Protocols ontology is represented with annotation properties imported from the OBI Minimal metadata. The classes and properties are represented by their respective labels to facilitate the readability; the prefix indicates the provenance for each term. Our ontology is organized in two modules. The document module represents the metadata necessary and sufficient for reporting a protocol. The workflow module represents the executable elements of a protocol to be carried out and maintained by humans. Figure 8 presents the hierarchical organization of data elements into the SMART Protocols Ontology.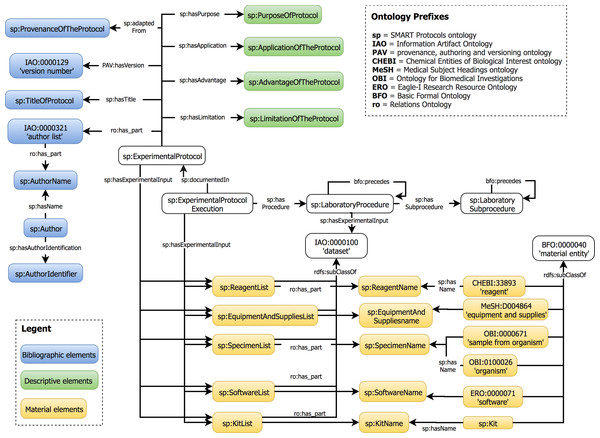 Discussion
In this paper, we have described 17 data elements that can be used to improve the reporting structure of protocols. Our work is based on the analysis of 530 published and non-published protocols, guidelines for authors, and suggested reporting structures. We examined guidelines for authors from journals that specialize in publishing experimental protocols, e.g., Bio-protocols, Cold Spring Harbor Protocols, MethodsX, Nature Protocols, and Plant Methods (Methodology). Although JoVE (JoVE, 2017) is a video methods journal, its guidelines for authors were also considered. Online repositories were also studied; these resources deliver an innovative approach for the publication of protocols by offering platforms tailored for this kind of document. For instance, protocols.io (protocols.io, 2018) structures the protocol by using specific data elements and treats the protocol as a social object, thus facilitating sharing. It also makes it possible to have version control over the document. Protocol Exchange from Nature Protocols is an open repository where users upload, organize, comment, and share their protocols. Our guideline has also benefited from the input from a group of researchers whose primary interest is having reproducible protocols. By analyzing reporting structures and guidelines for authors, we are contributing to the homogenization of data elements that should be reported as part of experimental protocols. Improving the reporting structure of experimental protocols will add the necessary layer of information that should accompany the data that is currently being deposited into data repositories.
Ours was an iterative development process; drafts were reviewed and analyzed, and then improved versions were produced. This made it easier for us to make effective use of the time that domain experts had available. Working with experimental protocols that were known by our group of domain experts helped us to engage them in the iterations. Also, for the domain experts who worked with us during the workshops, there was a pre-existing interest in standardizing their reporting structures. Reporting guidelines are not an accepted norm in biology (MIBBI, 2017); however, experimental protocols are part of the daily activities for most biologists. They are familiar with these documents, the benefits of standardization are easy for them to understand. From our experience at CIAT, once researchers were presented with a standardized format that they could extend and manage with minimal overhead, they adopted it. The early engagement with domain experts in the development process eased the initial adoption; they were familiar with the outcome and aware of the advantages of implementing this practice. However, maintaining the use of the guideline requires more than just availability of the guideline; the long-term use of these instruments requires an institutional policy in data stewardship. Our approach builds upon previous experiences; in our case, the guidelines presented in this paper are a tool that was conceived by researchers as part of their reporting workflow, thus adding a minimal burden on their workload. As domain experts were working with the guideline, they were also gaining familiarity with the Minimum Information for Biological and Biomedical Investigations (MIBBI) (MIBBI, 2017) that were applicable to their experiments. This made it possible for us to also discuss the relation between MIBBIs and the content in the experimental protocols.
The quality of the information reported in experimental protocols and methods is a general cause for concern. Poorly described methods generate poorly reproducible research. In a study conducted by Flórez-Vargas et al. (2014) in Trypanosoma experiments, they report that none of the investigated articles met all the criteria that should be reported in these kinds of experiments. The study reported by Kilkenny et al. (2009) has similar results leading to similar conclusions; key metadata elements are not always reported by researchers. The widespread availability of key metadata elements in ontologies, guidelines, minimal information models, and reporting structures was discussed. These were, from the onset, understood as reusable sources of information. Domain experts understand that they were building on previous experiences; having examples of use is helpful in understanding how to adapt or reuse from existing resources. This helps them to understand the rationale of each data element within the context of their own practice. For us, being able to consult previous experiences was also an advantage. Sharing protocols is a common practice amongst researchers from within the same laboratories or collaborating in the same experiments or projects. However, there are limitations in sharing protocols, not necessarily related to the lack of reporting standards. They are, for instance, related to patenting and intellectual property issues, as well as to giving away competitive advantages implicit in the method.
During our development process, we considered the SMART Protocols ontology (Giraldo et al., 2017); it reuses terminology from OBI, IAO, EXACT, ChEBI, NCBI taxonomy, and other ontologies. Our metadata elements have been mapped to the SMART Protocols ontology; the metadata elements in our guideline could also be mapped to resources on the web such as PubChem (Kim et al., 2016) (Wang et al., 2017) and the Taxonomy database from UniProt (UniProt, 2017). Our implementation of the checklist illustrates how it could be used as an online tool to generate a complement to the metadata that is usually available with published protocols. The content of the protocol does not need to be displayed; key metadata elements are made available together with the standard bibliographic metadata. Laboratories could adapt the online tool to their specific reporting structures. Having a checklist made it easier for the domain experts to validate their protocols. Machine validation is preferable, but such mechanisms require documents to be machine-processable beyond that which our domain experts were able to generate. Domain experts were using the guideline to implement simple Microsoft Word reporting templates. Our checklist does not include aspects inherent to each possible type of experiment such as those available in the MIBBIs; these are based on the minimal common denominator for specific experiments. Both approaches complement each other; where MIBBIs offer specificity, our guideline provides a context that is general enough for facilitating reproducibility and adequate reporting without interfering with records such as those commonly managed by Laboratory Information Management Systems.
In laboratories, experimental protocols are released and periodically undergo revisions until they are released again. These documents follow the publication model put forward by Carole Goble, "Don't publish, release" with strict versioning, changes, and forks (Goble, 2017). Experimental protocols are essentially executable workflows for which identifiers for equipment, reagents, and samples need to be resolved against the Web. The use of unique identifiers can't be underestimated when supporting adequate reporting; identifiers remove ambiguity for key resources and make it possible for software agents to resolve and enrich these entities. The workflows in protocols are mostly followed by humans, but in the future, robots may be executing experiments (Yachie, Consortium & Natsume, 2017); it makes sense to investigate other publication paradigms for these documents. The workflow nature of these documents is more suitable for a fully machine-processable or -actionable document. The workflows should be intelligible for humans and processable by machines; thus, facilitating the transition to fully automated laboratory paradigms. Entities and executable elements should be declared and characterized from the onset. The document should be "born semantic" and thus inter-operable with the larger web of data. In this way post-publication and linguistic processing activities, such as Named Entity Recognition and annotation, could be more focused.
Currently, when protocols are published, they are treated like any other scientific publication. Little attention is paid to the workflow nature implicit in this kind of document, or to the chain of provenance indicating where it comes from and how it has changed. The protocol is understood as a text-based narrative instead of a self-descriptive Findable Accessible Interoperable and Reusable (FAIR) (Wilkinson et al., 2016) compliant document. There are differences across the examined publications, e.g., JoVE builds the narrative around video, whereas Bio-protocols, MethodsX, Nature Protocols, and Plant Methods primarily rely on a text-based narrative. The protocol is, however, a particular type of publication; it is slightly different from other scientific articles. An experimental protocol is a document that is kept "alive" after it has been published. The protocols are routinely used in laboratory activities, and researchers often improve and adapt them, for instance, by extending the type of samples that can be tested, reducing timing, minimizing the quantity of certain reagents without altering the results, adding new recipes, etc. The issues found in reporting methods probably stem, at least in part, from the current structure of scientific publishing, which is not adequate to effectively communicate complex experimental methods (Flórez-Vargas et al., 2014).
Conclusion
Experimental research should be reproducible whenever possible. Having precise descriptions of the protocols is a step in that direction. Our work addresses the problem of adequate reporting for experimental protocols. It builds upon previous work, as well as over an exhaustive analysis of published and unpublished protocols and guidelines for authors. There is value in guidelines because they indicate how to report; having examples of use facilitate how to adapt them. The guideline we present in this paper can be adapted to address the needs of specific communities. Improving reporting structures requires collective efforts from authors, peer reviewers, editors, and funding bodies. There is no "one size that fits all." The improvement will be incremental; as guidelines and minimal information models are presented, they will be evaluated, adapted, and re-deployed.
Authors should be aware of the importance of experimental protocols in the research life-cycle. Experimental protocols ought to be reused and modified, and derivative works are to be expected. This should be considered by authors before publishing their protocols; the terms of use and licenses are the choice of the publisher, but where to publish is the choice of the author. Terms of use and licenses forbidding "reuse", "reproduce", "modify", or "make derivative works based upon" should be avoided. Such restrictions are an impediment to the ability of researchers to use the protocols in their most natural way, which is adapting and reusing them for different purposes –not to mention sharing, which is a common practice among researchers. Protocols represent concrete "know-how" in the biomedical domain. Similarly, publishers should adhere to the principle of encouraging authors to make protocols available, for instance, as preprints or in repositories for protocols or journals. Publishers should enforce the use of repository or journal publishing protocols. Publishers require or encourage data to be available; the same principle should be applied to protocols. Experimental protocols are essential when reproducing or replicating an experiment; data is not contextualized unless the protocols used to derive the data are available.
This work is related to the SMART Protocols project. Ultimately we want: (1) to enable authors to report experimental protocols with necessary and sufficient information that allows others to reproduce an experiment, (2) to ensure that every data item is resolvable against resources in the web of data, and (3) to make the protocols available in RDF, JSON, and HTML as web native objects. We are currently working on a publication platform based on linked data for experimental protocols. Our approach is simple, we consider that protocols should be born semantics and FAIR.