Anatomical and biomechanical traits of broiler chickens across ontogeny. Part II. Body segment inertial properties and muscle architecture of the pelvic limb
1
Structure & Motion Laboratory, Department of Comparative Biomedical Sciences, The Royal Veterinary College, University of London

,

Hatfield, Hertfordshire

,

UK
2
Faculty of Life Sciences, University of Manchester

,

Manchester

,

UK
Published

Accepted

Received
Academic Editor
Subject Areas

Keywords

Poultry

,

Growth

,

Locomotion

,

Gait

,

Hindlimb

,

Scaling

,

Development

,

Gallus
Copyright

©

2014

Paxton et al.

Licence

This is an open access article distributed under the terms of the Creative Commons Attribution License, which permits unrestricted use, distribution, reproduction and adaptation in any medium and for any purpose provided that it is properly attributed. For attribution, the original author(s), title, publication source (PeerJ) and either DOI or URL of the article must be cited.
Cite this article

2014

.

Anatomical and biomechanical traits of broiler chickens across ontogeny. Part II. Body segment inertial properties and muscle architecture of the pelvic limb

.

PeerJ

2

:

e473

https://doi.org/10.7717/peerj.473
Abstract
In broiler chickens, genetic success for desired production traits is often shadowed by welfare concerns related to musculoskeletal health. Whilst these concerns are clear, a viable solution is still elusive. Part of the solution lies in knowing how anatomical changes in afflicted body systems that occur across ontogeny influence standing and moving. Here, to demonstrate these changes we quantify the segment inertial properties of the whole body, trunk (legs removed) and the right pelvic limb segments of five broilers at three different age groups across development. We also consider how muscle architecture (mass, fascicle length and other properties related to mechanics) changes for selected muscles of the pelvic limb. All broilers used had no observed lameness, but we document the limb pathologies identified post mortem, since these two factors do not always correlate, as shown here. The most common leg disorders, including bacterial chondronecrosis with osteomyelitis and rotational and angular deformities of the lower limb, were observed in chickens at all developmental stages. Whole limb morphology is not uniform relative to body size, with broilers obtaining large thighs and feet between four and six weeks of age. This implies that the energetic cost of swinging the limbs is markedly increased across this growth period, perhaps contributing to reduced activity levels. Hindlimb bone length does not change during this period, which may be advantageous for increased stability despite the increased energetic costs. Increased pectoral muscle growth appears to move the centre of mass cranio-dorsally in the last two weeks of growth. This has direct consequences for locomotion (potentially greater limb muscle stresses during standing and moving). Our study is the first to measure these changes in the musculoskeletal system across growth in chickens, and reveals how artificially selected changes of the morphology of the pectoral apparatus may cause deficits in locomotion.
Introduction
The poultry industry is a rapidly expanding enterprise (over 870 million broilers slaughtered in the UK; DEFRA 2013 statistics), in which production continues to increase globally by over 130% in some countries (Scanes, 2007). In addition to increased production, the broiler chicken has gained an unusual repertoire of anatomical traits, which are repeatedly emphasized in scientific studies and highlight what has developed into a successful breeding programme for obtaining desired production characteristics (e.g., Havenstein, Ferket & Qureshi, 2003; Paxton et al., 2010; Paxton et al., 2013). However, a crossroads has been reached where efficient broiler production is haunted by welfare concerns (Julian, 1998; Mench, 2004; Knowles et al., 2008). Broilers may suffer from heart failure and sudden death syndrome (Julian, 1998; Maxwell & Robertson, 1998; Olkowski, 2007), reduced adaptive immune function (Cheema, Qureshi & Havenstein, 2003), leg weakness (see review; Bradshaw, Kirkden & Broom, 2002), poor reproductive performance (Siegel & Dunnington, 1987; Hocking, 1993) and appear to be susceptible to suboptimal management of nutrition and their environment (e.g., Vestergaard & Sanotra, 1999; Kestin et al., 2001; Scott, 2002; Brickett et al., 2007; Buijs et al., 2009). Unfortunately, whilst the welfare and economic concerns associated with these issues are clear, there is no optimal evidence-based solution that resolves all concerns surrounding broiler chicken production.
To move toward such a solution, a deeper understanding of how broiler body shape and musculoskeletal function develops during growth and how these changes may influence locomotion is required. Part 1 of this series (Tickle et al., 2014) characterized how broiler organ and pectoral muscle growth varies with increasing body mass, with a focus on respiratory system development and changes in organ size, highlighting important repercussions to breathing/cardiorespiratory performance. Here, we delve deeper into how these and other anatomical changes have affected the overall size and shape of the broiler and investigate how relevant traits have likely influenced their locomotor abilities.
To help achieve our aim, we detail the muscle architectural properties of the major pelvic limb muscles (identified previously by Paxton et al., 2010 as the hip, knee and ankle extensors in broilers) and document how these scale with body size. Skeletal muscle is one of the organs that is most adaptable to environmental change (Lieber, 1986), and an integral component of locomotion (supporting and powering the movement). Muscle mechanical performance is mostly dependent on a few key architectural properties; namely mass, fascicle length and pennation angle. These parameters are typically used to calculate physiological cross-sectional area (PCSA) and thereby estimate muscular capacity for force-generation (PCSA) versus length change (fascicle length) (Powell et al., 1984; Burkholder et al., 1994; Lieber & Friden, 2000). For broilers, muscle architecture data on the broiler currently exist for animals at six weeks of age (see Paxton et al., 2010), but how these properties change across growth in the broiler is unknown. This study therefore focuses on the scaling (i.e., size related, isometric or allometric; Biewener, 1989; Alexander et al., 1981; Alexander & Ker, 1990) relationships of select pelvic limb muscles to reveal changes in individual muscle characteristics of individual muscles from hatching to slaughter age (∼six weeks). We also consider how the pelvic limb bones (femur, tibiotarsus and tarsometatarsus) scale with body size in the broiler chicken, as effective scaling of the hindlimb bones can reduce the rate at which stress increases with body mass (McMahon, 1973; McMahon, 1975; Garcia & da Silva, 2004).
In addition, differences in limb orientation and motion, and overall gait dynamics, among avian taxa can be partially attributed to variation in body centre of mass (CoM) position (Gatesy & Biewener, 1991; Abourachid, 1993; Hutchinson, 2004). Manion (1984) estimated CoM position for chickens across ontogeny (5–19 days) and noted a cranioventral shift and a subsequent change in limb orientation during standing and walking (more flexed during standing, but more extended during walking). The broiler CoM position has been addressed in preliminary computational analyses by Allen, Paxton & Hutchinson (2009) and was found to shift caudodorsally. Other previous research suggests that broilers have a more cranially positioned CoM induced by a large pectoral muscle mass (Abourachid, 1993; Corr et al., 2003a). To better understand the influence of CoM on locomotor ability in broilers, we therefore quantify the variation in CoM position (3D) across ontogeny and relate this variation to anatomical changes documented here and in Part I of this study (Tickle et al., 2014).
All broilers used here are considered 'normal'—i.e., no observed lameness, but we document the limb pathologies (identified post mortem) within our study populations. This is essential because the pathological changes in affected birds do not often relate to walking ability (assessed using gait score and force plate measurements) (Sandilands et al., 2011). We quantify the inertial properties (mass, centre of mass and radius of gyration) of each limb and major body segment (Fig. 1), because these help reveal basic locomotor habits (e.g. limb tapering—i.e., a proximal to distal reduction in muscle mass reflects a specialization for power versus force development; Alexander et al., 1981; Pasi & Carrier, 2003; Hutchinson, 2004; Payne et al., 2005; Smith et al., 2006). Both centre of mass position and radius of gyration are also good descriptors of body area distribution and resistance to rotational movements (Kilbourne, 2013). Importantly, inertial properties in chickens and more specifically broilers are almost completely unstudied. Only a few studies have documented the inertial properties of other ground running birds (e.g., emus, Goetz et al., 2008; guinea fowl, Daley, Felix & Biewener, 2007; Rubenson & Marsh, 2009; quail, Andrada et al., 2013; lapwing, Nyakatura et al., 2012). This study not only provides a novel insight into characteristics that influence broiler locomotor function, but also provides the inertial properties necessary to develop models for dynamic analyses of movement, which have been highly successful in improving our understanding of human pathological gait (e.g., Steel, Van der Krogt & Delp, 2012; Fey, Klute & Neptune, 2013; Allen, Kautz & Neptune, 2013).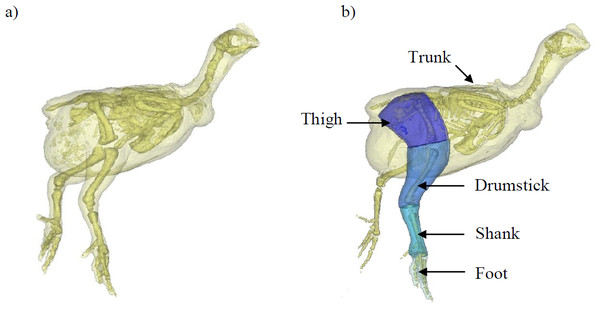 Materials and Methods
Birds
Fresh male cadavers of a commercial broiler strain at different ages (days 1, 13, 29, 32 and 40; Table 1) were used for the hind limb muscle analysis and then a further five broilers of the same commercial strain at approximately 14, 28 and 42 days of age (2, 4 and 6 weeks old) were used to calculate the centre of mass (CoM) of the whole body, trunk and the pelvic limb segments—i.e., the thigh, drumstick, shank and foot (Fig. 1). Hatchlings (day 1) are not included in these CoM data, since our focus is in later stages of their development when breast muscle growth is more evident and leg health issues are apparent. These chickens had been previously killed by cervical dislocation. Pelvic limb bone dimensions (femur, tibiotarsus and tarsometatarsus) were also recorded at 2, 4 and 6 weeks of age. These data are from the same chickens used in Part I (Tickle et al., 2014), which focuses on anatomy of the musculoskeletal respiratory apparatus and changes in body and organ size across ontogeny. As our data are cross-sectional rather than longitudinal, this study approximates an ontogenetic analysis, via inference from comparisons among individuals. All chickens were raised in a commercial setting under similar management guidelines and were not outwardly influenced by a laboratory setting. Full ethical approval for this experiment was granted by the RVC Ethics Committee (approval URN No. 2008-0001) under a Home Office license.
Age
(days)
Sample size
(n)
Body mass
(kg)
1
10
0.044 ± 0.01
13
10
0.431 ± 0.08
29
5
1.542 ± 0.05
32
5
1.738 ± 0.08
40
7
2.452 ± 0.09
Pathology
All birds were macroscopically evaluated to establish the incidence of leg pathologies (marked as present/absent unless otherwise stated; Table 2). Each chicken was examined for bacterial chondronecrosis with osteomyelitis (BCO) in the femur and tibiotarsus, tibial dyschondroplasia (TD), tibial rotation (RT) and valgus/varus deformities (VVD). Tibial rotation above 20° was considered abnormal. Similar to other studies (e.g., Shim et al., 2012) VVD was classified as mild, moderate or severe following the methods described by Leterrier & Nys (1992).
Age
(days)
BCO
(femur)
BCO
(tibiotarsus)
TD
(present)
VVD
RT
(abnormal)
Normal
Mild
Moderate
Severe
14
63
53
43
100
0
0
0
33
28
75
93
57
100
0
0
0
15
42
88
97
24
55
42
3
0
16
Muscle architecture
The left pelvic limb from each individual (refer to Table 1) was dissected, with fourteen specific muscle–tendon units (see Table 3 for muscle names and abbreviations) being identified and systematically removed. Muscles identified included the main hip, knee and ankle extensors, which are involved in limb support during the stance phase and have been shown to have either massive, short-fibred muscles favouring greater force-generating capacity or have long parallel-fibred muscles for fast contraction (Paxton et al., 2010), as in many other terrestrial species. Architectural measurements taken included muscle mass (Mm; tendon removed), which was measured on an electronic balance (±0.001 g), muscle fascicle length (Lf; ± 1 mm), and fibre pennation angle (θ), where appropriate (±1°). In order to account for variation of fascicle length and pennation angle within a muscle, Lf and θ were calculated as the mean of five measurements made across each muscle. Physiological cross-sectional area (PCSA) was calculated for each muscle (Eq. (1); Sacks & Roy, 1982) from these measurements according to the equation: (1) Muscle tissue density (ρ) was assumed to be 1.06 g cm−3, the standard value for mammalian and avian muscle (Mendez & Keys, 1960; Paxton et al., 2010).
| Muscle | Abbreviation |
| --- | --- |
| M. iliotibialis cranialis | IC |
| M. iliotibialis lateralis | IL |
| M. gastrocnemius pars lateralis | GL |
| M. gastrocnemius pars medialis | GM |
| M. fibularis longus | FL |
| M. iliotrochantericus caudalis | ITC |
| M. femorotibialis medialis | FMT |
| M. iliofibularis | ILFB |
| M. flexor cruris lateralis pars pelvica | FCLP |
| M. flexor cruris medialis | FCM |
| M. caudofemoralis pars caudalis | CFC |
| M. tibialis cranialis caput femorale | TCF |
| M. puboischiofemoralis pars medialis | PIFM |
| M. puboischiofemoralis pars lateralis | PIFL |
Centre of mass and inertial properties
Computed tomography (CT) scans were acquired of five male bird cadavers from each group. The cadavers were scanned with a GE Lightspeed 8-detector scanner at 100 mA and 120 kVp X-ray beam intensity using a 1 mm CT slice thickness. In order to minimise postural effects on CoM estimates, the birds were placed in the same upright position with their left side resting on a radiolucent cushion for scanning and limbs posed as similarly as possible (Fig. 1A). Mimics 14.12 imaging software (Materialise; Leuven, Belgium) was then used to segment the resulting DICOM image files, creating a 3D representation of the skeleton, body and the pelvic limb segments (trunk, thigh, drumstick, shank and the foot; Fig. 1B). We used predefined thresholds set for bone and flesh, with some manual adjustment from those baseline values as appropriate to ensure smooth, plausible rendering. Custom software (Hutchinson, Ng-Thow-Hing & Anderson, 2007; Allen, Paxton & Hutchinson, 2009) was then used to estimate the whole body/segment CoM. This method allows accurate specification of the CoM relative to any user defined point on the body or segment. These points are easily identified using bony landmarks visible on the CT images and are essential for putting CoM position in the context of gross morphology, which is necessary for biomechanical analyses. Using the 3D model representations of the skeleton, whole body CoM position was quantified relative to the right hip, trunk CoM was taken relative to the pelvis (centre point between the hips on the pelvis), and for the remaining segments, CoM position was expressed relative to the proximal end of the bone (Fig. 2). Three-dimensional coordinates (x [craniocaudal], y [dorsoventral] and z [mediolateral]) for the CoM were then recorded. Whole body CoM position was expressed as a percentage of femur length (see Allen, Paxton & Hutchinson, 2009).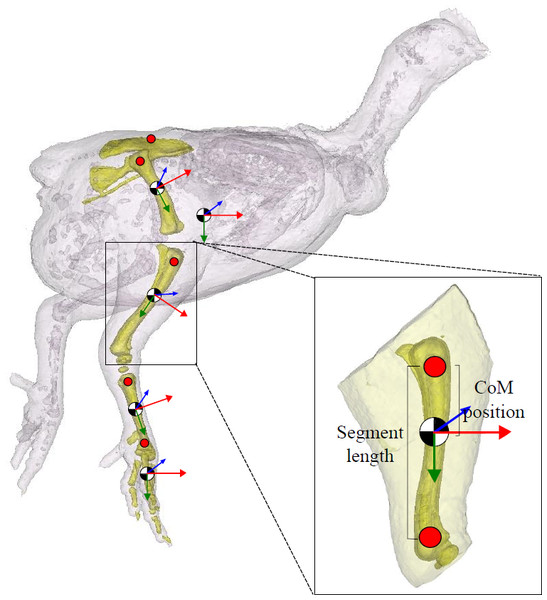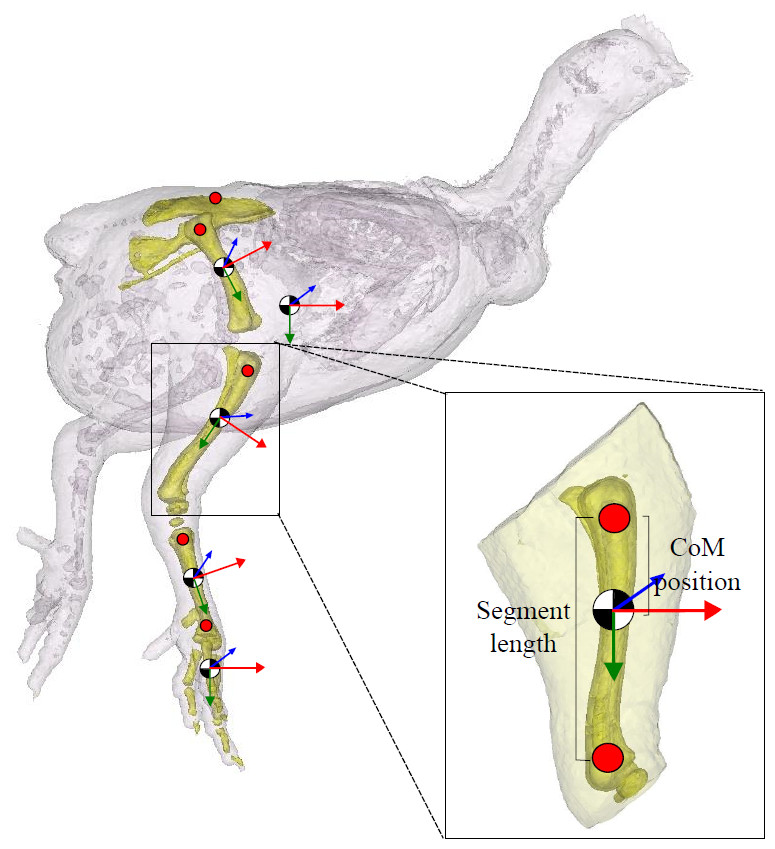 Segment anatomical properties that we measured and present here include segment mass (m; as % body mass), segment length (L; see Fig. 2), centre of mass (as % segment length), and radius of gyration (r; as % segment length), which are essential information required to calculate the moments of inertia (kg m2; Eq. (3)) and subsequently complete the set of inertial properties required for biomechanical analyses: (2)
The radius of gyration (% segment length; Eq. (2)) was calculated using the principal moment of inertia (I) and mass of the segment, both estimated using the custom software. The mean difference between the dissected segment mass recorded and that estimated were small (<5%). These data also provide further information on muscle mass distribution within the limb. (3)
Bone scaling dataset
Data from Part I of this study were also used for this analysis. The individual bone lengths of the left pelvic limb were recorded (±1 mm) for each of four age groups: day 1 (n = 10), ∼14 days (n = 20), ∼28 days (n = 19), ∼42 days (n = 19). Total leg length was defined as the sum of the individual pelvic limb bone lengths. Limb bone proportions were calculated as a percentage of total leg length.
Statistical analysis
All of our analyses take into account differences in body size across age groups. To analyse the muscle architecture data, the linear relationship between log-transformed body mass and muscle mass, fascicle length and PCSA were examined using the reduced major-axis regression (RMA) function in the statistical program PAST (Hammer, Harper & Ryan, 2001). RMA regression was appropriate for analysis of these morphological characters because error in both x and y variables is considered (Rayner, 1985; Sokal & Rohlf, 1995). Upper and lower 95% confidence intervals (CIs) and the R2 value for each regression line were calculated to quantify the variation around the mean (Fig. 3, Table 4). Isometric scaling was assumed when the scaling exponent ±95% CIs overlapped the expected value. Reduced major-axis regression was also used to examine the linear relationship between log-transformed body mass and bone length. This was done using custom Matlab (The Mathworks, Nattick, MA, USA) software code. The 95% CIs and the R2 value for each regression line were also calculated (Fig. 4). Similar to the statistical analysis used for the muscle architecture data, isometric scaling was assumed when the scaling exponent ±95% CIs overlapped the expected value.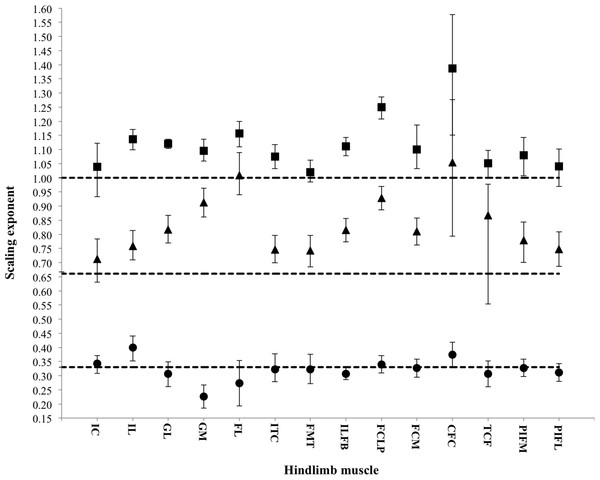 Muscle
Mm expected slope: 1.00
PCSA expected slope: 0.67
Lf expected slope: 0.33
Slope
Lower
95% CI
Upper
95% CI
R 2
Slope
Lower
95% CI
Upper
95% CI
R 2
Slope
Lower
95% CI
Upper
95% CI
R 2
IC
1.038 (=)
0.933
1.123
0.961
0.712 (=)
0.630
0.783
0.938
0.342 (=)
0.308
0.372
0.923
IL
1.136(+)
1.099
1.171
0.994
0.759(+)
0.709
0.814
0.968
0.399(+)
0.352
0.440
0.938
GL
1.121(+)
1.104
1.136
0.998
0.817(+)
0.769
0.868
0.977
0.306 (=)
0.261
0.349
0.859
GM
1.095(+)
1.059
1.136
0.992
0.912(+)
0.861
0.963
0.977
0.226(−)
0.185
0.268
0.801
FL
1.156(+)
1.109
1.199
0.988
1.009(+)
0.940
1.089
0.945
0.274 (=)
0.193
0.354
0.420
ITC
1.075(+)
1.032
1.118
0.989
0.746(+)
0.699
0.796
0.969
0.322 (=)
0.279
0.377
0.844
FMTM
1.021 (=)
0.985
1.062
0.984
0.743 (+)
0.685
0.796
0.948
0.322 (=)
0.271
0.375
0.758
ILFB
1.112(+)
1.078
1.143
0.994
0.815(+)
0.773
0.856
0.981
0.307 (=)
0.286
0.330
0.961
FCLP
1.250(+)
1.208
1.286
0.992
0.929(+)
0.887
0.969
0.979
0.339 (=)
0.309
0.371
0.924
FCM
1.101(+)
1.032
1.187
0.958
0.811(+)
0.762
0.857
0.974
0.326 (=)
0.294
0.358
0.938
CFC
1.387(+)
1.151
1.578
0.926
1.054(+)
0.793
1.277
0.869
0.374 (=)
0.329
0.419
0.881
TCF
1.052 (=)
1.000
1.097
0.979
0.867 (=)
0.553
0.977
0.887
0.306 (=)
0.260
0.352
0.720
PIFM
1.079 (=)
1.007
1.143
0.969
0.779(+)
0.701
0.843
0.933
0.327 (=)
0.297
0.358
0.893
PIFL
1.040 (=)
0.969
1.102
0.975
0.748(+)
0.687
0.808
0.952
0.311 (=)
0.280
0.343
0.918
For CoM values and segment anatomical properties, the statistics used followed those set out in Part I of this study. In brief, a Shapiro–Wilk normality test, in combination with considering subsequent PP and QQ plots of the data, and Levene's test for equal variances were used to test the assumptions of a one-way analysis of variance (ANOVA). An ANOVA test was then conducted with a subsequent Bonferroni post-hoc test to check for differences among the three age groups. If equal variances were violated, the Welch statistics are reported in conjunction with the results of a subsequent Games-Howell post-hoc test (Table 8).
Discussion
The genetic success of the modern broiler and the subsequent changes to the morphology of broiler chickens have been well documented, in order to determine the lines' commercial performance (e.g., Gous et al., 1999) and compare both growth responses and physiological adaptations resulting from distinctive selection pressures (e.g., Havenstein, Ferket & Qureshi, 2003; Reddish & Lilburn, 2004; Schmidt et al., 2009). A marked change in total pectoral muscle mass of the commercial broiler is a common finding of all these prior studies. Similarly, we found this mass to represent ∼20% of total body mass in slaughter age chickens (see Part I; Tickle et al., 2014). Part I revealed how enlarged pectoral muscle mass, among other anatomical changes, may compromise the efficacy of the respiratory apparatus. Here we show how these changes influence the locomotor ability of the broiler.
Supplemental Information
Supplementary Material
The material provided are all of the data used to formulate the results and conclusions of this study. Please note that numbers within tables have been rounded to 2–3 decimal places where necessary. We provide pelvic limb bone dimensions (Tables 1 and 4), pelvic limb segment inertial properties data (Table 2) and whole body CoM position data (Table 3). We also provide muscle architecture data (Table 5), including muscle mass, length, fascicle length, pennation angle and physiological cross-sectional area across ontogeny.