The effect of tides on nearshore environmental DNA
School of Marine and Environmental Affairs, University of Washington

,

Seattle

,

WA

,

United States of America
Published

Accepted

Received
Academic Editor
Subject Areas

Keywords

eDNA

,

Metabarcoding

,

Ecological communities
Copyright

©

2018

Kelly et al.

Licence

This is an open access article distributed under the terms of the Creative Commons Attribution License, which permits unrestricted use, distribution, reproduction and adaptation in any medium and for any purpose provided that it is properly attributed. For attribution, the original author(s), title, publication source (PeerJ) and either DOI or URL of the article must be cited.
Cite this article

2018

.

The effect of tides on nearshore environmental DNA

.

PeerJ

6

:

e4521

https://doi.org/10.7717/peerj.4521
Abstract
We can recover genetic information from organisms of all kinds using environmental sampling. In recent years, sequencing this environmental DNA (eDNA) has become a tractable means of surveying many species using water, air, or soil samples. The technique is beginning to become a core tool for ecologists, environmental scientists, and biologists of many kinds, but the temporal resolution of eDNA sampling is often unclear, limiting the ecological interpretations of the resulting datasets. Here, in a temporally and spatially replicated field study using ca. 313 bp of eukaryotic COI mtDNA as a marker, we find that nearshore organismal communities are largely consistent across tides. Our findings suggest that nearshore eDNA from both benthic and planktonic taxa tends to be endogenous to the site and water mass sampled, rather than changing with each tidal cycle. However, where physiochemical water mass characteristics change, we find that the relative contributions of a broad range of organisms to eDNA communities shift in concert.
Introduction
As environmental DNA (eDNA) becomes an increasingly important tool in ecological research (Sigsgaard et al., 2016; Deiner et al., 2017), it is critical to understand how techniques for eDNA collection and analysis perform under real-world conditions (Port et al., 2016). In particular, we must characterize the spatial and temporal resolution of amplicon-sequencing studies in order to confidently identify ecological patterns in the field (O'Donnell et al., 2017); like any sampling technique, eDNA can reveal a phenomenon only where the effects of that phenomenon are sufficiently large to be detected above background variation (e.g., among replicates or time points).
Most efforts to quantify the behavior of eDNA in the field have taken the form of quantitative PCR (qPCR) studies, in which the concentration of a particular template DNA is measured over space or time. Notable recent examples include documenting degradation of DNA over tens of meters in the flow of artificial streams (Jerde et al., 2016), caging trout and measuring eDNA concentration at intervals downstream (Jane et al., 2015), estimating eDNA production and degradation over time in a static environment (Sassoubre et al., 2016), and estimating production and decay rates of eDNA from both caged and wild char in a field setting (Wilcox et al., 2016), among others (e.g., Thomsen et al., 2012; Deiner & Altermatt, 2014; Tillotson et al., 2018). For small planktonic organisms whose entire bodies are likely present in the sample itself, the roles of transport and degradation appear less critical (Medinger et al., 2010). In sum, although the precise findings vary by setting and details of the molecular assay employed, even with highly sensitive qPCR, the distance from its source that eDNA can reliably be detected appears to be small, on the order of 10–1,000 m.
By contrast, less work has focused on the behavior of eDNA as reflected in ecological amplicon-sequencing studies. Port and colleagues (2016) showed that vertebrate eDNA communities can be distinguished at intervals of 60 m in nearshore marine waters, and O'Donnell et al. (2017) suggested that a similar spatial scale (<75 m) pertains to a broader nearshore metazoan assay. These were each single-time-point snapshots of animal species in dynamic environments, however, and especially in marine and aquatic environments in which spatial and temporal scales are linked by bulk transport of water, fine spatial resolution could be obliterated by water movement.
Nearshore marine habitats are among the most physically dynamic and biologically diverse on earth (Helmuth et al., 2006). The movement of water associated with tide is a fundamental property of these environments (Babson, Kawase & MacCready, 2006), dramatically shaping the life histories and ecology of organisms that live there. Environmental DNA surveys hold particular promise for better understanding thousands of species that may co-occur at a single nearshore marine location. However, use of this technique in the intertidal zone requires a practical knowledge of the effects of tide on the presence of eDNA sequences. Also, more generally, the intertidal environment provides rigorous testing grounds in which to discern the origins of genetic material detected in eDNA surveys.
Given recent work suggesting that eDNA signals are predominantly highly localized in space and time (Thomsen & Willerslev, 2015, and references therein)—although in some circumstances, eDNA may travel some distance (Deiner & Altermatt, 2014)—we asked whether marine eDNA community composition changes over tidal cycles at a given location. A scenario in which eDNA communities change in unpredictable ways with each new tide would suggest an exogeneous origin for that DNA, such that DNA arrives at a site with incoming tides, drawn from a pool of organisms existing elsewhere. By contrast, consistent eDNA communities over multiple tidal cycles would strongly suggest an endogenous origin and highly localized signal.
Here, we find that nearshore COI eDNA community composition is not strongly influenced by tide, and instead remains largely consistent within each geographic location across multiple successive tides. However, where shifts in the physical and chemical aqueous environment occur, the eDNA community appears to change accordingly; this result is consistent across both planktonic and benthic taxa. It therefore seems likely that changes in aqueous habitat characteristics—not tide itself—yield changes in eukaryotic eDNA communities.
Methods
Field sampling
Our study design aimed to distinguish the effects of tide from site-level community differences and from sampling error. Consequently, we sampled each of three geographic locations (Fig. 1; GPS coordinates given in Table S1) in Hood Canal, Washington, USA, four times—twice during an incoming tide, and twice during an outgoing tide—over a ca. 28-hour period (Table 1). Despite its name, the Hood Canal is in fact a natural glacial fjord. We collected three 1-L water samples for eDNA analysis (ca. 10 m apart) at each site during each sampling event. No permits were required for collecting water samples, given the inherently public nature of saltwater in the United States. Each sample was collected at the surface (<1 m depth), using a ca. 3m-long pole with plastic collection bottle attached. We kept samples on ice until they could be processed, which occurred within hours of collection. We filtered 500 mL from each sample onto cellulose acetate filters (47 mm diameter; 0.45 um pore size) under vacuum pressure, and preserved the filter at room temperature in Longmire's buffer following Renshaw et al. (2015). Deionized water served as a negative control for filtering. We measured water temperature and salinity with a hand-held multiprobe (model HI-9828; Hanna Instruments, Inc., Woonsocket, RI, USA), as well as measuring salinity with a handheld manual refractometer; the latter instrument more reliably reflected lab calibrations, and we use these measurements here.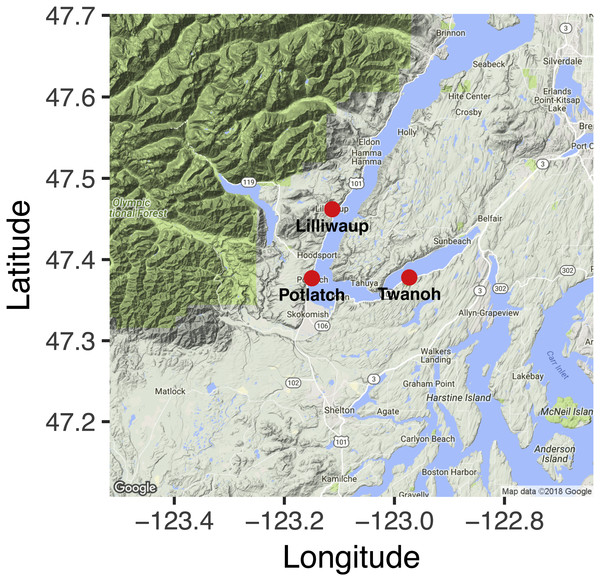 | | Incoming tide | Outgoing tide |
| --- | --- | --- |
| Lilliwaup | 5 | 6 |
| Potlatch | 6 | 6 |
| Twanoh | 6 | 6 |
DNA extraction, amplification, and sequencing
We extracted total DNA from the filters using a phenol:chloroform:isoamyl alcohol protocol following Renshaw et al. (2015), resuspended the eluate in 200 uL water, and used 1 uL of diluted DNA extract (1:10) as template for PCR. Although a single locus cannot completely characterize the biodiversity at a particular location (see, e.g., Kelly et al., 2017), we used a ca. 313 bp fragment of COI to assess the eukaryotic variance among our samples. This primer set (Leray et al., 2013) amplifies a broad array of taxa including representative diatoms, dinoflagellates, metazoans, fungi, and others; here, we simply use this primer set as an assay to characterize community similarity among samples. We followed a two-step PCR protocol to first amplify and then index our samples for sequencing, such that we could sequence many samples on the same sequencing run while avoiding amplification bias due to index sequence (O'Donnell et al., 2016). PCR mixes were 1X HotStar Buffer, 2.5 mM MgCl2, 0.5 mM dNTP, 0.3 µM of each primer and include 0.5 units of HotStar Taq (Qiagen Corp., Valencia, CA, USA) per 20 µL reaction. The first round of PCR consisted of 40 cycles, including an annealing touchdown from 62 °C to 46 °C (−1 °C per cycle), followed by 25 cycles at 46 °C. The indexing PCR used a similar protocol with only 10 cycles at 46 °C.
We generated three PCR replicates for each of 35 water samples (three samples per sampling event, four sampling events per site, 3 sites = 36 water samples, of which 35 were processed successfully), and sequenced each replicate individually in order to assess the variance in detected eDNA communities due to stochasticity during amplification. We simultaneously sequenced positive (Struthio camelus—ostrich—tissue, selected because of the absence of this species in our study sites) controls with identical replication. We carried negative controls through amplification; no amplification was visible via gel elecrophoresis in the negative controls, and fluorometry (Qubit; Thermo Scientific, Waltham, MA, USA) analysis showed negligible amounts of DNA present in those samples after amplification. We opted not to sequence the no-template controls for three reasons: first, there was no amplicon present in these samples, and carrying forward such samples is futile; second, one cannot generate equimolar libraries from samples with (i.e., experimental) and without (i.e., no-template control) amplicons, and therefore there is no straightforward way of comparing such samples quantitatively even if one did sequence no-template controls; and third, the purpose of no-template controls is to detect laboratory contamination and cross-contamination, and here, our positive controls and quality-control steps (see below) provided us a means of estimating and eliminating any such contamination prior to analysis.
Following library preparation according to manufacturers' protocols (KAPA Biosystems, Wilmington, MA, USA; NEXTflex DNA barcodes; BIOO Scientific, Austin, TX, USA), sequencing was carried out on an Illumina MiSeq (250 bp, paired-end) platform in two different batches: a MiSeq V.2 run and a MiSeq nano run. These were processed separately through the first stages of bioinformatics analysis (see below), and then combined after primer removal for dereplication. PCR replicates (derived from the same sampled bottle of water) sequenced on different runs clustered together without exception (see 'Results'), and thus combining the data from two sequencing runs was appropriate.
Bioinformatics
We processed the resulting sequence reads with banzai, a custom Unix-based script (O'Donnell, 2015), which calls third-party programs (Martin, 2011; Zhang et al., 2014; Mahé et al., 2015) to move from raw sequence data to a quality-controlled dataset of counts of sequences from operational taxonomic units (OTUs). A total of 5,105,198 reads survived preliminary quality-control in the bioinformatics pipeline, representing 149,829 OTUs, most of which were rare (<5 reads). We controlled for contamination in three ways, following our approach in Kelly et al. (2017). First, to address the question of whether rare OTUs are a function of low-level contamination or are true reflections of less-common amplicons, we used a site-occupancy model to estimate the probability of OTU occurrence (Royle & Link, 2006; Lahoz-Monfort, Guillera-Arroita & Tingley, 2016), using multiple PCR replicates of each environmental sample as independent draws from a common binomial distribution. We eliminated from the dataset any OTU with <80% estimated probability of occurrence (a break point in the observed distribution of occupancy probabilities), yielding a dataset of 4,811,014 reads (7,503 OTUs). Second, we estimated (and then minimized) the effect of potential cross-contamination among samples—likely due to tag-jumping (Schnell, Bohmann & Gilbert, 2015) or similar effects—as follows: (1) we calculated the maximum proportional representation of each OTU across all control (here, ostrich) samples, considering these to be estimates of the proportional contribution of contamination to each OTU recovered from the field samples; (2) we then subtracted this proportion from the respective OTU in the field samples, yielding 4,370,486 reads (7,496 OTUs). Finally, we dropped samples that had highly dissimilar PCR replicates (Bray–Curtis dissimilarities >0.49, which were outside of the 95% confidence interval given the best-fit model of the observed among-replicate dissimilarities). The result was a dataset of 4,164,517 reads (7,496 OTUs), or 81.57% of the post-pipeline reads. We rarefied read counts from each PCR replicate to allow for comparison across water samples using the vegan package for R (Oksanen et al., 2015), such that each sample consisted of 1.85 × 104 reads from 7,155 OTUs. We carried out subsequent analyses on a single, illustrative rarefaction draw; rarefaction draws did not vary substantially (Fig. S1).
All bioinformatics and other analytical code is included as part of this manuscript, including OTU tables and full annotation data, and these provide the details of parameter settings in the bioinformatics pipeline. In addition, sequence data are deposited and publicly available in GenBank (SRP133847).
Discussion
Environmental DNA is rapidly becoming an essential and widely-used tool to identify community membership in aquatic environments (Taberlet et al., 2012; Spear et al., 2015; Thomsen & Willerslev, 2015; Kelly et al., 2016; Yamamoto et al., 2016; Deiner et al., 2017). But it is not yet clear to what extent the sequences identified in eDNA studies reflect the presence of local organisms in time and space (Jane et al., 2015; Port et al., 2016; Wilcox et al., 2016). Of particular interest in marine systems is the influence of tide on the detection of ecological communities: must sampling schemes standardize tidal height and direction during collection to detect consistent groups of species? Does each tide bring with it a turnover in water, carrying exogenous DNA, or do the sequences detected at any given time accurately reflect the species present within a habitat in that moment? But more generally for eDNA studies, to what extent must we worry about where DNA comes from and where it goes? To address these questions, we collected and analyzed eDNA communities at three different sites along the Hood Canal over the course of multiple tidal turnovers. Thus, for each site, we were able to examine the influence of reversals in tidal direction and larger-scale changes in the water present at our study sites.
When analyzed together, eDNA collections from three locations (Lilliwaup, Potlatch, and Twanoh) show substantial variance in OTU membership and prevalence associated primarily with geographic location (Fig. 2). Grouping of samples in ordination space is also strongly associated with site, rather than with tide (Fig. 4A). Together, these results suggest that eDNA surveys designed to clarify relationships between distinct ecological communities are not likely to suffer substantially from sample collection at varying points in the tidal cycle, because the twice-daily exchange of water into- and out of our sampling sites appeared to have little influence on the sequences detected overall.
Although the effect of tide on eDNA community composition is small when multiple geographic sites are considered simultaneously, tidal direction may still influence the OTUs detected within a single location. The existence of among-site differences in ecological communities in fact provides the resolution necessary to detect such a local influence of tide, if present—exogenous DNA arriving periodically with tidal flow at each site might closely resemble neighboring communities, and differ consistently from endogenous DNA collected on the ebb tide, which has spent hours in contact with local benthic flora and fauna. A site-by-site analysis reveals that a significant proportion of the variance in OTU counts is associated with tide, but never as much as is associated with differences between sampling events (Fig. 2). These results suggest community variance among individual sampling events, although small in an absolute sense, dominates changes at the site scale and accordingly that there is no coherent incoming- or outgoing-tide eDNA fauna. Additionally, the eDNA community present at a single site tends to drift little over time and with successive tidal turnovers (Fig. 3), instead changing in association with changes in salinity and temperature of the water mass present at the time of sampling (Fig. 6, Fig. S3). Together, these results suggest that the effect of tidal flow, per se, on eDNA community membership is minimal relative to the differences associated with changes in water characteristics and geographic site.
Rather than tide, ecological variables such as temperature and salinity, each of which differ among sites and sampling events, drive the bulk of the variance in eDNA community membership (Fig. 6 and multiple regression). At Twanoh, we sampled by chance a dramatic shift in species composition from community 2 to community 1 within the span of just a few hours, and a concomitant shift towards warmer, more saline water relative to baseline. Of the seven families most notably associated with this turnover, four single-celled planktonic taxa (Triparmaceae, Oxytoxaceae, Mamiellaceae, and Bathycoccoceae) increased in OTU count with intrusion of the warmer, saltier water mass. By contrast, two families with benthic adults (Balanidae and Scytosiphonaceae) and one planktonic animal (Arctiideae) decreased (Fig. 7). More generally, we saw Family-level associations with salinity across a wide variety of taxa and life-histories (Fig. S8). These results broadly suggest that this particular eDNA survey methodology succeeds in identifying changes in the planktonic species physically present within the water column at the time of sampling as well as detecting benthic or sessile species; the entrance and exit of a water mass with characteristics more common at neighboring sites diminishes (but does not eradicate) the signal from non-planktonic groups. The sequenced eDNA community therefore reflects contributions from both organisms living within the water itself, as well as immobile species in contact with that more mobile community.
Conclusion
Taken together, our results suggest that eDNA samples from even highly dynamic environments reflect recent contributions from local species. With the exception of the occasional movement of water masses representing distinct habitats for planktonic organisms, the eDNA communities we sampled at three geographic sites were largely stable over time and tide. Practically, this suggests that intertidal eDNA research should be performed with substantial attention to ecological variables such as temperature and salinity, which serve as markers of the aqueous habitat present and which may not remain consistent geographically. In contrast, tidal turnover itself appears to be a secondary consideration that does not dramatically or consistently affect the community sampled, even within a single geographic location. Marine intertidal eDNA surveys therefore appear to reflect the endogenous DNA of the organisms present in the water and on the benthic substrate at the time of sampling.
Supplemental Information
Supplemental Figures and Tables
Analytical code
Complete analytical code for generating the analysis and manuscript.
Dependency data
Data upon which the analysis depend.