Evidence-based design and evaluation of a whole genome sequencing clinical report for the reference microbiology laboratory
1
Department of Computer Science, University of British Columbia

,

Vancouver

,

British Columbia

,

Canada
2
School of Population and Public Health, University of British Columbia

,

Vancouver

,

British Columbia

,

Canada
3
British Columbia Centre for Disease Control

,

Vancouver

,

British Columbia

,

Canada
Published

Accepted

Received
Academic Editor
Subject Areas

Keywords

Human-centered design

,

Next generation sequencing

,

Report

,

Tuberculosis

,

Genome
Copyright

©

2018

Crisan et al.

Licence

This is an open access article distributed under the terms of the Creative Commons Attribution License, which permits unrestricted use, distribution, reproduction and adaptation in any medium and for any purpose provided that it is properly attributed. For attribution, the original author(s), title, publication source (PeerJ) and either DOI or URL of the article must be cited.
Cite this article

2018

.

Evidence-based design and evaluation of a whole genome sequencing clinical report for the reference microbiology laboratory

.

PeerJ

6

:

e4218

https://doi.org/10.7717/peerj.4218
Abstract
Background
Microbial genome sequencing is now being routinely used in many clinical and public health laboratories. Understanding how to report complex genomic test results to stakeholders who may have varying familiarity with genomics—including clinicians, laboratorians, epidemiologists, and researchers—is critical to the successful and sustainable implementation of this new technology; however, there are no evidence-based guidelines for designing such a report in the pathogen genomics domain. Here, we describe an iterative, human-centered approach to creating a report template for communicating tuberculosis (TB) genomic test results.
Methods
We used Design Study Methodology—a human centered approach drawn from the information visualization domain—to redesign an existing clinical report. We used expert consults and an online questionnaire to discover various stakeholders' needs around the types of data and tasks related to TB that they encounter in their daily workflow. We also evaluated their perceptions of and familiarity with genomic data, as well as its utility at various clinical decision points. These data shaped the design of multiple prototype reports that were compared against the existing report through a second online survey, with the resulting qualitative and quantitative data informing the final, redesigned, report.
Results
We recruited 78 participants, 65 of whom were clinicians, nurses, laboratorians, researchers, and epidemiologists involved in TB diagnosis, treatment, and/or surveillance. Our first survey indicated that participants were largely enthusiastic about genomic data, with the majority agreeing on its utility for certain TB diagnosis and treatment tasks and many reporting some confidence in their ability to interpret this type of data (between 58.8% and 94.1%, depending on the specific data type). When we compared our four prototype reports against the existing design, we found that for the majority (86.7%) of design comparisons, participants preferred the alternative prototype designs over the existing version, and that both clinicians and non-clinicians expressed similar design preferences. Participants showed clearer design preferences when asked to compare individual design elements versus entire reports. Both the quantitative and qualitative data informed the design of a revised report, available online as a LaTeX template.
Conclusions
We show how a human-centered design approach integrating quantitative and qualitative feedback can be used to design an alternative report for representing complex microbial genomic data. We suggest experimental and design guidelines to inform future design studies in the bioinformatics and microbial genomics domains, and suggest that this type of mixed-methods study is important to facilitate the successful translation of pathogen genomics in the clinic, not only for clinical reports but also more complex bioinformatics data visualization software.
Introduction
Whole Genome Sequencing (WGS) is quickly moving from proof-of-concept research into routine clinical and public health use. WGS can diagnose infections at least as accurately as current protocols (Fukui et al., 2015; Loman et al., 2013), can predict antimicrobial resistance phenotypes for certain drugs  (Bradley et al., 2015; Pankhurst et al., 2016; Walker et al., 2015) with high concordance to culture-based testing methods, and can be used in outbreak surveillance to resolve transmission clusters at a resolution not possible with existing genomic or epidemiological methods (Nikolayevskyy et al., 2016). Importantly, WGS offers faster turnaround times compared to many culture-based tests, particularly for antimicrobial resistance testing in slow-growing bacteria.
As reference microbiology laboratories move towards accreditation of WGS for routine clinical use, the community is turning its attention toward standardization—developing standard operating procedures for reproducible sample handling, sequencing, and downstream bioinformatics analysis (Budowle et al., 2014; Gargis, Kalman & Lubin, 2016). Reporting genomic microbiology test results in a way that is interpretable by clinicians, nurses, laboratory staff, researchers, and surveillance experts and that meets regulatory requirements is equally important; however, relatively little effort has been directed toward this area. WGS clinical reports are often produced in-house on an ad hoc, project-by-project basis, with the resulting product not necessarily meeting the needs of the many stakeholders using the report in their clinical and surveillance workflows.
Human-centered design in the clinical laboratory
The information visualization, human–computer interaction, and usability engineering fields offer techniques and design guidelines that have informed bioinformatics tools, including Disease View (Driscoll et al., 2011) for exploring host-pathogen interaction data and Microreact (Argimón et al., 2016) for visualizing phylogenetic trees in the context of epidemiological or clinical data. Although the public health community is beginning to recognize the potential role of visualization and analytics in daily laboratory workflows (Carroll et al., 2014) these techniques have not yet been applied to routine reporting of microbiological test results. However, work from the human health domain—particularly the formatting and display of pathology reports, where standardization is critical (Leslie & Rosai, 1994)—sheds light on the complex task of clinical report design.
Valenstein reports four principles for organizing an effective pathology report: use headlines to emphasize key points, ensure design continuity over time and relative to other reports, consider information density, and reduce clutter (Valenstein, 2008), while Renshaw et al. (2014) note that when pathology report templates were reformatted with numbering and bolding to highlight required information, template completion rates rose from 84 to 98%. Fixed, consistent layout of medical record elements, highlighting of data relative to background text, and single-page layout improve clinicians' ability to locate information (Nygren, Wyatt & Wright, 1998), while information design principles, including visually structuring the document to separate different elements and organizing information to meet the needs of multiple stakeholder types, can reduce the number of errors in data interpretation (Wright, Jansen & Wyatt, 1998).
Work in the electronic health record (EHR) and patient risk communication domains has also provided insight into not just the final product but also the process of effective design. Through quantitative and qualitative evaluations, research has shown that some EHRs are difficult to use because they were not designed to support clinical tasks and information retrieval, but rather data entry (Wright, Jansen & Wyatt, 1998). Reviews of the risk communication literature note that, while many visual aids improve patients' understanding of risk (Zipkin et al., 2014), the design features that viewers preferred—namely simplistic, minimalist designs—were not necessarily those that led to an accurate interpretation of the underlying data (Ancker et al., 2006). Together, these gaps indicate a need for a human-centered, participatory approach iteratively incorporating both design and evaluation (Hettinger, Roth & Bisantz, 2017; Horsky et al., 2012).
Collaboration context—COMPASS-TB
The COMPASS-TB project was a proof-of-concept study demonstrating the feasibility and utility of WGS for diagnosing tuberculosis (TB) infection, evaluating an isolate's antimicrobial sensitivity/resistance, and genotyping the isolate to identify epidemiologically related cases (Pankhurst et al., 2016). On the basis of COMPASS-TB's results, Public Health England (PHE) has implemented routine WGS in the TB reference laboratory (PHE, 2016); however, this requires changing how mycobacteriology results are reported to clinical and public health stakeholders. The COMPASS-TB pilot used reports designed by the project team, but as clinical implementation within PHE progressed, team members expressed an interest in redesigning the report (Fig. 1) to facilitate interpretation of this new data type and align laboratory reporting practices with the needs of multiple TB stakeholders.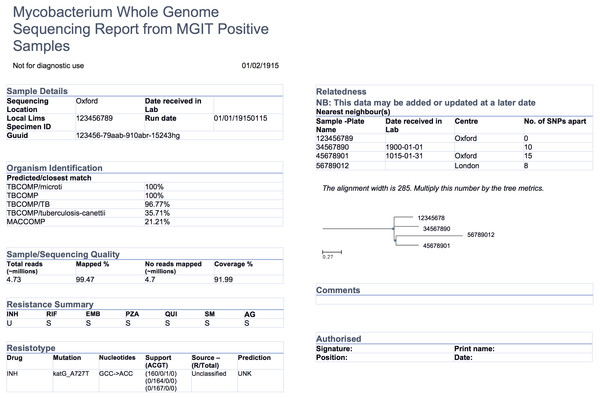 We undertook a mixed-methods and iterative human-centered approach to inform the design and evaluation of a clinical TB WGS report. Specifically, we chose to use Design Study Methodology (Sedlmair, Meyer & Munzner, 2012)—an approach adopted from the information visualization discipline. When using a Design Study Methodology approach, researchers examine a problem faced by a group of domain specialists, explore their available data and the tasks they perform in reference to that problem, create a product—in our case a report, but, in the more general case, a visualization system—to help solve the problem, assess the product with domain specialists, and reflect on the process to improve future design activities. Compared to an ad hoc approach to design, Design Study Methodology engages domain specialists and grounds the design and evaluation of the visualization system in tasks—in this case TB diagnosis, treatment, and surveillance—as well as data. It is this marriage of data and tasks to design choices, informed by real needs and supported by empirical evidence, that results in a final product that is relevant, usable, and interpretable.
Here we describe our application of Design Study Methodology to the COMPASS-TB report redesign. Targeting clinical and public health stakeholders with at least some familiarity with public health genomics, we show how evidence-based design can be incorporated into the emerging field of clinical microbial genomics, and present a final report template, which may be ported to other organisms. We also recommend a set of guidelines to support future applications of human-centered design in microbial genomics, whether for report designs or for more complex bioinformatics visualization software.
Results
Expert consults, the Task and Data Questionnaire, and the Design Choice Questionnaires recruited a total of 78 participants across different roles in TB management and control (Table 1).
Expert consults
Task and data questionnaire
Design choice questionnaire
Stage
Discovery
Design
Data Collected
Qualitative
Quantitative
Qualitative & Quantitative
Participants
N (% survey total)
N (% survey total)
N (% survey total)
Clinician
2
29%
7
40%
13
25%
Nurse
1
14%
3
18%
5
9%
Laboratory
2
29%
3
18%
8
15%
Research
0
0%
1
6%
8
15%
Surveillance
1
14%
3
18%
8
15%
Other*
1
14%
0
0%
12
21%
Total
7
100%
17
100%
54
100%
*
National Reference Laboratory Service.
Discussion
Microbial genomics is playing an increasingly important role in public health microbiology, and its successful implementation in the clinic will rely not just on validation and accreditation of WGS-based tests, but also in how effective the resulting reports are to stakeholders, including clinicians. Using Design Study Methodology, we developed a two-page report template to communicate WGS-derived test results related to TB diagnosis, drug susceptibility testing, and clustering.
To our knowledge, this project is the first formal inquiry into human-centered design for microbial genomics reporting. We argue that the application of human-centered design methodologies allowed us to improve not only the visual aesthetics of the final report, but also its functionality, by carefully coupling stakeholder tasks, data, and constraints to techniques from information and graphic design. Giving the original report a "graphic design facelift" would not have improved the functionality, as some of the information in the original report was found to be unnecessary, presented in a way that could lead to misinterpretation, or did not take into account stakeholder constraints. For example, interviews and surveys revealed procedural and data constraints our study team had not anticipated, including the limited time available for clinicians to read laboratory reports and the need for simple, black and white formatting amenable to media ranging from electronic delivery to fax—these findings were critical to shaping the downstream design process. Furthermore, in nearly every case, study participants preferred our alternative design elements, informed by empirical findings in the discovery stage, over the control elements derived from the original report. Our approach also suggested that some participants are not confident in their ability to interpret certain types of genomic data. As WGS moves towards routine clinical use, it is clear that successful implementation of genomic assays will also require complementary education and training opportunities for those individuals regularly interacting with WGS-derived data.
Although human-centered information visualization design methodologies are commonly used in software development, it could be asked whether they are warranted in a report design project. One advantage of tackling the simpler problem of report design is that it allows us to demonstrate Design Study Methodology in action and link evidence to design decisions more clearly than with a software product. We also collected data with the intention of applying it to the development and evaluation of more complex reporting and data visualization software that we plan to create. Similarly, others can use our approach or our data to inform the design of simple or complex applications elsewhere in pathogen genomics and bioinformatics.
The exploratory nature of this project brings with it certain limitations. First, our participants were identified through convenience and snowball sampling within the authors' networks, and thus are likely to be more experienced with the clinical application of microbial genomics. While this is appropriate for the context of our collaboration, in which our goal is redesigning a report for use by the COMPASS-TB team and collaborating laboratories, it does limit our ability to generalize the findings to other settings. WGS is only used routinely in a small number of laboratories, and even if its reach were larger, these may be settings where English is not the first language used in reporting clinical results, or where written text is read in different ways—both of which would affect our design choices. Second, we did not have a priori knowledge of the effect sizes (i.e., extent of preferential difference for each type of question) in the Design Choice Questionnaire, making sample size calculations challenging. Had a priori effect sizes been available, the study could be powered, for example, for the smallest or average effect size. To avoid mis-characterizing our results, we have relied on primarily descriptive statistics, without tests for statistical significance, and assert that our findings are best interpreted as first steps toward a better understanding how information and visualization design can play a role in reporting pathogen WGS data. However, when confidence intervals were calculated for the results of the Design Choice Questionnaire, we observed that non-overlapping confidence intervals separated user preferences as well as the deviation from a random score metric that we primarily used in our analysis. We argue the latter is a useful measure for exploratory studies without clear a priori knowledge of effect sizes for proper sample size calculations. Finally, we did not undertake a head-to-head experimental comparison between the original report design and the revised design. While this comparison had been planned at the outset of our project, the results of the Design Choice Questionnaire showed such a clear preference for the alternative designs when comparing isolated components that we concluded there was no need for such a final test as it would yield little new evidence.
For researchers wishing to undertake a similar human-centered design approach, we have summarized our primary findings into three experimental guidelines and five design guidelines. These guidelines arose from our experience throughout this report redesign process, but are intended to apply generally to the process of designing visualizations for microbial genomic data or other human health-related information.
The three experimental guidelines reflect the areas of the design methodology that we found to be particularly important in our data collection and analysis as well as the final report design process. First, design around tasks. It is tempting to simply ask stakeholders what they want to see in a final design, but many of them will not be able to create an effective end product because design is not their principal area of expertise. However, stakeholders know very well what they do on a daily basis and can indicate data that are relevant to those specific tasks and can indicate in which areas they require more support. The role of the designer is to marry those tasks, clinical workflows, and constraints into design alternatives. Depending on the tasks and context, many design alternatives might be possible, making use of colour, more complex visualizations, or interactivity. In other situations, such as the one presented here, design constraints limit the range of prototypes that can be generated. Second, compare isolated components, and not just whole systems. Here we use system to mean either a simple report or a more complex software system. Comparing whole systems can overload an individual's working memory, meaning they may rely on heuristics such as preferences around style or distracting elements, when assessing and comparing full systems (Shah & Oppenheimer, 2008). Presenting isolated design elements and controlling for non-tested factors (i.e., font, text) can reduce the burden on working memory and isolate the effect of design alternatives. Finally, compare against a control whenever possible. If a prior report or system exists, or if there are commonly agreed upon conventions in the literature or field, it is useful to compare novel designs against an existing one. More generally, comparison of multiple alternatives is the most critical defense against defaulting to ad hoc designs and the most important step of our human-centered design methodology.
Our five design guidelines reflect techniques from information visualization and graphic design that we used in an attempt to improve the readability of the report and balance different stakeholder information needs. First, structure information such that it mimics a stakeholder's workflow. In this case, the report prioritizes a clinical workflow, and this workflow is reflected in the report's design through the use of gestalt principles (Moore & Fitz, 1993)—treating the whole as greater than the sum of its parts. Specifically, we group related data and order information hierarchically, so that the document is read according to the clinical narrative we established in the Discovery phase. Second, use emphasis carefully. Here, bolding, text size, and shading were reserved to highlight important data and were not applied to aesthetic aspects of the report design. Third, present dense information in a careful and structured manner. Stakeholders should not have to search for relevant information—a cognitively expensive task (Chang et al., 2012) that can result in information loss (Shneiderman, 1996). Through the combination of gestalt, visual hierarchy, and careful use of emphasis, it is possible to present a lot of information by creating two layers: a higher-level "quick glance" layer and a more detailed lower layer. The quick glance layer should contain the relevant and clinically actionable information and should be visually salient (i.e., "pop-out"), while the detailed layer should be less visually salient and contain additional information that some, but not all, stakeholders may wish to have (based on their tasks and data needs). Fourth, use words precisely. Specific terminology may not be uniformly understood or consistently interpreted by stakeholders, particularly when the designer and the stakeholders come from different domains, or even when individuals in the same domain have markedly different daily workflows, such as bioinformaticians and clinicians. Finally, if using images, do so judiciously. Images can be distracting when they do not convey actionable information relevant to the stakeholder.
Conclusions
We applied human-centered design methodologies to redesign a clinical report for a reference microbiology laboratory, but the techniques we used—drawn from more complex applications in information visualization and human–computer interaction—can be used in other scenarios, including the development of more complex data dashboards, data visualization or other bioinformatics tools. By introducing these techniques to the microbial genomics, bioinformatics, and genomic epidemiology communities, we hope to inspire their further use of evidence-based, human-centric design.
Supplemental Information
Supplemental Materials