The role of biomaterials in the treatment of meniscal tears
1
School of Health, Medical and Applied Sciences, Central Queensland University

,

Rockhampton

,

Queensland

,

Australia
2
Advanced Medical Solutions

,

Plymouth

,

UK
Published

Accepted

Received
Academic Editor
Subject Areas

Keywords

Knee meniscus; biomaterials

,

Tissue engineering

,

Materials science

,

Scaffolds

,

Biomaterials
Copyright

©

2017

Kean et al.

Licence

This is an open access article distributed under the terms of the Creative Commons Attribution License, which permits unrestricted use, distribution, reproduction and adaptation in any medium and for any purpose provided that it is properly attributed. For attribution, the original author(s), title, publication source (PeerJ) and either DOI or URL of the article must be cited.
Cite this article

2017

.

The role of biomaterials in the treatment of meniscal tears

.

PeerJ

5

:

e4076

https://doi.org/10.7717/peerj.4076
Abstract
Extensive investigations over the recent decades have established the anatomical, biomechanical and functional importance of the meniscus in the knee joint. As a functioning part of the joint, it serves to prevent the deterioration of articular cartilage and subsequent osteoarthritis. To this end, meniscus repair and regeneration is of particular interest from the biomaterial, bioengineering and orthopaedic research community. Even though meniscal research is previously of a considerable volume, the research community with evolving material science, biology and medical advances are all pushing toward emerging novel solutions and approaches to the successful treatment of meniscal difficulties. This review presents a tactical evaluation of the latest biomaterials, experiments to simulate meniscal tears and the state-of-the-art materials and strategies currently used to treat tears.
Introduction
The knee is considered a hinge joint; however, because it also features characteristics of an arthrodial joint, it is a more complex joint than other hinge joints such as the elbow and ankle. The knee consists of two articulations which form the tibiofemoral joint (further separated into the medial and lateral tibiofemoral joints) and the patellofemoral joint. The articulations are not entirely congruent and this arrangement allows for the combination of gliding and rolling motions which is constrained mainly by the ligaments of the knee. The menisci are fibrocartilagenous structures that sit on top of tibia to deepen the plateaus with the primary functions transmitting load through the joint and also serve to increase joint stability and lubrication of the articular cartilage (Seedhom, Dowson & Wright, 1974; Walker & Erkman, 1975; McDermott, Masouros & Amis, 2008).
The menisci are commonly injured due to traumatic events and/or degenerative stresses. In the United States alone, it was estimated that approximately 6.6 million patient visits to the emergency department between 1999 and 2008 were due to knee injuries equating to 2.29 knee injuries per 1,000 people (Gage et al., 2012; Reid et al., 2017). Furthermore, by 2060 the percentage of people reaching an age of 50 will reach 50% representing a change in population demographic and likelihood for pressures in the knee. A large proportion of knee injuries in the general population are meniscal related and meniscal injuries are even more common in a physically active population (Baker et al., 1985; Nielsen & Yde, 1991). Given the role meniscal tears, and subsequent partial or full removal of the meniscus, play in development of osteoarthritis (Englund, Roos & Lohmander, 2003; Roos et al., 1998) there is an increased interest in preservation of these structures following injury. For this reason, there is also an increased interest the role biomaterials play in meniscal repair, regeneration and replacement options.
Advances in materials technology have brought about an increased usage of biomaterials and medical devices in the body (Hallab, Link & McAfee, 2003; Chevalier, 2006; Yamamoto, Takagi & Ito, 2016). A biomaterial is a material or substance or combination of substances, other than drugs, synthetic or natural in origin, which can be used for any period of time (Bochyńska et al., 2016c; Brannigan & Dove , 2017; Kaur, 2017), which augments or replaces partially or totally any tissue, organ or function of the body in order to improve the quality of life of an individual (Bergmann & Stumpf, 2013). The biomaterial must be able to interact with the surrounding human tissue and body fluids to improve or replace the anatomical defect. Some examples of the recent advances for biomaterial use in medicine include knee and hip replacement (Walczak, Shahgaldi & Heatley, 1998; Bahraminasab & Farahmand, 2017), ocular implants (Lloyd, Faragher & Denyer, 2001; Baino et al., 2017; Mota et al., 2017), heart valves (Vongpatanasin, Hillis & Lange, 1996; Vander Roest & Merryman, 2016; Emmert & Hoerstrup, 2017), bone implants (Bròdano et al., 2014; Apicella et al., 2017), dental implants (Tamimi et al., 2014), biosensors (Sun et al., 2014; Calvo et al., 2017), orthopaedic screws and sutures (Waizy et al., 2014; Zhao et al., 2017) and tissue allografts (Cameron & Saha, 1997; Sanen et al., 2017). The achievements, in terms of biocompatibility, to lower risk of failure and improved surgical outcomes have contributed to the expanding use of biomaterials. For these reasons advancements in biomaterial development is and has been a significantly fast-growing area of research.
This review article will focus on providing a general review of the menisci and meniscal injuries. We also discuss biomaterials and the subsequent role biomaterials play in the surgical treatment options for meniscal repair, regeneration and replacement as well as future directions. While other reviews have been developed, their focus has been to provide an overview of materials only, this review provides significant detail on cell lines used, models and materials to support research momentum for future developmental medical breakthroughs.
Meniscus
Biomechanics and function
The menisci are fibrocartilage structures, composed mainly of type 1 collagen, that sit on top of tibia, Fig. 1.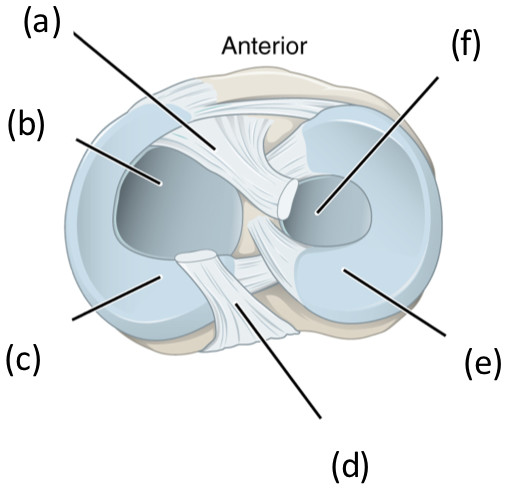 The lateral meniscus (e) is a C-shaped structure that covers approximately 80% of the lateral tibial plateau whereas the medial meniscus (c) is a U-shaped structure and covers only 60% of the medial tibial plateau. The menisci are relatively avascular with only 10–30% of the peripheral region of the medial meniscus and 10–25% of the lateral meniscus being vascular (Arnoczky & Warren, 1982). Based on its vascularisation, the menisci can be divided into three zones: the red-red vascular zone (outer peripheral region), the white-white avascular zone (inner region) and the red-white zone which lies between of the two other zones and has characteristics of other two zones. The red vascular region is thick and convex and attaches to the capsule of the joint whereas the white-white inner region is thin, concave and is a free edge unattached to the joint.
The menisci effectively deepen the tibial plateau and allow smooth articulation between the tibial and femoral condyles and the transmission of loads across the tibiofemoral joint. In full knee extension, the medial meniscus transmits approximately 50% of the load on the medial compartment, while lateral meniscus transmits approximately 70% of the load in the lateral compartment (Walker & Erkman, 1975). As knee flexion increases the amount of load transmitted to the lateral meniscus increases such that when the knee is flexed beyond 75°the entire load that passes through the lateral compartment, is transmitted by the lateral meniscus (Walker & Erkman, 1975). For the medial meniscus the increase in load transmission as the knee flexes is less apparent (Walker & Erkman, 1975). When the meniscus is intact, the load is well distributed across the tibiofemoral compartment; however when part or the entire meniscus is removed there is considerable alterations to load distribution such that there is a decrease in the contact area and increases in peak contact forces (Bedi et al., 2012; Lee et al., 2006; Ihn, Kim & Park, 1993).
Meniscal tears
Meniscal tears are one of the most common intra-articular knee injuries (Clayton & Court-Brown, 2008; Majewski, Susanne & Klaus, 2006) and is typically the result of an axial loading and rotational forces which result in a shear load on the meniscus (Browner, 2009). This may be a result of a traumatic event or cumulative stress leading to degenerative tears. The medial meniscus is more often injured than the lateral (Majewski, Susanne & Klaus, 2006); however, lateral meniscal tears are more often associated with acute ACL tear (Bellabarba, Bush-Joseph & Bach Jr, 1997). Although there is no uniformly accepted classification of meniscal tears, the classifications typically involve a description of the tear pattern and location. Common tear patterns that typically originate from traumatic events include longitudinal, bucket-handle, and radial tears (Greis et al., 2002). Whereas horizontal, flap and complex tears are typically seen in older adults and due to cumulative stress resulting in degeneration (Greis et al., 2002). The location of the tears may be classified based on the zone classification system purposed by Cooper, Arnoczky & Warren (1990) in which the menisci are divided into three radial zones (anterior, medial and posterior) and four circumferential zones (meniscosynovial junction or periphery, outer third, middle third and inner third of the menisci) (Fig. 2).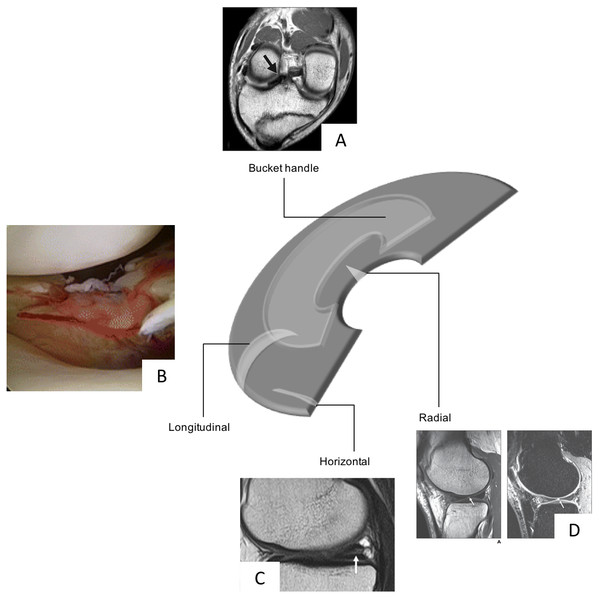 In a similar fashion to the zone classifications, tears may be graded as partial or full-thickness tears or using a grading scheme 0–III in which 0 indicates a normal intact menisci and III a full-thickness tear (Cooper, Arnoczky & Warren, 1990; Pihl et al., 2017).
Available treatment options
Meniscal tears account for a significant portion of surgical procedures performed by orthopaedic surgeons, the patient experiences significant pain and sometimes complete disability from these tears and resulting procedures (Berthiaume et al., 2005). The surgical procedures involved in the treatment of a meniscal tear may include a partial or full meniscectomy or a meniscal repair. The meniscectomy procedures involve either part or all of the damaged meniscus being removed which in turn leads to higher rates of osteoarthritis in subsequent years. Surgical treatment of meniscal injuries has undergone a number of developments over the past two decades, moving from open arthroscopic surgery; from total to partial meniscectomy and adding novel treatments; such as repair using a variety of devices, materials, transplants, collagen implants or xenografts (Kim et al., 2013; Jiang et al., 2012; Grogan et al., 2017; Baek et al., 2017). If meniscectomy takes place or insisted upon, this procedure is mainly due to changes in load distribution across the articular cartilage as studies have shown that following total meniscectomy peak contact pressures increase by 253% and 165% following partial meniscectomy (Lee et al., 2006; Baratz, Fu & Mengato, 1986; Beamer et al., 2017; Van Egmond et al., 2017). Following meniscectomy, there is also evidence of reduced muscle strength, altered gait patterns and clinical outcomes (Hall et al., 2013; Hall et al., 2014; McLeod et al., 2012; Sturnieks et al., 2008a; Sturnieks, Besier & Lloyd, 2011; Sturnieks et al., 2008b; Salata, Gibbs & Sekiya, 2010; Scholes et al., 2017). For these reasons, there are an increasing number of interests in performing meniscal repair. What needs to be remembered is that not all meniscal tears are suitable for repair, and thus other treatment options such as meniscal replacement and regeneration are of considerable interest when a surgical intervention is necessary to improve any pain and symptoms.
Biomaterials
Current treatment modalities for meniscal repair tears still carry their drawbacks and novel, robust and effective solutions are required. Some recent advances in meniscus research suggest that low cellularity, (King et al., 2017) dense ECM and poor vascularisation coupled with the inflammatory responses (King et al., 2017) in the knee joint are responsible for a lack of healing. Recently, biomaterials in the form of tissue adhesives have become available for clinical use: fibrin glue, (Bochyńska et al., 2016a) TissuGlu®, Dermabond®, (Balakrishnan et al., 2017) where the development of these new adhesive biomaterials has improved the properties of existing biomaterials alone (TissuGlu®, Raleigh, NC, USA; Ethicon Inc., Somerville, NJ, USA). Furthermore, these materials and strategies are not always a given success, presenting limitations to the accomplishment of the meniscal reparation.
Conclusions
Evidently, the diversity of biomaterials for meniscal applications is immense. Many approaches to mimicking the structure and function of the ECM have been conceived. It is crucial that these advances continue to be investigated for their ability to interact within a biological system. As biomaterials advance and new methods of delivery develop, inclusive of minimal invasive surgery move forward—the field of meniscal tears and treatment will be greatly advanced and if not greatly reduced in the coming decade.