Transcriptome sequencing reveals high isoform diversity in the ant Formica exsecta
Published

Accepted

Received
Academic Editor
Subject Areas

Keywords

Pool-seq

,

RNA-sequencing

,

Ants

, Transcriptome de novo assembly,

Hymenoptera

,

Transcriptomics
Copyright

©

2017

Dhaygude et al.

Licence

This is an open access article distributed under the terms of the Creative Commons Attribution License, which permits unrestricted use, distribution, reproduction and adaptation in any medium and for any purpose provided that it is properly attributed. For attribution, the original author(s), title, publication source (PeerJ) and either DOI or URL of the article must be cited.
Cite this article

2017

. Transcriptome sequencing reveals high isoform diversity in the ant Formica exsecta.

PeerJ

5

:

e3998

https://doi.org/10.7717/peerj.3998
Abstract
Transcriptome resources for social insects have the potential to provide new insight into polyphenism, i.e., how divergent phenotypes arise from the same genome. Here we present a transcriptome based on paired-end RNA sequencing data for the ant Formica exsecta (Formicidae, Hymenoptera). The RNA sequencing libraries were constructed from samples of several life stages of both sexes and female castes of queens and workers, in order to maximize representation of expressed genes. We first compare the performance of common assembly and scaffolding software (Trinity, Velvet-Oases, and SOAPdenovo-trans), in producing de novo assemblies. Second, we annotate the resulting expressed contigs to the currently published genomes of ants, and other insects, including the honeybee, to filter genes that have annotation evidence of being true genes. Our pipeline resulted in a final assembly of altogether 39,262 mRNA transcripts, with an average coverage of >300X, belonging to 17,496 unique genes with annotation in the related ant species. From these genes, 536 genes were unique to one caste or sex only, highlighting the importance of comprehensive sampling. Our final assembly also showed expression of several splice variants in 6,975 genes, and we show that accounting for splice variants affects the outcome of downstream analyses such as gene ontologies. Our transcriptome provides an outstanding resource for future genetic studies on F. exsecta and other ant species, and the presented transcriptome assembly can be adapted to any non-model species that has genomic resources available from a related taxon.
Introduction
Phenotypic variation can arise via differences in gene sequences or patterns of gene expression (Carroll, 2008; Simpson, Sword & Lo, 2011). Adaptive polyphenism is one of the most dramatic examples of how variation in gene expression can be translated into alternative phenotypes, the castes of social Hymenoptera (ants, social bees and social wasps) being a prime example (Gräff et al., 2007; Bonasio et al., 2010; Hunt et al., 2011; Colgan et al., 2011). The behavioural, physiological, and morphological differentiation between workers and reproductive queens, underlie the adaptive radiations and ecological importance of social Hymenoptera, especially ants (Wilson & Hölldobler, 2005). A diploid, fertilized hymenopteran egg is totipotent, i.e., has the genetic prospects to develop into a queen or a worker, and the developmental trajectory the egg takes among these alternatives is, with a few exceptions (Helms Cahan & Keller, 2003; Pearcy et al., 2004; Fournier et al., 2005), directly influenced by the nutrition and rearing conditions provided by workers (Schwander et al., 2010). These conditions presumably launch a cascade of differential gene expression of a few genes, with large pleiotropic effects at early larval instars causing them to develop into different female castes (Lattorff & Moritz, 2013). Importantly, caste determination is also controlled by epigenetic mechanisms that are regulated by the social environment, e.g., workers (Gräff et al., 2007; Weil, Korb & Rehli, 2009; Glastad et al., 2011; Zwier et al., 2012; Simola et al., 2013; Simola et al., 2016; Welch & Lister, 2014; Bonasio, 2014; Alvarado et al., 2015; Ashby et al., 2016).
Genetic causes and consequences of caste polyphenism have been studied mostly using preselected candidate genes (Abouheif, 2002; Hunt & Goodisman, 2010; Shbailat, Khila & Abouheif, 2010; Feldmeyer, Elsner & Foitzik, 2014), or based on phylogenetically limited comparisons of distantly related taxa (Hunt & Goodisman, 2010; Hunt et al., 2010; Ometto et al., 2011; Berens, Hunt & Toth, 2015). Current genomic resources of social insects are available for important pollinators such as honey bees and bumble bees (Colgan et al., 2011; Kocher et al., 2013; Elsik et al., 2014; Elsik et al., 2016; Kapheim et al., 2015; Sadd et al., 2015), and primitively eusocial paper wasps (Sumner, Pereboom & Jordan, 2006; Ferreira et al., 2013). For ants, genome sequences are currently available for 13, and transcriptomes for 23, species in the Fourmidable database (Wurm et al., 2009), including well studied species such as the invasive argentine ant (Linepithema humile), the fire ant (Solenopsis invicta), and the leaf cutting ant species (Acromyrmex echinatior and Atta cephalotes (Bonasio et al., 2010; Suen et al., 2011; Smith et al., 2011a; Smith et al., 2011b; Wurm et al., 2011; Nygaard et al., 2011; Gadau et al., 2012; Oxley et al., 2014; Schrader et al., 2014; Konorov et al., 2017). However, these data cover only a fraction of the genetic richness of the more than 11,000 described ant species, and over 100 million years of evolution (Wilson & Hölldobler, 2005). More genomic resources are therefore required for phylogenetically informative comparisons that thoroughly assess the genomic consequences of sociality.
RNA-sequencing (high throughput sequencing of transcriptomes) is a relatively inexpensive way to rapidly sequence the coding and expressed genes of a species (Vera et al., 2008). However, there are technical challenges in using the resulting transcriptome assembly (TA) data from non-model organisms in downstream applications in a robust manner, posing problems for the kind of comparative work outlined above. First, de novo transcriptome libraries usually have contaminations with exogenous RNA from e.g., the microbial flora of the species (Bonfert et al., 2013), as demonstrated by a meta-transcriptome of our study species (Johansson et al., 2013). Second, TA's include transcripts that fail to be annotated, and align poorly to even moderately related species. Such unannotated contigs (contiguous consensus sequences that are derived from collections of overlapping reads in the assembly process) may include orphan genes, or variable, and less known regulatory non-coding RNA (Wissler et al., 2013). However, unannotated contigs may also arise from assembly errors, intron retention, or non-functional transcripts, such as pseudogenes (Graveley et al., 2011). As long as the true status of these remains unsolved, removing them from the TA increases its accuracy, and facilitates species comparisons, yet this process also leads to loss of information. Third, unique loci in the genome may be represented in a TA by dozens of predicted isoforms, which typically are not assembled completely. Given this, and the potential for overprediction of isoforms (i.e., false isoforms), care must be taken to properly use the TA to obtain unbiased read counts for each gene (Tulin et al., 2013). One approach is to identify likely gene-isoform relationships, and sum the reads mapping to each of these fragments and isoforms, that are inferred to come from the same locus (Hornett & Wheat, 2012).
Here we present a transcriptome of the ant Formica exsecta (Formicidae; Hymenoptera), a common species throughout the Palearctic region. It has morphologically well-separated queen and worker castes, and forms perennial nests of some thousands of workers (Brown, Keller & Sundström, 2002; Vitikainen, Haag-Liautard & Sundström, 2011; Vitikainen, Haag-Liautard & Sundström, 2015). Genetic and social nest structure varies greatly, and each nest can have one or several queens that have mated with one or many males, which makes it a model species for kin conflicts (Sundström, Chapuisat & Keller, 1996; Brown, Liautard & Keller, 2003; Kummerli & Keller, 2007), social recognition (Martin et al., 2008; Martin et al., 2009; Van Zweden et al., 2011), and causes and consequences of inbreeding (Sundström, Keller & Chapuisat, 2003; Haag-Liautard et al., 2009; Vitikainen, Haag-Liautard & Sundström, 2011; Vitikainen, Haag-Liautard & Sundström, 2015).
We characterise the transcriptome of Formica exsecta, including different sexes, life stages, and castes to obtain a good representation of expressed genes with their possible isoforms, potentially useful as a genomic resource for future studies on ants, as well as other insects. The transcriptome was generated from paired-end RNA-seq on seven libraries: cocoons of workers and queens, young workers and queens newly emerged from cocoons, overwintered adult workers and queens, and a pooled library of males (cocoons and young males newly emerged from cocoons). In order to avoid the TA-related challenges outlined above, we took additional steps of documenting biological evidence for the discovered contigs, by validating them with published ant genomes and genomes of other insects, and clustering the predicted isoforms to unique genes. We also show that different life stages/castes of ants can have different genes expressed. This provides more comprehensive information on the potential number of expressed genes, and their isoform numbers in ants. Furthermore, we provide a commented guideline on the comparison of analysis procedures, i.e., how to obtain overall expression profiling without a reference genome.
Methods
Sampling and library sequencing
Samples were collected from six localities within a range of 50 km on the Hanko Peninsula, and the islands outside Tvärminne Zoological Station, SW Finland, between late April and July 2011 (Bioproject: PRJNA213662, Biosample: SAMN02297446–SAMN02297452 Johansson et al., 2013; Morandin et al., 2014; Morandin et al., 2015). Old reproductive queens and old overwintered workers were sampled directly from field colonies in late April and early May, when the queens aggregate at the colony surface. Old males are not available for analyses as they do not live past the mating season. Queen, male, and worker cocoons were collected from the same populations in late June and early July the same year, at an age when sex and caste can be visually assessed. The cocoons consisted of three stages: young (white cuticle and eyes), intermediate (white cuticle but pigmented eyes), and old (pigmented cuticle and eyes). Young males and queens were sampled prior to mating when they appeared at the surface of the nest, and were about to leave for their nuptial flight. Young workers were sampled within a week of eclosion, while still pale, compared to old workers. All samples were frozen directly after collections, and placed in −80 °C awaiting RNA extraction.
The samples were cleaned from visible exogenous material under a preparation microscope, and the total RNA was extracted from whole-ground ants individually in TriSure (Bioline, London, UK), following the manufacturers protocol. RNA quality was determined by assessing the integrity of ribosomal RNA with BioAnalyzer total RNA kit (Agilent, Santa Clara, CA, USA), and denaturing agarose electrophoresis. Subsequently each sample was pooled into seven RNA libraries (Table 1), so that total RNA of each sample had equal representation in the pool. The exception to this was the library of old workers, which could be equalized only between locations, due to the low quality of many extractions derived from old workers. The read data, and the details on RNA pools and sampling locations used here, correspond to the BGI-sequenced libraries in Johansson et al. (2013). In short, altogether 105 individuals from 56 colonies were included in the libraries, and seven RNA libraries were constructed to cover sexes, female castes, and life stages; the paired-end sequencing libraries were constructed and sequenced by the Beijing Genomic Institute BGI (China), according to the provider's pipeline. The total RNA pools were DNAse-treated and selected for mRNA using poly-A-tail selection, and subsequently fragmented. Approximately 200 base insert length fragments were selected for library construction. Paired-end sequencing was conducted on Illumina HighSeq 2000 platform, 90 bases paired-end reads at Beijing Genomics Institute (BGI Illumina, Inc.). The raw reads of the transcriptome are available on GenBank (https://www.ncbi.nlm.nih.gov/sra/) under Bioproject ID PRJNA213662, SRA accession numbers: SRR945908, SRR945909, SRR945910, SRR945911, SRR945912, SRR945913, and SRR945914.
Caste
Age
# Individuals
# Colonies
Sequencing library
Queen
Old overwintered
4
4
Library 1- Old Queen
New
8
4
Library 2- New Queen
Old cocoon
6
3
Library 3- Queen Cocoon
Intermediate cocoon
6
3
Young cocoon
6
3
Worker
Old overwintered
30
8
Library 4- Old Worker
New
15
6
Library 5- New Worker
Old cocoon
6
3
Library 6- Worker Cocoon
Intermediate cocoon
6
3
Young cocoon
6
3
Male
Adult
3
3
Library 7- Male Mix
Old cocoon
3
3
Intermediate cocoon
3
3
Young cocoon
3
3
Transcriptome assemblies
The workflow of the assembly process is outlined in Fig. 1. Before the assembly process, we combined multiple raw data files generated from different sexes, life stages, and castes (Table 1). Altogether the combined raw data contained RNA expression profiling data from 105 individuals. To assess the quality of each sequencing library, quality checks were performed separately without combining raw data. The quality of raw reads was assessed separately for forward and reverse reads with FastQC (Andrews, 2010). Forward and reverse reads were trimmed with the FastX toolkit (Version 0.0.13 Hannon, 2010) to equal length of 76 bp by removing the last 14 bp at the 3′-ends. After trimming, all reads were free from Illumina adapter contamination and primer dimers, paired data were without any orphan reads, and were of high quality (average ≥ 20 Q for all base positions on Phred scale). This resulted in 322 million clean read pairs for the TA (raw read processing summary table in File S1, Table S1A). These trimmed reads were assembled in four different stages of TA (Initial-TA, Meta-TA, Evidence-TA, and Unigene-TA) (Fig. 1).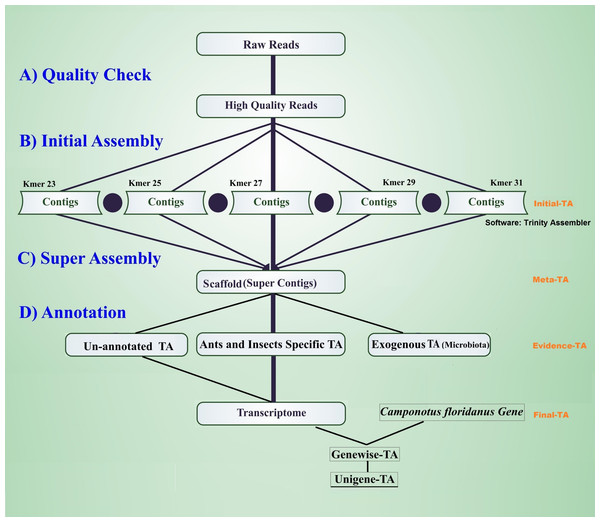 Conclusions
Given the rapid advances in transcriptomics of non-model organisms, with ever more comparative studies being carried out, it is all the more important that the transcriptomes are reliable. In this study we provide insights into essential criteria that should be taken into account for a reliable transcriptome assembly without a reference genome. First, we find that analyses relying on single life stages or morphs is likely to miss some genes due to low sequencing depth or expression at specific stage. Second, care should be taken in choosing the assembly methods, and different methods should be compared in order to find which one performs the best for a given species data set. In addition to this, filtering with a reference genome of a related species is necessary for quantifying transcript abundance, and doing functional and structural annotation of transcripts, so that isoforms are not analyzed as unique genes in downstream applications. This necessarily comes with the cost of losing orphan genes from the data. While the study of orphan genes is obviously valuable, for the purposes of facilitating species comparisons on various taxonomical scales, we opted for analyzing genes where annotations are available so that we can be sure we are working with true genes. Identifying isoform variation from unique genes allows studies on structural mRNA diversity in genes of interest, which may be evolutionarily more important than variation in expression levels.