Eocene Loranthaceae pollen pushes back divergence ages for major splits in the family
1
Department of Palaeontology, University of Vienna

,

Wien

,

Austria
2
The Exelixis Lab, Scientific Computing Group, Heidelberg Institute for Theoretical Studies

,

Heidelberg

,

Germany
Published

Accepted

Received
Academic Editor
Subject Areas

Keywords

Pollen morphology

,

Pollen as minimum age priors

,

Uncorrelated clock node dating

,

Topological uncertainty

,

Palaeophytogeography

,

Lineage-through-time plot

,

Santalales
Copyright

©

2017

Grímsson et al.

Licence

This is an open access article distributed under the terms of the Creative Commons Attribution License, which permits unrestricted use, distribution, reproduction and adaptation in any medium and for any purpose provided that it is properly attributed. For attribution, the original author(s), title, publication source (PeerJ) and either DOI or URL of the article must be cited.
Cite this article

2017

.

Eocene Loranthaceae pollen pushes back divergence ages for major splits in the family

.

PeerJ

5

:

e3373

https://doi.org/10.7717/peerj.3373
Abstract
Background
We revisit the palaeopalynological record of Loranthaceae, using pollen ornamentation to discriminate lineages and to test molecular dating estimates for the diversification of major lineages.
Methods
Fossil Loranthaceae pollen from the Eocene and Oligocene are analysed and documented using scanning-electron microscopy. These fossils were associated with molecular-defined clades and used as minimum age constraints for Bayesian node dating using different topological scenarios.
Results
The fossil Loranthaceae pollen document the presence of at least one extant root-parasitic lineage (Nuytsieae) and two currently aerial parasitic lineages (Psittacanthinae and Loranthinae) by the end of the Eocene in the Northern Hemisphere. Phases of increased lineage diversification (late Eocene, middle Miocene) coincide with global warm phases.
Discussion
With the generation of molecular data becoming easier and less expensive every day, neontological research should re-focus on conserved morphologies that can be traced through the fossil record. The pollen, representing the male gametophytic generation of plants and often a taxonomic indicator, can be such a tracer. Analogously, palaeontological research should put more effort into diagnosing Cenozoic fossils with the aim of including them into modern systematic frameworks.
Introduction
The Loranthaceae (order Santalales), a moderately large family comprising about 76 genera and over 1,000 species in five tribes (Nickrent, 1997 onwards; Nickrent et al., 2010), has a wide geographical distribution. Today, there is a relatively clear geographic split between a New World group (Psittacanthinae) and Old World-Australasian lineages (Elythrantheae and Lorantheae), which gave rise to the hypothesis that the initial Loranthaceae diversification was linked to the final phase of the Gondwana breakup in the Late Cretaceous (e.g. Barlow, 1990; Vidal-Russell & Nickrent, 2007). Only three of the more than 70 genera are root parasites and the rest are aerial branch parasites. Molecular studies on Loranthaceae (and Santalales in general) have thus focused on three issues: (1) clarifying the evolutionary relationships within the family (Vidal-Russell & Nickrent, 2008a); (2) explaining the transition from root to aerial parasitism (Wilson & Calvin, 2006); (3) dating the time of transition to aerial parasitism (Vidal-Russell & Nickrent, 2008b). All molecular studies using outgroups recognised the south-western Australian, root-parasitic, monotypic Nuytsia R. Br. (monogeneric tribe Nuytsieae; Nickrent et al., 2010) as the first diverging lineage in the family (Wilson & Calvin, 2006; Vidal-Russell & Nickrent, 2008a; Su et al., 2015). The other two Loranthaceae root parasites (Atkinsonia F. Muell., Gaiadendron G. Don; tribe Gaiadendreae) formed a grade to the New World aerial parasites (Wilson & Calvin, 2006; multiple origins of aerial parasitism) or all aerial parasitic genera of the family (Vidal-Russell & Nickrent, 2008a; Vidal-Russell & Nickrent, 2008b; Su et al., 2015; singular origin). Using a time-calibrated phylogeny, Vidal-Russell & Nickrent (2008b) concluded that Loranthaceae diverged from other Santalales lineages in the uppermost Cretaceous. The first radiation—the divergence of root parasites Nuytsia, Atkinsonia and Gaiadendron—was during the Eocene. The crown age of the aerial parasitic clade within the Loranthaceae, comprising the mostly New World Psittacantheae and Old World-Australasian Erytrantheae and Lorantheae, was placed in the middle Oligocene, approximately 28 Ma (estimated via a Bayesian relaxed clock and fixing the Santalales root to a maximum age of 114 Ma); a time characterised by global cooling (Zachos et al., 2001) and retreat of subtropical and tropical vegetation.
Although molecular and morphological interrelationships of Loranthaceae genera are considered now to be relatively clear (Nickrent et al., 2010; Su et al., 2015; but see Grímsson, Grimm & Zetter, 2017), the timing of divergence between the genera has not been cross-checked with available evidence from the fossil record (e.g. Muller, 1981; Song, Wang & Huang, 2004; Macphail et al., 2012). Also, the phytogeographic history of the family is based merely on the present distribution of its genera (e.g. Vidal-Russell & Nickrent, 2007) and has not yet been explored in detail (Vidal-Russell & Nickrent, 2008a, p. 1027). The latest hypothesis put forward was that Loranthaceae originated when South America, Antarctica and Australia were still connected, and that two large-scale migration events, one from New Zealand and one from Australia, shaped the modern distribution (Vidal-Russell & Nickrent, 2008a, 2008b). The single shift to aerial parasitism was estimated to be of middle Oligocene age. Thus, older fossil records, the oldest going back to the early Eocene (c. 50 Ma) in Australia, were considered to represent root parasites or extinct clades of aerial parasites (Macphail et al., 2012).
The outstanding work on the pollen morphology of extant Loranthaceae by Feuer & Kuijt (1979, 1980, 1985) and other Santalales lineages (Maguire, Wurdack & Huang, 1974; Feuer, 1977, 1978, 1981; Feuer & Kuijt, 1978, 1982; Feuer, Kuijt & Wiens, 1982) demonstrated that most pollen produced by members of the Loranthaceae cannot be confused with pollen from other angiosperm families (Grímsson, Grimm & Zetter, 2017). Grímsson, Grimm & Zetter (2017) distinguished four general types (Pollen Type A, B, C, D), of which only one (Pollen Type A) could be confused with pollen of other Santalales lineages, and would unlikely be recognised as Loranthaceae pollen if found in a fossil pollen sample. Combined application of light microscopy (LM), scanning-electron microscopy (SEM), and transmission electron microscopy (TEM) revealed that pollen morphologies—including the many variants of B-type pollen—are conserved at various taxonomic levels within Loranthaceae (Feuer & Kuijt, 1978, 1979, 1980, 1985; Caires, 2012; Grímsson, Grimm & Zetter, 2017). Thus, dispersed fossil pollen can aid in the reconstruction of past distributions of Loranthaceae lineages and shed light on the timing of the origin of the modern clades. Being the male gametophyte of a plant, pollen are generally conserved in morphology. Diagnostic (lineage-specific) pollen hence allow for the tracing of modern lineages deep into the past (e.g. Zetter, Hesse & Huber, 2002; Grímsson, Zetter & Hofmann, 2011; Grímsson et al., 2016).
Here, we describe new fossil Loranthaceae pollen grains from the middle Eocene of the United States, Greenland, Central Europe, and East Asia, and from the late Oligocene/early Miocene of Germany. The diagnostic morphological features of the pollen provided sufficient details to assign the fossil pollen to distinct lineages within the Loranthaceae. These fossil pollen represent the earliest unambiguous reports of the root parasitic Nuytsieae, and the presently aerial parasitic lineages Psittacanthinae, Elytrantheae and Lorantheae. Thus, they can be used as potential ingroup minimum age priors for node dating, and to refine our knowledge about the evolutionary history of the Loranthaceae.
Descriptions
Some lineages (tribes, subtribes) and genera of modern Loranthaceae are characterised by unique pollen morphologies (autapomorphies in a strict Hennigian sense) or specific pollen character suites (Grímsson, Grimm & Zetter, 2017). Nevertheless, we refrained from using genus names to address the fossil pollen types described here—even if the pollen was highly similar or indistinguishable from a modern counterpart—for several reasons: (1) intra- and interspecific variation is not comprehensively understood in Loranthaceae; (2) the generic concepts in Loranthaceae are under on-going revision, (3) monotypic modern lineages/genera could have been more widespread and diverse in the past; and (4) occurrence of fossils combining features of two or more genera or lineages. Thus, all pollen grains are classified as morphotypes (MT) named after the locality where they were found (Figs. 1–6).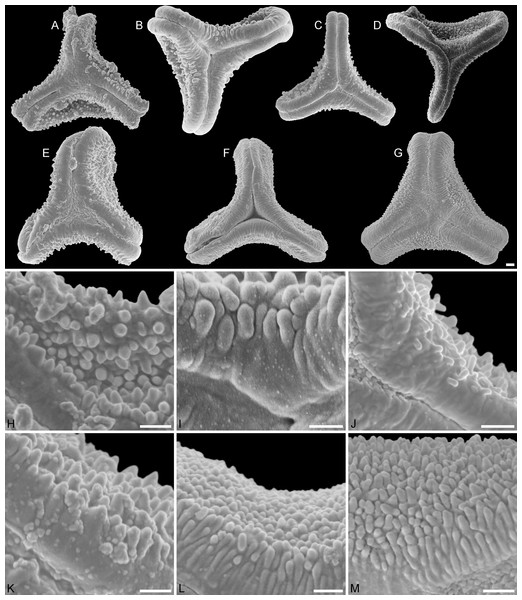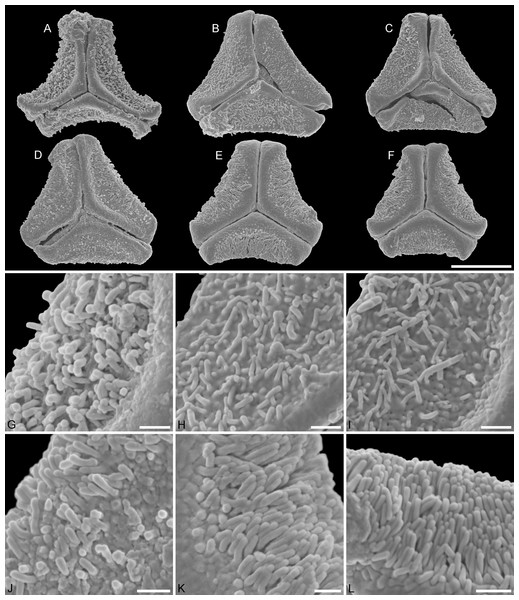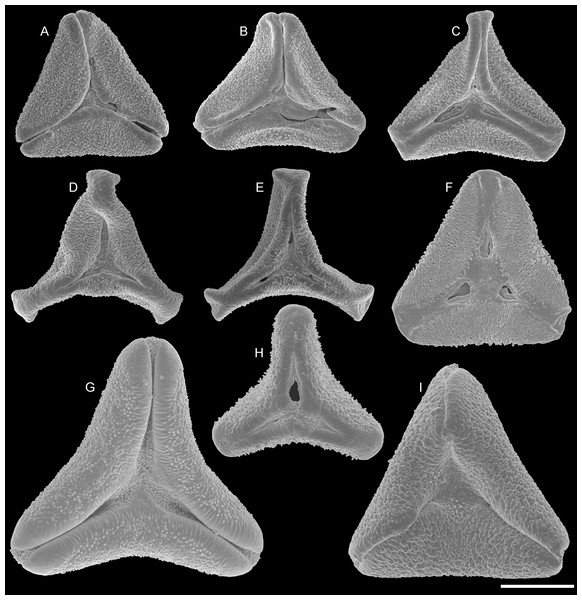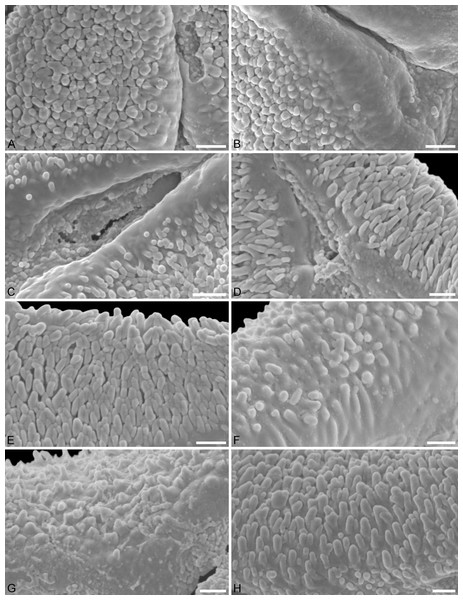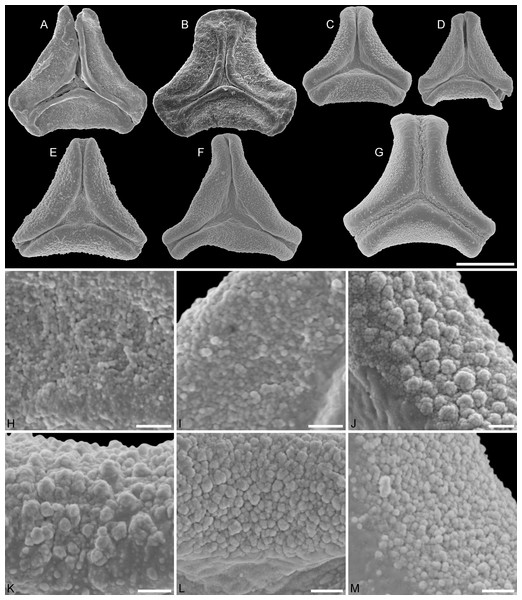 All fossil pollen described here falls within the variation of Pollen Type B according Grímsson, Grimm & Zetter (2017). Pollen grains of Type B are oblate (to various degrees), triangular to trilobate in polar view and show a ± psilate sculpturing in LM. They are basically syn(3)colpate, but also demisyn(3)colpate and zono(3)colpate (terminology follows Punt et al., 2007; see Grímsson, Grimm & Zetter, 2017: Fig. 1, for schematic drawings) in some genera/lineages. Usually, no further sculpturing details can be observed in LM except for occasional exine thickening or thinning at the pole (e.g. Figs. 1C, 1H, 1M, 1Y) and along the colpi or in the mesocolpium (e.g. Figs. 1C, 1D, 1R).
Discussion
Diagnostic value of Loranthaceae pollen for tracing modern lineages back in time
Pollen of various modern Loranthaceae have been studied using light (LM), transmission electron microscopy (TEM) and scanning-electron microscopy (SEM) (Feuer & Kuijt, 1978, 1979, 1980, 1985; Kuijt, 1988; Liu & Qiu, 1993; Han, Zhang & Hao, 2004; Roldán & Kuijt, 2005; Caires, 2012; Grímsson, Grimm & Zetter, 2017). In general, pollen of Loranthaceae—and other Santalales—reflect phylogenetic relationships and genetic-phylogenetic distances (Grímsson, Grimm & Zetter, 2017), which make them a valuable asset for biogeographic and dating studies. Some genera of putatively early diverging Loranthaceae lineages such as Nuytsia (monotypic Nuytsieae), Atkinsonia (bitypic Gaiadendreae, not resolved as clade in the molecular trees), the Psittacantheae Notanthera (bitypic Notantherinae), Ligaria and Tristerix (Ligarinae, not resolved as sibling genera), and Tripodanthus, Dendropemon, Orycanthus and Passovia p.p. (Psittacanthinae), show unique pollen types that have not been found in any other studied genus so far. Moreover, there is no indication that identical/highly similar pollen types evolved convergently in non-related Loranthaceae (or other Santalales). Non-unique pollen types are typically found in genera which are either part of the same, well-supported molecular clade (core Lorantheae; Elythrantheae; Psittacanthinae subclades), or shared with genera where the molecular data is indecisive regarding their exact phylogenetic position (Grímsson, Grimm & Zetter, 2017; this study).
Even though the modern situation makes it unlikely that—in the past—extinct lineages of Santalales or Loranthaceae have produced pollen mimicking those of modern, extant, but not closely related lineages, one needs to consider the possibility that a modern genus may have kept a more primitive ('plesiomorphic') pollen type of its evolutionary lineage. The Eocene and Oligocene pollen grains documented in this study show morphologies (1) not found in any modern taxon studied so far (Stolzenbach MT, Profen MT1, Theiss MT), or (2) found exclusively in a single modern genus (monotypic Nuytsia: Miller Clay Pit MT1, Tripodanthus with three extant species: Miller Clay Pit MT2, MT3, Aamaruutissaa MT; monotypic Notanthera: Profen MT2; phylogenetically problematic, see Fig. 7; Helixanthera: Altmittweida MT), or (3) are limited to a modern lineage (Elytrantheae: Profen MT3–5; core Lorantheae: Changchang MT) with none of the other modern species studied so far having an identical pollen. On the other hand, we found no pollen in our Eocene and Oligocene assemblages representing current-day diverse and widespread genera (such as Loranthus in Eurasia).
Extinct or ancestral pollen morphs of the Eocene and Oligocene of Europe
The shared pollen type of the South American root parasite Gaiadendron and the eastern Australian Lorantheae Muellerina (one of two genera in the subtribe Ileostylinae; the other has not been palynologically studied thus far) is a candidate for an ancestral, primitive and shared ('symplesiomorphic') morphology. The pollen of these two genetically and morphologically distinct modern genera are indistinct (Nickrent et al., 2010; Su et al., 2015: Fig. 2; Grímsson, Grimm & Zetter, 2017). The distinctly striate margo is a feature only seen in a few isolated, early diverging (Eocene) modern species/genera of ambiguous phylogenetic affinity (Fig. 9; Table 3). So far, no modern species showed an intermediate pollen type between the putatively plesiomorphic Gaiadendron–Muellerina pollen and the derived pollen characterising other members of the Lorantheae, e.g. the characteristically weakly oblate pollen of Loranthus. The Stolzenbach MT, Profen MT1, and Theiss MT of the Eocene and Oligocene of central Europe are equally small and share certain ornamental characteristics with the pollen of Gaiadendron–Muellerina such as a distinctly striate margo. Deviating features, e.g. more minute sculpturing of the mesocolpium, are shared with other members of the Lorantheae. This could make them candidates for an extinct lineage related to Lorantheae or ancestors of the Lorantheae subclades. At about the same time, more derived Lorantheae pollen grains can be found in the Eocene of East Asia (Changchang MT) and the Oligocene of Germany (Altmittweida MT), with clear affinities to the core Lorantheae. This provides conservative minimum estimates for the Lorantheae crown age, i.e. the divergence between Loranthinae, Ileostylinae, and core Lorantheae. Our dating estimates also indicate that there was a time gap of ca. 10 myrs between the formation and initial radiation of the Lorantheae and their subsequent diversification (Fig. 9; Table 3). Our current working hypothesis is that the Stolzenbach MT, Profen MT1, and Theiss MT, do in fact represent extinct sister lineages or precursors of the modern Old World Lorantheae (e.g. the Loranthinae). Whether these Loranthaceae extended into Africa or not, is unknown. The divergence between the East Asian Scurrulinae and the mostly African Tapinanthinae and Emelianthinae is placed in the Oligocene (Fig. 9), a time when substantial global cooling triggered the retreat of subtropical and tropical forests to low latitudes (Mai, 1995; Zachos et al., 2001). This event may have triggered the isolation between both clades and lead to the extinction of the ancestral pollen morphologies. Unfortunately, Africa is palaeo-palynologically understudied, so we do not know at which time the African Lorantheae with pollen grains typical for their modern members established. SEM studies of African palynofloras with Loranthaceae pollen from the Oligocene to Pliocene are desperately needed.
Pollen of Tripodanthus, a putative living palyno-fossil
Another case of a modern genus that conserved a primitive pollen morphology is evident from the Eocene pollen from North America and Greenland (Miller Clay Pit MT1, MT2; Aamaruutissaa MT). These pollen are highly similar to identical to pollen of two out of three species of the modern South American genus Tripodanthus; the third species has a more compact pollen somewhat similar to that of small-flowered species of the Psittacanthinae (Fig. S4; Feuer & Kuijt, 1985; Roldán & Kuijt, 2005; Amico et al., 2012; Grímsson, Grimm & Zetter, 2017). Tripodanthus is one of the earliest diverging Psittacanthinae (Figs. 7, 9; Vidal-Russell & Nickrent, 2008a; Grímsson, Grimm & Zetter, 2017). Pollen in the other represented genera of the Psittacanthinae (Passovia, Dendropemon, Struthanthus, Oryctanthus) appear strongly derived in comparison to that of Tripodanthus and part of Psittacanthus (Feuer & Kuijt, 1979, 1985), and include types that could be identified under LM. However, such pollen have not yet been reported from the fossil record except for the youngest strata (Bartlett & Barghoorn, 1973; Graham, 1990: File S4). Moreover, the current molecular data covers only a very limited fraction of the species in the Psittacanthinae, a clade palynologically well studied and diverse. So, at the moment, we lack a sound molecular framework to test hypotheses about pollen evolution within the group, and the group is genetically undersampled. Even so, our set of ML inferences highlights the shortcoming of the current generic concepts used for the group. So far, Tripodanthus is the only Psittacanthinae genus where the species/sequenced individuals show a relatively high topological coherence; an according, exclusive clade is supported by varying support (Fig. 7; Files S1, S5).
The Eocene Tripodanthus-like pollen of North America and Greenland might have been produced by extinct or ancestral members of the Psittacanthinae, rather than an ancient member of the Tripodanthus-lineage. It may merely confirm the existence of the New World Psittacanthinae clade in the Eocene of North America and Greenland, and should be linked with a deeper node. Using LM, Loranthaceae pollen (Gothanipollis sp.) has been recorded from North and South America from the early Eocene onwards (File S4 lists 17 records), which may well reveal different forms of Psittacanthinae pollen, or of less diverse New World lineages when re-studied using SEM.
Data-inherent shortcomings
The data assembled for our study from gene banks do not allow for conclusions at and below the genus level to be drawn. Genus-level data are limited, and in several cases where more than a single species (or individual) has been sequenced from the same genus, the genera do not show a high coherence when it comes to tree inferences (Fig. 7). This will become a problem when studying pollen grains from younger strata, which, increasingly, may show forms identical to one or more modern genera. For instance, our assessment of the Altmittweida MT is based on its similarity to the pollen of Amyema and Helixanthera figured in Grímsson, Grimm & Zetter (2017). In that study, material was used from vouchers identified as A. gibberula, the only species of the Amyeminae clade studied so far palynologically, and Helixanthera kirkii. According to our species-level analyses, species of neither of the two genera are resolved as sibling species. As exemplified in Fig. 7, the two or three sequenced species of Amyema are resolved at different placements in the Amyeminae subtree, but A. gibberula has not been sequenced at all. Helixanthera kirkii has only been sampled for nuclear data, and is placed far (phylogenetically speaking) from its congeners, which are scattered across the core Lorantheae subtree. Lacking any comparative data, it cannot be judged if these placements are genuine, or if one (or several) of the species (sequenced individuals) were misidentified/-associated (generic concepts are volatile in Loranthaceae, see synonymy lists provided by Tropicos.org, 2016). Thus, based on the available pollen of the Lorantheae and their established genetic affinities as members of the same clade, we can only assume with some certainty that the Altmittweida MT is a likely representative of the core Lorantheae, but not if it is a congener of Helixanthera, or more closely related to part of that genus. We also cannot judge to which degree Helixanthera pollen can be considered derived/unique enough within the core Lorantheae to warrant the association of a fossil pollen with a single extant genus.
Furthermore, we can only rely on fossil pollen of several northern hemispheric localities; localities we have been studying in the recent years. But most of the extant, and potentially extinct, diversity of Loranthaceae lies in the Southern Hemisphere (Figs. 10–11). South America, and in particular Africa, are much less studied palynologically than e.g. Europe, and the tradition of using SEM to study fossil pollen records is scant or absent in the Americas and Australasia (but see Ferguson et al., 2009; Bouchal, Zetter & Denk, 2016; del Carmen Zamaloa & Fernández, 2016). Nevertheless, there are records of Loranthaceae pollen from these areas, and if Antarctica is included (File S4), these records cover anything between the early Eocene and Holocene. Moreover, pollen assigned to Santalaceae or Viscaceae under LM may in fact be Loranthaceae Pollen Type A. Re-studying at least some of these assemblages using high-resolution SEM photography could provide much needed evidence for the distribution of different Loranthaceae lineages back in time. A more detailed and comprehensively studied pollen record at a global scale would also provide the necessary number of fossils to put forward and test explicit phylogeographic scenarios for the family. In the case of South America, particular fossil pollen can be straightforwardly compared to the substantial variation seen in the modern genera and species (seminal works of Feuer & Kuijt, 1979, 1980, 1985). It would be most interesting to pinpoint the earliest occurrences of the compact B-type pollen characteristic of the Cladocolea-Struthanthus lineage or the strongly derived C- and D-type pollen of the Passovia pyrifolia-Dendropemon-Orycthanthus clade. However, we are missing comprehensive molecular data on the Psittacanthinae at the intra-generic level and on species included in Passovia and Phthirusa (according Kuijt, 2011; see e.g. Fig. 7). A detailed molecular-phylogenetic framework would be necessary to depict evolutionary trends in pollen morphology of this group and to identify ancestral, more primitive (plesiomorphic) vs. modern, derived (apomorphic) pollen morphs of this lineage in the fossil record. Correlation of such data with palaeovegetational evidence (accompanying flora, in particular availability of mid- to high-canopy trees), may help to assess if the shift from root to aerial parasitism in currently exclusively aerial parasitic Loranthaceae lineages occurred before or after their establishment.
Due to the data-related limitations regarding both the molecular data and the fossil record, our dating analysis set-up can only provide absolute minimum estimates for divergence ages in the Loranthaceae. In a recent study on Osmundaceae, we observed that uncorrelated clock-inferred dates deviated from dates inferred with the recently proposed fossilised-birth-death dating approach (FBD; Heath, Huelsenbeck & Stadler, 2014), with the former tending to underestimate age (Grimm et al., 2015). In contrast to traditional node dating, FBD dating recruits the entire fossil record of a focal group and seems to outperform node dating in simulation and with real-world data (Heath, Huelsenbeck & Stadler, 2014; Grimm et al., 2015; Renner et al., 2016). In the case of Loranthaceae, the coverage of lineages with fossils and of the modern taxonomic diversity is insufficient for the application of FBD, although this approach would allow for a more appropriate handling of the fossils (including ours), namely as members of lineages, rather than minimum age priors for discrete MRCA. To avoid over-interpretation of the fossils during the latter, all fossil age constraints and estimates were used here in a conservative manner (see Descriptions; Inferences). More precise estimates and a larger taxon set would be needed to reconstruct explicit migration pathways of the different Loranthaceae lineages that consider the fossil record of the family.
Timing of evolution of main Loranthaceae lineages
The main, currently aerial parasitic lineages, of Loranthaceae evolved about 20 myrs earlier (Table 3) than estimated by Vidal-Russell & Nickrent (2008b); a discrepancy easily explained. In contrast to the earlier study, we can exclusively rely on ingroup fossils as age constraints, which provide direct evidence for the occurrence of several Loranthaceae lineages in the middle Eocene. Vidal-Russell & Nickrent (2008b) used two sets of fossil constraints for their dating of an all-Santalales dataset. The first set used a single fossil (Anacolosidites Cookson & K.Pike) to constrain the root age of an Olacaceae s.l. subclade, the former Anacolosideae (= Aptandraceae), to 70 Ma, providing generally older estimates than the second, preferred set. The second set used five additional fossils and included Cranwellia Sat.K.Srivast. to constrain the root age of Loranthaceae to >70 Ma. We again diverged from Vidal-Russell & Nickrent (2008b), by not using a different study, i.e. Wikström, Savolainen & Chase (2001), to constrain the (ingroup) root age. Using secondary dating constraints and age priors based on outgroup fossils typically leads to overly young age estimates (e.g. Grimm & Renner, 2013, for Betulaceae; Garzón-Orduña et al., 2015, for Solanaceae and Ithomiini; Schenk, 2016, for simulated data). For example, in the two families of Canellales, namely Canellaceae and Winteraceae, crown group estimates using ingroup fossils as age priors are about double the age of those inferred based on a large magnoliid dataset including only root age constraints for the Winteraceae and the order (Marquínez et al., 2009; Thomas et al., 2014; Massoni, Couvreur & Sauquet, 2015; Müller et al., 2015).
It must be noted that the existence of a lineage, as evidenced by the pollen record, does not allow for conclusions to be drawn regarding the parasitic habit of its extinct members. The Muellerina–Gaiadendron case shows that root and aerial parasites produce similar pollen grains. Even if we consider this pollen type to be primitive ('symplesiomorphic'), the shift of the Lorantheae to aerial parasitism did not affect the pollen morphology in all of its sublineages to the same degree. The unconstrained topologies indicate several shifts from root to aerial parasitism within the family. It may thus be possible that more shifts occurred in the past than visible from the present-day situation. Ancient members of a Loranthaceae lineage may have been root parasites (or intermediate) in contrast to their modern representatives. Our older estimates nevertheless make sense considering the substantial genetic divergence between extant Loranthaceae, the backdrop of Cenozoic global climate evolution, and the evolutionary history of the potential hosts for aerial Loranthaceae: mid- to high-canopy trees (see also Fig. 8). Although some species of the Loranthaceae family seem to be linked to a specific host, the genera themselves usually parasitise a wide range of hosts, spanning different families and even orders (File S6). The colonisation potential of aerial mistletoes is high. For instance, the New Zealand endemic Ileostylus micranthus (Lorantheae: Ileostylinae) parasitises 47 different families, including northern hemispheric lineages introduced in historic times (Norton & de Lange, 1999). Australian mistletoes commonly infest two widespread, common and native tree genera (Acacia, Eucalyptus), but in total 256 genera are infested, and species of four genera can be found on exotic (introduced) tree genera such as Nerium, Quercus (oaks), Platanus, and Salix, among others (Downey, 1998). All these genera are potential hosts of northern hemispheric Loranthaceae (e.g. Loranthus europaeus), and can be traced back at least to the Eocene (e.g. Mai, 1995). For example, primary radiation and diversification of oaks—the most diverse, extratropical tree genus of the Northern Hemisphere with more than 400 modern species (Nixon, 1997; Huang, Zhang & Bartholomew, 1999)—was finished by the end of the Eocene (Hubert et al., 2014). The general vegetation types in which aerial Loranthaceae are found—various sorts of subtropical to temperate, non-frost forests but also tropical biomes—have been available through the entire Cenozoic (e.g. Mai, 1995). Most of the Eocene is characterised by a globally ameliorated climate (Zachos et al., 2001). During this time scale, tropical and subtropical forests reached a peak in their distribution, with subtropical and temperate forests reaching far north. This could have been the trigger for a global radiation of aerial parasites in Loranthaceae. In western Greenland, currently epiphytic Loranthaceae (Psittacanthinae; Aamaruutissaa MT, aff. Tripodanthus) co-occurred with a high variety of subtropical to temperate Fagaceae including various intrageneric groups of oaks (Grímsson et al., 2015). Fagaceae in general (see File S6) and oaks in particular are natural hosts of Eurasian Lorantheae. Oaks are major elements of extratropical northern hemispheric mid- to high-canopy forests and open woodlands. The Aamaruutissaa palynological assemblage covers representatives of ca. 30 families of woody angiosperms in total (Grímsson et al., 2014b), including many potential hosts of epiphytic Loranthaceae in modern-day extra-tropical North America and East Asia. The arborescent families Fagaceae, Juglandaceae, and Sapindaceae (including maples, Acer) can be found at all other localities included in our study (Table 1; File S7). All LM/SEM palynologically studied floras further comprise lianas (Vitaceae) and additional predominately or exclusively arborescent families such as Aquifoliaceae (Ilex), Cornaceae, Malvaceae, Myricaceae, Oleaceae, Platanaceae, and Ulmaceae. On the other hand, typically or exclusively herbaceous families are rare (or absent). Thus, the early Loranthaceae described here apparently thrived in densely forested habitats with ample niche opportunities for aerial parasites.
The mid-Oligocene falls into a phase of global cooling and retreat of subtropical and tropical vegetation belts to lower latitudes. If the main currently aerial parasitic lineages evolved during that time in Australia, as inferred by Vidal-Russell & Nickrent (2008a, 2008b; but see Barlow, 1990; Vidal-Russell & Nickrent, 2007), Loranthaceae would have needed to be extremely competitive to radiate at a global scale. With its (cold-)temperate to polar climate from the Oligocene onwards, Antarctica is an unlikely corridor for the global radiation of Loranthaceae. The situation in eastern North America and Europe, two areas heavily affected by the Pleistocene climate fluctuations, indicates that Loranthaceae cannot compete with their distant sister clade Viscaceae in the temperate zone, and there is no indication that any Loranthaceae lineage ever thrived in cold-temperate (boreal) climates. Long-distance dispersal via Africa or the Pacific is unlikely in the light of the modern distribution patterns (Fig. 11). All continental African species are members of the core Lorantheae, and distant relatives of the exclusively Australasian and South American lineages. The age estimates indicate that main Australasian (probably monophyletic Elytrantheae) and New World lineages (probably paraphyletic Psittacantheae) diverged around the same time (Fig. 8; Table 3), which would fit with the traditional Gondwana-Breakup scenario suggested for the family (Barlow, 1990; Vidal-Russell & Nickrent, 2007). Whether divergences in Loranthaceae are triggered by actual tectonic events has to be tested once a more comprehensive taxon and gene sample is available, and would require a re-investigation of the pollen record of the Southern Hemisphere using combined LM and SEM microscopy. With such data at hand, explicit pollen evolution scenarios could be established to discriminate between pollen indicative of ancestral or deep-rooting, slow-evolving (regarding their pollen morphologies) modern lineages, and extant genera or relatively late radiated supergeneric groups. The Oligocene cooling may have been the final trigger to isolate the American lineages from those in the Old World and Australasia. It also may have effected transcontinental exchange between Africa and East Asia, trigger the formation of the contemporary genera (Fig. 9; Table 3, but see the Discussion section), and manifest the isolation of Australasian lineages.
Conclusion
Molecular age estimates have often been criticised as being too young in comparison to the fossil record. The crown group radiation and associated onset of aerial parasitism in Loranthaceae, placed in the middle Oligocene by a study including all lineages of the Santalales (Vidal-Russell & Nickrent, 2008b), could have been taken for such a case. It would have invoked three difficult-to-understand phenomena: (1) Quick long-distance dispersal and rapid radiation on a global scale of a mostly tropical-subtropical lineage during a phase of global cooling; (2) Host-specialisation and simultaneous colonisation of subtropical forest elements that were already evolved by the Eocene, at least 20 myrs earlier; (3) The comparatively rich palynological record of the zoophilous Loranthaceae, with earliest reliable records in the Eocene of Australasia (south-eastern Australia, Tasmania), East Asia (Hainan, southern China), western Eurasia (Germany), the Americas (Argentina, southeastern United States) and Greenland reflect a largely lost diversity of root parasites or extinct sister lineages of extant Loranthaceae. These extinct lineages would then have been replaced, at the earliest, in the middle Oligocene (except for three refugia) in their entire range by their newly evolved aerial parasitic siblings. Using SEM-studied fossil pollen, we can push back the origin(s) of the main Loranthaceae lineages to at least the middle Eocene; a time when important hosts of modern epiphytic Loranthaceae evolved and radiated, and Earth enjoyed a phase of ameliorated climate. The new dating estimates are furthermore relatively stable regarding alternative rooting scenarios for the family.