Sooty tern (Onychoprion fuscatus) survival, oil spills, shrimp fisheries, and hurricanes
1
Nicholas School of the Environment, Duke University

,

Durham

,

NC

,

United States of America
2
South Florida Natural Resources Center, Everglades National Park

,

Homestead

,

FL

,

United States of America
Published

Accepted

Received
Academic Editor
Subject Areas

Keywords

Climate change

,

Fisheries

,

Migration

,

Oil spill

,

Seabirds

,

Telemetry

,

Survivorship
Copyright

©

2017

Huang et al.

Licence

This is an open access article distributed under the terms of the Creative Commons Attribution License, which permits unrestricted use, distribution, reproduction and adaptation in any medium and for any purpose provided that it is properly attributed. For attribution, the original author(s), title, publication source (PeerJ) and either DOI or URL of the article must be cited.
Cite this article

2017

. Sooty tern (Onychoprion fuscatus) survival, oil spills, shrimp fisheries, and hurricanes.

PeerJ

5

:

e3287

https://doi.org/10.7717/peerj.3287
Abstract
Migratory seabirds face threats from climate change and a variety of anthropogenic disturbances. Although most seabird research has focused on the ecology of individuals at the colony, technological advances now allow researchers to track seabird movements at sea and during migration. We combined telemetry data on Onychoprion fuscatus (sooty terns) with a long-term capture-mark-recapture dataset from the Dry Tortugas National Park to map the movements at sea for this species, calculate estimates of mortality, and investigate the impact of hurricanes on a migratory seabird. Included in the latter analysis is information on the locations of recovered bands from deceased individuals wrecked by tropical storms. We present the first known map of sooty tern migration in the Atlantic Ocean. Our results indicate that the birds had minor overlaps with areas affected by the major 2010 oil spill and a major shrimp fishery. Indices of hurricane strength and occurrence are positively correlated with annual mortality and indices of numbers of wrecked birds. As climate change may lead to an increase in severity and frequency of major hurricanes, this may pose a long-term problem for this colony.
Introduction
Given a variety of threats to ocean health, ranging from climate change to pollution and overfishing (Campagna et al., 2011; Sissenwine, Mace & Lassen, 2014; Boonstra et al., 2015), assessing ocean conditions is vital (Knap et al., 2002; Samhouri et al., 2012). Monitoring colonial seabirds has provided a method of ocean threat assessment (Le Corre & Jaquemet, 2005). Scientists have been observing nesting seabird populations for decades (Thienemann, 1902; Lockley, 1934). Seabirds provide researchers large, consistent datasets with relative ease and permit the marking of many individuals. Unfortunately, while what happens in the nesting colonies may be understood in exceptional detail, what happens at sea has generally only been known indirectly from year-to-year changes in the nesting birds or from the locations of banded individuals found wrecked and deceased away from the colony (Piatt & Van Pelt, 1997; Schreiber, 2002). Even where the birds feed—both when at the colony and during the rest of the year—has often been poorly known.
Only recently has a large variety of technological options allowed scientists to track seabirds away from the colony (Jouventin & Weimerskirch, 1990; Burger & Shaffer, 2008; Le Corre et al., 2012; Dean et al., 2015). From geolocators that record day length and sunrise to platform terminal transmitters (PTTs) that transmit location data to satellite arrays, more tools allow increasingly more accurate observations on more species. These technologies allow researchers to connect knowledge on annual survival to physical locations where nesting birds feed and disperse at other times of the year.
The US National Park Service (NPS) established an Inventory and Monitoring Program to provide park managers and others more scientifically credible information on the status and trends of natural resources (Patterson et al., 2008). Their goals include providing early warning of abnormal environmental conditions and determining whether human activity is responsible for such changes. In this study, we respond to the NPS' needs by monitoring a large breeding colony of roughly 80,000 Onychoprion fuscatus (sooty terns) in the Dry Tortugas National Park, located in the Florida Keys. For the Dry Tortugas National Park, the specific concerns are fisheries—a large pink shrimp industry that has operated in the area for the last 60 years (NMFS, 2016)—and the world's worst oil spill, Deepwater Horizon, the source of which occurred approximately 800 km to the northwest in 2010 (MacDonald et al., 2015). While the effects of oil spills on seabird mortality are well-documented (Burger, 1993; Votier et al., 2005; Votier et al., 2008; Moreno et al., 2013), the impact of the shrimping industry is less straightforward. Commercial fisheries may have complex relationships with seabirds, from direct mortality from fishing equipment to enhanced food availability from unwanted discards (Tasker et al., 2000; Furness, 2003). Research specifically on the impacts of commercial shrimping using trawl gear suggest such activity acts as a strong local attractor to seabirds via increased food availability (Garthe, Camphuysen & Furness, 1996), but can alter interspecies competition by preferentially supporting gulls and pelicans as opposed to smaller species such as terns (Garthe & Scherp, 2003; Wickliffe & Jodice, 2010).
In addition to potential anthropogenic impacts, natural disturbances in the form of tropical storms are likely to influence seabird mortality. Given that hurricanes are catastrophic disturbances that can cause extensive damage to both terrestrial and marine habitats (Lodge & McDowell, 1991; Nystrom, Folke & Moberg, 2000; Vandermeer et al., 2000), one might reasonably expect such storms to impact seabirds, both at the colony and wrecking individuals during migration at sea (Schreiber, 2002). Moreover, current estimates of climate change predict an increase in severity and frequency of category 4 and 5 hurricanes (Bender et al., 2010) thus potentially magnifying such effects.
Here, we use a combination of current satellite tracking techniques and historical banding data to achieve the following objectives: (1) estimate annual mortality, (2) map annual movements of sooty terns from the Dry Tortugas, (3) determine the extent of overlap between sooty tern distribution during the breeding season and commercial shrimping and the 2010 Deepwater Horizon oil spill, and (4) better understand the consequences of episodic major hurricanes on mortality and incidences of wrecked individuals. These objectives stem from a lack of knowledge on sooty tern populations and at-sea movements. Unfortunately, as with many catastrophes, data collection does not happen until after the incident occurs, so we must compare the past Deepwater Horizon incident with present telemetry data to determine the potential overlap such a future spill might incur. Although many studies have looked at the annual survival and dispersal of other terns (Coulson & Horobin, 1976; Møller, 1983; Renken & Smith, 1995; Spendelow et al., 1995; Nisbet & Cam, 2002; Szostek & Becker, 2012; Breton et al., 2014; Szostek & Becker, 2015), there are few, if any, capture-mark-recapture (CMR) studies that include telemetry data and are specific to sooty terns. There are no previous such studies for this colony. In addition, while studies have illustrated the impact of individual cyclones on the mortality, reproduction, and demography of birds at their colonies (Wunderle & Wiley, 1996; Genovart et al., 2013; Oro, 2014), few studies have estimated the direct impact of hurricanes during the birds' movements away from the colony (Nicoll et al., 2016).
Discussion
Prior to this study, there was no published information on where sooty terns migrated to after the breeding season. With the use of tracking technology, we have been able to map some sooty tern migrations into the Atlantic Ocean. We recognize that migration patterns may vary across time and individuals (Quillfeldt, Voigt & Masello, 2010; McFarlane Tranquilla et al., 2014) and that a larger sample size and study period is necessary to determine consistency of migration routes. Nonetheless, we now know that some individuals travel from the Florida Keys, through the Caribbean Sea, along the coast of South America, and winter in the mid-Atlantic. In addition, the presence of deceased individuals along the same route suggests that many more do the same.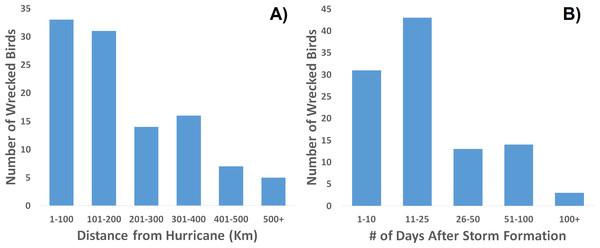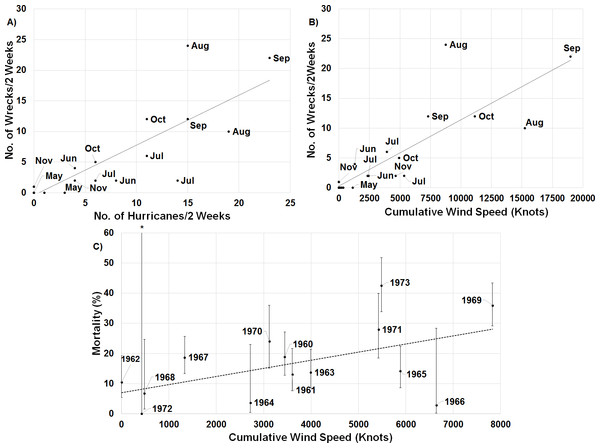 Another limitation of the sample size is that we were unable to temporally stagger deployment of transmitters throughout the season which may impact our understanding of the timing of individuals' movements. We do not however, expect that this has impacted our understanding of the spatial extent of sooty tern movements given that our telemetry results match locations from recovered individuals.
Fisheries have complex impacts on seabird survival; from disrupting marine communities and trophic cascades (Garthe & Scherp, 2003; Wickliffe & Jodice, 2010), to providing easily accessible by-catch (Garthe, Camphuysen & Furness, 1996), to deaths caused by fishing equipment (Tasker et al., 2000; Furness, 2003). In particular, we thought the local fishing industry might impact sooty terns. The minimal overlap between shrimping locations and tern foraging locations suggest that this is not a regular occurrence. Not only is the area of overlap small, but it also disproportionately covers areas we have deemed unimportant for feeding among tagged individuals. This is in contrast to brown noddies (Anous stolidus), a similar species that cohabit the Dry Tortugas with sooty terns during the breeding season, whose foraging grounds overlap up to 93.3% with commercial fishing areas (Maxwell et al., 2016). Similar to our limitations in recording individual variation in migration patterns, we acknowledge that our sample size does not fully encapsulate the full extent of spatial and temporal variation of feeding grounds, but present these data as an important first step in documenting such movements.
We previously considered danger from future oil spills in the area as another potential threat via either direct mortality or from food web disruption (Moreno et al., 2013). At first one might ask what is the purpose of comparing seabird movement with an oil spill from three years prior. Without the benefit of foresight, our post-hoc approach represents a measure of the potential a spill like Deepwater Horizon might have had in the past, or might have in the future. While the furthest extent of the terns' movements during the breeding season had a small amount of overlap with the furthest projections of spillage from the Deepwater Horizon event, surface oil from this particular event does not significantly overlap areas used by our tagged sooty terns. However, if such a spill from so far away could have reached areas used by this population, future spills that are closer or more catastrophic would likely also impact these areas. Again, sample size limitations mean that what we have presented here may not be the full picture and that our studied individuals only represent the minimum impact such an oil spill may have.
Although our average estimate of mortality (0.16) is higher than the 0.09 found by Feare & Doherty Jr (2004) in sooty terns in the Seychelles, it is within the range of mortalities generated by similar models for inshore species such as common terns (Sterna hirundo, 0.12–0.24, Breton et al. 2004, 0.065–0.209, Szostek & Becker, 2015), least terns (Sternula antillarum, 0.07–0.20, Renken & Smith, 1995), and roseate terns (Sterna dougallii, 0.09–0.26, Spendelow et al., 1995). Nonetheless, our highest estimate of mortality (0.41 in 1973) is higher than the highest reported tern mortality we found (0.34 for the sandwich tern, Thalasseus sandvicensis, Møller, 1983). Such a high mortality in a species that typically lays a single egg in a clutch (Feare, 1976) should lead to an overall decrease in population size. It is possible such as a decrease is occurring at the Dry Tortugas as counts of nesting pairs have decreased over recent years (Cope, 2016).
Previous studies have shown that tropical storms impact nesting and breeding success of sooty terns at the colony. White, Robertson Jr & Ricklefs (1976) found an increase in mortality and decrease in growth of chicks after Hurricane Agnes in 1972. The results of our study suggest hurricanes also kill and wreck birds along their migration path (Figs. 5 and 6). These direct mortality events appear to have a strong relationship with the number and intensity of storms (Fig. 7). Particularly strong hurricanes that cross through a large portion of the tern's migratory route can have devastating impacts. The largest mortality estimated from recoveries of wrecked birds occurred in 1979 and 1980 (Fig. 4) when category 5 hurricanes David and Allen wrecked a large number of birds (Table 3). Hurricanes can also affect tern populations by carrying individuals to ill-favored locations. Hurricane Camille in 1969 swept an individual as far away as the Great Lakes between the US and Canada.
While the connections between particular storms, the fraction of wrecked birds, and the annual estimates of mortality are sometimes compelling, there are exceptions that we do not understand. First, our results imply that even weak tropical storms can lead to increased tern death. 1973 was overall a particularly calm year for hurricanes, but the number of wrecked individuals that year, as well as a spike in mortality (Fig. 4), indicates that tropical storm Delia may have killed many individuals. Evidence for the impact of this storm comes from the density of wrecked birds in a relatively small area, near where the storm came ashore in Texas.
Conversely, Hurricanes Cleo and Hilda wrecked birds, but 1964 was a year of low mortality. Cleo in late August decreased to a category 1 as it headed almost due north over central Cuba and then Florida, so perhaps the birds were still in the Gulf of Mexico or even off the coast of South America. Hilda came though the Gulf, but not until the end of September, when the birds might have been farther south and east. Similarly, 1966 was a year of low mortality but high cumulative wind speed (Fig. 7). Hurricane Inez is responsible for most of the accumulated wind speed, but did not form until late September, and thus potentially missed many individuals who were already further south. Nonetheless, the chances of terns being in the wrong place at the wrong time are expected to increase as cyclone frequency increases due to climate change (Bender et al., 2010).
In summary, we have presented the first ever movement data on sooty terns away from a colony, identifying areas used both during the breeding season as well as during the migratory route. These data suggest only a limited overlap with areas affected by anthropogenic threats. Natural disturbances in the form of tropical storms, however, appear to have a more significant relationship with adult tern mortality; the number of wrecked individuals is strongly correlated with both the number and intensity of storms in the same period. Overall mortality only shows a weak, but still positive relationship with storm intensity. This suggests that additional factors are at play. What seems likely is that it is not simply the strength of a hurricane, but that timing and location also play a role. By combining these aspects of storm occurrence with other considerations such as food availability and possible emigration rates, future studies may yield a more comprehensive understanding of adult sooty tern mortality.
Supplemental Information
Supplemental Information
Capture history of all individuals
Juveniles have already been edited to have their first encounter removed. As such, all individuals have their adult capture history represented here