Climate change promotes hybridisation between deeply divergent species
1
Department of Ecological and Biological Science, Università degli Studi della Tuscia

,

Viterbo

,

Italy
2
Department of Biology and Biotechnology 'Charles Darwin', University of Roma 'La Sapienza'

,

Rome

,

Italy
3
Department of Integrative Marine Ecology, Stazione Zoologica Anton Dohrn

,

Naples

,

Italy
Published

Accepted

Received
Academic Editor
Subject Areas

Keywords

Climate change

,

Hybridisation

,

Pre-mating reproductive barriers

,

Life-history traits
Copyright

©

2017

Canestrelli et al.

Licence

This is an open access article distributed under the terms of the Creative Commons Attribution License, which permits unrestricted use, distribution, reproduction and adaptation in any medium and for any purpose provided that it is properly attributed. For attribution, the original author(s), title, publication source (PeerJ) and either DOI or URL of the article must be cited.
Cite this article

2017

.

Climate change promotes hybridisation between deeply divergent species

.

PeerJ

5

:

e3072

https://doi.org/10.7717/peerj.3072
Abstract
Rare hybridisations between deeply divergent animal species have been reported for decades in a wide range of taxa, but have often remained unexplained, mainly considered chance events and reported as anecdotal. Here, we combine field observations with long-term data concerning natural hybridisations, climate, land-use, and field-validated species distribution models for two deeply divergent and naturally sympatric toad species in Europe (Bufo bufo and Bufotes viridis species groups). We show that climate warming and seasonal extreme temperatures are conspiring to set the scene for these maladaptive hybridisations, by differentially affecting life-history traits of both species. Our results identify and provide evidence of an ultimate cause for such events, and reveal that the potential influence of climate change on interspecific hybridisations goes far beyond closely related species. Furthermore, climate projections suggest that the chances for these events will steadily increase in the near future.
Introduction
Hybridisation is a widespread phenomenon in nature (Mallet, 2005). However, its frequency, diversity of outcomes, underlying mechanisms, its role in the evolutionary process, and how to deal with it in conservation biology have been controversial topics for more than a century (Arnold, 2006; Schwenk, Brede & Streit, 2008). Much of our knowledge about the link between hybridisation dynamics in animals and climate changes, comes from studies of hybrid zones (Hewitt, 2011), where the reshuffling of species' ranges in response to changing climates brought into contact closely related and previously allopatric species. Pre-mating reproductive barriers could be incomplete between these species, and their genomes could still be porous to introgression, with several far reaching implications (Mallet, 2005; Arnold, 2006; Schwenk, Brede & Streit, 2008; Hewitt, 2011). Not surprisingly, species of ancient divergence and with a long-lasting history of sympatry have contributed the least to this body of knowledge (Mallet, 2005; Schwenk, Brede & Streit, 2008). These species have had ample opportunity to evolve strong pre-mating reproductive barriers, either as a by-product of a longer allopatric divergence or because of character displacement in response to natural selection (Coyne & Orr, 2004; Pfennig & Pfennig, 2009). Consequently, hybridisation events are extremely improbable between these species (e.g. Proietti et al., 2014), and their observation incidental in the wild.
We witnessed to one such event in Southern Italy (on 10 May 2014) between two toad species, the common toad Bufo bufo and the green toad Bufotes balearicus (Fig. 1). They belong to the Bufo bufo and Bufotes viridis species groups, whose divergence has been estimated to the Oligocene (around 20–30 million years ago; Maxson, 1981; Garcia-Porta et al., 2012), and which have largely overlapping distributions in Central, Eastern, and Southern Europe (Sillero et al., 2014). Although syntopy is not uncommon, especially in lowland areas, they show distinct spatio-temporal patterns of habitat use (reviewed in Lanza, Nistri & Vanni, 2006), making hybridisation at least three-times unexpected. First, they show markedly different breeding phenologies: Bufo bufo is an early and explosive breeder, while Bufotes balearicus is a late and prolonged breeder (Lanza, Nistri & Vanni, 2006). In Italy, breeding activities of Bufo bufo begin earlier in the year (early winter to early spring, with variation among sites at different altitude and latitude) and usually last one to two weeks. Bufotes balearicus starts breeding later (middle to late spring), and this activity may last two to three months. Furthermore, breeding activities in syntopic areas have been systematically reported as asynchronous, regardless of intraspecific differences between sites (Lanza, Nistri & Vanni, 2006). Second, Bufo bufo and Bufotes balearicus display differences in their altitudinal distribution. Bufo bufo breeding sites commonly occur from 0-2,000 metres above sea level (MASL), while Bufotes balearicus shows marked preferences for sites in lowland areas, rarely being observed above 1,000 MASL (Romano, De Cicco & Utzeri, 2003; Spilinga et al., 2007). Third, in spite of the largely polytopic habits of these two species, differences exist in habitat and breeding site preferences. Bufotes balearicus favours open areas and bushlands and breeds in temporary shallow waters, and Bufo bufo most commonly inhabits forested habitats while using slow-running or deeper, wider standing waters as breeding sites.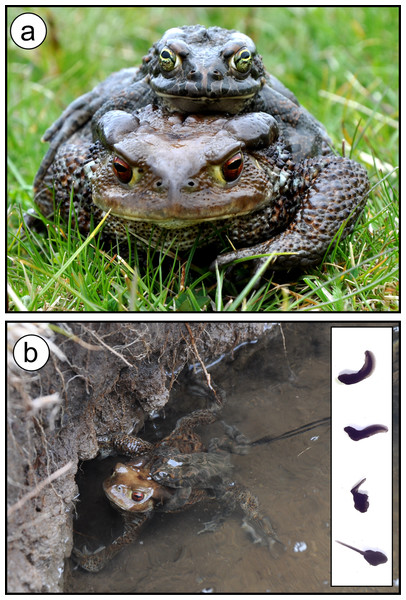 Remarkably, based on previous assessments (Carpino & Capasso, 2008), all these differences applied to toad populations at our study site as well. This site is a high-altitude pond located at the margins of a forested area (latitude: 40.9429°N; longitude: 14.7096°E; altitude: 1,330 MASL; Fig. 2). Bufo bufo was reported to breed at this site on February, whereas Bufotes balearicus was absent here and in neighbouring areas above 800 MASL at least until the year 2007, the year of the last herpetological assessment (Carpino & Capasso, 2008).
Here, we combine our field observation with data from previous reports of similar hybridisation events for the Bufo bufo and Bufotes viridis groups in Europe along the last century, in order to study the causation of these 'improbable' events. To this end, we examined the contribution of multiple factors, including all those commonly invoked to explain novel interspecific hybridisations among animal species in the wild.
Results and Discussion
At the time of our observation (10 May 2014), we counted nine males, three females, and eight juveniles (22–26 mm long; presumably one year old) of Bufotes balearicus, plus two female Bufo bufo, and various newly spawned egg-strings.
All tadpoles from the putatively hybrid egg-string were identified as first-generation hybrids by their heterozygote status at all loci analysed. In line with previous findings (Montalenti, 1932, 1933), most of them were heavily malformed (see Fig. 1), and none reached the metamorphosis. Instead, at all the loci analysed, tadpoles from the additional two clutches sampled at the breeding site were homozygotic for Bufotes balearicus diagnostic alleles, and were thus identified as belonging to this parental species. As expected, they did not show abnormalities, neither in the external morphology nor in the ontogenetic pathway.
Despite their wide sympatry, ease of observation, and more than a century-old knowledge of hybridisation in laboratory crosses, our literature searches for previous reports of interspecific breeding pairs in the wild, identified just five additional observations within a 94 year time span (Sweden, Lang, 1926; Czech Republic, Vlček, 1995, 1997; Zavadil & Roth, 1997; Austria, Duda, 2008).
Three main hypotheses have been invoked to explain recently established interspecific hybridisations among animal species, and may have played a role in the present case by promoting syntopy and breeding season overlap (Crispo et al., 2011; Chunco, 2014): species translocations, anthropogenic habitat degradation (a derivation of the Anderson's 'hybridisation of the habitat' model; Anderson, 1948) and climate changes.
In the case of Bufo bufo and Bufotes viridis, a species translocation can be firmly excluded in all the reported cases, based on the extensive knowledge of their natural geographic distributions (Lanza, Nistri & Vanni, 2006; Sillero et al., 2014), as well as on the fossil data of both species in Europe (Martín & Sanchiz, 2011).
Anthropogenic habitat degradation has been proposed as a main causative agent in some case (Duda, 2008). By reducing the diversity and number of potential breeding sites in a given area, physical alterations of habitat could promote syntopy of previously allotopic populations. Although plausibly contributing, this hypothesis cannot explain the entire pattern, and it does not apply to all cases. Our study site (but see also Zavadil & Roth, 1997) is located within a protected area established in 1993, and an analysis of contemporary and historical aerial photos of this site and neighbouring areas clearly show the absence of any physical alterations of potential relevance for the two species (Fig. 2). Moreover, habitat degradation could not explain the overlap of the two breeding seasons. Climate changes, however, significantly improve our ability to explain the occurrence of hybridisation events between these species.
By promoting a recent altitudinal migration of Bufotes balearicus from neighbouring, lower altitude sites, the ongoing climate warming engendered the unexpected syntopy at our study site. Support to this argument (the only alternative to recent translocation), comes from our models of the distribution of Bufotes balearicus in peninsular Italy, based on a set of known occurrences collected before year 2000, and projected to the average climate over the period 2007–2013. Indeed, our models indicated that the species' presence above 1,200 MASL was highly improbable under pre-2000 climate, but became plausible during 2007–2013 (Fig. 3). Furthermore, projecting the models under future climate projections for the time period 2070–2100 under different emission scenarios the general pattern remains unchanged (Fig. 3). The reliability of the models was clearly confirmed by the field-validation procedure (see Materials and Methods). Indeed, our field searches of Bufotes balearicus at high-altitude sites of predicted presence in post-2000 projections were successful. We found a previously unreported site of occurrence within the Picentini Mountains (latitude: 40.8251°N; longitude: 14.9864°E; roughly 25 km south-east of the study site), thus confirming that upward migrations of Bufotes balearicus are ongoing, as predicted by our bioclimatic model (see also Zavadil & Roth, 1997).
Besides being a co-factor for syntopy, climate changes also contributed to the hybridisation events by promoting an overlap of the breeding activities. Analysing long-term climate series, we found that the years when hybridisation events were recorded in Europe (including our observation) ranked first or second hottest on record at most sites, over time series from 47 to 214 years long. Moreover, bimonthly mean temperatures at these sites were 2.4 °C to 5.5 °C above the 1961–1990 averages, and 1.9 °C to 4.3 °C above the preceding 10 years averages (Fig. 3). Binomial probability tests allowed us to reject the null hypothesis of random association between hybridisation events and extremely mild winters, with very high confidence (binomial probability: P ≤ 2.3 × 106). Also, additional binomial probability tests, carried out in order to explore how unrecorded events could affect the significance of our test, indicated that the null hypothesis of random association was rejected (at α = 0.05) until the number of events was ≥77, while leaving unchanged the number of 'successes'.
Although Bufo bufo is expected to bring forward its breeding activity after mild winters (Reading, 1998, 2003; Tryjanowski, Rybacki & Sparks, 2003), at least three lines of support may help explaining this apparently counter-intuitive pattern. In years, when the breeding season begins earlier (after a mild winter), breeding has been observed to last longer (Gittins, Parker & Slater, 1980). Furthermore, a second and lower peak of breeding activity has been often observed later in the season (Pages, 1984; Reading, 1998), especially after mild winters (Reading, 1998). Finally, extensive ecophysiological investigations on bufonid toads, including Bufo bufo, indicate that increased temperatures during hibernation lead to significant alterations of several processes affecting the breeding activity, including body size condition, annual ovarian cycle, and seasonal synchronisation of breeding (Jørgensen, 1992).
Our analyses do not indicate climate change as the single explanatory factor. The environmental contexts in which interspecific interactions occur, the diverse forms of habitat disturbance, or behavioural changes during altitudinal migrations (Canestrelli, Bisconti & Carere, 2016; Canestrelli et al., 2016), might be locally influential. Nonetheless, these analyses clearly show that climate changes played a fundamental part in promoting hybridisation events. In light of the direction of these changes (Intergovernmental Panel on Climate Change, 2014), and of the results of our modelling exercise, we hypothesise that these events will become progressively more common in the near future. Most importantly, our results reveal a wider potential influence of climate changes on interspecific reproductive interactions, particularly in the many instances where climate-driven asynchrony and/or allotopy are integral components of the reproductive isolating barriers.
Hybridisation events among non-closely related species are generally believed to yield events that are transient, and potentially affecting local population demography at most, because strongly maladaptive (Rhymer & Simberloff, 1996; Malone & Fontenot, 2008). Nevertheless, there may be exceptions, whereby the effects of maladaptive processes propagate from population to community level (Farkas et al., 2015). Moreover, as revealed by years of investigation on the hybridisation process in several animal taxa, including amphibians, new evolutionary pathways have been sometime opened by such rare and maladaptive events (Arnold, 2006).
Supplemental Information
Data points used to generate correlative distribution models.