Testing of microsatellite multiplexes for individual identification of Cape Parrots (Poicephalus robustus): paternity testing and monitoring trade
School of Life Science, University of KwaZulu-Natal

,

Pietermaritzburg

,

South Africa
Published

Accepted

Received
Academic Editor
Subject Areas

Keywords

Cape Parrot

,

Microsatellite

,

Wildlife forensics

,

Parentage

,

Captive breeding

, Poicephalus robustus
Copyright

©

2017

Coetzer et al.

Licence

This is an open access article distributed under the terms of the Creative Commons Attribution License, which permits unrestricted use, distribution, reproduction and adaptation in any medium and for any purpose provided that it is properly attributed. For attribution, the original author(s), title, publication source (PeerJ) and either DOI or URL of the article must be cited.
Cite this article

2017

. Testing of microsatellite multiplexes for individual identification of Cape Parrots (Poicephalus robustus): paternity testing and monitoring trade.

PeerJ

5

:

e2900

https://doi.org/10.7717/peerj.2900
Abstract
Background
Illegal trade in rare wildlife species is a major threat to many parrot species around the world. Wildlife forensics plays an important role in the preservation of endangered or threatened wildlife species. Identification of illegally harvested or traded animals through DNA techniques is one of the many methods used during forensic investigations. Natural populations of the South African endemic Cape Parrot (Poicephalus robustus) are negatively affected by the removal of eggs and chicks for the pet trade.
Methods
In this study, 16 microsatellite markers specifically designed for the South African endemic Cape Parrot (P. robustus) are assessed for their utility in forensic casework. Using these 16 loci, the genetic diversity of a subset of the captive Cape Parrot population was also assessed and compared to three wild Cape Parrot populations.
Results
It was determined that the full 16 locus panel has sufficient discriminatory power to be used in parentage analyses and can be used to determine if a bird has been bred in captivity and so can be legally traded or if it has been illegally removed from the wild. In cases where birds have been removed from the wild, this study suggests that a reduced 12 locus microsatellite panel has sufficient power to assign confiscated birds to geographic population of origin.
Discussion
The level of genetic diversity observed within the captive Cape Parrot population was similar to that observed in the wild populations, which suggests that the captive population is not suffering from decreased levels of genetic diversity. The captive Cape Parrots did however have double the number of private alleles compared to that observed in the most genetically diverse wild population. This is probably due to the presence of rare alleles present in the founder population, which has not been lost due to genetic drift, as many of the individuals tested in this study are F1–F3 wild descendants. The results from this study provide a suit of markers that can be used to aid conservation and law enforcement authorities to better control legal and illegal trade of this South African endemic.
Introduction
The illegal wildlife trade includes the buying and selling of any wildlife product that has been captured alive, poached, and used as food, medicine, pets, and trophies (TRAFFIC, 2008). The illegal trade in wildlife has a negative impact on wildlife and conservation programs worldwide (Alacs et al., 2010). The exact value of the illegal wildlife trade is unknown, but current estimates suggest that illegal transactions involving wildlife and their products is a multibillion US dollar enterprise (Broad, Mulliken & Roe, 2002; Interpol, 2014). This is particularly true for rare bird species, which are highly sought after (Cooney & Jepson, 2006; White et al., 2012). Parrots (order Psittaciformes) are extremely popular as pets and have the highest reported trade figures among all traded avian orders (Bush, Baker & Macdonald, 2014). Of particular concern are the rare and enigmatic species as half of the world's threatened or near-threatened parrot species are impacted by illegal trade (Pain et al., 2006). African parrot species are increasingly becoming targets for trade. For example, in China a quarter of all imported parrots originated from South Africa (Li & Jiang, 2014). To date the Convention on International Trade in Endangered Species of Wild Fauna and Flora (CITES) has classified South Africa as a major importer and exporter of legally and illegally obtained birds (Warchol, 2004) and is regarded as the hub of both legal and illegal wildlife trade in the region (Wynberg, 2002).
Captive breeding of exotic birds is a plausible alternative to sourcing wild animals, and it has been shown to be a viable practice (Pires, 2012). Breeding of wildlife in captivity is, however, not always an alternative to wild harvesting, as there will always be a demand for new breeding stock from the wild (Nogueira & Nogueira-Filho, 2011; Bush, Baker & Macdonald, 2014). The creation of self-sustaining captive populations, which resembles the wild genetic lineages as closely as possible, should be one of the main aims of captive-breeding programs if reintroductions are proposed (Frankham, 2008; Robert, 2009). Regular assessments of the genetic fitness of captive populations are therefore important to ensure healthy populations exist for possible reintroductions. The legitimacy of some "captive-bred" animals are also a concern, as it has been suggested that some breeding facilities produce more "captive-bred" animals than is plausible (Lyons & Natusch, 2011; White et al., 2012). It is therefore imperative to monitor the legal trade of alleged captive bred birds to identify possible illegal activities.
Molecular forensic methods are widely used to identify suspected illegally obtained wildlife or wildlife products (Comstock, Ostrander & Wasser, 2003; Gupta, Verma & Singh, 2005; Lorenzini, 2005; Dawnay et al., 2009; Lorenzini et al., 2011; Coghlan et al., 2012; White et al., 2012; Mondol et al., 2014; Gonçalves et al., 2015; Presti et al., 2015). One of the most useful molecular forensic tools is genetic fingerprinting using microsatellite markers. These markers have been used to identify legally, and illegally, traded birds when a sufficient reference database is available (White et al., 2012; Presti et al., 2015). It is necessary to consider the genetic sub-structuring within a species if the reintroductions of confiscated animals are considered, as the subpopulations could have acquired habitat specific fitness (e.g., pathogen resistance; Boyce et al., 2011). It is important, from a conservation viewpoint, to preserve genetically distinct or evolutionary significant populations (Johnson, 2000). The use of microsatellite data to assign confiscated wildlife to their area of origin is a well-known technique used in wildlife forensic and conservation sciences (Manel, Berthier & Luikart, 2002; White et al., 2012; Mondol et al., 2014; Presti et al., 2015). For example, Presti et al. (2015) were able to assign 24 confiscated hyacinth macaw chicks to their populations of origin based on Bayesian clustering analysis using 10 microsatellite loci and White et al. (2012) were able to identify the kinship and area of origin of a white-tailed black cockatoo using 20 microsatellite loci and kinship analyses.
Several factors need to be considered when selecting a microsatellite panel for forensic studies. The quality of the data obtained from a set of markers should be assessed by considering the occurrence of genotyping errors such as null alleles and missing data, which can lead to biased estimations of genetic diversity and false parentage assignments (Dakin & Avise, 2004). Additionally, the level of informativeness of each marker should be assessed, focusing on the level of variation and the discriminatory power of each locus (Rosenberg et al., 2003). For more information on molecular methods in wildlife forensics and microsatellite null alleles, refer to the articles of Alacs et al. (2010) and Dakin & Avise (2004).
Numerous well-established methods are available to assess the informativeness of genetic markers namely, the polymorphic information content (PIC) estimate (Botstein et al., 1980), the probability of identity (PID; Taberlet & Luikart, 1999; Waits, Luikart & Taberlet, 2001), and the probability of exclusion (PE; Fung, Chung & Wong, 2002). The PID and PE estimates are well-established methods for assessing the ability of molecular markers to distinguish between individuals (Taberlet & Luikart, 1999; Fung, Chung & Wong, 2002).
The South African endemic Cape Parrot (Poicephalus robustus) is a locally endangered parrot species found in the South African mistbelt forests (Wirminghaus, 1997; Taylor, 2014), with fewer than 1600 individuals left in the wild (Downs, Pfeiffer & Hart, 2014). It has been suggested that the Cape Parrot is under tremendous pressure, not only due to habitat fragmentation, but also due to the illegal harvesting of wild birds and eggs for the pet trade (Wirminghaus et al., 1999; Martin et al., 2014). The Cape Parrot is currently still observed as a subspecies of P. robustus and it was therefore not classified by the International Union for Conservation of Nature (IUCN) or CITES as endangered or threatened. Recent genetic work has, however, shown that the Cape Parrot should be elevated to species status (Coetzer et al., 2015), separate from the more widely distributed gray-headed parrot (Poicephalus fuscicollis, P. f. suahelicus).
Cape Parrots have been successfully bred in captivity for a number of years, although it is a difficult practice with low-breeding success among wild-caught breeding pairs (Wirminghaus et al., 1999). Captive-breeding facilities provide the pet trade with legally obtained animals, and may also serve as source populations if future reintroductions to natural habitats are needed (Storfer, 1999; Williams & Hoffman, 2009; Pires, 2012). The occurrence and accumulation of deleterious mutations, as well as the effects of genetic adaptation to captivity (Williams & Hoffman, 2009), are major issues observed in captive populations. It was recently observed that the current Cape Parrot population shows signs of genetic sub-structuring, with three genetic clusters which are geographically correlated along the Cape Parrot distribution range (Coetzer, 2015). It is therefore important to maintain captive populations, which are genetically similar to these three genetic lineages if future reintroductions are needed. Proper studbook keeping and managing of the captive populations are therefore essential for maintaining healthy captive bred wildlife populations (Ferrie et al., 2013). The regional Cape Parrot studbook currently holds records of 341 Cape Parrots, 216 extant (Wilkinson, 2015). The studbook is, however, currently lacking many records due to many breeders showing reluctance in sharing information with regards to their Cape Parrot stocks (Wilkinson, 2015, personal communication).
In this study, three main aims are addressed. First, an assessment of 16 microsatellite markers previously designed specifically for Cape Parrots (Pillay et al., 2010) was conducted to determine their utility in forensic analyses. A subset of these 16 loci were previously used in a higher-level taxonomic analysis of Poicephalus parrots (Coetzer et al., 2015) and all 16 loci were used in a phylogeographic assessment of the Cape Parrot (Coetzer, 2015). Second, the utility of these 16 loci for use in assigning confiscated wild-caught birds to their area of origin was tested through a Bayesian assignment method. The approach outlined in this study will assist law enforcement and conservation authorities with the return of illegally harvested Cape Parrots to the wild. It is known that the genetic variation of populations in captivity can change markedly from the wild populations (Hindar, Ryman & Utter, 1991; Lynch & O'Hely, 2001), which can have serious implications when reintroductions are considered. It is therefore vital to assess the genetic variation and structure of the captive Cape Parrot population. Third, the genetic differentiation between the three wild Cape Parrot populations identified by Coetzer (2015) and the captive population was assessed using 16 microsatellite loci. These results will aid in the management of the captive population and to ensure that the captive population can be self-sustaining with minimal or no supplementation from the wild.
Results
Marker analysis
For this study, 76 captive Cape Parrots were successfully genotyped across 16 microsatellite loci. Loci were amplified across a range of DNA template concentrations, with low template concentration (2–5 ng/μl) successfully amplifying with minimal signs of allelic dropout (<3% over all loci). The replicate genotypes did not show any signs of discrepancies. Co-amplification of each multiplex was also highly successful, with the most amplification failures (4 of 76) observed for the locus with the largest bp size (Prob17). The data set contained less than 1 missing data, with a mean null allele frequency over all loci and samples of 0.039. The per locus null allele frequencies ranged from 0 to 0.186 (Table 1). Only two loci showed null allele frequencies above 0.1 (Prob15, Na = 0.186; Prob36, Na = 0.125). The mean number of alleles per locus varied greatly among loci, ranging from 1.75 (Prob36) to 17 (Prob17) alleles. A large difference in Ar values was observed across the loci, with values ranging from 2 (Prob36) to 22 (Prob17). Seven loci showed high levels of heterozygosity (Table 1), with negative FIS values. Only two loci showed signs of heterozygote deficiency (Prob09, FIS = 0.439; Prob36, FIS = 0.471). Fourteen of the 16 loci were moderately to highly informative, with values ranging from 0.415 (Prob29) to 0.888 (Prob17). Only two loci (Prob35 and Prob36) were identified as uninformative (PIC < 0.3; Table 1). The PID values ranged from 0.019 (Prob17) to 0.591 (Prob36). A combined PID over all 16 loci was calculated as 1.831E−13 following the product rule. The PE2 ranged from 0.658 (Prob17) to 0.032 (Prob36), with the combined PE2 at 0.995. It was observed that the PID and PE2 values improved as the number of loci analyzed increase (Fig. 1). Five of the 16 loci significantly deviated from HWE (Prob09, Prob15, Prob28, Prob30, and Prob36), following Bonferroni correction (p < 0.003). Of the 120 per locus comparisons made during the linkage disequilibrium (LD) analysis, more than half of the locus pairs showed signs of LD (52.5%).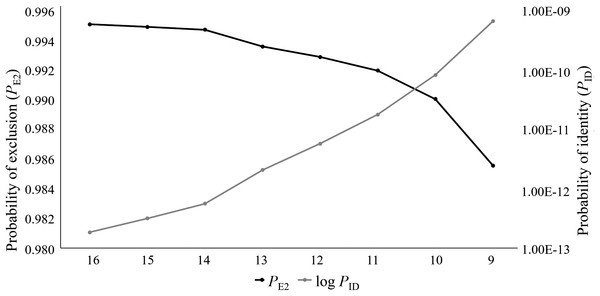 Parentage analyses
All eight microsatellite panels showed very low combined PID values, with moderate to high informativeness levels (PIC range: 0.581–0.703; Table S4). The PID values for the eight panels ranged from 1.8E−13 for the 16 locus panel to 5.7E−10 for the nine locus panel (Table S3). These values suggest that 1 in 5.5E+12 (16 loci) to 1.8E+9 (nine loci) randomly chosen individuals will share the same genotype. The assessment from this parameter alone suggests that any of these panels could be suitable for forensic use, as the total number of wild Cape Parrots does not exceed 1,600 individuals. The ability of these eight panels to successfully identify known parents, however, differed. The seven larger panels were generally equally successful in identifying parent pairs and individual parents, with only slight differences in the mean probability values and a slightly higher sire identification success rate for the 10 locus panel (Fig. 2; Table S4). The nine-locus panel was less successful in correctly identifying parent pairs, with only 71% of parent pairs correctly identified with high probability (p > 0.75). The nine-locus panel also showed a lower success rate at identifying the correct sires and dams, with 73.7% of sires and 96.8% of dams correctly identified with high probability (p > 0.75). All known dams were correctly identified using the seven larger panels. Although the seven larger panels had similar assignment success rates (parent pair assignment success = 83.9%), the full 16 locus panel had overall higher mean probability rates making this panel most suited for use in future parentage analyses.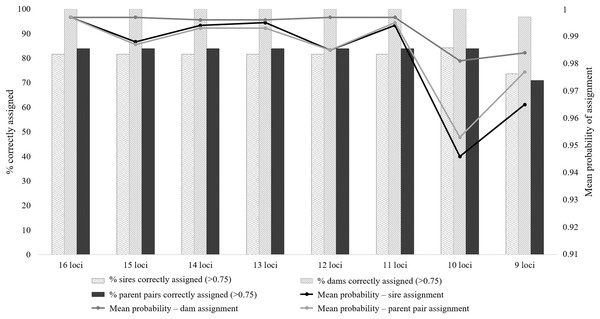 The majority of the test individuals were assigned to the correct population of origin following the partial Bayesian exclusion analyses using the eight microsatellite panels (83.33%–66.67%). The highest assignment success was achieved with the six larger microsatellite panels (16 loci to 11 loci), with 83.33% of the specimens correctly assigned (Fig. 3; Table S5). The 12 locus panel had the best average assignment probability value out of the eight tested panels (average assignment probability = 0.565, SE = 0.087), with 5 out of the 10 individuals correctly assigned with assignment probabilities above 0.6. The remaining five individuals were assigned to the correct populations with assignment probabilities lower than 0.6 (assignment probability = 0.170–0.591; Table S5). The two individuals (FH12 and FH32) that were incorrectly assigned, were sampled from the Eastern Cape but assigned to the captive (FH12) and KZN (FH32) populations. The assignment probabilities of these individuals did, however, differ only slightly between the actual population of origin and the assigned population (Table S5).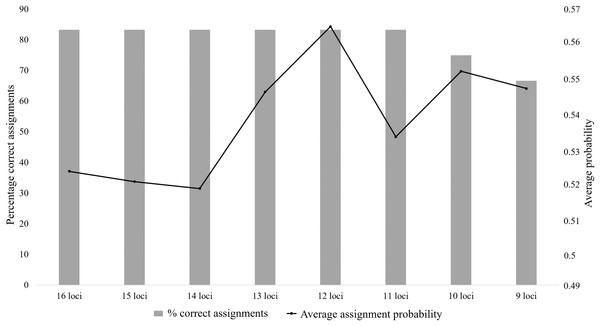 Genetic diversity: captive vs wild populations
The genetic diversity estimates for the captive data set, using 16 microsatellite loci, were largely similar to that observed for the wild Cape Parrot populations (Table 2). Significant differences were observed between the captive/central and captive/north per locus Na estimates (p < 0.003). The average number of alleles observed for the captive data set was higher than that observed in the wild population (captive, NA = 6.813; southern, NA = 6.563; central, NA = 5.313; northern, NA = 2.875; Table 2). The significant differences observed for the Na estimates could, however, be influenced by differences in sample size (captive born samples, n = 71; south, n = 60; central, n = 20; north, n = 5). The Ar estimates provide a more accurate estimation, with no significant difference observed among the captive and wild per locus Ar estimates (p < 0.003). The captive data set did, however, have the highest number of private alleles (PA = 21), which was almost double that of the highest value observed among the wild populations (southern, PA = 13). All private alleles occurred at low frequencies, with private allele frequencies for the captive data set ranging from 0.007 to 0.100 and frequencies for the southern wild population ranging from 0.008 to 0.133. No significant differences were observed between the captive vs wild per locus observed HO, unbiased expected uHE and FIS comparisons.
| Locality | Average number of alleles (NA) | Allelic richness (Ar) | Observed heterozygosity (HO) | Unbiased expected heterozygosity (uHE) | Inbreeding coefficient (FIS) | Private alleles (PA) |
| --- | --- | --- | --- | --- | --- | --- |
| South | 6.563 (1.252) | 3.791 (0.400) | 0.605 (0.055) | 0.632 (0.053) | 0.042 | 13 |
| Central | 5.313 (0.898) | 3.708 (0.386) | 0.647 (0.058) | 0.635 (0.05) | −0.02 | 5 |
| North | 2.875 (0.34) | 2.875 (0.340) | 0.6 (0.063) | 0.572 (0.052) | −0.055 | 2 |
| Captive | 6.813 (1.089) | 3.673 (0.314) | 0.591 (0.065) | 0.625 (0.047) | 0.054 | 21 |
The HO for the captive data set was only slightly lower than that observed for the three wild populations (captive, HO = 0.591; southern, HO = 0.605; central, HO= 0.647; northern, HO = 0.6), with an uHE comparable to that observed for the south and central wild populations (captive, uHE = 0.625; southern, uHE = 0.632; central, uHE = 0.635). A low positive FIS value was observed for the captive data set indicating only slight inbreeding (FIS = 0.054), with low heterozygote deficiency. Low genetic differentiation was found only between the captive data set and the south population (FST = 0.017; p = 0.001). No significant genetic differentiation was observed between the captive and north populations (FST = 0.104; p = 0.004) or the captive and central populations (FST = 0.01; p = 0.024), following a Bonferroni correction (p = 0.003). The global FST value calculated for the captive and three wild populations did not significantly differ from zero (FST = 0.008; p = 0.008). AMOVA indicated that 92% of the observed genetic variance occurred within individuals, with 5% of the genetic variance between individuals and only 3% among the populations.
Conclusion
The assessment of the 16 microsatellite loci tested in the current study identified the full 16 locus panel as the best set of markers for use in parentage analysis. Such analyses should be performed on traded birds suspected of being illegally harvested from the wild. It is therefore important to have a database of all legally owned Cape Parrots and a complete studbook for future use. Using this set of loci, birds suspected of being illegally harvested from the wild can be traced to the region of origin through implementation of the partial Bayesian approach in GeneClass2 for individual assignment analysis. The 12 locus microsatellite panel is most appropriate for this analysis. It is, however, recommended to increase the reference data sets, for both the wild and captive populations, thereby increasing the accuracy of the individual assignment analysis using the assignment methods implemented in GeneClass2. This recommendation is based on the low level of differentiation observed between the wild and captive populations. The use of additional highly polymorphic loci could improve these results (Cornuet et al., 1999). The high number of private alleles observed in the captive population highlights its distinctiveness. Reintroductions to the wild from the current captive population is not recommended until further analyses of fitness related loci are performed, as accumulation of certain rare alleles could have detrimental effects on the wild populations. It is further recommended that, for reintroduction purposes, captive populations from the three Cape Parrot populations should be kept separate to prevent unnatural admixture of the different genetic groups.
The results from this study will help conservation and law enforcement authorities to better police and identify cases of illegal trafficking in South Africa's only endemic parrot. The information obtained here also highlights the genetic distinctiveness of the captive population, and the effect these birds will have on wild populations should be considered before any future reintroductions plans are made.