Overland movement in African clawed frogs (Xenopus laevis): a systematic review
Centre for Invasion Biology, Department of Botany & Zoology, Stellenbosch University

,

South Africa
Published

Accepted

Received
Academic Editor
Subject Areas

Keywords

Aquatic

,

Clawed frogs

,

Dispersal

,

Migration

,

Pipidae

,

Terrestrial
Copyright

©

2016

Measey

Licence

This is an open access article distributed under the terms of the Creative Commons Attribution License, which permits unrestricted use, distribution, reproduction and adaptation in any medium and for any purpose provided that it is properly attributed. For attribution, the original author(s), title, publication source (PeerJ) and either DOI or URL of the article must be cited.
Cite this article

2016

. Overland movement in African clawed frogs (Xenopus laevis): a systematic review.

PeerJ

4

:

e2474

https://doi.org/10.7717/peerj.2474
Abstract
African clawed frogs (Xenopus laevis) are often referred to as 'purely aquatic' but there are many publications which suggest extensive overland movements. Previous reviews which considered the topic have not answered the following questions: (1) is there evidence for overland dispersal in native and invasive ranges; (2) what is the range of distances moved overland; (3) when does overland movement occur; and (4) is there evidence of breeding migratory behaviour? A systematic review was chosen to synthesise and critically analyse all literature on the overland movement in Xenopus laevis. Database searches resulted in 57 documents which revealed a paucity of empirical studies, with 28 containing no data, and 19 having anecdotal content. Overwhelming evidence shows that both native and invasive populations of X. laevis move overland, with well documented examples for several other members of the genus (X. borealis, X. gilli, X. muelleri, X. fraseriand X. tropicalis). Reports of distances moved overland were from 40 m to 2 km, with no apparent difference between native and invasive ranges. Overland movements are not confined to wet seasons or conditions, but the literature suggests that moving overland does not occur in the middle of the day. Migrations to temporary water-bodies for breeding have been suggested, but without any corroborating data.
Introduction
Dispersal is a key trait in the life-history of any organism influencing the distribution, community structure and abundance of populations (Clobert et al., 2009). In anthropogenically disturbed environments, dispersal may be interrupted or facilitated by novel landscape features that may hinder the conservation of threatened species or facilitate the spread of invasive species (Carr & Fahrig, 2001; Brown et al., 2006). For invasive species, dispersal is one of the main variables which determines the success of establishment, as well as the rate of spread (Wilson et al., 2009). In fact, dispersal affects some aspects of all ecological, evolutionary and conservation problems. Amphibians are model organisms for studies in dispersal as they are generally thought to have low dispersal abilities which brings about strong phylogeographical structuring (e.g., Avise, 2000).
Despite their reputation for strong site fidelity, amphibians have been shown to have considerable dispersal abilities. Smith & Green (2005) reviewed evidence for maximum dispersal in amphibians and concluded that although most individual anurans move short distances (<1 km), small numbers of individuals could be expected to move much further (>10 km). Moreover, these dispersal events may well be informed by a multisensory orientation system that enables individuals to locate water-bodies in which to complete their complex life-histories (Sinsch, 2006). For most amphibians, this involves laying eggs into water where larvae grow and metamorphose to emerge onto land. But for frogs in the genus Xenopus, adults inhabit the same water as their eggs and larvae, prompting many workers to refer to them as 'completely' or 'purely' aquatic (e.g., Elepfandt et al., 2000).
The African clawed frog, Xenopus laevis, is one of four model vertebrate species (Travis, 2006), and as such has been distributed to laboratories globally (Van Sittert & Measey, 2016), as well becoming very popular in the pet trade (Measey , in press). This has resulted in invasive populations on four continents (Measey et al., 2012) and the suggestion that climate-change may increase invasion success in Europe (Ihlow et al., 2016). Surprisingly, the ecology of X. laevis is better studied in invasive populations than in their native range, and this lack of ecological data from the native range is problematic as it stymies interpretation of invasive studies. Data on overland movement is particularly important for this principally aquatic amphibian, as it provides insights into dispersal and thus invasion potential.
There is no doubt that Xenopus laevis, like other species in the genus Xenopus and the family Pipidae, are secondarily aquatic (Gans & Parsons, 1966; Trueb, 1996), spending the majority of their active time within water-bodies. They have a number of morphological and anatomical adaptations to an aquatic lifestyle including an extensive lateral line system in adults (Elepfandt, 1996), aquatic olfactory receptors (Freitag et al., 1995), type I ilio-sacral articulation for more efficient swimming locomotion (Emerson, 1979), aquatic auditory apparatus (Elepfandt et al., 2000) and suction feeding (Carreño & Nishikawa, 2010). However, referring to the species as 'purely aquatic' appears to exclude the possibility of individuals leaving a water-body and travelling overland. It is noteworthy therefore that X. laevis retains many traits which have terrestrial functionality, including the auditory apparatus (Katbamna et al., 2006; Mason, Wang & Narins, 2009), the olfactory apparatus (Freitag et al., 1995), and terrestrial jumping and feeding (Measey, 1998b). This indicates that terrestrial activities in X. laevis are sufficiently important for these animals to have retained terrestrial functions in addition to aquatic specialisations. Although an alternative explanation is that this could be phylogenetic inertia as their ancestors were terrestrial.
Existing literature on overland movement in Xenopus laevis dates back to anecdotal observations at the beginning of the twentieth century (Hewitt & Power, 1913). However, such records do not appear to agree on whether movements are migrations (to and fro movements of animals between sites; Hey, 1949) or animals moving out of drying ponds en masse (Loveridge, 1953). On the other hand, there appears to be a paucity of direct evidence, with some authors using inferential evidence of overland movement between isolated ponds. Therefore, I conducted a systematic review (see Moher et al., 2009) using an a priori search strategy and synthesis of all literature on overland movements in African clawed frogs (Xenopus laevis) in order to answer the following questions: (1) What is the evidence in the literature for overland dispersal in native and invasive ranges; (2) What distances are moved overland; (3) When it occurs, is there evidence that overland movement is seasonal or associated with rain or drying habitats; (4) Is there evidence of overland movement being migratory with respect to breeding?
Materials & Methods
Study species
The African clawed frog, Xenopus laevis, has undergone significant taxonomic revision following a comprehensive molecular study by Furman et al. (2015). The results of this revision mean that what was previously known as X. l. laevis by a number of authors (e.g., Kobel, Loumont & Tinsley, 1996; Poynton, 1964) is now known as X. laevis with all other subspecies being recognised as full species, as well as some newly described species (e.g., Evans et al., 2015). The full range of X. laevis is now known to cover much of southern Africa: South Africa, Lesotho, Swaziland, Namibia, parts of Botswana, Zimbabwe, parts of Mozambique and extending north into Malawi. While X. laevis was the focus of this review, publications that mentioned other species were included and form an integral part of the citation matrix.
Literature review
A literature search was conducted in Web of Science using the scientific name and derivatives of all common names for Xenopus laevis ("clawed frog," "clawed toad" and "platanna") AND (the Boolean search term to stipulate that the record should contain this AND the next term) four terms related to movement overland ("overland," "terrestrial," "migration" and "dispersal"). This produced a total of 16 search terms of each pair with 988 results (Table S1). These were then searched for papers in which information on overland movement in X. laevis was mentioned, resulting in a total of nine unique papers. An additional search for the words "Xenopus overland" (appearing anywhere within a document, and for all years) was made in Google Scholar. Google Scholar has an advantage over other literature databases in that the search term may occur anywhere in the text, instead of just in the title, abstract or keywords. This produced 323 results. Each result was inspected to determine whether or not it contained information on the subject matter. Articles that had no relevance (e.g., author was called Overland or subject was not a pipid) were excluded. The remaining articles (n = 41) included all nine from the Web of Science search. Google Scholar results were scrutinised for mention of Xenopus moving overland. Publications where the subjects Xenopus and movement overland were disassociated were removed (n = 5). If no evidence was provided but a citation was given, the paper was retained and any citation accessed. Articles that had been cited as giving evidence that Xenopus move overland were retained whether or not they actually contained any pertinent information. Citations provided 16 more documents. Lastly, expert knowledge was used to access a further five documents that did not appear in Google Scholar or in citations. This gave a total of 57 documents (Appendix S1). This collection was biased for literature that had electronic full texts that could be crawled by Google Scholar. The additional documents added through citations and by expert knowledge only partially alleviated this bias. Each document was read critically for the information that it contained on Xenopus moving overland, the species concerned, and with special reference to answering the four study questions. Figure 1 shows a flow diagram for the systematic review following Prisma guidelines (Moher et al., 2009).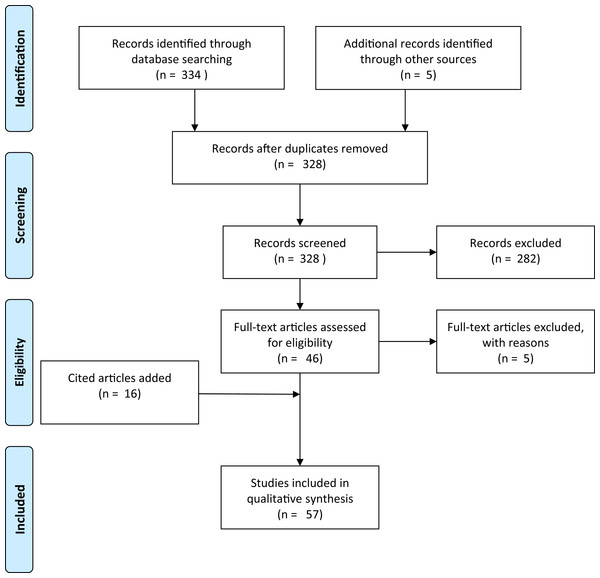 Network visualisation
A network visualisation was constructed using Gephi (v 0.8.2) with the aim of showing how citations follow different data types. Literature in the final dataset was classified into five data types: anecdotal (observational reports of frogs moving in terrestrial habitats: n = 19), distributional (occurrence of frogs in water bodies separated by terrestrial habitats from potential source populations: n = 4), mark-recapture (tagged animals located in water bodies separated by terrestrial habitats from those where they had been marked, including a telemetric study: n = 4), reviews (n = 4) and publications without any relevant data, but that typically cited other papers (n = 28). Anecdotal and distributional papers did not always refer to X. laevis, despite citations to the contrary. This was in part because of taxonomic adjustments that have only been resolved recently (see above) and partly because citations often referred to overland movements in Xenopus, without specifying the species. Lastly, documents were classified according to whether they were reporting on invasive (n = 16) or indigenous (n = 40) populations. The network visualisation discriminates between citing and cited publications.
Conclusion
A review of the literature has shown that overland movements of Xenopus laevis have been found in both its native and invasive ranges. Although no empirical data exist for their native range, there is nothing to suggest that overland movements will be found to be less substantial or frequent than in their invasive range. Given the paucity of empirical studies, distances moved appear to conform to those typical for other anurans, with large numbers of animals moving short distances and some individuals moving up to 2 km (direct distance). The literature does not appear to agree on whether overland movements are seasonal, although the majority of studies suggest that movements are more frequent when conditions are wet and they tend not to happen during the middle of the day. Lastly, although suggested, there is currently no evidence in the literature to support the notion that overland movements are migrations to and from water-bodies for individuals to spawn. In addition to providing an overview on overland movements in X. laevis, this review also suggests that movement and breeding patterns for X. laevis may be similar to other members of the genus Xenopus. Although this review only mentions overland movement in six of 29 currently described species (Frost, 2016), lack of reports for the other species probably relates to a lack of research.
Supplemental Information
Prisma checklist
Prisma checklist
Literature used in the systematic review of overland movement in African clawed frogs (Xenopus laevis)